This post may contain affiliate links. For more information, read my disclosure policy.
These Funfetti Gooey Bars are the best cookie bars ever! They start with a cake mix and have just a few ingredients so they're SO easy to make.
This is the first recipe on this site to ever go viral and it's no surprise why: they're easy, so delicious, and FULL of sprinkles!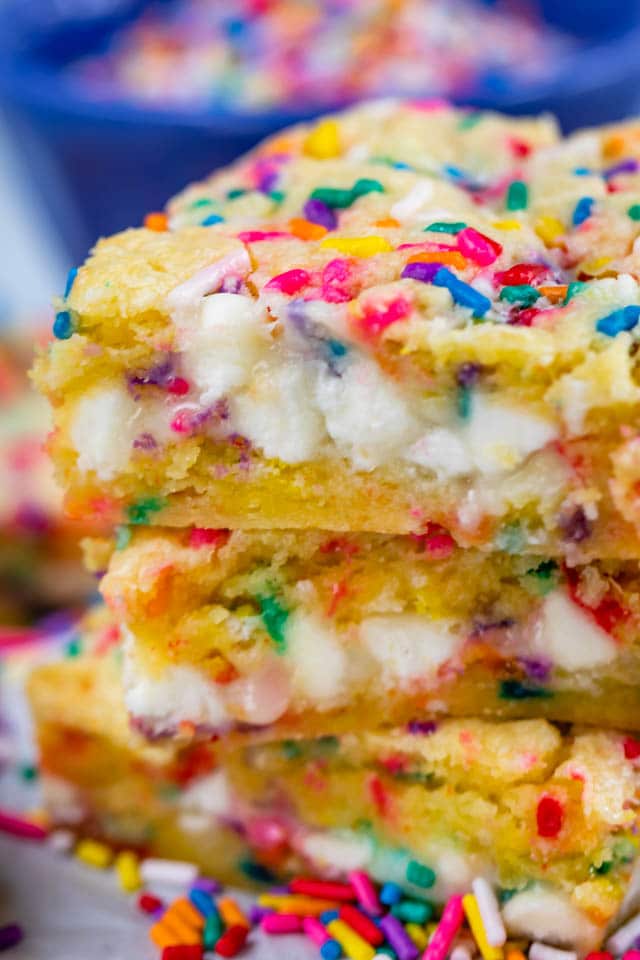 I don't make the same thing twice very often. Almost never, in fact. I mean, when you're surrounded by sugar all day every day, most of it new recipes that you can post, the last thing you need (or want) is to make the same batch of cookies you made last week.
Some recipes I do make multiple times: chocolate chip cookies and sugar cookies, plus monkey bread (of course). And I have one more recipe to add to this list: Funfetti Gooey Bars.
I've made these SO MANY TIMES because they are THAT good. Also, because I love sprinkles.
This is an old recipe (from 2013) but I'm updating the photos and adding some tips and tricks to the post. Plus, there is a good chance you've never seen this recipe because it's SO old!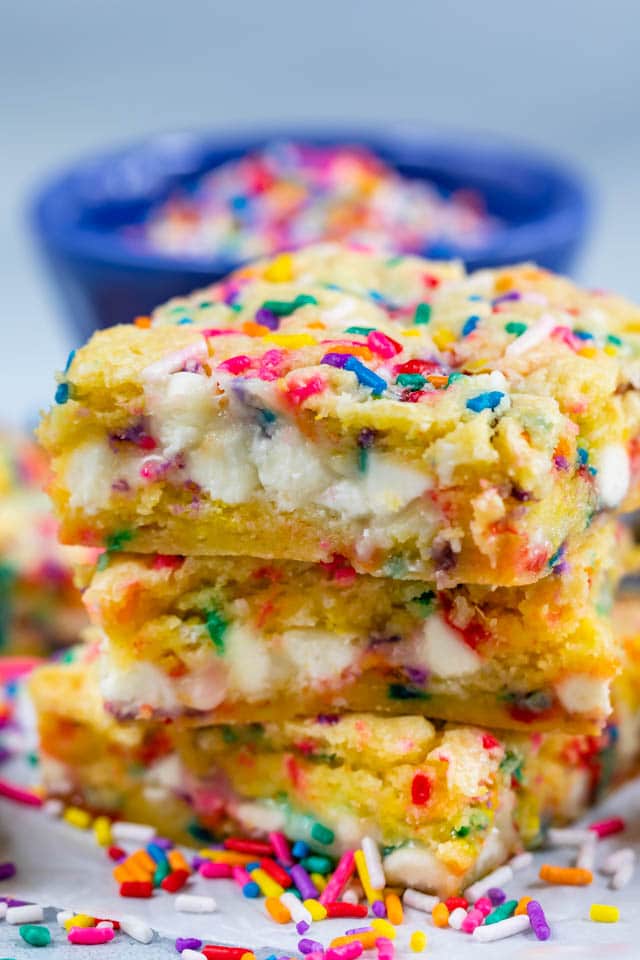 The first time I made these, I never even photographed them. They came out of the oven and we were super busy that afternoon, and by the next day the pan looked like a fork had attacked it.
(Because it had, lol.)
What are Gooey Bars?
I consider a gooey bar to be any sort of cookie bar that's gooey in the center. Gooey bars can be homemade from scratch, or they can be semi-homemade with a mix.
I have made gooey bars like this in SO MANY VERSIONS that it's impossible to list them all here. That's why I have a gooey bar recipe page to house them all.
Making Cookie Bars with Cake Mix
When you start a recipe with cake mix you can instantly make so many different flavors and versions of the recipe, because there are lots of different cake mix flavors.
This Funfetti Gooey Bar version is my favorite one because it uses a yellow cake mix and lots of sprinkles.
To make cookie bars with a cake mix, you just need three ingredients:
Cake Mix (any flavor using a box that's approximately 15 ounces)
1 large egg
1/2 cup unsalted butter that's softened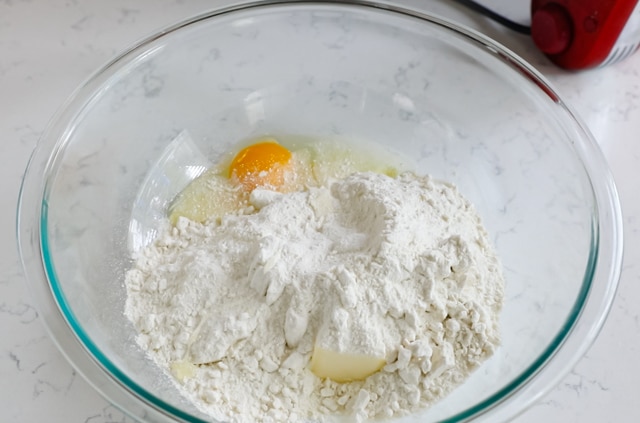 Mixing Tips
You can make this in a large bowl with a hand mixer or you can use a stand mixer. I prefer using a stand mixer because it goes faster.
It will take awhile for the egg and butter to mix in with the cake mix. It will eventually become thick like a cookie dough – just keep mixing!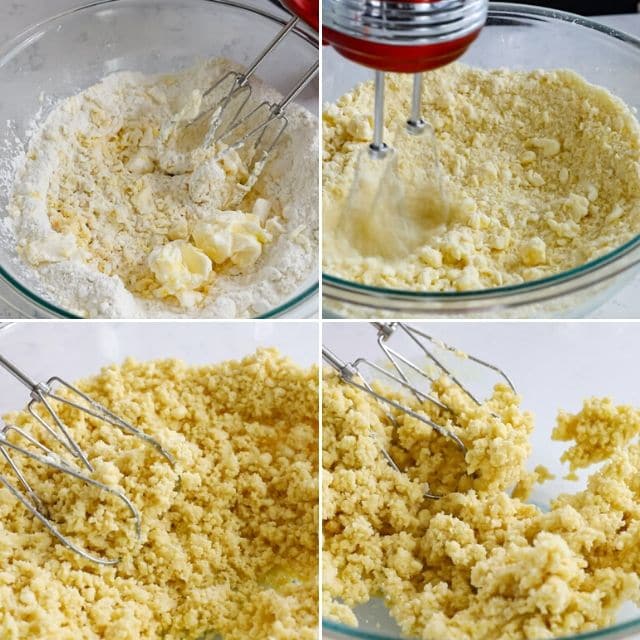 It will get crumbly and seem like it's never going to come together, especially if you're using a hand mixer. But it will – just keep mixing.
Then, because these are FUNFETTI gooey bars, I'm adding sprinkles.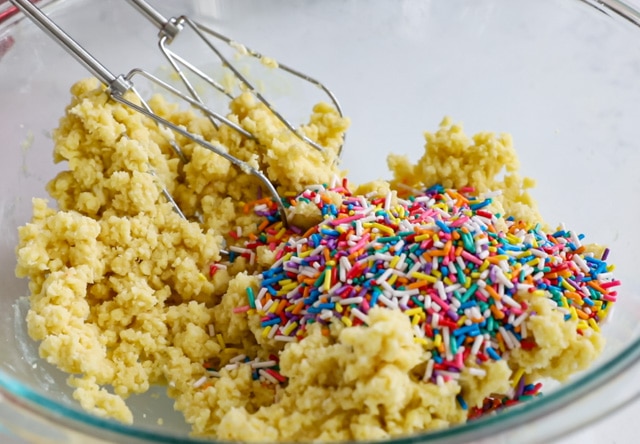 Best Sprinkles for Funfetti Bars
Not all sprinkles are created equal, in case you didn't know. I consider myself somewhat of a sprinkle expert, and I've used lots of different brands and types, so I know what works best in different situations.
For adding into dough, like these gooey bars, I recommend using jimmies sprinkles.
"Jimmies" are the classic rainbow sprinkle you see in the photo above. You can buy them in any color on amazon or at the craft store, or you can buy them in a rainbow mix.
Jimmies are the best sprinkles to use in baking.

PRO TIP
I also recommend using a higher quality brand of sprinkles, like Cake Mate or Wilton from local grocery/crafty stores, or CK Products or Hoosier Hill Farm if you're buying on Amazon.
The cheaper the sprinkle, the more likely they will melt into your dough. You don't have to buy Sweetapolita or Fancy Sprinkles for baking (that would be too expensive) but just don't buy Dollar Store sprinkles for baking.
I also don't recommend adding nonpareils to batters and doughs – they dissolve a lot of the time.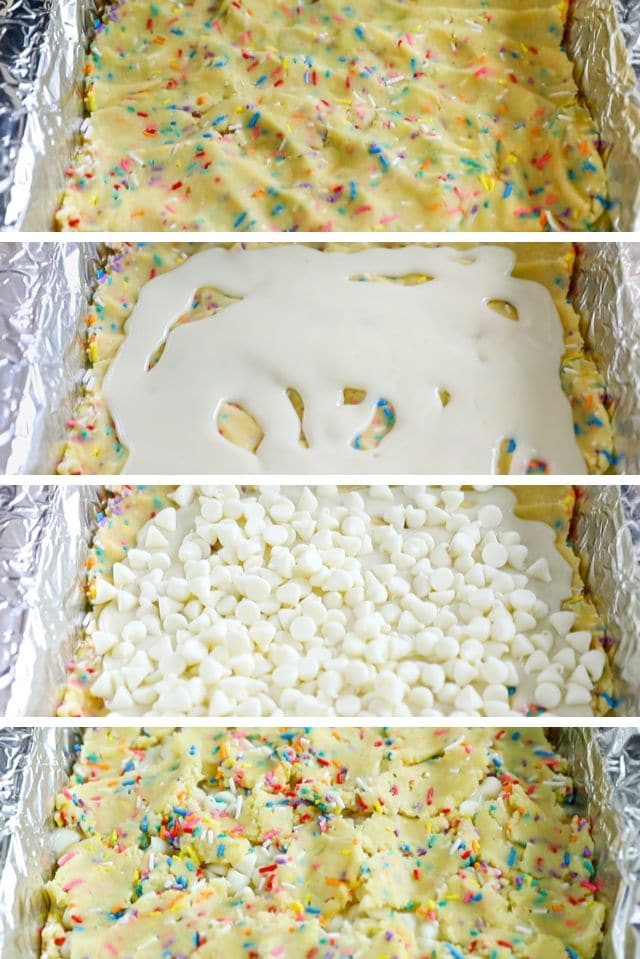 Putting the Gooey in Gooey Bar
Now that you know how to turn cake mix into a cookie bar, it's important to learn how to put the gooey in a gooey bar.
For my gooey bar recipes the gooey is sweetened condensed milk.
I layer about 1/2 to 2/3 of dough in the bottom of an 8-inch or 9-inch square pan. Drizzle sweetened condensed milk on top, then add white chocolate chips.
Be sure to leave a border around the edge of the pan that doesn't have the SCM so that it doesn't bubble up during baking.
Then, drop the rest of the dough back on the top of the bars. I like to try and seal it around the edges as much as possible to seal in the SCM. It won't form a solid topping but it will bake together and be gooey and wonderful.
Once they're baked, you must let them cool to at least warm before slicing or the gooey will ooze out.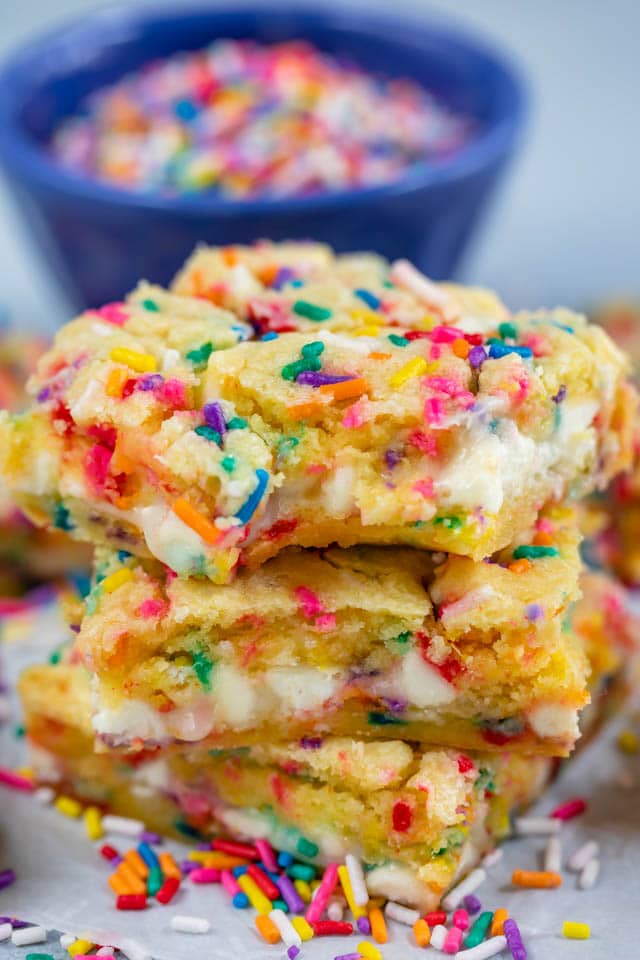 Variations
Now, you can go check out all my gooey bar recipes, but here are some easy variations you can make with this recipe or changing them up:
Use a different cake mix flavor: chocolate, red velvet, lemon
Use chocolate chips or any other flavor chip, or omit
Skip the sprinkles and add nuts or add chocolate chips to the batter
Doubling the recipe
You can easily double this recipe and use two cake mixes and the entire can of sweetened condensed milk. If you double the recipe you'll bake it in a 9×13-inch baking pan and it'll be thicker than shown. The baking time will be a bit longer as well (by about 5-10 minutes).
Store these bars in an airtight container or you can freeze them. Learn how to freeze desserts like I do!
Some of my other most popular viral recipes:
Have you made this recipe?
Tag @crazyforcrust on Instagram or hashtag it #crazyforcrust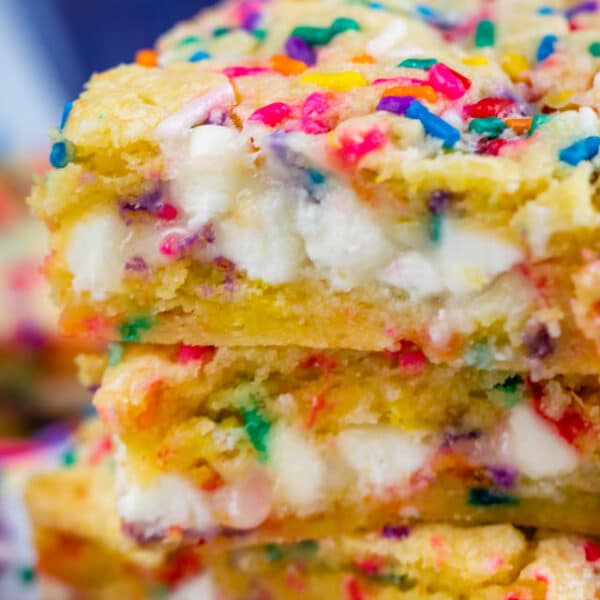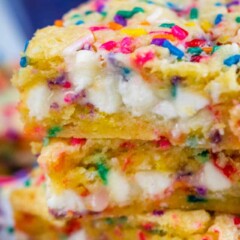 Funfetti Gooey Bars Recipe
These Funfetti Gooey Bars are the best cake mix cookie bars ever! Made with a cake mix and a few simple ingredients, they are gooey to the max!
Ingredients
1

box (approx 15 ounces)

yellow cake mix

1/2

cup

unsalted butter,

softened

1

large

egg

2/3

cup

sprinkles

1/2

cup

sweetened condensed milk

(from a 14 ounce can)

1

cup

white chocolate chips
Instructions
Preheat oven to 350°F. Line a 9×9" pan with foil and spray liberally with cooking spray.

Add cake mix, butter, and egg to the bowl of an electric mixer fitted with a paddle attachment. (You can also use a hand mixer.) Mix until a thick dough forms. This will take a long time, especially if you're using a hand mixer. Just keep mixing! Add sprinkles and stir until incorporated.

Press about 1/2-2/3 of the dough into the bottom of the prepared pan.Pour sweetened condensed milk over the top of the dough, leaving a thin border around the edges. Sprinkle with white chocolate chips. Separate remaining dough into small balls and evenly space over the top of the bars. Press down to flatten. Try to seal the edges as much as possible.

Bake bars for about 25-30 minutes, or until they just begin to brown. Cool completely before slicing, otherwise the mixture will be too gooey to cut.
Recipe Nutrition
Serving:
1
bar
|
Calories:
233
kcal
|
Carbohydrates:
24
g
|
Protein:
2
g
|
Fat:
14
g
|
Saturated Fat:
9
g
|
Cholesterol:
43
mg
|
Sodium:
37
mg
|
Potassium:
96
mg
|
Fiber:
1
g
|
Sugar:
24
g
|
Vitamin A:
297
IU
|
Vitamin C:
1
mg
|
Calcium:
71
mg
|
Iron:
1
mg
Nutritional information not guaranteed to be accurate
Click here to see my best Cake Mix recipes!
Check out all my funfetti recipes!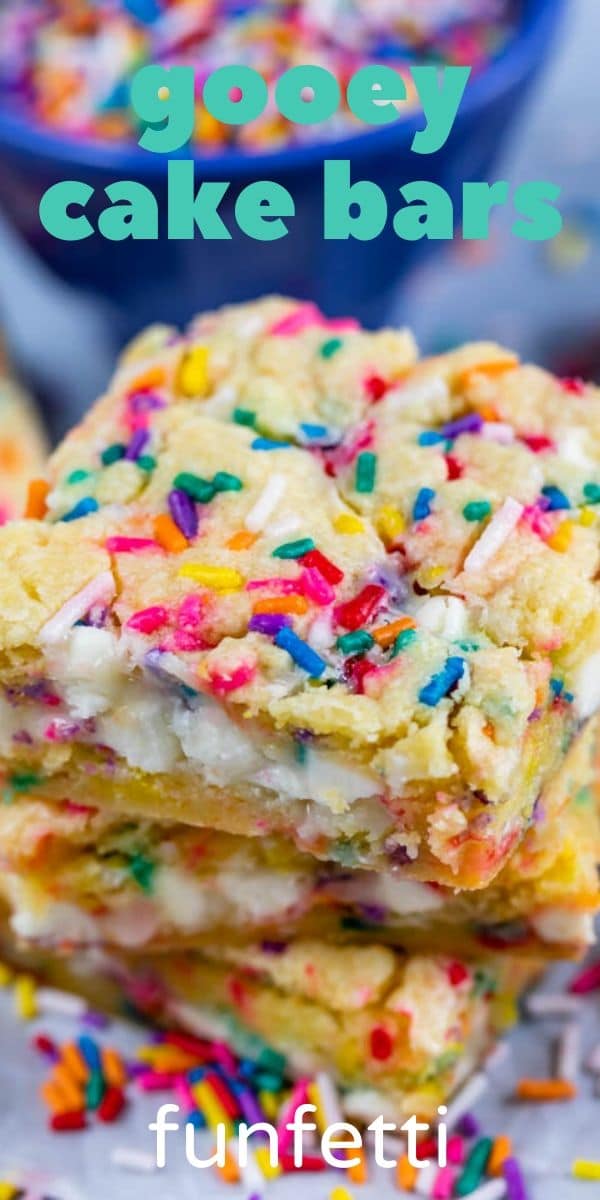 Funfetti Gooey Bars are an easy gooey bar made with cake mix and sprinkles! Make cake mix into a cookie bar with sprinkles and fill it with sweetened condensed milk!SaveSave
Last Updated on September 28, 2020