This post may contain affiliate links. For more information, read my disclosure policy.
Is your zucchini plant producing yet? This Zucchini and Squash Galette is the perfect way to enjoy the vegetables from your garden!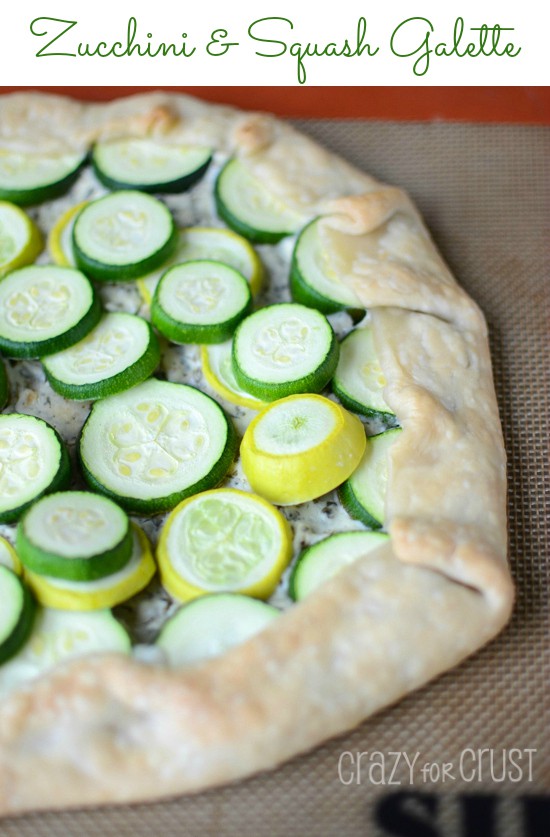 So…savory. I've only posted a few on here, and I feel weird every time I do it. I mean, I do boast this blog as a sinfully sweet I'm-addicted-to-sugar hangout. But sometimes I make dinner and it's a recipe I love, one I make all the time, and I want to share it.
Plus, I asked Instagram. And you all said yes, you wanted to see it.
AND, it has a crust. Since I'm crazy for crust…I think it fits.
Right? Please say yes.
My zucchini plant is out of control. Normally, we get a fair amount of zucchini (those plants are like rabbits) but this year it's a little insane. We had a bed built when we got our sprinklers fixed. The landscaper put in magical soil. I don't know what kind or brand but I swear it was made of glitter and rainbows and some sort of vegetable crack or something. Within a few weeks, the zucchini plants were as big as we'd ever gotten, and they'd completely over taken the garden.
Now? A month later? They're as tall as Jordan.
When we got back from our trip, even though we had someone checking and picking while we were gone, there were about 4 zucchini hidden that were arm sized. And everyday Mel brings me two more.
Don't get me started on the yellow squash and the cucumbers. I see the babies on the cucumber plant and I see lots of pickles in my future.
Anyway, I've been baking and cooking with zucchini like mad. This galette was one of the first things I made with our abundant crop, and it's one of my favorite dinners. I make it every summer. Sometimes for lunch, sometimes for dinner. It's better for me to make it for dinner, because at lunch I'd just eat the whole thing myself. #wishIwasjoking
It's so easy and it comes together in minutes. I start with a Pillsbury refrigerated crust. Then I spread on some cream cheese that has been mixed with pesto. Pesto is one of my absolute favorite things. It's too bad I didn't place the basil in the magical soil. It doesn't like the bed we put it in, so I used jarred for this. But use whatever kind you like.
You can also use ricotta instead of cream cheese. You could probably also sub greek yogurt, but mine was furry, so I used cream cheese. Or do a mix.
Then you top the mixture with your veggies and fold up the sides to create the galette. A galette is simply a pie or a tart that's made without a pan; it's freeform. It's rustic, and the crust gives you something to hold on to, like a pizza.
If you have other summer veggies, you can mix and match what you put in your galette. I've also used corn and cherry tomatoes, for a pop of color. Use whatever you have, or like!
But don't forget the pesto. That's not allowed. Ever. 🙂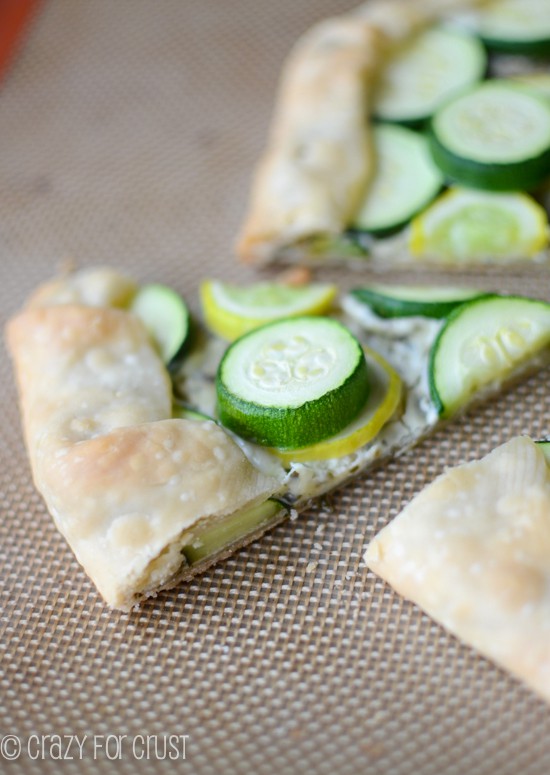 Onto the next zucchini food. I've still got approximately 1,324 zucchinis left. What should I make next?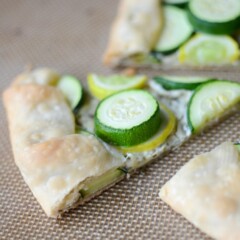 Zucchini Galette
Use up your zucchini and squash from the garden in this Zucchini Galette! And easy recipe for dinner or lunch!
Ingredients
1

refrigerated pie crust

from a box of 2

2

ounces

cream cheese

softened (I used low-fat)

2

tablespoons

prepared pesto

1

small zucchini squash

1

small yellow squash

Salt and Pepper to taste
Instructions
Preheat oven to 400 degrees. Line a cookie sheet with a Silpat or parchment paper.

Stir together the cream cheese and pesto in a small bowl. Slice each squash into thin rounds.

Unroll your pie crust onto your cookie sheet. Spread the cream cheese mixture onto the pie crust, leaving about a 1/2" border around the edges.

Lay your squash slices on top of the cream cheese. You can be random, or do a pattern.

Gently fold over the edges to form a crust. Sprinkle with a few pinches of pepper.

Bake for 20-24 minutes, until the crust starts to get golden brown and isn't transparent looking. Cool slightly before slicing.
Nutritional information not guaranteed to be accurate
Need dinner ideas? How about:
Avocado Chicken Salad Sandwiches
Have a great weekend!
Savory from friends:
Grilled BBQ Chicken by Mom on Timeout
Grilled Corn Salad with Chile Lime Vinaigrette by Lemon Tree Dwelling
Brie and Jam Hand Pies by Something Swanky
Last Updated on May 13, 2020