This post may contain affiliate links. For more information, read my disclosure policy.
Fresh from the garden, this Zucchini Cake Roll is the perfect way to use up all your zucchini! Even better, t's filled with chocolate cream cheese frosting!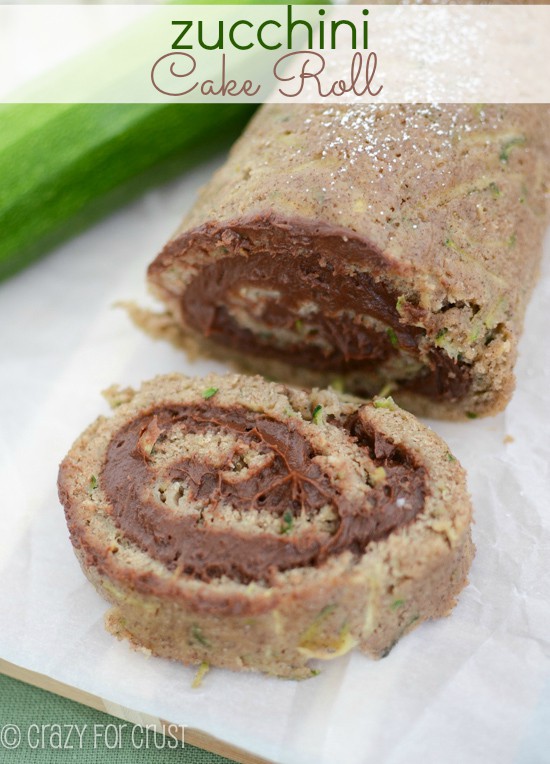 Have you ever had a dream where your zucchini plant grew as tall as your house, spawning these huge leaves of green talons and the squash blossoms grew teeth with snapping jaws? And the zucchini that grew on the plant were as big as grown men and they would detach themselves from the plant and run around in the night attacking small animals and taking swims in your pool?
I haven't either, which is kind of a miracle considering how big my zucchini plants are. And how many zucchini I've gotten off of them.
It's I.N.S.A.N.E.
So, in true Dorothy fashion, I made another cake roll…with zucchini.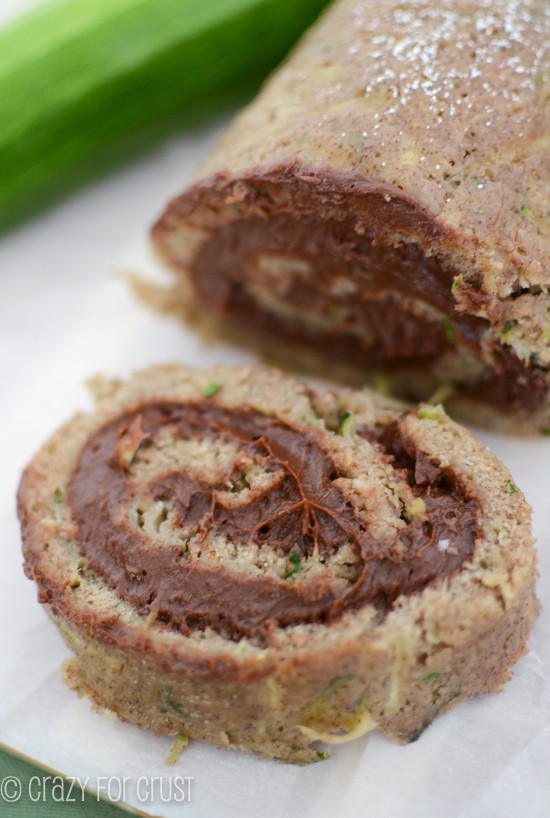 This cake roll is fashioned after the recipe for my Carrot Cake Roll. I swapped a few things and added zucchini instead of carrots. And then I filled it with the best filling everrrrr…chocolate cream cheese frosting.
Why have I never made chocolate cream cheese frosting before? WHY?
It's my new favorite frosting. I'm putting it on everything from now on. Watch out peanut butter cinnamon rolls, your new BFF is in town.
You can see that I had a little cracking on this cake roll. There, on the right. That crack happened because I didn't follow my own rule of chilling the roll for at least 30 minutes (preferably longer) before slicing. I was impatient, and it was super hot in my kitchen. That, and this cake is a little wetter than some, because of the zucchini. Follow the instructions: pat it dry first. Then still follow all my rules.
Don't break my rules, y'all. 😉
I make lots of cake roll recipes. Let's review Dorothy's Cake Roll Rules 101:
You cannot use a cake mix for cake roll recipes, unless you edit the ingredients and only use part of the mix. My first cake roll, the Chocolate Turtle Cake Roll, was made with a cake mix. You can adapt that recipe for your favorite cake mix flavor.
You must use LOTS of powdered sugar on your rolling towel. The area where the cake is going to go needs to be white. Not see-through white but white. Probably about 1/4-1/2 cup at least. When you turn your cake onto it the powdered sugar will cover your floor, your counter, you, your dog, and your child across the room. That's how you know you've used enough.
To prevent cracking, the cake needs to be hot when you roll it. HOT. As in, you're burning your fingers on the pan (use oven mitts!) when you turn it out and the heat of the cake through the towel is slightly uncomfortable but not enough to give you a burn. Roll it as soon as it comes out of the oven, waiting no longer than 1 minute before transferring it to the towel.
The cake must be completely cool before unrolling. At least two hours…maybe more.
After filling and re-rolling, chill for at least 30 minutes (or longer!) before slicing.
Those rules should aid in getting a crack-free cake. I can't promise it…but that's how mine have always been crack free (except, of course, when I violated rule #5).
Now, go make a cake roll. I have some zucchini for you. I'd rather get rid of it before it eats me in my sleep.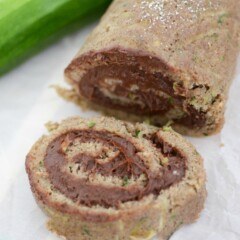 Zucchini Cake Roll with Chocolate Cream Cheese Filling
Fresh from the garden, this Zucchini Cake Roll is the perfect way to use up all your zucchini! And it's filled with chocolate cream cheese frosting!
Ingredients
For the Cake:
3

eggs

2/3

cup

granulated sugar

1

tablespoon

vegetable oil

1

teaspoon

vanilla extract

1/2

teaspoon

salt

1

teaspoon

baking powder

2

teaspoons

cinnamon

3/4

cup

flour

2

cups

shredded zucchini

Powdered sugar

to aid in rolling (see note)
For the Filling:
6

ounces

cream cheese

room temperature

4

tablespoons

butter

room temperature

1/2

cup

cocoa powder

1 1/2

cups

powdered sugar

1

teaspoon

vanilla extract

Powdered sugar

for dusting
Instructions
Preheat oven to 350 degrees. Line a jelly roll (10x15") pan with foil and spray with cooking spray (I like to use the spray with flour).

Beat eggs at high speed for 5 minutes, until frothy and dark yellow. Beat in sugar, oil, and vanilla extract.

Whisk together salt, baking powder, cinnamon, and flour. Stir into wet ingredients just until blended. Stir in carrots.

Spread in prepared pan. Batter will be in a very thin layer and you will need to use a wooden spoon or spatula to spread it to all the corners of the pan. Bake for 9-11 minutes (mine took 10).

While the cake is baking, set a clean kitchen towel out on a large work surface. Sprinkle liberally with powdered sugar (about 1/4-1/2 cup). As soon as the cake comes out of the oven, turn it over on the kitchen towel sprinkled with powdered sugar. Remove foil carefully.

Working at the short end, fold the edge of the towel over the cake. Roll tightly, rolling up the cake into the towel. Let cool completely while rolled, at least two hours.

While the cake is cooling, make the frosting. Beat the butter and cream cheese together until smooth. Beat in powdered sugar and vanilla.

When cake is cool, carefully unroll the towel. Spread the filling on the cake evenly, and re-roll tightly. Chill until it firms up a bit, at least thirty minutes to one hour. Slice and serve.

Cake can be wrapped in plastic and frozen for up to one month.
Nutritional information not guaranteed to be accurate
Other fun ideas:
Chocolate Caramel Turtle Cake Roll
Sweets from friends:
Chocolate Flourless Cake by Dieters Downfall
Cookies 'n Cream Cupcakes with Milk Chocolate Frosting by Life as a Lofthouse
Easy Hot Fudge Cake by Something Swanky
SaveSave
Last Updated on May 13, 2020