This post may contain affiliate links. For more information, read my disclosure policy.
These Zucchini Cinnamon Rolls are fluffy, sweet, and filled with cinnamon and zucchini; a wonderful breakfast for back-to-school or a Sunday morning.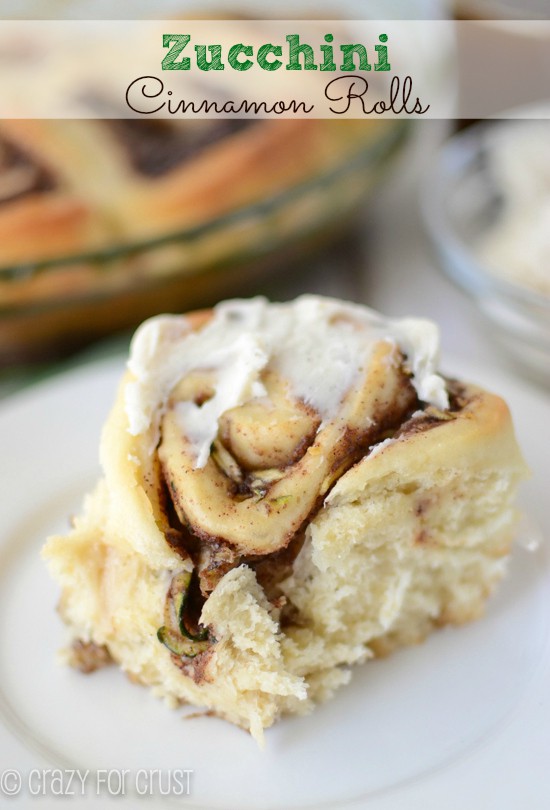 Raise your hand if you've been sucked into the vortex that is American Girl.
You all know my hands are both firmly raised. I've talked about Jordan's obsession here, and here, here, and many more times. I gotta hand it to that company – their marketing team is probably the best one around.
I mean, people. They create a two hour commercial for each of their doll-of-the-year girls, package it like a movie, and show it on national television. It's insane, and genius.
Jordan watched the Saige movie a few weeks ago, and promptly asked for Saige for Christmas. Really, I was shocked it took her so long to ask for another doll. But now I'm in panic mode because if she really does want Saige, I have to buy her soon. Saige is the 2013 doll of the year and only available "while supplies last."
Seriously, geniuses these people. I want to hire them to market my blog. Pie Movie, anyone?
So anyway, it turns out I know someone who hosts American Girl camps during the summer, and wouldn't you know it, Saige was the camp this week. I dropped Jordan off this morning and she waved good-bye among a sea of artificial hair and limbs and other 8 year olds.
Watch out people: American Girl is going to take over. First, stores and TV shows. Next stop, government.
The other thing that is going to take over? Zucchini.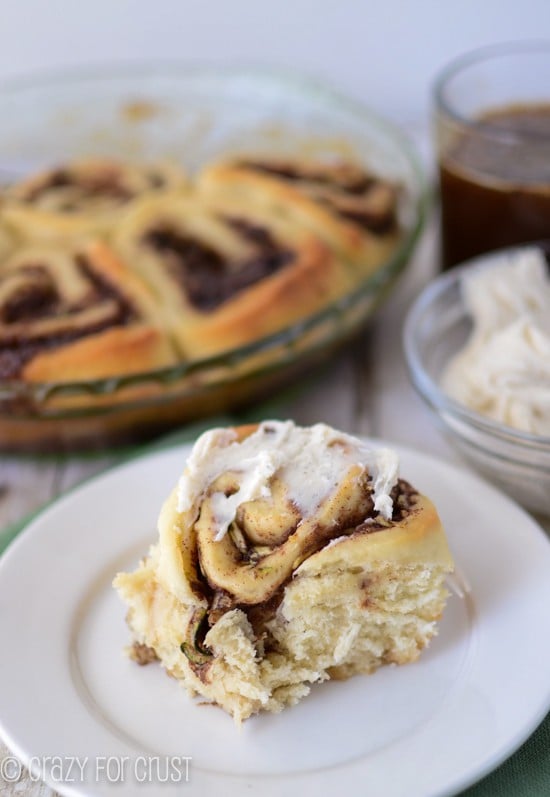 Zucchini. It's another thing I cannot stop talking about. Cookies, pie, cake, and brownies, oh my! Zucchini did take over my garden this summer. We finally ripped it out of the ground because we just couldn't take it anymore.
Did you know that August 8th is national Sneak Some Zucchini on your Neighbor's Porch Day? Like ding dong ditch, but with zucchini?
#whoknew #itsarealthing
Believe me, I understand the need for that day!
I have one last zucchini recipe for you. Well, I might be lying a little bit. One last one for now, anyway.
Zucchini Cinnamon Rolls.
This is my favorite cinnamon roll. Well, one of them. I have several. But this is definitely my favorite dough. I used the same buttery yeast dough for my peanut butter cinnamon rolls last month. If you'll remember my Instagram photos, I actually made these the same day. While the peanut butter ones were rich and sinful beyond belief, these are more traditional.
The sweet and buttery dough is filled with a cinnamon, brown sugar, and butter paste that has been stirred up with some shredded zucchini. These don't taste like zucchini, rather it's an add-on. Think of it as a way to (1) get rid of some of your stash and (2) sneak veggies into food your kids will eat.
And, well. They're topped with cream cheese icing. There's nothing better than that, is there?
These Zucchini Cinnamon Rolls are perfect for make ahead. You'll notice in the recipe that I make the dough and the rolls the night before, and then leave them to rise overnight in the refrigerator. That way all you have to do is pop them in the oven when you get up in the morning.
But I have an even better idea for you, on that will be perfect for busy school mornings:
Make these cinnamon rolls on a weekend. Cool completely, and separate the rolls from each other. Place them in individual plastic baggies and freeze. Then, all you have to do is grab one in the morning before school, or when you are jonesing for a cinnamon roll. We did that with these and it was the perfect quick breakfast for Jordan (and me)! You can freeze a little frosting in the baggies too. I froze them without frosting, and added some after reheating.
Ugh, now I want a cinnamon roll. Badly.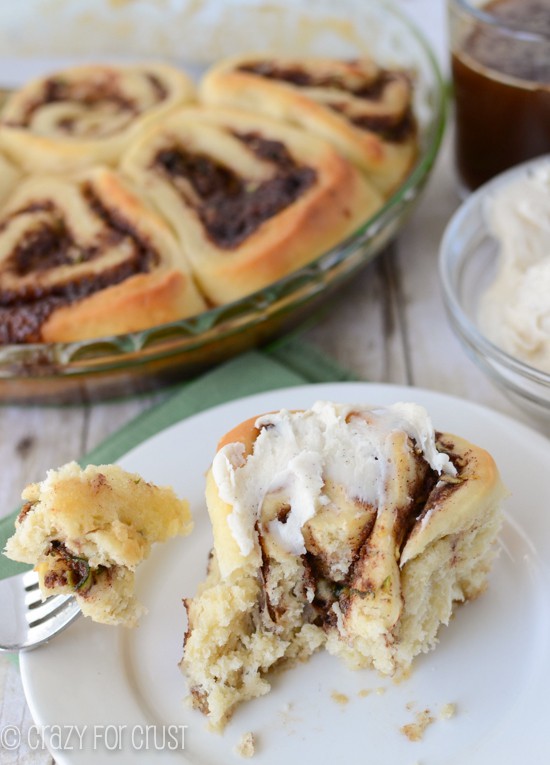 I imagine it's how Jordan feels after watching an American Girl movie. Or how she's going to be when I pick her up later today.
At least cinnamon rolls are cheaper than a new doll…. 🙂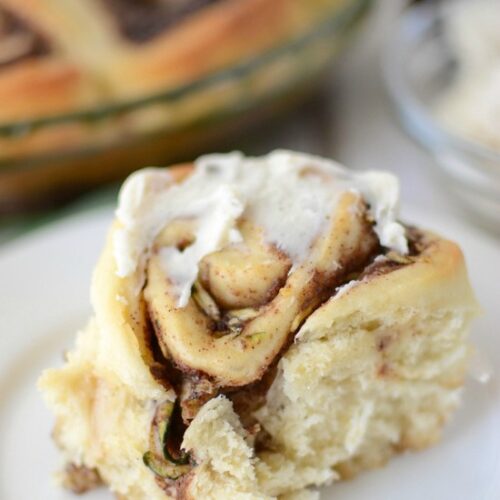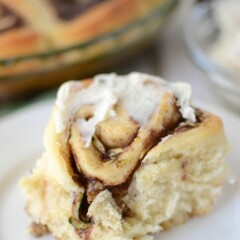 Zucchini Cinnamon Rolls
Zucchini Cinnamon Rolls - a fluffy cinnamon roll recipe filled with shredded zucchini! Sneak veggies into breakfast and no one will ever know.
Ingredients
For the Dough:
1

package active dry yeast

about 2 1/4 teaspoons

3/4

cup

warm non-fat milk

heated to about 120 degrees, about 30-45 seconds in the microwave

1/3

cup

sugar

3

tablespoons

butter

softened

1/2

teaspoon

salt

1

egg

3

cups

all-purpose flour

plus more for dusting

Paddle attachment & dough hook for your mixer
For the Filling:
1/2

cup

butter

softened

3/4

cup

brown sugar

2

tablespoons

cinnamon

1

cup

shredded zucchini

2

tablespoons

flour
For the Frosting
4

ounces

cream cheese

softened

4

tablespoons

butter

softened

3

cups

powdered sugar

1

tablespoon

vanilla bean paste or vanilla extract
Instructions
Make the Dough:
Place milk in a microwave safe measuring cup. Heat for 30-45 seconds in the microwave, until it's about 120 degrees. Add yeast and stir. Let it sit for a few minutes.

Place sugar, butter, salt, and egg in the bowl of a stand mixer fitted with the paddle attachment. Mix until the butter is distributed throughout the liquids, although it may be chunky. Pour in the milk/yeast mixture and stir for a few seconds.

Add flour and stir with the paddle attachment just until the mixture starts to stick to the paddle. Then replace the paddle with the dough hook. Continue mixing on low speed until the dough forms a ball in the center of the bowl.

Spray a large bowl with cooking spray and place the dough ball in it. Spray the top of the dough ball with cooking spray (lightly) and cover the bowl with plastic wrap. Let sit for 1-2 hours until it doubles in size.

Note on rising: if your house is warm, it should rise no problem. If it's cold in your house, it may take longer for the dough to rise, so plan accordingly!
Prepare your Rolls:
Pat your zucchini shreds with paper towels to remove any excess water.

Stir together butter, brown sugar, flour, and cinnamon until it forms a paste. Stir in zucchini.

Once the dough is risen, roll it out on a lightly floured surface into a large rectangle, about 12" by 9". Spread the filling as evenly as possible over the rectangle, making sure to reach to the sides so the outer rolls have enough filling.

Roll the dough up tightly from the long end. Slice it into 9 equal rounds. Place the rolls into a 9" pan or 9 1/2" round pie plate that has been sprayed with cooking spray. (You can also slice them into 12 rolls and place them in a 9x13" pan.)

At this point, you can let them rise for about 30 minutes-1 hour until they are swelling up in the pan and bake as directed. Or you can do what I do: cover with plastic wrap and stick in the refrigerator overnight until ready to bake.

When ready to bake, preheat oven to 350 degrees. If the rolls have been in the refrigerator, remove them and let them warm up while the oven is preheating. Remove the plastic wrap and bake for 15-25 minutes, or until they are golden brown.
Make the frosting:
Mix cream cheese and butter with a hand mixer until well blended. Mix in powdered sugar until smooth, stir in vanilla. Frost rolls and serve warm.
Nutritional information not guaranteed to be accurate

Love this? Check these out:
Sweets from friends:
Sausage Filled Cinnamon Roll Monkey Bread by I Wash, You Dry
Chocolate Rolls with Coffee Icing by Roxana's Home Baking
Rolo Stuffed Monkey Bread by Something Swanky
Enjoy!
Last Updated on March 4, 2023