This post may contain affiliate links. For more information, read my disclosure policy.
If you are craving ooey, gooey chocolate brownies, this crockpot recipe is the one for you. It's a Slow Cooker Brownie Pudding – like crockpot lava cake and it's SO good.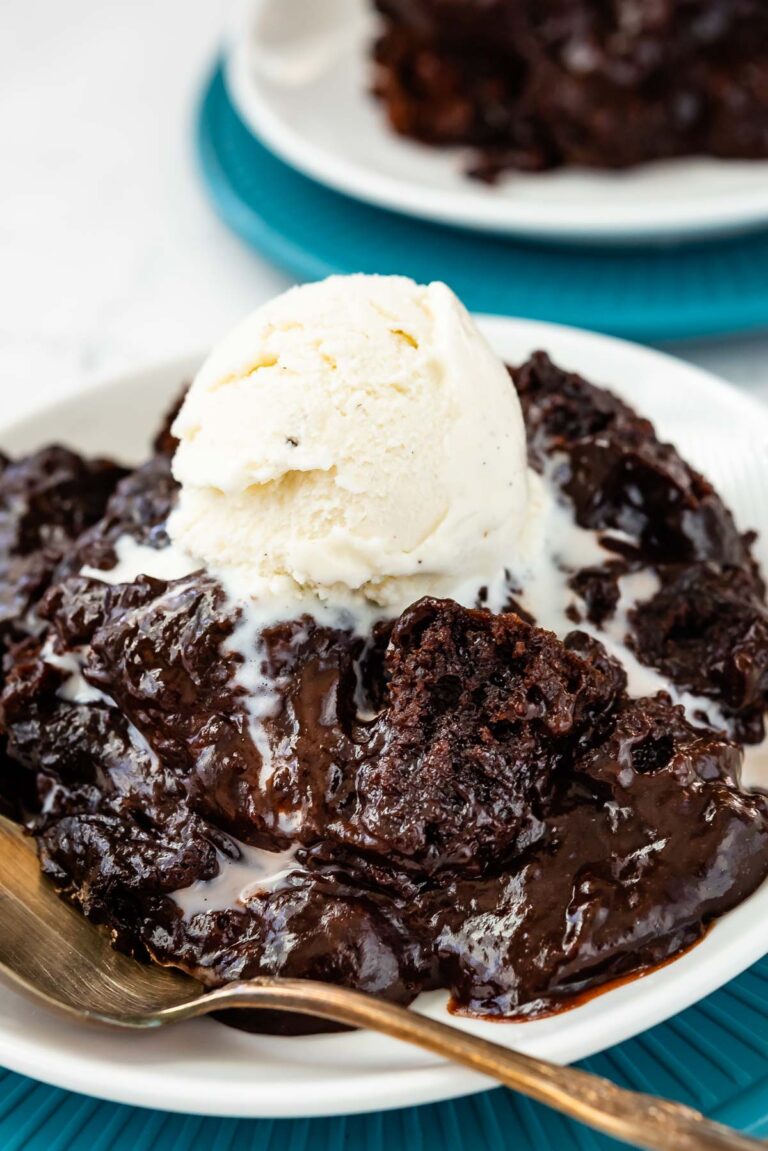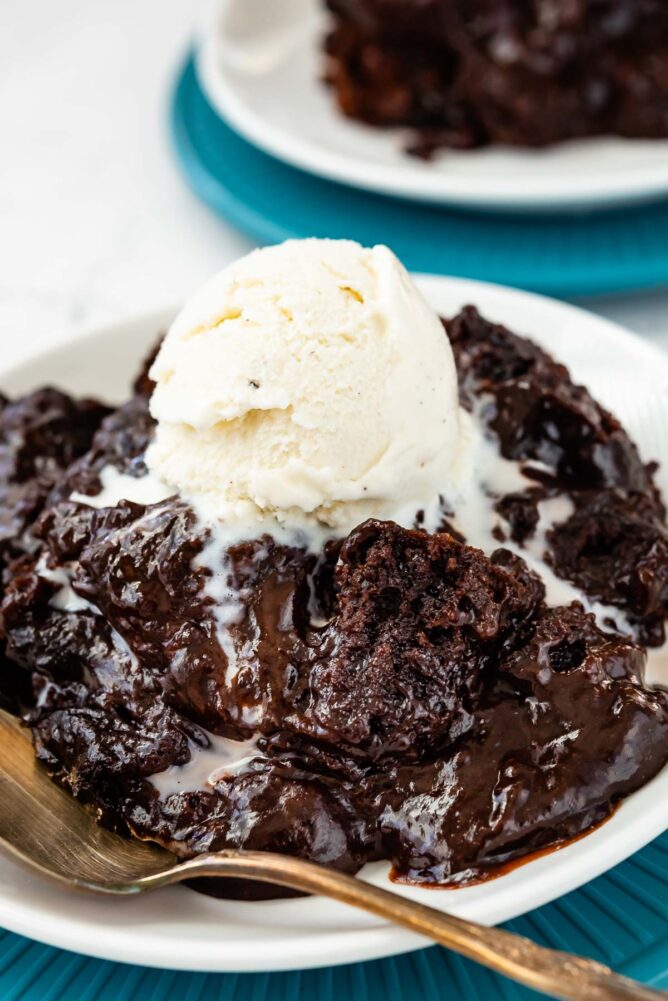 Crockpot Brownies with Pudding
Instant gratification is something I often have no power against. Too often I feel a little too much like Veruca Salt: "I want it and I want it NOW!" The lines between instant gratification and life are blurring – it's almost too easy to just get what we want immediately.
Take TV, for example. We no longer have to wait in anticipation for our favorite shows; we just binge watch them on Netflix one after the other. The only waiting that occurs is because my husband makes me go to bed after watching 3 episodes of Friday Night Lights and I have to wait until the next night to continue my binging. We don't even have to watch commercials anymore, now that every room has a DVR.
I find it hardest to resist my impulses when I'm shopping. I'll see a shirt or a bag or some shoes that I love and I just want them. Why shouldn't I buy them? I work hard. They're cute. They're on sale! This actually happened last week – and while the shoes were at a discount store, they sure as heck weren't on sale. I did make myself wait overnight and when I couldn't stop thinking about them I went back and bought them. (See? I had to buy them, right?)
And then there are recipes. That's where my instant gratification gets me the worst. I see a recipe or think of an idea and I need to make it ASAP. Like, I'll drop everything on my schedule and head to the kitchen. And while that's not great for my to-do list, it is great for you. Why?
Because this Slow Cooker Brownie Pudding is one of my impulse recipes that I had to make ASAP. And then I had to share it, in front of all the other recipes I was going to post. But you're okay with that, right?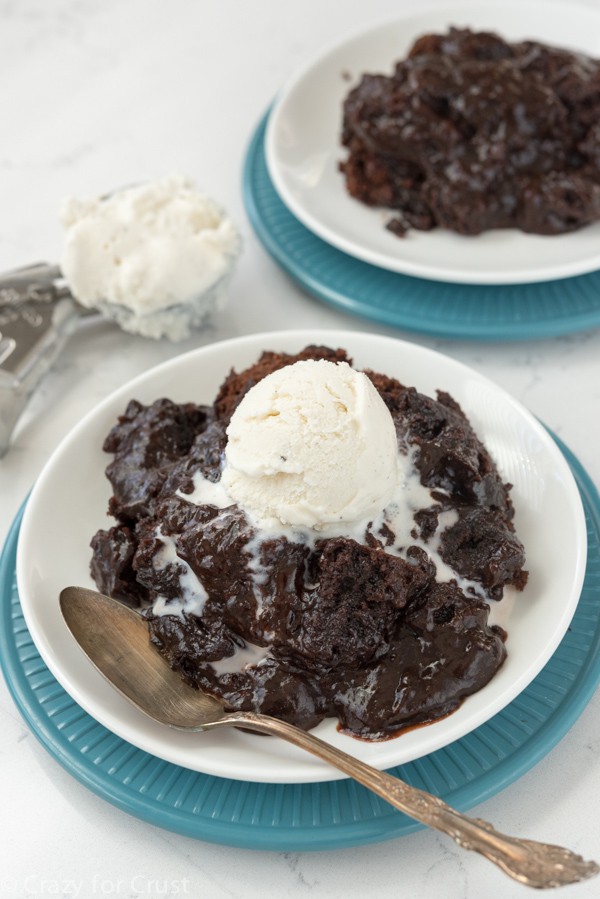 If you follow me on Facebook, you may have seen this post I shared last weekend. Heck, if you're on Facebook at all, you've probably seen it. It's one of those videos that is probably copied off some bloggers recipe and goes viral (true story). It was for a chocolate lava cake made in a slow cooker, using cake mix and pudding mix. I immediately thought of some of the other crockpot desserts I've made, like hot fudge cake and caramel cake, and I wanted to make this one too.
How to make Crockpot Lava Cake
(Side note: I did google it to see if a blogger friend had been ripped off before I made this. The top two google results for "Crockpot Lava Cake" were Betty Crocker and Taste of Home. So I decided to continue on my must have chocolate lava brownie pudding ASAP quest.)
Because that's right – I didn't want to use cake mix. I wanted to see if using brownie mix and chocolate pudding mix would work and create a slow cooker brownie pudding (aka Lava Brownie) recipe. And guess what?
It worked fabulously. This Crockpot Brownie Pudding is gooey, chocoaltey, rich, and so freaking fantastic YOU need to make it right this minute. (Honestly, it's even better than the BEST brownie recipe in the world.)
But you will have to wait for the slow cooker to do it's magic. (Consider it a gift: I'm teaching you patience.)

Expert Tips
This recipe has just a few ingredients: brownie mix and the ingredients called for on the box, pudding mix, and milk. It's probably one of the more simple recipes you'll ever make.
Tip for making desserts in a crockpot: every slow cooker cooks differently. Yours might be hotter than mine or cook more on one side than the other. It's just how it is. Also, every crock pot seems to be a different size. Mine is about 7 quarts. This cake will work in a 5 or a 6 quart as well, but cooking time will be affected. I give a large range in cooking time for these reasons: 2-3 hours could mean 2 or it could mean 3. Hopefully it won't be longer than that!
Because some of the pudding stays on the top of the brownies, it looks raw even when it's done, which is why you cannot use the toothpick test. Just watch the edges – when they stop being shiny/glossy/raw looking, then it's done. But it will still look underdone in the middle – that's the pudding being all jiggly, not raw brownies.
If you need to bake sugar-free, good news! This recipe can be made using sugar-free brownie mix or sugar-free cake mix and sugar-free pudding mix. I made it with sugar-free vanilla cake mix and sugar-free butterscotch pudding for my dad and it worked just fine! Try it with PUMPKIN cake and it's amazing!
Enjoy!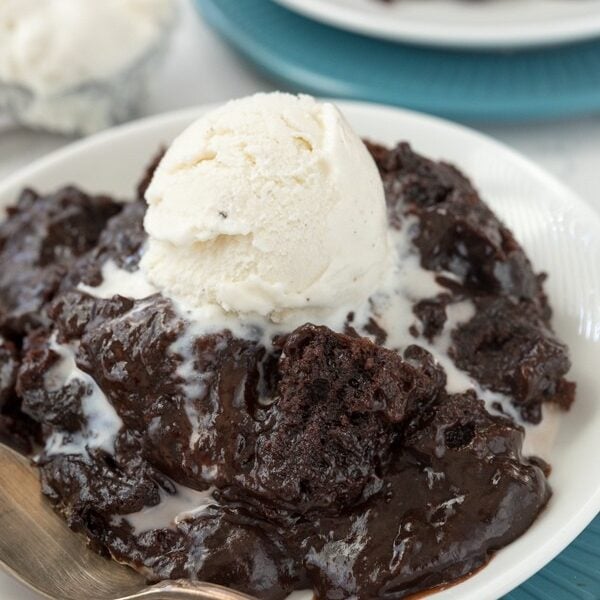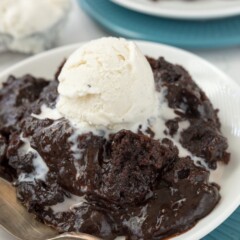 Slow Cooker Brownie Pudding
This Slow Cooker Brownie Pudding is so chocolatey and rich! It's easy to make with just a few ingredients you probably already have in your pantry!
Total Time
2

hours
15

minutes
Ingredients
1

(approx 15 ounce) box

Brownie Mix

see note

2

large

eggs

(or use water, and oil called for on the brownie mix box)

½

cup

(118ml) vegetable oil

3

tablespoons

(45ml) water

1

3.4 ounce box

instant chocolate or chocolate fudge pudding mix

2

cups

(474ml) milk

regular or nonfat

Ice cream or whipped cream for serving

optional
Instructions
Spray a 6-7 quart slow cooker with nonstick cooking spray.

Prepare brownie mix with eggs, oil, and water (or as directed on the back of the box). Pour into prepared slow cooker.

Whisk pudding mix and milk in a medium sized bowl until smooth. Pour carefully over the brownie mix in the crockpot.

Cover the crock pot with a paper towel and place the lid on top (to catch the condensation). Cook on high power 2-3 hours. It will probably take at least 2 1/2 hours, but start checking it after 2. Some of the pudding stays on the top and stays wet looking, so you cannot trust the toothpick test and it will stay somewhat jiggly until it's done. Watch the edges – when they look somewhat dry and done, then the pudding is ready. Baking time will be different for every slow cooker, but after 3 hours on high it should be done. You don't want to overcook it or the brownie (which is on the bottom) will be dry.

Serve warm with ice cream or whipped cream. Store in an airtight container in the regfrigerator for up to 3 days.
Recipe Notes
Different brownie mix brands call for different amounts of eggs, water, and oil. I used Betty Crocker brand, but make the brownies according to what your box mix says.
Recipe Nutrition
Serving:
1
serving
|
Calories:
138
kcal
|
Carbohydrates:
2
g
|
Protein:
2
g
|
Fat:
13
g
|
Saturated Fat:
10
g
|
Cholesterol:
42
mg
|
Sodium:
37
mg
|
Potassium:
78
mg
|
Sugar:
2
g
|
Vitamin A:
135
IU
|
Calcium:
61
mg
|
Iron:
0.2
mg
Nutritional information not guaranteed to be accurate
Don't forget to try Hot Fudge Pudding Cake from A Family Feast, Slow Cooked Mississippi Mud Pudding Cake from Melissa's Southern Style Kitchen and Chocolate Brownie Pudding Cake from Saving Dessert.
Crockpot Peanut Butter Hot Fudge Cake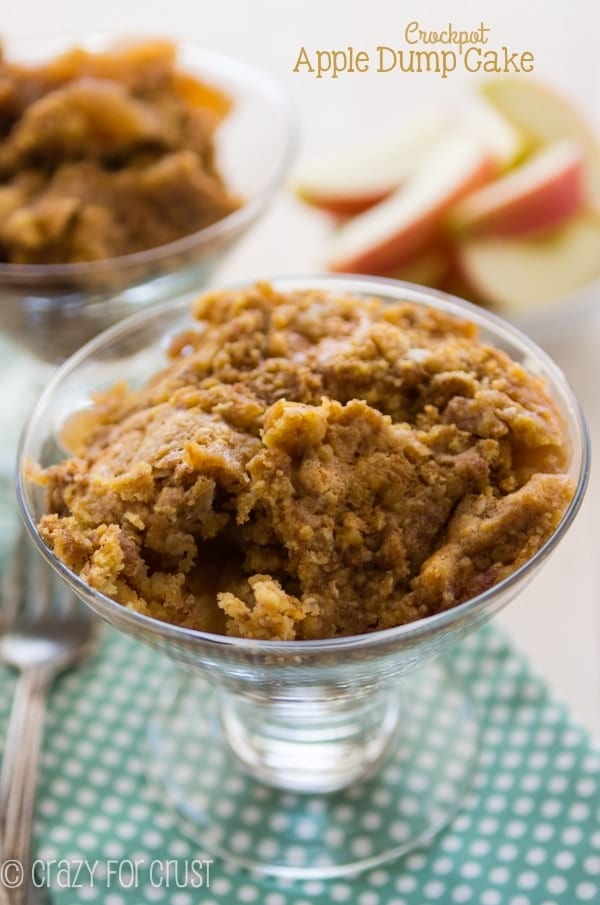 Slow Cooker Cinnamon Roll Monkey Bread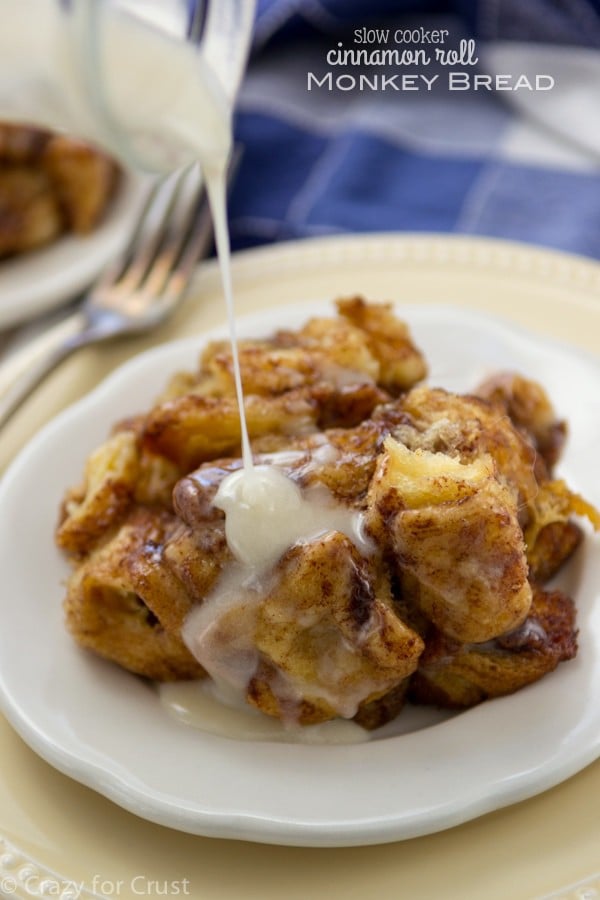 Sweets from friends:
Blueberry Coconut Cobbler by Sugar Dish Me
Cranberry Apple Cobbler by Yellow Bliss Road
Slow Cooker Peach Cobbler by Yummy Healthy Easy
Last Updated on March 11, 2022