This post may contain affiliate links. For more information, read my disclosure policy.
Learn how to make M&M fudge brownies! These easy brownies have the best fudgy texture, and lots of M&Ms mixed into the batter and baked on top. Make them with classic M&Ms or any other flavor that you like. Plus, I'm sharing tips for baking and slicing the perfect brownie that will get you rave reviews.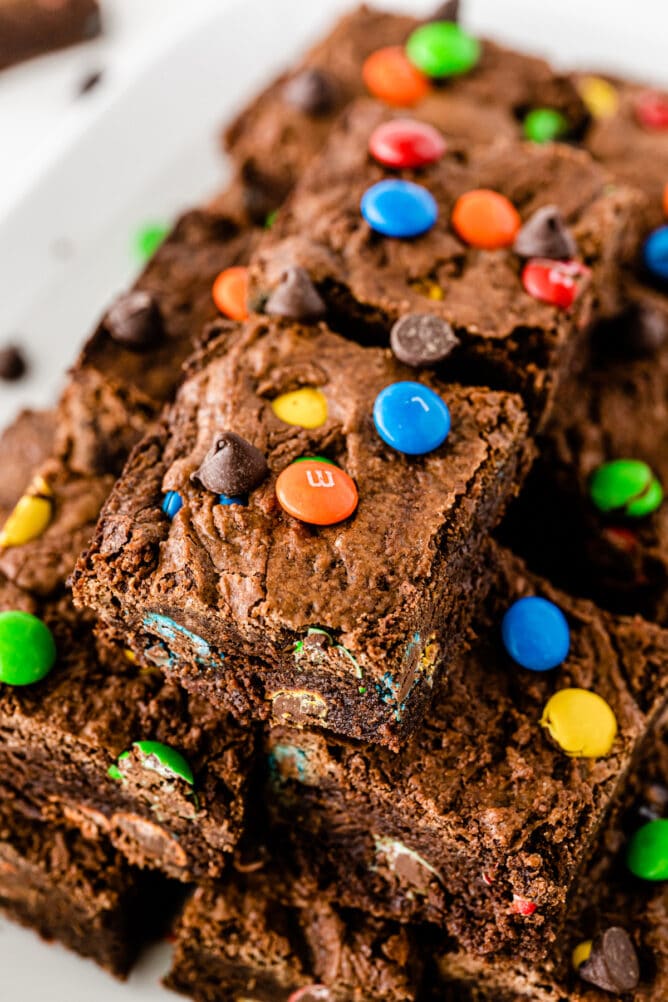 Are you team fudgy brownie like me? I know they exist, but cakey brownies haven't really ever been my thing – give me a rich, fudgy, chocolate brownie, and I'm a very happy girl.
The only thing better than a fudgy brownie is a fudgy M&M brownie, and that's what I'm sharing today. This recipe makes a batch of the best brownies from scratch. You are going to love them!
Why This Recipe Works
This recipe starts with browned butter, and then all of the other ingredients are mixed into the warm butter. This creates a super-rich batter that bakes up so fudgy and amazing.
I also double on the chocolate by using chopped unsweetened baking chocolate and cocoa powder. In other words, these m and m brownies will cure a chocolate craving!
I'm sharing the best tips for slicing brownies, so you get perfect squares (hint: get out the foil and put away the metal knife!).
I can promise this is tried and true recipe. I've made these easy brownies countless times, and they always turn out, and they always get rave reviews from everyone that tries. It'll be your go-to MM brownies recipe once you try it!
Table of Contents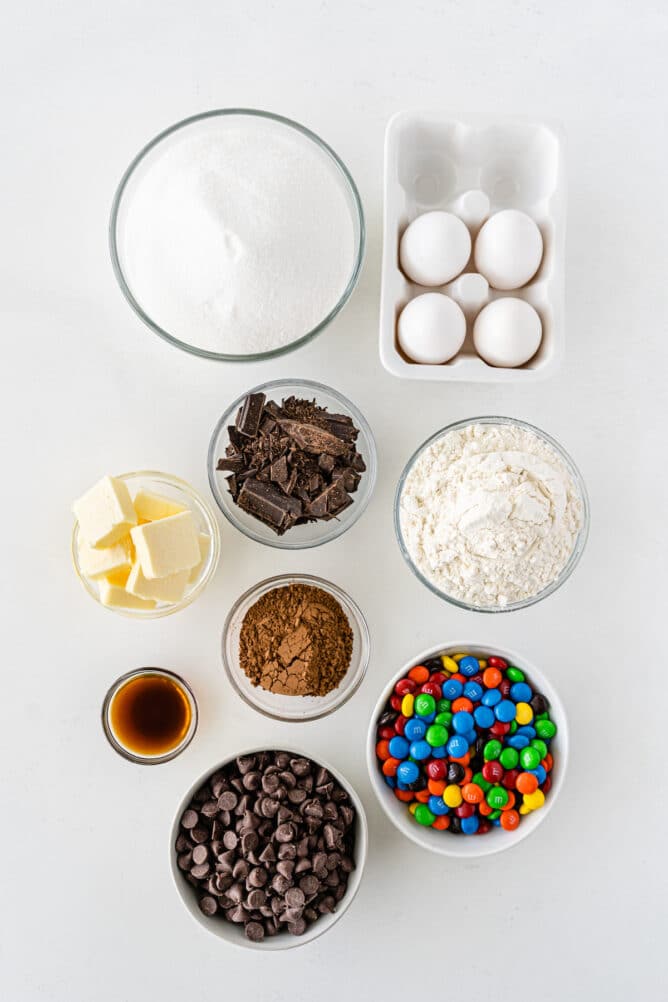 Ingredients in M&M Brownies
Unsalted Butter: You need to use unsalted butter for this recipe since we are browning it – you don't want to brown salted butter. Don't have unsalted? Just melt the butter for the brownies – they still taste great.
Coarsely chopped unsweetened baking chocolate: Find this in the baking aisle. I like using Baker's or Ghiradelli.
Sugar: Granulated sugar is the best – and we're using a lot of it!
Unsweetened cocoa powder: You can use special dark, dutch process or regular
Large eggs: Be sure to buy large!
Vanilla extract: For flavor
Salt: needed especially since we are using unsalted butter
All-purpose flour: Not too much – be sure to measure it correctly
Chocolate chips: Use your favorite brand and type of chocolate
M&Ms: Plain work great but so do peanut or peanut butter or your favorite!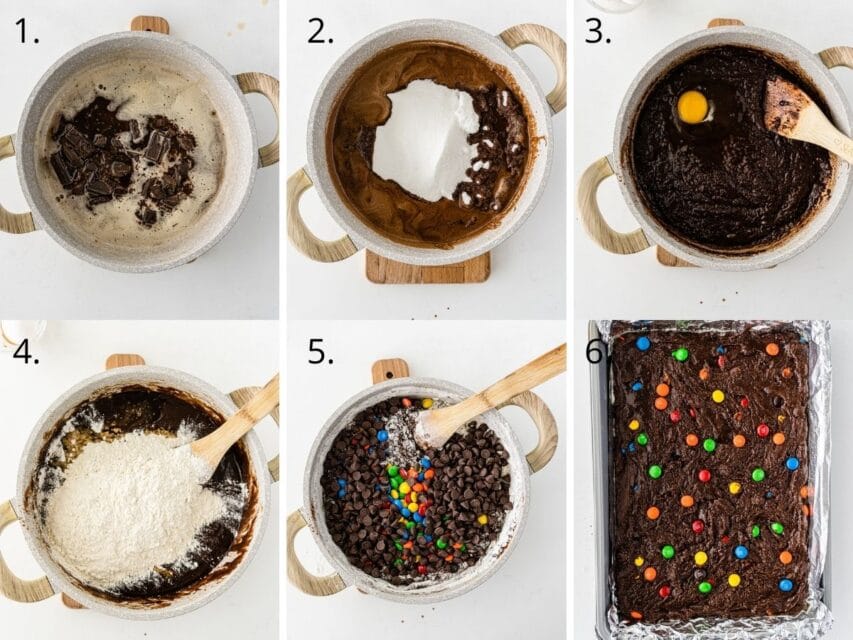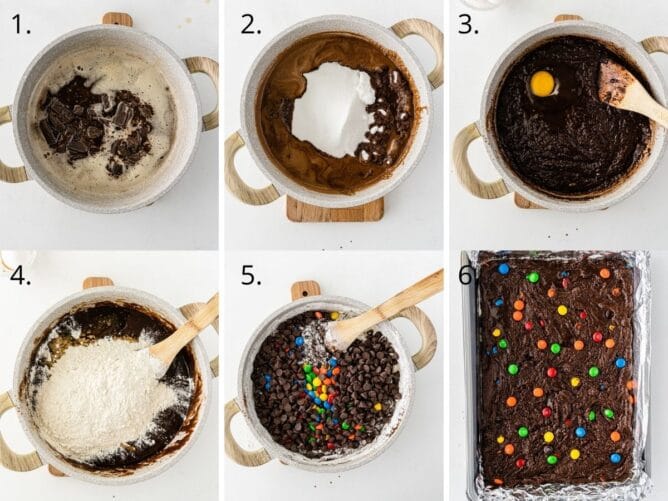 How to Make M&M Brownies
1. Brown the butter: Place the butter in a sauce and melt it over medium heat. Cook the butter for six minutes while stirring. When the butter melts, it will foam, and then the foam will subside. Then it will foam up again and will start to turn a light brown. Keep stirring and once it's amber in color, turn off the heat. Read my post about how to brown butter for more tips.
Chocolate: Add the chopped chocolate and stir until it melts.
2. Mix in the sugar.
3. Mix in the eggs, vanilla, salt, and cocoa and stir until well combined.
4. Add the flour and mix.
5. Once combined, add the chocolate chips and M&MS and stir to mix them into the batter.
6. Pour the batter into the prepared pan. Sprinkle more M&Ms over the top and then bake the brownies for 25 to 35 minutes.
How to know when brownies are done baking
These are done when a toothpick comes out mostly clean 2-inches from the side of the pan. They should look set in the middle and not jiggle.
I like gooey center brownies – if you like them more done bake a bit longer.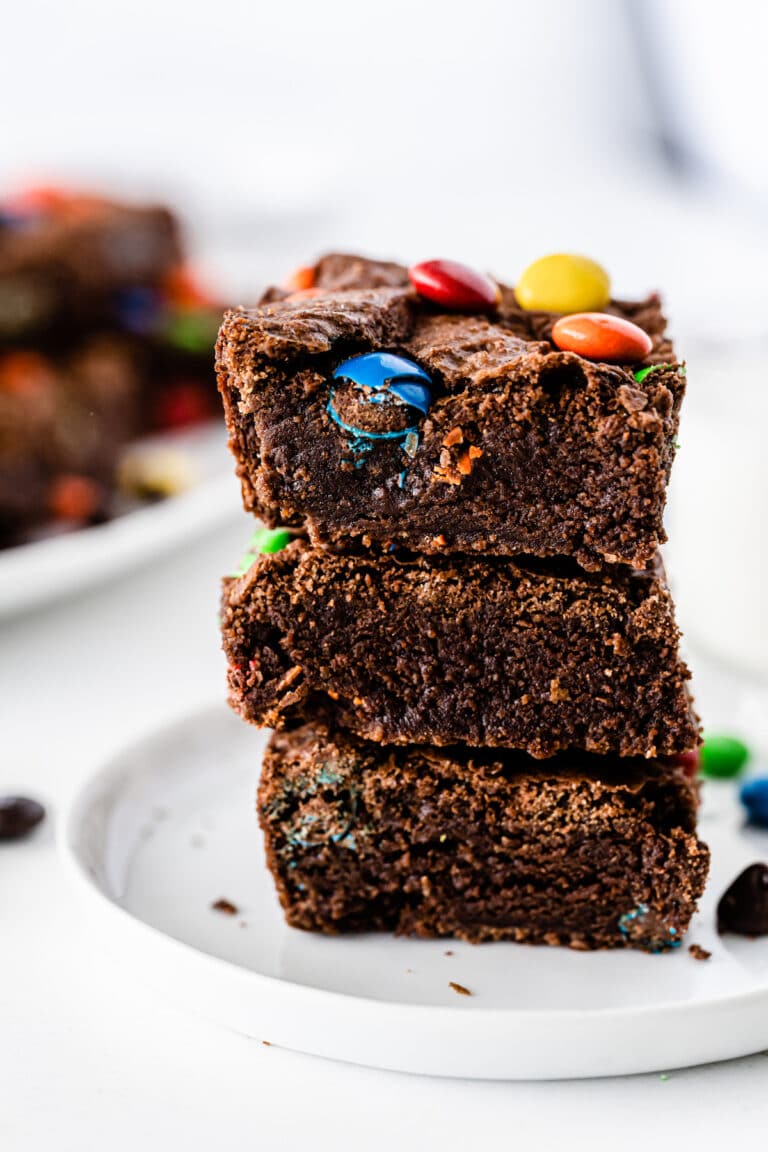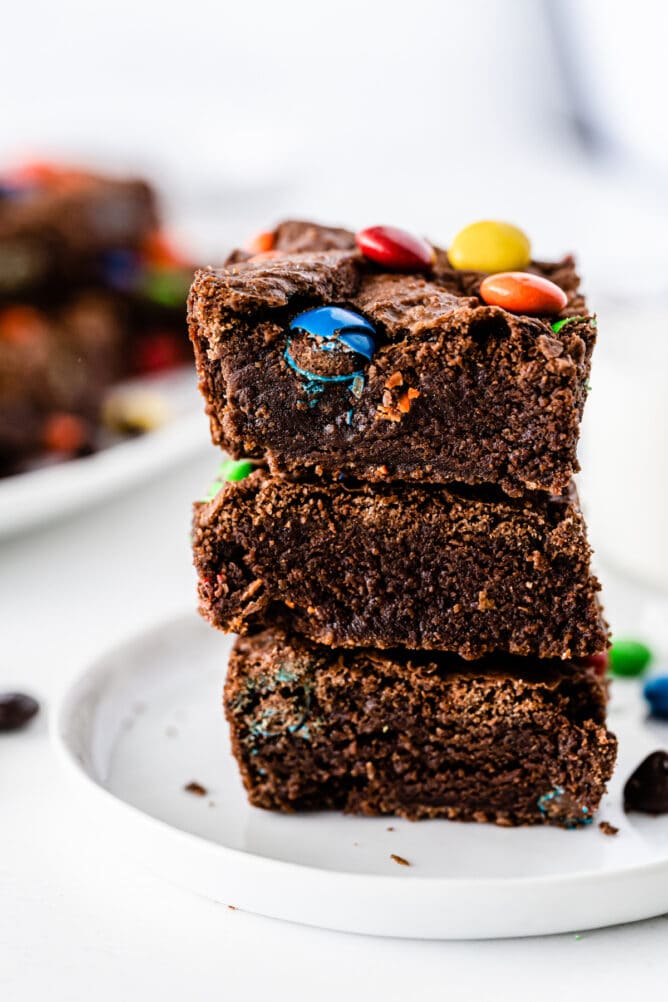 Tips for the Best Brownies
You can use any M&Ms you like for these brownies – there are so many options these days you can make these brownies over and over and never use the same M&Ms twice!
Not an M&M fan? You can use other kinds of candy in this recipe – chopped candy bars, peanut butter cups, Reese's Pieces, or skip the candy and load them up with more chocolate chips.
For the best fudgy brownies, don't overbake them. I like to take them out of the oven once I can insert a toothpick in the edge and only a few crumbs come out with it.
For easy removal, don't skip the foil! Lining your pan with foil makes it easy to lift the brownies out in one piece for slicing.
Want clean-cut slices? Use a plastic knife to slice the brownies. Works every time.
Let's add these brownies to your baking list this week, shall we? I can promise you won't regret it – they are decadent, rich, and the best M&M fudge brownie I've ever had. I think you'll agree!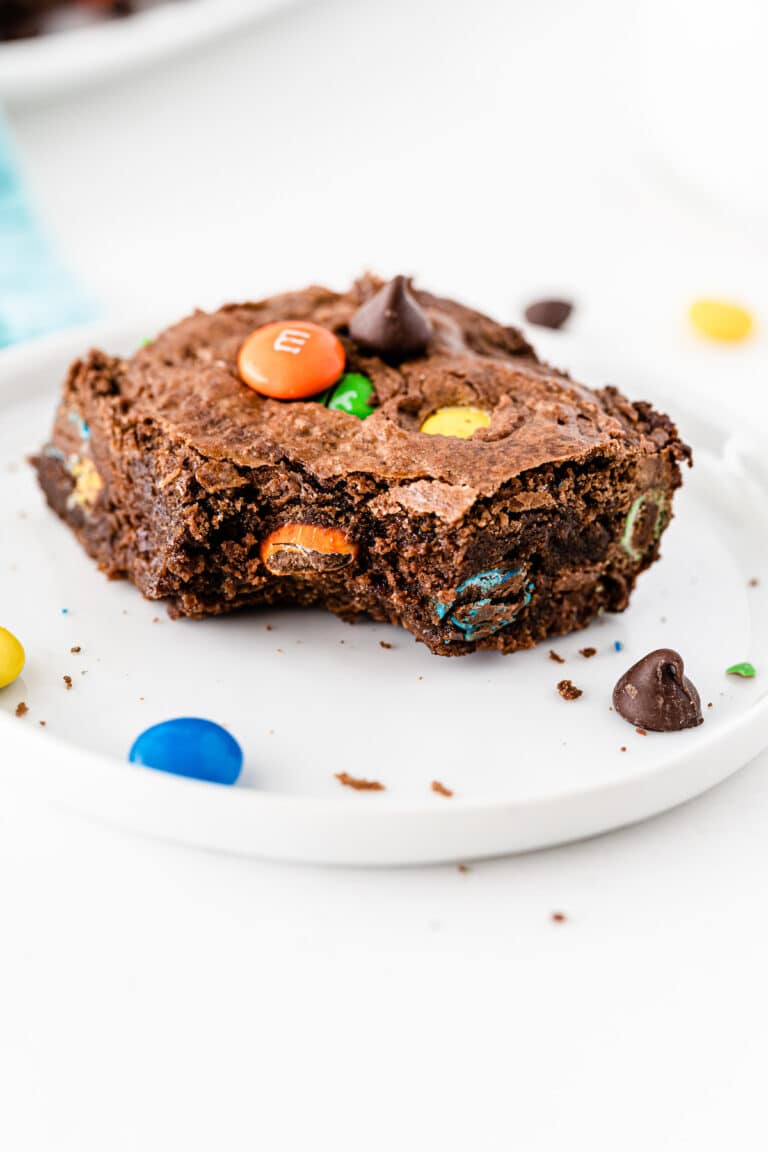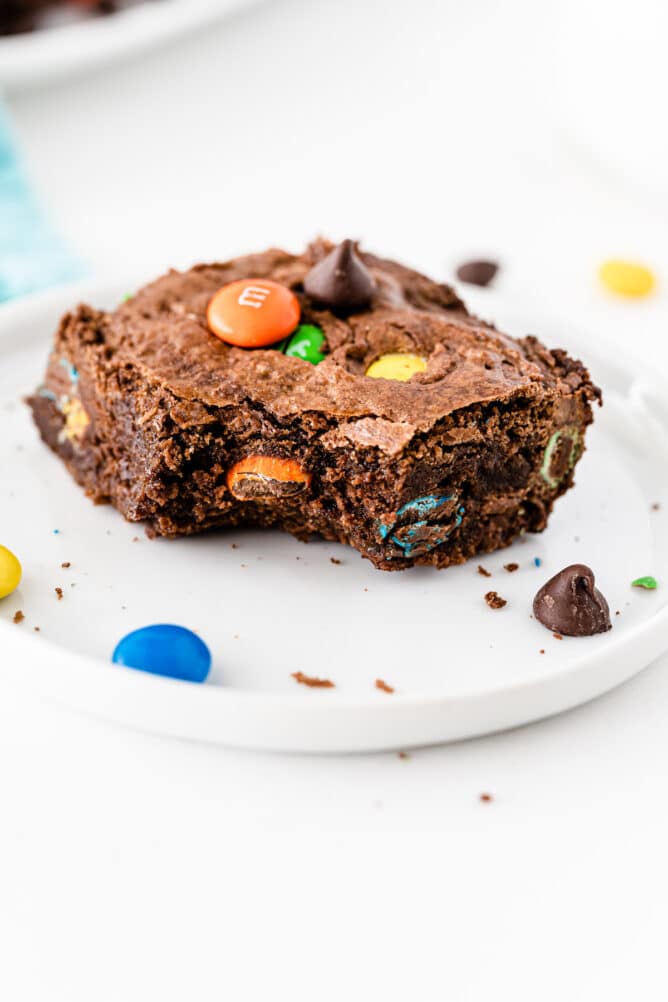 M&M Brownies FAQ
How do you put mini M&Ms in brownies?
Add the M&Ms when you've mixed all of the other ingredients for the batter. Add them and stir or fold them into the batter before transferring the batter to the baking dish. You can also sprinkle more M&Ms over the top of the batter in the pan before baking.
How do you make brownies with M&Ms from scratch?
Combine melted butter with melted baking chocolate, sugar, cocoa powder, eggs, vanilla, salt, flour, and then mix in M&Ms. Bake in a 9×13" baking pan for 25 to 30 minutes at 350°F.
My brownies don't seem done, and they've been baking a long time. What should I do?
Test the brownies by inserting a toothpick in the edge. Does it have some crumbs when you pull it out? The brownies are done! They will be nice and fudgy at this stage once they cool. If your toothpick has wet batter on it, they aren't done yet, so leave them in the oven longer.
How do you cut brownies easily?
Use a plastic knife! The brownie won't stick to a plastic knife as it does to a metal one.
Can I use peanut M&Ms in brownies?
ep! You can use peanut M&Ms or another type of M&M that you like!
More Brownie Recipes
Have you made this recipe?
Tag @crazyforcrust on Instagram or hashtag it #crazyforcrust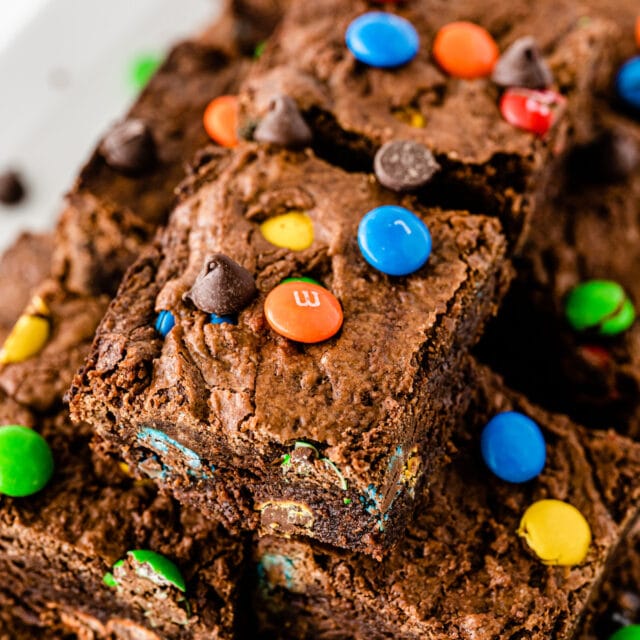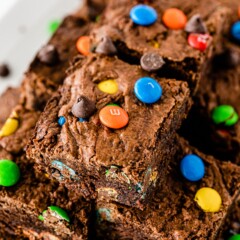 M&M Brownies Recipe
These M&M Brownies might be your new favorite after you try them! They are decadent, rich, fudgy and overloaded with chocolate.
Ingredients
1

cup

(226g) unsalted butter

4

ounces

(113g) unsweetened baking chocolate

coarsely chopped

2 ½

cups

(500g) sugar

¼

cup

(20g) unsweetened cocoa powder

4

large eggs

1

teaspoon

vanilla extract

1/2

teaspoon

salt

1 1/3

cups

(162g) all-purpose flour

1

cup

(85g) chocolate chips

1

cup

(170g) M&Ms

plus more for topping
Instructions
Preheat oven to 350°F. Line a 9×13″ pan with foil and spray with nonstick cooking spray.

Melt butter in a saucepan over medium heat. Cook, stirring often, about 6 minutes, until it becomes brown in color. It will foam, reduce, then foam again. Once it's done cooking the foam is a light brown and it will dissipate after you remove it from the heat. Once it starts to brown, keep stirring so it doesn't burn. Once it gets to an amber color, turn off the flame.

Add baking chocolate to the butter and stir until the chocolate is melted. Stir in sugar, eggs, vanilla, salt, and cocoa and stir until combined. Stir in flour then stir in chocolate chips and 1 cup M&Ms.

Pour brownie batter into prepared baking pan. Sprinkle with more M&Ms. Bake for 25-35 minutes until a toothpick along the edge comes out with just a few crumbs. This results in very fudgy gooey brownies. Cool before slicing into bars.
Recipe Nutrition
Serving:
1
serving
|
Calories:
583
kcal
|
Carbohydrates:
78
g
|
Protein:
7
g
|
Fat:
30
g
|
Saturated Fat:
18
g
|
Polyunsaturated Fat:
1
g
|
Monounsaturated Fat:
6
g
|
Trans Fat:
1
g
|
Cholesterol:
100
mg
|
Sodium:
145
mg
|
Potassium:
147
mg
|
Fiber:
3
g
|
Sugar:
62
g
|
Vitamin A:
624
IU
|
Vitamin C:
1
mg
|
Calcium:
65
mg
|
Iron:
3
mg
Nutritional information not guaranteed to be accurate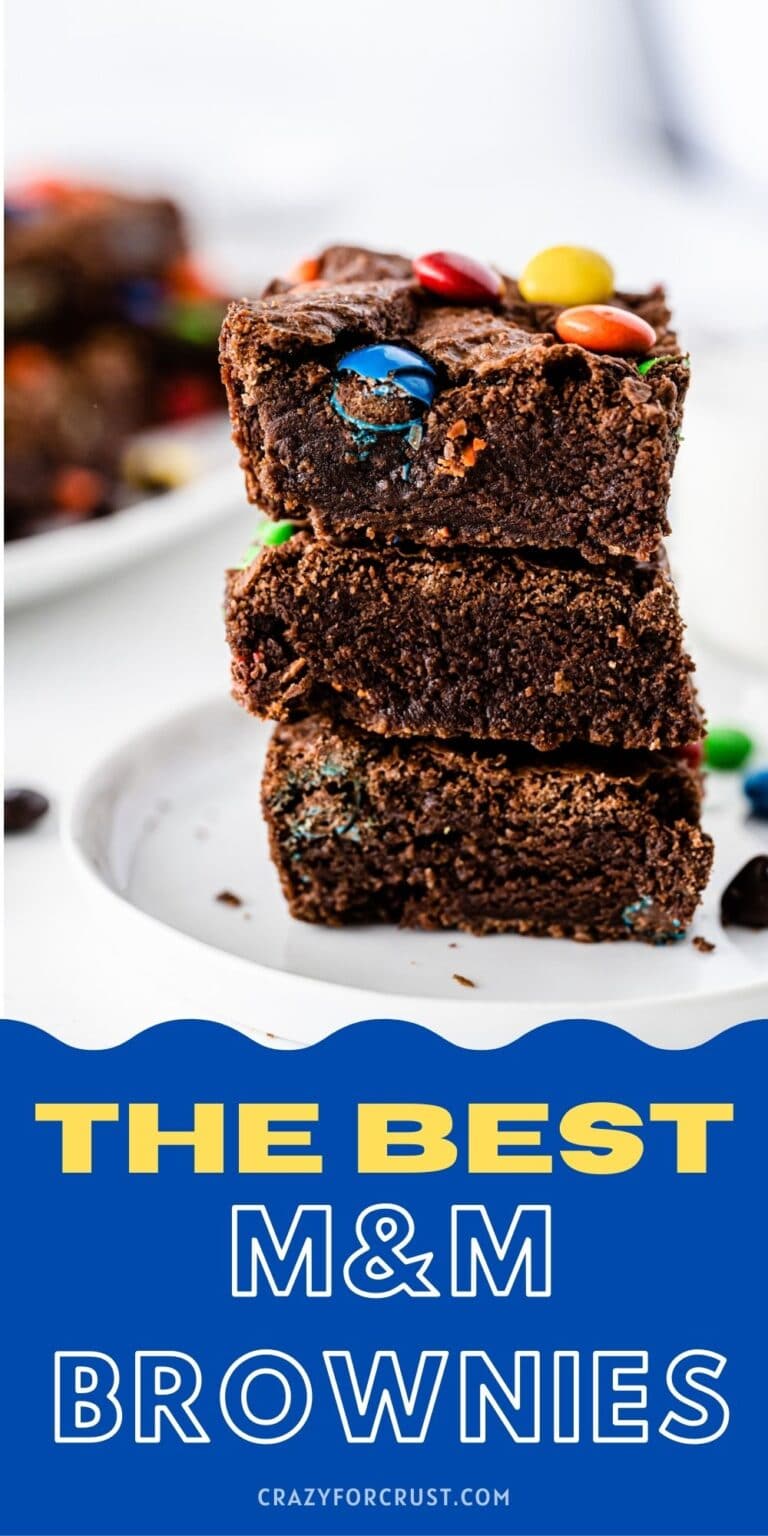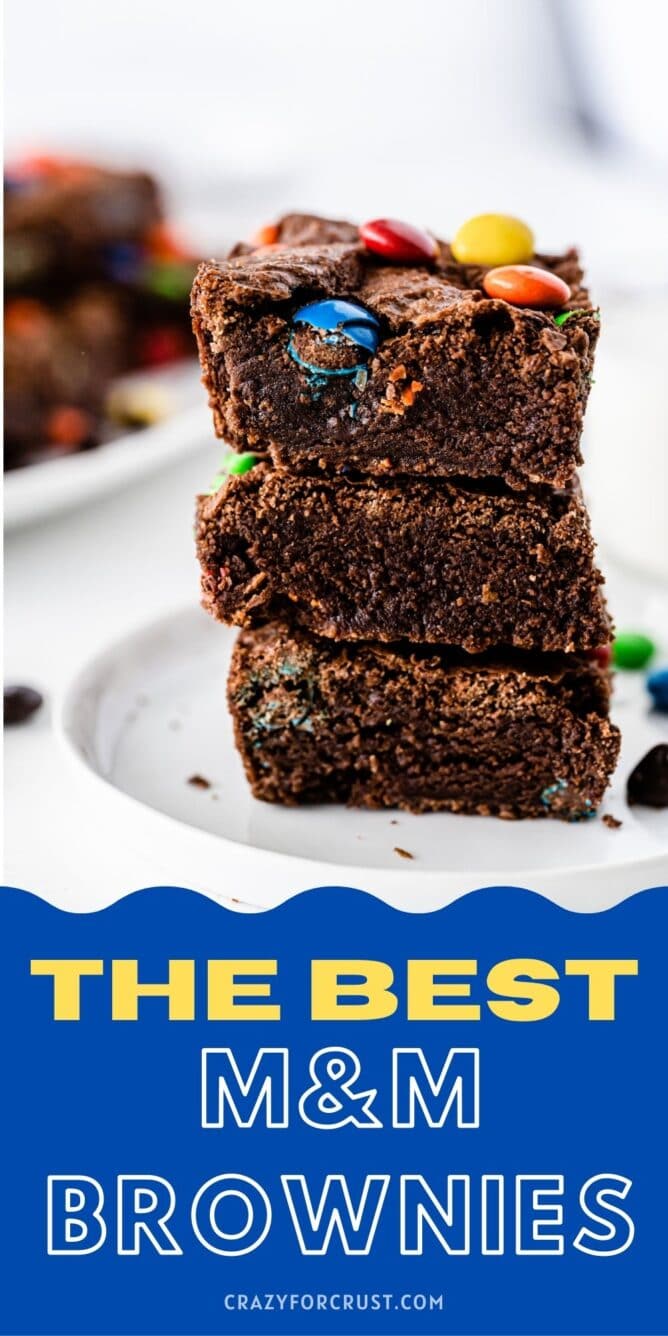 These M&M Brownies are the ultimate chocolate dessert! Fudgy, gooey brownies packed full of M&M's – you can't ask for more!
Last Updated on February 26, 2022