This post may contain affiliate links. For more information, read my disclosure policy.
Strawberry Chocolate Chip Snowball Cookies – Why should Christmas have all the fun? We love these cookies all year, and this time I've made them for spring: Strawberry Chocolate Chip Snowball Cookies!
These easy wedding cookies combine my favorite chocolate chip snowball cookies with tons of strawberry flavor!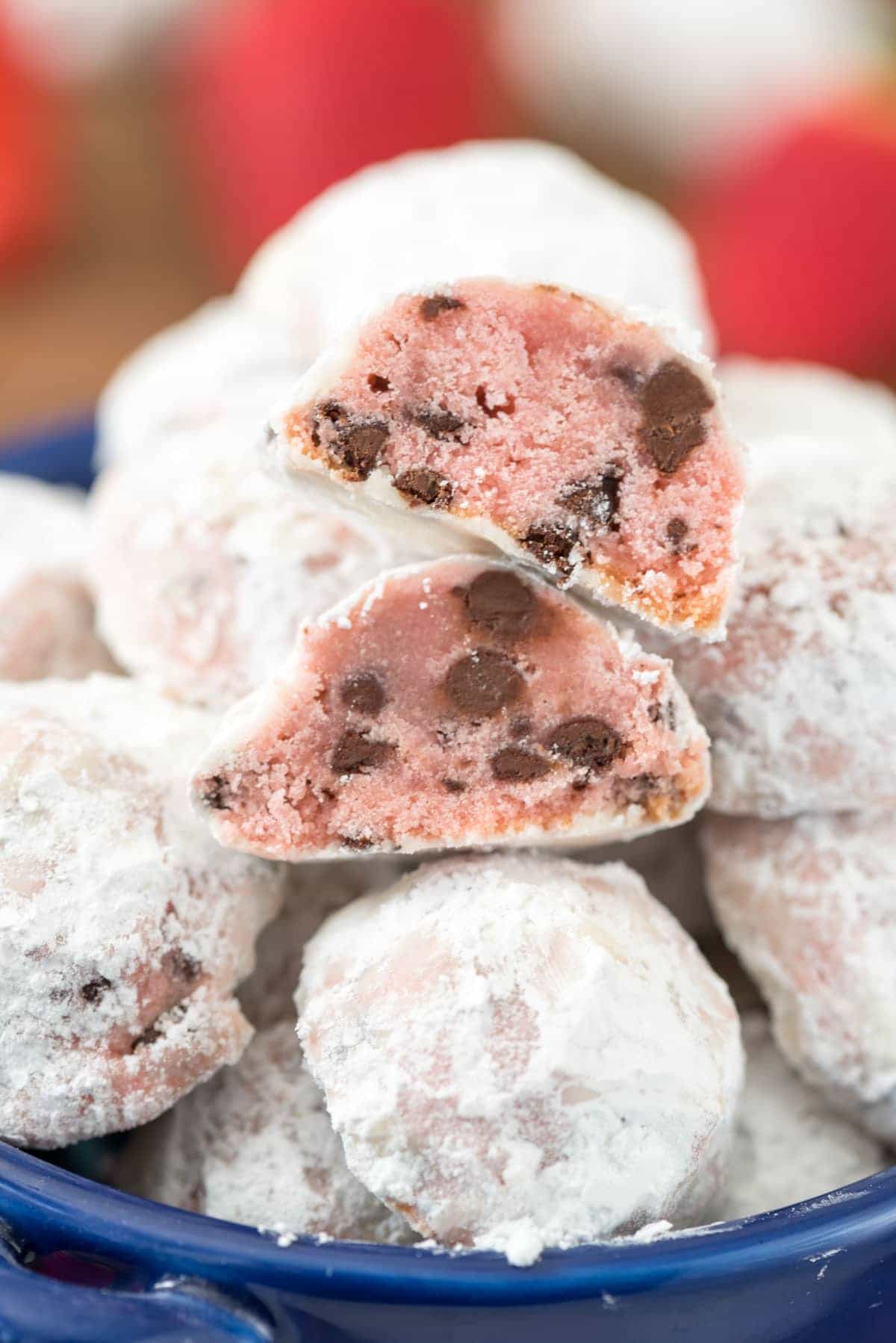 Click here to Pin this recipe and save it for later!
You guys, I just can't help myself. I want to make all the flavors of snowball cookies, all the time. Is that a bad thing? I've got so many ideas in my head that, if I'm going to make them all, I better change my blog name to Crazy for Snowballs.
My most popular recipe last year was my Chocolate Chip Snowball Cookies. It was such a simple no-brainer recipe for me: make my Mom's Russian Teacakes and use chocolate chips instead of nuts. Just like that I got chocolate into the cookies and made them nut-free (and, by design, egg-free) all in one swoop.
I started thinking about what would be a good flavor Wedding Cookie for spring. Lemon, obviously, and coconut (I'm sure coming soon) but since Valentine's Day is this weekend, I thought about pink.
Pink cookies are just so….pretty. And festive. And good for Valentine's Day, Easter, spring, or JUST BECAUSE I LOVE PINK.
Sorry for the shouting, I really do love pink. (It's a bit embarrassing at times when I'm at the gym and realize I'm carrying a pink water bottle, pink iPhone, and pink Kindle. And to think until the "great pink and monogram explosion" of 2004, I wouldn't love pink so much. (True story, remember those monogramed…everything? Purses? Shirts? Jackets? And the letters were ALL pink?)
Anyway, there I go, off on one of my tangents. Let's reel it back in and talk about Strawberry Chocolate Chip Snowball Cookies, mmkay?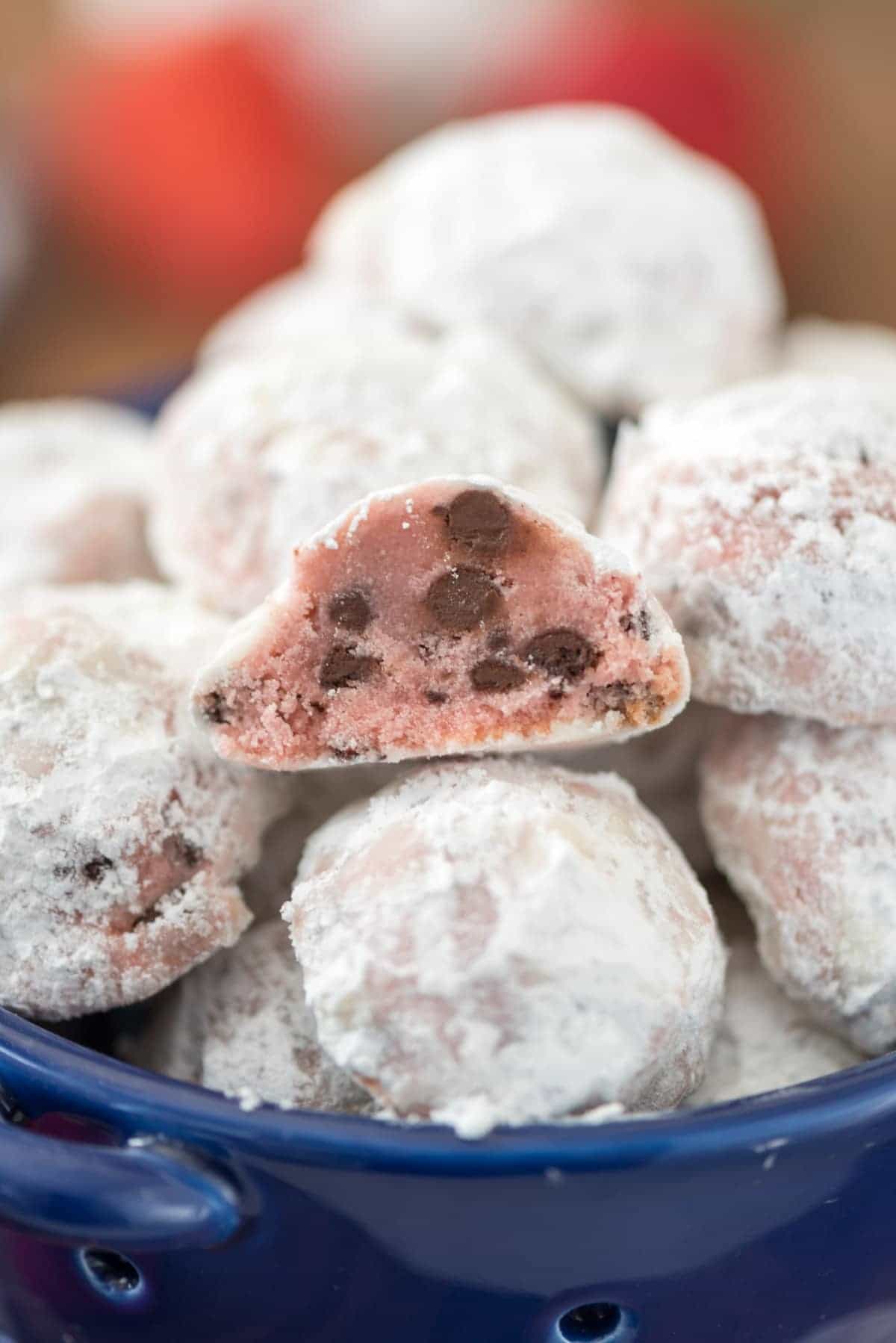 So, how do you make strawberry snowballs? Strawberry extract and a little bit of food coloring. You can buy the extract at Walmart or on Amazon. You could also use the food oil flavorings they sell at places like Hobby Lobby, but make sure to use less than I called for of extract – those oils are much stronger.
Or, if you can't find strawberry extract, you can use ANY flavor you want. McCormick sells raspberry extract at 99% of grocery stores, and it would be amazing in these cookies too.
This tea cake recipe is delicate, buttery, almost like shortbread but with a little more oomph. The dusting of powdered sugar is my favorite part, although I hate how it gets everywhere, ha!! These would be perfect for a class party (no nuts!) or an Easter celebration…or just to make because you want them.
Plus, did I mention they're PINK???

How to Make Strawberry Chocolate Chip Snowball Cookies
Okay, so let's have a lesson on how to make snowball cookies successfully, since it seems that my recipes give some of you quite a bit of trouble. I'm not sure why, since my mom and I have been making them for years and years without any issues.
Here are some tips for successful Strawberry Chocolate Chip Snowball Cookies:
Make sure to measure your flour correctly. Same goes for the powdered sugar. If you're scooping your flour out of the bin into your measuring cup, make sure you're not packing it. Brown sugar is the only thing that should ever be packed!
Use

softened butter

but not butter that's so soft it's melty. You should be able to press it and feel it give, but you don't want it so soft it's squishy and oily.

Mixing

: this is what I think gives people some trouble. If you're using a stand mixer it takes at least a minute for the dough to come together into a cookie dough consistency. If you're using a hand mixer it is going to take you considerably more time, depending on how soft your butter is. You'll get worried it's "too crumbly" or too dry, like powder. Just keep mixing. It WILL come together. If it's not or you're tired of mixing, use your hands.
You should be able to scoop the dough easily and bake them immediately without too much, if any, "falling flat". If it's too wet or sticky, you may have started with your butter too soft, so chill it a bit.
Don't let my tips deter you from the recipe. My snowball recipes are my most popular for a reason – they're so good. Everyone loves them and they evoke such great memories from people because they're a holiday staple.
Let's make them a spring staple and a summer staple too, shall we??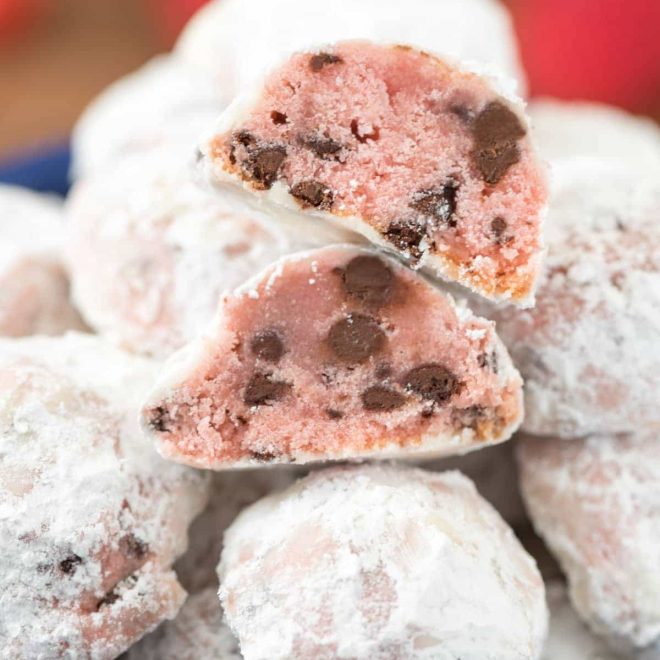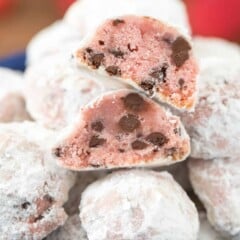 Strawberry Chocolate Chip Snowball Cookies
I turned my mom's favorite Russian Tea Cake Cookies into strawberry snowball cookies with chocolate chips! This is such an easy recipe and produces a delicate and delicious spring cookie.
Ingredients
1

cup

unsalted butter

slightly softened

1/2

cup

powdered sugar

do NOT pack your powdered sugar

1

teaspoon

vanilla

1

teaspoon

strawberry extract

2 1/4

cups

all purpose flour

do NOT pack your flour

1/2

teaspoon

salt

5-10

drops red food coloring

optional

1

cup

mini chocolate chips

Additional powdered sugar

for rolling
Instructions
Preaheat oven to 350°. Line two cookie sheets with parchment paper.

Mix butter, 1/2 cup powdered sugar, and both extracts with an electric mixer until fluffy. Add flour, salt, and food coloring (if using) and mix until the dough comes together. **This will take a minute or two with a stand mixer. If you're using a hand mixer it can take even longer. Get your hands in there if it's not mixing up. Eventually it WILL come together like a cookie dough.** Stir in the chocolate chips. If dough is too soft, chill it until you can work it easily with your hands.

Scoop 1 tablespoon balls of dough and place on prepared cookie sheet.

Bake cookies for 8-10 minutes until bottoms are just slightly brown. Remove from oven and cool for just 5-10 minutes, until you can handle them. Fill a small bowl with powdered sugar and roll each cookie in the sugar until coated. Place on a rack to cool. (Once cookies are cooled, you may want to re-roll them in more powdered sugar.)
Recipe Nutrition
Serving:
1
Cookie
|
Calories:
75
kcal
|
Carbohydrates:
9
g
|
Protein:
1
g
|
Fat:
4
g
|
Saturated Fat:
2
g
|
Cholesterol:
10
mg
|
Sodium:
414
mg
|
Sugar:
5
g
Nutritional information not guaranteed to be accurate
See more of my snowball recipes here!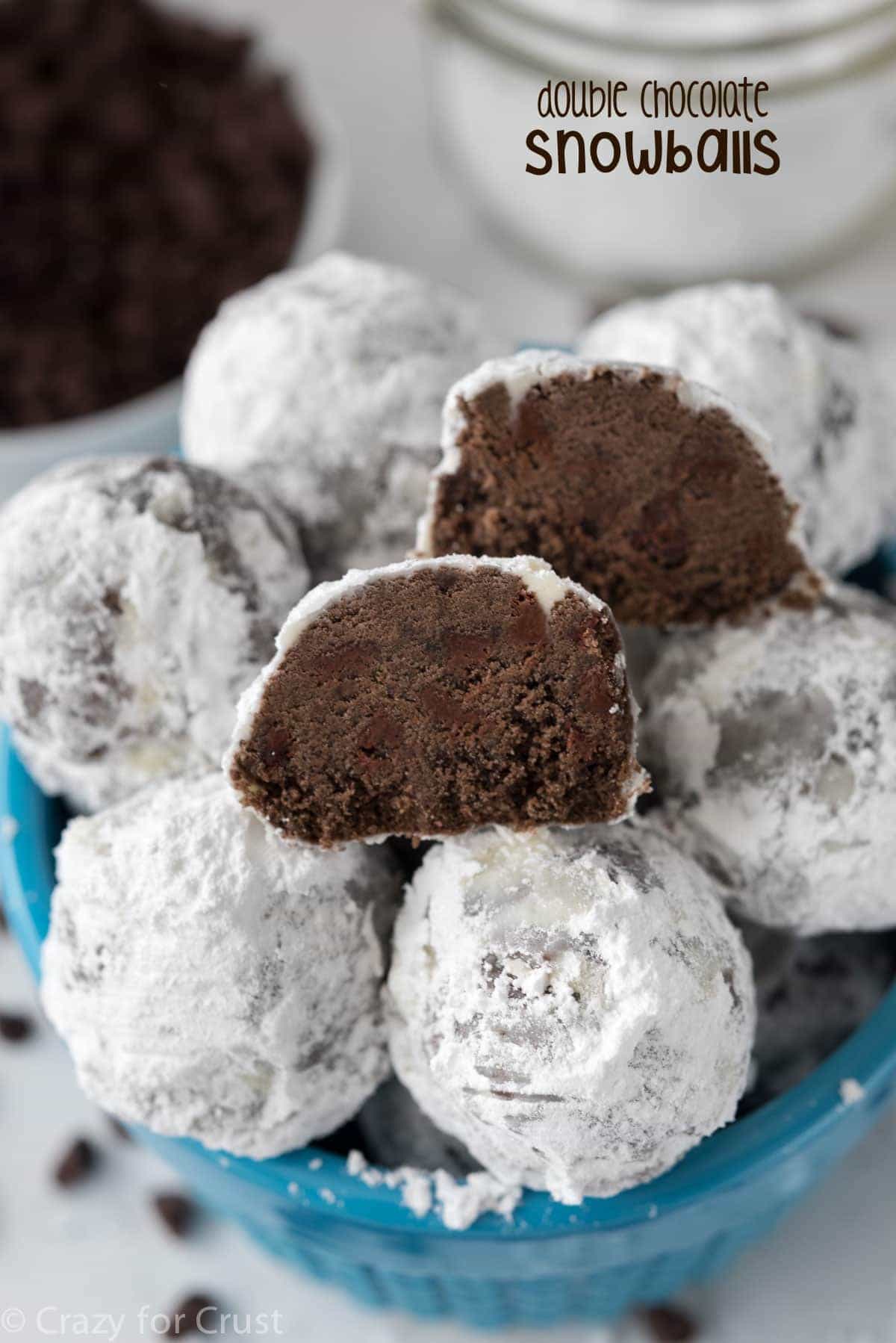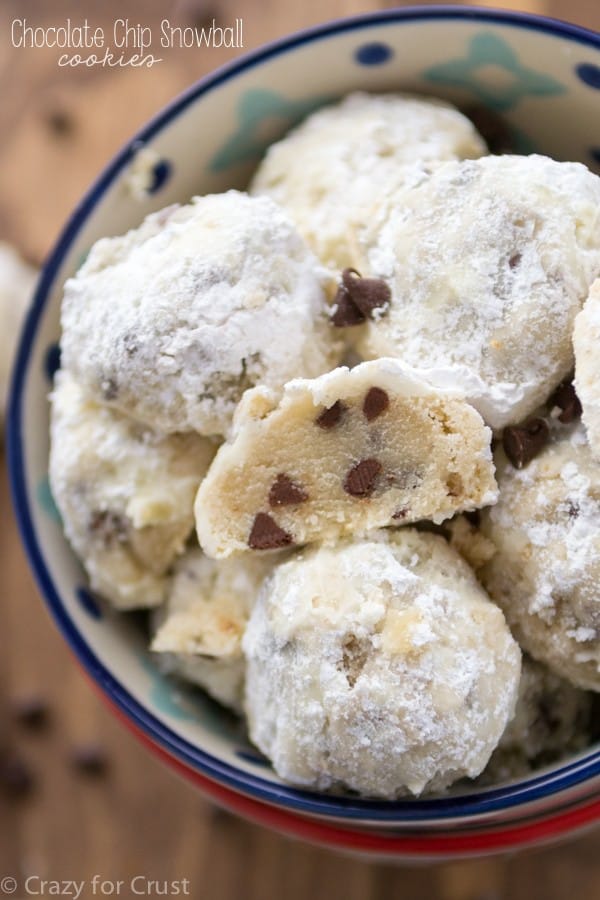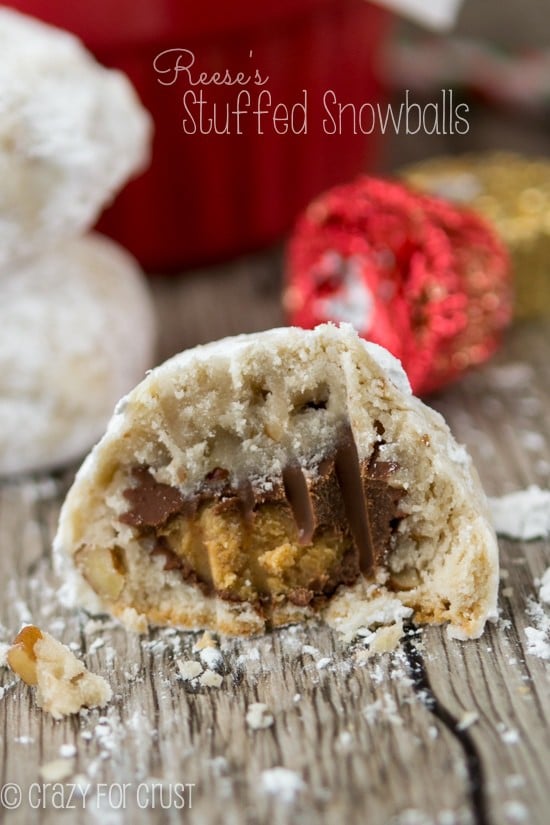 Sweets from friends:
Cherry Pistacchio Snowballs by Lemons for Lulu
Lime Coconut Snowballs by Five Heart Home
Key Lime Snowballs by Mom on Timeout
Last Updated on August 28, 2019