Funfetti Cake Batter Wedding Cookies
This post may contain affiliate links. For more information, read my disclosure policy.
This cookie has a major identity crisis. Is it an Italian or Mexican Wedding Cookie? Is it a Russian Tea Cake? A snowball? Is it cake batter? Is it funfetti?
You guys. It's ALL of those things: Funfetti Cake Batter Wedding Cookies!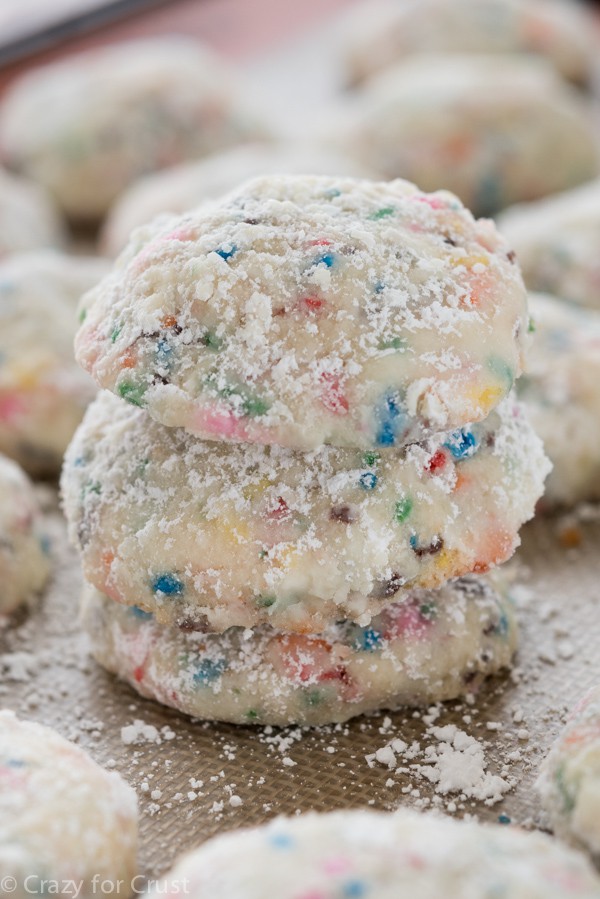 Happy Mother's Day! I want to wish my mom a very Happy Mother's Day today. I can't be with her today but that's okay. She knows I'm there in spirit.
And I have her with me in in a way…because these are her cookies. Her favorite cookies. The ones I've turned chocolate and stuffed Reese's Peanut Butter Cups in. If it's a mom's recipe, you know it has to be good. And, like her banana bread, this cookie recipe never disappoints!
These really don't disappoint because not only did I make them taste like cake batter (without a cake mix, I might add) I added sprinkles. Sprinkles make me happy.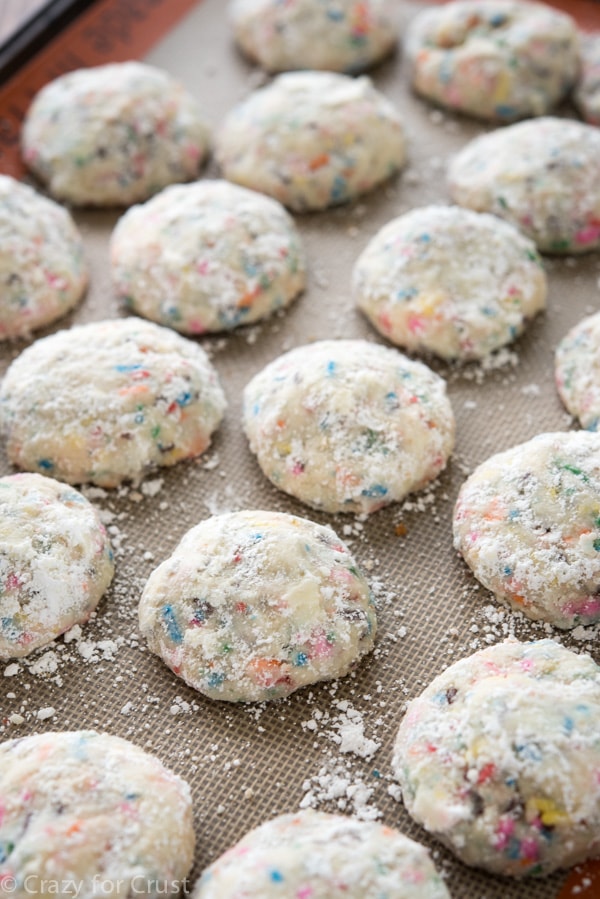 Let's go back to the identity crisis these cookies are having. Every time I make a new version (and there will be many more, believe me) I never know what to call them. They are called so many names and everyone has their own family tradition:
Italian or Mexican Wedding Cookies
Snowballs
Butter Balls
Russian Tea Cakes
Butter Nut Cookies
Right? So. Many. Names. I never know which to use. Since these are traditionally a holiday cookie, I normally call them Snowballs. But making a Snowball Cookie in May seemed strange. Since it's May (how, may I ask, is it already MAY?) I figured I'd call these wedding cookies. It is wedding season, after all.
And then, cake batter vs. funfetti. Which is it? To me they mean the same thing. Cake batter flavor with sprinkles. Anything called cake batter or funfetti BETTER HAVE SPRINKLES.
Sorry for the shouting. I have very strong opinions about sprinkles.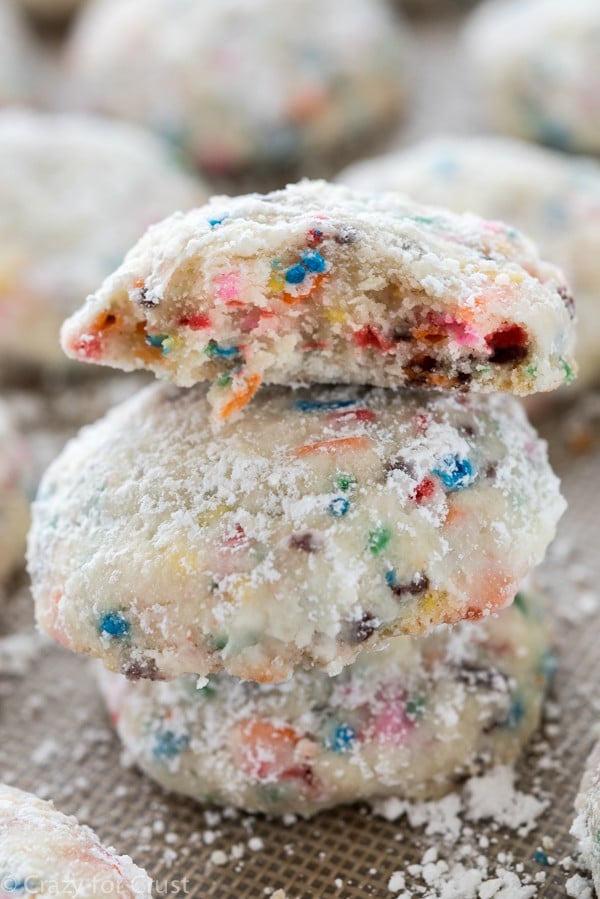 So, these cookies. They're little bites of heaven, that's what they are. And they are so easy to make you can't even believe it. Just a few ingredients get mixed up, baked, then rolled in powdered sugar. You can even freeze them! You can make them teeny tiny bite size (my mom makes 1/2 tablespoon bitty bites) or big mouth size, like these 2 tablespoon babies.
Me? I like big cookies and I cannot lie.
This is the ultimate mom recipe for me. They're my mom's go-to recipe for every party or holiday. Now she can make them for a birthday because, hello, cake batter.
The secret for getting cake batter flavor without using cake mix is by using butter extract. That's it! Just add some in with the vanilla and you're set.
But don't forget the sprinkles. NEVER forget the sprinkles. 🙂

A few recipe notes, because I've gotten comments on other snowball cookie recipes:
Use real butter. Please? Do not use margarine or butter spread. You can use salted or unsalted, see the note in the recipe.
Do not pack your flour. You should never pack your flour. The general rule of thumb for measuring flour is that you spoon it into the measuring cup, then level it off with a knife. If you pack the flour these will be way too crumbly!
These have no nuts, unlike traditional wedding cookies. I replaced the nuts with sprinkles so this makes a good allergy-free option!
Enjoy! And Happy Mother's Day! xo
Check out all my funfetti recipes and all of my snowball cookie recipes!
Servings: 2 -4 dozen
Funfetti Cake Batter Wedding Cookies
Soft buttery cookies filled with the flavor of cake batter and sprinkles! Wedding cakes, tea cakes, snowballs - whatever the name these are sure to delight all year.
Ingredients
1 cup unsalted butter — softened (use real butter, no substitutions)
1/2 cup powdered sugar
1 teaspoon vanilla
1/2 teaspoon butter extract
2 1/4 cups flour — be careful not to over measure
1/2 teaspoon salt
1 cup rainbow sprinkles — jimmies work best
Additional powdered sugar — for rolling
Instructions
Preaheat oven to 375°. Line two cookie sheets with parchment paper.

Mix butter, 1/2 cup powdered sugar, butter extract and vanilla extract with an electric mixer until fluffy. Add flour and salt and mix until the dough comes together. Stir in the sprinkles. If dough is too soft, chill it until you can work it easily with your hands.

Scoop 1 or 2 tablespoon balls of dough and place on prepared cookie sheet.

Bake cookies for 7-10 minutes (1 tablespoon balls) or 10-14 minutes (2 tablespoon balls) until bottoms are just slightly brown. Remove from oven and cool 5 minutes. Fill a small bowl with powdered sugar and roll each cookie in the sugar until coated. Place on a rack to cool.  (Once cookies are cooled, you may want to re-roll them in more powdered sugar.)
Chocolate Chip Snowball Cookies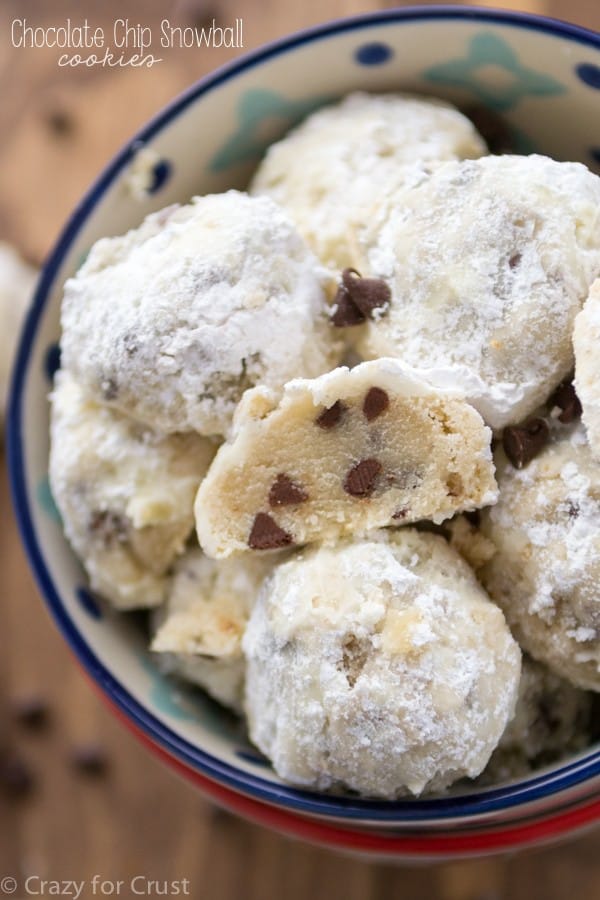 Reese's Stuffed Snowballs (aka Russian Teacakes)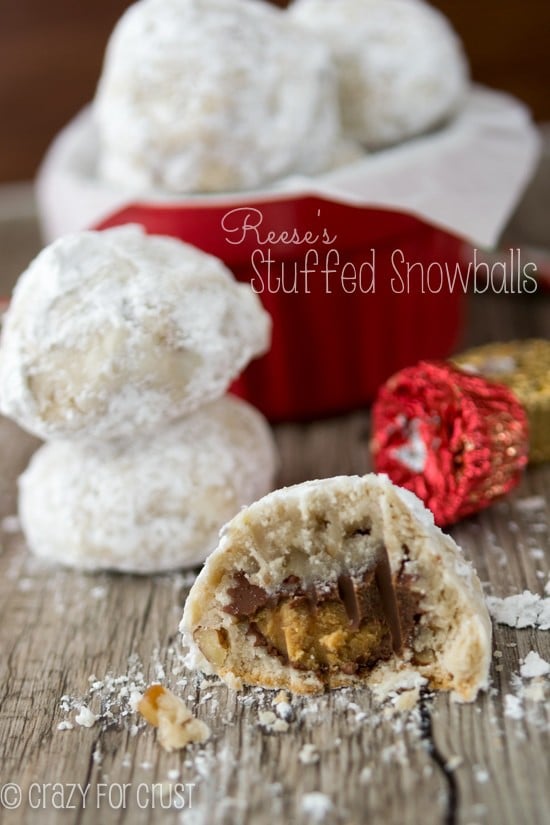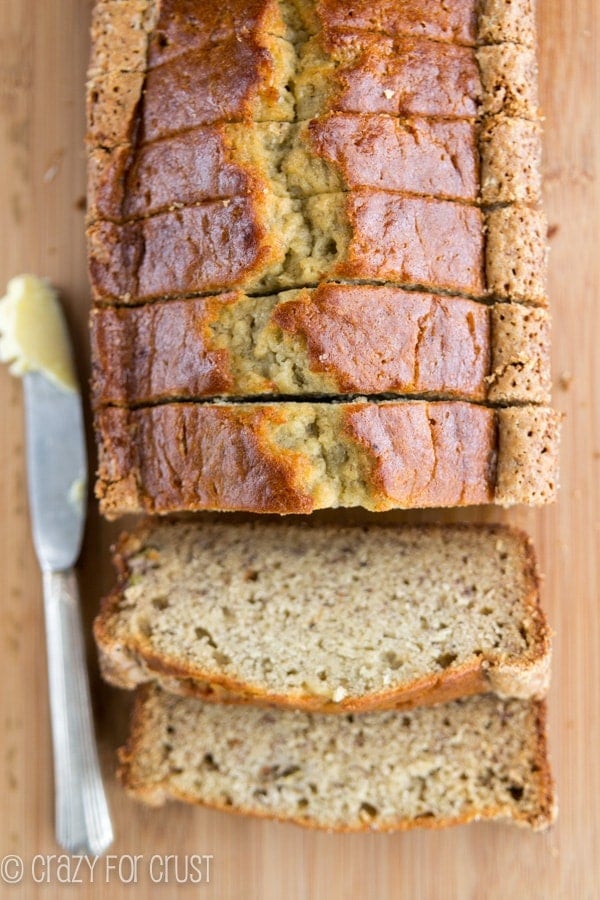 Sweets from friends:
Beach Wedding Cookies by Glorious Treats
Lemon Snowball Cookies by Dieter's Downfall
Peanut Butter Snowballs by Six Sisters' Stuff