This post may contain affiliate links. For more information, read my disclosure policy.
Today I'm talking about why you should bake on parchment paper or use silicone baking mats: why, when, how and the differences between them.
If you look at every single one of my cookie recipes you'll see that I call for lining them with parchment paper or silicone baking mats. This is because using a liner on your cookie sheet helps ensure baking success, not to mention helping with cleanup!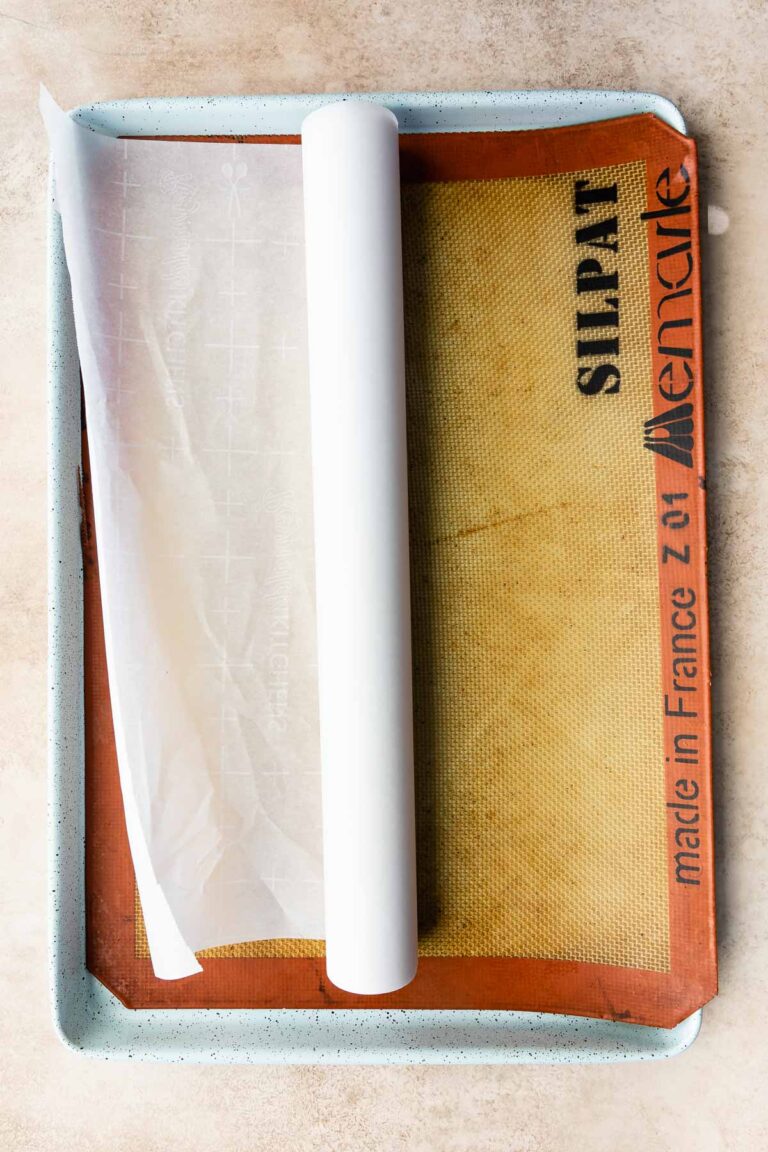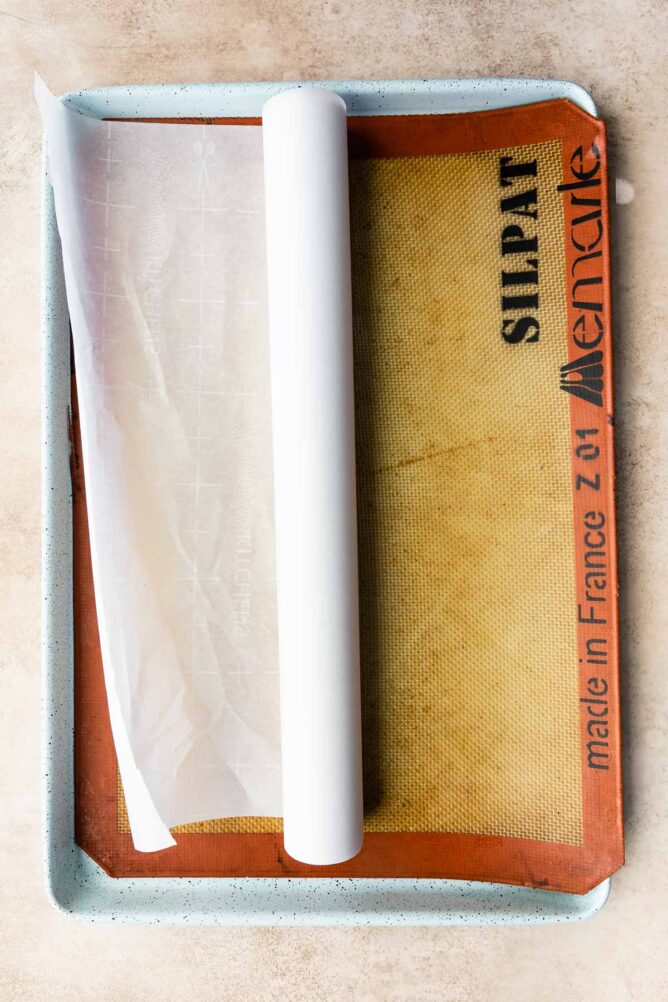 What is Parchment Paper?
Parchment paper is a specially treated paper processed to make it oven-safe and nonstick. The treatment also provides grease resistance and water resistance.
Parchment paper in baking, is used primarily as a nonstick surface in lieu of greasing a pan.
Pros for using Parchment Paper for baking:
Eliminates the need to grease your pan
Bakes more evenly than baking directly on a cookie sheet
Cuts easily to fit any size pan
Easily lift full slabs of brownies or bars out of the pan for clean cuts
It's heat safe and repels grease and water
Great for lining pans when making no bake candies like chocolate truffles or bark
Easy clean up (just throw it away)
Cons for baking with parchment:
The length of a roll doesn't fit quite right on a cookie sheet, so you usually have gaps at the top and bottom
While most parchment is reusable up to 3 times, it's disposable, therefore not as environmentally friendly.
While it's cheaper than buying silicone, you still have to purchase new rolls when you run out.
Where can you buy parchment paper?
There are tons of brands that sell it, but the most popular one is Reynolds. Every store has their own store brand as well. Find parchment paper at any grocery store, craft store, Target, Walmart, and Amazon.
Is parchment paper the same thing as wax paper?
NO NO NO it is not! Wax paper is coated in wax. Do NOT put wax paper in the oven. The wax will melt and burn. Wax paper is best for things like storing cookies or when you're making a (no bake) candy or chocolate truffle.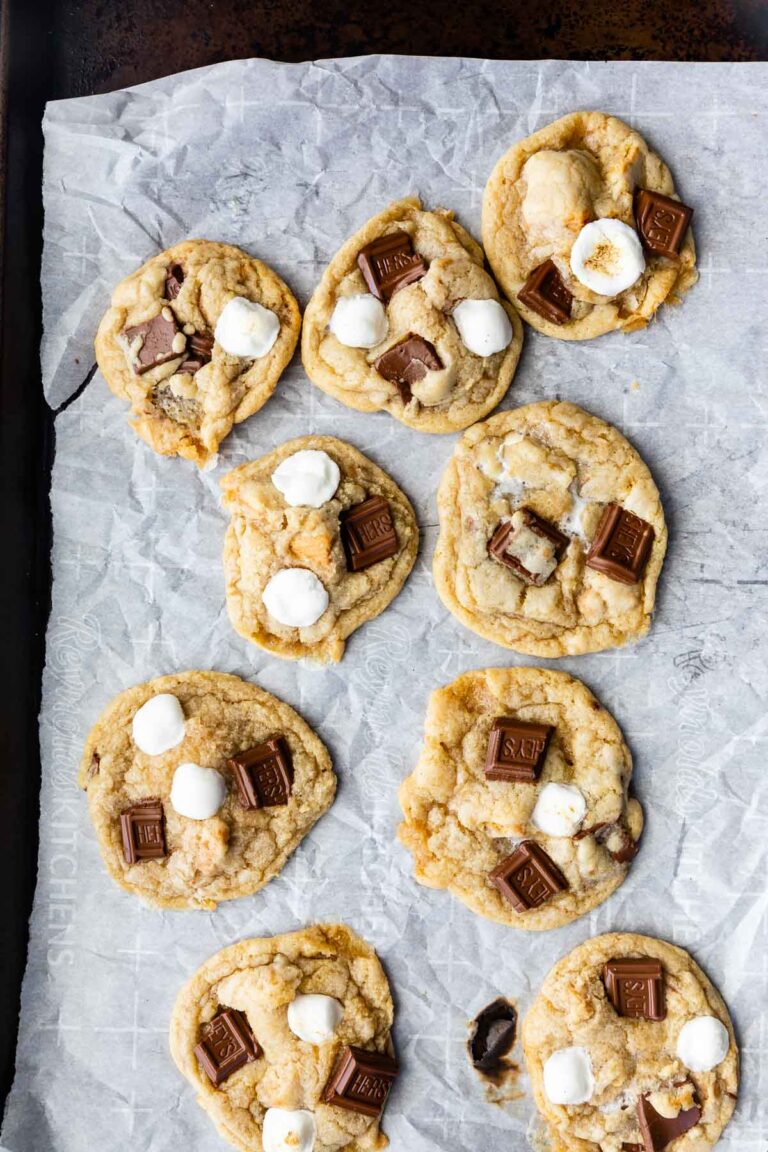 What is a Silpat Baking Mat?
Silpat is the most recognizable brand of silicone baking mat. A silicone baking mat is made of food-grade silicone and is used much in the same way as parchment: to line your pans in lieu of greasing. It's nonstick and heat-safe and is another great way to ensure even baking.
Pros for baking on silicone:
Eliminates the need to grease your pan
Bakes more evenly than baking directly on cookie sheet
Heat safe, repels oil and water
Easy pan clean up (the silpat gets dirty but your pan stays clean)
Can also be used as a nonstick surface when making chocolate candy or bark
Doubles as a rolling mat for pie crust and doughs (the silicone acts like rubber – it won't slip or slide).
Eco-friendly because it's reusable
Cons for baking on silicone:
You have to wash them in hot soapy water to get any grease off (they're not disposable)
Expensive investment up front
Comes in one size so you can't cut it to fit your pan. If you're using large cookie sheets or half sheets for baking, they fit but otherwise they're too big.
Where do you buy Silpat or silicone baking mats?
If you want the original Silpat brand, you'll need to shop at Williams-Sonoma, Sur La Table or Amazon.
If you just want silicone baking mats and don't care which brand, you can find other less known brands at Target, Walmart and craft stores, or Amazon (I found Oxo Silicone Baking Mats on Amazon, but there are lots of brands too.)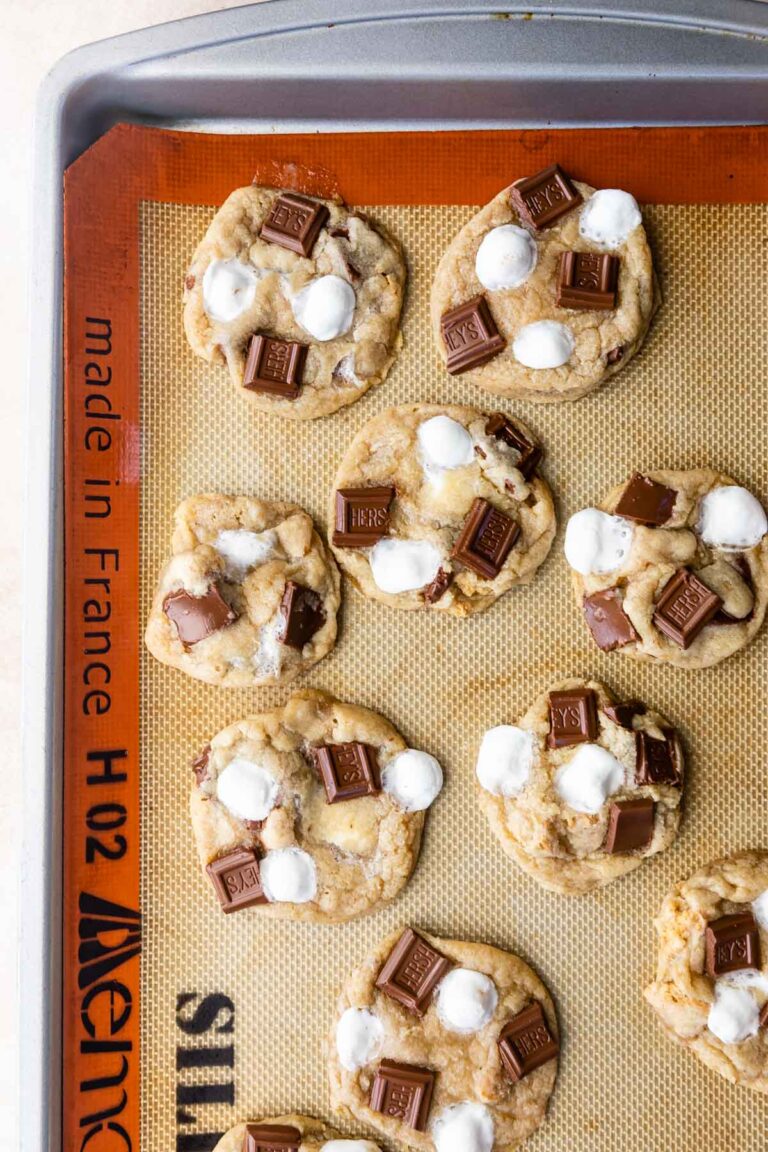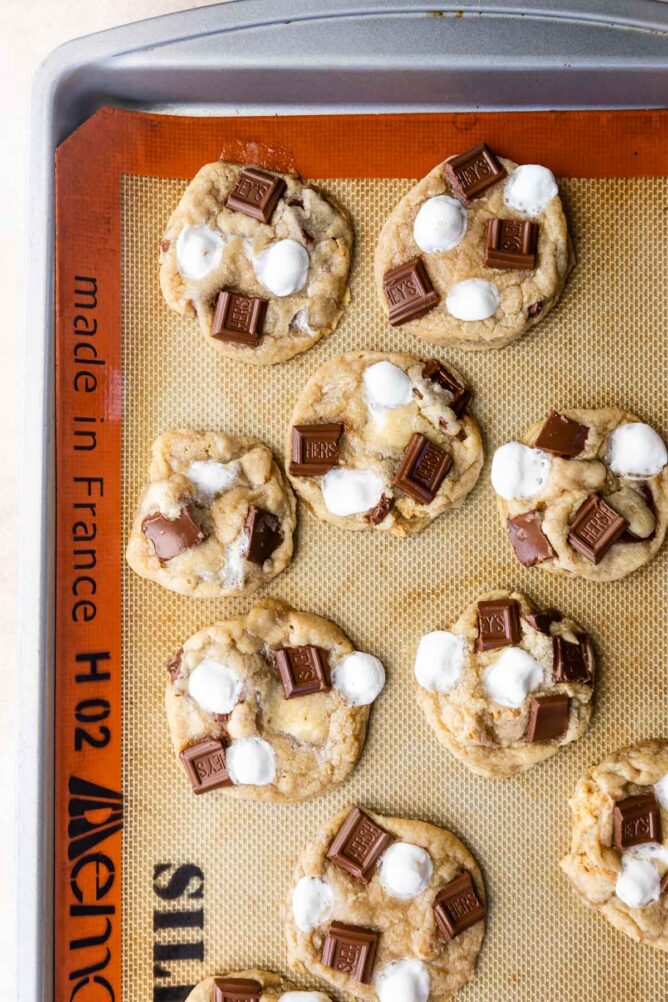 Why should you use parchment or silicone for baking?
So, now that you know what they are, why should use one of them?
In short, your recipes will turn out better if you bake on parchment paper or silicone.
Cookies will brown more evenly on the bottom
Cookies will spread considerably less than baked straight on a cookie sheet
The baking is more evenly distributed, allowing for a puffier cookie
No need to grease your pans = less greasy cookies
Regardless of which one you use, you should at least use one of them!
Which is better: Parchment Paper or Silpat?
It's really personal preference! They both serve basically the same purpose but there are a few times when one is better than the other:
When baking something sticky (or making sticky candy), use silicone for easy removal.
Silicone is also best for things like macrons or delicate pastries
Brown Bottoms: silicone produces a lighter brown bottom than parchment, so go with your preference there
While many resources say cookies spread more on silicone, I find the opposite to be true: cookies spread more on parchment paper than Silpat baking mats. This is also even more apparent when you're using a thick insulated baking sheet vs a cheaper thin one. The difference is very slight, but while writing my cookbook and baking hundreds of cookies on both, the cookies definitely spread more on the parchment paper. (However, I have not tested this theory on other brands of silicone baking mats.)
Final verdict: Dorothy's recommendation
I recommend using both Silpat Baking Mats and parchment paper. Usually, when you're baking cookies, you need to use more than one cookie sheet. I'll often use one parchment and one silicone for easy cleanup. Parchment is also fantastic for lining your cake or brownie pans or even for cooking, so it's definitely something that should be in your kitchen regardless.