Pumpkin Spice Snowballs
This post may contain affiliate links. For more information, read my disclosure policy.
Pumpkin Spice Snowballs are going to be this season's BEST cookie recipe, I promise you that! They're the classic Russian Teacake recipe with pecans and tons of pumpkin pie spice. Or do you call them snowballs? Or wedding cookies?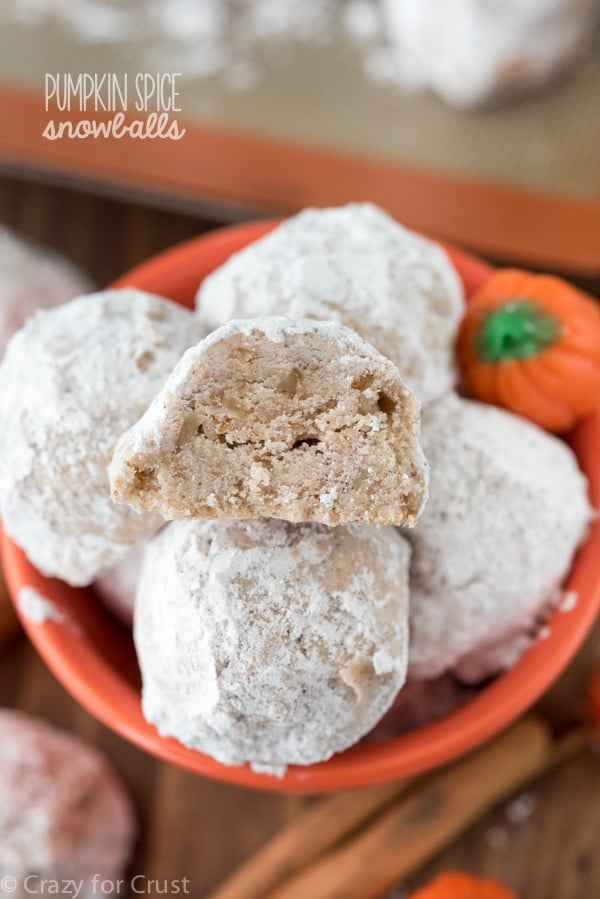 Note: I wrote this post a few years ago…no commenting needed unless you really want too… 🙂
I want to conduct an experiment. Are you game? Help me out, 'kay?
As a professional food blogger who does this as a full-time job, I check my stats often. On any given day I want to know how many people are on this site, what they're looking at, and where they're coming from. (BTW, if you're reading this right now, that's YOU!)
My top referrals every day come from Pinterest, Google, Facebook, and direct traffic. If you've clicked over from a social media site, thanks for visiting! I hope, if this is your first time, that you'll stay awhile, find out more about me, and come back often.
If you're one of my "direct" people, thank you so much. That means you're probably here because you typed "crazyforcrust.com" into your search bar. Or you clicked on a link in another post. Or, most probably, you're on my email list. Thank you so much for coming back day after day!
Every day I get thousands and thousands of people who look at this site. Since this is a new post, I'm betting it'll be in the top 5 viewed today. But every day I only hear from about 20-30 of you in a comment. The rest of you probably pin the recipe (thank you!) or print it, or maybe read the post and get a chuckle, then move on. All of you people are lurkers, and I love you. I love you but I want to know who you are!
Here's my experiment: if you're reading this, leave a comment. Tell me who you are. Tell me if you think you'll make these cookies, or not. Tell me anything, just say hi. Tell me your favorite snowball cookie memory. Just say hi to me, in the comments. I promise I won't bite! (I also don't store those email addresses or share them. You just have to enter it so I can write back and say thank you or answer any questions you might have.)
Help me conduct my experiment? Okay? If you're still reading? Which probably cuts out 2/3 of my daily readership, but whatever. If you've made it this far you deserve a really big thank you and a plate of Pumpkin Spice Snowballs.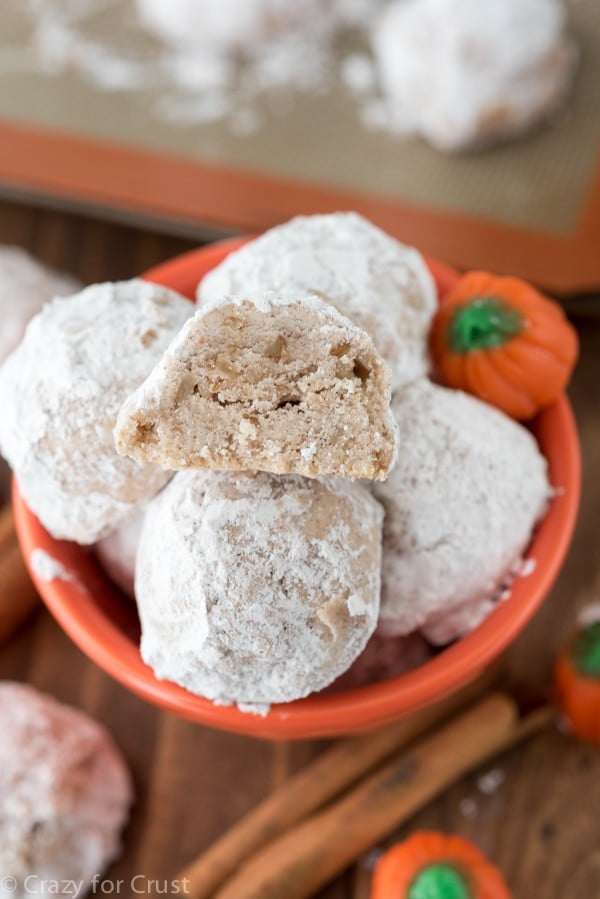 Snowballs, Russian Teacakes, Wedding Cookies, whatever you call them, I love them. These are my mom's favorite cookie; she makes them over and over all year long. I make them over and over again too, but with new flavor variations. Cake batter, chocolate, stuffed, chocolate chip, you name it, I've made it. (And I have sooooo many more flavor ideas!)
Since it's September, and I'm anxiously awaiting the return of the Pumpkin Spice Latte in it's red cup, I decided to do my own tinkering with pumpkin spice. I've added pumpkin spices to cookies and hot chocolate before, but now I'm adding them to snowballs.
That's a good decision, don't you think?

This recipe could not be easier. It's one bowl, no chill time, just mix it all up. My mom uses a hand mixer, I use a stand mixer. Use what you have! Simply adding some pumpkin spice warms the flavor of the cookies so much.
So, what is pumpkin spice? It's a combination of cinnamon, ginger, allspice, and nutmeg. And it's so good! I like to use the individual spices, but if you have pumpkin pie spice, you can use that too (about 1 teaspoon) instead.
Simply mix up the easy cookie dough recipe and scoop little balls of snowball cookie. Once they're baked you roll them in powdered sugar mixed with cinnamon for even more warm fall flavor.
A few notes:
You've read the recipe right – there is no actual pumpkin in these cookies, just pumpkin spice. But they taste just like a pumpkin cookie would – after all, pumpkin really has no flavor. Why else do we add pumpkin spice to every pumpkin recipe?
Please use REAL butter. I use unsalted and add 1/2 teaspoon of salt. If you're using salted butter, use 1/4 teaspoon of salt. Do not substitute margarine or butter spread.
Do not overmeasure the flour. Use a spoon to measure the flour into the measuring cup. Do not pack it.
The dough shouldn't have to be chilled, but if it's too wet to scoop, chill it for 30 minutes. It just depends on how soft your butter is when you start.
I roll the warm cookies in the powdered sugar mixture and then once they're cool, before serving, I re-roll them. That's optional but makes for an extra powdery cookie!
What do you think? Are these a keeper? Remember my experiment – leave a comment! 🙂
Servings: 48
Pumpkin Spice Snowballs
These Pumpkin Spice Snowballs are a new version of your favorite holiday cookie! Adding warm pumpkin spices to Russian Teacakes makes them perfect for fall and holiday baking!
Ingredients
1 cup unsalted butter — softened
1 1/2 cups powdered sugar — divided
1 teaspoon vanilla extract
2 1/4 cups all purpose flour
1/2 teaspoon salt
2 teaspoons cinnamon — divided
1/2 teaspoon nutmeg
1/4 teaspoon ginger
1/4 teaspoon allspice
3/4 cup chopped nuts — pecans or walnuts work best
Instructions
Preaheat oven to 375°. Line two cookie sheets with parchment paper.

Mix butter, 1/2 cup powdered sugar, and vanilla with an electric mixer until fluffy. Add flour, salt, 1 teaspoon cinnamon, ginger, and allspice and mix until the dough comes together. Stir in the nuts. If dough is too soft, chill it until you can work it easily with your hands.

Scoop 1 tablespoon balls of dough and place on prepared cookie sheet.

Bake cookies for 7-8 minutes until bottoms are just slightly brown. Remove from oven and cool for just a few minutes, until you can handle them.

Fill a small bowl with the remaining 1 cup powdered sugar and 1 teaspoon cinnamon and roll each cookie in the sugar until coated. Place on a rack to cool.  (Once cookies are cooled, you may want to re-roll them in more powdered sugar.) The added cinnamon in the rolling mixture is optional, but it amps up the fall flavor!

Store in an airtight container for up to 4 days or freeze for up to one month. (If you freeze them you'll need to re-roll them in powdered sugar after defrosting.)
See more of my snowball recipes here!
Enjoy!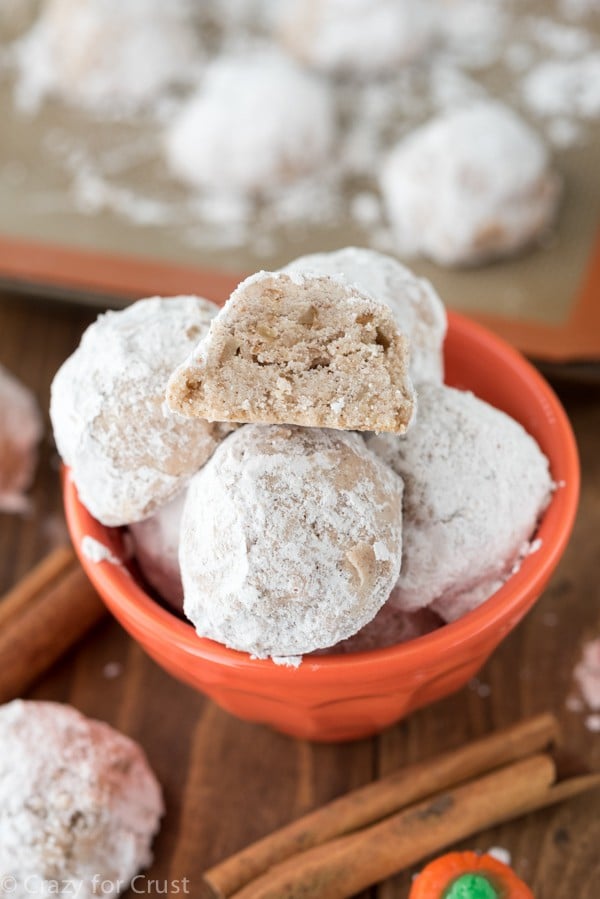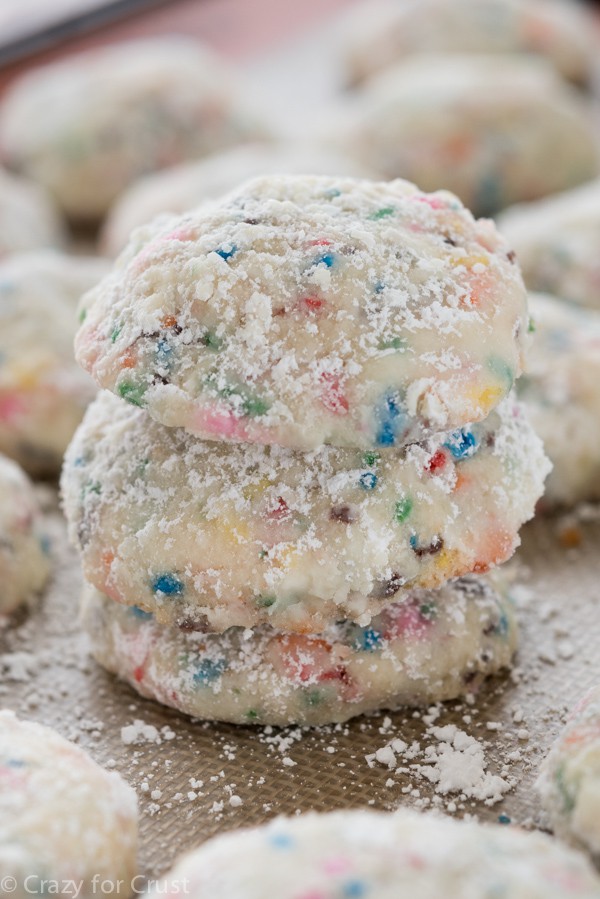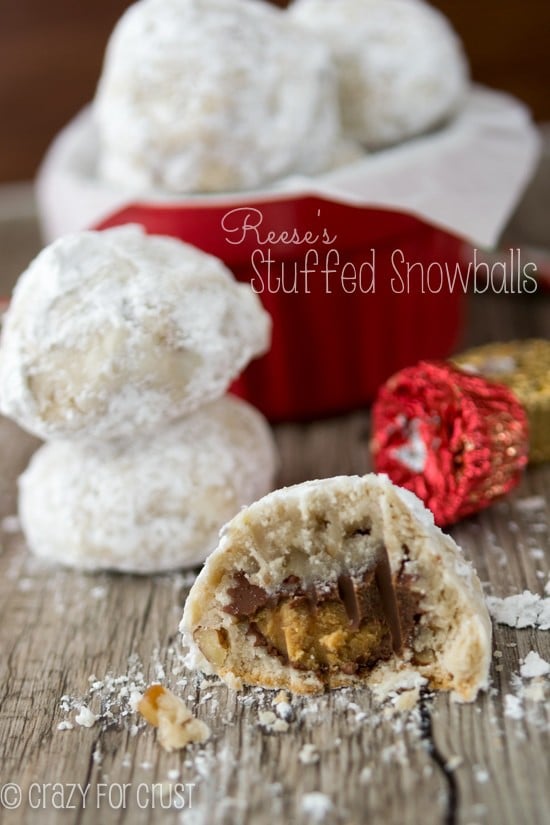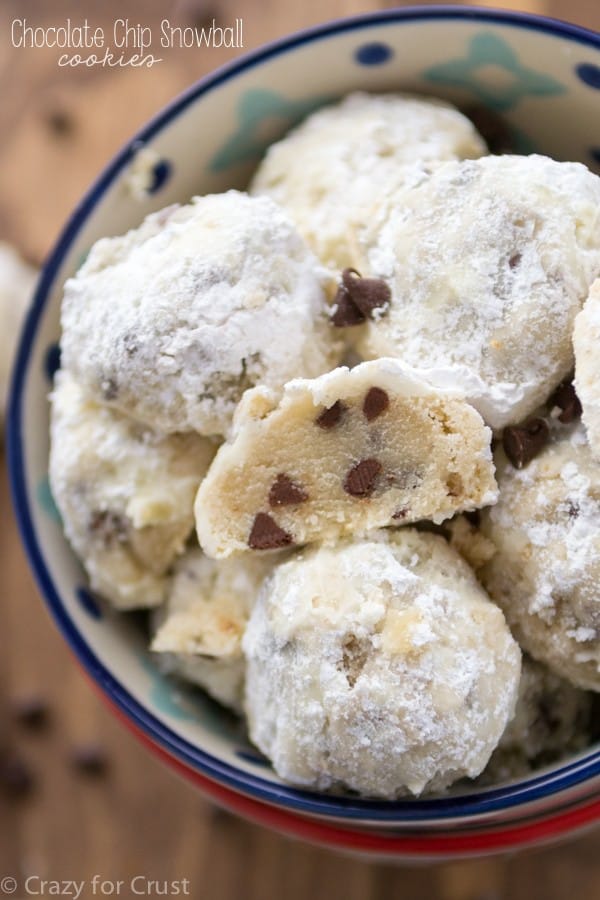 Sweets from friends:
Key Lime Snowball Cookies by Mom on Timeout
Toffee Almond Snowball Cookies by Cupcakes & Kale Chips
Low Carb Snowball Cookie Recipe by All Day I Dream About Food