This post may contain affiliate links. For more information, read my disclosure policy.
This Snowball Cookie Recipe has chocolate chips! Whatever they're called, they're one of my favorite Christmas cookies. Did you know you can add chocolate chips to snowball cookies?
Chocolate Chip Snowball Cookies have no nuts so they're allergy friendly – and hello, CHOCOLATE. These are one of my MOST POPULAR cookie recipes!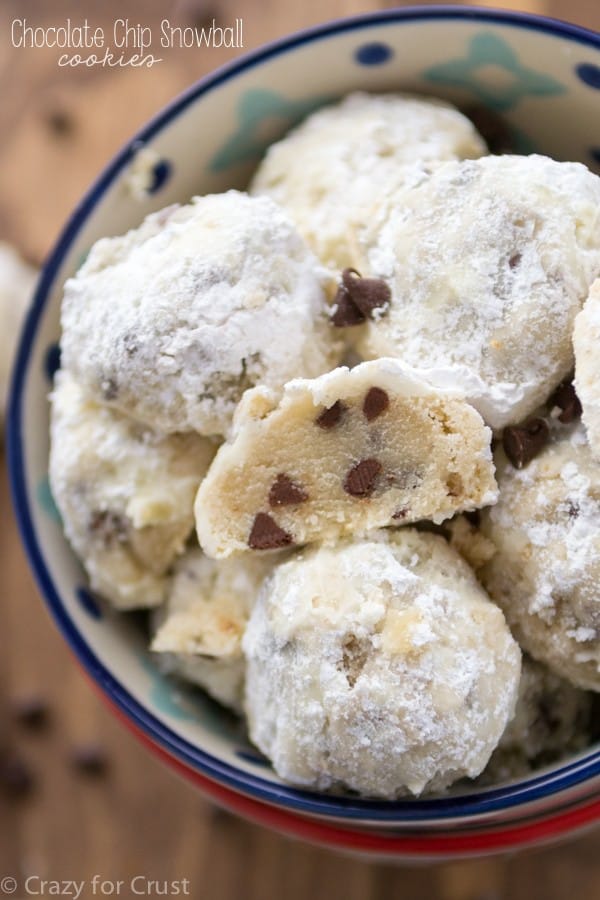 Do you have a food that, whenever you see or think about it, it makes you think of a family member? I have several:
Whenever I eat Pillsbury Sugar Cookies, I think of my Nana. She passed them off as her own until I was an adult.
Whenever I see orange soda or Cheetos, I think of my Dad. On weekends he would take me to look at the boats or watch the planes take off at the teeny airport, and we'd always stop at the corner store for bright orange Cheetos and soda.
And then there are Russian Tea Cake cookies (aka Snowballs). Whenever I see these, I think of my mom. Her's is the original recipe that spawned all my Snowball Cookie Recipes – including this one with chocolate chips.
Make snowball cookies without nuts!
This is one of the questions I get so often: making snowball cookies no nuts. There are so many people allergic to nuts nowadays that sometimes it's just safer to make cookies without.
The classic Russian Tea Cake recipe has chopped pecans or walnuts but instead of using nuts in this cookies I added mini chocolate chips. They're the perfect substitute for nuts!
Making Snowball Cookies with Chocolate Chips was probably one of the best things I ever did!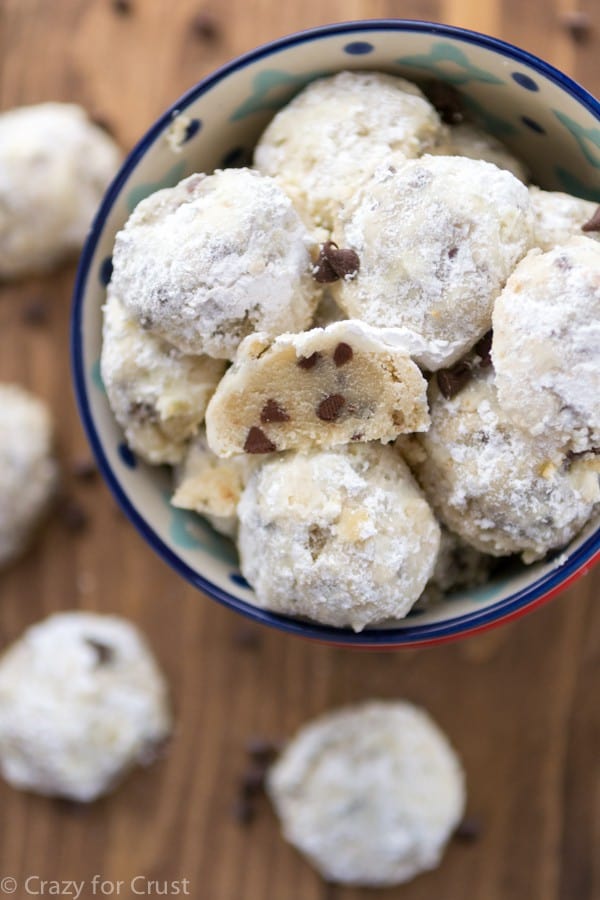 The idea for this actually came from a Facebook reader. I posted the plain version of these cookies and someone commented, "Oh! I make those with chocolate chips!"
The irony that I never thought to add chocolate chips to these Russian Tea Cakes on my own makes me laugh.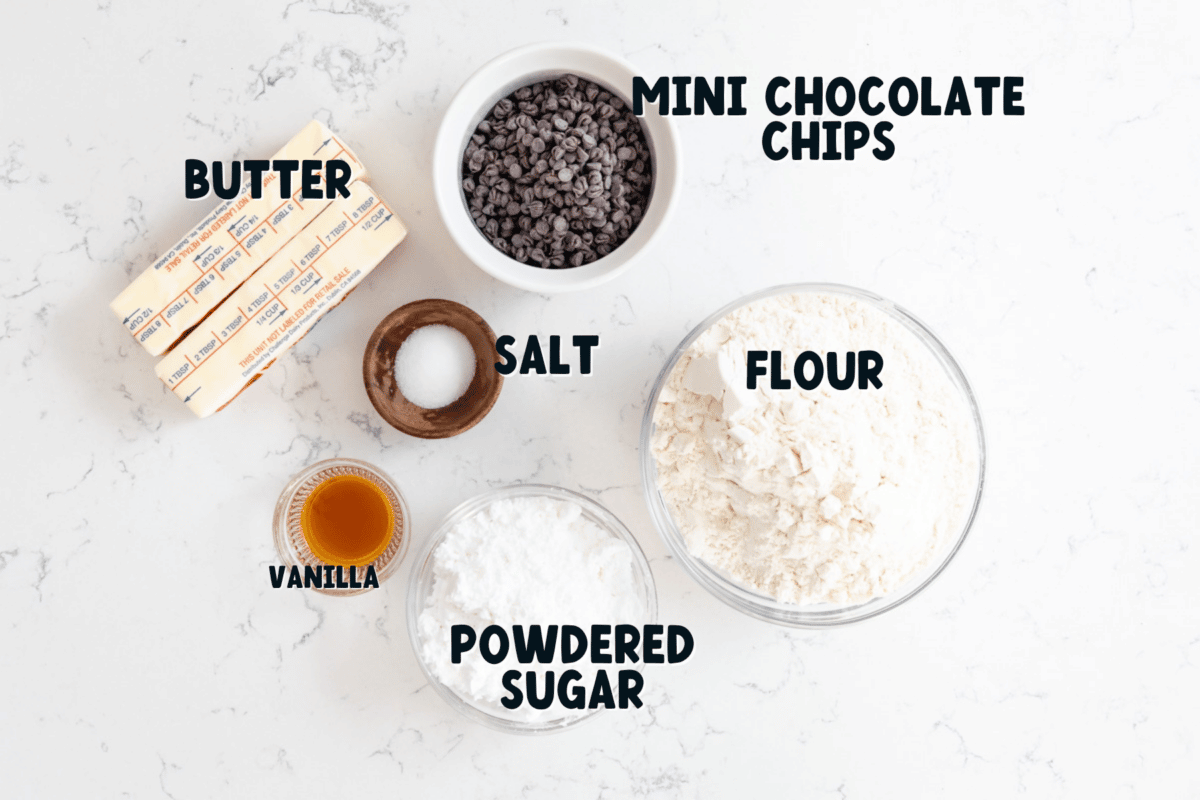 What is a snowball cookie?
These little bite-sized cookies are a buttery shortbread-like cookie. They only have a few ingredients so they mix up easy and make a ton. Once they're rolled in powdered sugar they look like little snowballs!
The typical ingredients in these Christmas Cookies are:
Butter
Powdered Sugar
Flour
Salt
Vanilla
(If you've ever wondered "Can I use powdered sugar in cookies?" the answer would be yes. These have powdered sugar IN the cookie and they're rolled in them.)
Traditionally they also have chopped nuts inside but these have mini chocolate chips!
Snowball cookies are also called Russian Tea Cakes, Wedding Cookies, and Butter Balls. So many names for the same amazing cookie!
Why do my cookies stay in a ball?
These cookies are little balls of heaven – and they stay that way even when they're baked because they have no eggs and no leavening. Without baking soda or baking powder or egg, they don't spread, even with all that butter!
We use a 1-tablespoon cookie scoop for these and it makes about 4 dozen bite-sized cookies – you can crowd your pans because they won't spread out in the oven.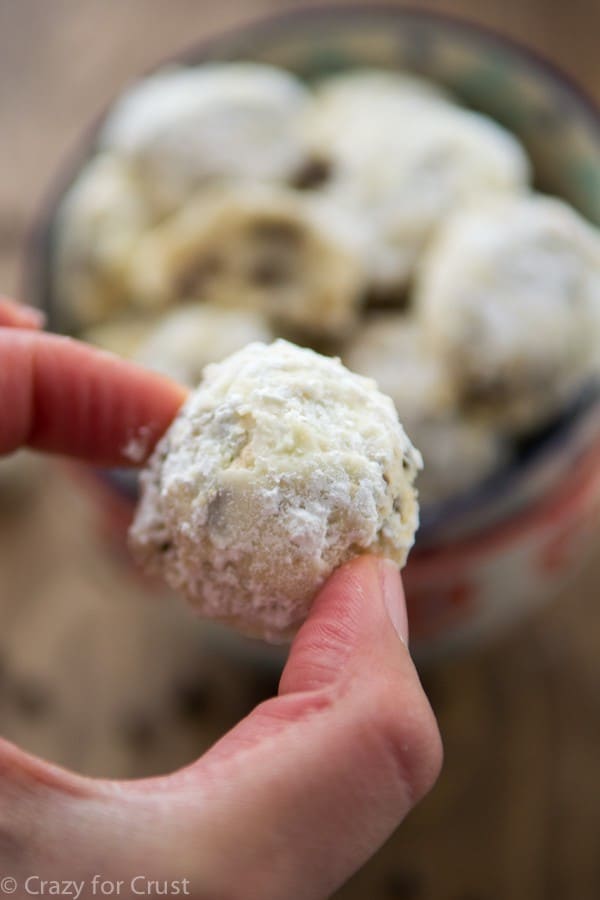 How to make this snowball cookie recipe
This is an EASY cookie recipe but there are a few things that people always ask. Here are some of the most popular FAQ I get about Russian Tea Cake recipes:
My dough is crumbly, what did I do wrong?
You added too much flour. Did you pack it? Don't pack your flour.
You added too much powdered sugar. Did you pack it? Don't pack your powdered sugar.
Keep mixing. It takes awhile for the dough to become a dough, especially if you're using a hand mixer. It WILL come together eventually in a nice thick cohesive cookie dough.
My cookies spread, what did I do wrong?
Did you use REAL butter? If you used imitation butter it won't perform as well. Also, was your butter melted or really, really soft? That can affect spread sometimes. Otherwise, these cookies should only puff, if they change shape at all.
My powdered sugar dissolved, what happened?
In this case, you probably rolled them while they were too hot. Just re-roll them once they're cool. I often do this for effect – and make them SUPER powdery.
How long can you freeze snowball cookies?
In general, I freeze all my cookies for up to a month. The only thing with these is that you might have to re-roll them in powdered sugar after thawing. Learn how to freeze desserts.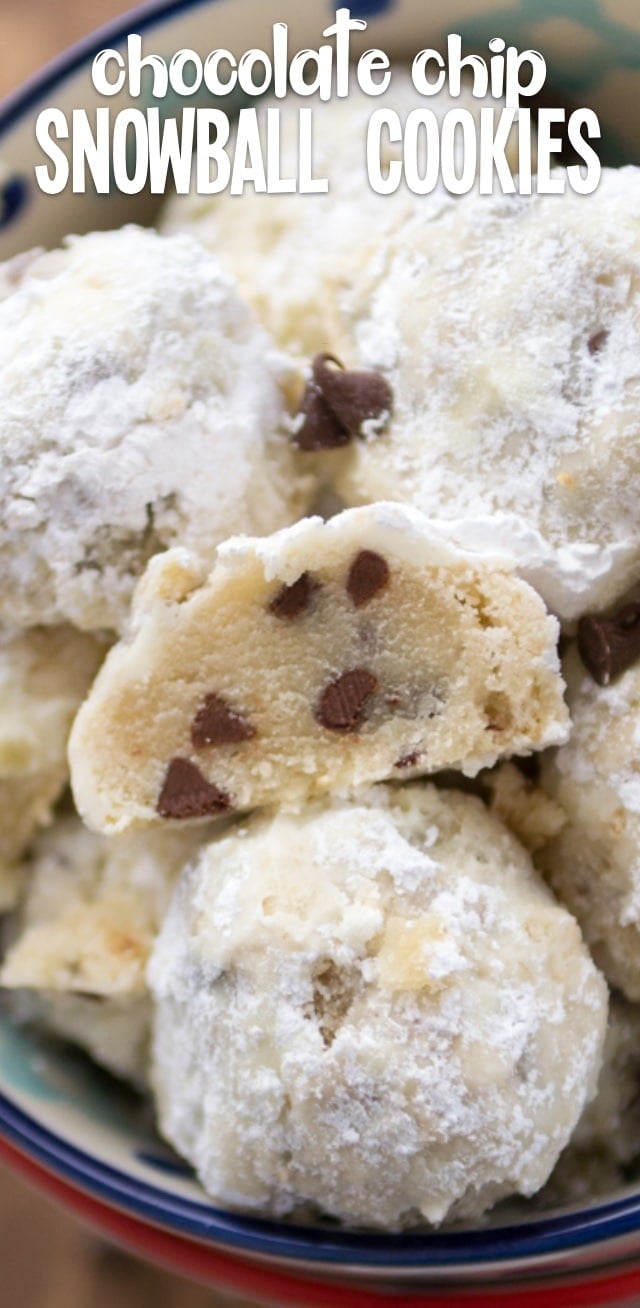 If you like these, check out my other Russian Tea Cake variations:
Make these alongside: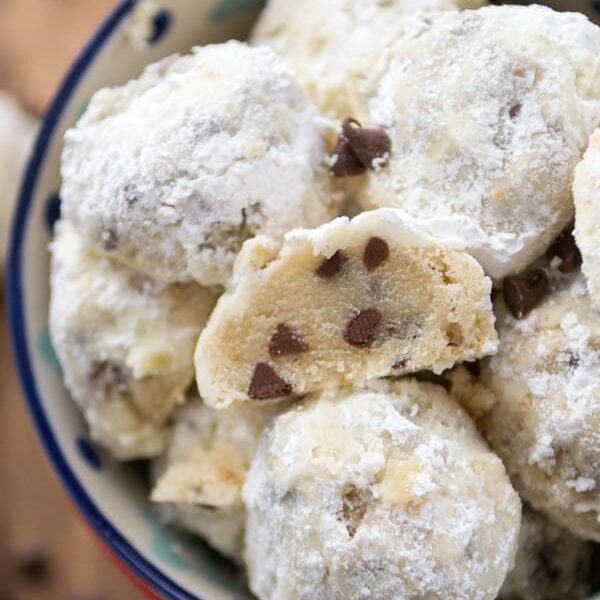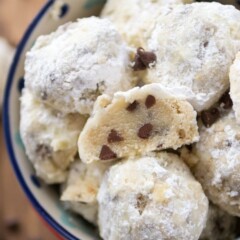 Chocolate Chip Snowball Cookies
Snowball Cookies are the BEST Christmas Cookie! I made these snowball cookies with chocolate chips and no nuts! They're an easy cookie recipe everyone can enjoy.
Ingredients
1

cup

unsalted butter

softened

1/2

cup

powdered sugar

1

teaspoon

vanilla

2 1/4

cups

flour

1/2

teaspoon

salt

1

cup

mini chocolate chips

Additional powdered sugar

for rolling
Instructions
Preheat oven to 375°F. Line two cookie sheets with parchment paper.

Mix butter, 1/2 cup powdered sugar, and vanilla with an electric mixer until fluffy. Add flour and salt and mix until the dough comes together. Stir in the chocolate chips. If dough is too soft, chill it until you can work it easily with your hands.

Scoop 1 tablespoon balls of dough and place on prepared cookie sheet.

Bake cookies for 7-10 minutes until bottoms are just slightly brown. Remove from oven and cool for just a minute, until you can handle them. Fill a small bowl with powdered sugar and roll each cookie in the sugar until coated. Place on a rack to cool. (Once cookies are cooled, you may want to re-roll them in more powdered sugar.)
Recipe Notes
Add flavoring if you want – replace the vanilla extract with any other extract!
Recipe Nutrition
Serving:
1
cookie
|
Calories:
79
kcal
|
Carbohydrates:
8
g
|
Protein:
1
g
|
Fat:
5
g
|
Saturated Fat:
3
g
|
Cholesterol:
11
mg
|
Sodium:
27
mg
|
Potassium:
7
mg
|
Fiber:
1
g
|
Sugar:
4
g
|
Vitamin A:
127
IU
|
Vitamin C:
1
mg
|
Calcium:
6
mg
|
Iron:
1
mg
Nutritional information not guaranteed to be accurate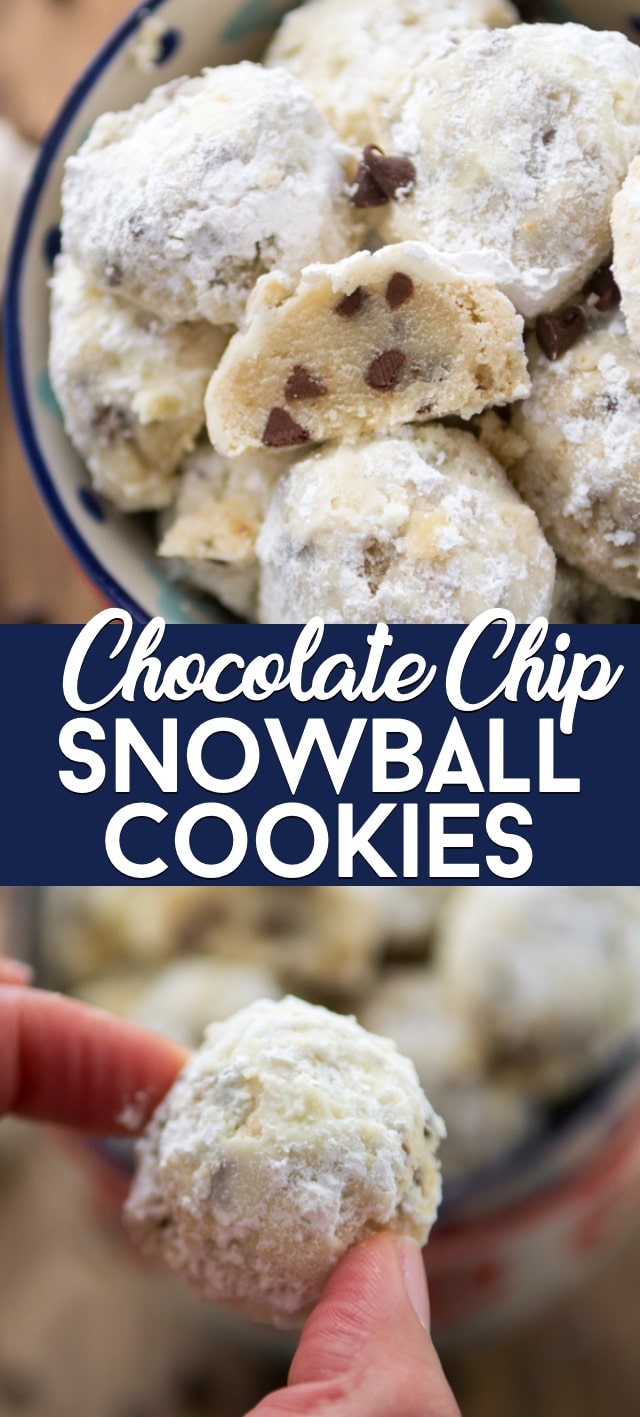 If you're looking for a classic snowball cookie with chocolate chips – this is it! My mom's favorite snowball recipe – no nuts! It's the perfect Christmas cookie recipe.
Last Updated on August 10, 2022