This post may contain affiliate links. For more information, read my disclosure policy.
Chocolate Snowball Cookies are a twist on Russian tea cakes! These are such good chocolate Christmas cookies for the holidays: Rich, chocolate cookies coated in powdered sugar are perfect for all the chocolate lovers in your life.
I have lots of snowball cookie recipes on this blog, in a wide variety of flavors, but this Double Chocolate Snowball cookies recipe is one of my favorites!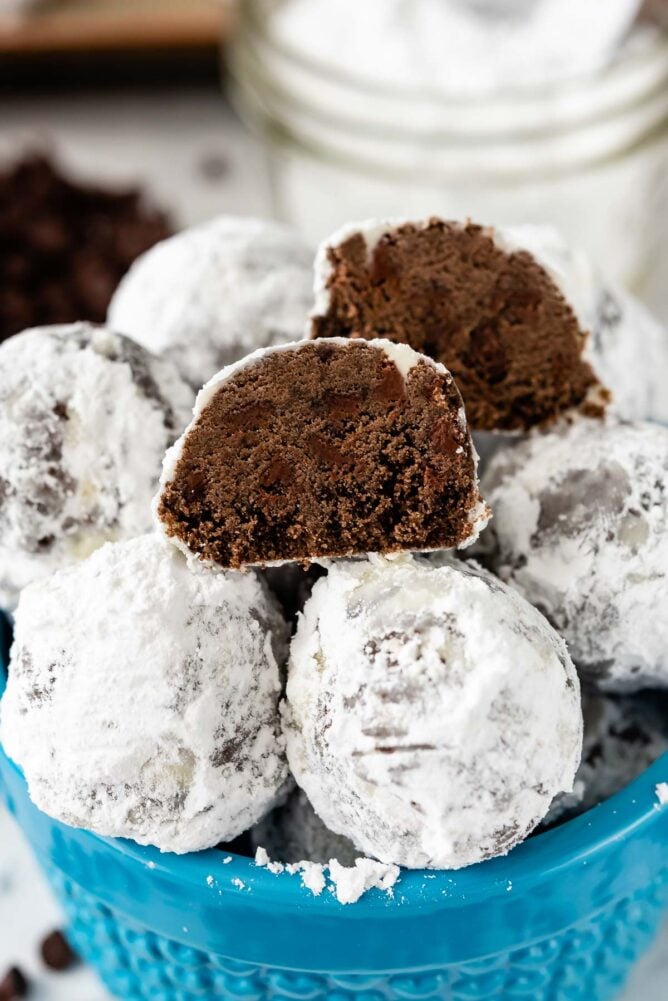 BEST Chocolate Christmas Cookies EVER
I should call this blog Crazy for Snowball Cookies. (Along with Crazy for Peanut Butter, Crazy for Cake Rolls, and Crazy for Brownies.) I mean, I make a few new versions every year and y'all love every single one.
I love baking cookies because once you know a base recipe, there are usually endless ways to customize them. That's why I LOVE snowball cookies – I've made so many versions of this cookie I've lost count!
These chocolate cookie balls are one of my favorites, and they are perfect for the holidays or any time you want a batch of rich chocolate cookies.
This classic Christmas cookie recipe is perfect for the holidays (or any time of year). You can freeze them, take them to parties, gift them. Or eat them all, I won't judge.
How to make Chocolate Snowballs Recipe Video
What are Snowball Cookies?
Snowball cookies are also known as Russian tea cakes and Mexican wedding cakes.
Traditionally, they are made with nuts, sugar, butter, and flour, but there are many variations.
People call them snowball cookies because, well, they look like little snowballs! The cookies are coated in powdered sugar, giving them a wintry, sweet coating. For this reason, they are often made during the holiday season, although I find any excuse to make them all year round!
For this version, it's CHOCOLATE all the way. Double chocolate: cocoa powder in the batter and chocolate chips. Also: no nuts. Everyone with nut allergies, rejoice! You will want these for all your cookie platters this year.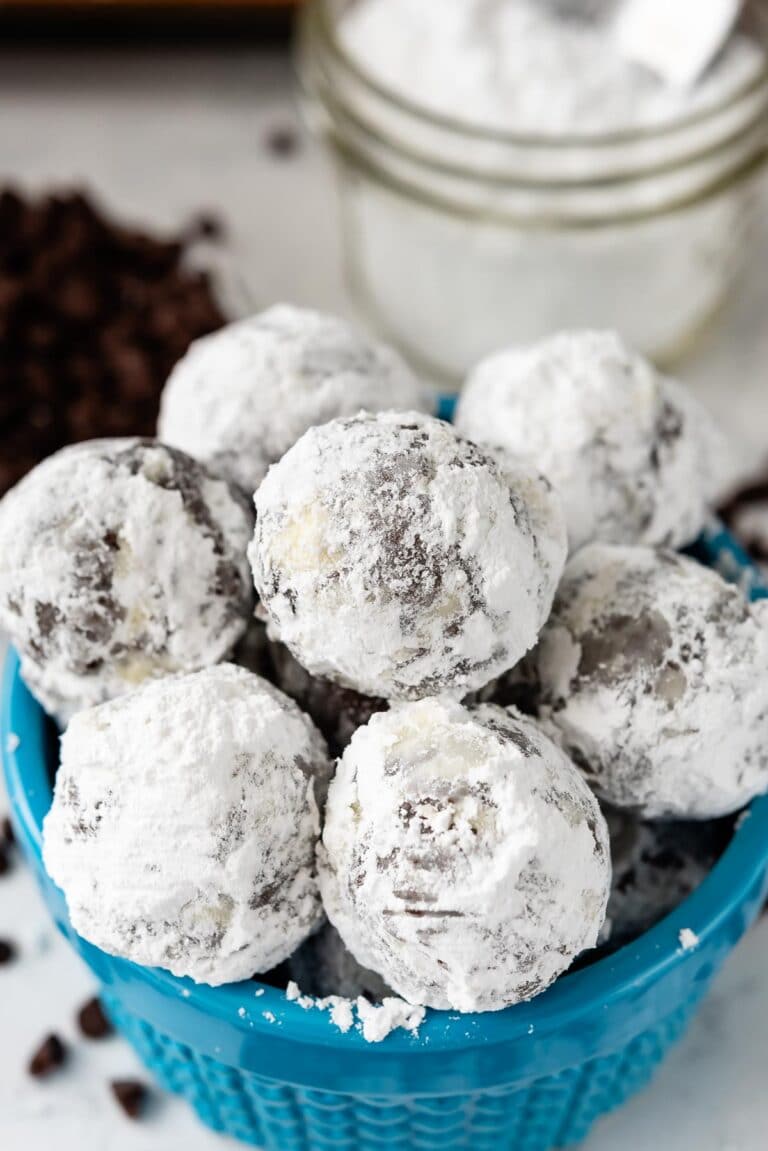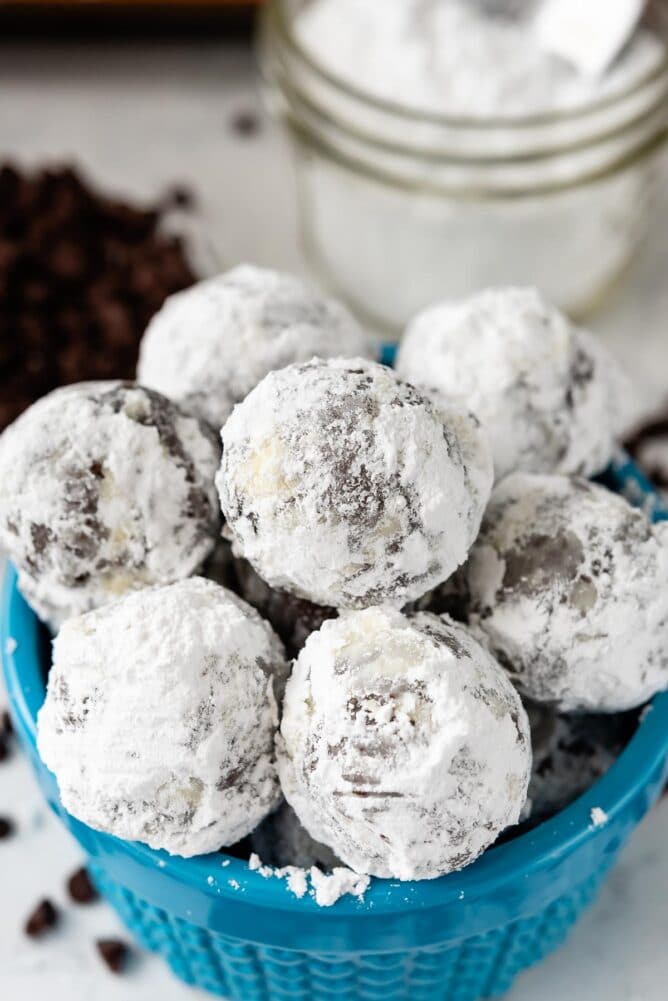 The Best Chocolate Russian Tea Cakes
I've made tons of snowball cookies over the years, and for this version, I took my mom's Russian tea cake recipe and turned it into chocolate cookies without nuts.
This is a really easy cookie recipe! If you love chocolate, you will love them.
Chocolate Snowball Ingredients
Butter: use softened unsalted butter
Powdered sugar: this is what I use instead of granulated. It keeps them soft and compact.
Cocoa Powder: use unsweetened cocoa powder – any kind you like. You can use regular unsweetened, Hershey's Special Dark (what I used), or dutch process.
Vanilla, Flour, Salt: traditional cookie ingredients
Mini chocolate chips: instead of nuts, which are traditional for snowball cookies, I made them nut-free and used mini chocolate chips. Substitute nuts if you prefer!
And if you were wondering about leavening: there is no baking soda or baking powder in this cookie on purpose. Not using either makes them hold their shape; they stay in little balls.
Ingredient Tips: For a deep chocolate flavor, use special dark cocoa powder. It also gives the cookies a deep brown color, which you won't get if you use regular cocoa powder.
Also, be sure to use mini chocolate chips – they work better than regular ones since the cookies are bite-sized.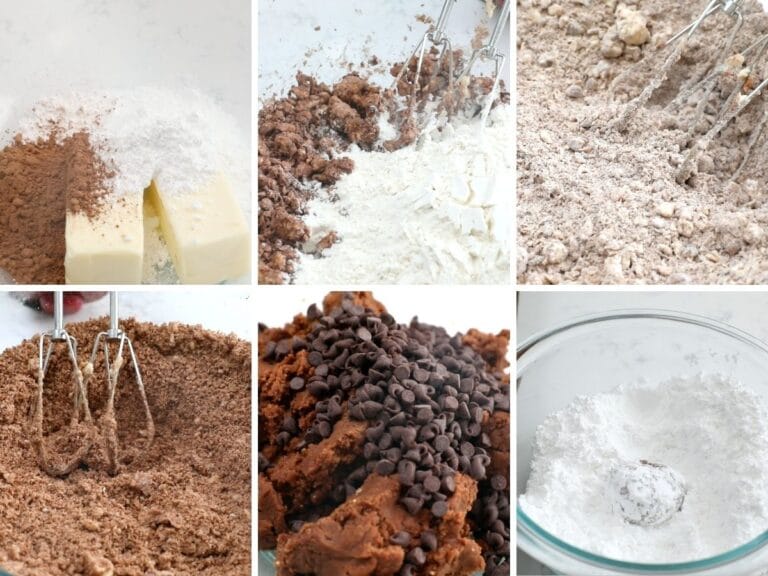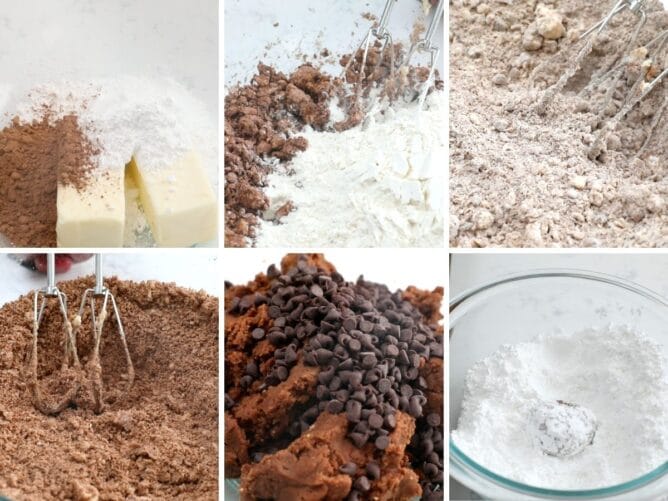 How to Make Chocolate Snowball Cookies
Make the dough: In a large bowl, mix the butter, powdered sugar, cocoa, and vanilla with a mixer until light and fluffy.
Mixing: Add the flour and salt and mix until the dough comes together. Stir in the chocolate chips. The dough is crumbly until it's not: it WILL come together. It will take up to 10 minutes of mixing with a hand mixer and will go faster if you use a stand mixer.
Scoop: To make the cookie balls, scoop one tablespoon of the dough, shape it into a ball and place it on a prepared cookie sheet. Repeat this process with the rest of the dough.
Bake: The cookies will need to bake for 8-11 minutes at 350°F. They're done when the bottoms are slightly browned, and the tops are no longer glossy. Cool the cookies for five to ten minutes before coating them.
Coat: Once the cookies are cool enough to handle, roll them in powdered and place them on a baking rack to cool completely. Sometimes I reroll them in the sugar once they are cooled. That way, they are evenly coated.
Dough Tip: If the dough is very soft when you make it, pop it in the fridge to firm it up. Chilling the dough will make it easier to handle when you form the dough balls.
Can You Freeze Chocolate Snowball Cookies?
Yes, you can freeze them. Make and bake the cookies as instructed, but don't coat them in the powdered sugar.
Once the cookies are cooled, freeze them on a cookie sheet for 30 minutes.
For long term storage, I place them in a freezer-safe container with wax paper separating each layer of cookies. This will keep them from sticking to each other.
To thaw, leave them out at room temperature. At this point, you can roll the cookies in powdered sugar, and they are ready to serve.
If you want to freeze them, keep them in a freezer-safe container. Chocolate snowballs will keep for several months in the freezer!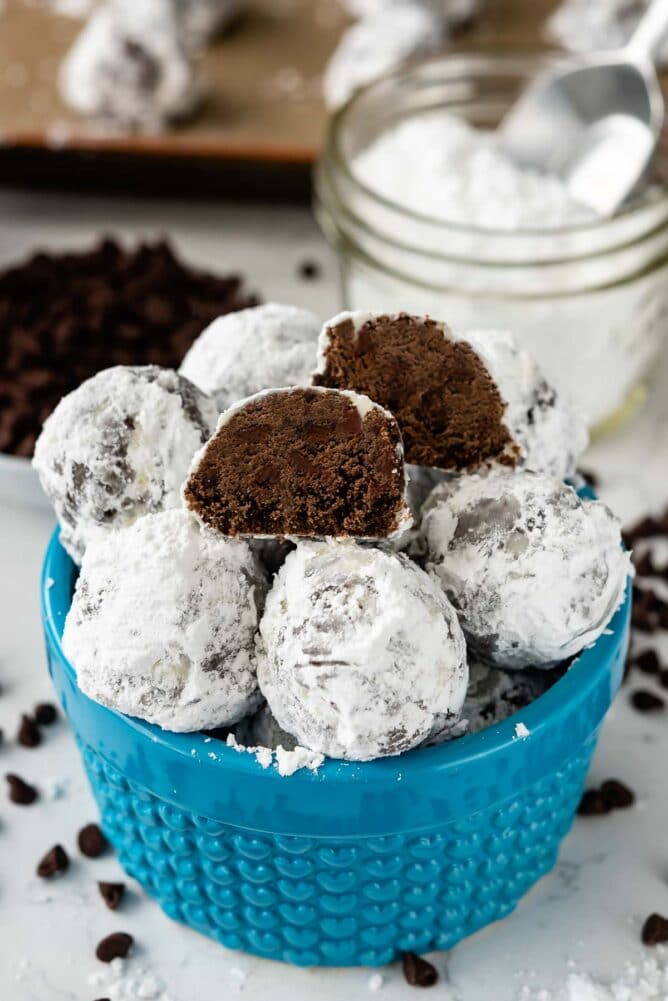 FAQ
My dough is too crumbly and dry.
Just keep mixing! I promise the dough comes together. It will seem like it never will but it does. How long it takes depends on what mixer you're using: a hand mixer will take up to 10 minutes, a stand mixer will do it in much less time.
Can I use nuts instead of mini chocolate chips?
Yes of course. Swap an equal amount of chopped pecans, walnuts or almonds for the chocolate chips. Or use mint chips, peppermint chips or mini M&Ms!
How do I know when they are done baking?
They're done baking when they just lose their glossy sheen.
How to store snowball cookies?
Store these in an airtight container for up to 5 days.
Can you freeze snowball cookies?
Yes you can – I place them in an airtight container or bag and freeze for up to 3 months.
Variations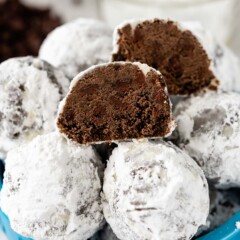 Chocolate Snowball Cookies Recipe
These Double Chocolate Snowball Cookies are my most favorite Russian Teacake recipe yet! They're full of rich cocoa powder and chocolate chips – NUT FREE!
Ingredients
1

cup

(226g) unsalted butter

softened

½

cup

(57g) powdered sugar

¼

cup

(20g) unsweetened cocoa powder

I used Special Dark, use your favorite

1

teaspoon

vanilla

2

cups

(248g) all-purpose flour

measured correctly (spoon and level, do not pack)

½

teaspoon

salt

¾

cup

mini chocolate chips

or chopped nuts

Additional powdered sugar

for rolling (about 1 – 1 1/2 cups)
Instructions
Preaheat oven to 350°. Line two cookie sheets with parchment paper.

Mix butter, 1/2 cup powdered sugar, cocoa, and vanilla with an electric mixer until fluffy. Add flour and salt and mix until the dough comes together. Stir in the chocolate chips. If dough is too soft, chill it until you can work it easily with your hands.

Scoop 1 tablespoon balls of dough and place on prepared cookie sheet.

Bake cookies for 7-10 minutes until bottoms are just slightly brown and the tops are no longer glossy. Remove from oven and cool for 5-10 minutes, until you can handle them. Fill a small bowl with 1 cup powdered sugar and roll each cookie in the sugar until coated. Place on a rack to cool. (Once cookies are cooled, you may want to re-roll them in more powdered sugar.)
Recipe Nutrition
Serving:
2
cookies
|
Calories:
179
kcal
|
Carbohydrates:
22
g
|
Protein:
1
g
|
Fat:
10
g
|
Saturated Fat:
6
g
|
Cholesterol:
20
mg
|
Sodium:
828
mg
|
Fiber:
1
g
|
Sugar:
12
g
Nutritional information not guaranteed to be accurate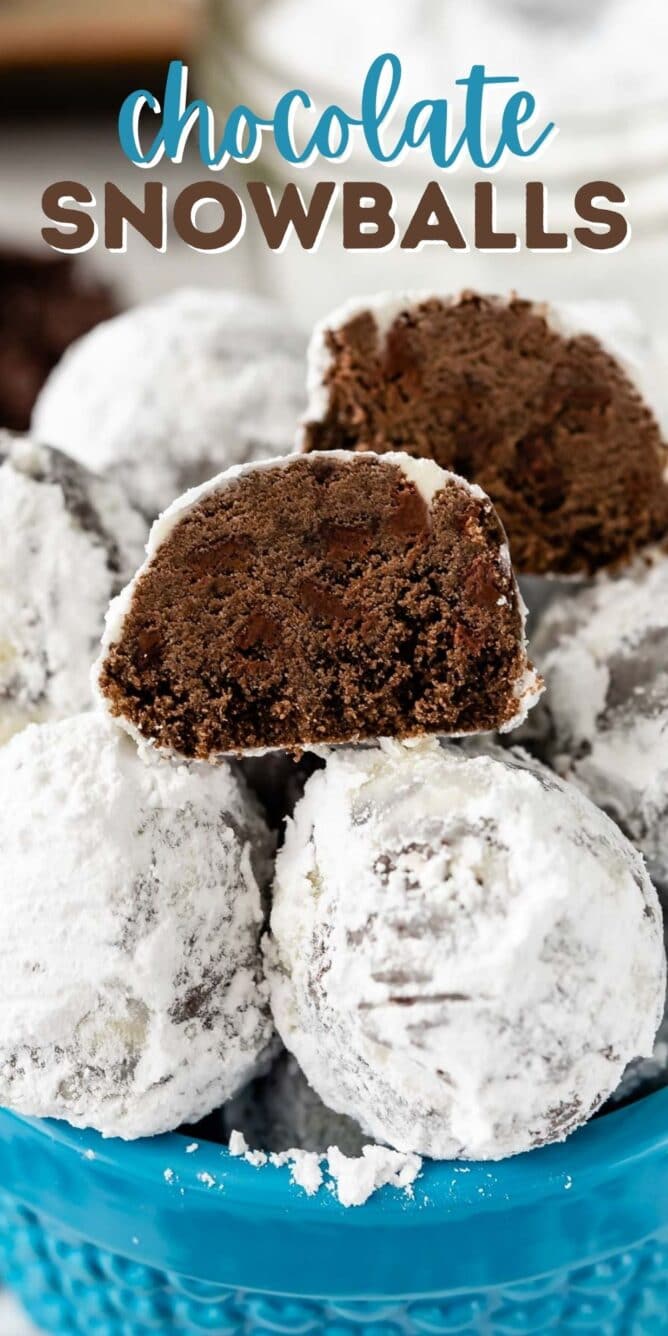 There are so many things to love about these chocolate snowball treats – these classic Christmas chocolate cookies are perfect for the holidays (or any time of year). You can freeze them, take them to parties, gift them. Or eat them all, I won't judge. Just make a batch – you won't regret it!
Last Updated on August 10, 2022