This post may contain affiliate links. For more information, read my disclosure policy.
This S'mores Pudding is a fun way to enjoy the classic summer treat!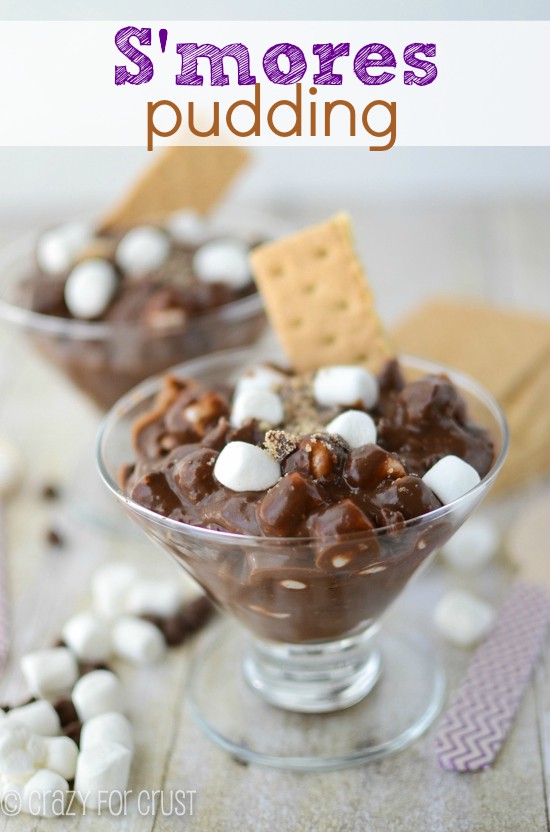 Can animals go insane? Because mine have. Or maybe it's just me, they're just weird and they've made ME go insane.
I think my dog Ginger, a 10 year old golden retriever that we've had since she was 5, is losing her marbles. She's always been a little…needy. And strange. Probably from being a rescue, and because she's a golden. (Golden owners know what I'm talking about, am I right?)
We learned early on that the beeping smoke detector is NOT her friend. When the battery decides to go out at 2am (because, really, does it ever decide to go out at 2pm? No, it waits until you're deeply asleep and forced to run around the house in your underwear swatting at the ceiling with broom handles) it doesn't wake me up, but Ginger does. You'd think the smoke detector beeping was the boogeyman. She wines, shakes, and practically jumps in my arms ala Scooby-Doo.
Remember how we got a new washing machine? It's all fancy and electronic, and beeps when you touch the keys. It plays a fun little song when it's done. And it took me 3 loads to figure out how to turn of the sound, and that wasn't soon enough because OMG Ginger was quaking like a leaf and on a hunger strike and sitting on my lap at the computer before load #1 even started.
And now? Now she's doing the quivering, whining, lap-sitting thing when no noise happens. It's like she's hearing noises in her head. It's the boogeyman smoke detector and she just goes nuts…randomly.
Like I said…insane. I raise weird pets. That probably says something about me, but we're not going to go there.
Where we are going to go is to S'mores Pudding. See, now I'm a little crazy because on Sunday I proclaimed it Fall and shared Pumpkin Coffee Cake and today I'm saying nope! still summer! and sharing s'mores.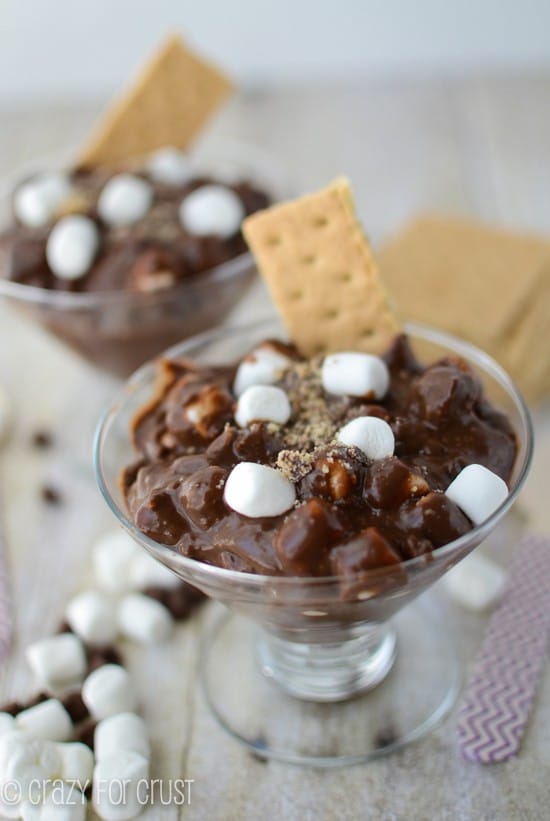 I don't really remember the last time I had a real s'more. I read all sorts of blogs that talk about cookouts and fire pits and s'mores. Um, I'm an indoor girl. When we were in Tahoe a few weeks ago, we roasted marshmallows…over the gas stove. (In my defense, there was no BBQ.)
I like a roasted marshmallow s'more as much as the next girl, but I prefer something less messy. Like s'mores in a cookie. Or in a pie.
Or in pudding!
Last week I got a copy of the new cookbook by Susan Whetzel, the writer of Doughmesstic: The S'mores Cookbook. It's an amazing book! Look, see? Doesn't the cover make you drool?
The book is full of recipes for indoor and outdoor s'mores. There's a picture for every recipe (one of the things I think makes a good cookbook) and I wanted to make each and every one. (Ahem Macarons. I'm looking at you!)
Guess what? I'm giving away a copy! Scroll down to enter!
Since I couldn't decide what to make, I decided to take one of Susan's recipes and make it my own. It's what I do best, after all. She has some basic recipes in the cookbook, for things like Marshmallow Frosting and Graham Crackers, and Chocolate Pudding. I love homemade pudding, so I decided to use her pudding recipe and make it S'mores!
The pudding is super rich and chocolatey, and I especially loved it because it's egg-free. I hate separating eggs, and I hate wasting what's left over. So an egg-free pudding is my favorite! I changed up her recipe a little and used Almond Milk instead of regular, because it's what I had on hand. You can substitute regular milk instead, if you prefer.
Once you make your pudding and it's cooled, you simply add chopped chocolate covered graham crackers and marshmallows to it before serving. Poof! S'mores pudding.
And, you know what? If you happen to have a box of chocolate pudding lying around, and use that instead, this becomes a made-in-20-or-less dessert. I won't tell!
S'mores all year round. Totally not insane. Unlike my dog. 😉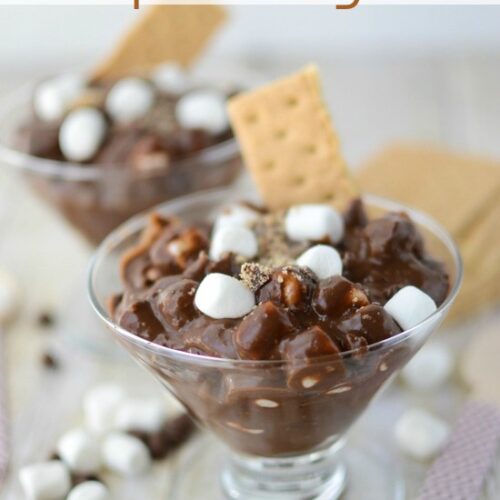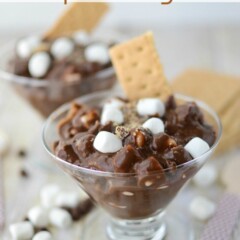 S'mores Pudding
Ingredients
For the completed puddings

makes 4 large servings:

1

box chocolate instant pudding made according to package directions and chilled OR see pudding recipe below

1

cup

mini marshmallows

1

cup

chopped chocolate covered graham crackers

Extra marshmallows

grahams, and/or graham crumbs for garnish, if desired

For the homemade chocolate pudding:

2

tablespoons

granulated sugar

2

tablespoons

brown sugar

1 1/2

tablespoons

corn starch

3

tablespoons

cocoa powder

2

cups

unsweetened vanilla almond milk

or you can use low fat milk, or regular

1/2

cup

chocolate chips

semi-sweet, milk, or a combo

2

tablespoons

butter

diced

1/2

teaspoon

vanilla
Instructions
To make homemade pudding: Whisk sugars, cornstarch, and cocoa in a medium sauce pan. Whisk in milk and place over medium heat. Bring to a boil, whisking often, and once it boils whisk constantly for several minutes, until the mixture thickens. (Note: it won't get really thick, just thicker, like a thick soup.)

Stir in chocolate chips and butter and whisk until melted. Remove from heat, whisk in vanilla. Transfer to a heat safe bowl.

Cover the top of the pudding with plastic wrap (the plastic wrap should be touching the pudding). Let cool for about 15 minutes at room temp, then chill until it's cold and firms up, about 4-6 hours.

To assemble pudding: Place pudding in a large bowl. Stir in marshmallows and chopped chocolate covered grahams. Divide among serving dishes and garnish with extra marshmallows, cookie crumbs, and/or graham crackers. Best served day of, or the marshmallows get stale.
Nutritional information not guaranteed to be accurate
Other treats you might like:
Sweets from friends:
S'mores Pie with Biscoff Crust by A Pumpkin and a Princess
Grilled Banana S'more Boats by Sweet Treats & More
Skinny Milk Chocolate and Caramel S'mores by Something Swanky
Last Updated on May 13, 2020