This post may contain affiliate links. For more information, read my disclosure policy.
S'mores Sugar Cookie Pie – Need a fast 3-ingredient dessert that takes absolutely no brain power whatsoever? This S'mores Sugar Cookie Pie recipe is for YOU!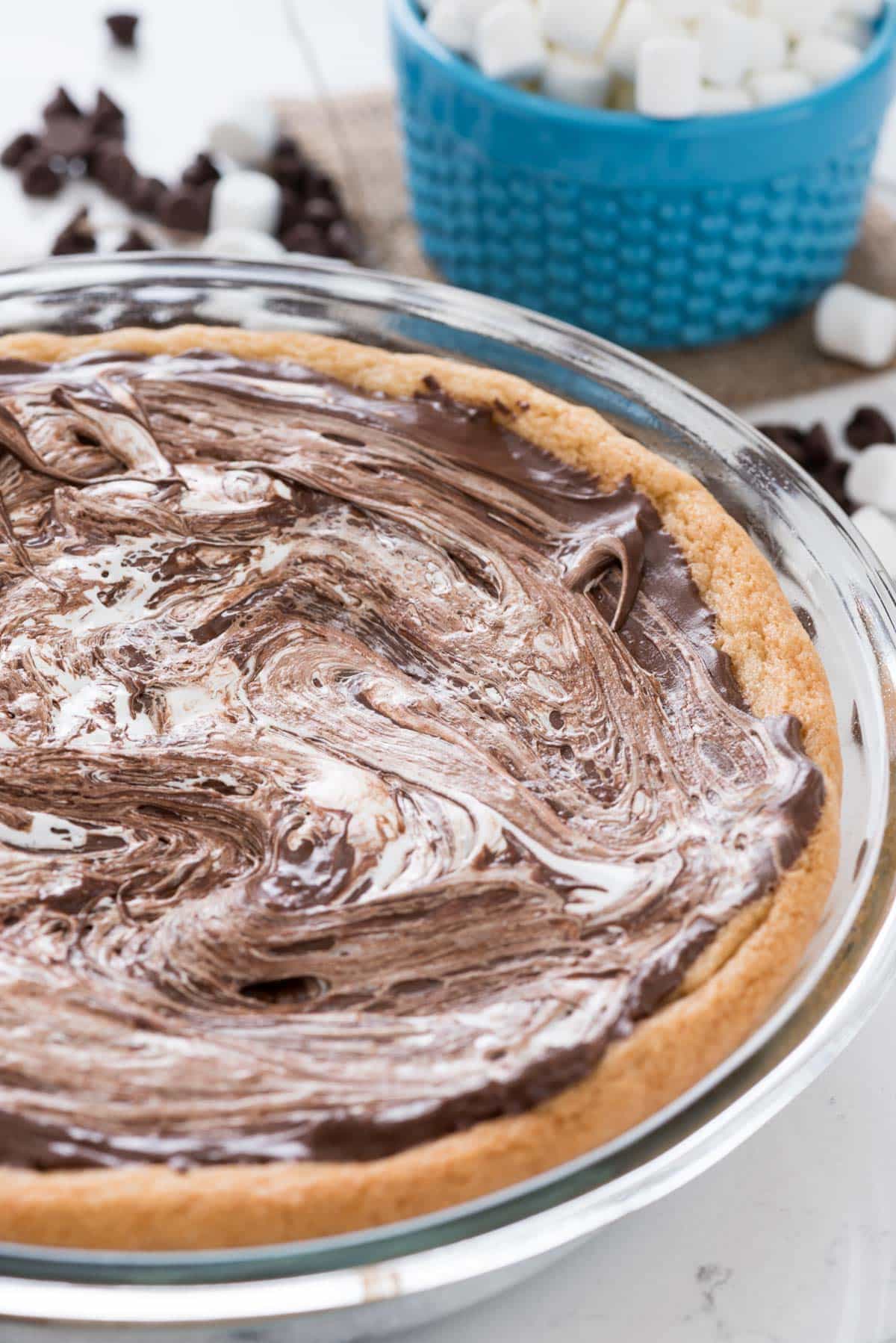 Do you ever go digging in your refrigerator for that cheese you know you bought and instead find random rolls of cookie dough that you forgot about? Or is that just me? #foodbloggerproblems
That's a true story from last week. I was looking for stuff to make dinner and I found a tube of sugar cookie dough buried in the back of my refrigerator. The expiration date was fast approaching so, obviously, I decided to make something with it.
Enter: a 3-ingredient s'mores sugar cookie pie. Y'all, I'm getting into the mood for Pi day next week in a BIG way here.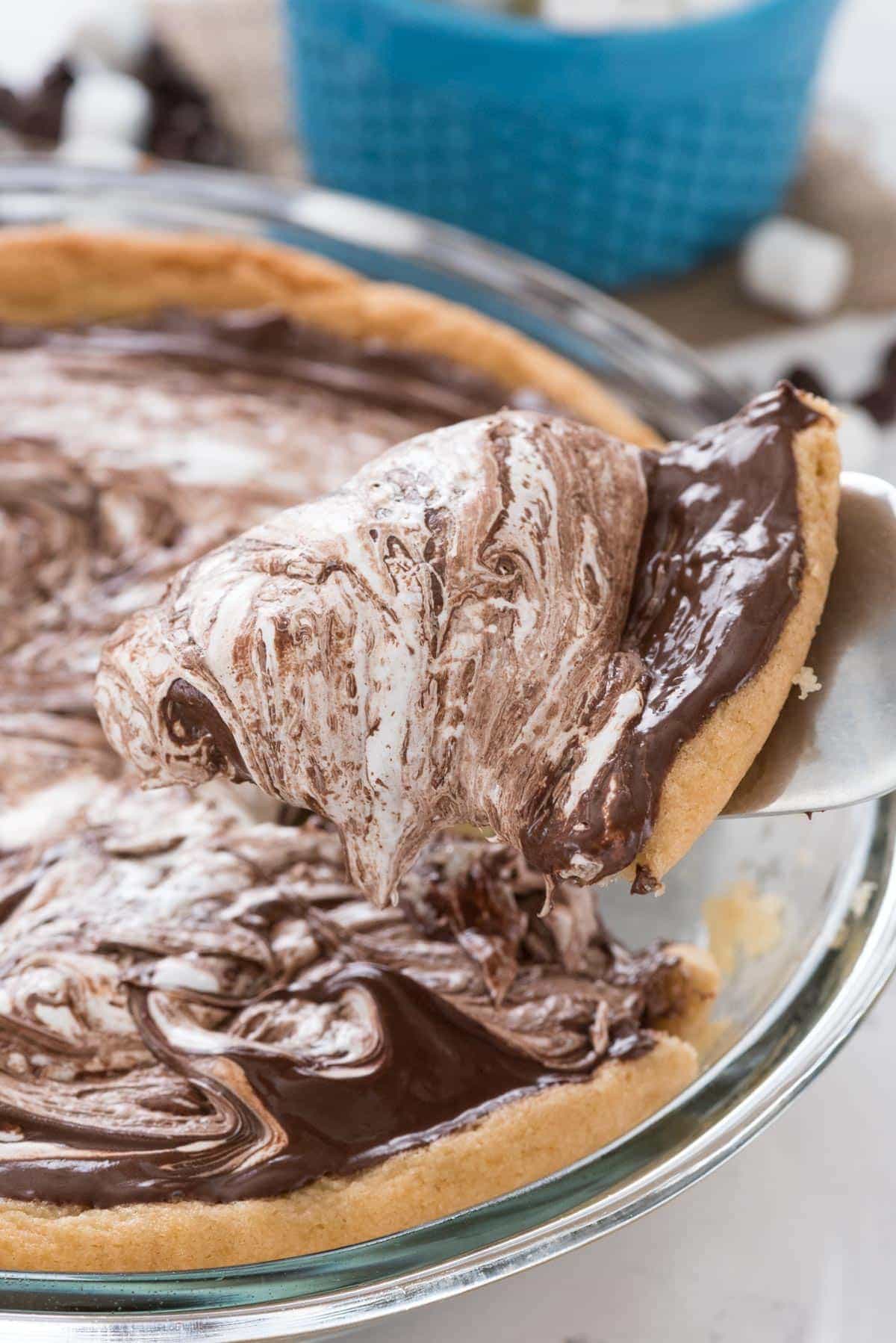 How did I come up with s'mores? Well, it's now March, which means I'm planning summer. Whoever said that summer was "relaxing" didn't have children in 2016 suburbia. Between a "spring" dance recital that takes place at the end of June (and lasts an entire week, mind you), planning a family vacation, planning trips to see family, and looking at summer camps so I don't become a day-drinking alcoholic, our summer is going to be busier than any school month.
We have exactly 3 weekends free from June through August. #holdme
One of the things we will NOT be doing over the summer? Camping. Y'all know how I feel about camping. How is that a vacation? No, a vacation is staying at a hotel where I don't have to cook, clean, or do dishes, thank you very much.
That is why all the s'more recipes on this site are all "indoor s'mores" like cookies or pie.
I'm adding this one to the list: a S'more Sugar Cookie Pie with only 3 ingredients. And, unlike most s'more recipes, it lasts a few days on the counter. #winning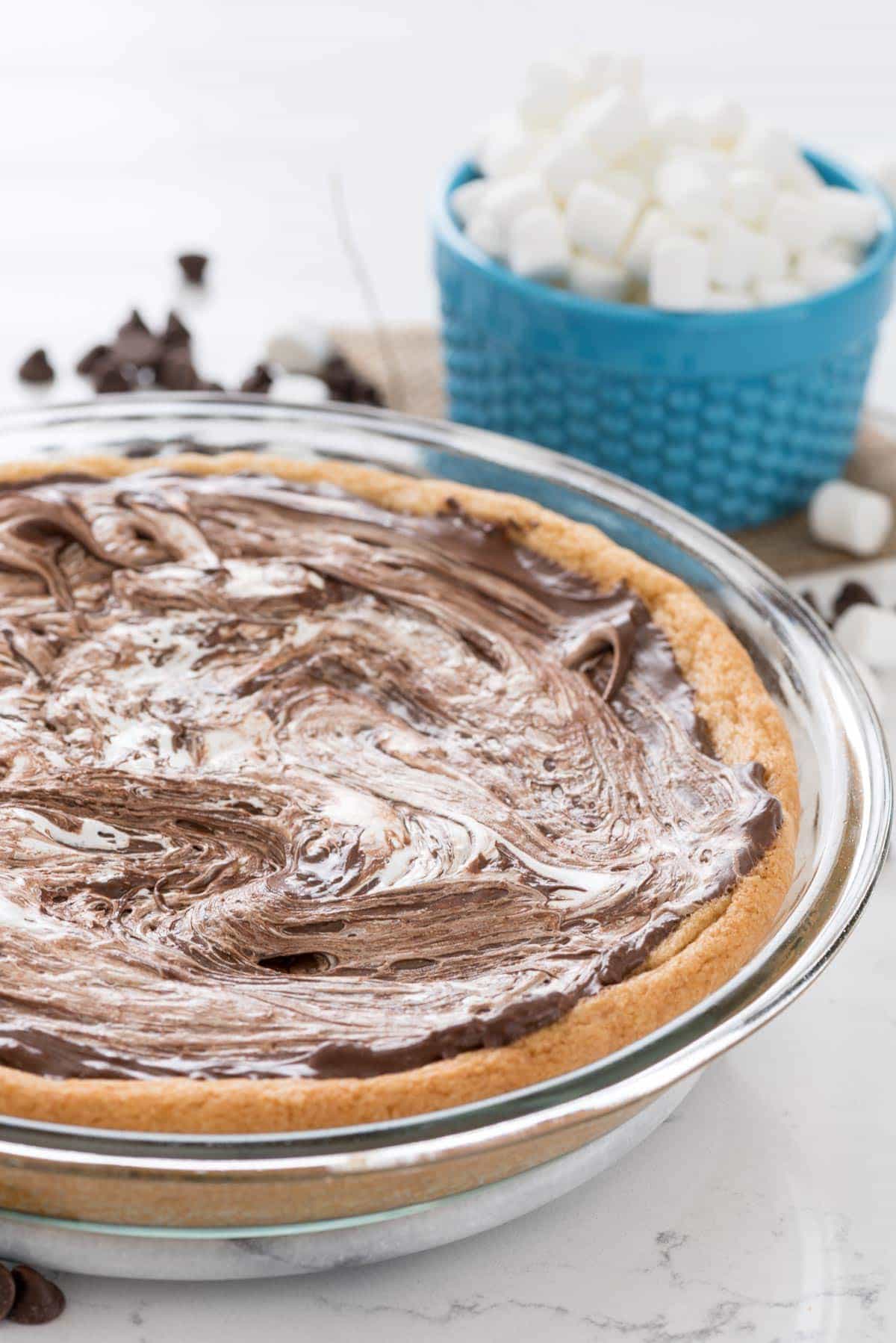 How to Make a S'mores Sugar Cookie Pie
All you need for this recipe are a roll of sugar cookie dough, chocolate chips, and marshmallow fluff. That's IT. Prep time: 10 minutes. Bake time: 30 minutes. Eating time: infinity.
If you're like me, you might already have a roll of cookie dough in the refrigerator. You don't have to use sugar cookie dough – you can use any flavor you have. Maybe you have a sugar cookie mix in your pantry you want to whip up real quick instead, that'll work. Even if you're not into packaged cookie dough and you want to make your own sugar cookie recipe, go ahead. No matter how you make the dough, it's easy to throw together.
You press the dough into a 9″ pie plate and bake it until it's just golden. Then the fun happens…

Once the cookie is baked, you sprinkle chocolate chips on top and bake it again. Then you spread them and drop marshmallow fluff all over the top and, you guessed it, bake it one last time. Swirl with a knife and voila: the perfect EASY S'mores Sugar Cookie Pie.
(Don't have marshmallow fluff? No problem: use mini marshmallows instead!)
This is great gooey straight from the oven (just serve with forks!) or, when it's made with the fluff, it's good on the counter for a few days, warm or cold. The perfect INDOOR s'more!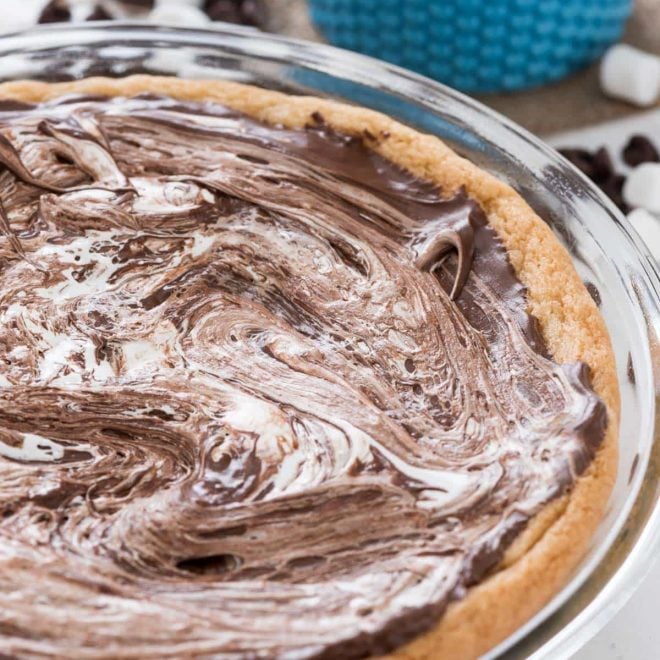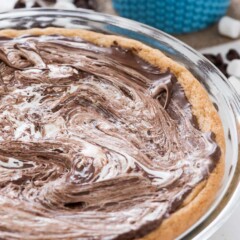 S'mores Sugar Cookie Pie
This easy S'mores Sugar Cookie Pizza recipe has only 3 ingredients! It's the perfect last minute dessert recipe.
Ingredients
1

16.5 ounce roll of sugar cookie dough (or the equivalent amount of homemade cookie dough, see note)

1

cup

chocolate chips

1/2

cup

marshmallow fluff or 1 cup mini marshmallows
Instructions
Preheat oven to 350°F. Spray a 9" pie plate with nonstick cooking spray.

Press cookie dough into the pie plate. Bake for 22-26 minutes, until browned on the top.

Sprinkle with chocolate chips. Bake an additional 2 minutes. Carefully spread the chocolate chips smooth, then drop spoonfuls of marshmallow fluff on top. Bake another 1 minute, until fluff is melty. Swirl with an offset spatula or knife.

If using mini marshmallows: after spreading the melted chocolate chips, sprinkle the marshmallows on top and broil until the marshmallows are brown.

Serve while still warm. Best eaten with a fork straight from the pan! This also will last on the counter for a few days (when made with the marshmallow fluff) and is great room temperature.
Recipe Nutrition
Serving:
1
/10 slice of pie
|
Calories:
545
kcal
|
Carbohydrates:
77
g
|
Protein:
4
g
|
Fat:
14
g
|
Saturated Fat:
6
g
|
Cholesterol:
8
mg
|
Sodium:
193
mg
|
Fiber:
2
g
|
Sugar:
50
g
Nutritional information not guaranteed to be accurate
Click HERE for more easy recipes that start with cookie dough or cookie mix!
See more of my ultimate pie recipes here!
Check out all of my pie crust recipes for even more inspiration!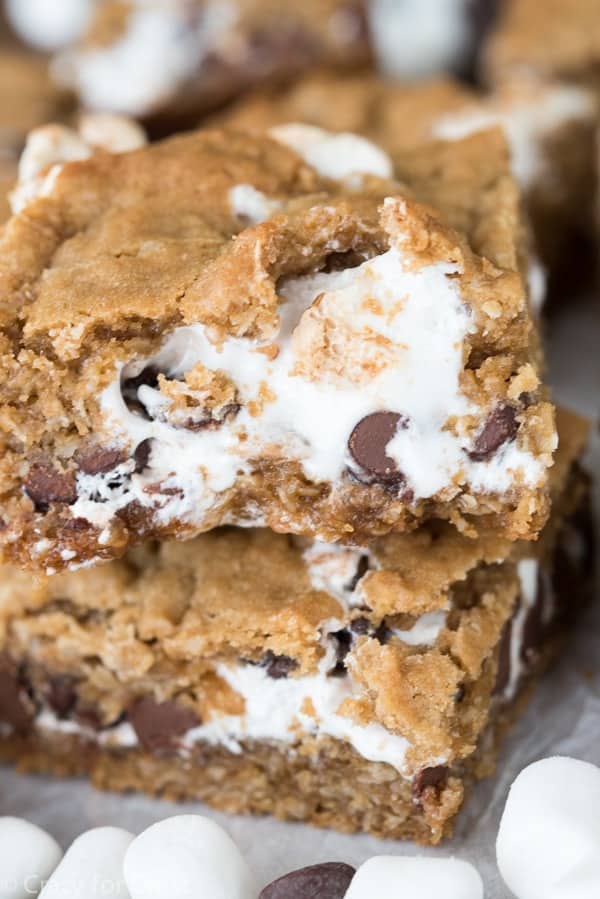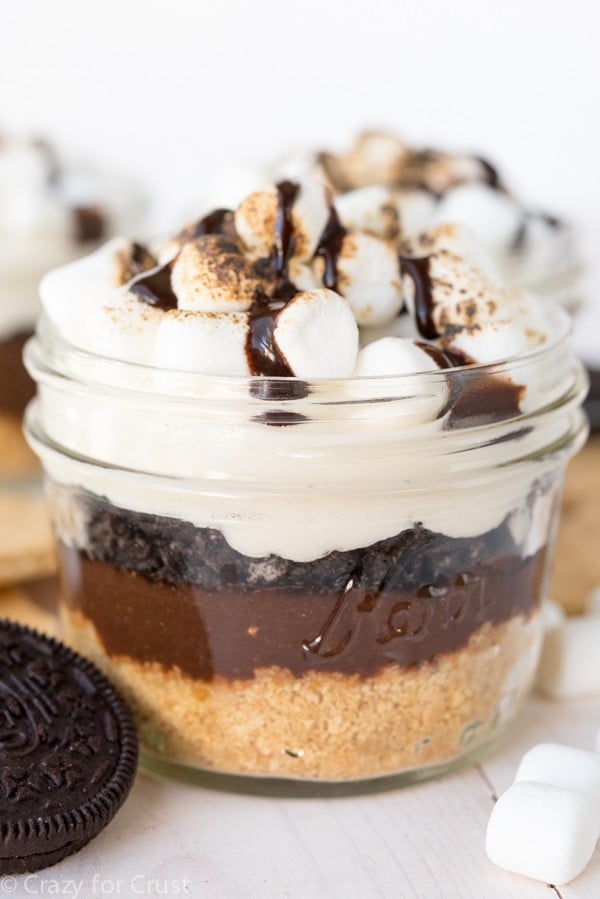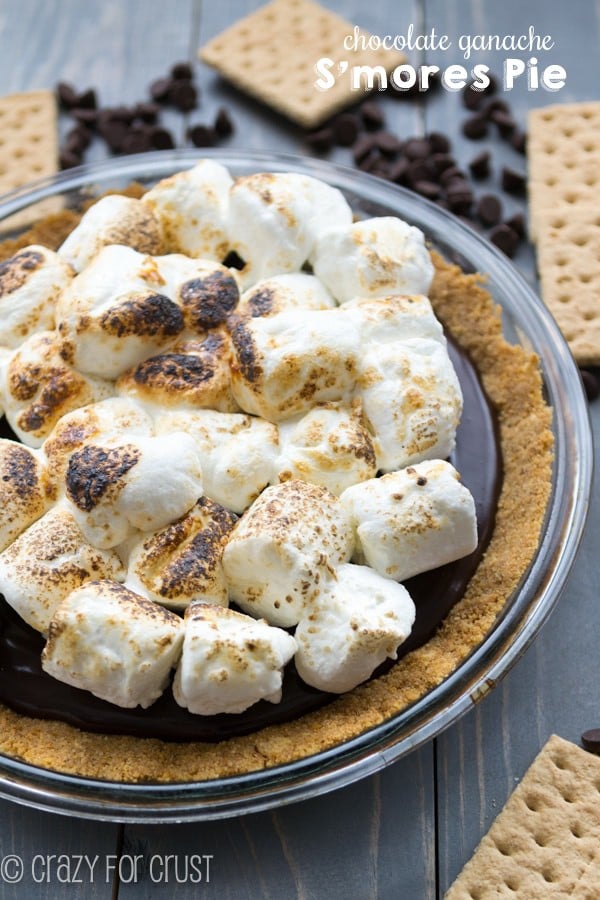 Sweets from friends:
Peanut Butter S'mores Cookie Cups by Buns in My Oven
S'mores Pudding Pie by What's Gabby Cooking
Mini Red Velvet S'more Tarts by The Cookie Rookie
Last Updated on April 1, 2023