This post may contain affiliate links. For more information, read my disclosure policy.
This Sheet Pan Pizza Recipe will inspire you to host a weekly homemade pizza night! You can use store-bought pizza dough or homemade pizza dough – just pile on the toppings and enjoy every last cheesy bite.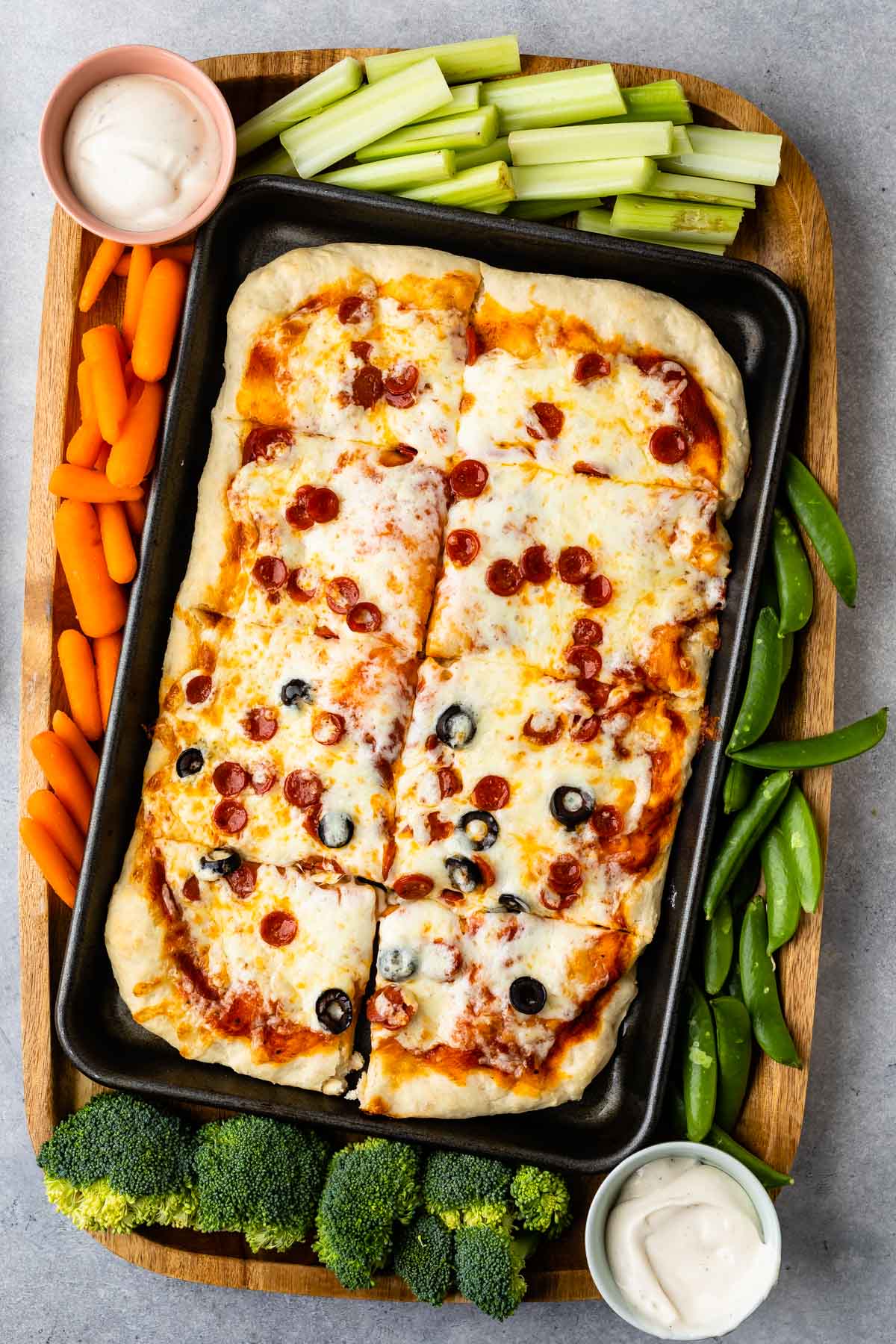 Easy Sheet Pan Pizza Recipe
I admit I was scared of homemade pizza for years, opting instead to order pizza or bake a frozen one whenever we got a craving.
And then I tried recipes from Food Network, Serious Eats, Bon Appetit, and American's Test Kitchen – so many recipes, I lost count! I learned a lot, but most of them were too time-consuming and fussy.
But then I started playing around with easy pizza dough recipes and realized it doesn't have to be complicated. I asked myself: can you cook pizza on a baking sheet? And it turns out you can – make sheet pan pizza!
Why you'll love this recipe
If you think you need fancy pizza tools to make the best homemade pizza, you will love this easy pizza recipe! You don't need a pizza peel, pizza oven, or special equipment – just a baking sheet pan, dough, and favorite toppings.
We love making a dinner board with our easy sheet pan pizza and veggies or salad. It's everyone's favorite Friday night dinner!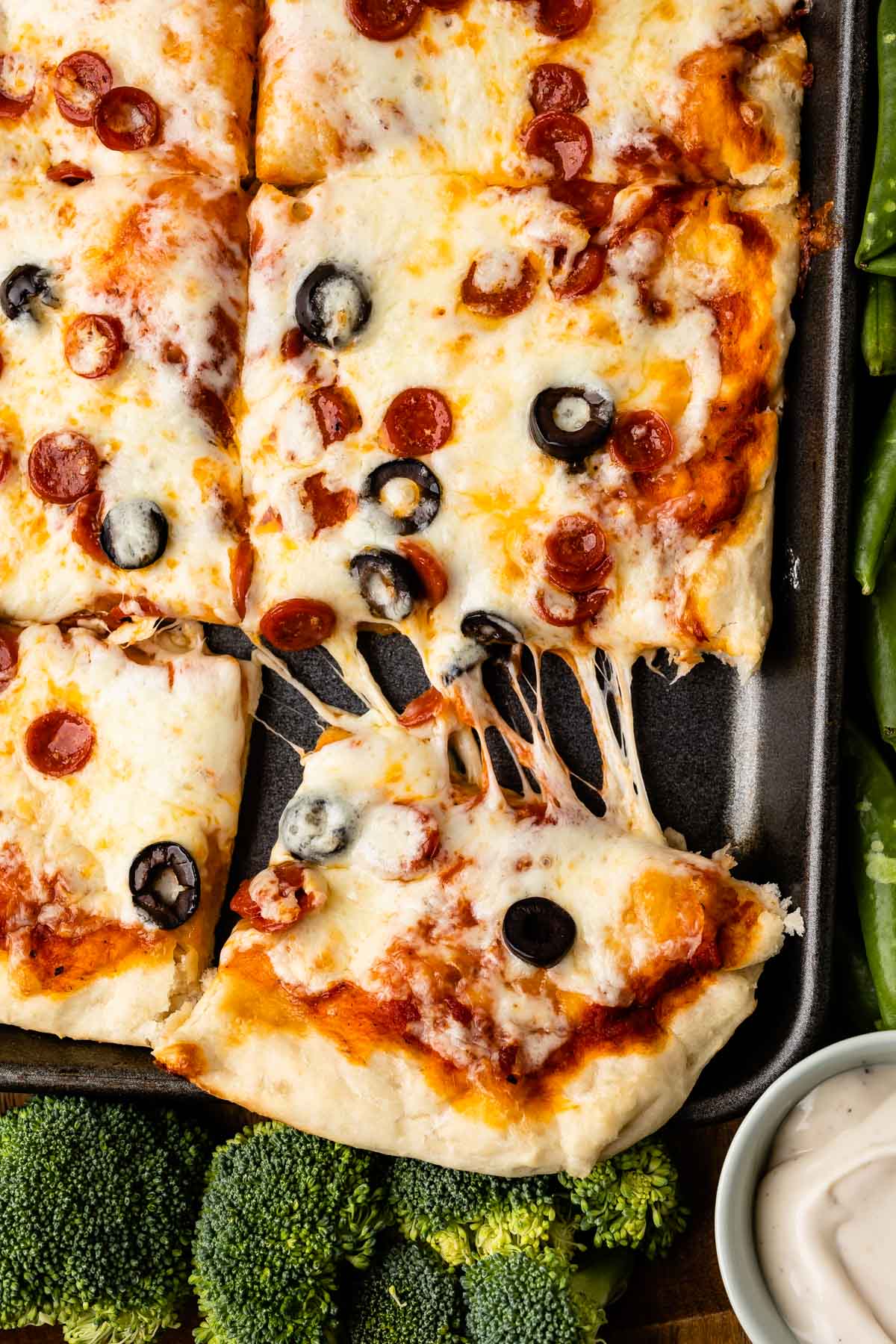 What you need to Make This Recipe
Pizza dough: See the options below
Pizza toppings: I have a homemade pizza sauce, but you can use your favorite store bought (I love Rao's). As for the meat and other things, we love pepperoni and olives but use whatever you like!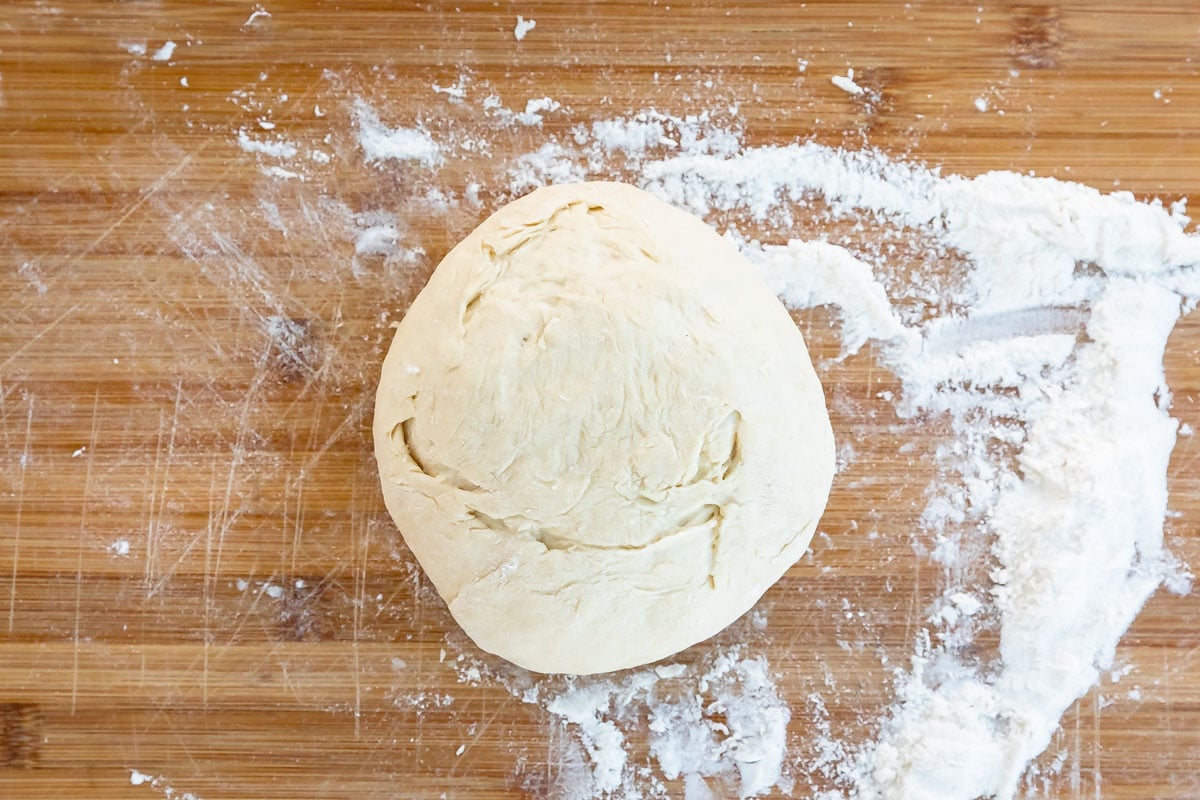 How to Make Sheet Pan Pizza
Grease a 10×15" or 11×15" sheet pan with cooking spray or brush with olive oil.
Roll the pizza dough out, so it fits the pan. Sometimes it's easier to press it out with your hands.
Place the dough in the pan and top it with sauce, cheese, and toppings.
The baking time will vary based on the kind of dough you use. On average, it will take about 15 minutes for the pizza to cook, but keep an eye on it. Once the crust is golden, and the cheese is melted, it's done.
Allow the pizza to rest at room temperature for a couple of minutes before slicing and serving it.
Topping Ideas
The sky's the limit when it comes to pizza toppings! Need some ideas? Here are some favorites we love:
Sauce: I love my homemade pizza sauce or pick up a jar at the store. Or, swap it for pesto, BBQ sauce, or garlic oil, depending on the kind of flavors you want.
Cheese: Any good melting cheese works! Mozzarella is classic, but other kinds work great, too. Provolone, Gruyere, and cheddar… just match the cheese to the other toppings. Oh, and some grated Parmesan is always good, too.
Meat: Cooked Italian sausage, bacon, shredded chicken, ground beef, or ground turkey are just a few. Or try some pepperoni and salami.
Veggies: Quick cookie veggies like thin-sliced mushrooms, diced bell peppers, sliced olives, spinach, sliced onions, and minced garlic are all great choices.
Seasonings: Sprinkle on some Italian seasoning, dried oregano, red pepper flakes, or black pepper.
Fresh herbs: Garnish your sheet pan pizza with chopped fresh parsley, basil, or thyme for a pop of color and flavor.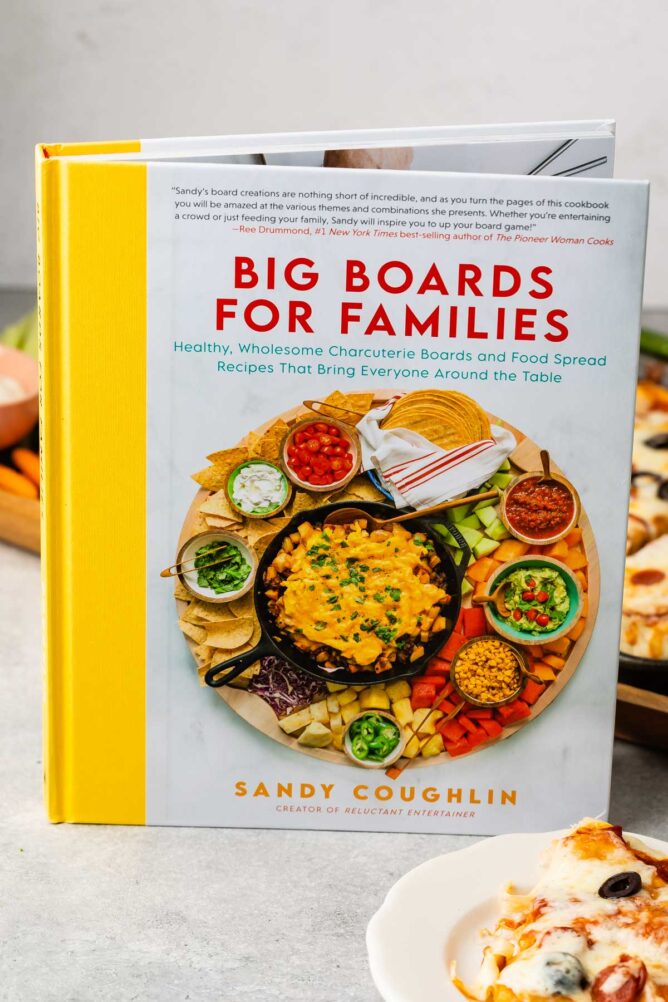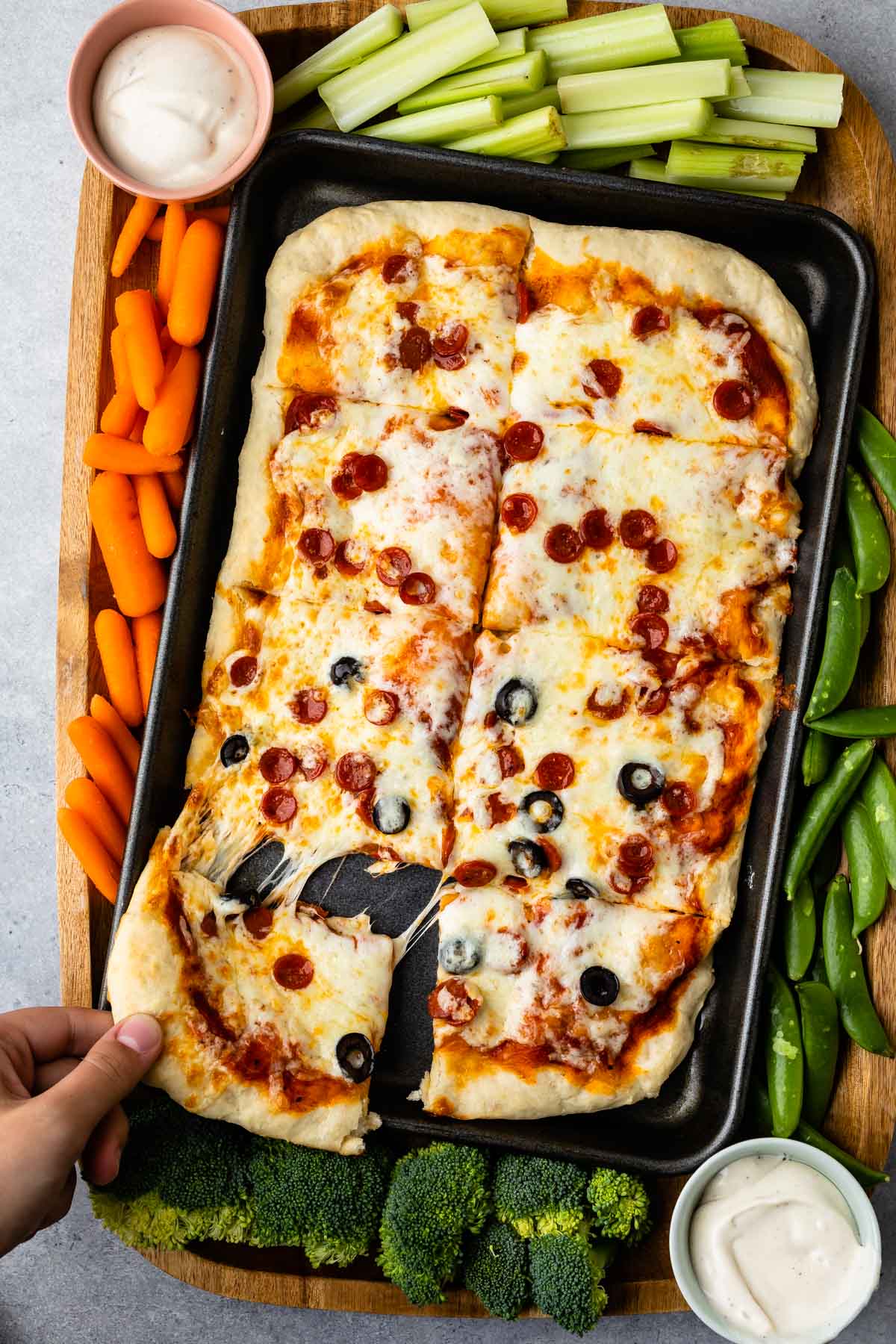 Expert Tips
Be sure to preheat the oven to at least 475°F before baking the pizza.
If you're having trouble rolling out the dough, use your hands to press it into the size you need.
I like to sprinkle the cheese over the sauce and then some more over the rest of the toppings. This makes it extra cheesy and also helps keep the toppings in place.
Don't overload the pizza with too many toppings – it's better to pick a few favorites!
However, with a pizza sheet it can be hard to transfer this to a hot pan, so I recommend just making sure your oven is preheated. If you're using a pizza stone, you can place the sheet pan on top of it.
Pizza FAQ
Do you have to grease the baking sheet?
Yes, spray it with cooking spray, or you can grease it with oil.
How do you make crispy pizza?
Use a thinner crust and brush the dough around the edge with olive oil before baking it.
How to store leftover pizza?
Store leftover pizza in an airtight container in the refrigerator. It will keep well for up to two days.
What temperature to you cook pizza?
I love baking pizza at a high temperature – at least 450-475°F. If your oven will go up to 500° easily, then you can even bake it that hot. The hot oven makes the crust nice and crispy.
Why is my pizza soggy?
There are a few reasons why your pizza is soggy. Oven temperature: If your oven isn't hot enough, the pizza won't bake properly and can end up soggy. Undercooked: Be sure to bake the pizza until the crust is golden around the edges. Too much sauce: Don't add too much pizza sauce; otherwise it will make the dough soggy. Vegetable toppings: Some veggies have more water content that release when they're cooked. Fresh tomatoes and pineapple do this and can make your pizza soggy. If you use them, don't add too much or add them towards the end of the baking time so they warm through.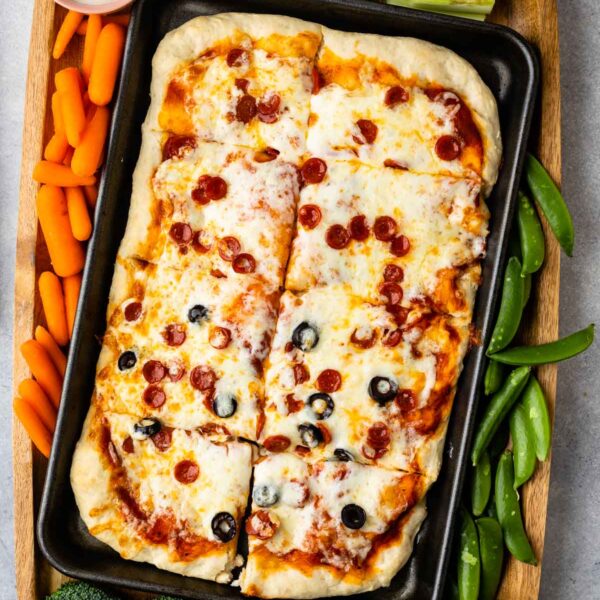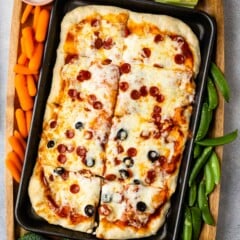 Sheet Pan Pizza Recipe
Pizza night is a whole lot easier now that you have this Sheet Pan Pizza recipe – just pile on the toppings and enjoy every last cheesy bite.
Instructions
Preheat oven to 475°F. Grease a 10×15 or 11×15-inch pan with nonstick cooking spray or grease it with olive oil.

Roll out the pizza dough to the size of the pan (sometimes it's easier to press it out with your hands). Transfer it to the prepared pan.

Top with sauce, then add 2 cups of cheese and toppings. Top with remaining cheese.

Bake until pizza dough is golden and cheese is melted, approximately 15 minutes but this will depend on what pizza dough you're using.

Allow to sit for 2 minutes before slicing. Serve hot, store leftovers in refrigerator for up to 2 days.

To make Sheet Pan Pizza Board: Place sliced pizza on a 20-inch food board. Surround it with raw vegetables and assorted dips.
Recipe Notes
For the sauce, you can use my homemade recipe or a jar. Or substitute pesto or bbq sauce!
Toppings: I love pepperoni but you can make this all cheese or add any of your favorites.
Recipe from Big Boards for Families by Sandy Coughlin.
Recipe Nutrition
Serving:
1
serving
|
Calories:
250
kcal
|
Carbohydrates:
25
g
|
Protein:
13
g
|
Fat:
11
g
|
Saturated Fat:
6
g
|
Polyunsaturated Fat:
1
g
|
Monounsaturated Fat:
3
g
|
Cholesterol:
33
mg
|
Sodium:
689
mg
|
Potassium:
77
mg
|
Fiber:
1
g
|
Sugar:
4
g
|
Vitamin A:
350
IU
|
Vitamin C:
1
mg
|
Calcium:
214
mg
|
Iron:
2
mg
Nutritional information not guaranteed to be accurate
Give this pizza on a sheet pan a try for your next pizza night! It's such an easy way to make homemade pizza – Enjoy!
Last Updated on February 10, 2023