This post may contain affiliate links. For more information, read my disclosure policy.
Making Homemade Pizza is SO easy that we do it all the time. I actually love making pizza at home more than ordering in because I can control the ingredients in my pizza dough and the toppings! I'm turning this crust into Hawaiian Pizza with BACON!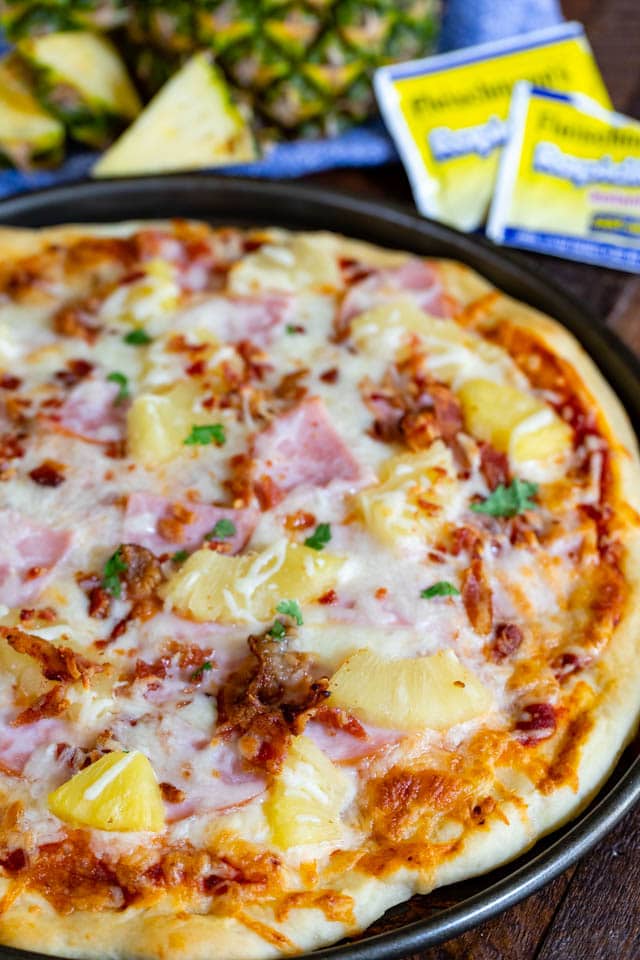 Is Hawaiian Pizza the Best Pizza?
Have you ever had a time where you have to eat your words? A time when you've said you positively absolutely never-ever-ever would like something and then you try it and, shock of all shocks, you DO like it?
You see where I'm going here, right?
I've always said pineapple didn't belong on pizza….but I was wrong. Hawaiian pizza is delicious – especially with BACON on it!
How to make Hawaiian Pizza Video
How do you make the best pizza?
First of all, if you're going to make the best pizza, you have to make your own homemade crust. Homemade pizza is the best pizza, if you ask me.
We make pizza at home most weeks, usually on Fridays. I've gotta say, I've been making my own pizza recipe for so long I don't even love ordering it in anymore! Pizza from scratch is so much better.
The best pizza has a homemade pizza crust and your favorite toppings. Whether you use pizza sauce or pesto sauce, make it plain cheese or Hawaiian, I think the best pizza recipe is the one YOU love the most!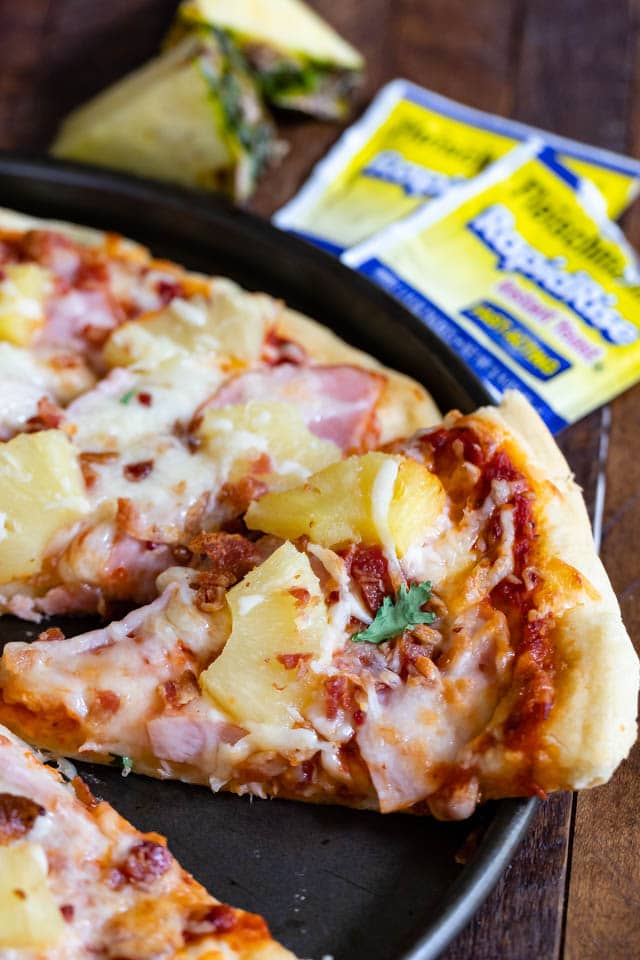 Does homemade pizza dough have yeast in it?
Yes it does – good pizza dough is a yeast dough. And it's EASY to make, I promise! If you're scared of working with yeast – don't be. Once you do it a few times you'll be amazed at how simple it is.
This recipe is probably the easiest yeast recipe you'll ever make – you don't even need a mixer!
First, you need to pick the right yeast: Fleischmann's® Yeast RapidRise® Yeast.
There are lots of different kinds of yeast but I highly recommend using RapidRise® Yeast, also known as instant yeast. It's easier to make dough with RapidRise® Yeast because:
You don't need to proof it.
In only needs a 10 minute rest instead of a full rise after kneading.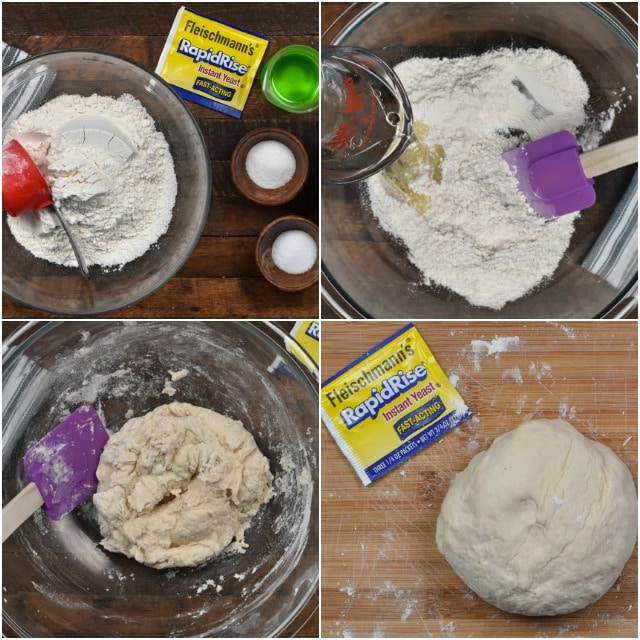 How do you make homemade pizza dough?
To start your homemade pizza dough, you first need to whisk together the dry ingredients.
Flour
Sugar
Salt
Fleischmann's® Yeast RapidRise® Yeast
Then, heat the water to between 120-130°F. It's easiest to do this if you have an instant read thermometer, but you if you don't, simply think "hot bathwater".
Stir the water and oil together into the dry ingredients until the dough forms a ball. Then you have to knead the dough until it comes together. Once it rests for 10 minutes, you're ready to top it and bake it.
This is a 30-minute pizza crust recipe that's SO easy and it's the perfect way to start off making your own homemade pizza crust.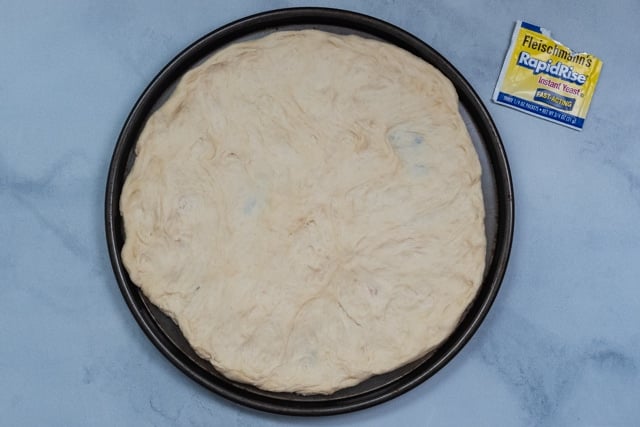 What's on Hawaiian Pizza?
I think the last time I checked, Hawaiian Pizza was one of the most ordered pizzas and the most controversial. Pineapple on pizza? Hmmmm. But, guys, I'm a testament that it's actually GOOD. Pinky swear!
Besides pizza sauce and cheese, Hawaiian pizza ingredients are:
Canadian Bacon or ham: just dice your favorite kind to top the pizza with.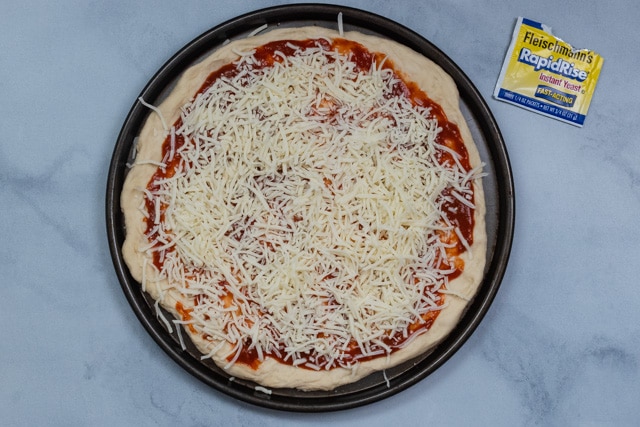 Pineapple: for pineapple you can use fresh or canned. I used canned because it was easier but use whatever you like most! Just make sure you drain it well so the pineapple isn't too wet.
Bacon: yes, I said bacon! I put cooked crumbled bacon on my pizza too. I love the crunch it adds!
I also love to use my homemade sauce (but pesto would be great too!)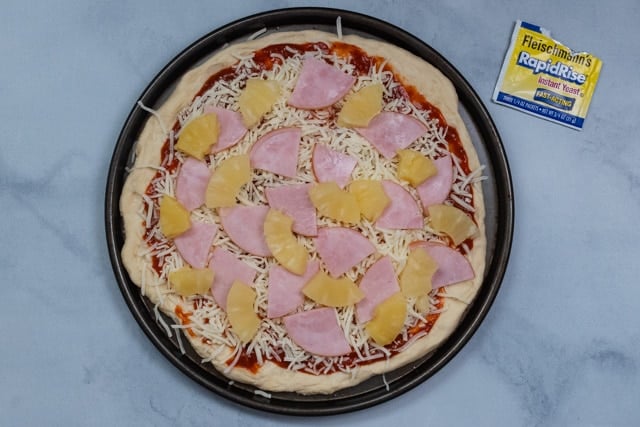 Once you have your pizza topped, it's ready to bake.
How long do you cook a homemade pizza?
Pizza bakes at a high temperature (450°F) so it bakes pretty quickly. It depends on how many toppings you have and how thick your crust is, but for this recipe it'll be done in about 13-15 minutes. The high oven temperature helps the bottom get crunchy and the top get brown!
Baking pizza at a high oven temperature helps it brown!

PRO TIP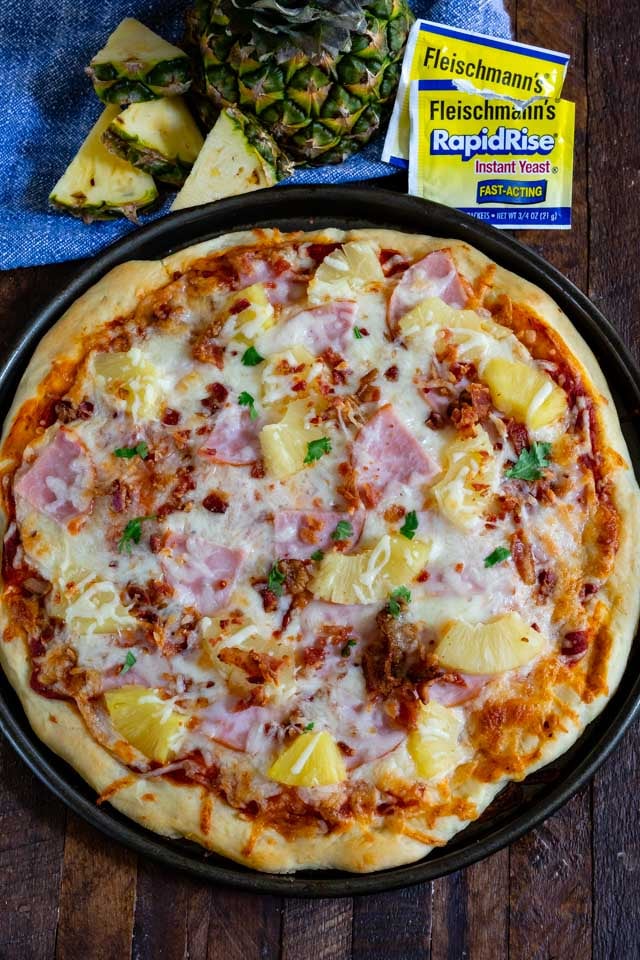 You'll know it's done because it'll be golden around the edges and the cheese will be bubbling. Just wait a few minutes and then slice and eat!
Cheese tip: shred your own mozzarella cheese. Cheese that comes pre-shredded has a coating on it that makes it not melt as easily!
Making homemade pizza from scratch with your favorite toppings is the perfect way to make a family dinner EVERYONE loves!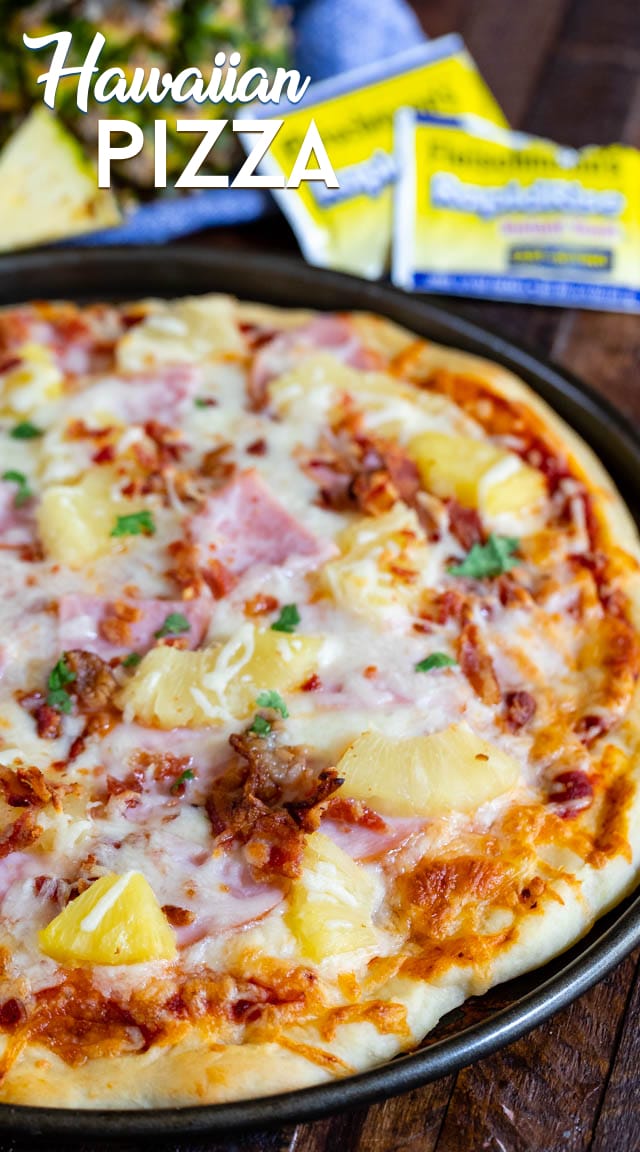 Other recipes using RapidRise® Yeast:
Serve this pizza with:
This recipe is adapted from the Fleischmann's® Yeast website.
Have you made this recipe?
Tag @crazyforcrust on Instagram or hashtag it #crazyforcrust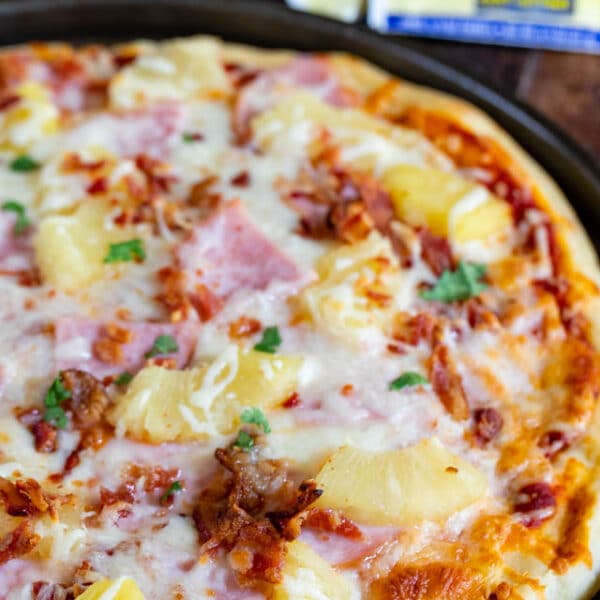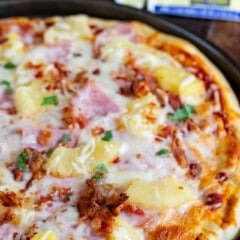 Homemade Hawaiian Pizza
Homemade Pizza is so easy to make with this simple recipe. We make pizza at least once a week – and I use this recipe for breadsticks too. Make a Hawaiian Pizza or your favorite flavor with this simple pizza dough recipe.
Ingredients
For the pizza dough:
1 ¾ to 2 ¼

cups

(217g-279g) all-purpose flour

1

envelope

(7g) Fleischmann's® RapidRise® Yeast

(2 ¼ teaspoons)

1 ½

teaspoons

sugar

¾

teaspoon

salt

⅔

cup

(158g) very warm water

120° to 130°F

3

tablespoons

(45ml) olive oil
For the Hawaiian Pizza:
½ to 1

cup

pizza sauce

2

cups

shredded mozzarella cheese

6

ounces

Canadian bacon or ham

diced

4

strips bacon

cooked and crumbled

1

8-ounce can pineapple, drained and diced
Instructions
Whisk together 1 cup flour, yeast, sugar and salt in a large bowl. Add oil to the water and pour into dry ingredients. Stir until well blended, about 1 minute. Gradually add enough remaining flour to make a soft dough.

Dough should form a ball and will be slightly sticky.

Knead dough on a floured surface, adding additional flour if necessary, until smooth and elastic, about 4 minutes.

Cover and rest the dough for 10 minutes.

Stretch and pat dough with floured hands to fill greased 12-inch pizza pan or baking sheet.

Spread with pizza sauce. Top with cheese. Spread Canadian bacon, bacon, and pineapple over the top.

Bake on lowest oven rack for 12 to 15 minutes, until cheese is bubbly and crust is browned.

Cool just a minute or so before slicing and serving.
Recipe Notes
If you don't have an instant read thermometer, test your water temperature by thinking "hot bathwater".
Recipe Nutrition
Serving:
1
slice
|
Calories:
335
kcal
|
Carbohydrates:
28
g
|
Protein:
16
g
|
Fat:
18
g
|
Saturated Fat:
6
g
|
Cholesterol:
40
mg
|
Sodium:
740
mg
|
Potassium:
209
mg
|
Fiber:
1
g
|
Sugar:
3
g
|
Vitamin A:
256
IU
|
Vitamin C:
2
mg
|
Calcium:
150
mg
|
Iron:
2
mg
Nutritional information not guaranteed to be accurate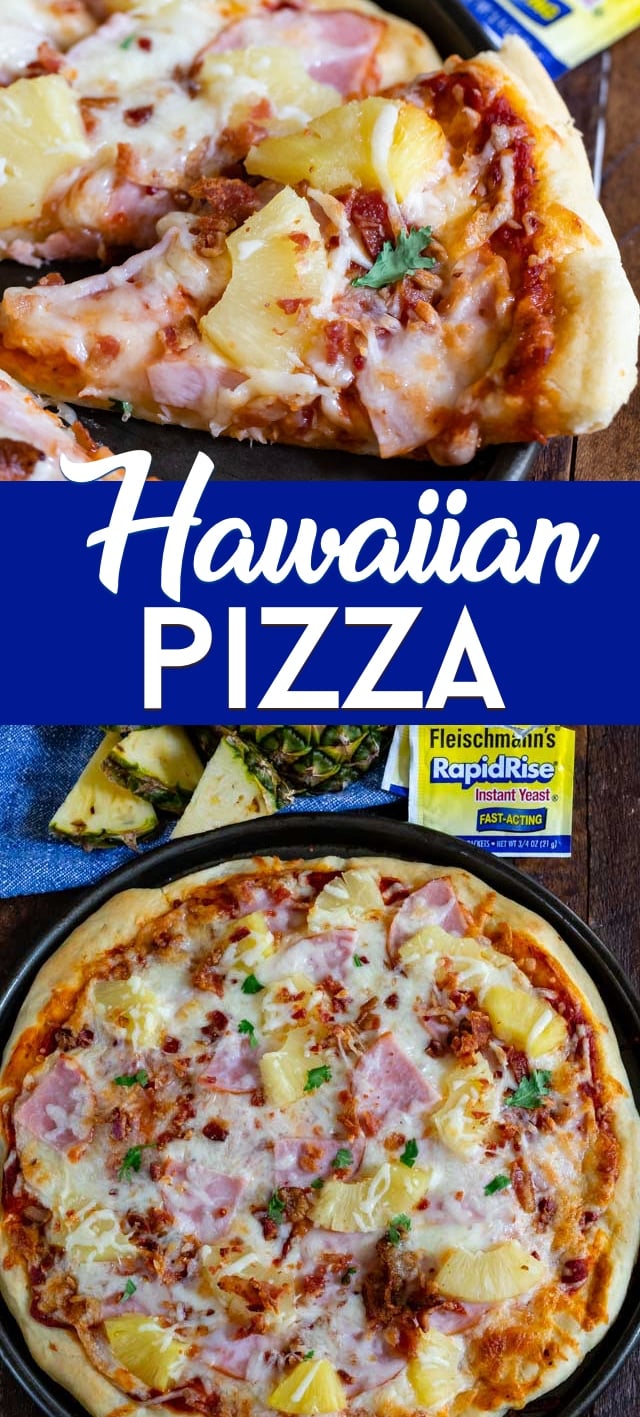 Homemade pizza dough is such an easy thing to make for a fast dinner; it's bowl to table in under 45 minutes! Turn the crust into an easy Hawaiian Pizza, everyone's favorite pizza recipe!
Last Updated on May 20, 2022