Mushroom Sausage Pesto Pizza
This post may contain affiliate links. For more information, read my disclosure policy.
Mushroom Sausage Pesto Pizza – everyone loves pizza night! This easy dinner recipe uses PESTO instead of tomato sauce and we couldn't get enough of it, especially when it's covered with cheese, sausage, and mushrooms! Thank you to HemisFares for making this post possible; their Genovese Pesto is the perfect complement to the spicy sausage and earthy mushrooms.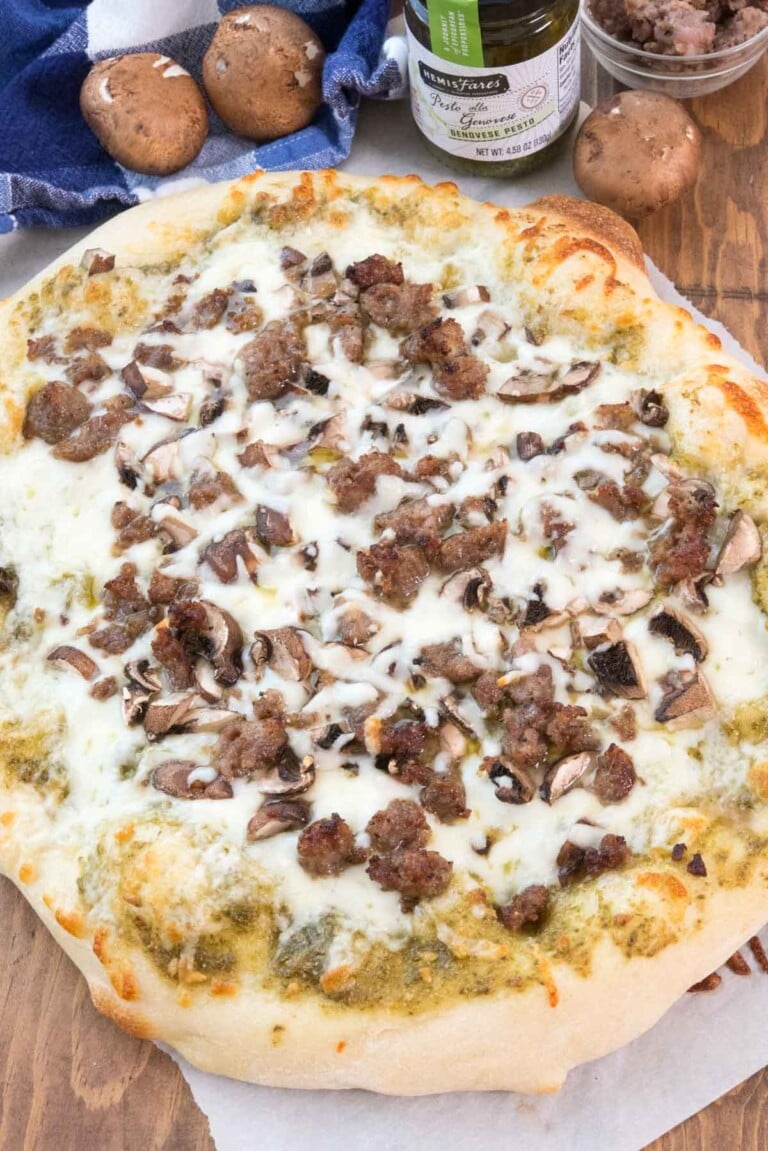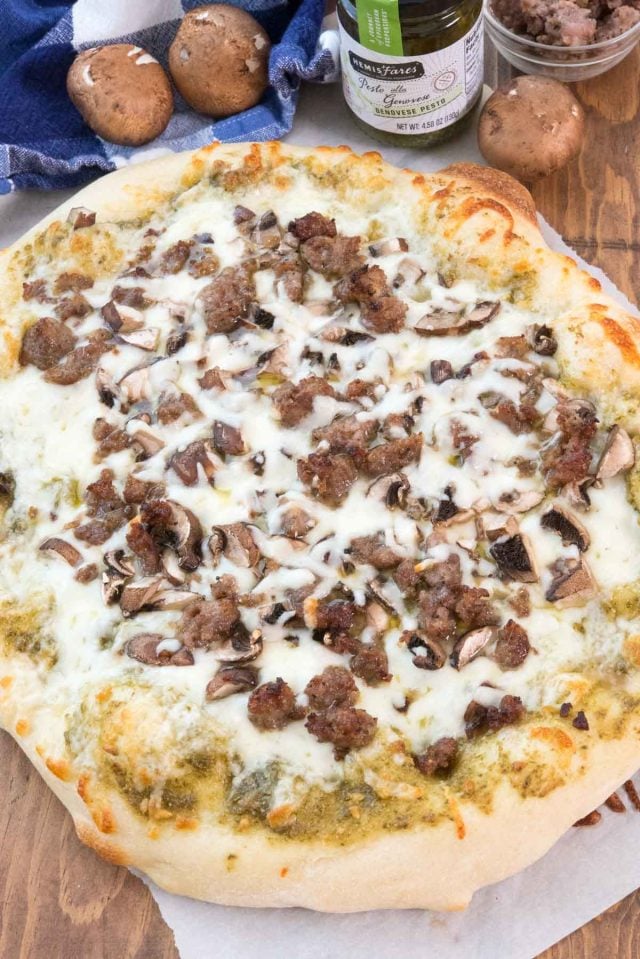 I'll never forget the first time I had a pesto pizza. It was in college and I was staying at my boyfriend's apartment. His cousin came over and brought it from a local pizzeria; I'd never seen pesto on pizza before. In fact, I'm not sure if I'd ever seen pesto before, period. I remember thinking wow…green sauce on pizza…that's weird. His cousin proceeded to sit on the futon and play video games while eating his pizza until I saw a spider the size of a baseball and screamed so loud he jumped 3 feet in the air. That part of the story had nothing to do with pizza, but I remember it as being funny. I don't think he thought of it as funny at the time.
It was years before I had pesto again because, picky college student. Once I grew up into my mid-twenties and got married and started cooking for myself I realized what a heavens nectar pesto is. I could quite literally eat it from the jar, I love it so much. Someone needs to make a pesto scented perfume because that's what I want to spritz on my neck each morning.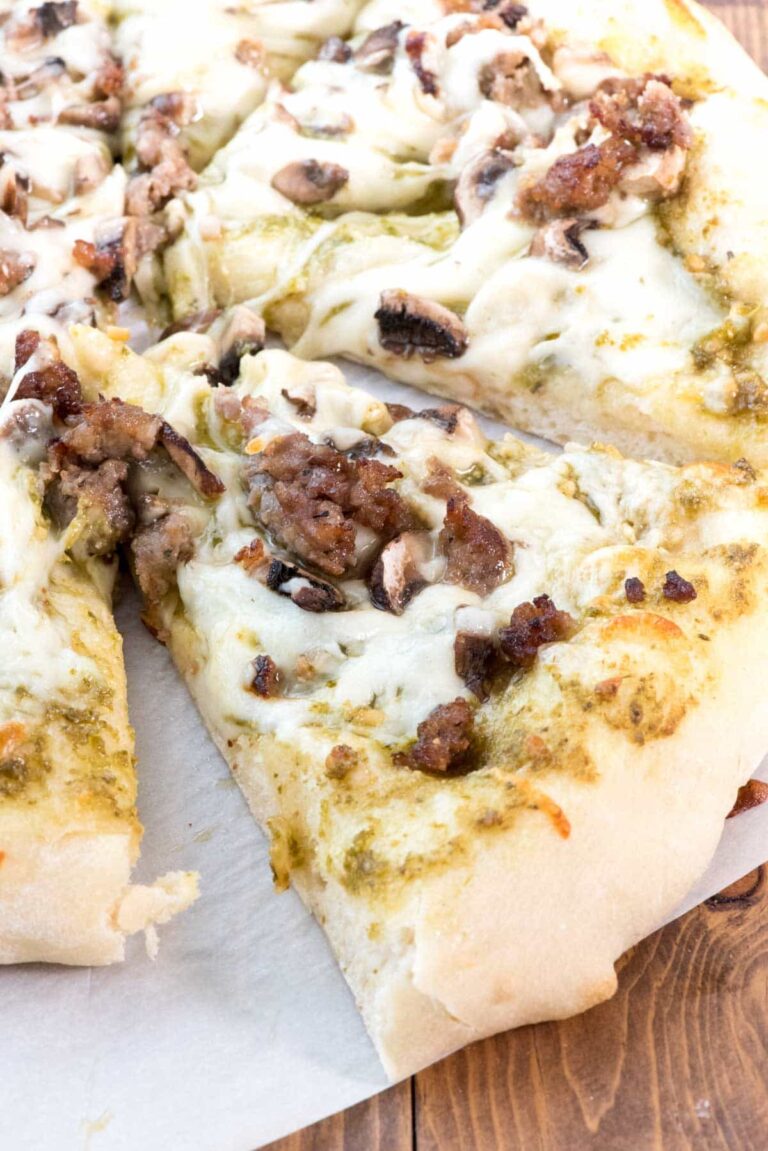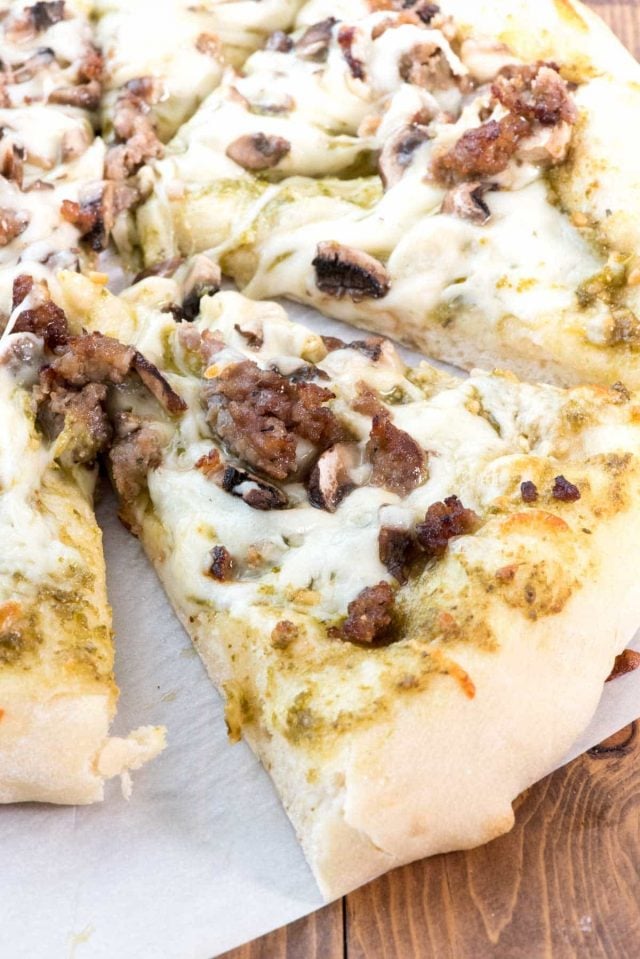 Pesto on pasta is one thing. Pesto as a dip is another. Pesto on pizza? Out. Of. This. World. I actually think I love pesto pizza more than I love red sauce on pizza. It also makes me feel like I'm super foodie or something when I'm totally not.
Why sausage and mushroom? Well, two reasons. One, our default pizza order is always sausage and mushroom. Two, I had a very similar pizza when I was in Seattle and was dying to recreate it at home. The nutty, garlic, basil, salty flavor of the pesto pairs so well with the spicy Italian sausage. Mushrooms just add body and flavor; the earthy mushroom flavor pairs nicely with anything herbs and garlic.
Mushroom Sausage Pesto Pizza is an easy recipe to make at home for pizza night, made even better with pesto for the sauce!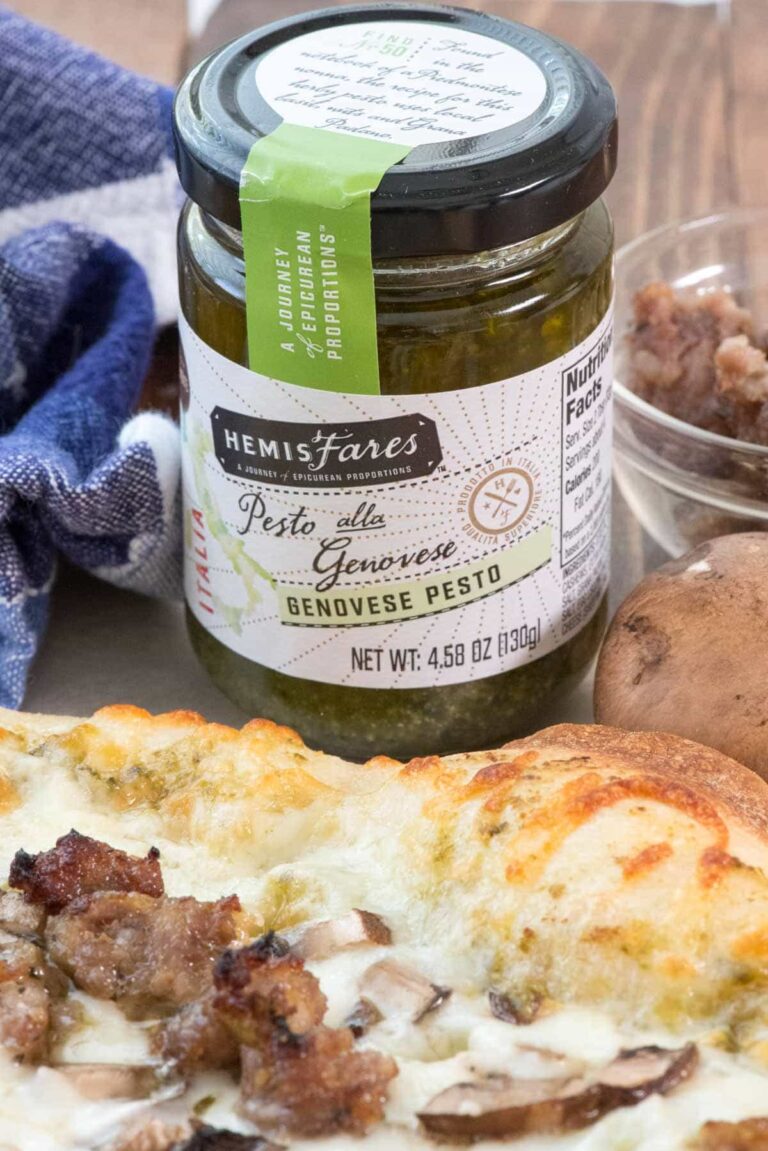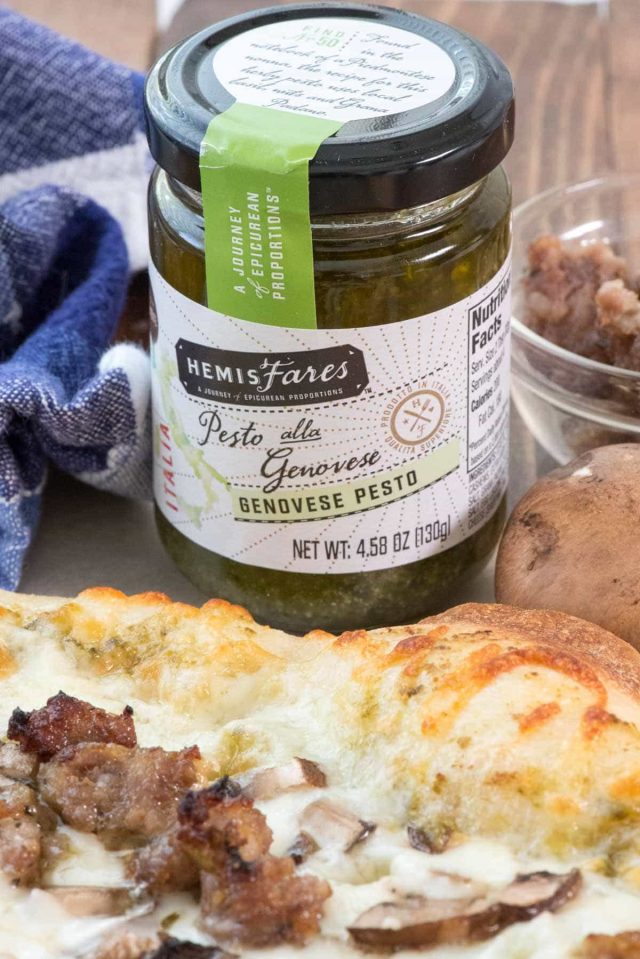 Of course, when you're choosing a pesto you want to choose the best one. Different brands have different flavors and some are better than others; believe me I've tried them all. HemisFares Genovese Pesto is my favorite; the spicy garlic and basil is mixed with cashew and pine nuts for a nutty twist, plus the cheese adds a salty flavor. It's all blended together with their olive oil which is my new favorite as well. HemisFares Pesto, Find No. 50, can be found at Kroger stores.
I used about 3/4 of the jar for my pizza recipe, but you can use as much or as little as you like. The rest will be stirred into pasta or I'll just dip crackers in it for an afternoon snack. I always have a jar of the stuff in my cabinet for a pesto craving emergency.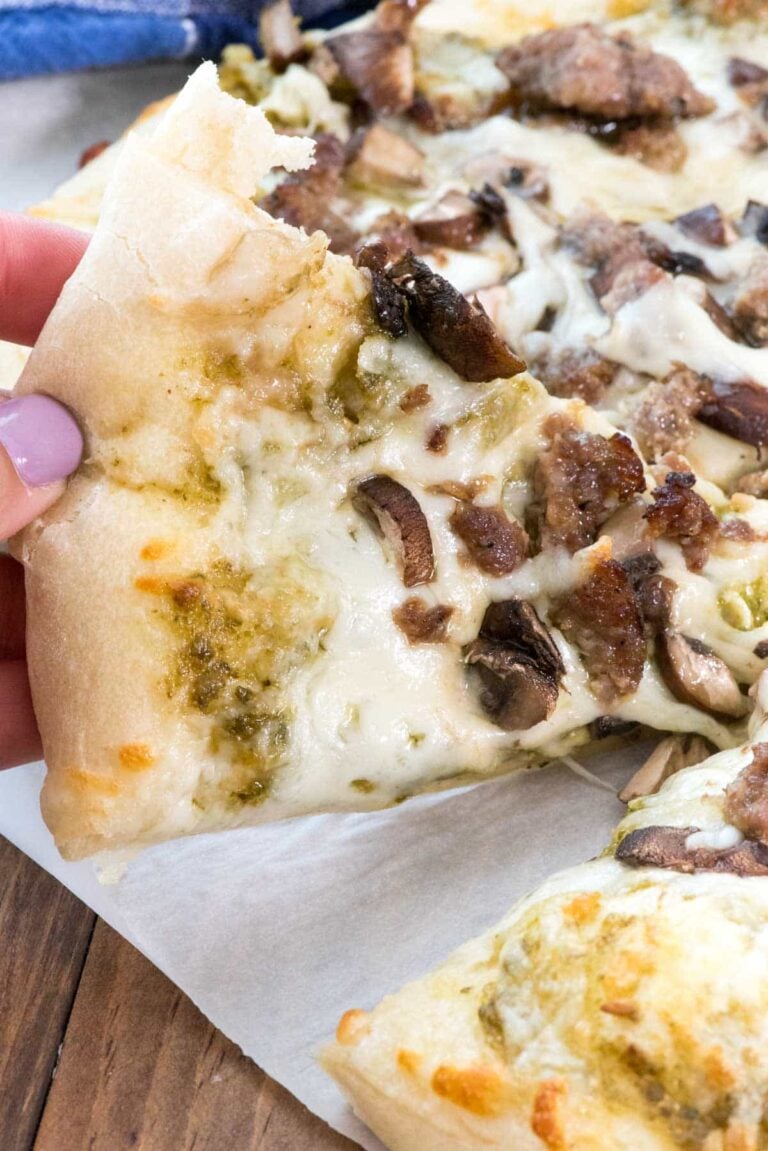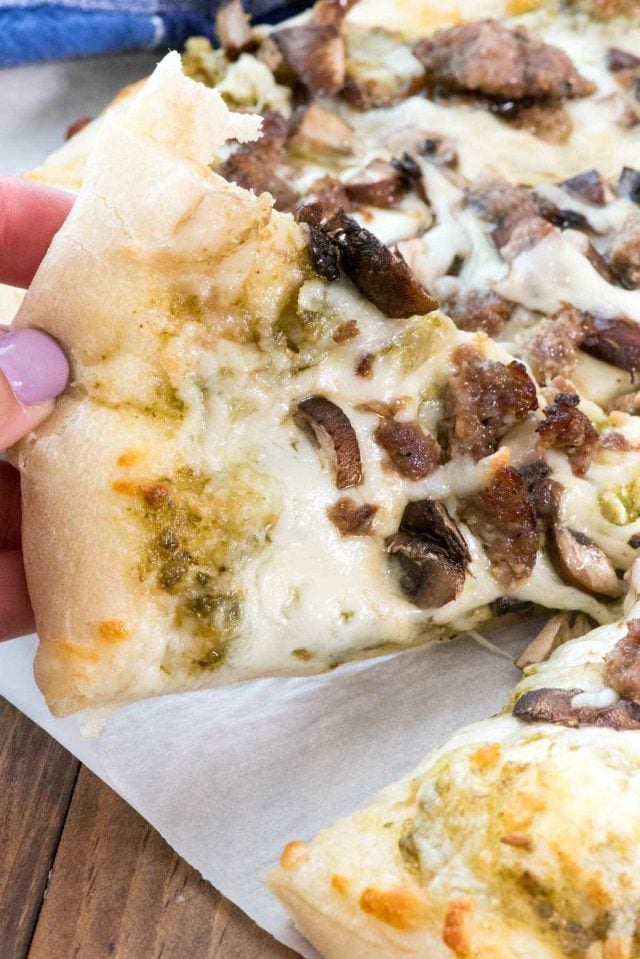 Making your own pizza at home is so easy. If it were up to me we'd have pizza every day, but I try to limit it to once a week. I love making it at home because then I can make different versions; a pesto one for the adults and a pepperoni one for the kids (although Jordan does love pesto pizza!)
You can buy store bought pizza dough from the prepared foods section of your grocery store, or even use a tube of dough. I love making my own ultimate pizza dough recipe because it's easy and I control the ingredients! Plus I can make one thicker crust pizza from that dough or two thin crust, depending on what I'm craving.
[clickToTweet tweet="Make every night pizza night with Sausage and Mushroom PESTO pizza!! #HemisFares" quote="Make every night pizza night with Sausage and Mushroom PESTO pizza!!"]


How to make the best pesto pizza at home:
Use your favorite pizza crust; either homemade or store bought.
I love using sausage and mushroom but anything goes with pesto pizza, even just cheese.
Try a combination of cheeses (mozzarella and gorgonzola) for an alternative and more "foodie" flavor combo.
For more information on HemisFares you can check out the website HemisFaresFinds.com or Facebook.com/HemisFares.
Servings: 1 (9-10 inch) pizza
Mushroom Sausage Pesto Pizza
Mushroom Sausage Pesto Pizza - everyone loves pizza night! This easy dinner recipe has pesto for the sauce and it goes so well with the sausage and mushroom topping! Use a store bought dough or make my
ultimate pizza dough recipe
for the crust!
Ingredients
2-3 Italian Sausage links
4 white or cremini mushrooms — stems removed, diced
1 recipe pizza dough — or store bought
1 jar HemisFares Genovese Pesto
2 cups shredded mozzarella cheese
Instructions
Preheat oven to 450°F. Place a cookie sheet, pizza pan, or pizza stone in the oven to preheat.

Remove sausage meat from their casings. Cook over medium-high heat until brown and cooked through. Drain fat and let cool.

Roll out pizza dough to desired shape on parchment paper. (Dust with flour if needed.) Spread with pesto (use up to the full jar depending on how much you want; I used about 3/4 of the jar). Sprinkle with cheese, sausage, and mushrooms.

Transfer pizza to oven and bake for 8-12 minutes. Cool slightly before slicing and eating.
Click here for my ultimate Football Party Menu!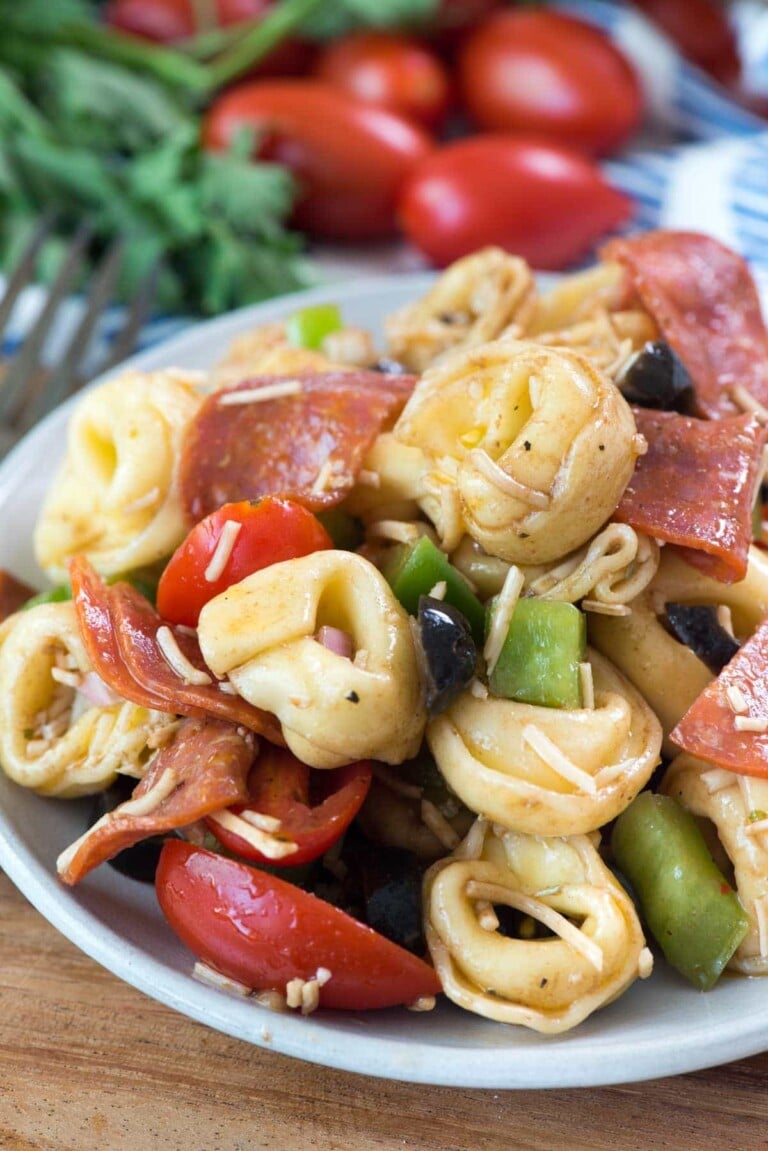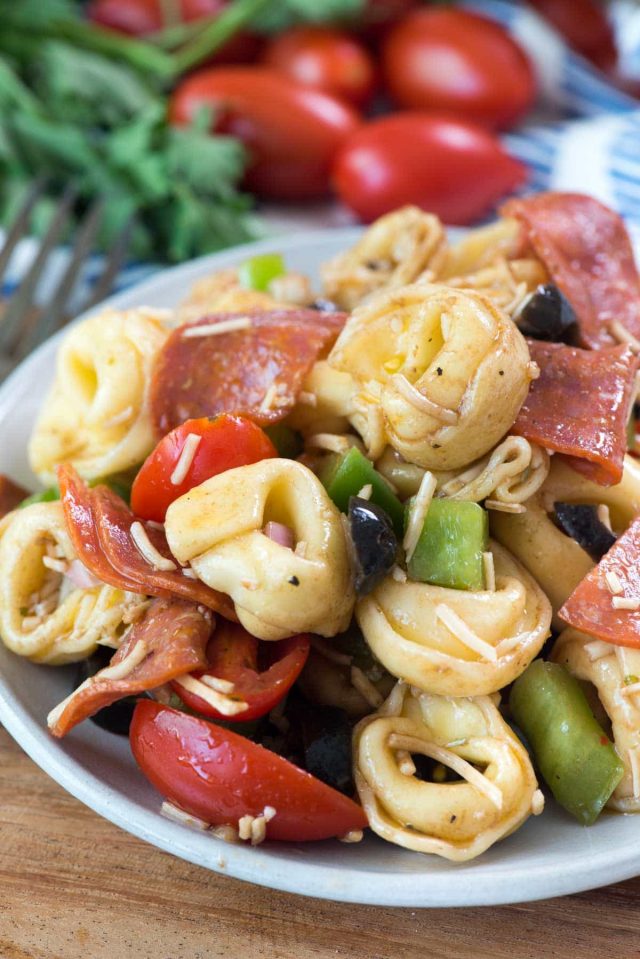 Caramelized Onion Pesto Flatbread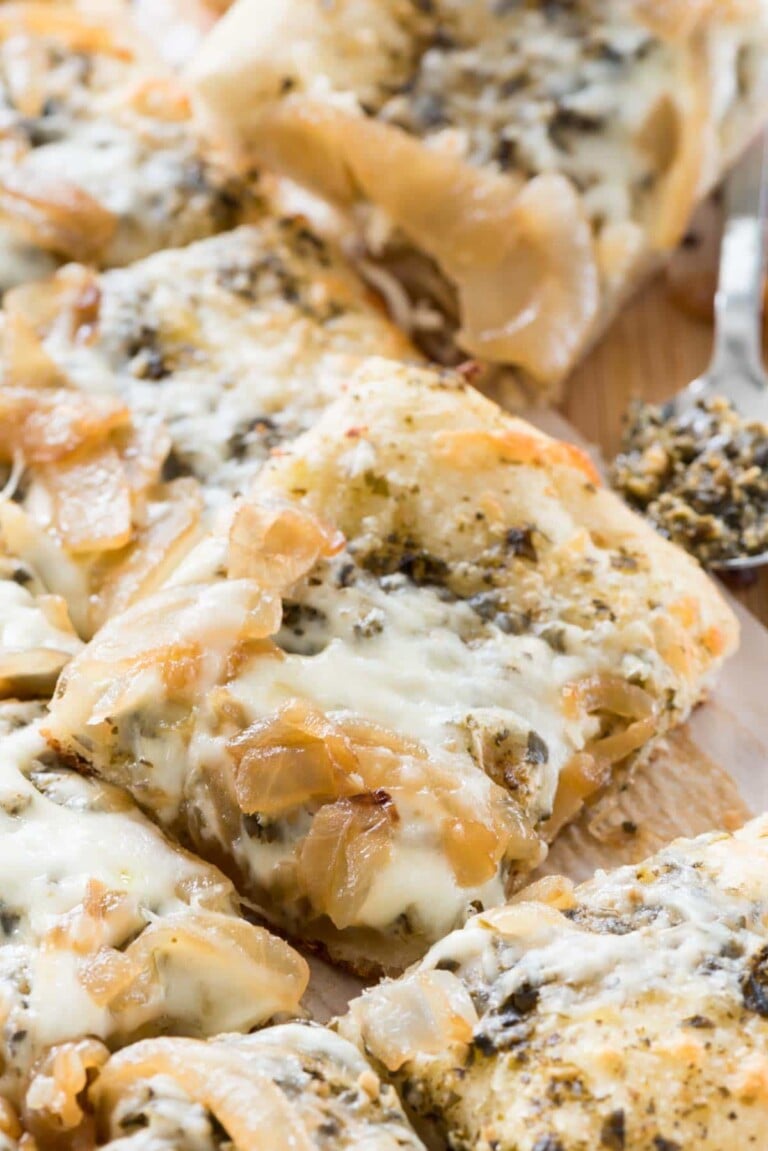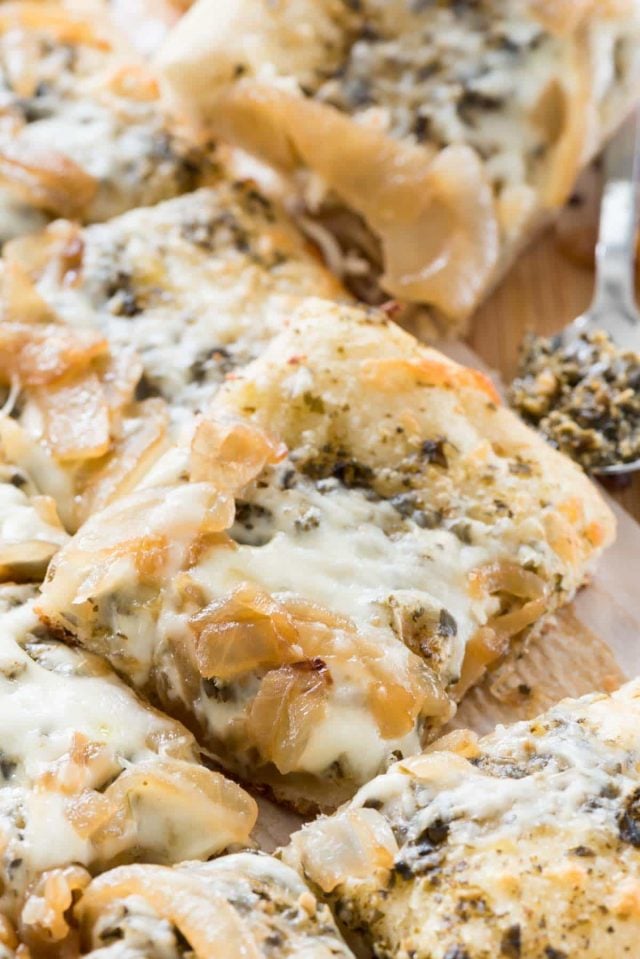 The ULTIMATE Pizza Crust Recipe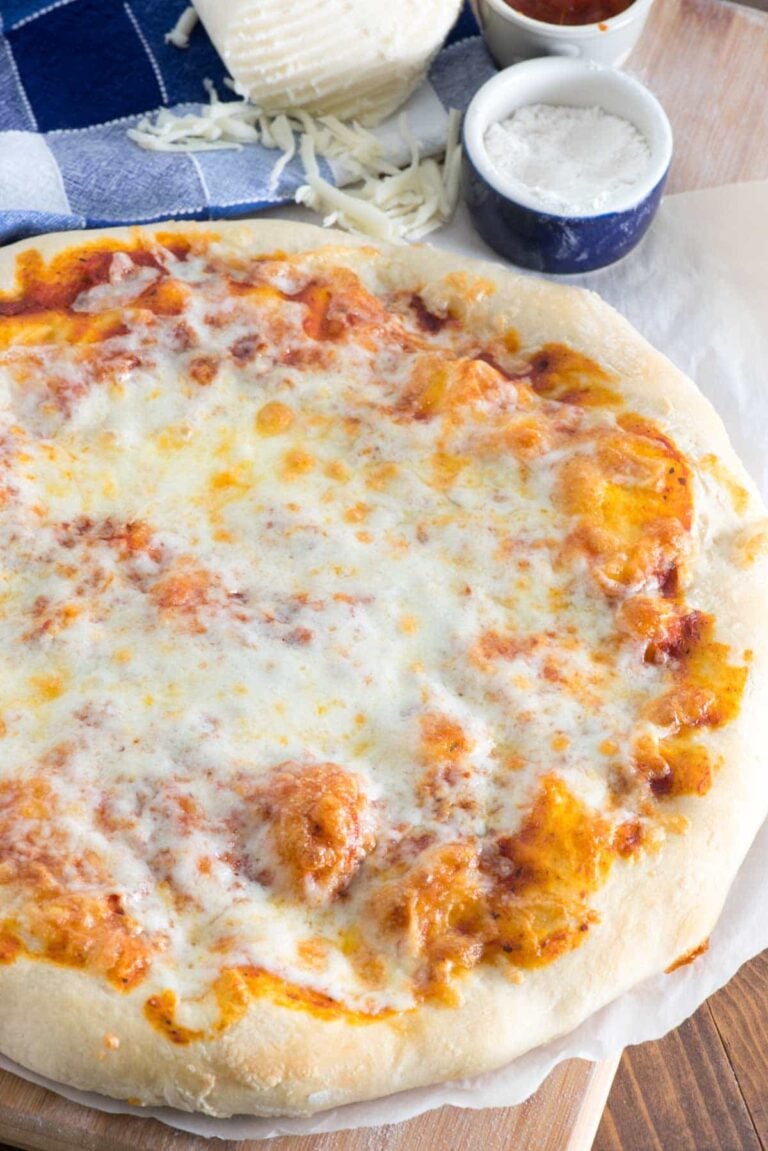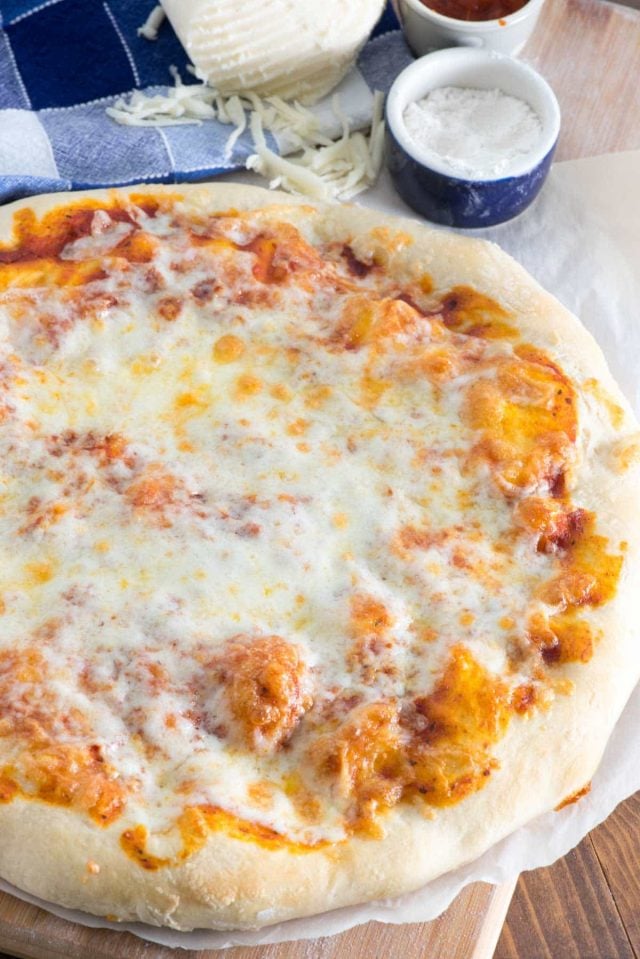 This is a sponsored post for HemisFares™ brand that is available exclusively at Kroger family of stores. All opinions are honest and 100% my own.
SaveSave
SaveSave
SaveSave
SaveSave