This post may contain affiliate links. For more information, read my disclosure policy.
I think red, white, and blue is my favorite color combination. Especially when it comes to food!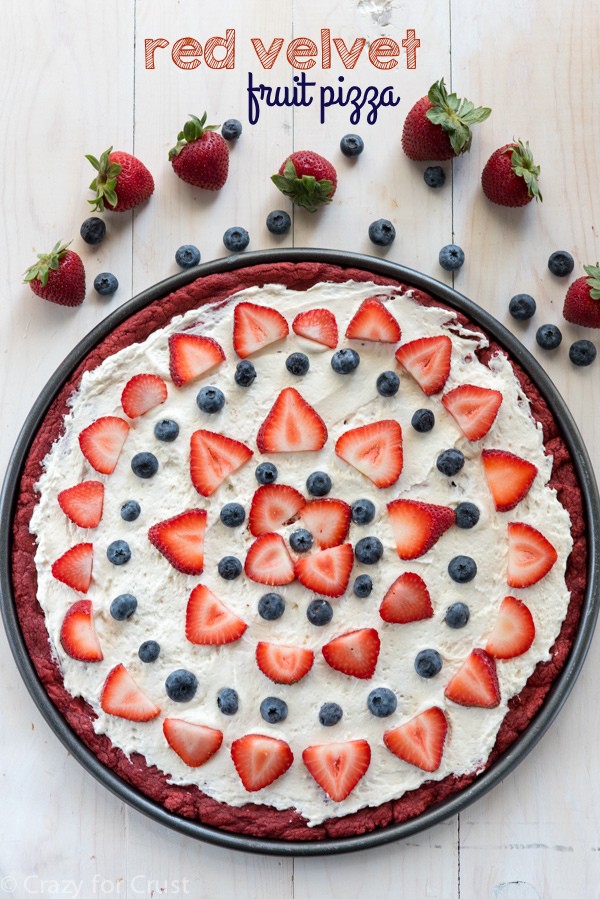 Last week Jordan had to square dance with a BOY at her school's open house night. It was a huge deal, and I mean, it should be. Boys are totally gross! (According to her, anyway.)
It's a 4th grade tradition, the square dance. They talk about it all year, wonder who they'll get paired with, and hope that the rules will be changed and they can dance with girls instead. <–That didn't happen.
Weeks of practice, weeks of "touching" a boy and the big night arrived…to the worst thunderstorm in 3 years. But that didn't matter, the principal nor the PE teachers were deterred. We all stood out there, waiting for the impending flood, watching the lightening show AND our kids square dance.
(Because that's not unsafe AT ALL, right? Meanwhile, I'm standing there hunching down with my umbrella, trying to be lower than that guy over there with his umbrella so the lightening doesn't strike me, and other parents are just clapping and waving their littles on to play on the metal play structure.)
Jordan survived her square dancing. At least the torrential rain held off until the second it was done, literally.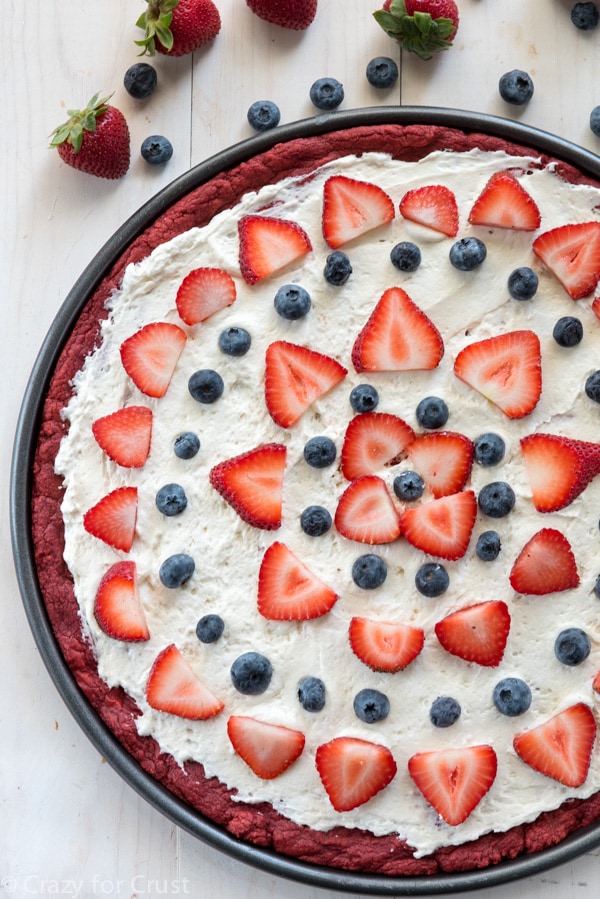 Square dancing reminds me of summer, BBQ, and the 4th of July. Those things remind me of how pretty red, white, and blue looks together. I think it's my favorite color combination and I wish that it was socially acceptable to dress like an American flag all year round because if it was I totally would.
I know you're thinking Dorothy, it's May. The 4th of July is over a month away! And you're right. But since we live in a fast-forwarding time machine, Independence Day will likely be here tomorrow and this weekend is Memorial Day!
I think of Memorial Day as a precursor to the 4th. It's a warm-up for all that red, white, and blue wearing…and eating. Also, I like to celebrate because my dad is a veteran, and so was my step-father in-law. (#GoNavy)
This Red Velvet Fruit Pizza is the perfect way to celebrate any holiday. If you decorate it with strawberries and blueberries it's perfect for any day you want a red, white, and blue firework on your counter.
For me? That's every day.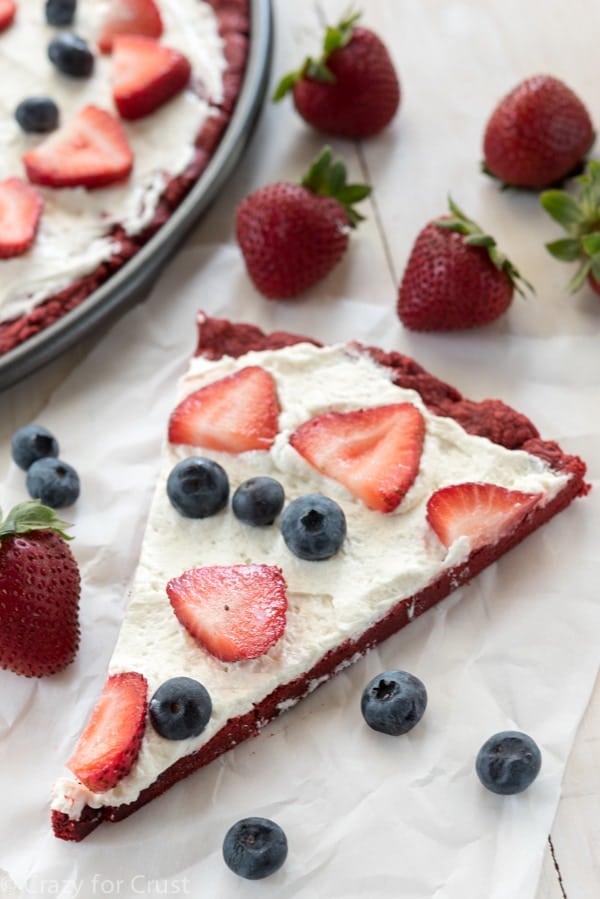 The cookie pizza is easy; it starts with a cake mix. You don't use the ingredients called for on the box. Instead use a stick of butter and and egg to make a thick dough (like you're making a gooey bar). Then you press it into the bottom of a 12-13″ pizza pan. (Mine is 12.5″.)
Now, if you don't like red velvet, don't worry. This same method will work with ANY flavor cake mix or brownie mix!
Once it's baked and cooled you top it with a cream cheese whipped cream topping – be careful not to eat the entire bowl of that with a spoon, BTW – and then use your favorite fruit to make a pretty pattern.
You're not limited to strawberries and blueberries. Try raspberries, blackberries, kiwi, mango, grapes, bananas…any combo you like. This is also a great way to use up that almost-ready-to-go-bad fruit in your fridge.

And it's kind of a nice way to celebrate America and our veterans. Thank you for all you do!
Now let's eat cookie fruit pizzas!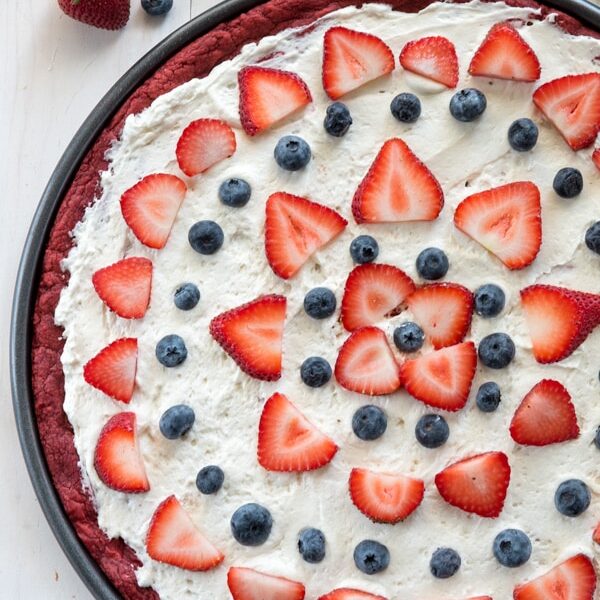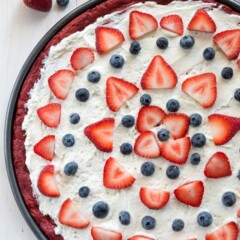 Red Velvet Fruit Pizza
This Red Velvet Fruit Pizza is a giant cookie made with your favorite cake mix and topped with a cream cheese whipped cream and fresh fruit.
Ingredients
1

16-18 ounce box cake mix (I used red velvet, use your favorite flavor)

1/2

cup

butter

softened

1

egg

2

ounces

cream cheese

softened

1

teaspoon

vanilla extract

1/4

cup

powdered sugar

2

cups

whipped topping or sweetened fresh whipped cream
Instructions
Preheat oven to 350°F. Spray a pizza pan (12-13" diameter) with cooking spray. If you don't have a pizza pan you can use a 9" round pan or a 9x13" pan but baking times will be affected.

Use a hand or a stand mixer to mix the cake mix, butter, and egg. It takes a few minutes, depending on your mixer, for the ingredients to come together in a thick dough. Press the dough into the bottom of your prepared pan.

Bake for about 8-10 minutes until the cookie loses it's glossy sheen. Cool completely before continuing.

To make the topping, mix the softened cream cheese, powdered sugar, and vanilla with a hand mixer until smooth. Fold in whipped topping by hand. Spread on cooled pizza cookie. Top with fruit in desired pattern.

Once fully assembled, this should be eaten the same day it's made. You can make the cookie up to 2 days before serving and wrap it well with plastic wrap.
Nutritional information not guaranteed to be accurate
Click HERE for more PIZZA RECIPES
Click here for my complete list of Valentine's Day Recipes!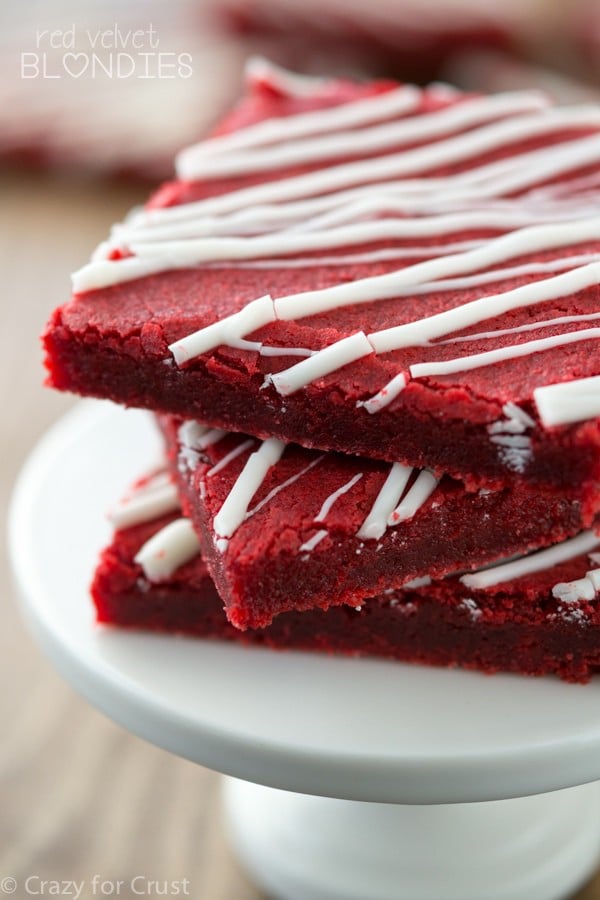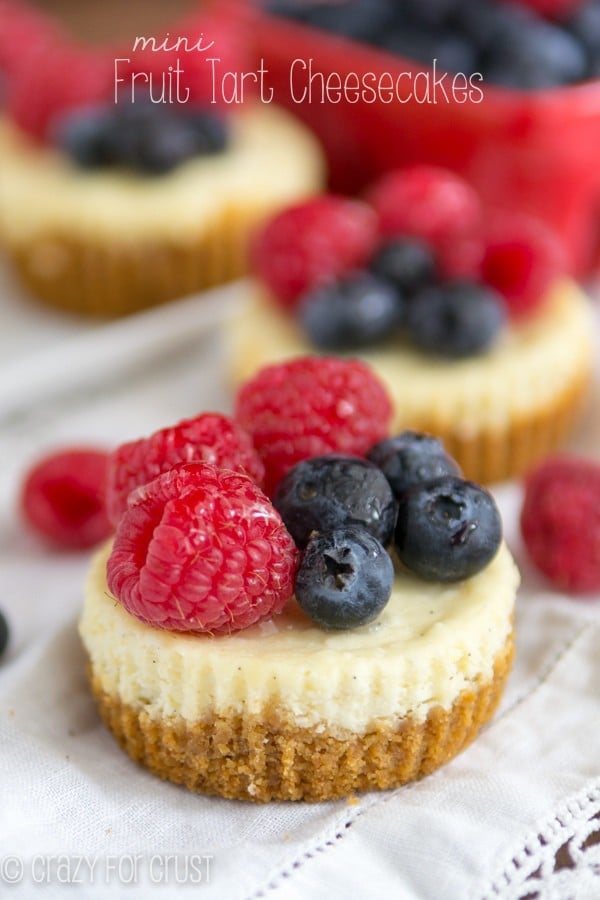 Brownie Peanut Butter Magic Bars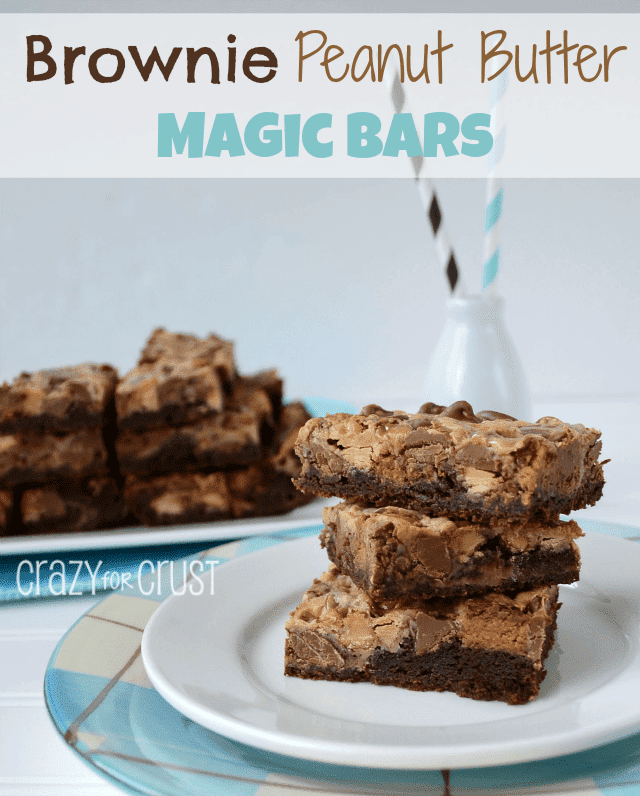 Sweets from friends:
Mini Fruit Pizza by The Gunny Sack
Mini Brownie Fruit Pizzas by Inside BruCrew Life
Chocolate Chip Cookie Dough Pizza by Life, Love, and Sugar
Last Updated on May 20, 2020