The ULTIMATE Guide to Snowball Cookie Recipes – how to make them perfectly and tons of recipe ideas!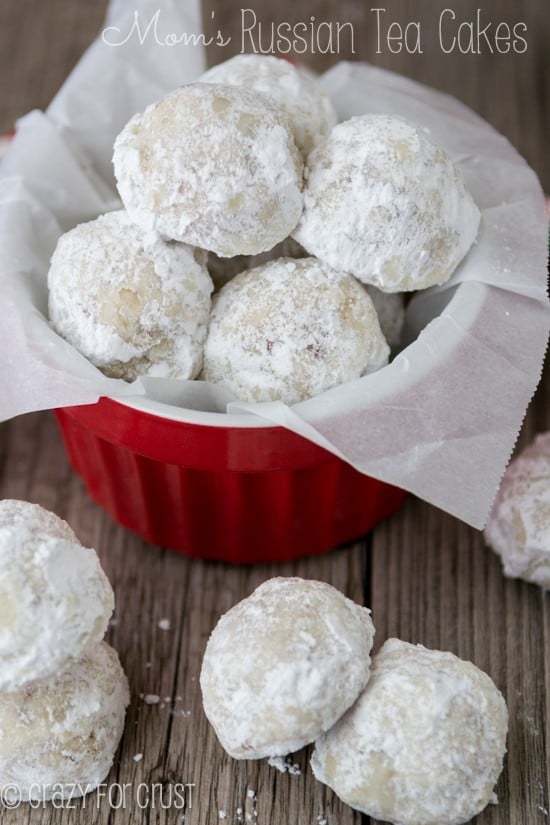 Snowball Cookies are a family favorite classic recipe for the holidays and all year too!
We love our snowball cookies, except until I started blogging we called them Russian Teacakes. My mom's original recipe comes from our neighbor when I was little and that's what they called them. I have come to realize over the years that every culture and country seems to have their own take on these cookies: Russian Teacakes, Mexican Wedding Cookies, or more commonly in the U.S., Snowballs.
Snowball cookies are made with just a few simple ingredients: butter, sugar, flour, salt, and nuts. Basically a sweet shortbread dough, the cookies don't spread and are rolled in powdered sugar when they're done baking. They're a classic holiday cookie in almost every family.
How to make basic snowball cookies:
If you follow my basic recipe you'll get a perfect result every time. My cookies use powdered sugar inside the cookie as well as rolled on the outside.
When it comes to nuts, the sky is the limit: use any kind you like. Pecans, walnuts, peanuts, almonds, hazelnuts, pine nuts…any kind of nut is delicious. Allergic? Leave out the nuts for a nut-free Christmas cookie.
Add-ins: you can add flavors or mix-ins to jazz up the original recipe pretty easily. Add vanilla or any kind of extract (lemon or orange, rum or almond, or any kind you like). Add mini chocolate chips or sprinkles, other chopped candies or peppermint pieces.
Want something even better? Stuff your snowballs with anything you want! Reese's Peanut Butter Cups or Rolos are perfect stuffing for snowball cookies.
Troubleshooting
If the dough is not coming together there are one of three issues.
You added too much flour. Did you pack it? Packing flour offsets the balance of this cookie recipe.
You added too much powdered sugar. Same as #1: did you pack it?
You haven't finished mixing. If you're doing this by hand it will take considerably longer than with a hand mixer, which will take more time than using a stand mixer. Don't add egg or milk or water. JUST KEEP MIXING.
Tools to make snowballs:
Hand or a stand mixer for easy mixing
Silpat baking mats so they don't stick
Cookie Sheets
The Original Recipe

Variations
Rolo Stuffed Chocolate Snowballs (aka Turtle Snowballs)
Chocolate Chip Snowball Cookies
Funfetti Cake Batter Wedding Cookies
Strawberry Chocolate Chip Snowballs
Chocolate Dipped Snowball Cookies
Even more snowball recipes