Stuffed Snowballs
This post may contain affiliate links. For more information, read my disclosure policy.
The Snowball just got stuffed! These Stuffed Snowballs are filled with Reese's Peanut Butter Cups! They start with my mom's favorite snowball cookie recipe and I stuff them with candy; there's not much better than that!
If you're looking for an easy Christmas cookie, look no further!
Snowballs. Butterballs. Russian Teacakes. Mexican Wedding Cookies. I never know what to call these cookies. The have so many names it's like they're felons or something.
I grew up eating these cookies at Christmas, but that's not why I made them. I realized I haven't talked books in awhile and I really wanted to introduce you to a series I really, really loved. In order to that, I needed to bake something, of course.
The series (and the name of the first book) is called Perfect Chemistry, by Simon Elkeles. It's a trilogy of young adult books (I can't seem to get enough of those lately) about three brothers who fall in love. The brothers are Mexican and come from the rough side of town. Of course, the girls they fall for are the total opposite of them (rich white girls) and trouble ensues. But, you should never judge a book (or a person) by it's cover, because the Fuentes brothers have a lot of layers to them.
And you shouldn't judge these cookies that way either.
Because these cookies have a secret. They're stuffed.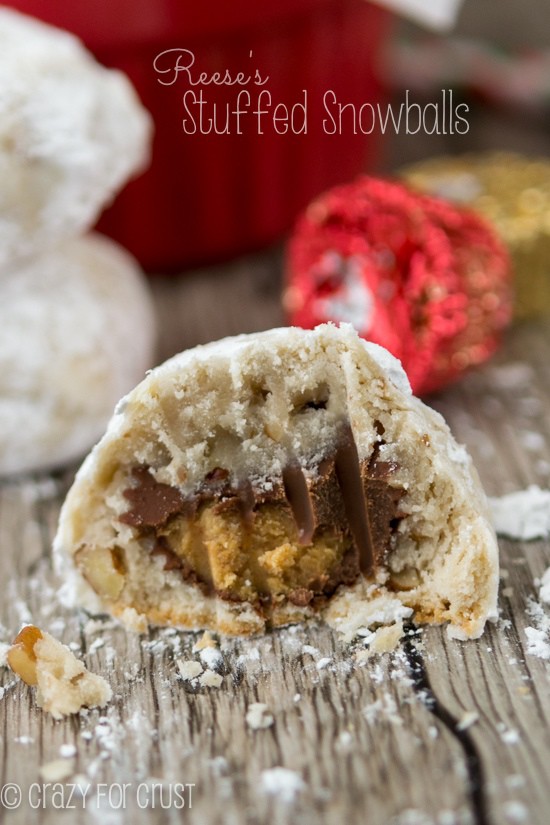 With Reese's Peanut Butter Cups.
Oh, yes I did.
They are buttery, nutty, sugary cookies stuffed with a peanut butter cup and rolled in more sugar.
You're welcome.
Cookie Dough and Peanut Butter Cups. *Swoon*
Squish some dough flat and place a peanut butter cup on top. Add more dough on top (c'mon, it's the holidays, calories don't count!) and roll them into a ball. Super easy!
Now you have a great cookie to eat and a great series to read. Don't say I never did anything for you!
Seriously, these books are great. Cute, quick reads. Because who has time for War and Peace when you have stuffed cookies to make?
If you love snowball cookies be sure to check out my ultimate guide of snowball recipes!
How to make the perfect STUFFED snowball cookies:
Don't pack your flour or your powdered sugar or your dough won't mix up.
If you're having trouble with the dough mixing, just keep stirring. It takes a long time for this dough to come together, especially if you're not using a stand mixer.
You can use any kind of candy you want in the middle. I like Rolos too!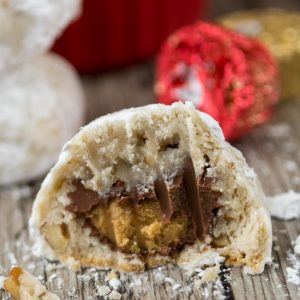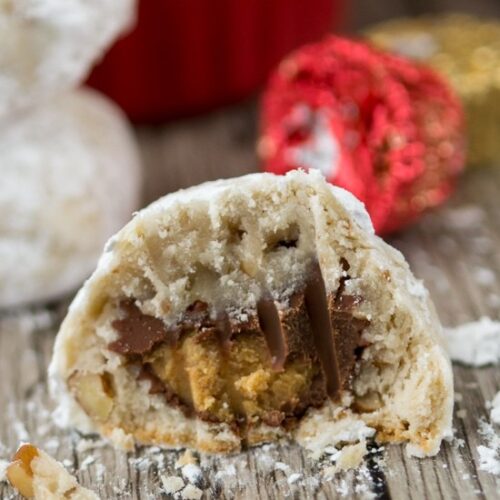 Stuffed Snowball Cookies
If you love snowball cookies, these STUFFED SNOWBALLS are the perfect addition to any cookie platter. The basic recipe is stuffed with a peanut butter cup!
Prep Time 45 minutes
Cook Time 15 minutes
Total Time 1 hour
Servings 24 cookies
Calories 176 kcal
Ingredients
1 cup butter softened
½ cup powdered sugar
1 teaspoon vanilla
2 ¼ cups flour
¼ teaspoon salt
¾ cup finely chopped nuts pecans, walnuts, or almonds
24 miniature Reese's Peanut Butter Cups or other small candy of your choice, unwrapped
Powdered sugar for rolling
Instructions
Preaheat oven to 375°. Line two cookie sheets with parchment paper.

Mix butter, ½ cup powdered sugar, and vanilla with an electric mixer until fluffy. Add flour and salt and mix until the dough comes together. Stir in the nuts. If dough is too soft, chill it until you can work it easily with your hands.

Scoop 1 tablespoon of dough and flatten with your hands. Place 1 miniature Reese's on top. Take another tablespoon of dough, flatten it, and lay it on top the peanut butter cup. Press the sides together and roll to form a sealed ball of dough. Place on prepared cookie sheet.

Bake cookies for 10-12 minutes until bottoms are just slightly brown. Remove from oven and cool for just a minute, until you can handle them. Fill a small bowl with additional powdered sugar and roll each cookie in the sugar until coated. Place on a rack to cool. (Once cookies are cooled, you may want to re-roll them in more powdered sugar.)
Nutrition Facts
Stuffed Snowball Cookies
Amount Per Serving (1 cookie)
Calories 176 Calories from Fat 99
% Daily Value*
Total Fat 11g 17%
Saturated Fat 6g 30%
Cholesterol 21mg 7%
Sodium 505mg 21%
Total Carbohydrates 17g 6%
Dietary Fiber 1g 4%
Sugars 7g
Protein 2g 4%
* Percent Daily Values are based on a 2000 calorie diet.
See more of my snowball recipes here!
If you love snowball cookies, be sure to try Peppermint Pecan Snowballs, Chai Spiced Snowballs or others of mine:
Rolo Stuffed Chocolate Snowballs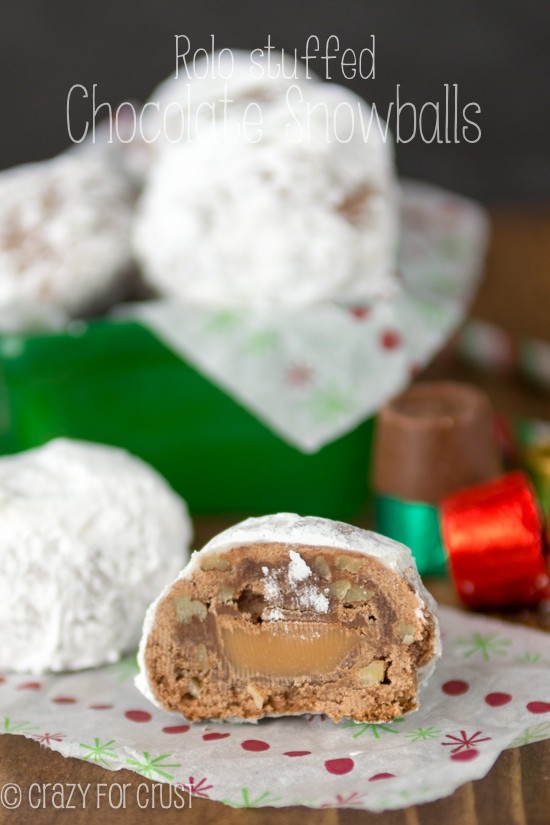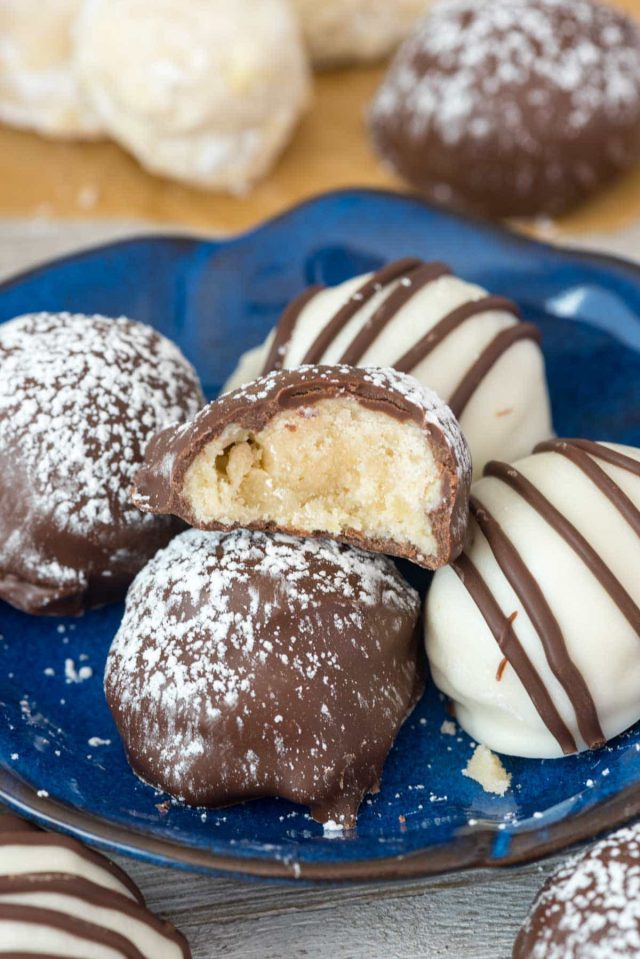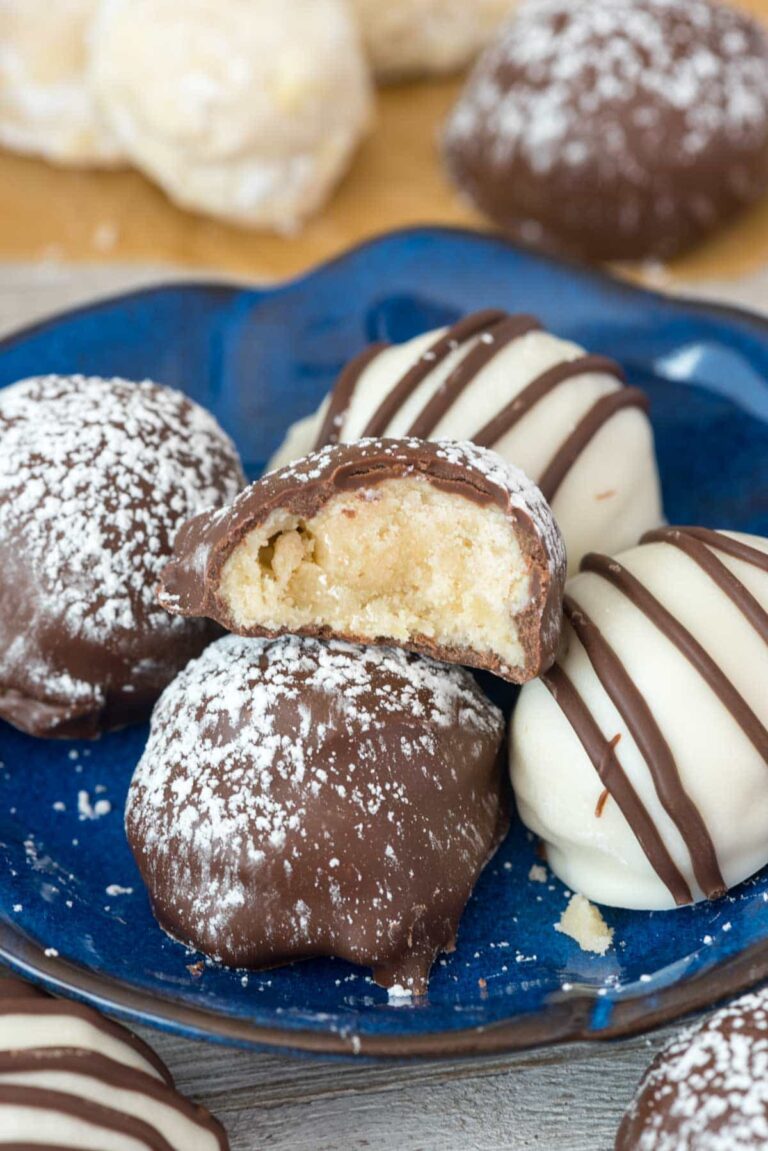 Strawberry Chocolate Chip Snowballs