Stuffed Snowballs
The Snowball just got stuffed! These Stuffed Snowballs are filled with Reese's Peanut Butter Cups!
Snowballs. Butterballs. Russian Teacakes. Mexican Wedding Cookies. I never know what to call these cookies. The have so many names it's like they're felons or something.
I grew up eating these cookies at Christmas, but that's not why I made them. I realized I haven't talked books in awhile and I really wanted to introduce you to a series I really, really loved. In order to that, I needed to bake something, of course.
The series (and the name of the first book) is called Perfect Chemistry, by Simon Elkeles. It's a trilogy of young adult books (I can't seem to get enough of those lately) about three brothers who fall in love. The brothers are Mexican and come from the rough side of town. Of course, the girls they fall for are the total opposite of them (rich white girls) and trouble ensues. But, you should never judge a book (or a person) by it's cover, because the Fuentes brothers have a lot of layers to them.
And you shouldn't judge these cookies that way either.
Because these cookies have a secret. They're stuffed.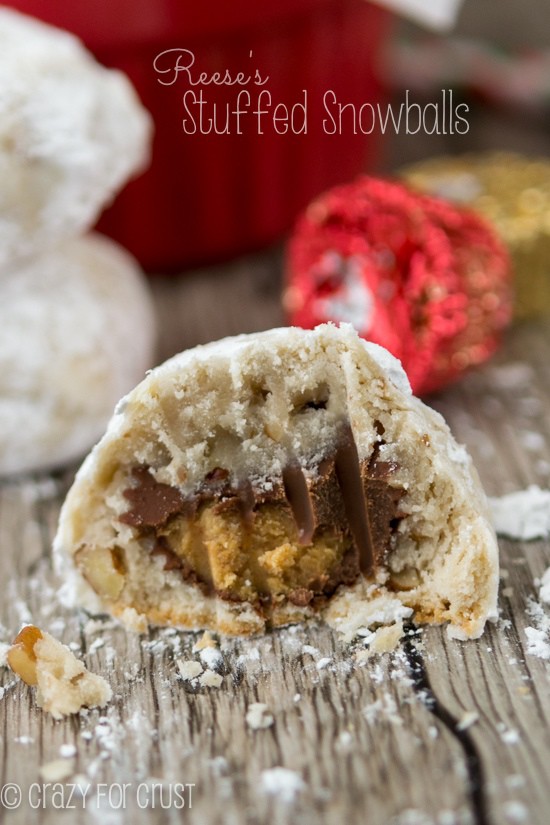 With Reese's Peanut Butter Cups.
Oh, yes I did.
They are buttery, nutty, sugary cookies stuffed with a peanut butter cup and rolled in more sugar.
You're welcome.
Cookie Dough and Peanut Butter Cups. *Swoon*
Squish some dough flat and place a peanut butter cup on top. Add more dough on top (c'mon, it's the holidays, calories don't count!) and roll them into a ball. Super easy!
Now you have a great cookie to eat and a great series to read. Don't say I never did anything for you!
Seriously, these books are great. Cute, quick reads. Because who has time for War and Peace when you have stuffed cookies to make?
Stuffed Snowballs
Ingredients
1 cup butter , softened
½ cup powdered sugar
1 teaspoon vanilla
2 ¼ cups flour
¼ teaspoon salt
¾ cup finely chopped nuts (pecans, walnuts, or almonds)
24 miniature Reese's Peanut Butter Cups (or other small candy of your choice), unwrapped
Powdered sugar for rolling
Instructions
Preaheat oven to 375°. Line two cookie sheets with parchment paper.

Mix butter, ½ cup powdered sugar, and vanilla with an electric mixer until fluffy. Add flour and salt and mix until the dough comes together. Stir in the nuts. If dough is too soft, chill it until you can work it easily with your hands.

Scoop 1 tablespoon of dough and flatten with your hands. Place 1 miniature Reese's on top. Take another tablespoon of dough, flatten it, and lay it on top the peanut butter cup. Press the sides together and roll to form a sealed ball of dough. Place on prepared cookie sheet.

Bake cookies for 10-12 minutes until bottoms are just slightly brown. Remove from oven and cool for just a minute, until you can handle them. Fill a small bowl with additional powdered sugar and roll each cookie in the sugar until coated. Place on a rack to cool. (Once cookies are cooled, you may want to re-roll them in more powdered sugar.)
What good books are you reading?

 Subscribe via email and have sugar delivered straight to your inbox!
This post may be linked to all of these parties.