Pumpkin Cheesecake
This post may contain affiliate links. For more information, read my disclosure policy.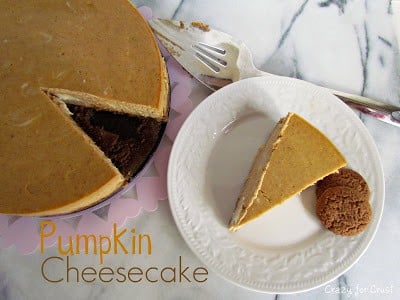 Remember Dug the Dog's line in the movie Up? You know the one I'm talking about:
"Squirrel!"
It's my favorite movie line ever, BTW. (Well, it ties with "Big mistake. Big. Huge. I have to go shopping now.")
Funny thing, it actually happened the other day while walking my dog and she almost ripped my arm off.
Even funnier? Same concept applies to people, me specifically. On our way to signing papers for our house my husband and I were talking money and closing costs and loans and budgets.
I was paying attention. And then…
"A Lambert's Creamery!  Cool!" flew out of my mouth.
I got a look from my husband.
"What? Its ice cream." I tried to defend myself.
He looked at me like I had two heads. Really, I can't control where my mind goes. Much like my dog.
If we happened to be together in a crowded room and someone yelled "Pumpkin Cheesecake!" I'd probably do the same thing.
This cheesecake is awesome. It's creamy and pumpkiny. And the crust has a little spice to it from the gingersnaps. This is one of those desserts you can't stop eating and then wonder why your pants shrunk in the dryer.
Mmmmm…get me some stretchy pants and a fork, please.
Servings: 12 servings
Pumpkin Cheesecake
Ingredients
25 gingersnap cookies
1 ¾ cups sugar
4 tablespoons unsalted butter — melted and cooled
3 8-ounce packages cream cheese, room temperature
5 eggs — at room temperature
1 15-ounce can pure pumpkin puree
1 tablespoon vanilla extract
1 tablespoon pumpkin pie spice
½ teaspoon salt
Boiling water
Instructions
Preheat the oven to 325°. Position the rack in the lower third of the oven. Coat a 9" springform pan with cooking spray.

Grind the cookies in a food processor with ¼ cup sugar. Add the butter and pulse to combine. Press the mixture in the bottom of the springform pan and bake until firm, about 3-4 minutes. Transfer to a rack to cool.

Beat the cream cheese and remaining 1½ cups sugar with an electric mixer. Beat in the eggs, pumpkin, vanilla, pumpkin pie spice and salt and continue mixing until combined, about 2 minutes.

Cover the bottom of the springform pan in a double layer of heavy duty aluminum foil and set in a roasting pan. Pour the cheesecake onto the prepared crust. Transfer the roasting pan to the oven and fill with enough boiling water to reach about halfway up the springform pan. Bake the cheesecake until the center is still slightly wobbly but the edges are firm to the touch, about 1¼ hours.

Transfer the roasting pan with the cheesecake to a rack and let it cool for 45 minutes. Remove the springform pan, remove the foil, and let the cheesecake cool on the rack for about 3 hours. Run a knife around the edges to loosen and wrap with plastic wrap. Refrigerate overnight. When ready to serve, remove the springform pan sides and slide onto a serving platter.
Yield: 12 servings