This post may contain affiliate links. For more information, read my disclosure policy.
Have you ever tried making Pumpkin Cheesecake with gingersnap crust? You're going to want to make this recipe – I promise you'll love it. Gingersnaps and pumpkin are the perfect fall pairing.
I've been making this Pumpkin Cheesecake recipe for years and everyone always loves it!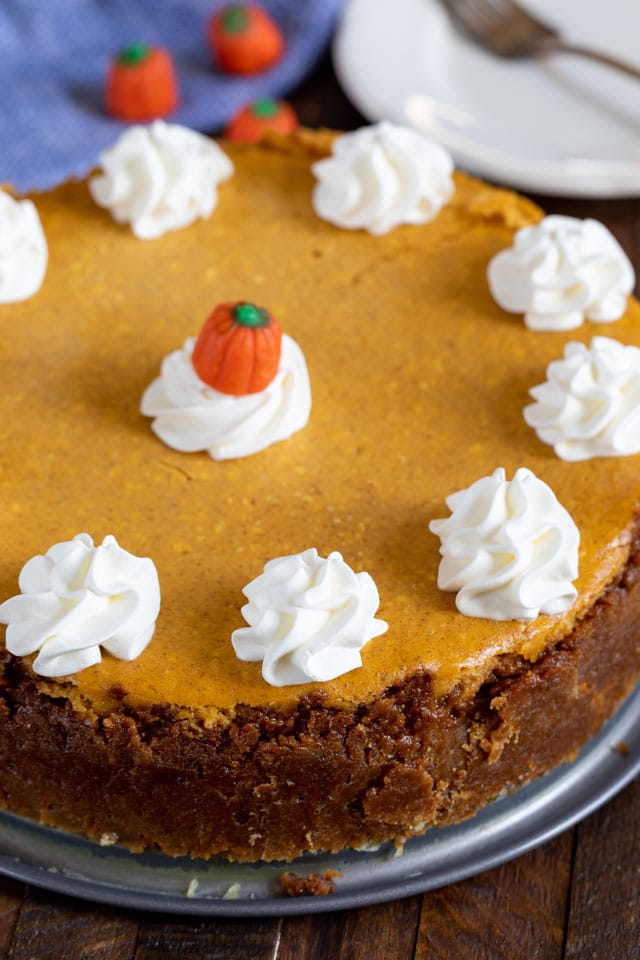 I first found this recipe in a Rachael Ray Magazine in 2010 and I've been making it ever since!
When I first saw the recipe I was intrigued by the gingersnap crust: I'd never thought to pair pumpkin and gingerbread before. (Before blogging I didn't know about lots of amazing food combinations, ha!)
After tasting it for the first time I was in awe at how good the flavors go together and I've been making this cheesecake at the holidays ever since.
The only thing I really edited from her original recipe is the crust: to me you need a THICK crust on any cheesecake or pie, so I've doubled the size of it.
Homemade Pumpkin Cheesecake with gingersnap crust is the perfect Thanksgiving cheesecake!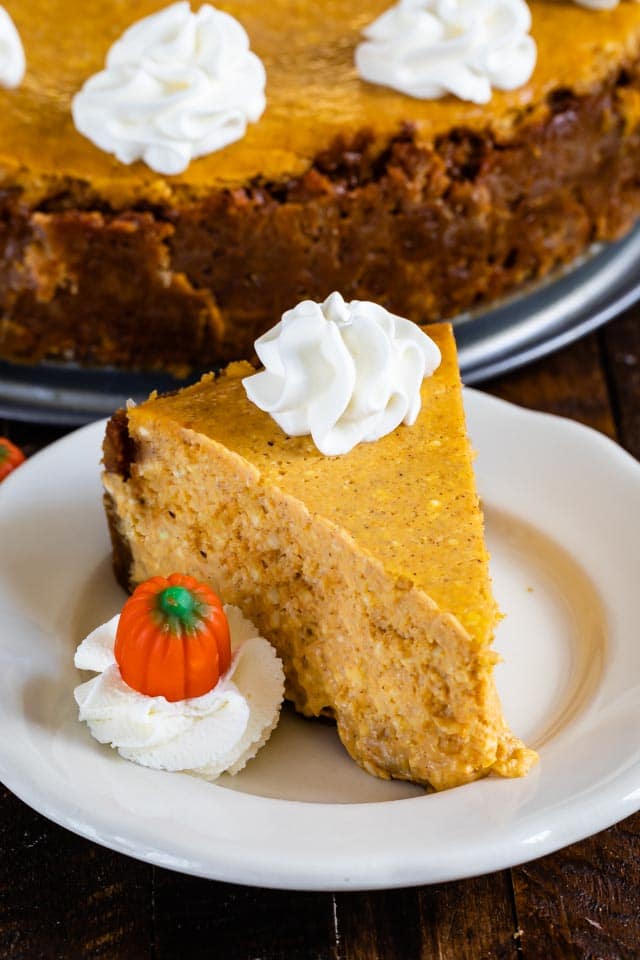 I asked my followers on Facebook what kind of pies they make besides pumpkin and pecan and overwhelmingly people mentioned cheesecake. Who knew?
While I love a no-bake cheesecake, I have a sweet spot in my heart for a good old baked cheesecake. After all, my wedding cake was cheesecake!
It's really easy to make cheesecake, you just have to follow my tips and tricks for the perfect recipe.
How do you make the perfect cheesecake?
You need a springform pan.
I make a THICK crust.
You must use room temperature ingredients.
When you're making a plain cheesecake, I add sour cream, but for pumpkin cheesecake I substitute pumpkin puree.
You have to bake it in a water bath.
It's important to make this ahead of time: cheesecakes need time to cool and rest before eating.
What kind of pan do you use for cheesecake?
Cheesecakes are best made in a springform pan. These are pans that have a separate bottom and ring for easy removal.
Make a thick Gingersnap Crust for any cheesecake!
I like thick crusts and I cannot lie…
The base of this crust is gingersnap cookies. You can buy them at most grocery stores and while they're not the best things to just eat, they're perfect for making a crust with.
50 gingersnap cookies is about 2 1/2 cups of cookie crumbs.

PRO TIP
It's important to finely crust the gingersnaps in a food processor or strong blender. I then mix it with sugar and melted butter, then press it in the bottom and up the sides of the springform pan.
Partially bake the crust for 10 minutes while you mix up the cheesecake ingredients.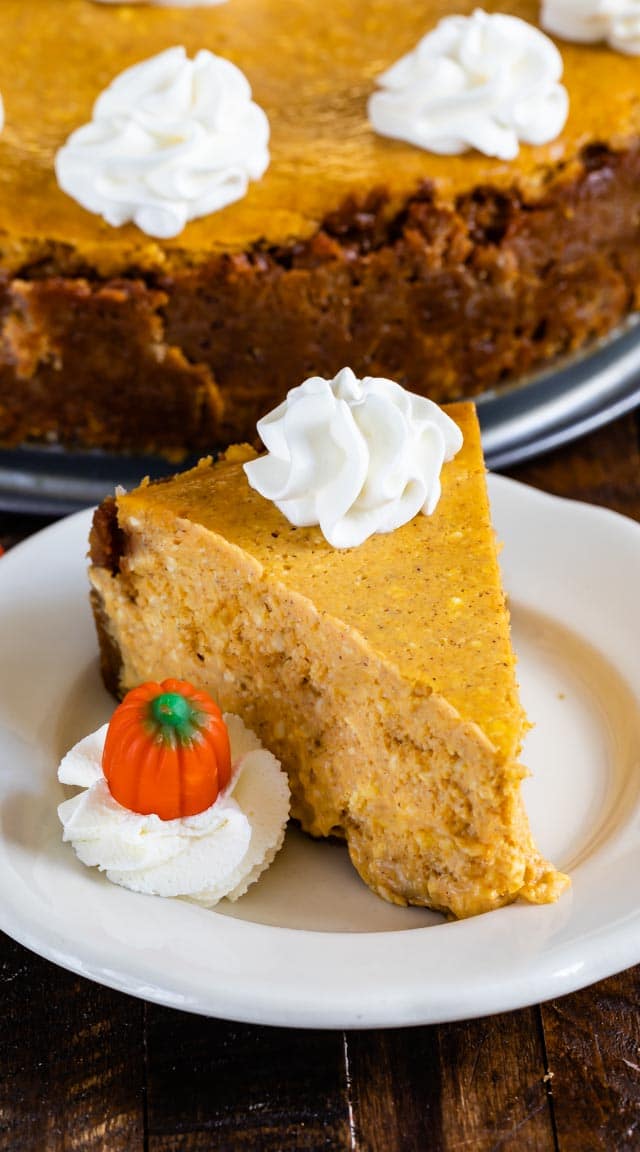 How do you avoid lumps in cheesecake?
Once your crust is in the oven, it's time to mix your pumpkin cheesecake batter.
ALL INgredients MUST be room temperature!

PRO TIP
Make sure you have room temperature ingredients before you start. Take out your cream cheese and eggs a few hours ahead of mixing! This will help avoid lumps in your cheesecake.
When you're mixing up your ingredients, I recommend using a stand mixer. It's a lot easier, but a hand mixer is okay if that's all you have.
How to do a water bath
A water bath is when you bake the cheesecake in a pan filled with water. The heat from the water around the pan and the humidity that's created in the oven keeps the cheesecake moist and creamy and helps it rise properly. Using a water bath can help avoid cracks in your cheesecake!
To make a water bath you need to:
Bring water to a boil while you make your cheesecake batter.
Place your foil-wrapped cheesecake pan in a roasting pan (the kind you'd make a turkey in).
Place the pan in the hot oven.
Carefully pour the boiling water into the roasting pan until the water is about halfway up the springform pan.
How to bake a cheesecake
I bake all of my cheesecakes at 325°F for about 75 minutes or until the center is no longer jiggly. Once it's done, turn the oven off, crack the oven door, and let the cheesecake rest for one hour.
Then, remove the cheesecake from the water bath and let it cool on a rack for about 3 hours. Once it's cool, wrap it in plastic wrap and chill it overnight.
Making cheesecake from scratch is a process but following these steps will ensure success!
What to do if your cheesecake cracks:
It's inevitable: sometimes your cheesecake will crack, even if you use a water bath. Even if you're careful mixing and follow all my steps, your cheesecake can still crack.
If it cracks, it'll still taste good, it just will look a little less pretty than you'd hoped. Here is what you can do if you end up with a cracked pumpkin cheesecake:
Frost the entire top with whipped cream or cream cheese whipped cream.
Make chocolate ganache or white chocolate ganache and spread it over the top.
Melt white or dark chocolate and drizzle it over the top (or use hot fudge or caramel sauce).
Just hide the crack and no one will know!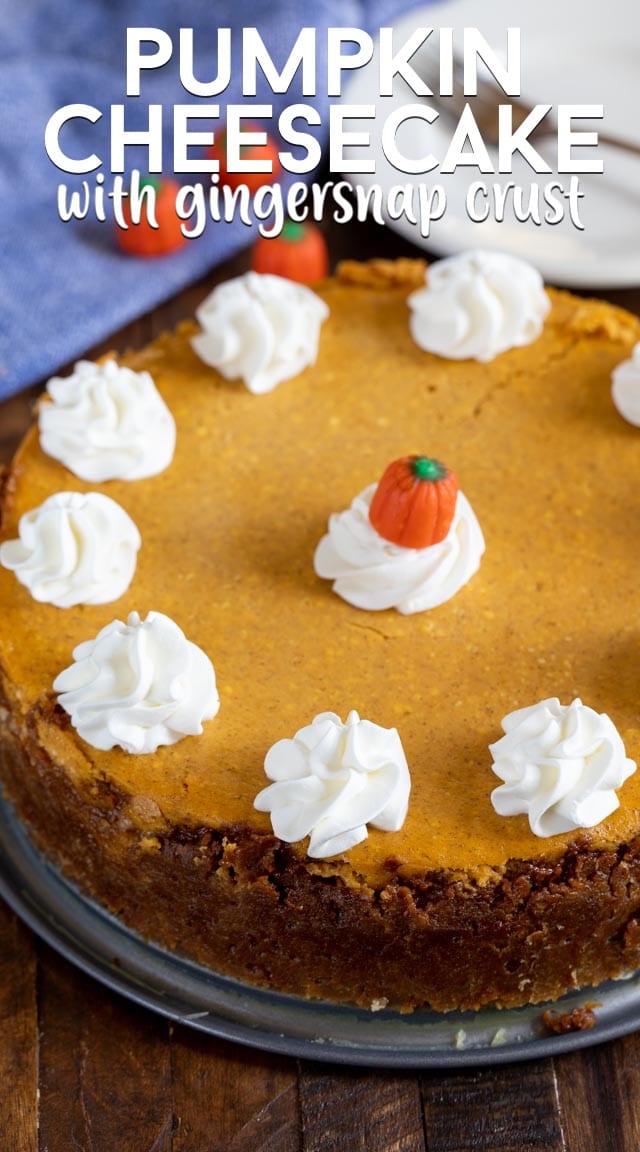 Pumpkin Cheesecake is the perfect Thanksgiving dessert!
Here are some of my other favorite cheesecakes:
Serve this pumpkin cheesecake with:
Have you made this recipe?
Tag @crazyforcrust on Instagram or hashtag it #crazyforcrust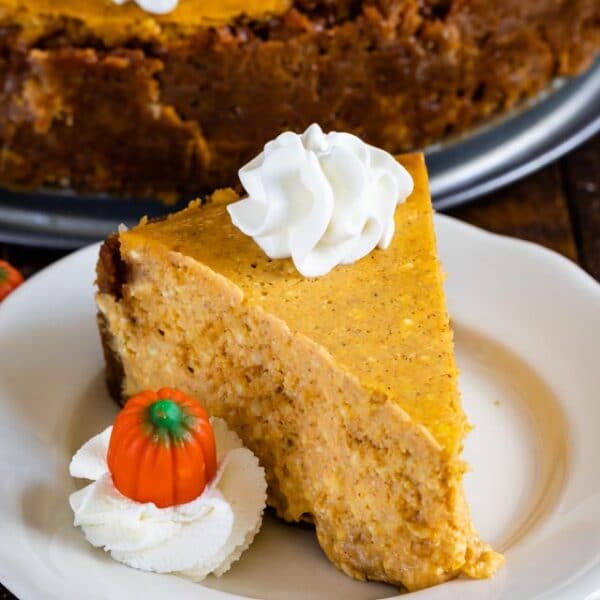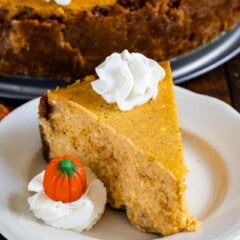 Pumpkin Cheesecake
An Easy Pumpkin Cheesecake is the perfect dessert recipe for the holidays! This homemade pumpkin cheesecake with gingersnap crust is a foolproof cheesecake.
Cook Time
1
hour
15
minutes
Total Time
10
hours
45
minutes
Ingredients
Crust:
50

Gingersnaps

1/4

cup

granulated sugar

7

Tablespoons

unsalted butter

melted
Cheesecake:
3

8 ounce packages cream cheese, room temperature

5

large eggs

room temperature

1

15 ounce can pumpkin puree

1 1/2

cups

granulated sugar

1

teaspoon

vanilla extract

1

tablespoon

pumpkin pie spice

1/4

cup

all-purpose flour

1/2

teaspoon

salt

Whipped Cream

, for serving
Instructions
Preheat the oven to 350°. Position the rack in the lower third of the oven.

Wrap a 10-inch springform pan with a few layers of aluminum foil, making sure that the foil tightly covers the seam of the pan and reaches more than halfway up the sides of the pan. Spray the inside of the pan with nonstick cooking spray.

Grind the cookies in a food processor. Pour the cookie crumbs into the melted butter along with 1/4 cup sugar. Stir with a fork to combine. Press the mixture in the bottom and halfway up the sides of the springform pan. Bake 10 minutes. Transfer to a rack to cool and lower the oven temperature to 325°F.

Make sure ALL your ingredients are room temperature to avoid lumps!

Beat the cream cheese and remaining 1 1/2 cups sugar with an electric mixer. (I prefer using my stand mixer for this.) Beat in the eggs, pumpkin, vanilla, flour, pumpkin pie spice and salt and continue mixing until combined and very few lumps remain, about 2 minutes with a stand mixer.

Meanwhile, set 4 cups of water to boil in a kettle or on the stove or microwave (this is for the water bath).

Place the prepared crust into a large roasting pan (the kind you bake a turkey in). Pour the cheesecake onto the prepared crust. Transfer the roasting pan to the oven and fill with enough boiling water to reach about halfway up the springform pan.

Bake the cheesecake until the center is still slightly wobbly but the edges are firm to the touch, about 75 minutes. Turn off the oven and crack the oven door and let the cheesecake sit, undisturbed, for one hour.

Transfer the roasting pan with the cheesecake to a rack and let it cool for 45 minutes. Remove the springform pan, remove the foil, and let the cheesecake cool on the rack for about 3 hours. Run a knife around the edges to loosen and wrap with plastic wrap. Refrigerate overnight. When ready to serve, remove the springform pan sides and slide onto a serving platter.

Serve with whipped cream.
Recipe Notes
If substituting spices for the Pumpkin Pie Spice, use: 2 teaspoons ground cinnamon, 3/4 teaspoons each ground nutmeg and ground cloves and 1/2 teaspoon ground ginger.
Recipe Nutrition
Serving:
1
serving
|
Calories:
3855
kcal
|
Carbohydrates:
616
g
|
Protein:
52
g
|
Fat:
137
g
|
Saturated Fat:
67
g
|
Cholesterol:
1032
mg
|
Sodium:
3945
mg
|
Potassium:
1554
mg
|
Fiber:
9
g
|
Sugar:
388
g
|
Vitamin A:
3793
IU
|
Vitamin C:
1
mg
|
Calcium:
457
mg
|
Iron:
29
mg
Nutritional information not guaranteed to be accurate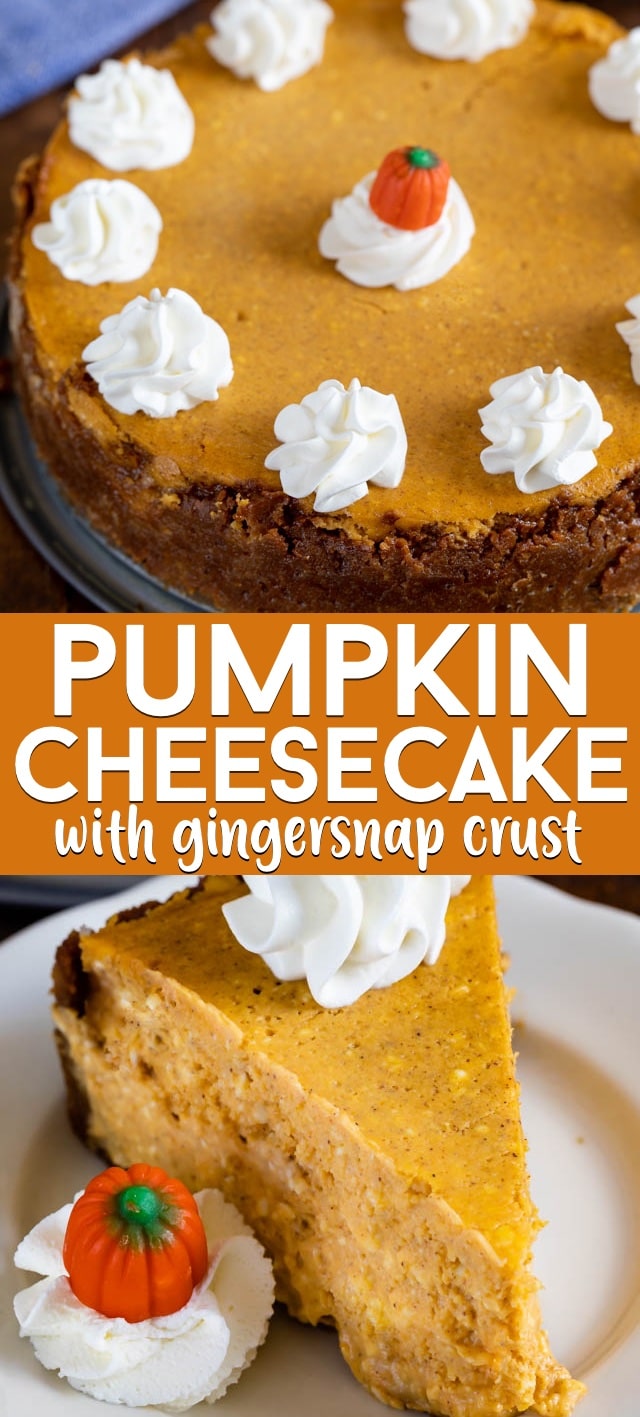 Last Updated on February 26, 2020