The BEST No Bake Cheesecake Recipe
This post may contain affiliate links. For more information, read my disclosure policy.
This is THE BEST NO BAKE CHEESECAKE RECIPE EVER! It's got a thick graham cracker crust and an easy no-bake cheesecake filling. Everyone loves this easy no bake cheesecake recipe!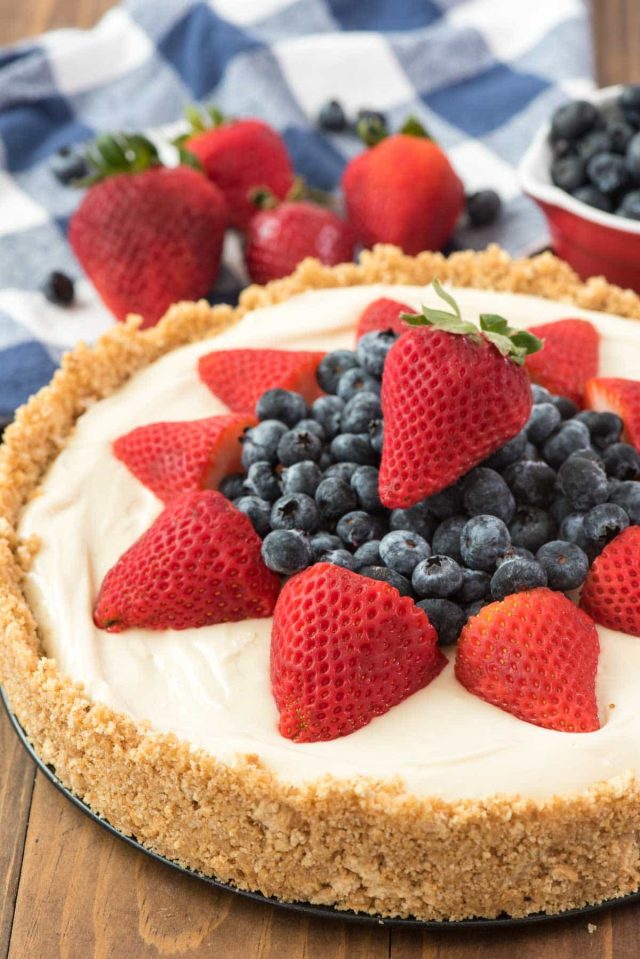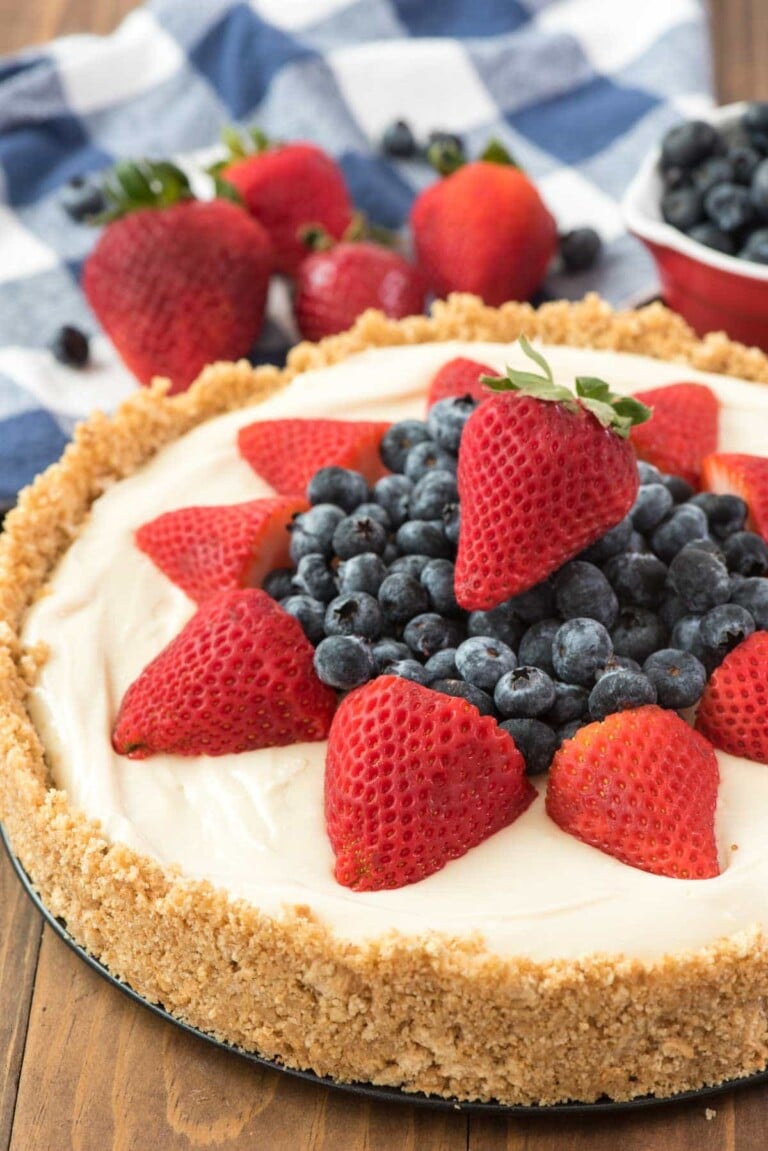 Can you believe it's mid-may already? Summer is almost here! Memorial Day, 4th of July…I love it all. What I don't love about summer is the heat that comes to Sacramento, which is why I'll be making a ton of no-bake recipes over the coming months. But…you guys are okay with that because you love no-bake recipes!
And this recipe is the BEST No Bake Cheesecake Recipe I've ever had. I mean sure, I love no bake Oreo Cheesecake and even lemon, but this super simple, plain, easy cheesecake recipe? My favorite. It goes down sooooo easy. Plus, it's pretty.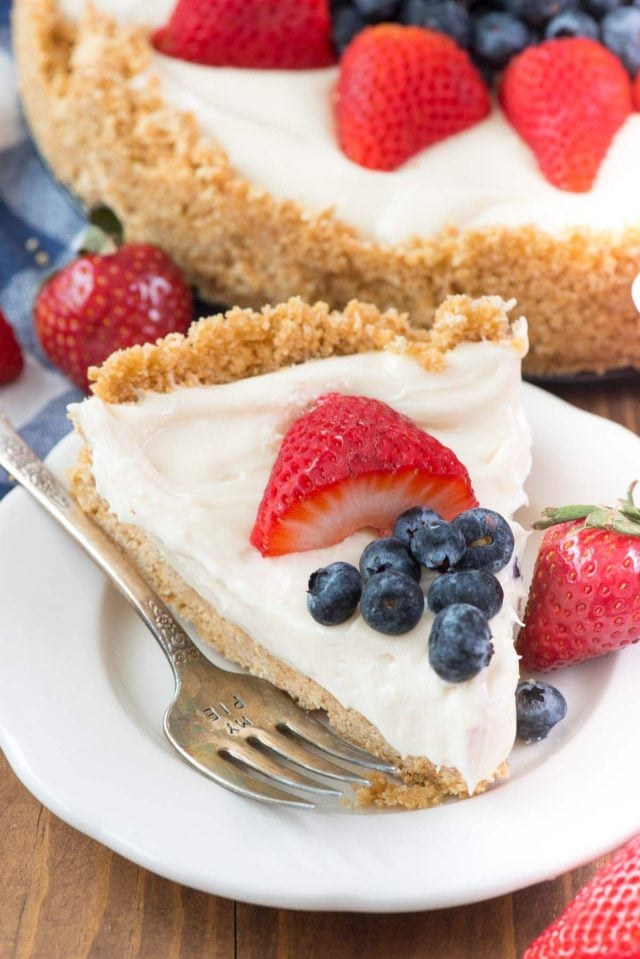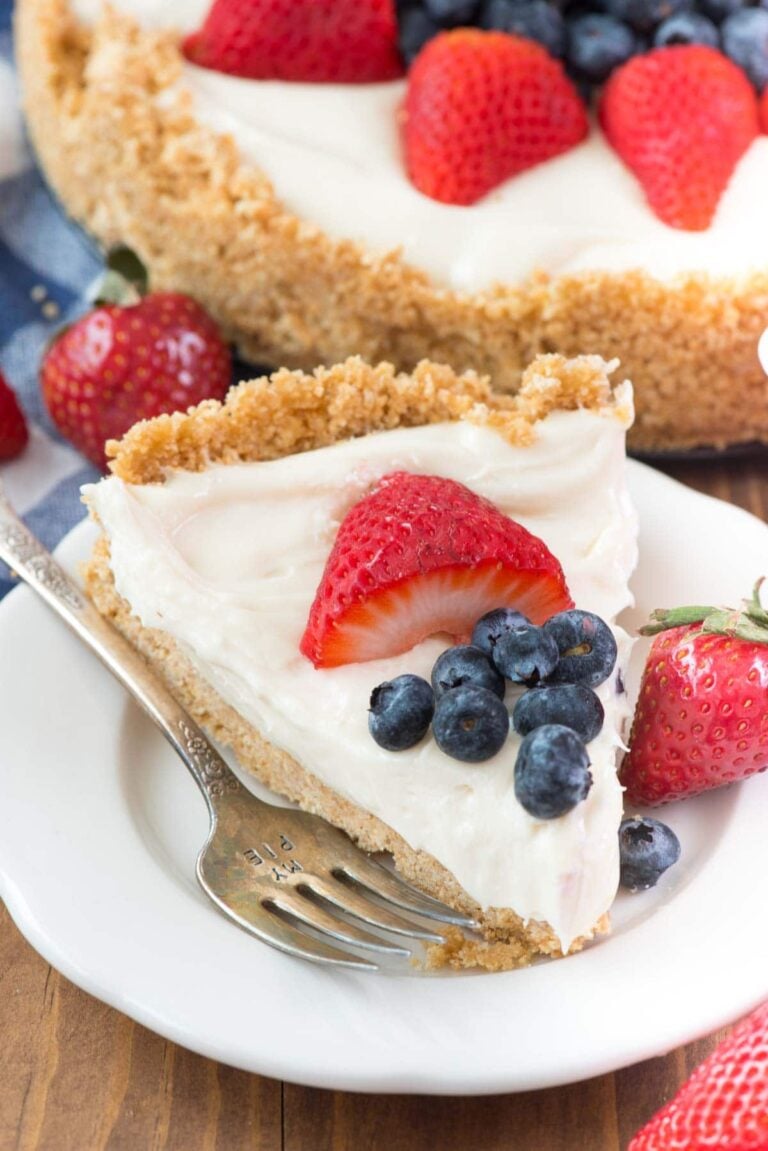 Mother's Day
We've got a lot going on this month: Mother's Day today, then next weekend I'm hosting 15 bloggers at my house to talk about blogging and making videos. 3 of them are staying with me, which means I actually have to, you know, clean. And make room for them. And grocery shop.
Dealing with all that makes me want CHEESECAKE bad. I had to re-home this cheesecake recipe as soon as it was done because it's a trigger for me. If not, I would have just taken it to the couch with a fork and gone to town.
There's something so good about a classic cheesecake recipe, right? No frills, no extra flavors, just graham cracker crust and creamy filling.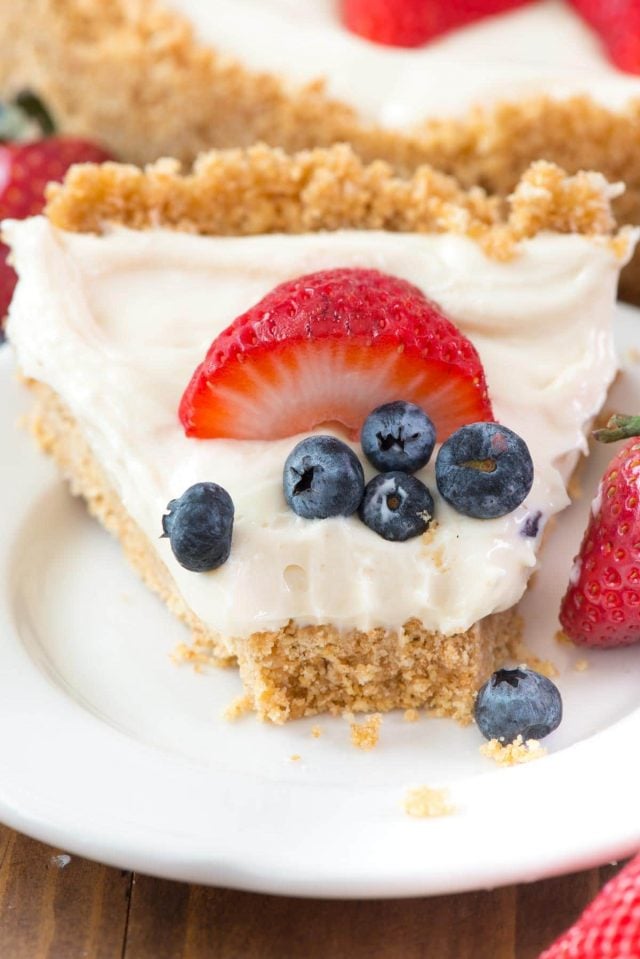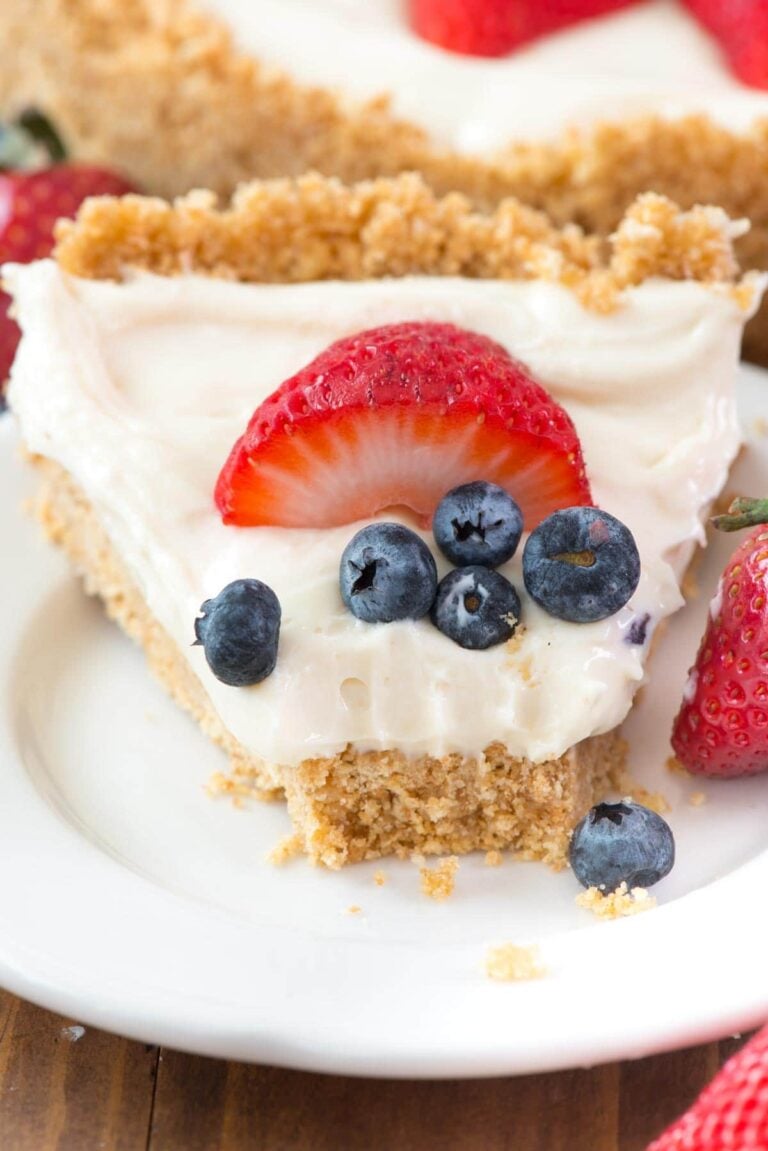 The BEST No Bake Cheesecake Recipe
Growing up, I was raised on box mix cheesecake. You know the one? It came with two pouches; one for the crust and one for the filling. It came together like pudding mix but it was cheesecake. I loved that cheesecake! Of course, it was "fake" cheesecake, so anything real tastes better. But I still have fond memories of that no bake dessert my mom would make for any holiday or occasion.
The best no bake cheesecake tastes way better than a box mix, but it still reminds me of it. Probably because of the thick and sweet graham cracker crust and the sweet and creamy filling. I've always ever made no bake cheesecakes using cream cheese and cool whip, but for this one I went with an old standard recipe: cream cheese and sweetened condensed milk. That stuff is like God's nectar and makes EVERYTHING better.
If you don't have a springform pan you can use a 10″ or deep dish pie plate, but a springform pan is much easier.
A TIP for making the best no bake cheesecake recipe:
Make sure that your cream cheese is room temperature to avoid lumps.
Beat it until it's silky smooth and once you add the vanilla and lemon juice, it becomes so creamy! The lemon juice is just to brighten the flavor, so don't think it tastes like lemon – it doesn't.
I like my classic cheesecakes plain or with fresh fruit. You can also top this with so many things!
Easy cheesecake topping ideas for the best no bake cheesecake:
Really, use whatever you like, but I think the best no bake cheesecake is SO pretty just with fresh berries.
Also, if you use strawberries and blueberries it's perfect dessert recipe for Memorial Day BBQs, 4th of July parties, or even Thanksgiving!
Tools to make this recipe:
Want even more? Subscribe to Crazy for Crust to get new recipes and a newsletter delivered to your inbox. And stay in touch on Facebook, Pinterest, Twitter, and Instagram for all my latest updates.
Servings: 10 servings
The BEST No Bake Cheesecake Recipe
The BEST No Bake Cheesecake Recipe - this easy cheesecake recipe is completely no bake! It has a thick graham cracker crust and a sweet cheesecake filling. Perfect for Summer and everyone loves it!
Ingredients
Graham Cracker Crust
3 cups graham cracker crumbs — about 18 sheets
1/3 cup sugar
11 tablespoons unsalted or salted butter — melted
1/4 teaspoon salt — only if using unsalted butter
Filling:
16 ounces cream cheese — 2 8-ounce blocks, room temperature (do not use low-fat)
14 ounces 1 can sweetened condensed milk (regular, not low fat)
1 tablespoon vanilla extract
1/4 cup lemon juice
Berries or pie filling for topping
Instructions
Place graham cracker crumbs, sugar, and melted butter in a large bowl and stir using a fork. The mixture will resemble wet sand. Press into the bottom and up the sides of a 9-10" springform pan. Chill at least 10 minutes before filling.

Beat cream cheese until smooth using a hand or a stand mixer. Add sweetened condensed milk, vanilla, and lemon juice and mix until smooth and no lumps remain. Pour into prepared crust. Chill at least 4 hours before serving so the mixture can set.

Top with berries or your favorite pie filling. Store in refrigerator for up to 3 days. Cheesecake can be made 1 day in advance, but don't top it until ready to serve. It can also be frozen.
Nutrition Information
Amount per serving (1 slice) — Calories: 627, Fat: 29g, Saturated Fat: 16g, Cholesterol: 80mg, Sodium: 1332mg, Carbohydrates: 87g, Fiber: 2g, Sugar: 63g, Protein: 8g
Check out all my cheesecake recipes and my no-bake recipes for more inspiration or try one of these:
No Bake Lemon Cheesecake – an easy lemon pie that's also a cheesecake!
Oatmeal Scotchie Cheesecake Bars – the perfect combination of oatmeal cookie, butterscotch, and cheesecake!
Frozen Peanut Butter Cheesecake – like peanut butter ice cream but better!
More no bake desserts from friends:
No Bake Brownie Cheesecake by A Dash of Sanity
Neapolitan No Bake Cheesecake by Grandbaby Cakes
No Bake Strawberry Cheesecake Parfaits by 15 Spatulas
**Did you make this recipe? Don't forget to give it a star rating below!**