This post may contain affiliate links. For more information, read my disclosure policy.
What's a Cheesecake water bath? If you're confused, don't worry, I'm going to teach you all about making a cheesecake in a water bath: why, when, and how. It's an extra step, but I find that using this method ensures a crack-free soft and silky cheesecake. Not sure how to do a water bath (or how to keep it from leaking)? Read on!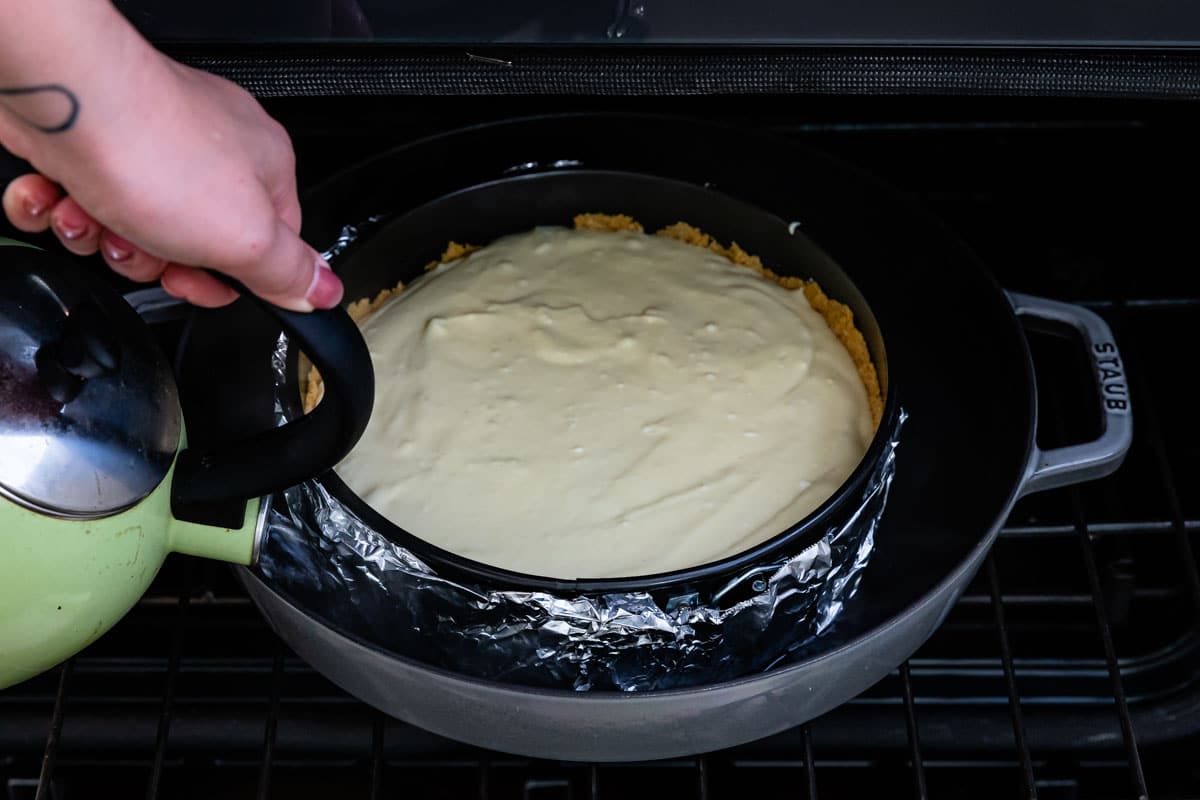 What is a water bath?
A water bath is basically when you place your cheesecake pan in a larger pan (i.e. a roasting pan) and add it to your oven, then add water to the larger pan. The water surrounds the cheesecake pan while the cheesecake is baking.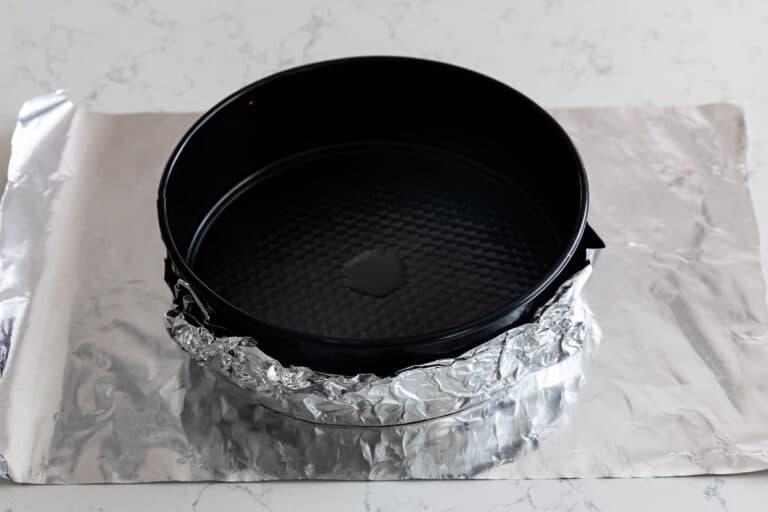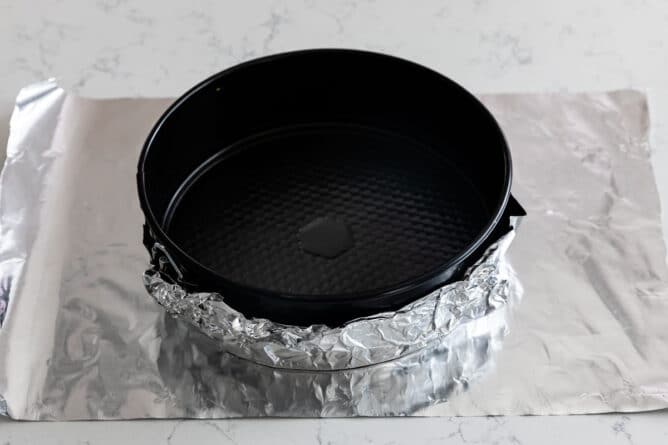 How to prevent your cheesecake water bath from leaking
Cheesecakes call for a springform pan with a removable bottom and ring that locks and unlocks for easy removal. The problem with that removable bottom: it's not sealed. If you're using a water bath for your cheesecake but don't prepare your pan adequately the pan will leak, causing a soggy cheesecake.
1. Use Foil
Foil is the main way I prepare my pan. I use 2 or 3 layers of heavy duty aluminum foil and wrap the pan as shown, up the sides of the pan at least 2 inches.
It's very important that the foil is the same all the way around the sides – with no "low" spots – so the water doesn't leak in.
2. Use an Oven Bag
Another way to prepare your pan is with an oven bag. I like to do this in addition to the foil.
You can use a slow cooker liner or oven bag (any size). I use Reynold's oven bags to make my Thanksgiving Turkey, so I always have them on hand.
You can do this one of two ways:
Place the bag around the pan and tie any excess in a knot, then cover it with foil.
Do the foil wrap and then place the bag in the larger pan (making sure the plastic reaches up over where the water goes).
I highly recommend using the oven bag method if your pan has a bottom that sticks out from the ring. (See what I mean here.) I have a few of those pans and they ALWAYS leak with just foil.
For a visual, check out Lindsay's post on how to avoid leakage in a water bath.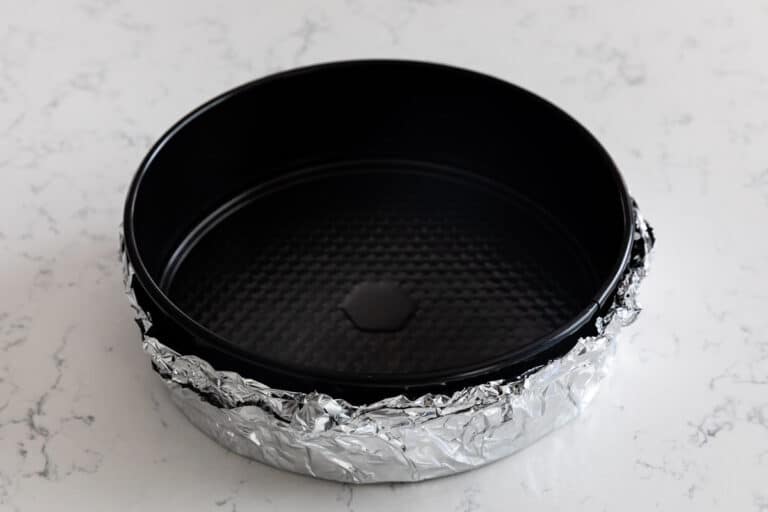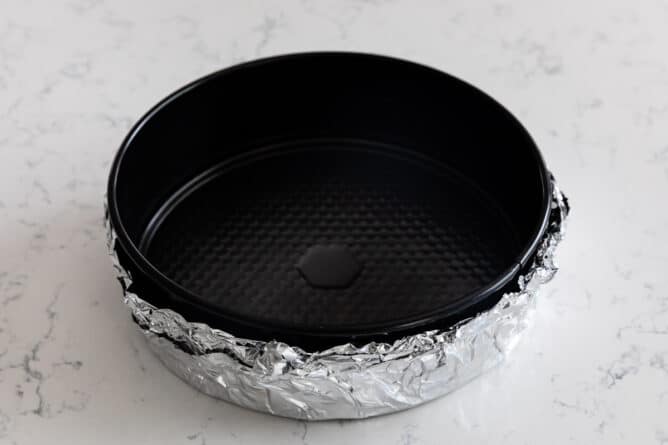 How to prepare a water bath
Prepare your pan with aluminum foil and/or an oven bag.
Make your cheesecake.
Get a pan that is larger than the springform cheesecake pan: a roasting pan or large skillet, as long as it's oven safe.
Boil a kettle of water.
Place the pan in the preheated oven. Carefully pour the boiling water around the cheesecake, being careful to avoid the foil/bag so it doesn't get inside your pan.
Then just bake your cheesecake according to the recipe directions. Carefully remove the baked cheesecake from the water bath and let it cool. Discard boiling water carefully.
FAQs
How much water do you need for a water bath?
It depends on the size of your larger pan: you want to fill it up about 1 inch around your springform pan, so I'd say at least 4 cups, probably more. Just fill up your kettle and you'll have enough.
How you know your cheesecake is done?
You never want to overbake your cheesecakes or it will be dry. Your cheesecake should pass the wiggle test: it should wiggle a bit in the center (like Jell-O) when it's done. The outer part of the cheesecake won't move – the wiggle test is just for the center. If the cheesecake ripples or wiggles entirely, then it's not done.
What happens if a water bath gets in cheesecake?
Unfortunately, if you don't prepare your pan properly, water will get into your cheesecake and ruin it. The water will soak the graham cracker crust and make it soggy.
Favorite Cheesecake Recipes
Last Updated on November 4, 2022