This post may contain affiliate links. For more information, read my disclosure policy.
BEST CHEESECAKE RECIPE: This is your go-to classic cheesecake; a creamy vanilla version that you'll be making for years to come. With my tips and tricks you can make this cheesecake successfully – you're going to love it!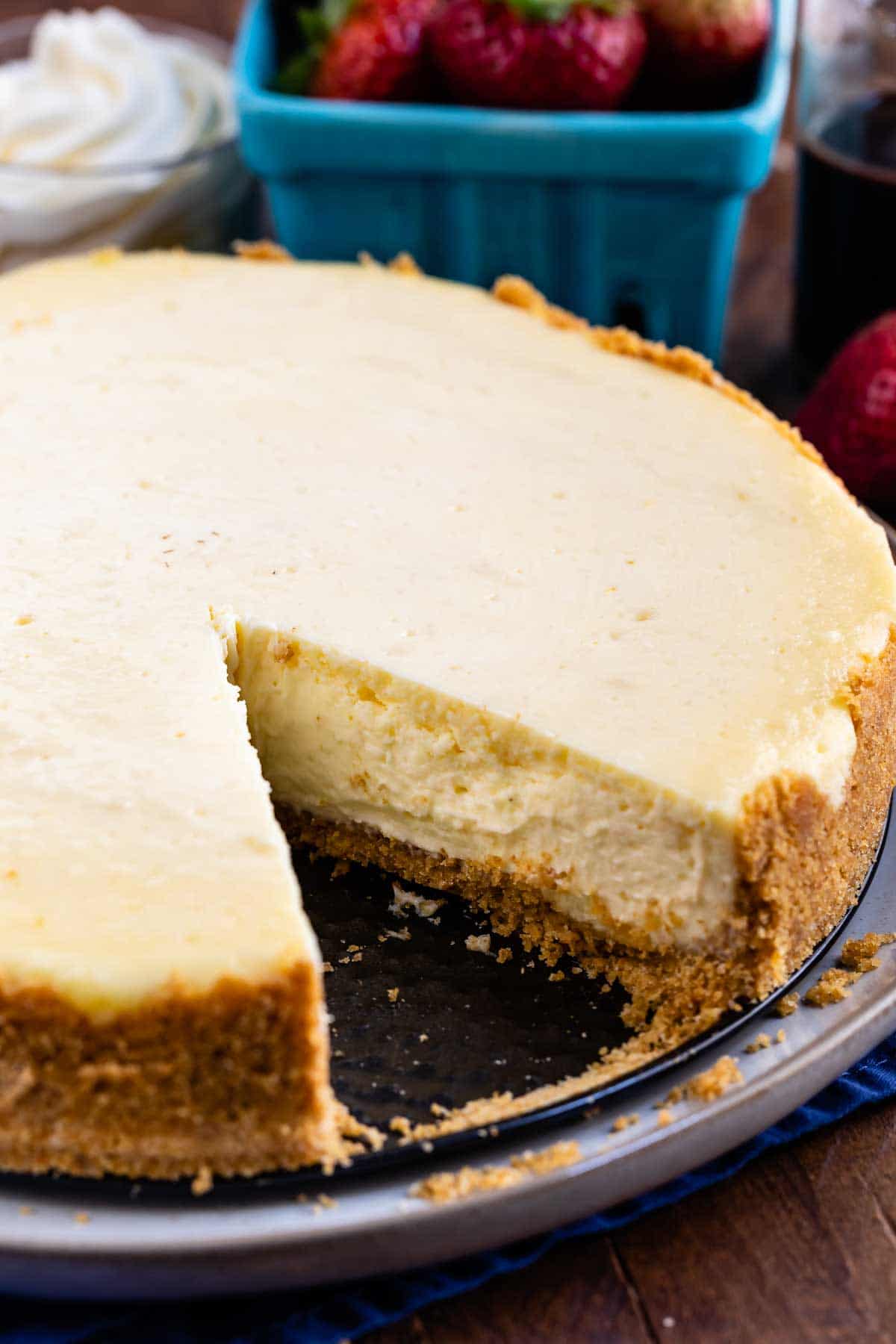 The Perfect Cheesecake Recipe
This is an anything-but-basic recipe that is perfect served so many ways. With a graham cracker crust it's a classic that never gets old.
The sour cream and the lemon juice make this more of a New York Style Cheesecake, with it's creamy rich texture and the tang from the sour cream. While cheesecakes seem hard, this is an easy cheesecake recipe that works.
Why you'll love this recipe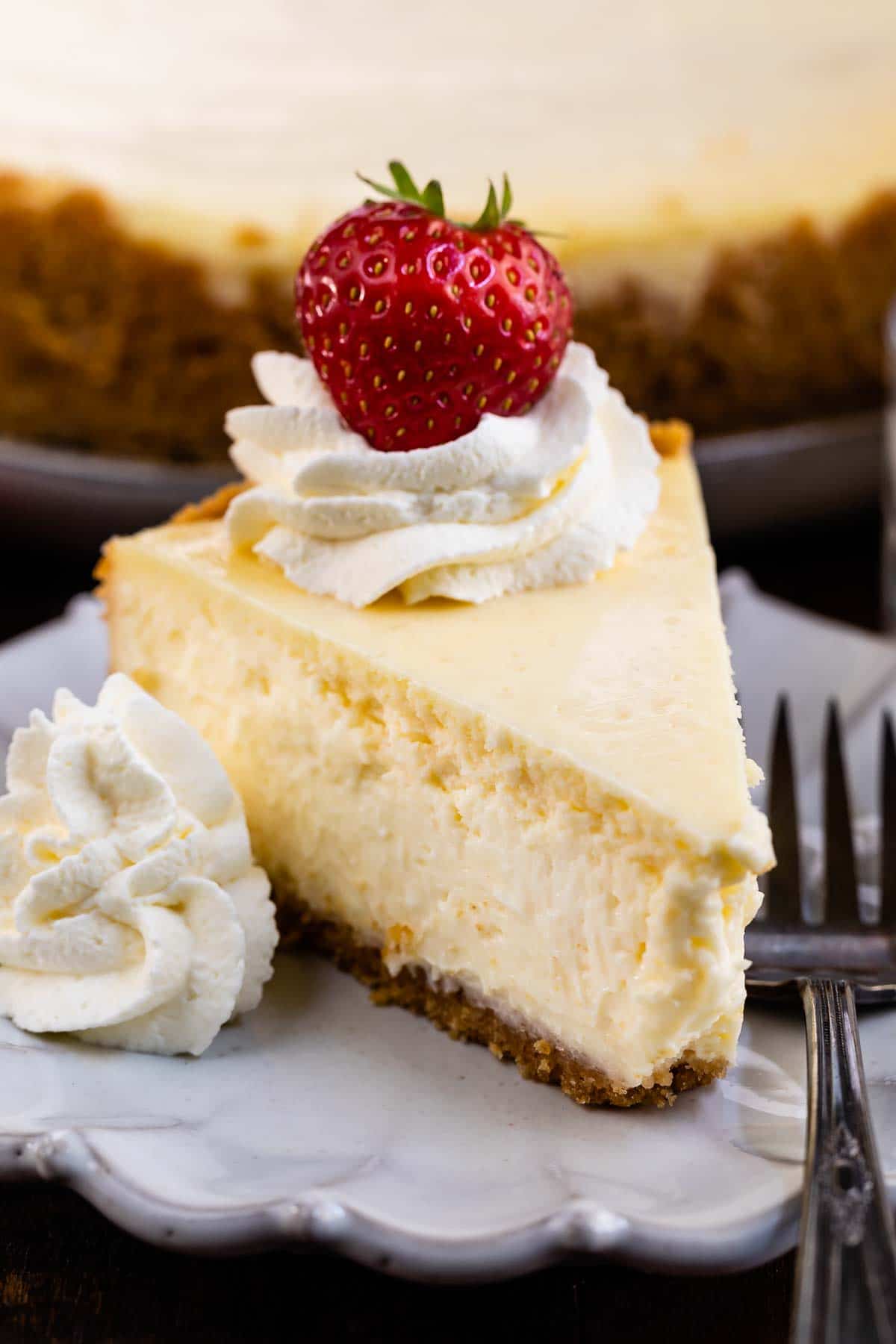 Ingredients Needed
Crust – I love a basic graham cracker crust but you could also use a chocolate cookie crust (oreo crust) instead.
Cream Cheese – Be sure it's room temperature and full-fat.
Sour Cream – Make sure it's also room temperature!
Eggs – Always buy large eggs and let them also come to room temperature.
Flour – Just a bit of all-purpose flour helps the cheesecake set.
Lemon Juice – Just to brighten the flavor, be sure to use fresh lemon juice!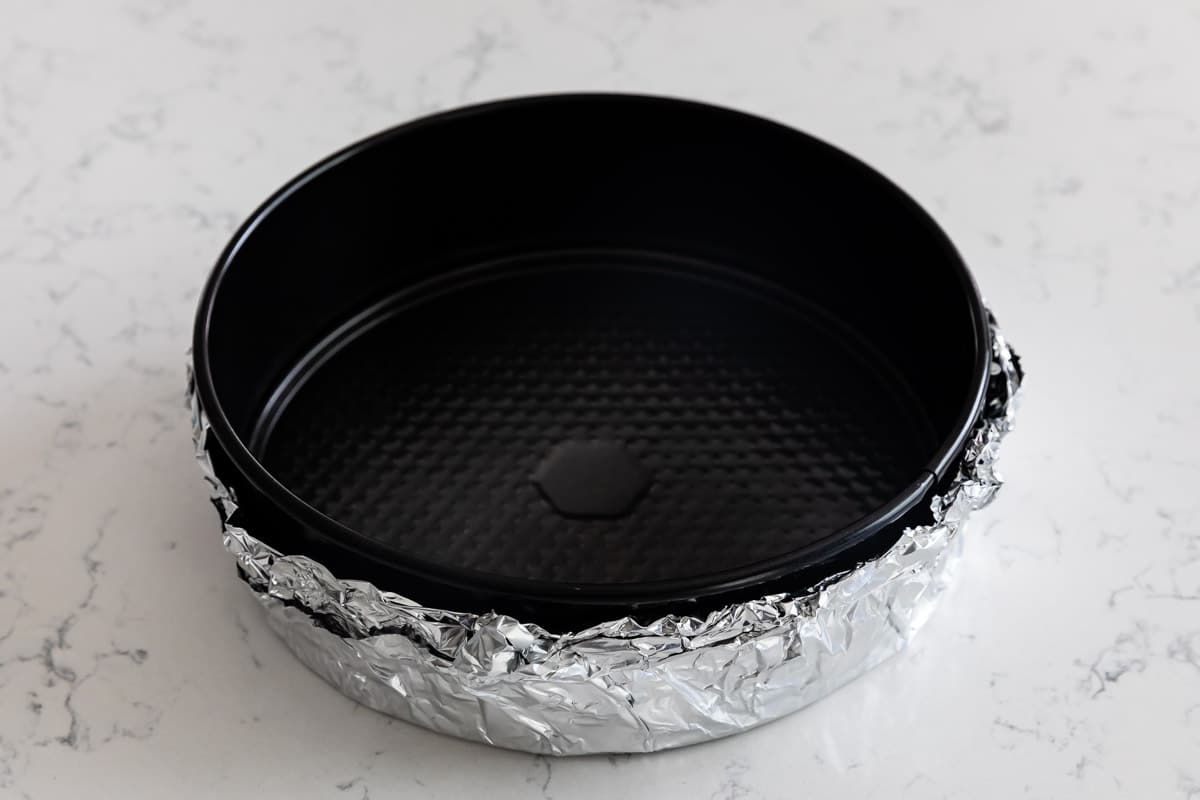 How to make the Best Cheesecake Recipe
We are going to use a water bath to ensure that the cheesecake comes out perfect. In order to do that you must prepare your pan with foil. I like to use 2-3 layers of heavy duty foil. Just make sure your foil comes up the sides far enough that the water won't get into the foil.
Press the crust into the bottom and up the sides of the springform pan. Some recipes have you pre-bake the crust but I don't, so just chill it while you make the filing.
Start by mixing the cream cheese and sour cream until smooth. I highly recommend a stand mixer for this, but a hand mixer will do.
Mix in the sugar and then mix in the eggs one at a time. Eggs are essential for cheesecake texture!
Then mix in the rest of the ingredients, being sure to scrape the bottom of the bowl and not overmix.
Add the cheesecake to the pan and spread it out, then get ready for the water bath.
Basically – boil water while making the cheesecake. Place the wrapped cheesecake pan in a larger pan in the oven, pour in hot water.
Tip From Dorothy
Expert Tips
I cannot stress enough how important it is to use room temperature ingredients when make cheesecake. You MUST leave out ALL your cold ingredients for several hours before mixing.
When it comes to pans, you need to use a springform pan to make cheesecake. Otherwise it won't release. Also, the size of a springform pan is larger than a regular pie plate. This is the springform pan I love.
Don't skip the water bath! I find that it is very important to use a water bath for making cheesecake. This is for three reasons, one of which is to keep an even, moist temperature in the oven to reduce cracking. I've made this several times with NO cracks – so it MUST be done in a water bath.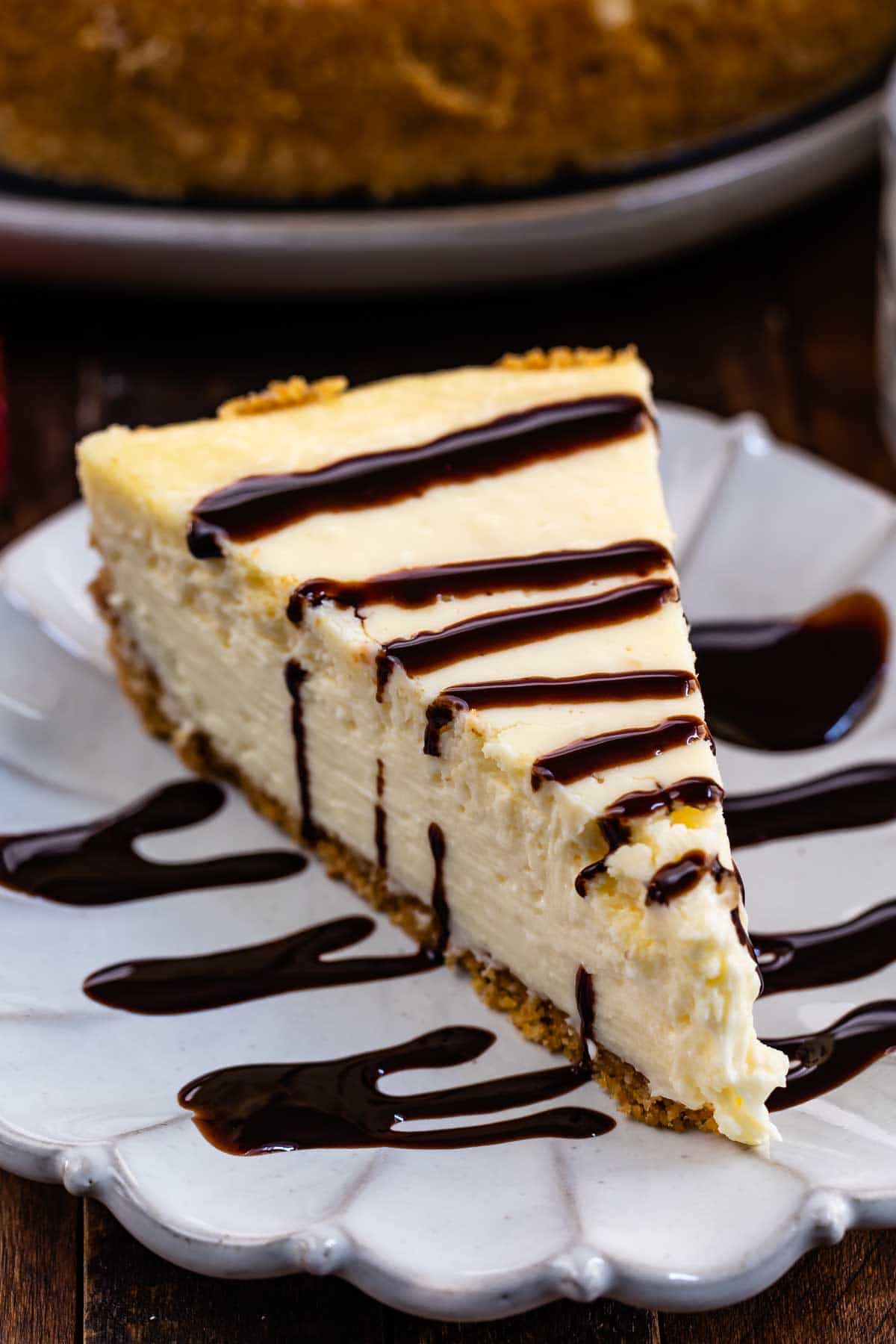 What goes good on cheesecake?
I love eating cheesecake plain from the pan with a fork (ala Friends) but it's also great plain on a plate. Other serving ideas: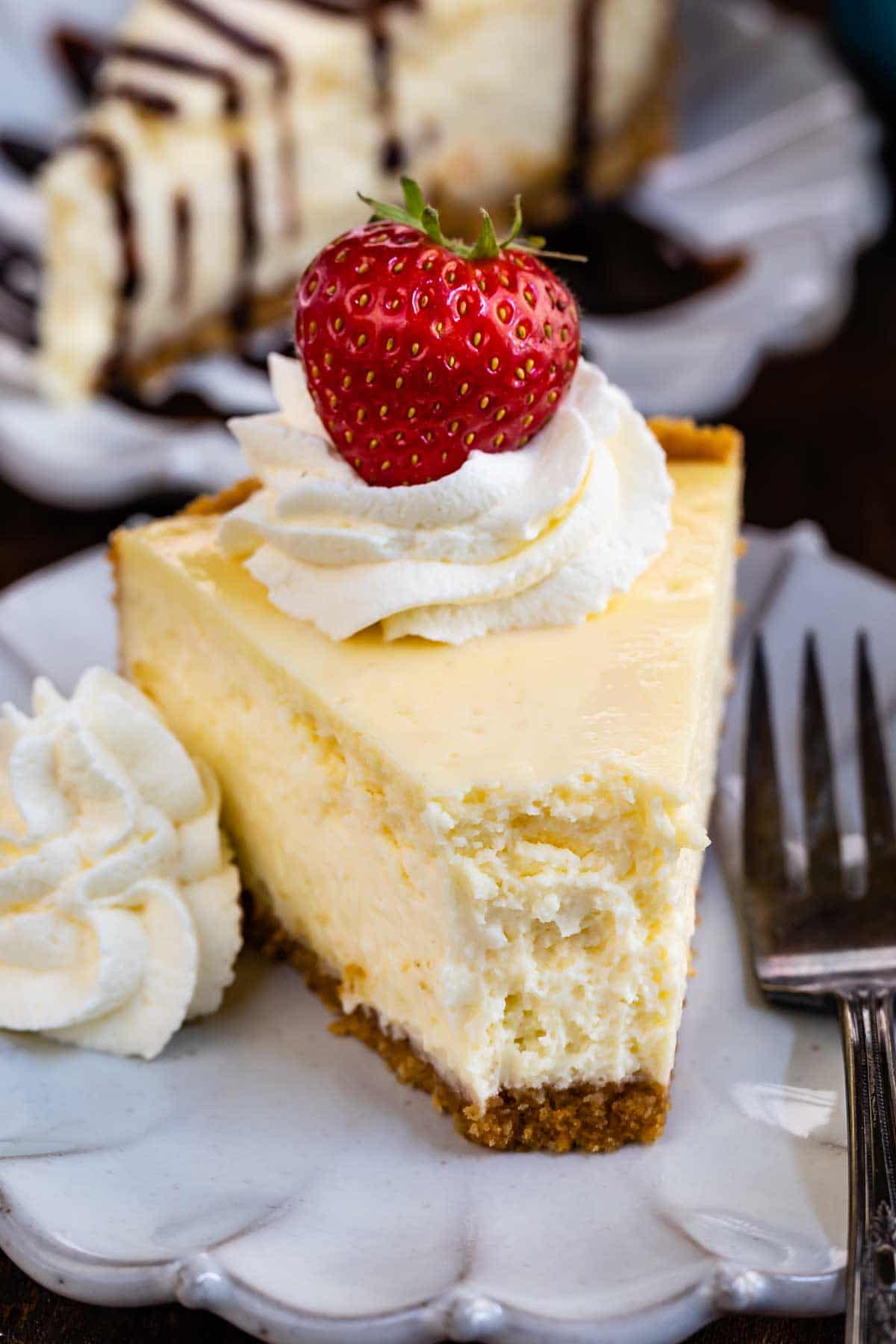 FAQ
Can I make cheesecake without a springform pan?
Yes, but if you're making THIS recipe I recommend the correct pan for best results. Otherwise you can make cheesecake bars or mini cheesecakes.
How can I tell the cheesecake is done?
Cheesecakes are done when they pass the wiggle test: they wiggle slightly in the center. They shouldn't wiggle in the outer 2 inches and the top should look solid, but it WILL wiggle in the center.
Why did my cheesecake crack?
It can crack for a number of reasons, one being that it cooled too fast or two being that you over baked it. Make sure to take it out right when it's done and to cool it properly (see recipe notes).
What do I do if my cheesecake cracks?
There's nothing you can do to fix the crack, but it doesn't mean your cheesecake won't taste good. It still tastes fine, so you just need to cover it with whipped cream, ganache, lemon curd or something to cover the crack.
Do you need to refrigerate cheesecake?
Refrigerate cheesecake overnight to set (before serving) then refrigerate leftovers for up to 3 days, tightly covered.
Can you freeze cheesecake?
Freeze the entire cheesecake for up to 3 months – make sure it's wrapped well with plastic wrap or stored in an airtight container. Or freeze individual slices!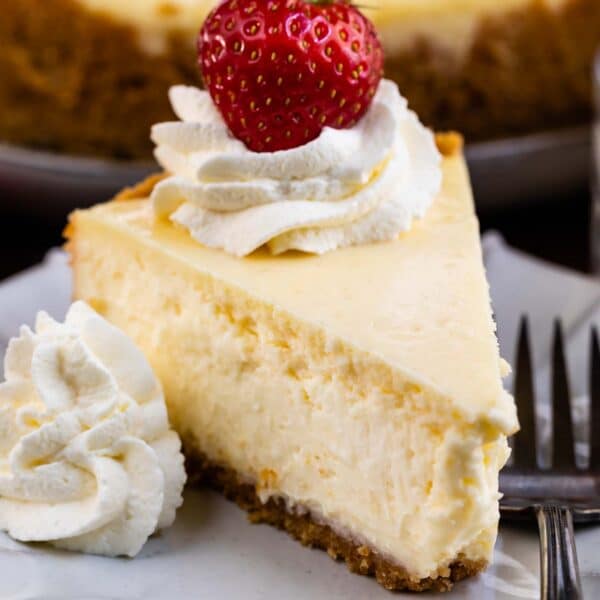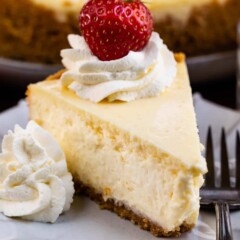 Best Classic Cheesecake Recipe
This Classic Cheesecake Recipe has a graham cracker crust and a smooth and creamy filling. You'll love how easy it really is to make – and how amazing it is. Top it with whipped cream or chocolate sauce, caramel or fruit – this is the best versatile cheesecake recipe!
Total Time
1

hour
30

minutes
Ingredients
Crust:
2

cups

graham cracker crumbs

⅓

cup

(67g) granulated sugar

7

tablespoons

(99g) melted unsalted butter
Filling:
3

8 ounce packages

(678g) cream cheese, room temperature*

1

cup

(245g) sour cream

room temperature*

1 ⅓

cups

(267g) granulated sugar

4

large eggs

room temperature*

¼

cup

(31g) all-purpose flour

2

teaspoons

lemon juice

1

teaspoon

vanilla extract
Instructions
Preheat oven to 325°F.

Prepare the pan: lay out two or three long stips of foil. Wrap the bottom and up the sides of a 9 or 10-inch springform pan with the foil making sure that the foil comes up at least halfway all the way around.

Make the crust: stir together the graham cracker crumbs and sugar, then stir in the melted butter. I like stirring this with a fork so it doesn't get clumpy. Press into the bottom and up the sides of the prepared pan. Chill while you make the filling.

While you're making the filling, set a kettle of water on the stove to boil.

Beat cream cheese and sour cream with a stand or hand mixer until smooth. Add sugar and mix until smooth. Mix in the eggs, one at a time, then stir in the flour, lemon juice, and vanilla.

Pour the filling into the prepared crust and smooth the top.

Create a water bath: Place the cheesecake in the bottom of a roasting pan or large oven-safe skillet (mine pictured is a 12-inch cast iron pan). Place the pan in the middle of the oven. Pour the boiling water into the pan until the water goes about 1-inch up the sides of the pan – do not go farther than the edges of the foil.

Close the oven and bake the cheesecake for 50-60 minutes or until it looks set and passes the "wiggle" test: it should wiggle slightly when you tap the edge of the pan but not move in a rolling or jiggly motion.

Gently remove the pan from the oven and remove the springform pan from the water bath. Place the cheesecake on a rack to cool to room temperature, then cover and chill for at least 4 hours or overnight.

For serving: use a butter knife to loosen the edges as needed, then remove the outer ring. Serve with whipped cream, chocolate sauce, caramel, fruit, or plain. Store in the refrigerator for up to 4 days.
Recipe Notes
Make sure ALL your ingredients are ROOM TEMPERATURE. Leave them out at LEAST 2 hours before making the cheesecake. I recommend longer if your house is cold or if it's winter. It is SUPER important that your ingredients are room temperature to avoid lumps in your cheesecake.
Note: if it's really cold inside your house I recommend cracking your oven and cooling the cheesecake in the oven so it can cool slowly. After an hour, remove it to the counter to finish cooling.
Recipe Nutrition
Serving:
1
serving
|
Calories:
295
kcal
|
Carbohydrates:
41
g
|
Protein:
4
g
|
Fat:
13
g
|
Saturated Fat:
7
g
|
Cholesterol:
82
mg
|
Sodium:
130
mg
|
Potassium:
72
mg
|
Fiber:
1
g
|
Sugar:
32
g
|
Vitamin A:
403
IU
|
Vitamin C:
1
mg
|
Calcium:
42
mg
|
Iron:
1
mg
Nutritional information not guaranteed to be accurate
Favorite Cheesecake Recipes
This Classic Cheesecake Recipe has a graham cracker crust and a smooth and creamy filling. You'll love how easy it really is to make – and how amazing it is. Top it with whipped cream or chocolate sauce, caramel or fruit – this is the best cheesecake in the world!
Last Updated on March 12, 2023