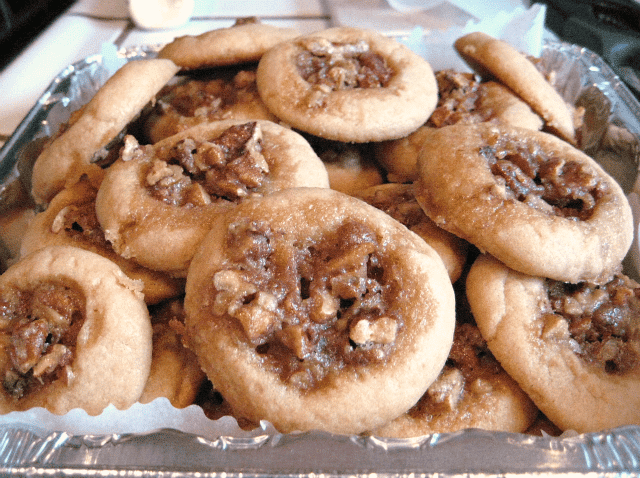 Countdown to Thanksgiving:  T-17 days.
Now that November is here, I'm thinking about Thanksgiving. A lot.  I'm hosting this year (which I am very excited about) so I am paying extra attention to recipes in magazines and blogs. One of the blogs I read had a great idea that I'm totally going to do. Instead of making a pecan pie (because I'm already making apple and pumpkin and probably something chocolate) I'm going to make Pecan Piookies. A little taste of the delicious pie in a few small bites, and you don't have to feel guilty eating a slice (or two or three) of the other kinds of desserts. It was a genius idea! (Plus, you can make them ahead and freeze them, freeing up time for other baking the day before!)
I'd come across this recipe years ago and always wanted to try it. So when the Hospitality Committee at Jordan's school called for desserts for a potluck, I volunteered right away. (I never can say no, especially to a baking or a cooking request!)
These cookies are simple, yummy, and even a touch elegant. Make your batter and roll into 1 1/4 inch balls. I place mine on cookie sheets lined with parchment paper (and a Silpat). I always use parchment for my cookies. For one thing, it makes them easy to remove from the cookie sheet – no sticking. And the best part is that the cookie sheet stays moderately clean so washing is super easy.
Then, using your thumb or the back of a wooden spoon (I find that if you have any sort of fingernail, using the spoon is your best bet) make an indentation in the center of the cookie. Wiggle the spoon a bit to spread out your opening so the filling will fit.
The one thing I would change about how I made these cookies for next time would be to chop the pecans smaller. See how big they are? I thought they were okay in size until I started filling the cookies. They pecans had a hard time staying inside. I chopped them by hand this time, but next time I will use my food processor and chop them finely.
Fill your cookies and bake. Let cool for a few minutes and then remove them from the cookie sheets. This is where you will thank me if you have used parchment paper. 🙂
Plate and enjoy! You could even sprinkle them with a bit of powdered sugar for a really nice serving look.
Happy November!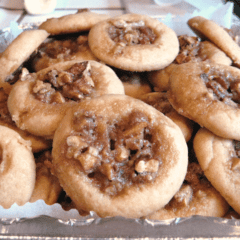 Pecan Piookies
Ingredients:
!Cookie Ingredients
1 cup firmly packed brown sugar
¾ cup butter, softened
1 egg
1 teaspoon vanilla
2 cups all-purpose flour
1 teaspoon baking powder
!Filling Ingredients
1 cup finely chopped pecans
½ cup firmly packed brown sugar
¼ cup whipping cream
1 teaspoon vanilla
Directions:
Heat oven to 350°. Combine all cookie ingredients except flour and baking powder in large bowl. Beat at medium speed until creamy. Reduce speed to low; add flour and baking powder. Beat until well mixed.
Shape dough into 1 ¼ inch balls. Place 2 inches apart onto parchment lined cookie sheets. Make an indentation in each cookie with your thumb or the back of a wooden spoon, rotate it to hollow the cookie out slightly.
Combine all filling ingredients in a small bowl; fill each cookie with 1 rounded teaspoon filling. Bake for 8-12 minutes or until lightly browned. Cool 1 minute; remove from cookie sheet.
© Crazy for Crust
. All images & content are copyright protected. Please do not use my images without prior permission. If you want to republish this recipe, please re-write the recipe in your own words, or link back to this post for the recipe.