This post may contain affiliate links. For more information, read my disclosure policy.
Apple Pecan Pie Baked Brie: The best party dip! Apples and pecans are cooked until soft and baked with sugar and brie in a crescent roll crust.
Hands down, baked brie is my favorite party appetizer. I know, I know, this recipe is not a traditional dessert. But this Apple Pecan Baked Brie kind of tastes like it…and I could eat it all day and all night long. I think that qualifies it for a spot on this here old blog, don'tcha think?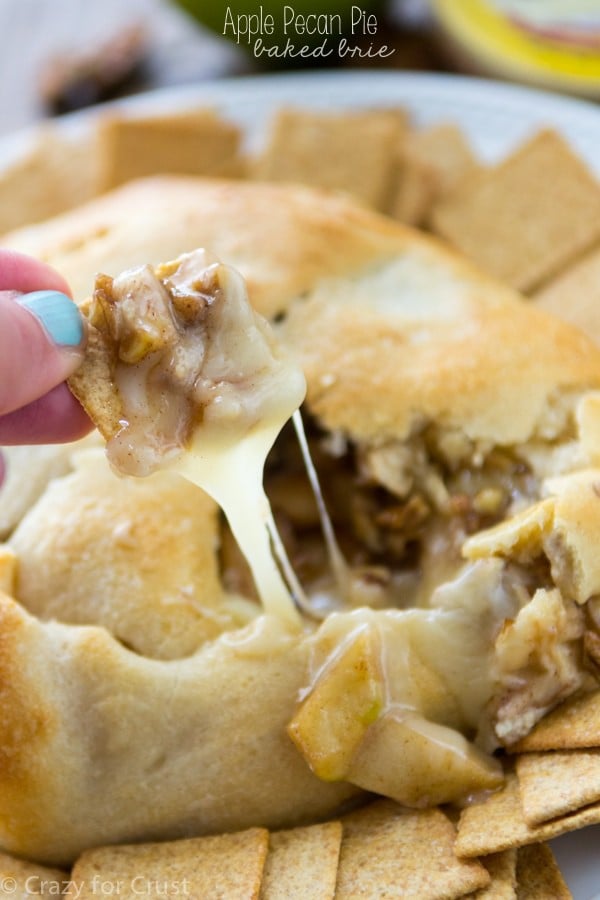 I discovered brie about 13 or 14 years ago, probably at a holiday party. It was baked, it was creamy, and you got to spread it all over slices of baguette. Bread and cheese: is there anything better? From that day forward every single party included a wheel of brie. Sometimes I baked it, sometimes I just put it alongside some gorgonzola and white cheddar. Sometimes I'd buy a slice and eat the whole thing myself.
Then I got pregnant, in the summer, which meant I was knocked up during the holidays. Back then, it was a big NO NO to eat brie while growing a kid.
That was probably the worst holiday season of my life. #notjoking #firstworldproblems
It about killed me not to eat brie (let alone coffee or alcohol) for 9 straight months. I've since made up for my brie-lacking months. It's gotten to the point that I can't even bring it into my house or I'll eat it all.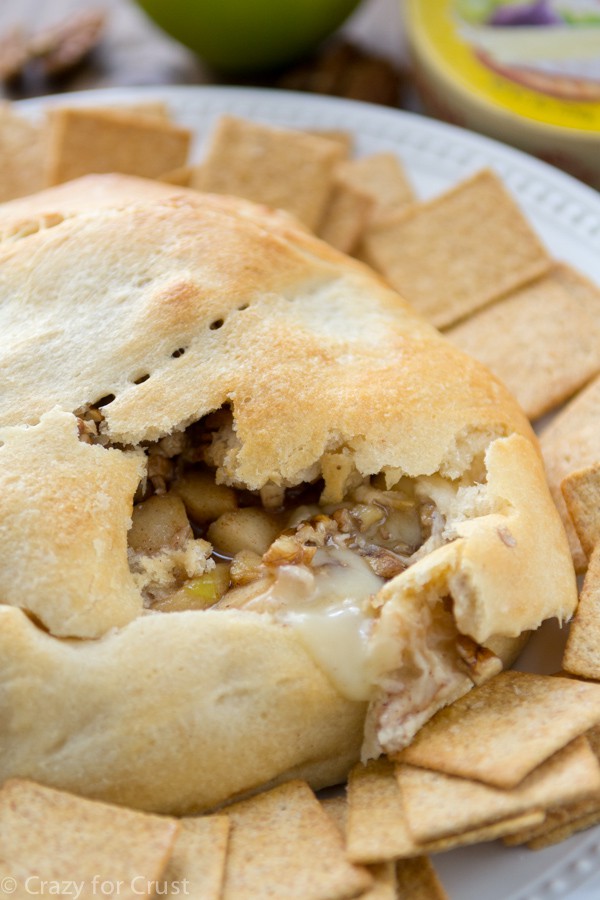 A few weeks ago I was craving a baked brie. The oozy gooey sweet cheesy treat was just calling my name. Luckily, we had company over that day, so I made this Apple Pecan Pie Baked Brie. Because if there had been no company? I'd be about 5 pounds heavier.
This is not a traditional dessert recipe, but it fits quite nicely here on this blog. First, it's got a combination apple and pecan pie on top. That's dessert.
Second, it's kind of got a crust (see the crescent roll wrapper?)
Third, some countries serve cheese for dessert. I mean, that's just weird to me – if I see a cheese plate after my main course it better be followed by some chocolate fudge brownies or I'm gonna blow a gasket. But still, somewhere in the world this would be dessert.
Have I justified this enough for you? Yes? Good.
Apple Pecan Pie Baked Brie is your new favorite holiday appetizer. It's easy and so cheesy and everyone LOVES it!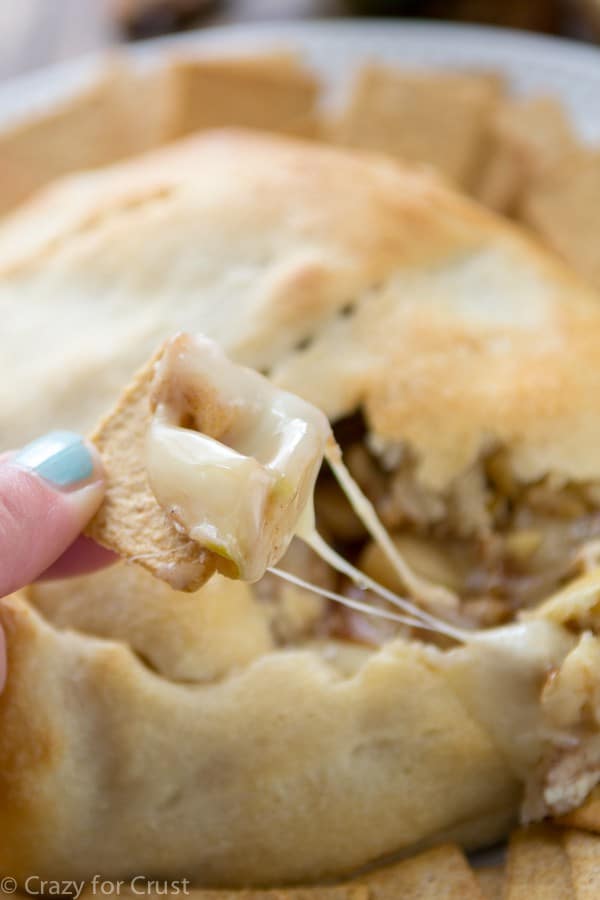 This is such super simple party recipe, and in theory it feeds a lot of people.
Let's break it down this Apple Pecan Pie Baked Brie:
First, you cook up some apples. I used a Granny Smith, but you should use your favorite apple. Soften the diced apple in a frying pan with butter, some sugar, and cinnamon. (You're getting excited, right?)
Then comes the pecan pie. Pecans, brown sugar, and heavy whipping cream mix up to taste like the filling of a pecan pie. (Drooling yet?)
I like to scrape the white off my wheel of brie with a butter knife. Then the apples and the pecans get stacked on top of the cheese, and you wrap it up like a present in Crescent Roll dough. (Um, that's the best present everrrrr.)
I often pick up my wheel of brie just at the regular grocery store but if you happen by a Costco or Sam's Club they're usually bigger and cheaper there.
Once it's baked the cheese gets gooey and mixes with the brown sugar and pecans and apples and….
This happens:

Before we go, I'm going to let you know another important point: this Apple Pecan Pie Baked Brie is a Mel approved recipe. I know, right? But, there you go. #MelAteIt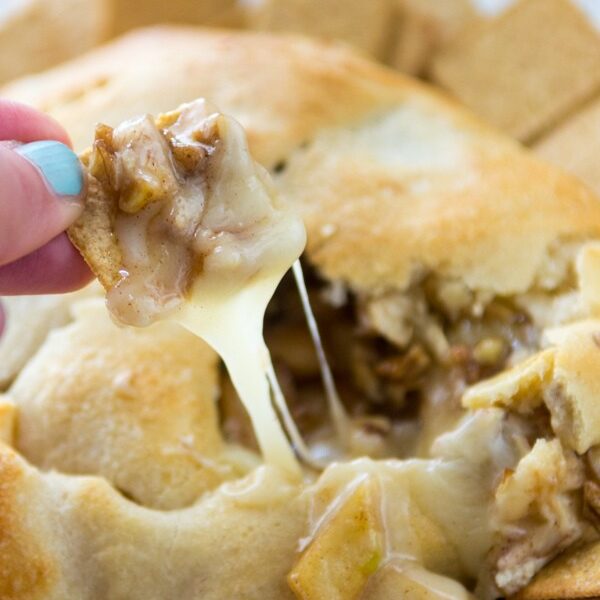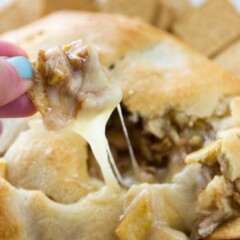 Apple Pecan Pie Brie
The flavors of apple and pecan pie all in baked brie! Apples, pecans, brown sugar, and brie are all wrapped in crescent roll dough and baked for a gooey, cheesy, sweet appetizer or dessert!
Ingredients
1

medium granny smith or fuji/gala apple

1

tablespoon

unsalted butter

1

tablespoon

+ 1/4 cup brown sugar

divided

1/2

teaspoon

cinnamon

1

cup

chopped pecans

1

tablespoon

heavy whipping cream

1/2

teaspoon

vanilla

1

8 ounce wheel of Brie with the rind

1

can Crescent Rolls
Instructions
Preheat oven to 375°F. Line a baking sheet with parchment paper or a silpat baking mat.

Peel and core apple, then dice into bite sized pieces. Melt butter in a medium skillet. Add apple pieces, 1 tablespoon brown sugar, and cinnamon. Cook apples over medium-low heat until softened, about 10 minutes. Remove from heat and let sit until you're ready to assemble the brie.

Stir chopped pecans, 1/4 cup brown sugar, heavy whipping cream, and vanilla in a small bowl.

Unwrap brie. Use a butter knife to scrape off as much of the white part into the garbage as you can without cutting the brie.

Unroll Crescent Rolls into a flat sheet. Divide into two squares (4 triangles each) and press all the seams together. Place one rectangle in the middle of your prepared baking sheet. Place the brie wheel in the center of the rectangle.

Now comes the messy part. Carefully put the apples on top of the brie, then stack the pecan mixture on top of that. Some will fall down. Fold up the corners of the bottom sheet of crescent rolls as much as you can. Place the second crescent roll rectangle on top of the pecan mixture and press to seal over the folded up bottom sheet. It will be messy and imperfect, but try to seal the edges as much as possible so the cheese doesn't leak everywhere. (Alternately: you can do this in a round pan that fits the brie wheel. Spray the pan with nonstick cooking spray, line it with one rectangle of crescent rolls, layer the brie, apples, and pecan mixture, then top with second rectangle.)

Poke a few holes with a fork in the top of the crescent rolls for steam to escape, or just make sure some of the seams have holes in them. Bake for 15-20 minutes, or until the crescent rolls are browned. Serve immediately with crackers, fruit, sliced baguette, or a fork.
Recipe Nutrition
Serving:
1
/12th recipe
|
Calories:
239
kcal
|
Carbohydrates:
13
g
|
Protein:
5
g
|
Fat:
19
g
|
Saturated Fat:
8
g
|
Cholesterol:
24
mg
|
Sodium:
402
mg
|
Sugar:
4
g
Nutritional information not guaranteed to be accurate
Also check out these brie recipes I also love: Pecan Praline Baked Brie by Something Swanky, Cranberry Baked Brie by Chef in Training, or Baked Brie with Balsamic Cherries by Averie Cooks.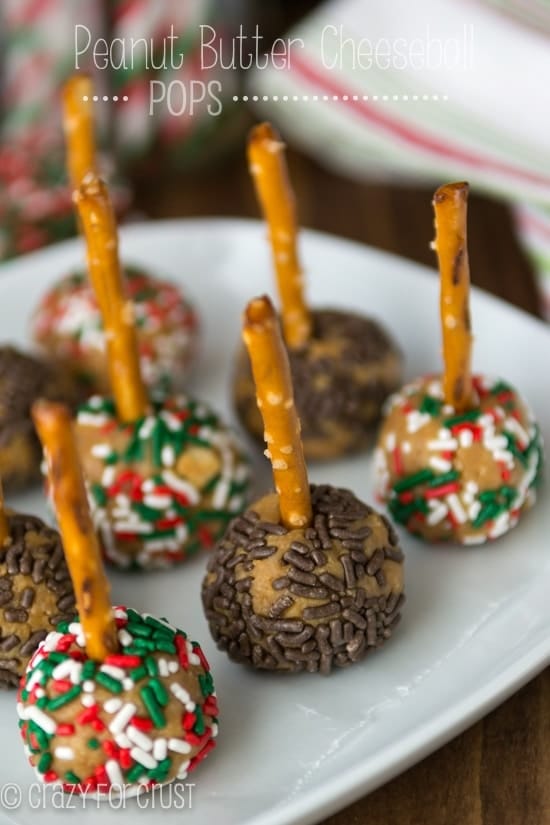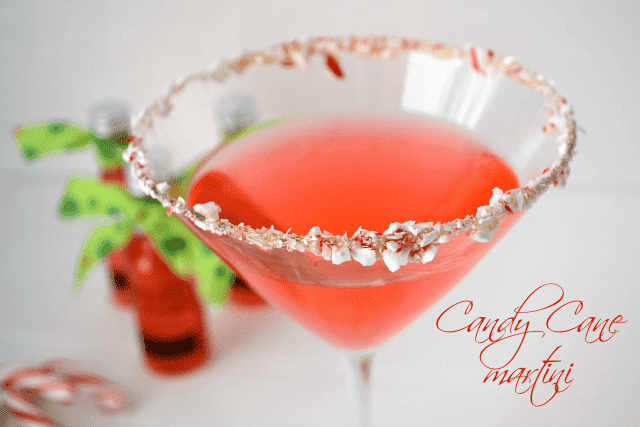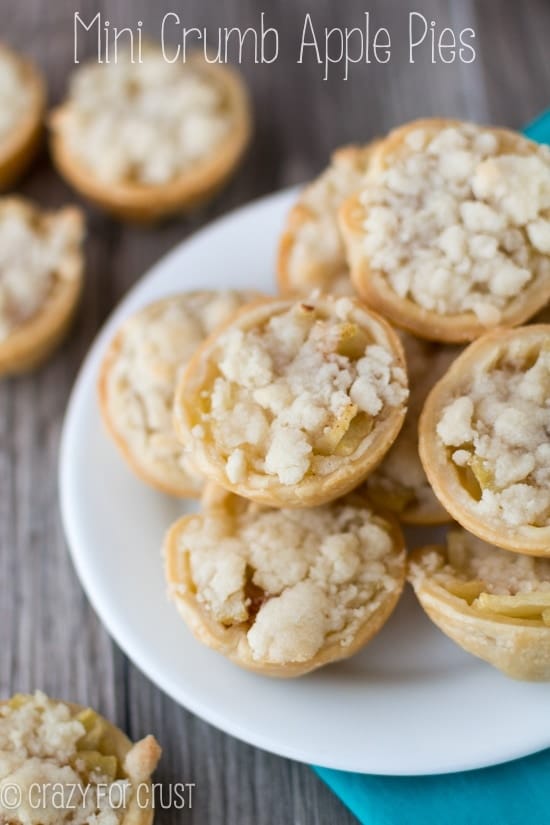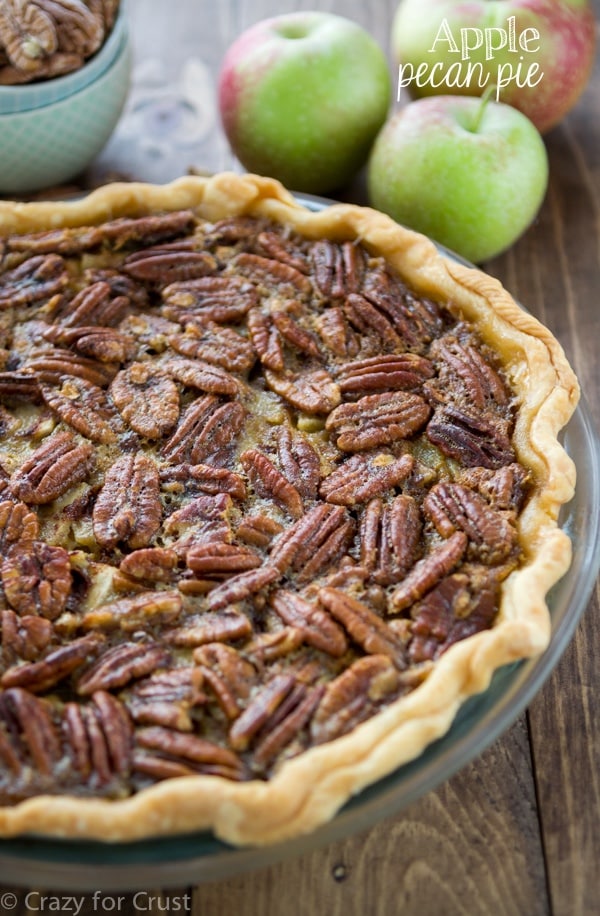 Last Updated on February 26, 2022