This post may contain affiliate links. For more information, read my disclosure policy.
This is the best Butterscotch Pie recipe that is easy to make completely from scratch. It has a creamy butterscotch pudding filling, a delicious graham cracker crust, and a pillowy-soft topping.
PLUS, it's a no-bake pie that you can make ahead for holidays or anytime you want a slice of a creamy, cold pie! This was seriously one of our FAVORITE pies ever.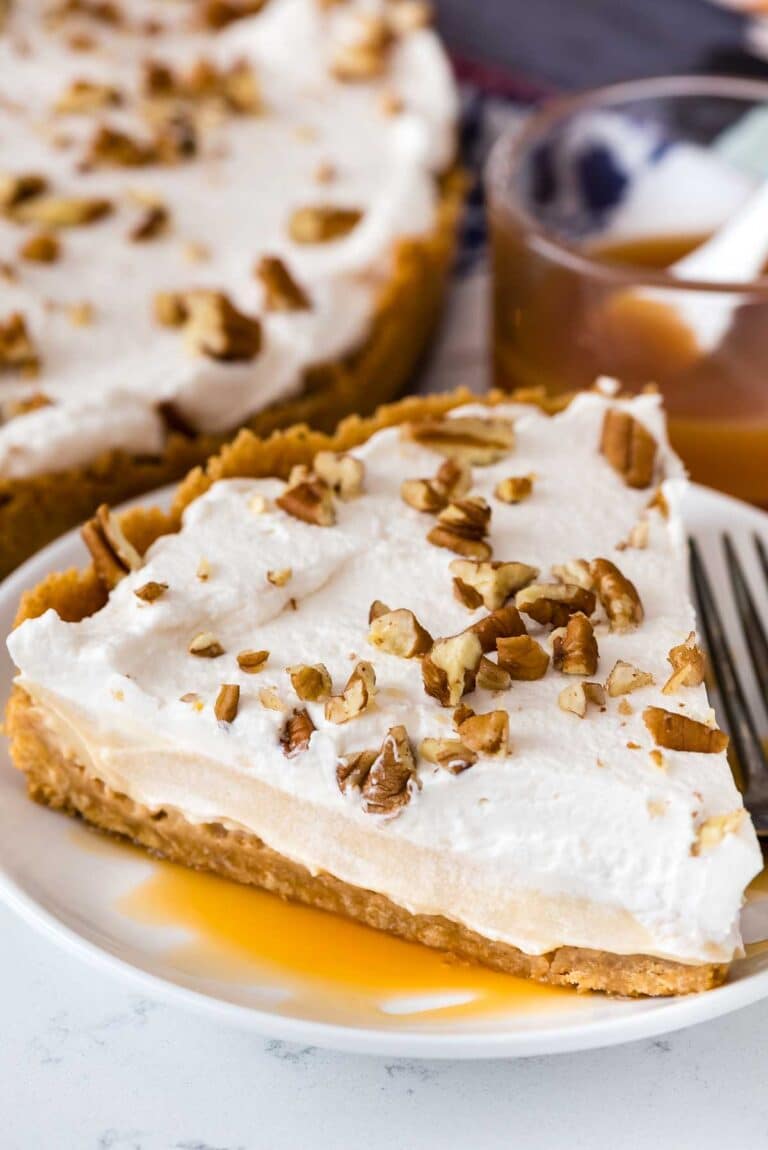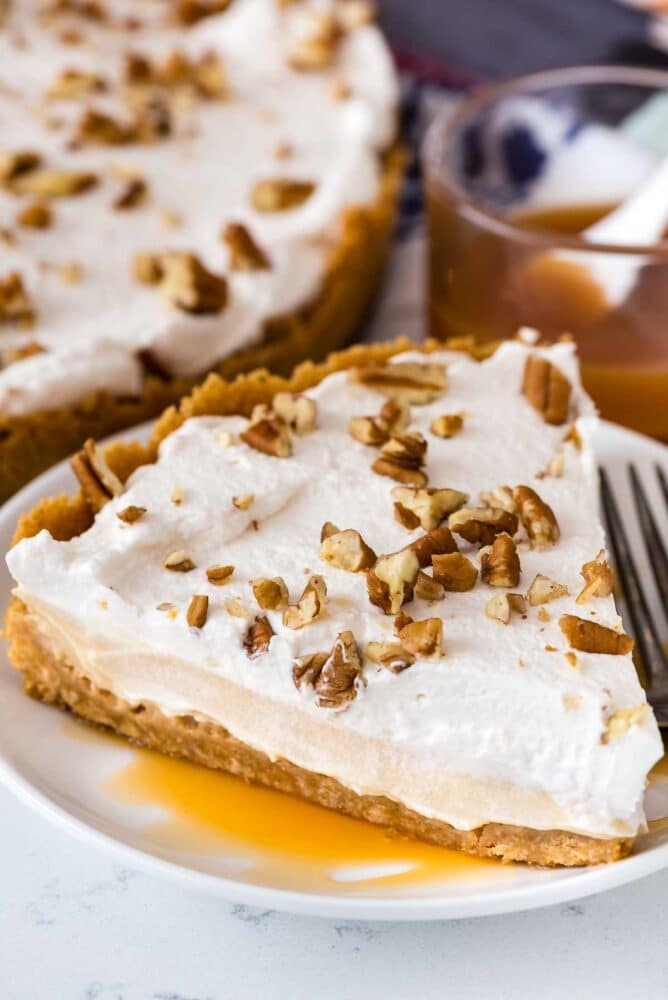 Butterscotch pie is an old-fashioned pie recipe that is irresistible! It takes like a butterscotch candy but served up as a no-bake pie. If you love the rich, caramel flavor of butterscotch you are going to love this easy homemade pie recipe.
What's in a Butterscotch Pie?
It's basically three parts:
This is one of my favorite homemade pies because of the easy crust. Instead of a pastry crust, you make a super simple graham cracker crust that only has two ingredients.
The filling is easy, too, and if you've never made pudding from scratch you are going to love it! It tastes amazing.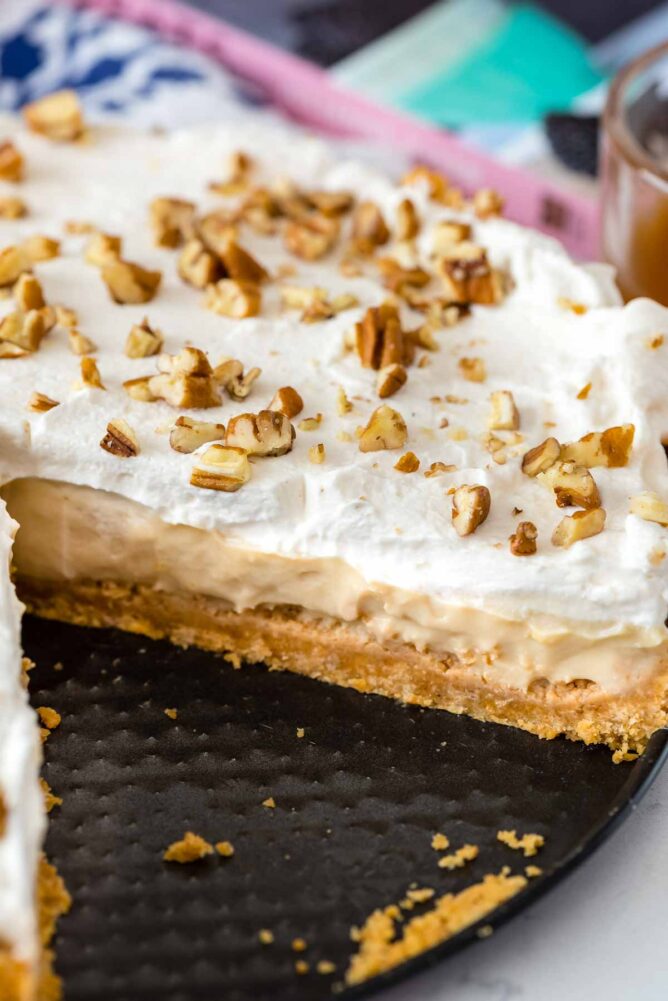 This Pie has an Easy 2-Ingredient Crust
You will want to make the crust first so you can add the filling once it's made.
Graham cracker crumbs
Melted unsalted butter
You can crush the graham crackers yourself using a food processor or pounding them with a rolling pin. Or, take a shortcut and by graham cracker crumbs in the baking aisle!
Combine the crumbs with the melted butter in a bowl until there are no dry crumbs left.
Pour the crumbs into a prepared 9" springform pan and firmly press it in the bottom and up the sides of the pan to create a thick crust.
Why use a 9-inch springform pan? It makes for an easy release – no worries about sticking. If you don't have a springform pan you can use a 10-inch pie plate or deep dish 9-inch pie plate.
How to Make Butterscotch Pie
Homemade pudding pie filling takes a little longer than a mix, but I can promise you it's worth the extra time. It's really easy to do and will make a big difference in your pie. Here's what you need to make it:
Unsalted butter
Large egg yolks
Light brown sugar
Whole milk
Heavy whipping cream
Cornstarch
Vanilla extract
Melt the butter in a saucepan over medium-low heat. Add the egg yolks and whisk until they are well combined with the butter.
Add the brown sugar and whisk until smooth and then add the milk and cream and keep whisking. Add the cornstarch a little bit at a time (about one tablespoon each time) whisking until it's dissolved.
Grab a wooden spoon and stir the filling continuously as it cooks. Once it starts to thicken, cook it for a few minutes longer until it starts to bubble. Remove the pan from the heat and stir in the vanilla.
I like to strain the filling into the crust so it's really smooth, but this is optional. The nice thing about straining it is that it removes any small lumps.
Get a piece of plastic wrap and cover the filling so that the wrap is touching the surface of the pudding. This will prevent a skin from forming on top while it cools. Poke a few small holes in the plastic – this will allow steam to escape as the filling cools.
Cool the filling in the crust for one hour at room temperature. After an hour, store it in the refrigerator for four to six hours or overnight.
How to Make the Topping
Once the pie is chilled and set up, you can make the topping. For this recipe, I usually make a simple whipped cream topping but you can also make a meringue topping, if you prefer.
For the whipped cream topping you'll need:
Heavy whipping cream
Powdered sugar
Vanilla extract
Crushed pecans
Beat the cream on high speed with the whisk attachment (or beaters if using a handheld mixer) until it's bubbly. Add the sugar and vanilla and continue beating it until it holds stiff peaks. This means the cream holds it shape when you pull the beaters up.
Spread the topping over the top of the pie and sprinkle the chopped pecans over the top. Slice, serve, and enjoy!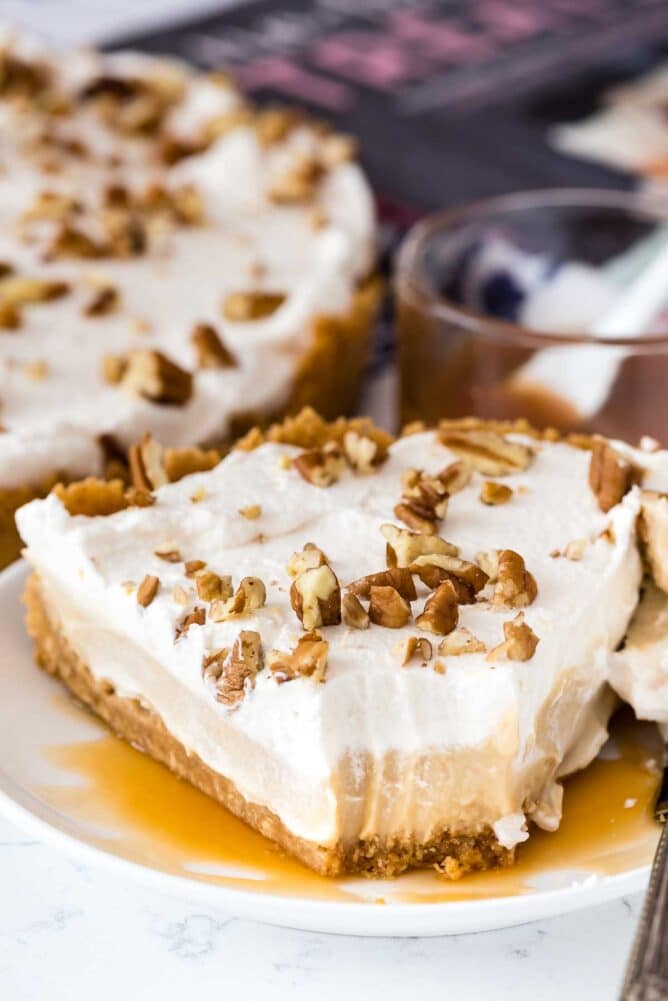 Recipe Tips for the Best Butterscotch Pie
Pan: I prefer to use a 9-inch springform pan for this recipe because it makes it easier to slice the pie. If you don't have one, you can use a 10" pie plate instead.
Crust Tips: If you want lots of tips for making the crust be sure to check out my post all about graham cracker crusts.
Measure ahead: When you make the filling be sure to measure all of your ingredients first so they are ready. Cooking the filling is a fast process and having everything premeasured will make it much easier.
For a Creamy Filling: For the creamiest, smoothest filling strain the filling when you pour it into the crust. You can use a fine-mesh strainer to make this easy.
Whipped Cream Tip: The easiest (and fastest) way to make whipped cream is to use cold cream and chill the bowl and beaters first. When everything is cold it will whip up faster!
Make Ahead: You can make the crust and filling the night before you want to serve it. Just wait to add the topping until the next day.
After one slice of this dreamy butterscotch pudding pie and you will be hooked like I was! You cannot beat that homemade pie filling – it is simply the best butterscotch pudding ever. This is the pie to make when you want to wow your guests, but be warned because they may fight over the last piece!
Other Pudding Pies We Love
Have you made this recipe?
Tag @crazyforcrust on Instagram or hashtag it #crazyforcrust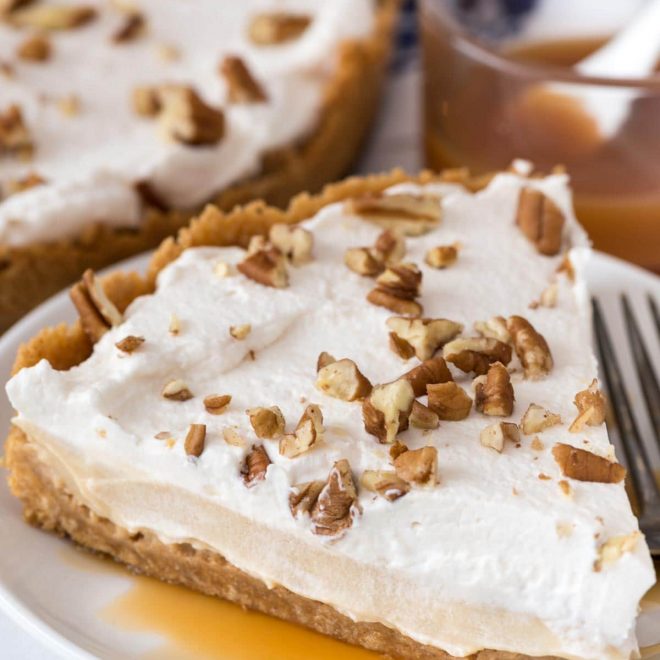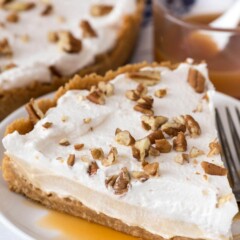 No Bake Butterscotch Pudding Pie
This No-Bake Butterscotch Pudding Pie is completely from scratch with the BEST butterscotch pudding EVER and a graham cracker crust!
Ingredients
For the crust:
2 1/4

cups

graham cracker crumbs

8

tablespoons

unsalted butter

melted
For the pudding:
2

tablespoons

unsalted butter

3

large egg yolks

3/4

cup

packed light brown sugar

1 1/2

cups

whole milk

1/2

cup

heavy whipping cream

3

tablespoons

cornstarch

1

tablespoon

vanilla extract
For the topping:
3/4

cup

heavy whipping cream

1/4

cup

powdered sugar

1

tablespoon

vanilla extract

Pecans

crushed, optional
Instructions
Lightly spray a 9-inch springform pan with nonstick cooking spray. The springform pan helps with ease of cutting, but you can use a 9" pie plate if you prefer.

Stir the graham cracker crumbs with the melted butter until there are no dry crumbs left. Pour the crumbs into your springform pan and press firmly into the bottom and up the sides to create a thick crust.

Measure out all of the pudding ingredients before starting. Pudding cooks fast and you don't want your eggs to scramble! In a medium-sized saucepan, melt the butter over medium-low heat. Once the butter is melted, add the egg yolks, whisking continuously until well combined. Immediately add the brown sugar to the egg mixture and whisk until smooth. Quickly add the milk and heavy whipping cream, continuing to whisk over medium-low heat. Add the cornstarch 1 tablespoon at a time and whisk until dissolved. Switch to a wooden spoon and stir constantly. Once the pudding starts to thicken, continue cooking for another couple of minutes until it is bubbling slightly.

Remove from heat and stir in the vanilla extract. Strain the pudding through a fine sieve into the pie crust. This is optional, but helps strain out any lumps. Immediately cover the top of the pie with plastic wrap (directly on the surface of the pudding) and poke a few holes with a toothpick. Allow it to cool on the counter for at least 1 hour before refrigerating. Refrigerate for 4-6 hours or until the filling is firm before adding the topping. (Overnight is fine.)

Make the topping by beating the heavy whipping cream on high speed with the whisk attachment until it's bubbly, then add the powdered sugar and vanilla and beat until stiff peaks form. It's best to start with a cold bowl and beater for faster whipped cream. Spread the whipped cream over the pie and garnish with chopped pecans.
Recipe Nutrition
Serving:
1
slice
|
Calories:
414
kcal
|
Carbohydrates:
39
g
|
Protein:
4
g
|
Fat:
27
g
|
Saturated Fat:
16
g
|
Cholesterol:
133
mg
|
Sodium:
161
mg
|
Potassium:
132
mg
|
Fiber:
1
g
|
Sugar:
26
g
|
Vitamin A:
924
IU
|
Vitamin C:
1
mg
|
Calcium:
99
mg
|
Iron:
1
mg
Nutritional information not guaranteed to be accurate
Have you guys ever read my friend Julianne's blog, Beyond Frosting? She's one of the sweetest people I've met through blogging. She just wrote her first cookbook and it's out now!
This book is one of my favorite new cookbook additions because it's a topic I love dearly (and so do all of you): No Bake Desserts. The book is full of completely no-bake cheesecakes, pies, mousse, parfaits, bars and lots of other goodies that will keep your kitchen cool all year long. No Bake Treats: Incredible Unbaked Cheesecakes, Icebox Cakes, Pies and More by Julianne Bayer is one of those books you MUST get yourself before the holidays. And then buy it for everyone on your Christmas list!
One of the recipes in the book is this No Bake Butterscotch Pie. It's got a graham cracker crust, a thick layer of homemade butterscotch pudding, and a nice fluffy layer of homemade whipped cream. If you don't think you like butterscotch pudding from a box, give this pie a try. The pudding is probably the best thing in the entire world (and I do NOT like boxed butterscotch pudding!)
You must, MUST get Julianne's book. I know that it will be one of the gifts I give this year for sure, and I'm going to be non-baking out of mine for a very long time!
See more of my ultimate pie recipes here!
Check out the The Complete List of No Bake Pies!
This easy old fashioned Butterscotch Pie from scratch is a no bake pie with butterscotch pudding and a cookie crust! This is the BEST butterscotch pie recipe – homemade and easy!
Last Updated on February 2, 2023