You guys. Seriously. This No Bake Butterscotch Pudding Pie is one of the BEST PIES I'VE EVER EATEN.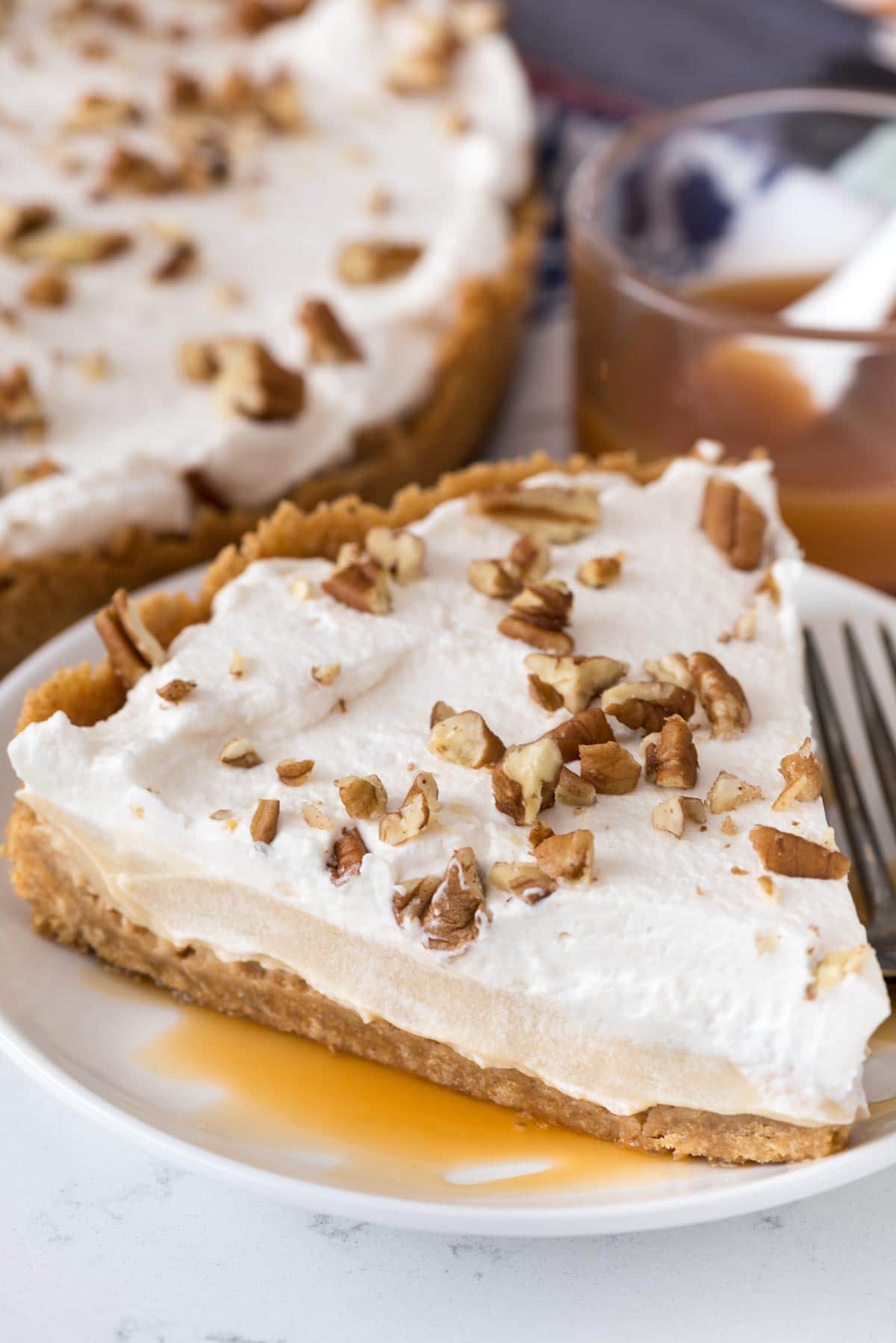 The other day Jordan was asking for a cookie after lunch (it's like a default response when she stops chewing at any meal) and I told her no, because she'd already had a Frappuchino and because she was going to a sleepover that evening. Then she dropped a huge bomb on me:
"Mom, we never have dessert at any friend's houses. We're the only place that gets dessert after dinner. At so-and-so's house last week we had cantaloupe for 'dessert' and I'm sorry, but that is not 'dessert'." (She even used air quotes!)
It turns out that my house is the sugar house. Is anyone surprised? Also, #MomFail.
At the time we had this conversation I was taking photos of this Butterscotch Pie. I decided to spread the love (and be the dessert fairy) so I boxed up most of it and sent it with her to the sleepover. Not 5 minutes after I dropped her I got a text message that read: OMG THIS IS THE BEST PIE EVER.
And it is one of the best pies ever. I'm really angry too, angry I didn't come up with it myself.
Have you guys ever read my friend Julianne's blog, Beyond Frosting? I've known her for a few years now and she's one of the sweetest people I've met through blogging. She just wrote her first cookbook and it's out today! (If you frequent QVC at all you might recognize it – it sold out in just a few minutes!)
This book is one of my favorite new cookbook additions because it's a topic I love dearly (and so do all of you): No Bake Desserts. The book is full of completely no-bake cheesecakes, pies, mousse, parfaits, bars and lots of other goodies that will keep your kitchen cool all year long. No Bake Treats: Incredible Unbaked Cheesecakes, Icebox Cakes, Pies and More by Julianne Bayer is one of those books you MUST get yourself before the holidays. And then buy it for everyone on your Christmas list!
One of the recipes in the book is this No Bake Butterscotch Pie. It's got a graham cracker crust, a thick layer of homemade butterscotch pudding, and a nice fluffy layer of homemade whipped cream. If you don't think you like butterscotch pudding from a box, give this pie a try. The pudding is probably the best thing in the entire world (and I do NOT like boxed butterscotch pudding!)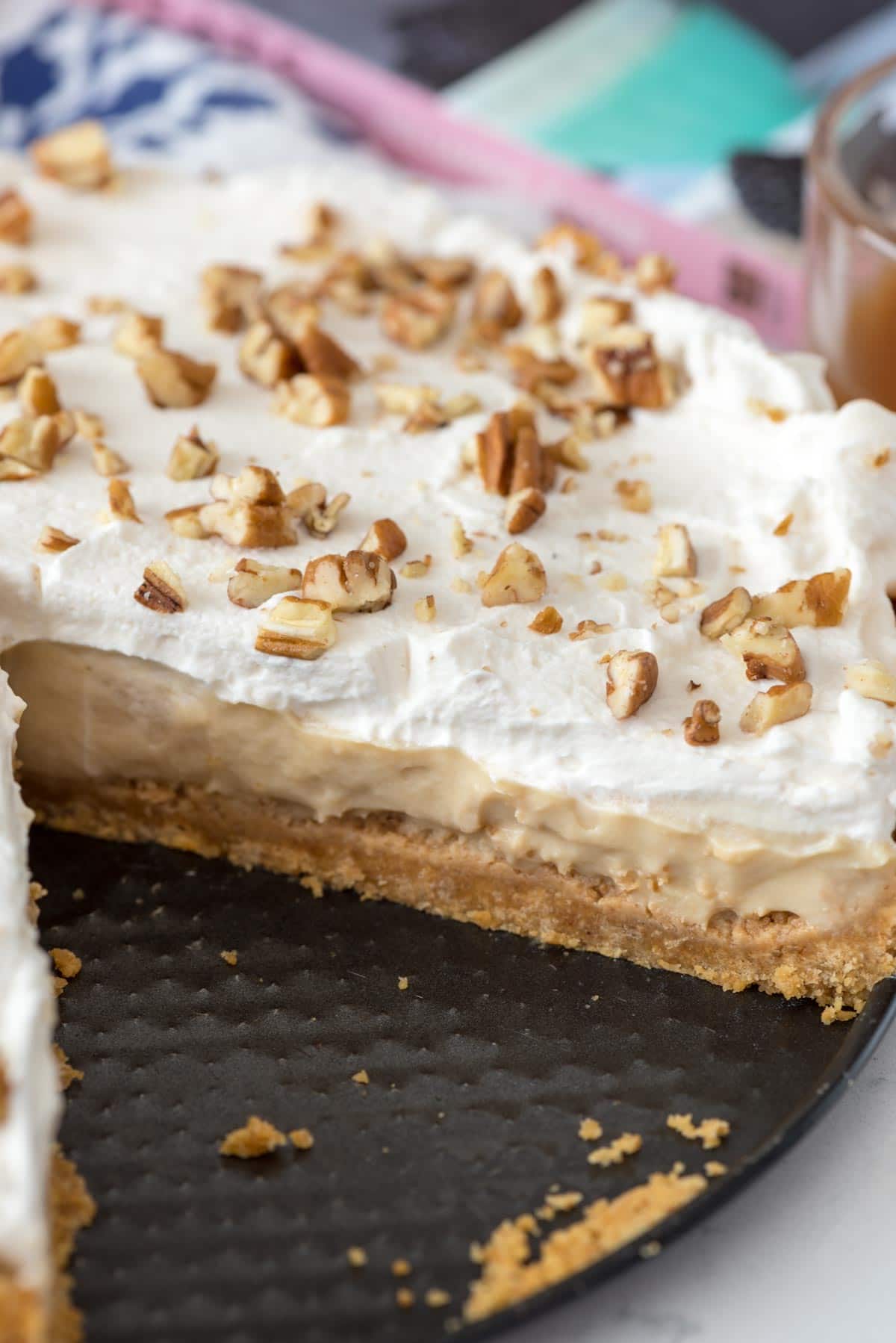 I learned a few neat tricks when I made this pie. First, whenever I think of "pie" I think about using a pie plate. But Julianne's recipe called for using a 9″ springform pan which made removing the pie and slicing/serving it a total breeze. I didn't have a ruined first slice and everything just sliced and came apart easily. If you don't have a springform pan you can use a regular pie plate but oh my gosh, I'm so using my springform pan more often.
The other neat tip I learned was about how to prevent a skin from forming on the freshly cooked pudding. If you've ever made homemade pudding, you know what I'm talking about right? **shudder**
Anyway, what you do is pour the pudding into the crust and then immediately top it with plastic wrap, touching the top of the pudding and you poke holes in the plastic wrap using a toothpick. It's genius because there is no sweating as the pie cools and no skin forms!
I love how I learn new things from my blogging friends. Also, I love how they write recipes as good as this one is!
The butterscotch pudding is easy to make. If you haven't made from scratch pudding, don't worry. It's really easy and it's so much better than boxed. Butterscotch pudding is made by using brown sugar and melted butter instead of granulated…and it's now my favorite pudding in the whole wide world!

You must, MUST get Julianne's book. I know that it will be one of the gifts I give this year for sure, and I'm going to be non-baking out of mine for a very long time!
No Bake Butterscotch Pudding Pie
This No-Bake Butterscotch Pudding Pie is completely from scratch with the BEST butterscotch pudding EVER and a graham cracker crust!
Ingredients
For the crust:
2 1/4

cups

graham cracker crumbs

8

tablespoons

unsalted butter

melted
For the pudding:
2

tablespoons

unsalted butter

3

large egg yolks

3/4

cup

packed light brown sugar

1 1/2

cups

whole milk

1/2

cup

heavy whipping cream

3

tablespoons

cornstarch

1

tablespoon

vanilla extract
For the topping:
3/4

cup

heavy whipping cream

1/4

cup

powdered sugar

1

tablespoon

vanilla extract

Pecans

crushed, optional
Instructions
Lightly spray a 9-inch springform pan with nonstick cooking spray. The springform pan helps with ease of cutting, but you can use a 9" pie plate if you prefer.

Stir the graham cracker crumbs with the melted butter until there are no dry crumbs left. Pour the crumbs into your springform pan and press firmly into the bottom and up the sides to create a thick crust.

Measure out all of the pudding ingredients before starting. Pudding cooks fast and you don't want your eggs to scramble! In a medium-sized saucepan, melt the butter over medium-low heat. Once the butter is melted, add the egg yolks, whisking continuously until well combined. Immediately add the brown sugar to the egg mixture and whisk until smooth. Quickly add the milk and heavy whipping cream, continuing to whisk over medium-low heat. Add the cornstarch 1 tablespoon at a time and whisk until dissolved. Switch to a wooden spoon and stir constantly. Once the pudding starts to thicken, continue cooking for another couple of minutes until it is bubbling slightly.

Remove from heat and stir in the vanilla extract. Strain the pudding through a fine sieve into the pie crust. This is optional, but helps strain out any lumps. Immediately cover the top of the pie with plastic wrap (directly on the surface of the pudding) and poke a few holes with a toothpick. Allow it to cool on the counter for at least 1 hour before refrigerating. Refrigerate for 4-6 hours or until the filling is firm before adding the topping. (Overnight is fine.)

Make the topping by beating the heavy whipping cream on high speed with the whisk attachment until it's bubbly, then add the powdered sugar and vanilla and beat until stiff peaks form. It's best to start with a cold bowl and beater for faster whipped cream. Spread the whipped cream over the pie and garnish with chopped pecans.
See more of my ultimate pie recipes here!
Check out the The Complete List of No Bake Pies!
No Bake Chocolate Chip Cookie Pudding Pie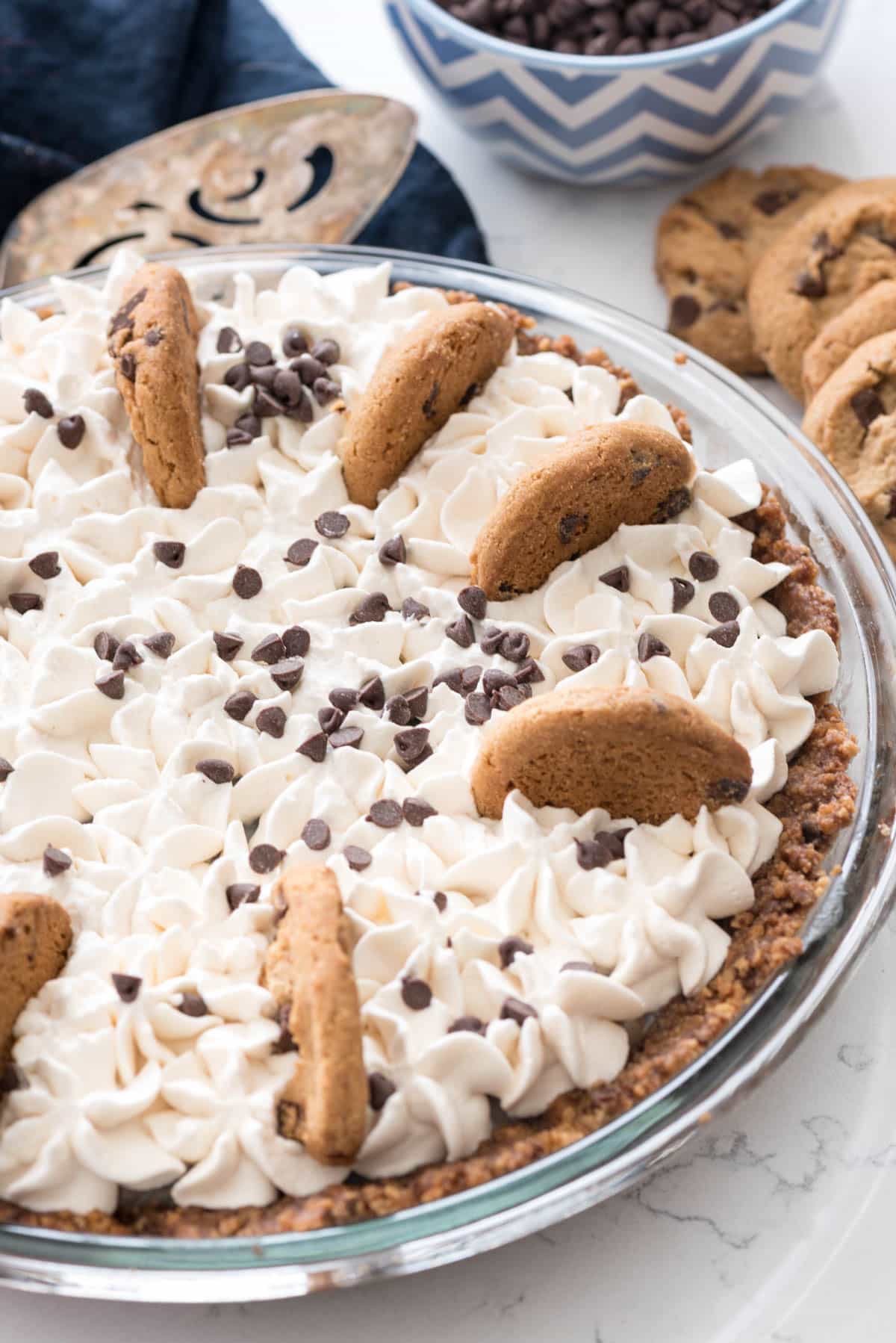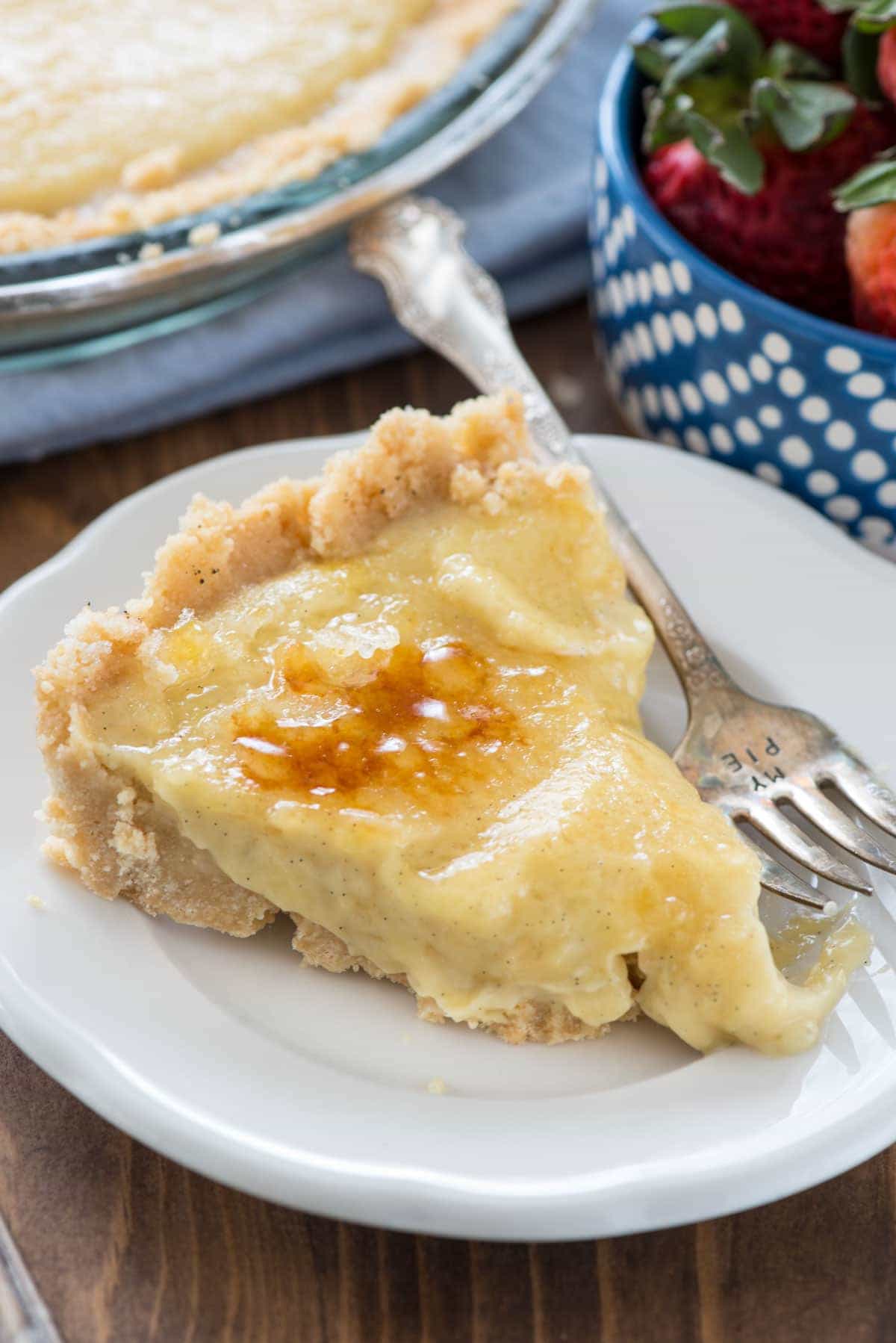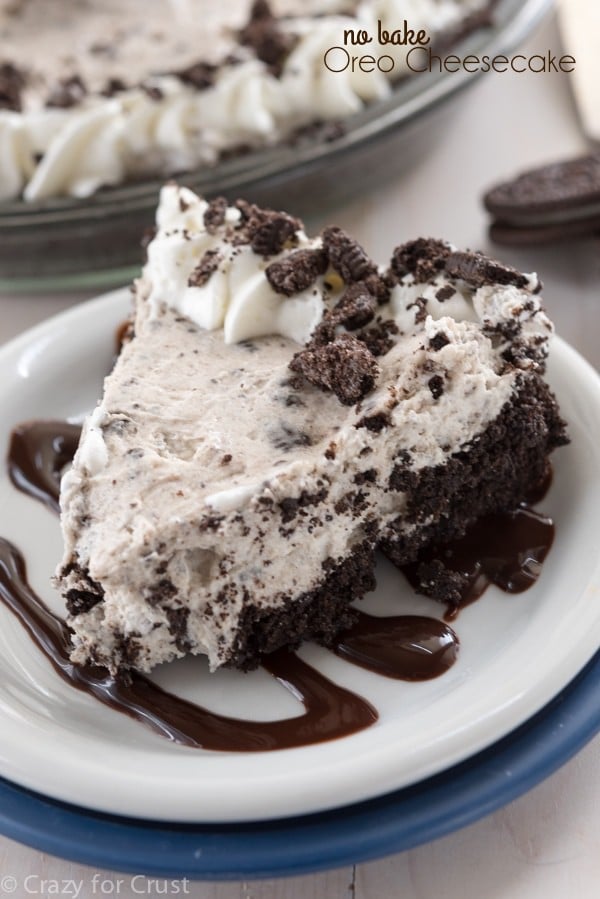 All text and images © DOROTHY KERN for Crazy for Crust. Please do not use my images without prior permission. If you want to republish this recipe, please re-write the recipe in your own words, or link back to this post for the recipe. Disclaimer: Nutrition information shown is not guaranteed to be accurate.
This post may contain affiliate links. For more information, read my disclosure policy.
Published on: July 19, 2016