This post may contain affiliate links. For more information, read my disclosure policy.
I could live on all things carbolicious, and that includes all forms of bread. When I can add chocolate? Priceless. If you're like me, you need these Buttermilk Biscuits and Chocolate Honey Butter – seriously the BEST I've ever had!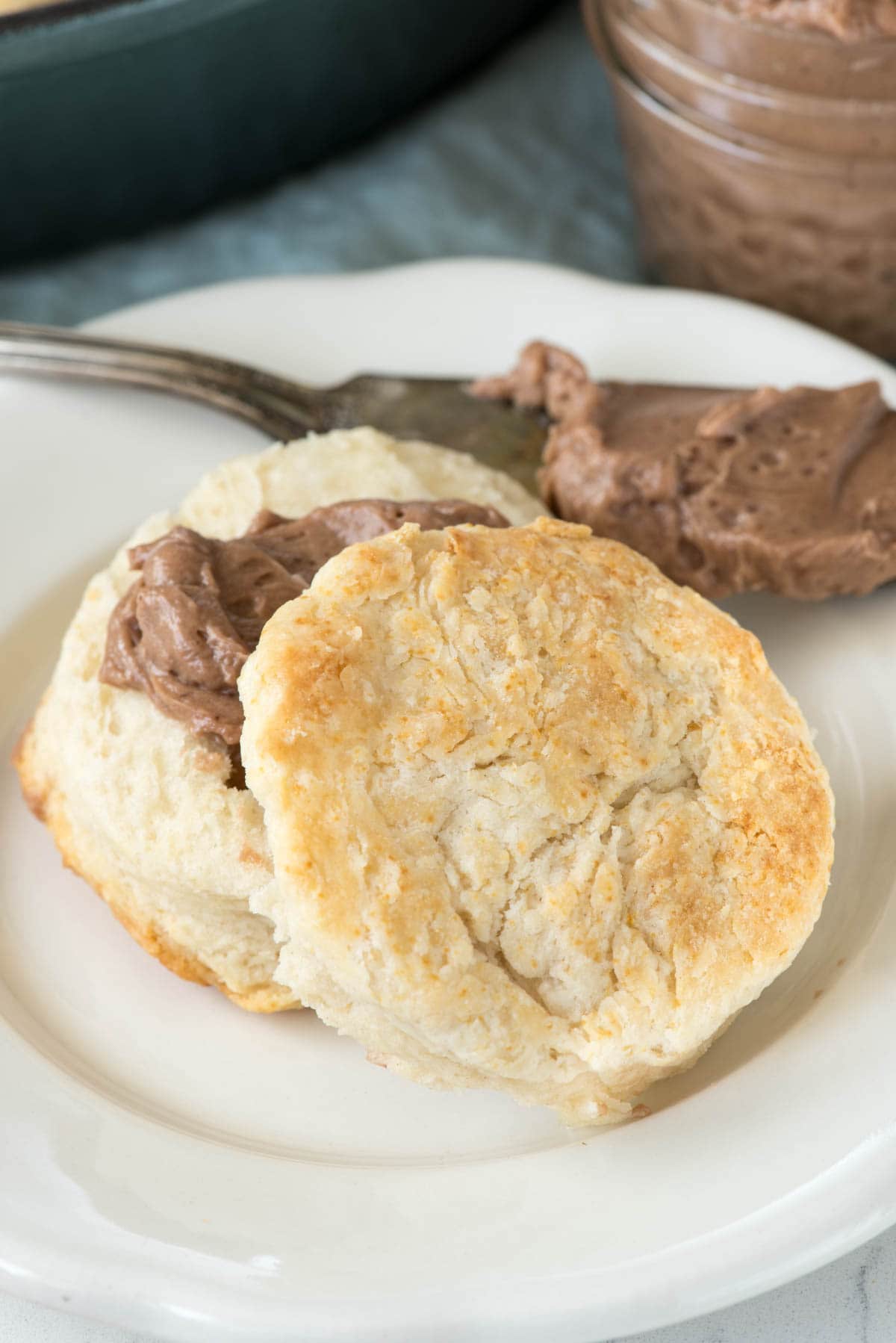 Do you ever think you were born in the wrong place or time? I often think that about myself. Growing up, I was obsessed with Laura Ingalls Wilder and Little House on the Prairie. I longed to wear Calico and a bonnet and cook biscuits in a cast iron skillet and marry a man named Almanzo who would sweep me off my feet while I was a school teacher.
And then I realized that (1) there is no indoor plumbing on the prairie and (2) there was no electricity in the 1800s and (3) there were no cell phones, data plans, or wifi. Also, I hate camping…so I think I loved the idea of the prairie (and the fashion) more than anything else.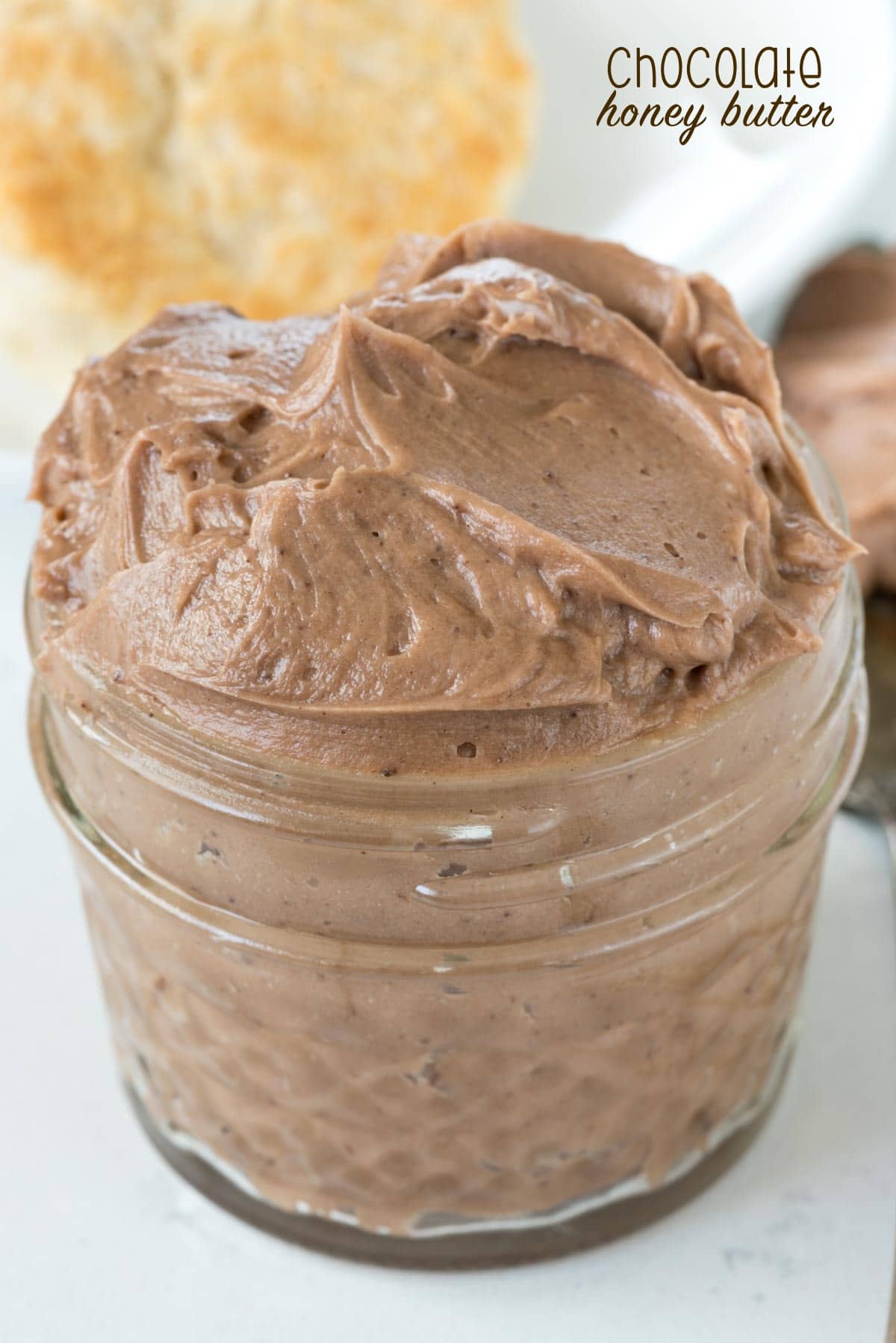 So maybe I'm not a 1880s kind of gal, but sometimes I think that I should have been born in the south. I mean, every time I find a great recipe, it's always a southern one. Red Velvet Cake, Pecan Pie, Biscuits, Apple Salad…those eats all came from the great south, right? And any place that deep fries EVERYTHING is a place worth living.
But then, when I watch Island Hunters and they're shooting off the Gulf Coast or the coast of South Carolina, I realize that not all oceans are created equal…and I'm a true California girl at heart. And not just any old California girl at that, I'm a Northern California girl (if you live in CA, you'll know what I mean).
Maybe I wasn't meant to live in the south or back in time…but I can sure bake that way. Especially when it comes to Southern Buttermilk Biscuits and Chocolate Honey Butter.
You guys, these biscuits. If you've lived on baking mix biscuits your entire life you NEED this recipe ASAP. NOTHING compares to homemade soft and fluffy buttermilk biscuits. NOTHING.
Especially when you top it with my special secret Chocolate Honey Butter. (Although, since I'm giving you the recipe, it ain't so secret anymore!)

This Classic Buttermilk Biscuit recipe comes from my sweet friend Melissa's new book: Melissa's Southern Cookbook. Melissa writes the blog Melissa's Southern Style Kitchen. If you follow me on Facebook, you've seen me sharing her mouthwatering dishes, and her book is just full of even more.
I read a lot of cookbooks and rarely do I get one were I want to make every single recipe. This is one of the good ones! She's got a little bit of everything in the book for every meal, including southern pies and cakes and every single appetizer you'll ever want. Not only that, but these biscuits are straight from that book and they're TO DIE FOR.
The biscuits only call for three ingredients: self-rising flour, butter, and buttermilk. Now, if you're like me and don't always have self-rising flour or buttermilk in your pantry, don't worry. I've given substitutions in my recipe (and I used them when making these, so I know they work).
You can make your own self-rising flour, which is pretty awesome. Of course, using the real thing is best, but in a pinch the following math works: 1 cup all purpose flour + 1 1/2 teaspoons baking powder + 1/4 teaspoon salt = 1 cup self-rising flour.
If you don't have buttermilk, you can add 1 tablespoon of white vinegar or lemon juice to a scant 1 cup of whole milk and let it sit 5 minutes.
Melissa's biscuit recipe calls for making them in a cast iron pan, which is totally fun and made me think of Laura Ingalls Wilder, but you can also just make them on a cookie sheet if you don't have a cast iron. (Although, I just got mine and totally love it!)
Biscuits are good at ANY meal…for breakfast or dessert. And anytime I can add chocolate to either one, I'm a happy girl. So I wanted to share my recipe for Chocolate Honey Butter with you because butter isn't butter without honey and chocolate.

If you've never doctored up your butter before, well, you must start. I just whipped some salted butter with honey, powdered sugar, and cocoa and the result is so good. It's perfect for pancakes or toast…or fresh from the oven warm buttermilk biscuits!
Enjoy!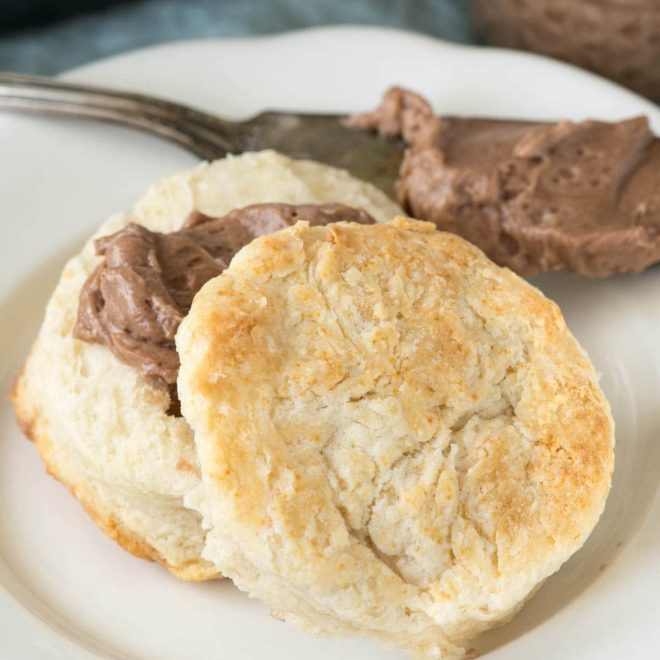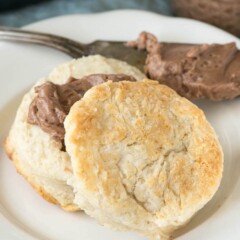 Chocolate Honey Butter with the BEST Buttermilk Biscuits
This Chocolate Honey Butter recipe goes great with the BEST Buttermilk Biscuits you'll ever taste! This is the perfect breakfast recipe!
Ingredients
For the Biscuits:
3

cups

self-rising flour

see note

1/2

cup

cold salted butter

cubed, plus 2 tablespoons for brushing

1

cup

whole buttermilk

see note
For the Chocolate Honey Butter:
1/2

cup

salted butter

room temperature

1/2

cup

powdered sugar

1/4

cup

honey

1

tablespoon

unsweetened cocoa powder
Instructions
Biscuits:
Preheat the oven to 425°F. Butter the bottom and sides of a 10-inch cast-iron skillet. (You can also bake these on a buttered cookie sheet.)

Place the flour and cubed butter in a medium-sized mixing bowl. Use a pastry blender or two knives, cut the butter into the flour until the mixture resembles coarse crumbs.

Make a well in the center and add the buttermilk, stirring with a fork to work the flour into the buttermilk just until moistened.

Turn out the dough onto a floured surface and gently turn it two or three times until the dough comes together and is no longer sticky. Don't over flour!

Roll or pat out to roughly 3/4" thickness. Use a 2 1/2" biscuit cutter or drinking glass to cut into rounds. Place in skillet.

Brush the tops with the melted butter. Bake for 17-20 minutes until they are puffy and golden. If desired, turn the oven to BROIL and broil for another 2-3 minutes until the tops are golden. (My oven browned the tops so I did not need to do that step.)

Store biscuits in an airtight container for 2 days or freeze for up to one month. Serve warm with Chocolate Honey Butter.
Chocolate Honey Butter:
Beat butter until creamy, about 30-60 seconds with a hand mixer. Slowly mix in powdered sugar, honey, and cocoa until combined. Serve room temperature so it's spreadable, store in refrigerator.
Nutritional information not guaranteed to be accurate
Small Batch Dinner Rolls with Maple Butter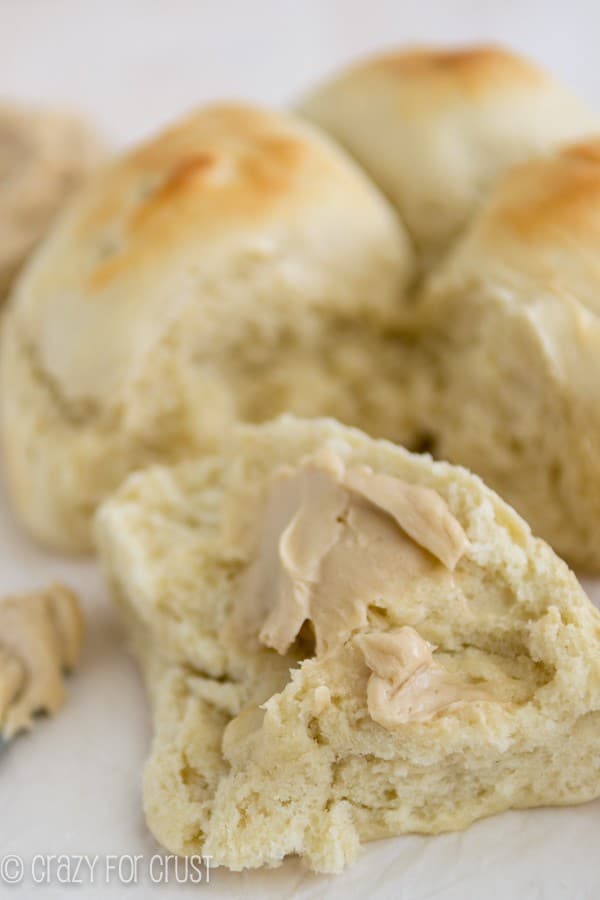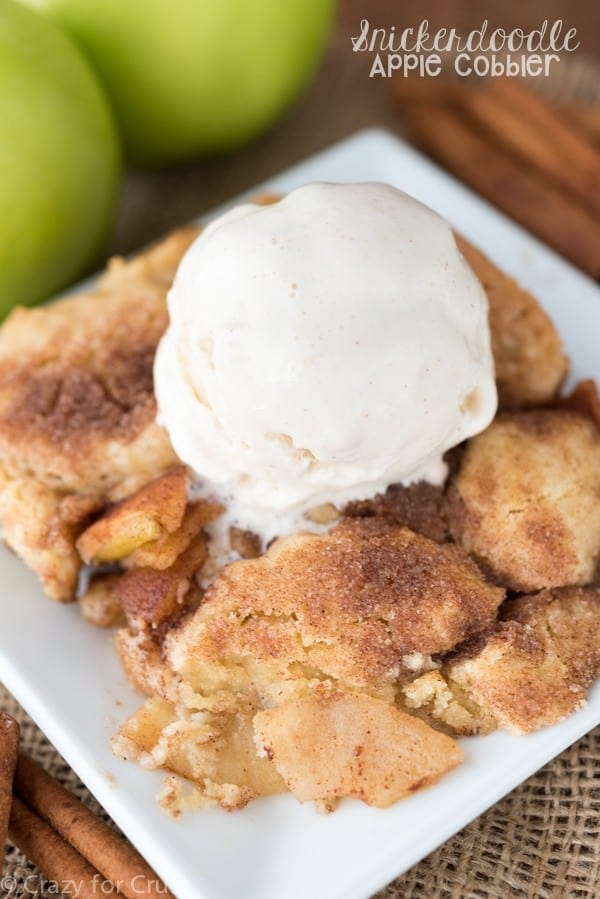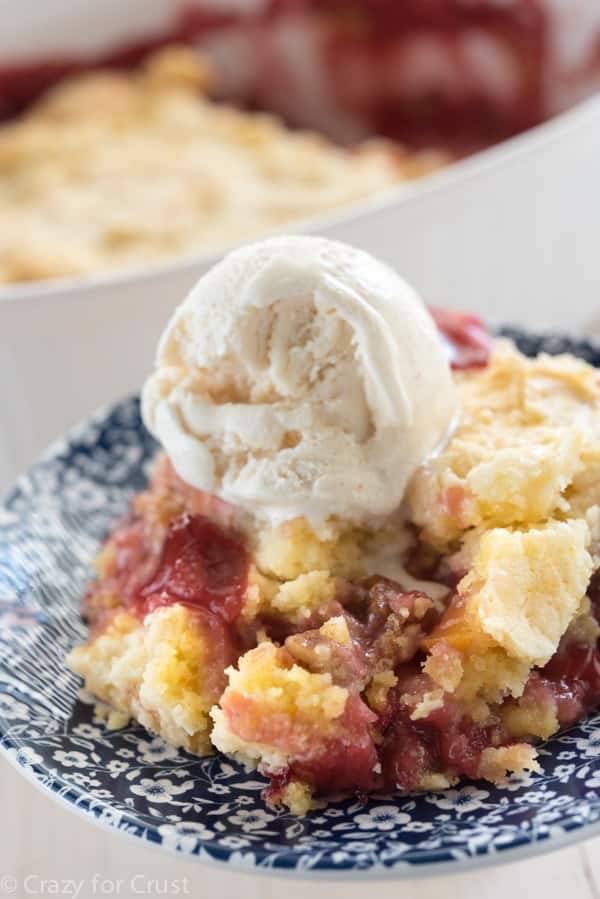 Last Updated on February 26, 2022