Mini Crumb Apple Pies
This post may contain affiliate links. For more information, read my disclosure policy.
Apple pie in a bite! These Mini Crumb Apple Pies are perfect for your any dessert table!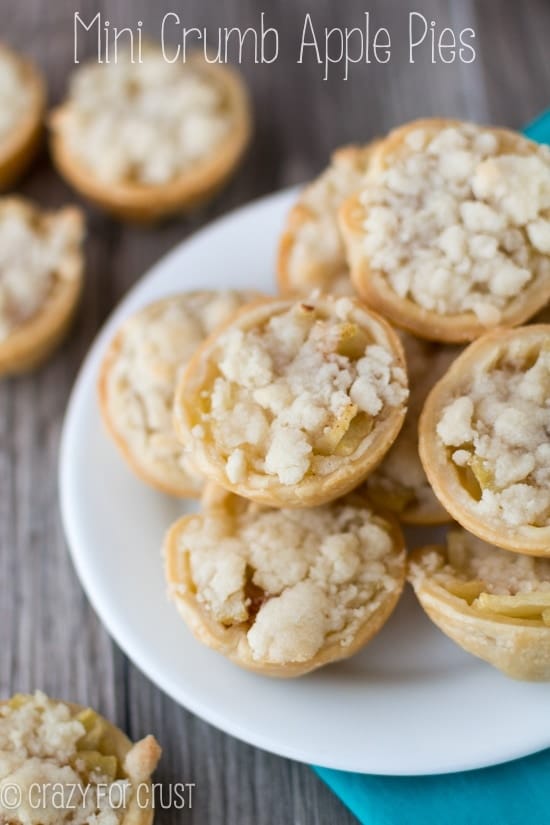 There is one recipe that I've made more times than I can count. Well, two. But the second one is savory, and none of y'all want to see that.
Crumb Apple Pie. It's my thing. My specialty. The pie that everyone expects at holidays. I've even made it twice here on the blog…but I'm only linking to one. And even that one…jeesh. I thought that photo was the bees knees. #photographyfail
I can't even remember when I started making that pie. College maybe? Anyway, I was never satisfied with any of the apple pies I'd ever eaten and I set out to make my own.
And it's Legen – wait for it…. – dary.
A legendary apple pie. One that is so super awesome (and cute!) as a teeny tiny mini pie.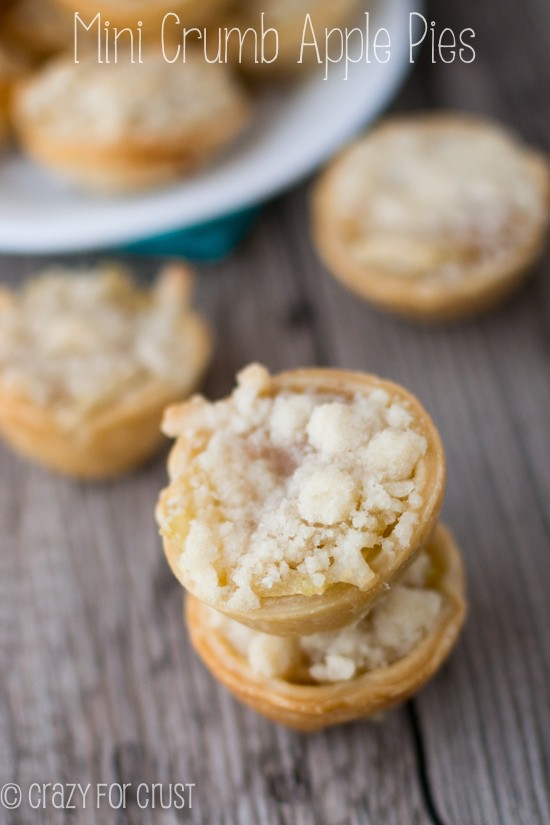 Thanksgiving is all about eating. Really, so is all of December. Throughout the next 6 weeks or so we're going to eat a little of this and a little of that…a little bit of everything. My solution to the "which dessert should I eat" problem is to eat both. And you can – if at least one of them is mini.
These mini crumb apple pies are the perfect fit for any holiday table. Or heck, a random Wednesday in March. You'll love them, I promise!
The secret to my apple pie is to pre-cook the apples. I hate rubbery chewy apples that bounce back at your teeth. I boil my apples in a little water before adding them to the pie crust. They continue baking in the oven and turn out delightful and not rubbery one little bit.
And well, if we're making the best pie ever…it has to have a crumble topping. Mel and I always joke this pie would be even better if we left out the apples – crust and crumble only. I could live on that combo.
My crust in these photos is a refrigerated one. It was easier for me the day I've made them. A pack of two makes 36 mini pies. You can use a homemade pie dough if you'd like, but note that I've never made the minis with that recipe. It should work, but I haven't done it. You would need a double recipe though; that one only makes one crust.
These pies freeze well, which makes them perfect for the holidays. Freeze them in single layers, between paper towels. Let them defrost at room temperature and the paper towels will absorb the moisture. They'll be as good as fresh. Great for a last minute gathering or cookie tray, or because you're making 27 side dishes for Thanksgiving and you want your pies done early.
If you serve mini pies…they'll get eaten. Everyone should serve mini food. It's just cuter.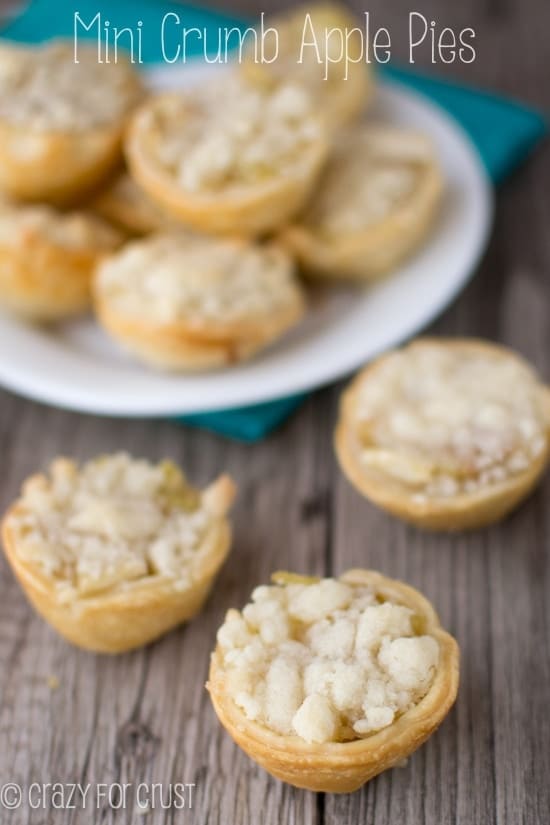 And I don't know why, but it tastes better too! 🙂
Servings: 36 pies
Mini Crumb Apple Pies
Ingredients
For the pie:
2 pie crusts — from a refrigerated pack of 2
5 medium Granny Smith Apples
1/4 cup sugar
1/2 teaspoon cinnamon
For the crumb
1/2 cup sugar
1 cup flour
8 tablespoons butter — slightly softened
Instructions
Preheat oven to 400F. Spray 3 mini muffin tins (36 total cavities) with cooking spray, preferably the kind with flour.

Otherwise, grease them with butter or shortening.

Unroll your pie crusts and use a 2.5" circle cutter to cut rounds of crust. A cookie cutter is perfect, but a glass or a jar lid will work too. Press one crust into the bottom of each muffin tin cavity. With re-rolling your dough, you will get 36. Chill until filling is ready.

Peel and slice apples to a small dice. Place one inch of water in the bottom of a pot. Add apples and cook, stirring occasionally, approximately 3-5 minutes after water boils. You want the apples semi-opaque but not mushy.

Stir 1/4 cup sugar and cinnamon in a small bowl. Set aside.

While apples are cooking, add the crumb ingredients to a large bowl. Using a fork or pastry cutter, cut the ingredients together until they form coarse crumbs, about the size of a pea.

Drain apples and divide among crusts, about 1 tablespoon each. Sprinkle 1/4 teaspoon of the cinnamon sugar mixture over the apples. Add your crumb mixture evenly on top of each, about 1 tablespoon per mini pie. Place muffin tins on a cookie sheet to avoid mess in the oven.

Bake for about 12 minutes, until the edges of the crust are browned. Cool at least 10 minutes in pan and remove carefully using a knife to help you lift out each pie.
Spiced Caramel Apple Cake Roll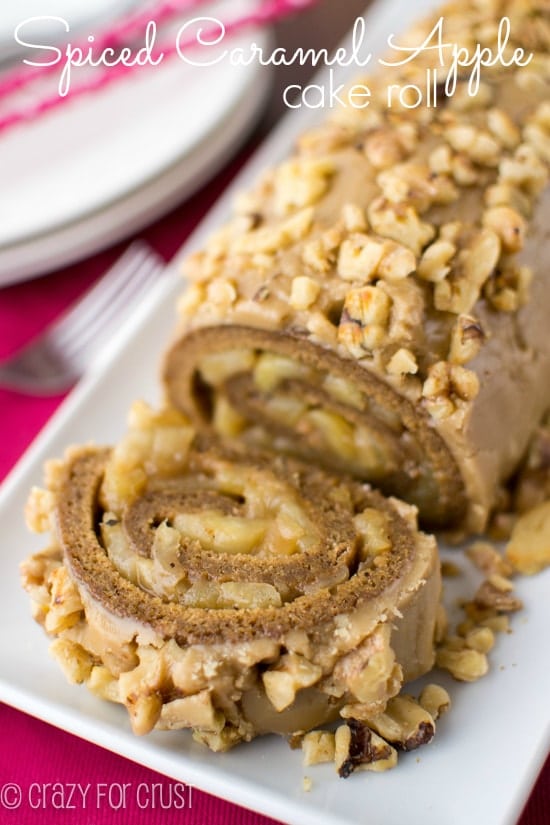 Apple Toffee Cheesecake Pudding Cookies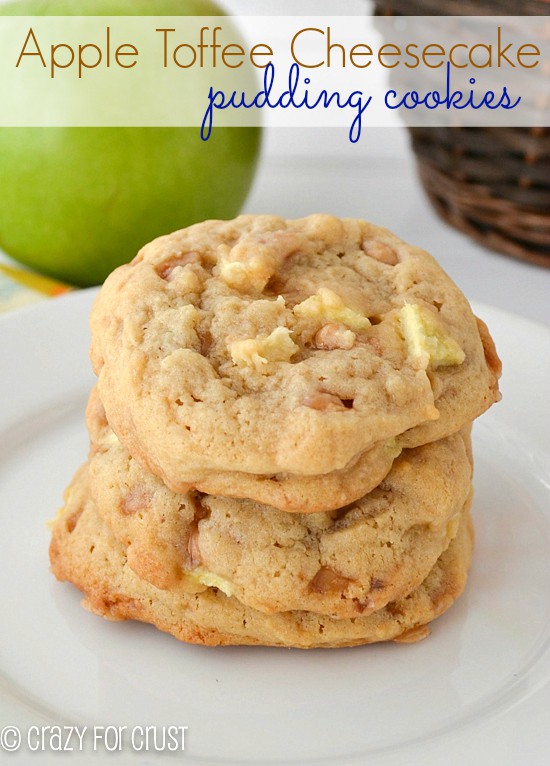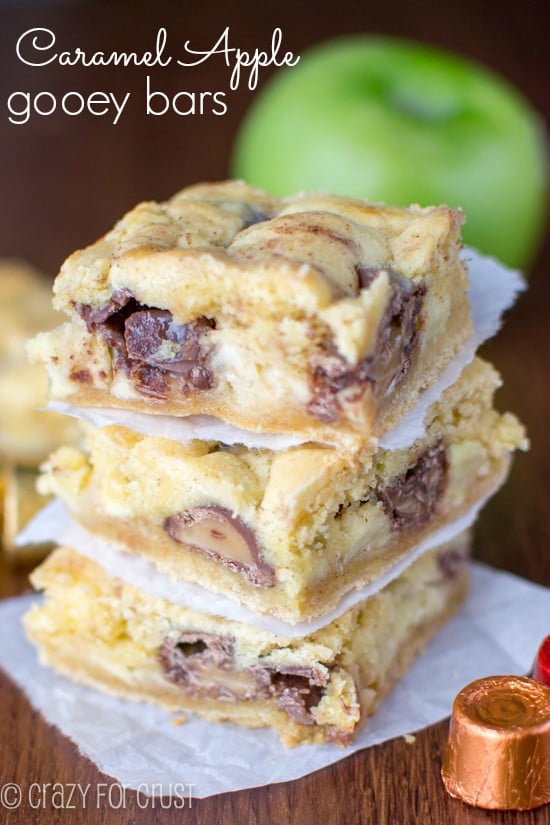 Sweets from friends:
Apple Biscoff Crumble Pizza by Inside BruCrew Life
Caramel Apple Crumble Pie by Averie Cooks
Baked Brie Apple Pie by Something Swanky