This post may contain affiliate links. For more information, read my disclosure policy.
With only 5 ingredients these Kit Kat Muddy Buddies are an easy sweet Chex Mix everyone is addicted to. This is one of our favorite puppy chow flavors – without peanut butter!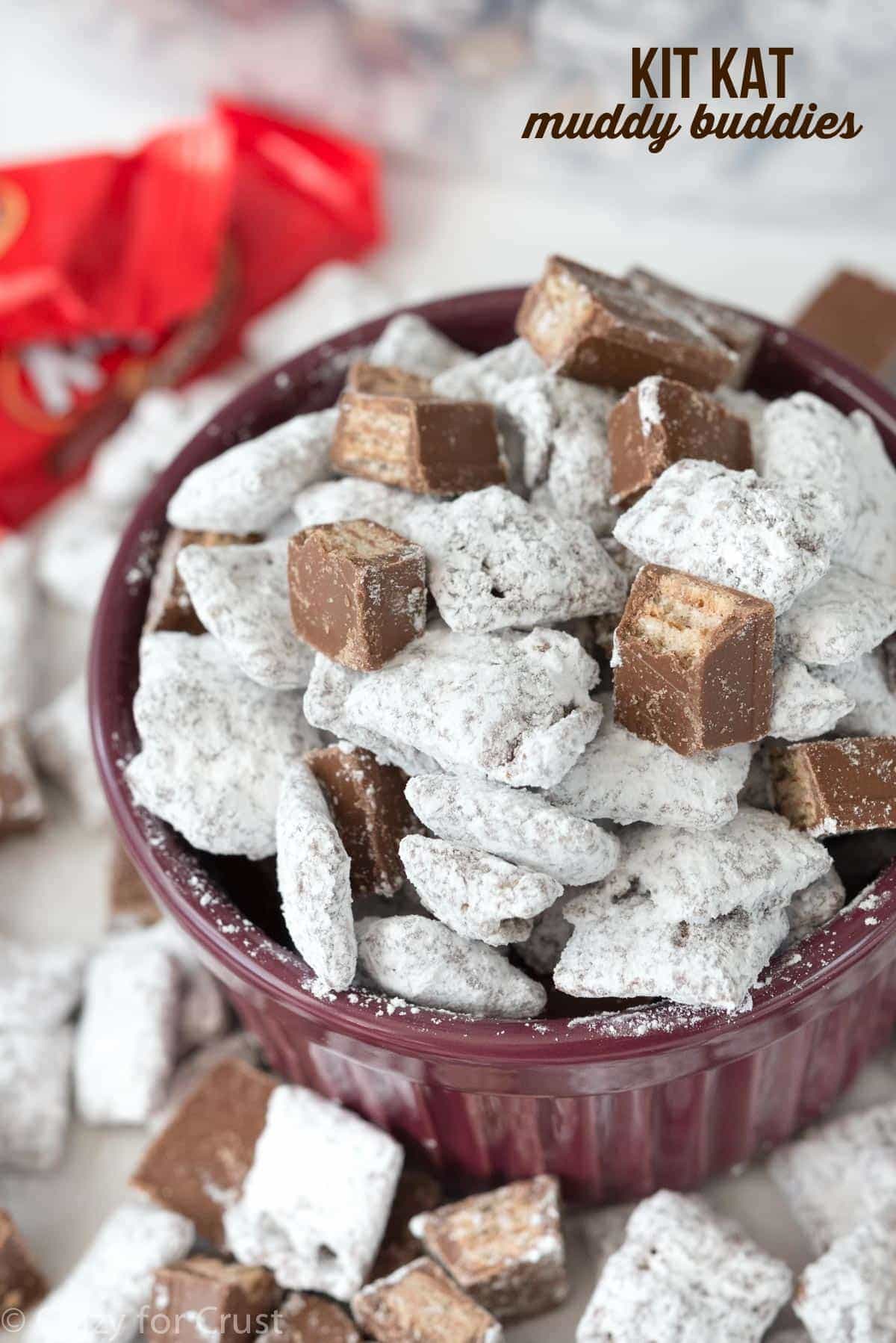 Muddy Buddies without Peanut Butter
Walmart grocery pickup has saved my pocketbook, does anyone agree? I haven't actually been in a Walmart for ages…until last week when I spent over 2 hours actively shopping. I (stupidly) thought to myself I'll just run and get a few things, no need to do a grocery order. Going to Walmart (or Target or Costco) is like a kid in a candy store for me: first I get the groceries, then I get all the things.
I came home with all the ingredients to make this Kit Kat Muddy Buddy mix…as well as a new top, some new dishes, a pair of flip flops and a purse. I just can't help myself…tell me I'm not alone?
Muddy Buddies are a weakness for me: I cannot stop eating them once I start. I actually only make them when I'm having a party or have gifts to ship, otherwise it's too dangerous to have in the house, especially when they're full of Kit Kats!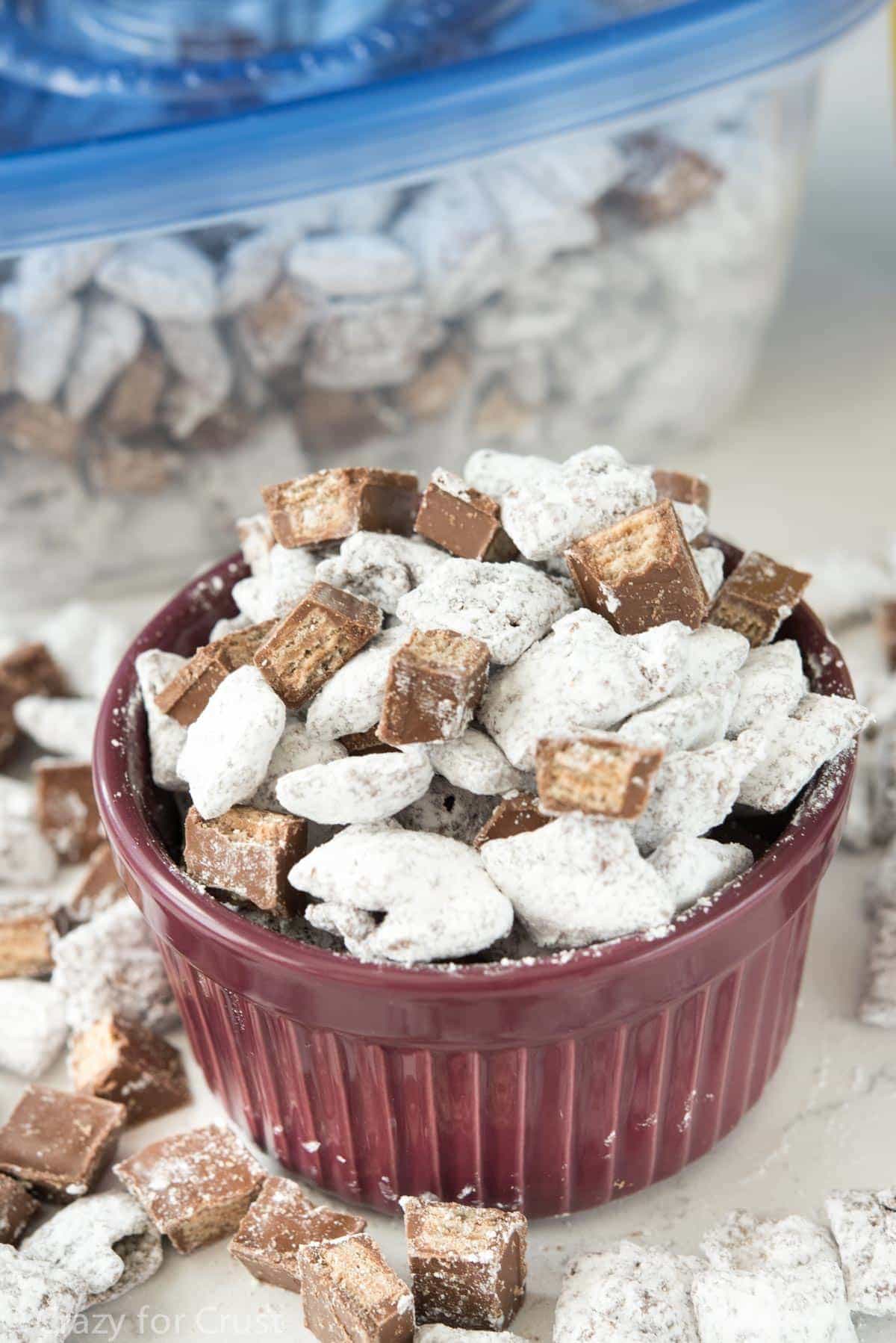 What are Muddy Buddies?
I've been making muddy buddies for years, originally with the recipe on the box. I love the original Chex Muddy Buddy recipe with chocolate and peanut butter. They're an easy snack to make and addicting to eat. They only have a few ingredients and are so easy the kids can help you make them.
The original recipe calls for chocolate and peanut butter as well as any flavor Chex Mix. I love using Rice Chex, because they're my favorite, but you can use any flavor you want.
5 Ingredient Muddy Buddies with Kit Kats
It can totally be done! All you have to do is add a little oil when you're melting the chocolate and it'll be soft enough not to make the Chex cereal hard when the chocolate hardens. Sometimes I want a peanut-free snack and these Kit Kat Muddy Buddies are the perfect muddy buddies flavor.
I decided to make these because I found Kit Kat Snack Size Bars on sale. You all know how much Jordan loves her Kit Kats, right? A few bags went into my cart because I knew, at some point, I'd find something to make with them. Kit Kat Muddy Buddies were just an obvious choice.
Have you ever heard of Muddy Buddies being called Puppy Chow? They're also called Puppy Chow because it kind of resembles dog food! I think that the term "puppy chow" is a midwestern tradition, whereas we on the west coast call them Muddy Buddies or Chocolate Chex Mix.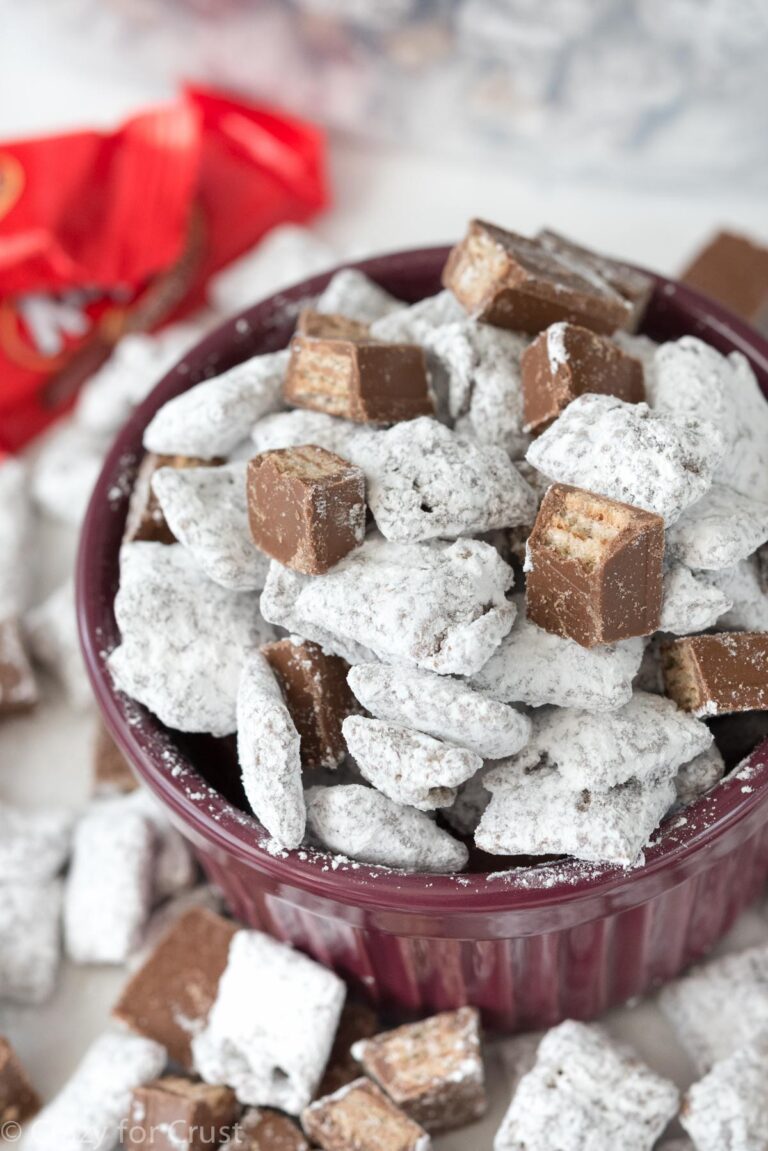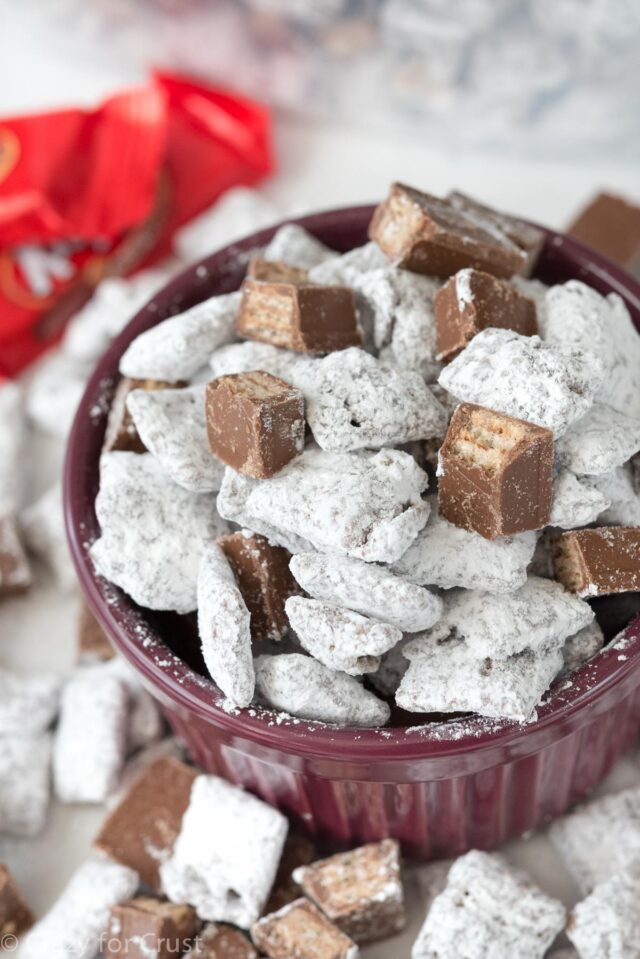 Kit Kat Muddy Buddies are perfect for shipping or parties!
My favorite way to send muddy buddies, or any baked good, is in plastic storage containers like those disposable Glad containers. I can never have too many of these containers in my kitchen. In fact, they're all I buy. My storage drawer is filled to the brim with them! They're reusable but they're cheap enough (especially at Walmart) that if they disappear I can buy more easily. I love making Kit Kat Muddy Buddies to ship for the holidays because they don't break like cookies might. The storage containers won't break in transit either so you won't have a mess at the other end.
Plus, you can use the container to shake the powdered sugar coating all over too!
There are double the Kit Kats in this recipe: melted into the chocolate coating and chopped up in the mix. I ate way, way too much of these. #yogapantsforever
A few notes about this Kit Kat Muddy Buddies recipe:
It's totally nut-free (unlike regular muddy buddies), which makes it a great party treat or gift for those with allergies.
I used Rice Chex, but you can use any Chex cereal you like.
The cereal is coated with melted chocolate chips. You'll notice it also calls for a little bit of vegetable oil. I add that in so that the chocolate will melt easier and smoother. Sometimes, especially in winter, I have extra trouble melting chocolate chips without them seizing. Adding some oil (vegetable, canola, or even shortening) makes it melt much easier.
I highly recommend shaking the coated cereal in the powdered sugar in two batches, otherwise it won't get fully coated.
As with my snowball cookies, I always do a double shake to get the extra powdered sugar look you see in the photos. This makes them much prettier, but messier to eat, so do whatever you prefer!
WARNING: get Kit Kat Muddy Buddies out of your house ASAP after you make them, or you risk eating the entire batch without even realizing it. I totally wish I was kidding! 🙂
Muddy Buddies recipe variations
You can also use Kit Kats to make Kit Kat Fudge or Kit Kat Cookies!
Want even more? Subscribe to Crazy for Crust to get new recipes and a newsletter delivered to your inbox. And stay in touch on Facebook, Pinterest, Twitter, and Instagram for all my latest updates. If you make this recipe, share a photo on social media tagging @crazyforcrust and using the hashtag #crazyforcrust.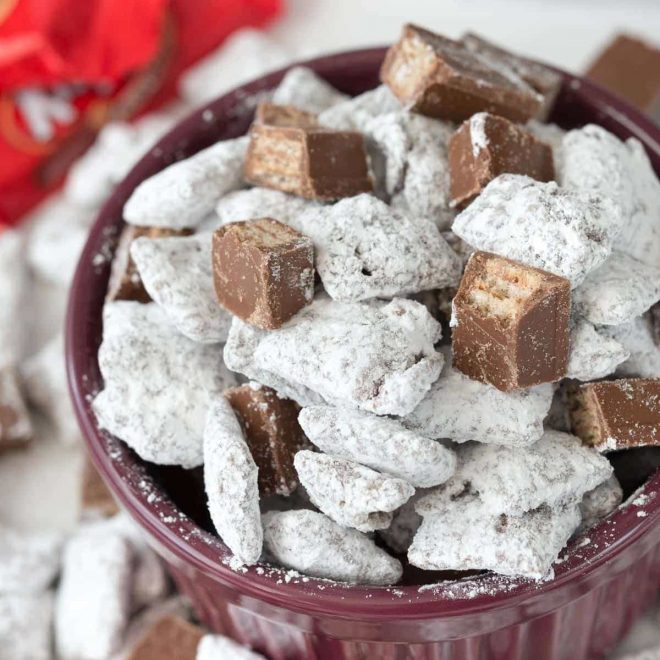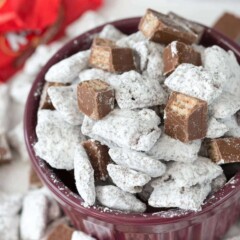 Kit Kat Muddy Buddies
This Kit Kat Muddy Buddies recipe is so easy to make and totally foolproof! Plus, it makes a great party snack or homemade holiday gift!
Ingredients
8

cups

Chex cereal

13

snack size Kit Kat bars

or 10 ounces of regular sized Kit Kats

1 ½

cups

milk chocolate chips

1

tablespoon

vegetable oil

2

cups

powdered sugar

divided
Instructions
Place Chex cereal in a very large bowl. Unwrap Kit Kat bars. Finely chop 6 snack size bars (about 3 ounces). Break apart the rest of the bars and cut each bar into 4-5 pieces. Keep the two piles separate. Line a cookie sheet with parchment paper or a silpat baking mat.

Place milk chocolate chips and oil in a medium bowl. Heat on high power in 30 second increments, stirring well between each, until melted and smooth. Stir in finely chopped Kit Kat pieces, then pour over Chex cereal. Toss carefully with a spoon to coat completely.

Place 2/3 cup powdered sugar in a large gallon size bag or large Glad storage container. Add half the chocolate coated Chex, seal the bag or container, and shake to coat. Pour onto prepared cookie sheet, then repeat with another 2/3 cup powdered sugar and the rest of the chocolate coated Chex.

Let sit until set, about 15-30 minutes depending on the temperature in your kitchen. If desired, do a second coating of powdered sugar by placing remaining 2/3 cup powdered sugar in a large gallon size bag or large Glad storage container and add all the muddy buddies.

Add chopped Kit Kats to cooled Muddy Buddy mix. Store in an airtight container for up to 1 week.
Recipe Nutrition
Serving:
1
cup
|
Calories:
579
kcal
|
Carbohydrates:
95
g
|
Protein:
7
g
|
Fat:
23
g
|
Saturated Fat:
15
g
|
Cholesterol:
19
mg
|
Sodium:
267
mg
|
Fiber:
5
g
|
Sugar:
68
g
Nutritional information not guaranteed to be accurate
**Did you make this recipe? Don't forget to give it a star rating below!**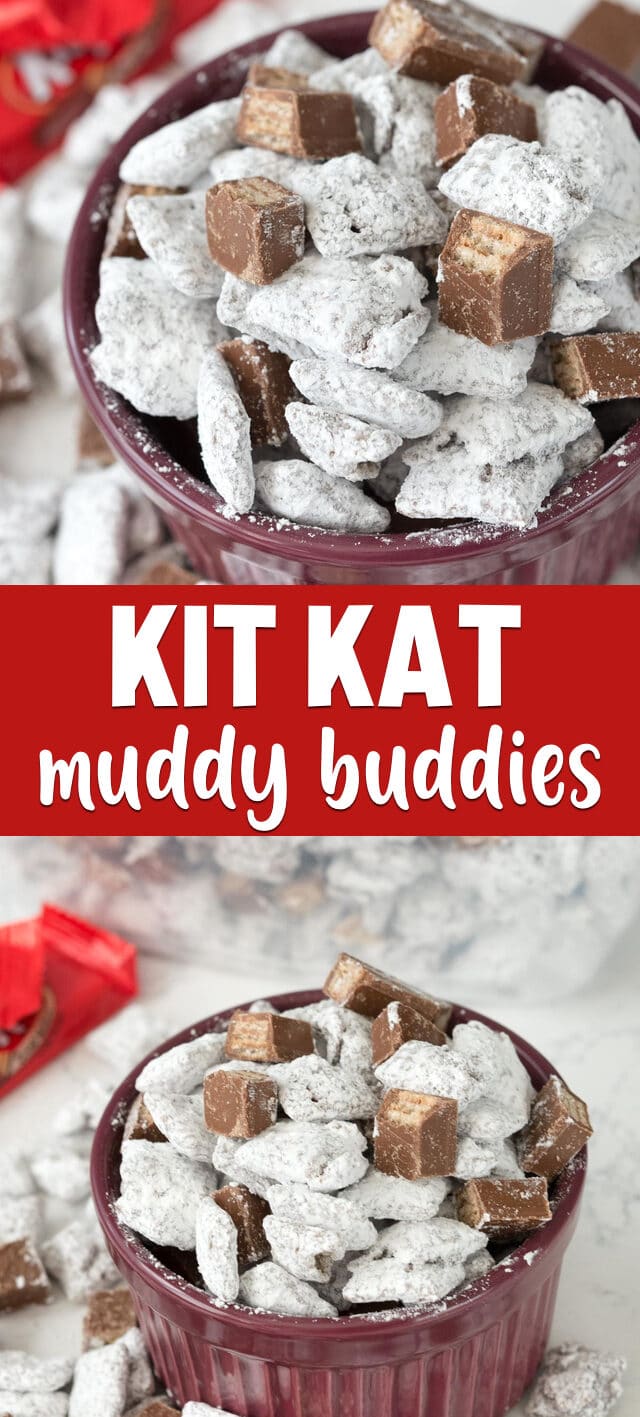 Kit Kat Muddy Buddies are muddy buddies without peanut butter! Make new muddy buddies flavors – Chex muddy buddies without peanut butter. Puppy Chow with Kit Kats is so good!
Last Updated on November 16, 2021