This post may contain affiliate links. For more information, read my disclosure policy.
It's almost September which means it's APPLE time! I absolutely cannot get enough of desserts with apples.
And these caramel apple nachos fit right in with that can't-get-enough statement. Especially because they're infused with tons of hazelnut and chocolate flavor.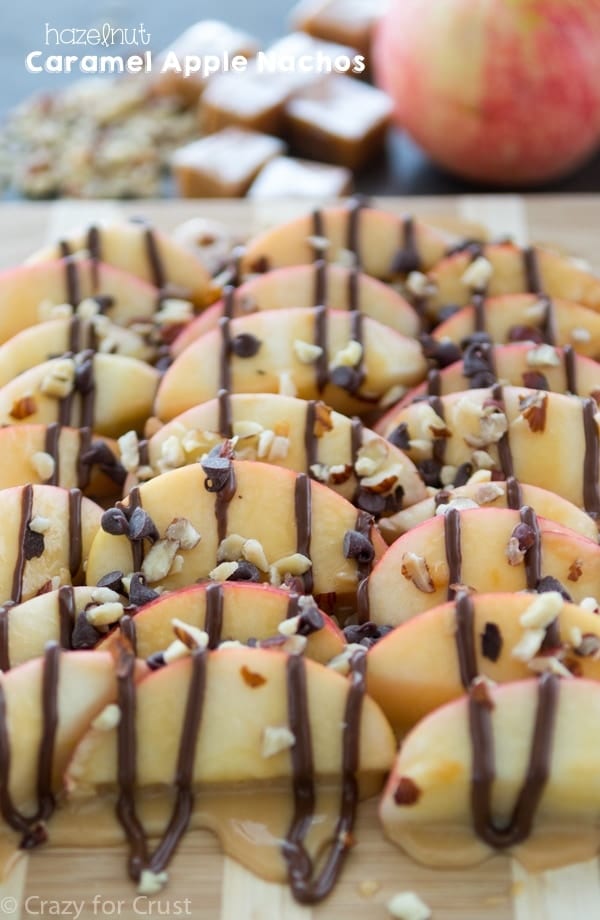 When I was a kid I hated peas. They were flavorless, mushy, and green.
I didn't like green things as a kid. Vegetables? No thank you.
In an ongoing effort to get me to eat my vegetables with dinner, my mom would sprinkle sugar on the peas to get me to eat them. Guess what? It worked.
When I grew up and began eating peas all by themselves minus the sugar, I vowed never to do that for Jordan. She'll eat her fruits and vegetables the way I cook them darn it! And she'll never complain! And she'll know they're good for her!
It's really funny how, as a 20-something without kids, you can totally proclaim what kind of parent makes a good one and what you're going to do as a parent. Then you have a kid and all that goes out the window and you let them eat cookies for breakfast and pizza for dinner three times in a row because oh the whining will it ever stop.
Anyway, Jordan hates vegetables and tolerates fruit. I don't put sugar on her peas but I do let her buy the apple packs that come with caramel. Because otherwise I know she's just throwing away her apples at school and telling me she eats them. How do I know this? Because she told me so.
She's honest, if nothing else.
Anyway, those caramel and apple packs gave me an idea: I needed to make caramel apple nachos for dessert. Because then she's eating fruit with her dessert. Which maybe doesn't make it healthy, but it sure does make it healthier than eating a brownie or a bowl of ice cream with no fruit in sight.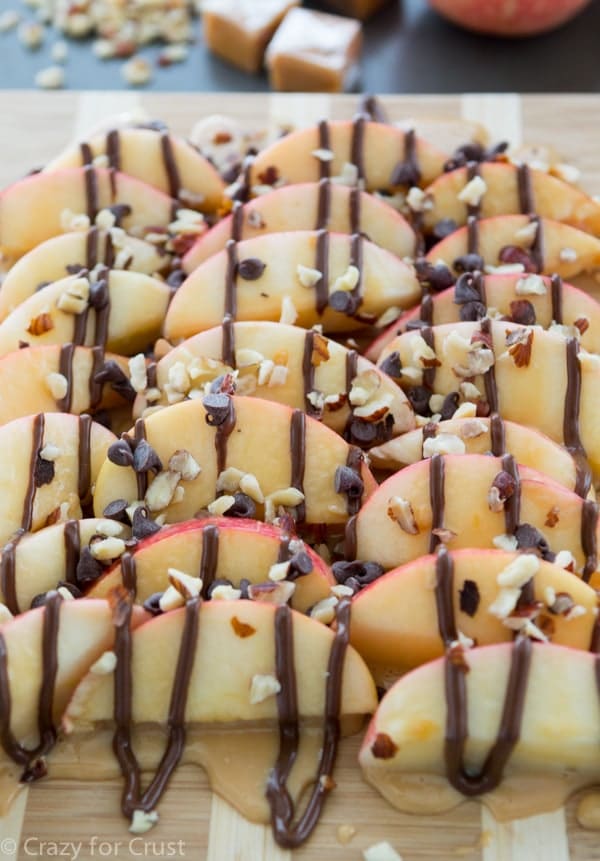 Right? That's totally true. Just go with me on that.
So, let's talk about caramel apple nachos. You've seen them, right? They're all over pinterest, with all different variations. S'mores, peanut butter, chocolate. Basically you slice some apples and drizzle caramel all over them and some nuts or chocolate or whatnot and you have a sweet snack with apples instead of tortilla chips.
I mean, I love real nachos as much as the next girl, but give me nachos with caramel and chocolate? I love that way more.
These caramel apple nachos are different because they're hazelnut caramel apple nachos. I infused the caramel sauce with hazelnut flavor, sprinkled the top of the nachos with chopped hazelnuts, and drizzled chocolate hazelnut spread (i.e. Nutella) over the caramel.
In my opinion? Best caramel apple nachos ever. I absolutely love the flavor the hazelnut adds. But don't worry, you don't have to go buy another flavored extract (that you'll probably never use again).
Instead, you can use my secret ingredient to make the hazelnut caramel.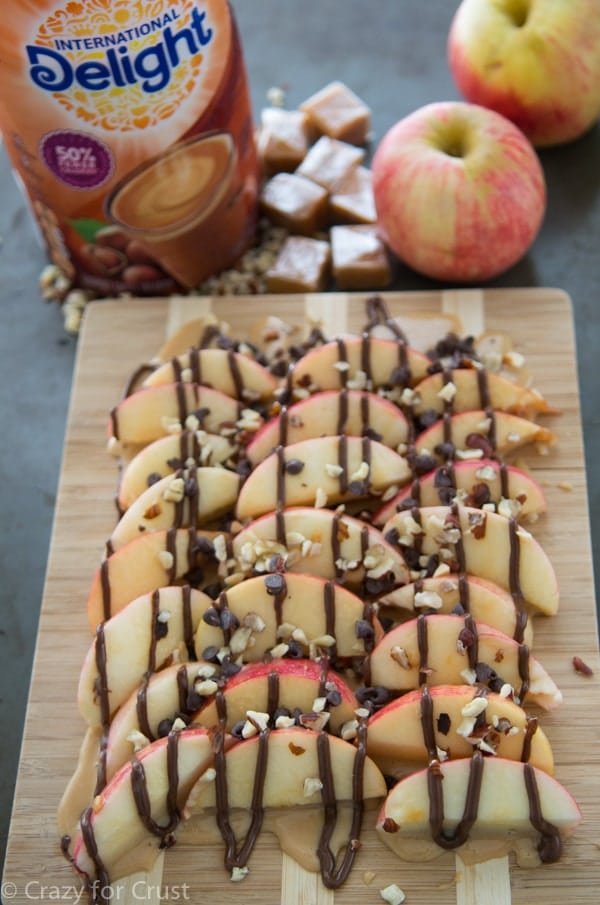 International Delight Hazelnut Coffee Creamer! Chances are, if you love coffee creamer, you have some of this already in your fridge. I think it's probably one of the more popular flavors (I see it everywhere).
I used the sugar-free, fat-free Toasted Hazelnut flavor, but they also sell regular Hazelnut and sugar-free Hazelnut. Tip: don't like hazelnut? You can use whatever coffee creamer flavor you like.
To make the caramel, you simply melt caramel squares with some of the coffee creamer until smooth. Normally you'd use heavy cream for this step but, like with chocolate sauce, you can swap the creamer for the cream.
Then, just spread out your apples (I used Gala, but you can also use Granny Smith or your favorite apple) and drizzle with the caramel, chocolate hazelnut spread, and chopped hazelnuts. I also added chocolate chips because, well. Everything is better with more chocolate.
These Hazelnut Caramel Apple Nachos would make a fabulous dessert. Your kids won't even realize they're eating something healthier. Or, surprise them with an afterschool snack. You'll officially be the coolest mom on the planet.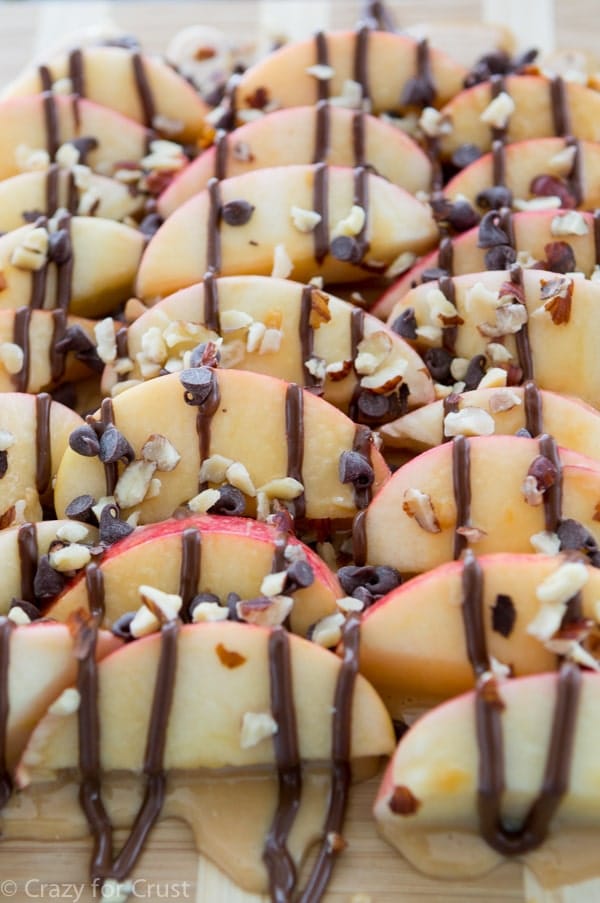 Which, I think, was my mom's title back when I was a kid. I mean – a mom that actually sprinkled sugar on vegetables? That was probably legendary to my friends. At least, it should have been. 🙂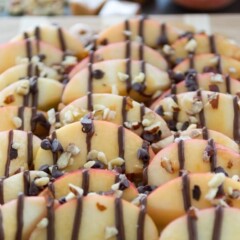 Hazelnut Caramel Apple Nachos
An easy snack or dessert, these caramel apple nachos are infused with hazelnut flavor using coffee creamer!
Ingredients
15

caramel squares

unwrapped

1/4

cup

International Delight Hazelnut Creamer

2

apples

your favorite, cored and sliced into wedges

2

tablespoons

chocolate hazelnut spread

Chopped hazelnuts and/or mini chocolate chips for garnish
Instructions
Place the caramels and creamer in a microwave safe bowl. Heat in 30 second increments, stirring between each, until the caramel is melted and smooth. This will take about 2 minutes, depending on your microwave.

Chill the caramel until it's pourable but not runny, at least 15 minutes.

When ready to assemble the nachos: arrange the sliced apples on serving plate. Place the caramel in a sandwich bag with the tip cut off and pipe over apples. Place the chocolate hazelnut spread in a bowl and heat for about 20 seconds in the microwave, or just until it will drizzle without being too thick. Place it in another sandwich bag, cut off the tip, and drizzle over caramel. Sprinkle with hazelnuts and chocolate chips, if desired.
Nutritional information not guaranteed to be accurate
See more of my coffee creamer recipes here!
Connect with International Delight on Pinterest or Facebook or sign up to be a part of the International Delight Community!
Peanut Butter Caramel Apple Dip
Sweets from friends:
Apple Nachos by Shugary Sweets
Fluffernutter Apple Nachos by Inside BruCrew Life
Samoas Apple Salad by Something Swanky
This is a sponsored conversation written by me on behalf of International Delight. The opinions and text are all mine.
Last Updated on May 13, 2020