This post may contain affiliate links. For more information, read my disclosure policy.
These Butterscotch Pudding Cookies are easy, fast, and incredibly soft!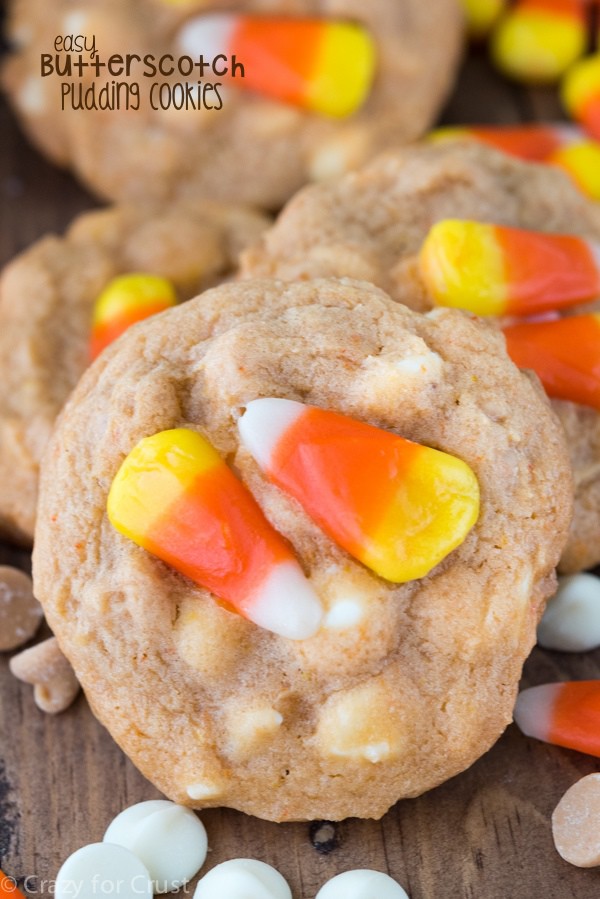 Do you ever just have a day where you WANT COOKIES and you WANT THEM NOW? Yeah, that was me the other day. It would seem I've had quite of few of those days recently, which means I'm either addicted to cookies or I really need a vacation.
(Honestly? It's probably a mix of both!)
Between all the getting-a-new-oven craziness (you guys, that deserves a post in itself, but the moral of the story is never shop at the store that rhymes with Dears) and the fact that my coffee maker wouldn't turn on…I needed cookies.
I dug through my freezer and found fudge, cake, cheesecake, cinnamon rolls, and quick bread. No cookies.
(Moral of the story: must clean out freezer.)
I dug through my cabinets…no cookies.
I dug through my secret stash…no cookies.
I ended up eating 4 handfuls of mini Snickers and Milky Ways.
What I should have done? Made more of these Butterscotch Pudding Cookies! They're fast and easy and I could have satisfied my craving without eating the contents of my candy drawer.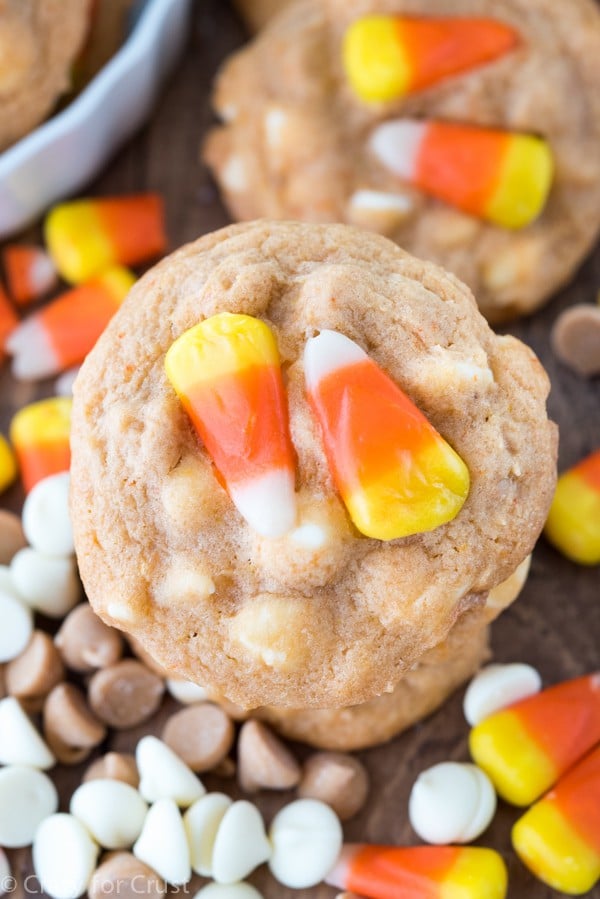 I am 100% in love with pudding cookies. I've made several versions: chocolate, butterscotch, brown sugar, lemon, almond joy and so many more. They are my favorite kind of cookie because they stay soft for days, they're easy to make, and you can flavor them with any kind of pudding mix. Check out all my pudding cookie recipes!
These pudding cookies are even easier than my normal recipe. So much easier…because they start with one of my favorite Krusteaz cookie mixes: the Butter Vanilla Sugar Cookies. Alone, that cookie mix makes the BEST sugar cookies. Really, the Krusteaz mixes taste like homemade (and I'm not just saying that because I'm their ambassador – I really truly believe it!)
Simply add your favorite pudding mix to their cookie mix and bam!…you have pudding cookies in whatever flavor you want.
Today, that is BUTTERSCOTCH.

I kind of can't believe I didn't love butterscotch until I was an adult. All those wasted years!
Like I said about 500 times already, these cookies are EASY. Simply mix up the recipe as directed and add some instant butterscotch pudding mix. Be sure to use the instant! (Also, I do not recommend using sugar-free pudding mix. The sweetener will change the structure of your cookie.) Don't like butterscotch – use your favorite pudding flavor!
I added white chocolate chips and peanut butter chips because it's what I was feeling like when I made these cookies. But you can add any combination of chips you want: semi-sweet, milk, white, peanut butter, butterscotch, nuts, toffee…use your imagination and a total of 1 1/2 cups of whatever you mix in.
And if you're making these right now…add candy corn on top for Halloween!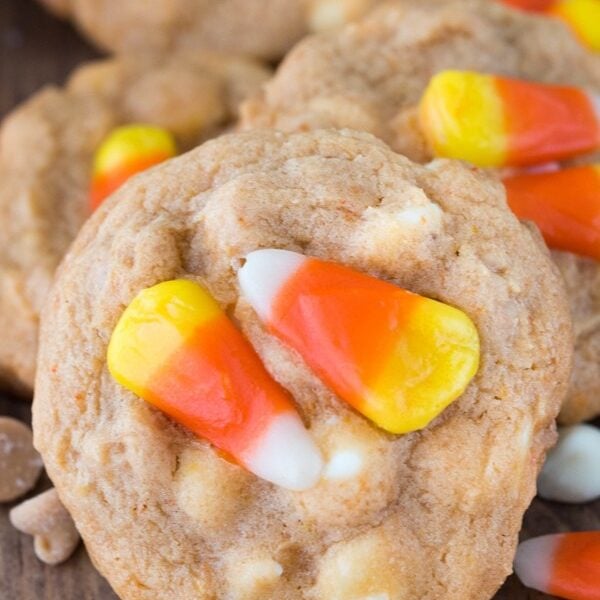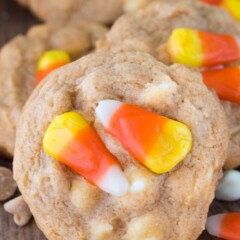 Easy Butterscotch Pudding Cookies
These Easy Butterscotch Pudding Cookies have just a few ingredients and are the perfect cookie! Pudding mix keeps them soft for days and you can use any flavor pudding you like...but don't forget the chocolate chips and candy corn for Halloween!
Ingredients
1

package Krusteaz Butter Vanilla Sugar Cookie Mix

2

large eggs

1/2

cup

1 stick unsalted butter, softened

1

box

approximately 3.4 ounces Instant Butterscotch Pudding Mix

3/4

cup

white chocolate chips

see note

3/4

cup

peanut butter chips

see note

1

cup

candy corn

optional
Instructions
Preheat oven to 350°F. Line 2 cookie sheets with parchment paper or silicone baking mats.

Mix cookie mix, eggs, butter and pudding mix in the bowl of a stand mixer fitted with the paddle attachment, or you can use a hand mixer. Mix on medium speed until it's a smooth cookie dough. Add white chocolate chips and peanut butter chips and stir to combine.

Scoop 2 tablespoon cookie dough balls onto prepared cookie sheets. (You can also make these smaller using a 1 tablespoon cookie scoop, but bake time will be affected.) Press 2 candy corn pieces on top of each cookie dough ball. Important: make sure the candy corn is in the center of the cookie and not touching the cookie sheet. They melt easily!

Bake for 8-10 minutes until they start to get golden brown on the bottoms. Cool completely before removing from cookie sheets. Store in an airtight container for up to 4 days or freeze for up to one month.
Nutritional information not guaranteed to be accurate
Click HERE for more easy recipes that start with cookie dough or cookie mix!
Cashew Butterscotch Pudding Cookies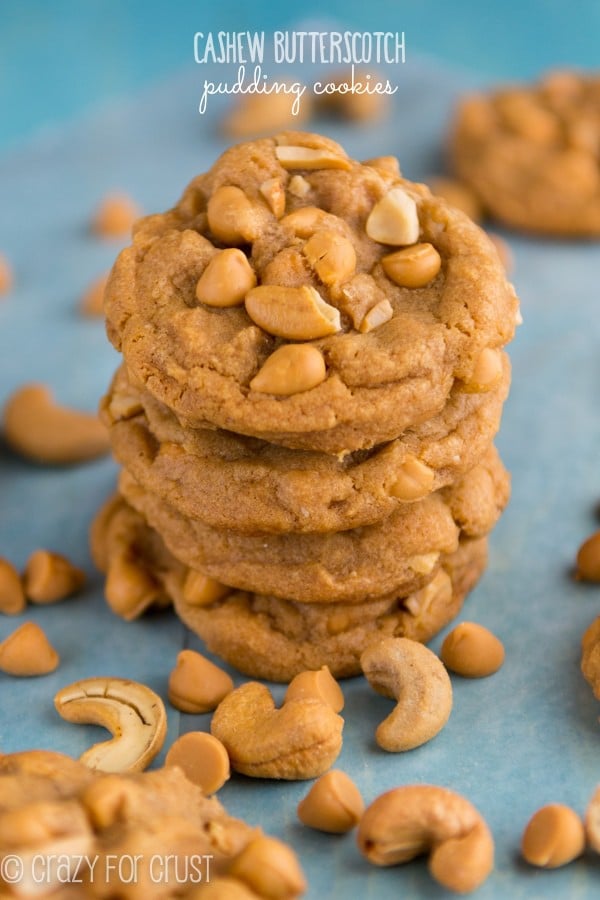 Triple Dark Chocolate Pudding Cookies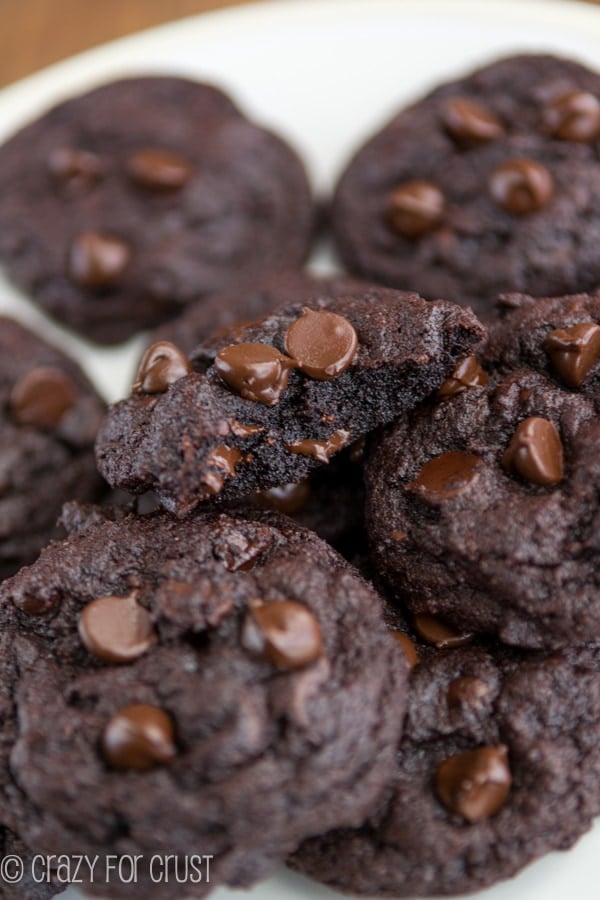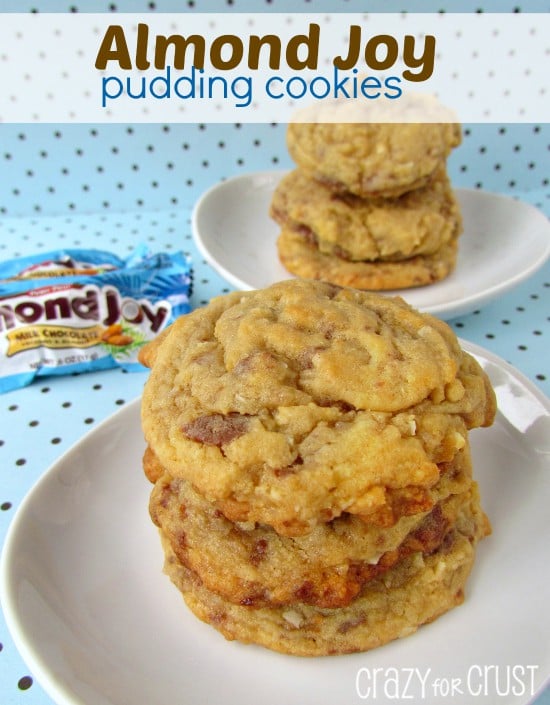 This post was sponsored by Krusteaz as part of my ongoing relationship with them as part of their Bakers Dozen. All opinions are 100% my own. Thank you for supporting the brands that make Crazy for Crust possible!
Last Updated on September 10, 2022