This post may contain affiliate links. For more information, read my disclosure policy.
Hands down, Cinnamon Rolls are my favorite breakfast. If we're being totally honest, they're my favorite lunch, dinner, and snack, too. Everyone needs the perfect from scratch cinnamon roll recipe and THIS is that recipe. It's the only one I make now!
Filled with a sweet cinnamon filling, these fluffy yeasted rolls have a cream cheese frosting and they're to die for. You won't want to stop eating them!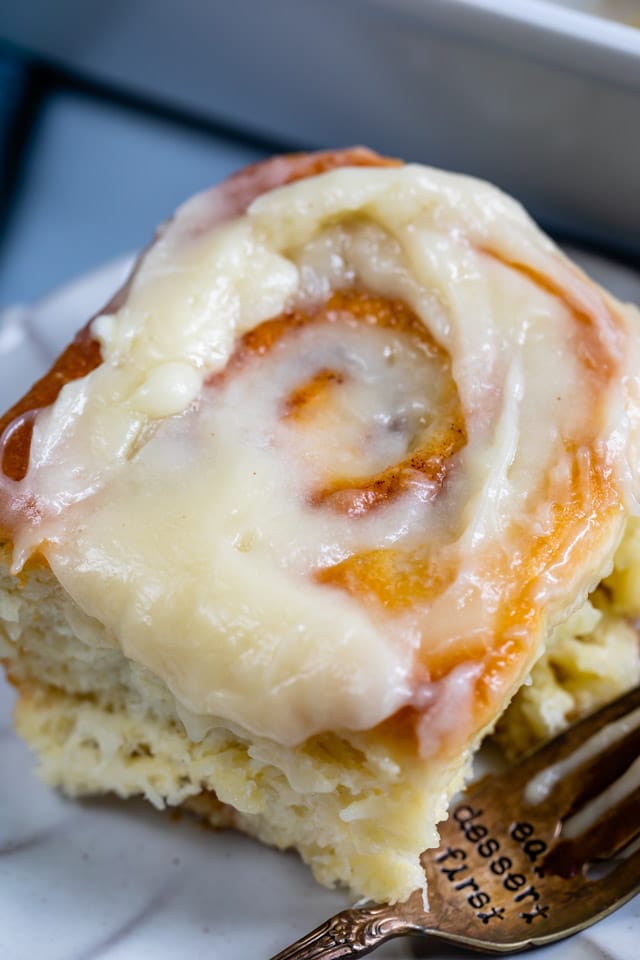 Until a few years ago I was pretty freaked out about yeast. I was afraid I'd kill it and be labeled a yeast murderer. My first foray into yeasted bread was pizza crust and it was love at first bite.
Shortly thereafter I began making yeasted cinnamon rolls and over the past few years, I've developed a dough recipe that I absolutely love. It works every time, winter or summer, and it's so much fun to play with the filling. In fact, I very rarely make "plain old" cinnamon rolls. I make versions like carrot cake or bacon maple.
My only complaint with making your own yeasted cinnamon rolls is the time. Even using my method, with instant yeast, it can still take a few hours to make them. If you're making them for breakfast, that would mean you have to get up at 5am, and we all know I'm not doing that.
Not only is this the BEST Cinnamon Roll Recipe, but the best thing about it is that these are OVERNIGHT Cinnamon Rolls. Which means all the hard work is done the day before and the day of you just have to bake them. #winning
(If it's morning and you forgot to make them overnight, I've got you covered – make my quick cinnamon rolls recipe instead!)
Overnight Cinnamon Rolls: perfect for the mom who'd rather be sleeping!
All about Yeast for Cinnamon Rolls
These rolls have a rich, buttery egg dough and are filled with a buttery, sugary, cinnamony filling.
Great, you're thinking. Overnight Cinnamon Rolls. Perfect. But I'm still afraid of working with yeast!
Don't be. You have to start somewhere, and this recipe is what you should start with. I'm going to detail how to do it – and there's even a video – so I know you can do it too.
I used to use active dry yeast exclusively until I discovered Instant Yeast. Instant yeast takes a ton of the guesswork out of baking bread and rolls for 2 reasons:
You don't have to proof or activate it, cutting down on the guesswork and time
It only needs a 10 minute rest during the first rise time, where active dry would need time to double in size. That cuts down on the time it takes to make cinnamon rolls.
My favorite yeast is Fleischmann's Yeast Rapid Rise Yeast, but just make sure you are buying Instant Yeast. It'll say "fast acting" or "instant" somewhere on the package.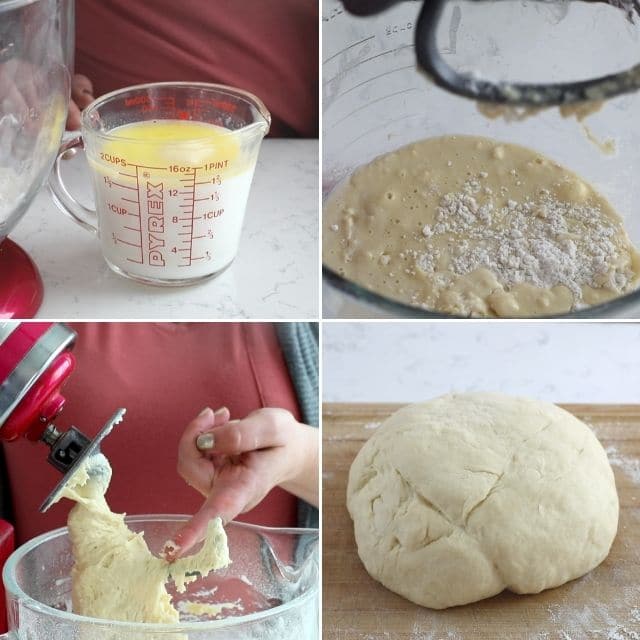 Making the Dough
Making cinnamon roll dough is easy with just a few steps.
First, because you're using instant yeast, you just whisk the dry ingredients:
2 cups of the flour
Sugar
2 packets of yeast
Salt
Then, deal with the wet ingredients:
You're going to add the water and milk to a microwave safe bowl or measuring cup. Then add your butter. Now is when we deal with activating the yeast: by warming up the wet ingredients.
Heat the water mixture in the microwave in 30 second increments for about a minute to a minute and a half, or until the mixture reaches between 120-130°F.
How do you know the water temperature? The easiest way is through using an Instant Read Thermometer (I linked my favorite one). Otherwise, think hot bathwater.
Add the wet ingredients to the dry and stir or mix, adding more flour up to 5 cups total, until the dough is slightly sticky and only comes off with minimal transfer to your fingers.
You're done kneading when the dough bounces back after pressing with two fingers.

PRO TIP
Kneading the Dough
If you're using a stand mixer, kneading the dough is easy and won't take very long because you can do most of the kneading with the dough hook. If you're doing this by hand, it'll take a little longer, but that's ok, kneading is fun.
Flour your cutting board and knead the dough until it is smooth and elastic and forms into a ball and is no longer sticky.
You'll know you're done kneading when it bounces back when touched with two fingers.
The magic of rapid rise yeast: resting. The dough at this point just needs to rest for 10 minutes.
Then it's time for filling and rolling.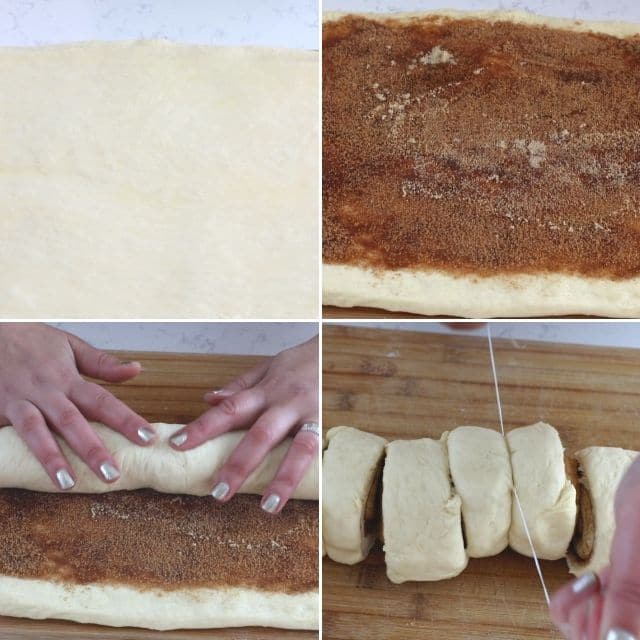 Filling and Rolling
Roll out your dough into a large rectangle (at least 10×15-inches long).
Make your filling by mixing cinnamon and brown sugar. Using melted butter is so much easier than spreading room temperature butter too!
Brush your dough with butter and sprinkle the filling all over the top. Roll it up tightly.
Hack for cutting the rolls
My favorite way to cut a cinnamon roll now is by using unflavored dental floss. Just wrap it around and pull it through the rolls for easy slicing!
Slice into 12 rolls. Place them in a pan sprayed with nonstick cooking spray and then it's time to go to bed.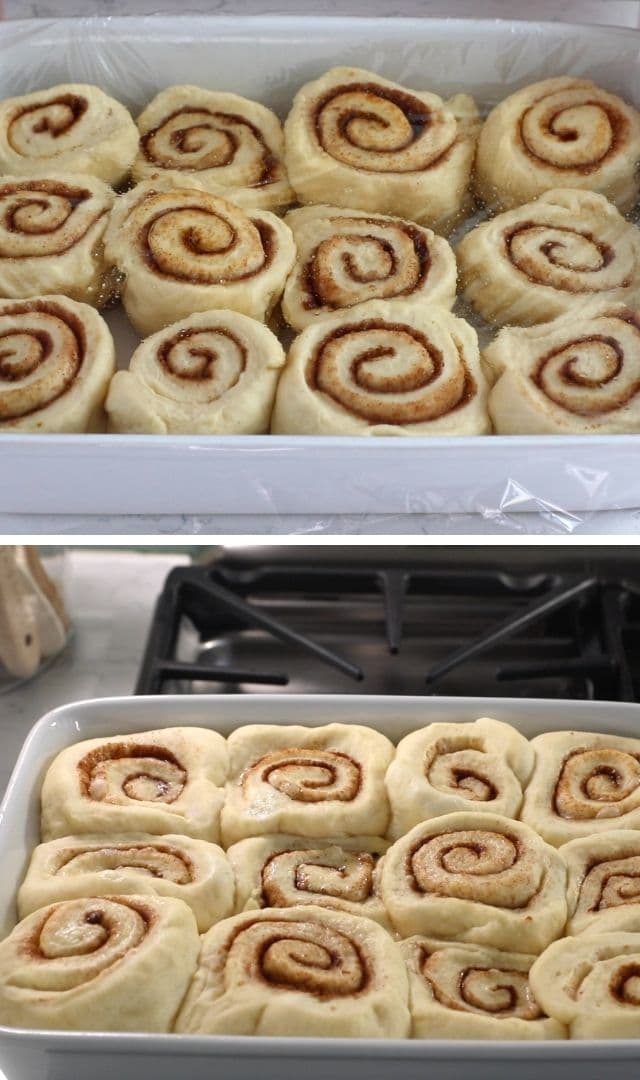 Can you let Cinnamon Rolls rise overnight?
YES! Here's where the overnight part comes in. Spray plastic wrap with nonstick cooking spray and cover that pan with plastic wrap and put it in the refrigerator overnight.
To let them rise in the morning:
Preheat your oven to 200°F. Remove the plastic wrap and place the rolls in the oven, then immediately turn the oven off.
Let the rolls sit in the warm oven (no peeking) for one hour to rise.
Remove from the oven, preheat it to 375° and bake the rolls.
Frosting for Overnight Cinnamon Rolls
I absolutely love that all the hard work is done the day before. I always make my frosting the day before too, then I cover and chill it overnight. Who wants to clean up powdered sugar mess at 6am? Not me! I leave it on the stove to come to room temperature while the rolls are baking, or heat it for a few seconds in the microwave.
This is my favorite cinnamon roll frosting of all time. I use melted butter and very soft cream cheese. If the cream cheese is soft enough, you can just whisk them together and then add the powdered sugar and vanilla. One bowl, no mixer.
Cream cheese frosting just belongs on cinnamon rolls, don't you think?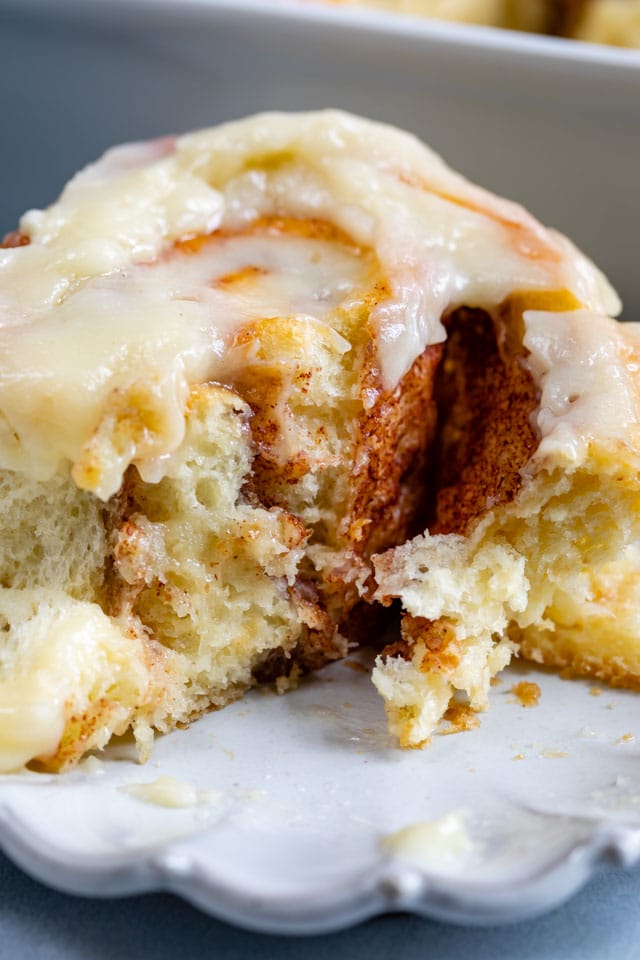 FAQ and Tips
Can I make bigger (or smaller) rolls?
Yes, you can make 9 large or up to 18 smaller rolls. Baking time will be more (or less). Make mini rolls by cutting the large rectangle of dough in half before rolling, then cut each into 9 or 12 rolls.
My cinnamon rolls are too dense, why?
You probably added too much flour. Be sure to measure your flour correctly and not add more than 5 cups.
Can cinnamon roll dough rise too long?
You can leave these in your refrigerator for up to 24 hours without baking. As long as they are in the refrigerator they shouldn't rise too long.
How do I know my cinnamon rolls are done?
They'll be golden brown and no longer jiggly in the center.
Can I freeze cinnamon rolls?
Make the cinnamon rolls, place them in the pan, wrap them well with plastic wrap and freeze the unbaked rolls for up to 2 weeks. Let the rolls completely defrost before baking as directed (about 1-2 days in the refrigerator). The frosting can also be made ahead and frozen! You can also freeze baked cinnamon rolls, but I recommend freezing without the frosting.
Can I bake these immediately (not overnight)?
Yes! After forming the rolls and placing in the pan, just let them rise 30 minutes. Then bake as directed.
Cinnamon Roll Flavors
Have you made this recipe?
Tag @crazyforcrust on Instagram or hashtag it #crazyforcrust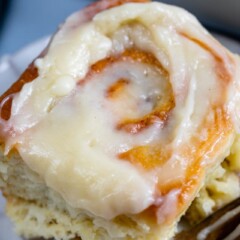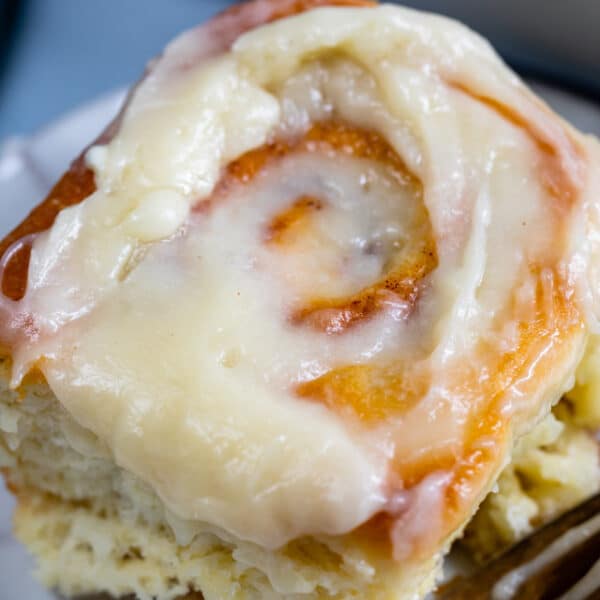 Perfect Overnight Cinnamon Rolls
These are the perfect cinnamon rolls! Make them in the afternoon and bake them the next day for an easy special cinnamon roll breakfast!
Total Time
2
hours
5
minutes
Ingredients
Dough
4 1/2 to 5

cups

all-purpose flour

1/3

cup

granulated sugar

2

packets

Fleischmann's Rapid Rise Yeast

(4 1/2 teaspoons), look for instant or fast-acting yeast

1

teaspoon

salt

3/4

cups

water

3/4

cups

milk

6

tablespoons

unsalted butter

softened

1

large egg
Filling
1/2

cup

brown sugar

2

teaspoons

cinnamon

2

tablespoons

unsalted butter

melted
Frosting
4

tablespoons

butter

softened

4

tablespoons

softened cream cheese

1 1/4

cups

powdered sugar

1/2

teaspoon

vanilla extract
Instructions
Add 2 cups flour, sugar, dry yeast, and salt in the bowl of a stand mixer fitted with the dough hook. Whisk to combine.

Place water, milk and butter in a microwave-safe measuring cup. Heat, in 30 second increments, until the water reaches 120°-130°F (think hot bath water, use an instant read thermometer for best results). This will take approximately 1 1/2 minutes, depending on your microwave. Butter won't totally melt.

Add water mixture to dry ingredients with the egg. Mix on medium speed for 2 minutes, scraping the sides of the bowl a few times.

Add 1 cup more flour, beat an additional 2 minutes at high speed, scraping bowl occasionally. Mix in just enough remaining flour so the dough forms into a ball. The dough will be slightly sticky but not wet.

Turn the dough out onto a lightly floured surface. Knead until smooth and elastic, about 6-8 minutes. You know it's done when it forms a cohesive ball and springs back when lightly pressed with 2 fingers.

Cover and let rest for 10 minutes.

Meanwhile, make the filling by stirring together the sugar and cinnamon and melting the butter.

Roll dough into an approximately 11×17-inch rectangle using a rolling pin. Brush the butter all over the dough in a thin layer. Sprinkle with filling.

Beginning at the long side of the dough, roll up tightly. Slice into 12 equal pieces.

TIP: use unflavored dental floss to slice your rolls! Cut a piece of floss and slide floss under roll. Bring sides of floss up to cross on top and slice through the dough. Works like a charm!

Place rolls in a 9×13-inch baking pan that's been sprayed with nonstick cooking spray.
To bake immediately:
Cover rolls and let double in size, about 1 hour, then skip to baking directions below.
To make overnight cinnamon rolls:
Cover with plastic wrap that has been sprayed with nonstick cooking spray. Place the rolls in the refrigerator overnight.

In the morning, preheat oven to 200°F, place the rolls in the oven then immediately turn the oven off. Let the rolls sit in the warm oven (no peeking) for one hour to rise.

After the hour, remove the rolls from the oven.
To bake:
Preheat oven to 375°F. Bake cinnamon rolls for about 25-35 minutes or until golden brown and the center is cooked through. Cool 20 minutes before frosting.
Make the frosting:
Beat butter and cream cheese in a large bowl until creamy using a hand mixer. Mix in powdered sugar and vanilla.

You can make the frosting the day before as well, and cover and refrigerate it overnight. Just take it out to come to room temperature when you take the cinnamon rolls out of the refrigerator.
Recipe Nutrition
Serving:
1
roll
|
Calories:
409
kcal
|
Carbohydrates:
64
g
|
Protein:
6
g
|
Fat:
14
g
|
Saturated Fat:
9
g
|
Cholesterol:
51
mg
|
Sodium:
260
mg
|
Potassium:
94
mg
|
Fiber:
1
g
|
Sugar:
28
g
|
Vitamin A:
459
IU
|
Calcium:
45
mg
|
Iron:
2
mg
Nutritional information not guaranteed to be accurate
Check out my Round-Up of OVER 70 Cinnamon Rolls from me and my friends!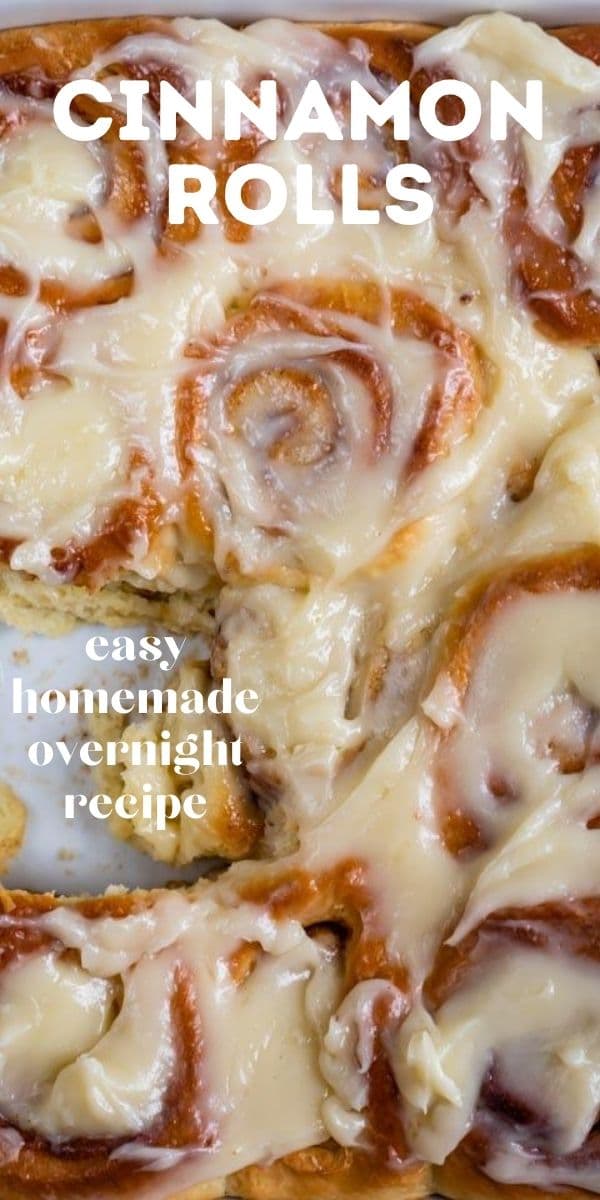 Easy Overnight Cinnamon Rolls from scratch – these easy homemade rolls are a make ahead recipe and SO GOOD with a brown sugar cinnamon filling and an easy frosting. These are perfect for breakfast or brunch!
Last Updated on April 25, 2022