This post may contain affiliate links. For more information, read my disclosure policy.
Cream Cheese Banana Muffins – this EASY banana muffins recipe is my favorite, and it's FULL of a sweet cream cheese mixture! Everyone loves these muffins!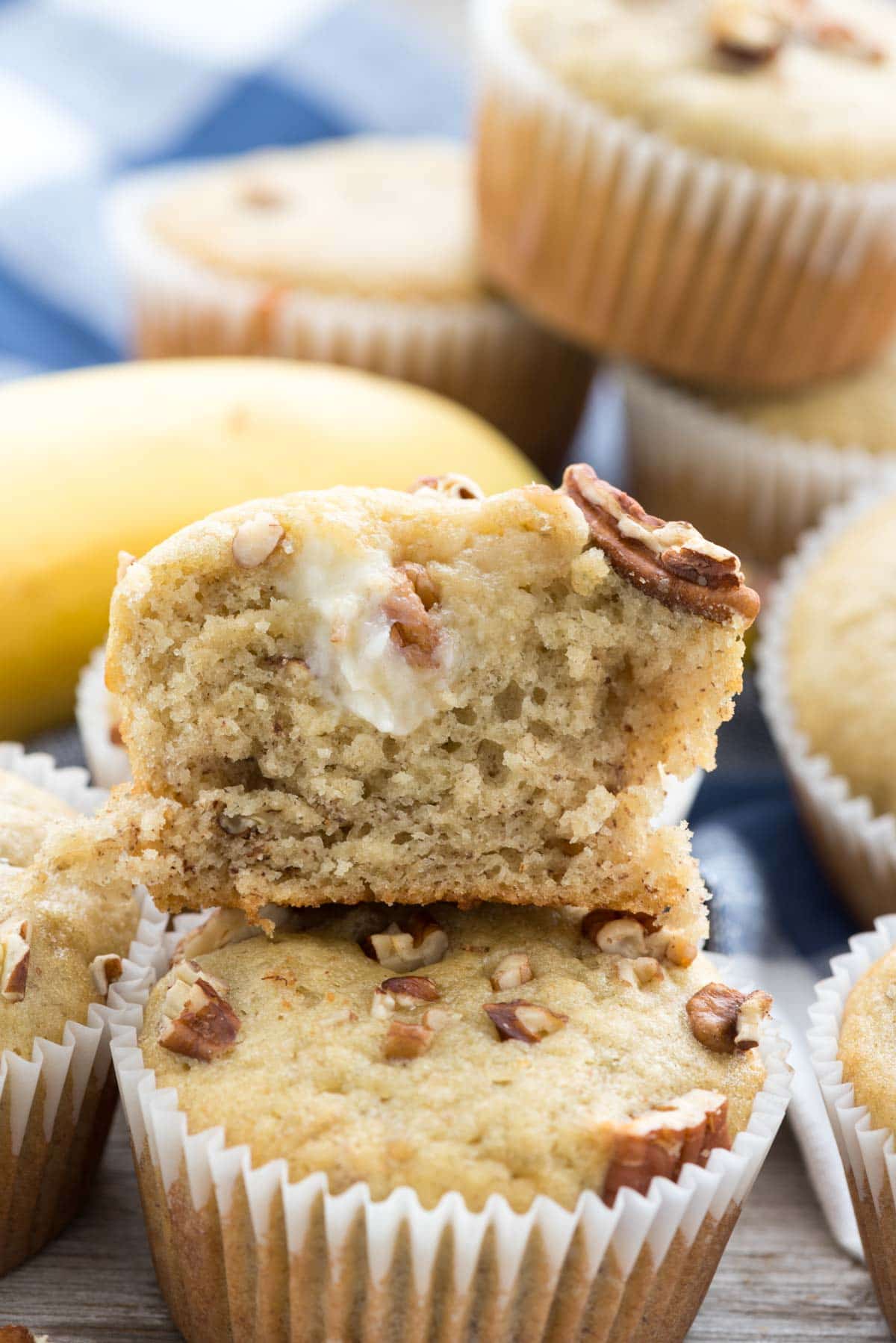 I was thinking the other day: what things in life do I rely on now that I didn't have 10 years ago? You know, things like your iPhone. Facebook. Instagram. Camera phones. Blogs.
My life would be drastically different without a whole home DVR. Or reality television. And not just DVRs…Netflix. Amazon Prime. Amazon movies. Fire sticks, Roku, YOUTUBE.
And what about my Kindle? God, real books? Heavy books I have to hold? And not just any kindle, but a Kindle HD…so I can have apps and movies and Facebook wherever I have wifi.
And, can we talk about wifi? I think wifi is the best invention of the last decade. Wifi, connectedness everywhere. In fact, I'm writing this from 30,000 feet, flying across the country from Atlanta back home to Sacramento. I worked the whole way there and I'm working on the way home. It's perfection. Even when I'm not working I can text my husband and daughter and keep up with my friends on Facebook messenger.
I just spent the week in St. Simon, Georgia visiting the HGTV Dream Home. If you follow me on Instagram you'll have seen some of my fun activities and all the food. And on my NEW Instagram account just for travel (@CFCTravel) you can see all the fun behind the scenes not food-y stuff.
I can't wait to tell you all about the trip (posts coming soon)…and all about my trip home. Let me just tell you I flew in the party row. 🙂
I get in at 9pm and then have a 40 minute drive home…so tomorrow I'm not going to want to make breakfast.
Luckily, I have these Cream Cheese Banana Muffins in my freezer for Jordan.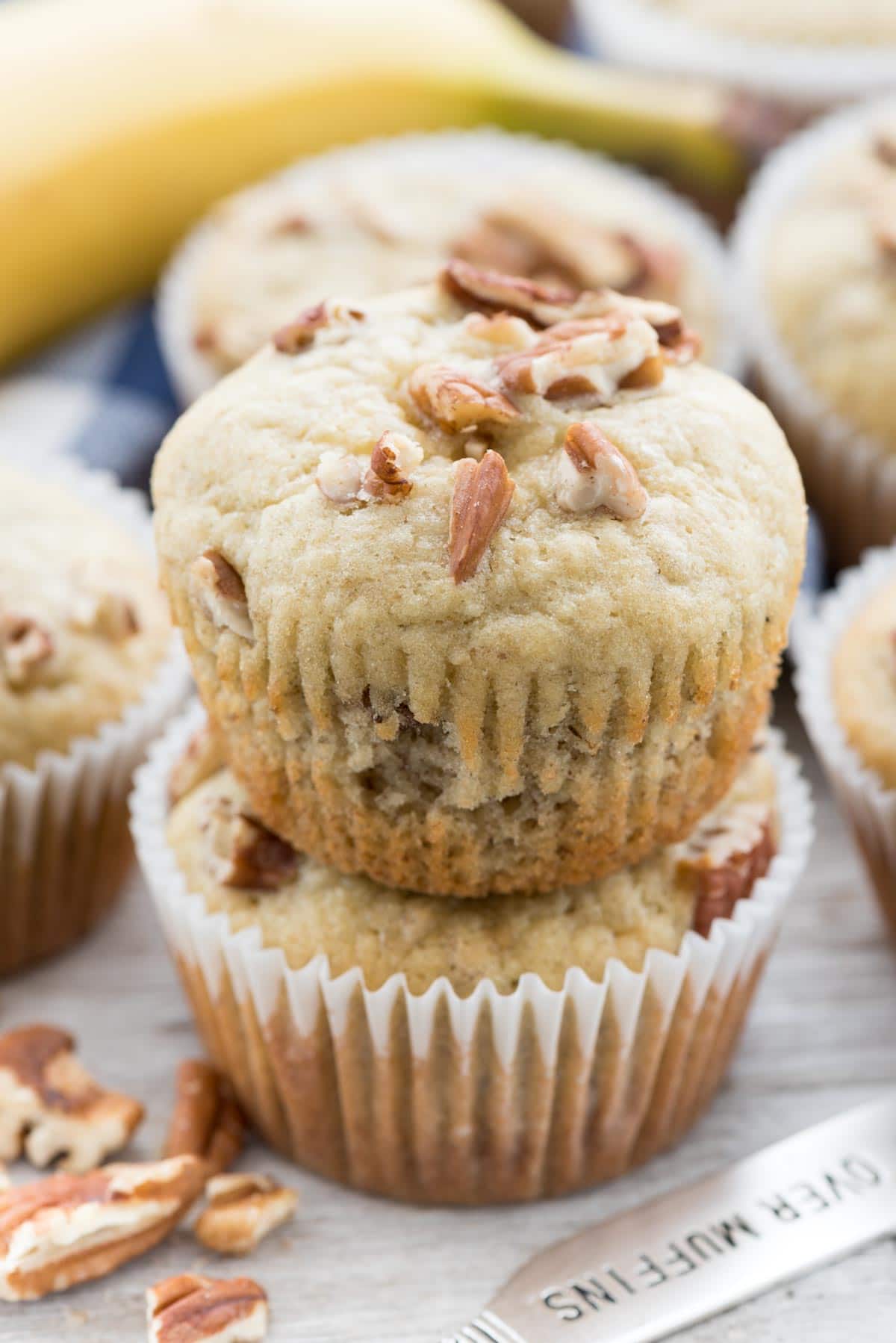 This easy muffins recipe is a cousin of my Mom's Banana Bread recipe, which is SUPER popular. I made the bread into muffins (it's the best banana bread muffin recipe, if you ask me) and then I stuffed some sweet cream cheese inside, like my blueberry, zucchini, and chocolate chip cream cheese muffins.
These are so easy it's insane. Basically you whip up the bread recipe, then partially fill the muffin pan, then stuff, then top with the rest of the batter.
You know what I hate MOST? When I'm making recipes like this and I don't know how many to make to have the perfect amount of batter and filling. If you hate that too, you'e in luck, because I did all the measuring for you.
2 tablespoons of batter + about 1/2 teaspoon filling + 1 tablespoon batter = 18 perfect muffins.
I added pecans because I love them, but you could also do walnuts. I love walnuts in banana bread, but we were out.
I kind of wish I had one of these cream cheese banana muffins right now…but I'm about 1,320 miles from my freezer.

What item are you happy to have now that you didn't have back 10 years ago??
Want to know just how easy these cream cheese banana muffins are to make? Check out the video!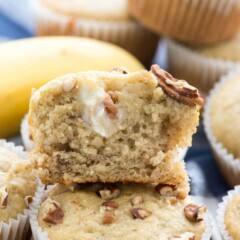 Cream Cheese Banana Muffins
Cream Cheese Banana Muffins - this EASY banana muffins recipe is my favorite and it's FULL of a sweet cream cheese mixture! Everyone loves these muffins!
Ingredients
For the bread:
3/4

cup

granulated sugar

1/2

cup

vegetable oil

1/4

teaspoon

salt

2

overripe bananas

2

large eggs

7

tablespoons

sour milk

or add 1 teaspoon vinegar to the milk to sour it

1

teaspoon

baking soda

2

cups

all purpose flour

1/2

cup

chopped nuts

optional
Filling:
4

ounces

cream cheese

room temperature

3

tablespoons

granulated sugar
Instructions
Preheat oven to 350°F. Line muffin pans with paper baking cups.

Stir oil and sugar with wooden spoon or spatula. Set aside.

Add bananas, eggs, milk, vinegar, baking soda, and salt to a blender jar and blend until smooth.

Pour half the banana mixture into the oil mixture with 1 cup of flour. Stir until just incorporated, then add the remaining banana mixture and flour. Stir until just incorporated. Stir in nuts, if using.

Make the cream cheese filling: stir (or use a hand mixer) together cream cheese and sugar until smooth.

Fill muffin cups with about 2 tablespoons of muffin batter. Add about 1/2 teaspoon of cream cheese to the center of each muffin, then top with another 1 tablespoon of batter. Sprinkle with chopped nuts on top, if desired.

Bake for 14-18 minutes until a toothpick comes out clean from the side of a muffin. Cool 5 minutes in pan then remove to a rack to cool completely.

Store in an airtight container for up to 3 days or freeze for up to one month.
Recipe Nutrition
Serving:
1
muffin
|
Calories:
207
kcal
|
Carbohydrates:
24
g
|
Protein:
3
g
|
Fat:
11
g
|
Saturated Fat:
6
g
|
Cholesterol:
25
mg
|
Sodium:
123
mg
|
Potassium:
99
mg
|
Sugar:
12
g
|
Vitamin A:
130
IU
|
Vitamin C:
1.2
mg
|
Calcium:
21
mg
|
Iron:
0.9
mg
Nutritional information not guaranteed to be accurate
Click here for easy ways to use overripe BANANAS
Click here for more Brunch Recipes!
Chocolate Chip Cream Cheese Muffins
Chocolate Zucchini Doughnut Muffins
Last Updated on February 2, 2023