This post may contain affiliate links. For more information, read my disclosure policy.
When I'm looking for an easy breakfast I always want a muffin. These Banana Blueberry Muffins are one of my go-to recipes, and as a bonus they're dairy-free!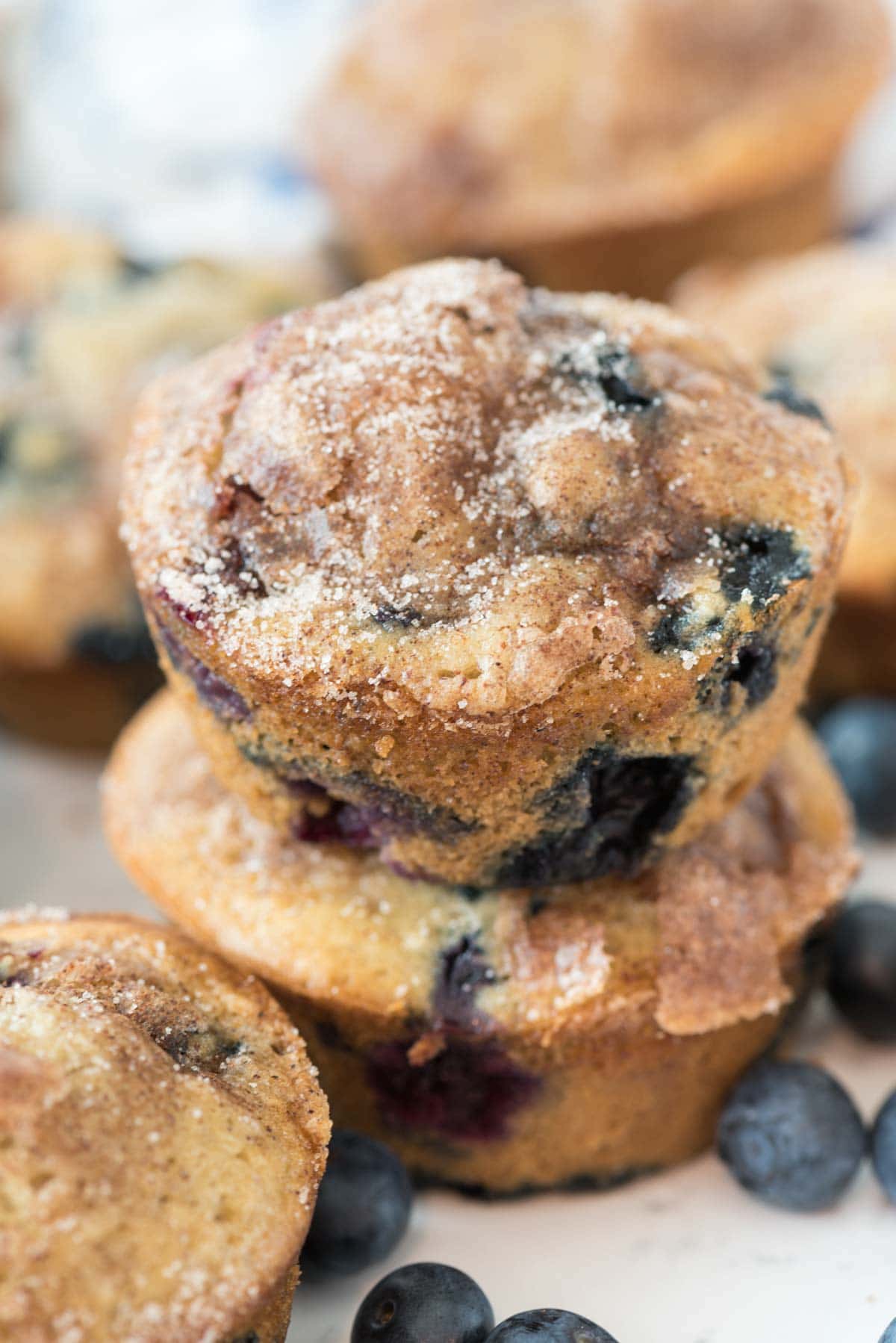 So…running. Summer is not only kicking my bottom with how busy we are, but it's affecting my training for my half marathon. I only have until labor day and the farthest I've gone is 7 miles. I'm totally bored of the gym, and my gym BFF and I are on different schedules now that the kids are out of school, so it's so booooooring to run on the treadmill. To top it all off, my back has been bugging me too. But I'm not giving up! I have to power through, because I set a goal for myself and gosh darn it I want to complete my goal…even if it means I have to walk 6 miles.
Sports and exercise have never been my strong suit although I've come to enjoy it (kind of) as an adult. My problem really is that exercise makes me hungry and when I'm hungry I don't make very good choices. Even when I'm not hungry, I don't make good eating choices! What can I say, this girl likes her carbs and sugar. #keepingitreal #hellothatswhyIhaveadessertblog.
That's why I make Banana Blueberry Muffins. They might not be vegan paleo grain-free zero calorie muffins, but they ARE dairy-free. And they, you know, taste like really good muffins instead of cardboard…so there's that. 😉
Table of Contents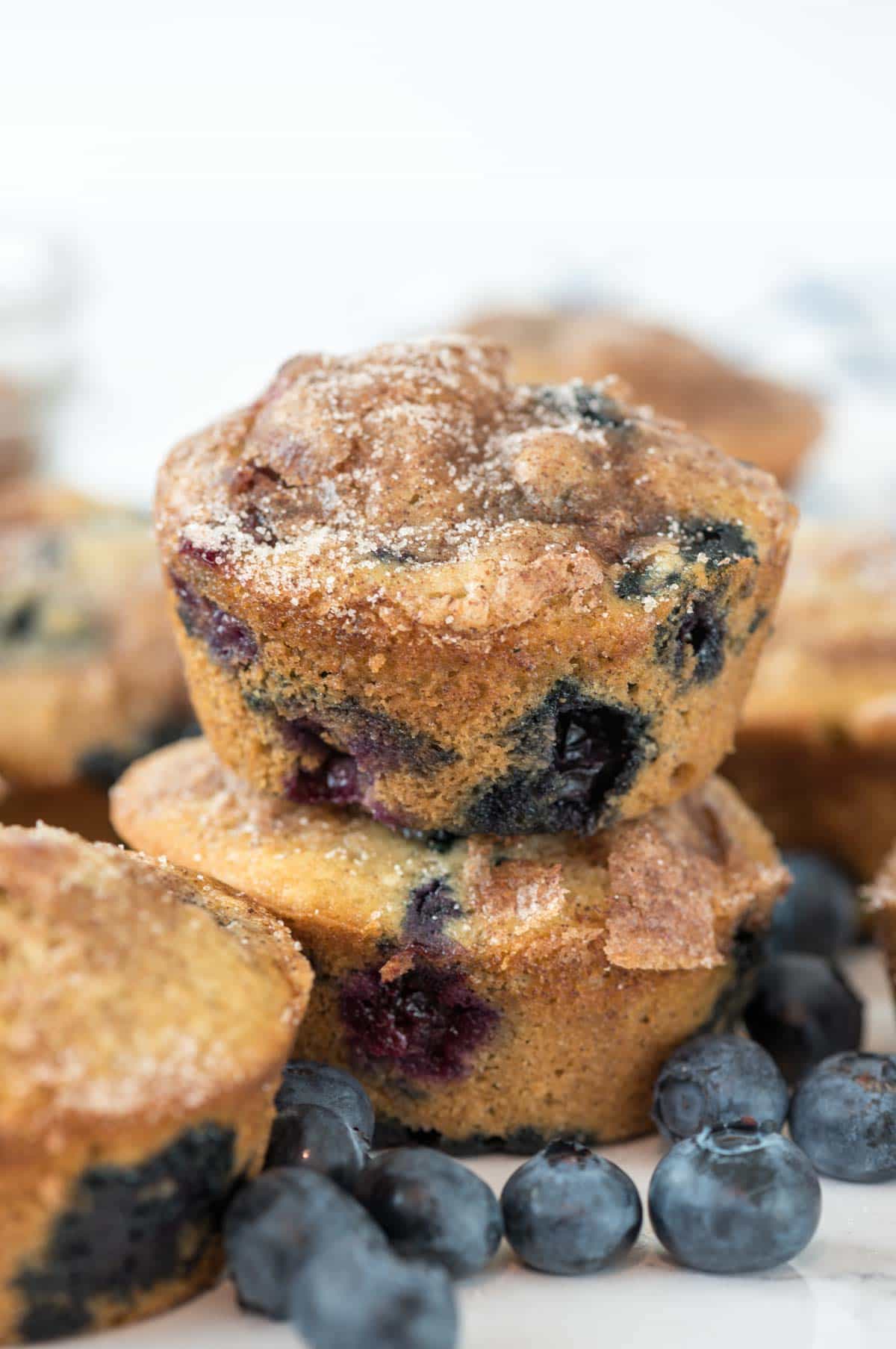 Dairy Free Muffins with Almond Milk
For this recipe I took my mom's banana bread recipe which had inspired a blueberry banana version, and I turned it into muffins. They have less fat than my regular recipe AND they're dairy-free!
#winningatmuffins
My mom's recipe uses milk, but I wanted to keep these dairy-free, so I used my favorite: Almond Breeze Unsweetened Almondmilk. I use almond milk almost exclusively these days, on my cereal, in my smoothies, and in a lot of baked goods. It has less calories per serving than non-fat milk so it's a better choice for me.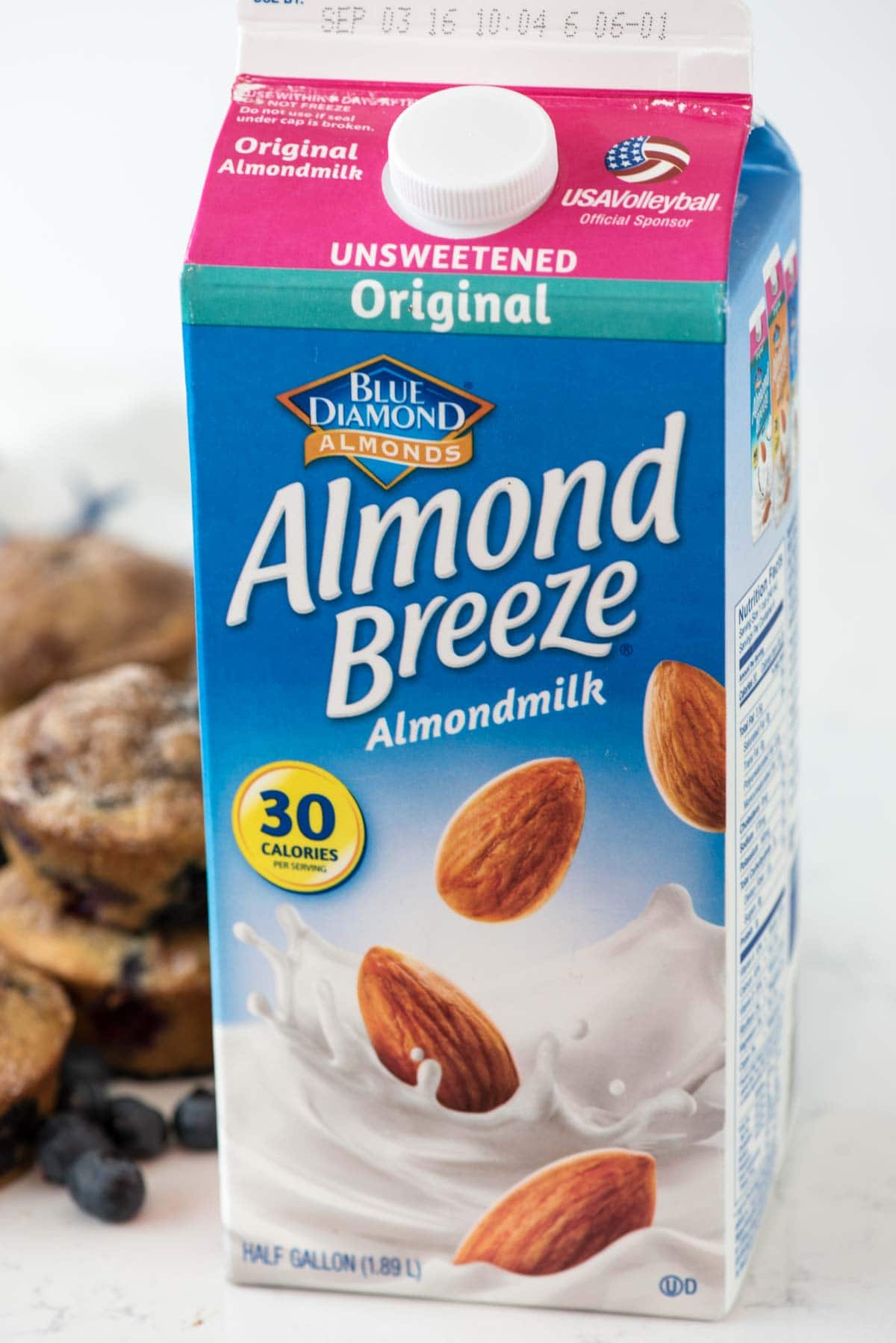 Ingredients in Banana Blueberry Muffins
To make these dairy-free muffins, I used oil instead of butter. The oil makes them super soft and moist! Instead of a 1/2 cup, which is normally what the recipe calls for, I used 1/4 cup of oil and added an extra banana to make up the difference. It totally works and the muffins are still so soft you won't miss that extra 1/4 cup of calories.
Besides the oil and almond milk, these muffins are leavened with eggs, baking soda, and vinegar. Vinegar is my new muffin secret weapon because it activates the baking soda and makes them perfectly soft and fluffy.
I used fresh blueberries in these muffins because they were on sale at the grocery store. You can use frozen regular sized blueberries or my favorite "wild" berries (that are mini), but make sure that if you use frozen they are rinsed and drained and patted dry, and that there are no ice crystals. You don't want excess water in these muffins!
These are perfect for snacking, freezing for quick breakfasts (hey, back to school is just around the corner) or for brunch. I know I'll be making them often, especially because we have friends who are dairy-free.
Other Banana Blueberry Recipes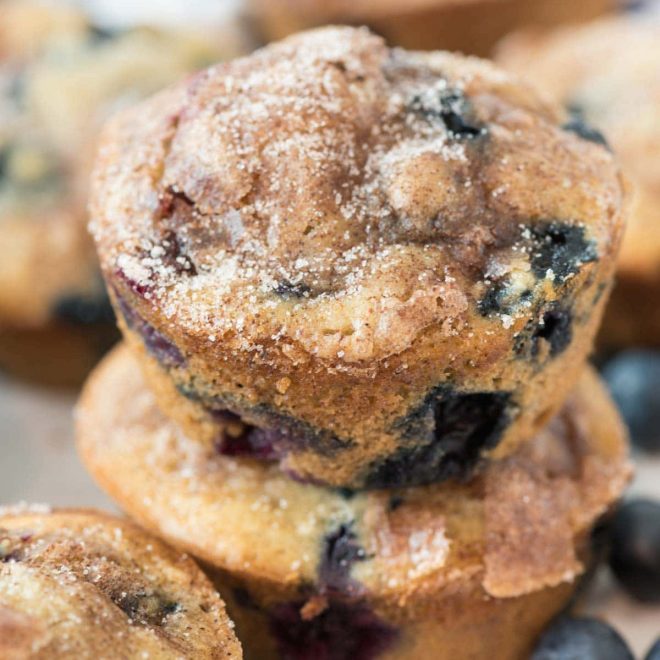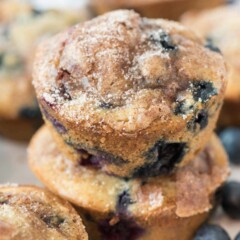 Banana Blueberry Muffins
Banana Blueberry Muffins – easy dairy-free blueberry muffins that are also banana muffins! Soft, moist, and fluffy, they're the perfect muffin recipe.
Ingredients
3/4

cup

granulated sugar

1/4

cup

vegetable oil

1/4

teaspoon

salt

3

medium overripe bananas

2

large eggs

7

tablespoons

Almond Breeze Unsweetened or Unsweetened Vanilla Almondmilk

1

teaspoon

vanilla extract

1

teaspoon

baking soda

1

teaspoon

white vinegar

2

cups

all purpose flour

2

cups

fresh or frozen blueberries

if using frozen, be sure to remove any ice crystals

Optional topping: 2 tablespoons granulated sugar + 1/2 teaspoon cinnamon
Instructions
Preheat oven to 350°F. Grease muffin pans with nonstick cooking spray or line them with liners. Be sure to spray liners with nonstick cooking spray as well.

Stir oil, salt, and 3/4 cup sugar with a wooden spoon. Set aside.

Add bananas, eggs, almondmilk, vanilla, baking soda, and vinegar to a blender jar and blend until smooth.

Stir the banana mixture into the sugar mixture, then stir in the flour until just combined. Stir in blueberries. (Make sure that your frozen berries are not overly wet; pat them dry and/or remove any ice crystals or your batter will be too wet.)

Fill muffin cups 3/4 full (about 1/4 cup of batter per muffin).

Optional topping: stir 2 tablespoons sugar and cinnamon, then sprinkle on the top of the muffins.

Bake for 15-20 minutes until a toothpick comes out clean. Cool at least 10 minutes before removing muffins from pan.
Nutritional information not guaranteed to be accurate
Click here for easy ways to use overripe BANANAS
Click here for more Brunch Recipes!
This post is sponsored by Blue Diamond Almond Breeze Almondmilk. Almond Breeze believes in the best. That's why we only use Blue Diamond Almonds to make our almondmilk and why we're proud to be an official sponsor of USA Volleyball. Visit www.ServeUpYourBest.com for a chance to win $5,000 for the ultimate beach day, learn fun volleyball moves, get Almond Breeze coupons and smoothie recipes!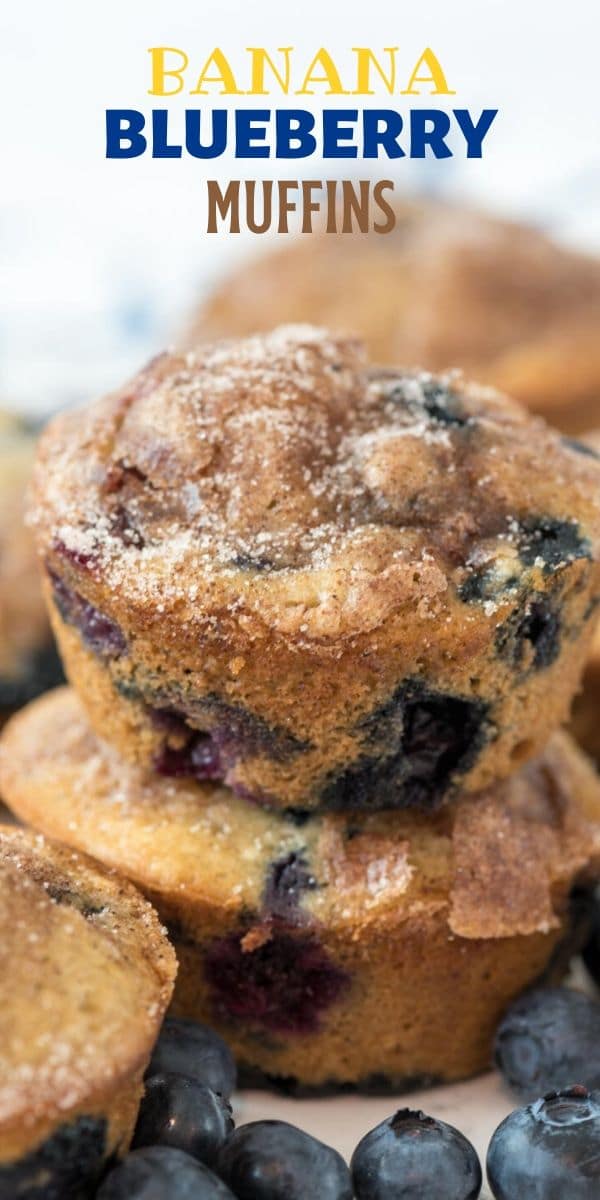 Banana Blueberry Muffins are made with almond milk so they are dairy free! This easy muffin recipe is the perfect breakfast or healthy snack with fresh or frozen blueberries and lots of banana!
Last Updated on July 10, 2020