This post may contain affiliate links. For more information, read my disclosure policy.
These blueberry cream cheese muffins are probably the BEST muffins I've ever had, no joke! Soft and fluffy blueberry muffins topped with streusel and stuffed with a sweet cream cheese filling. The only blueberry muffins recipe you will ever need!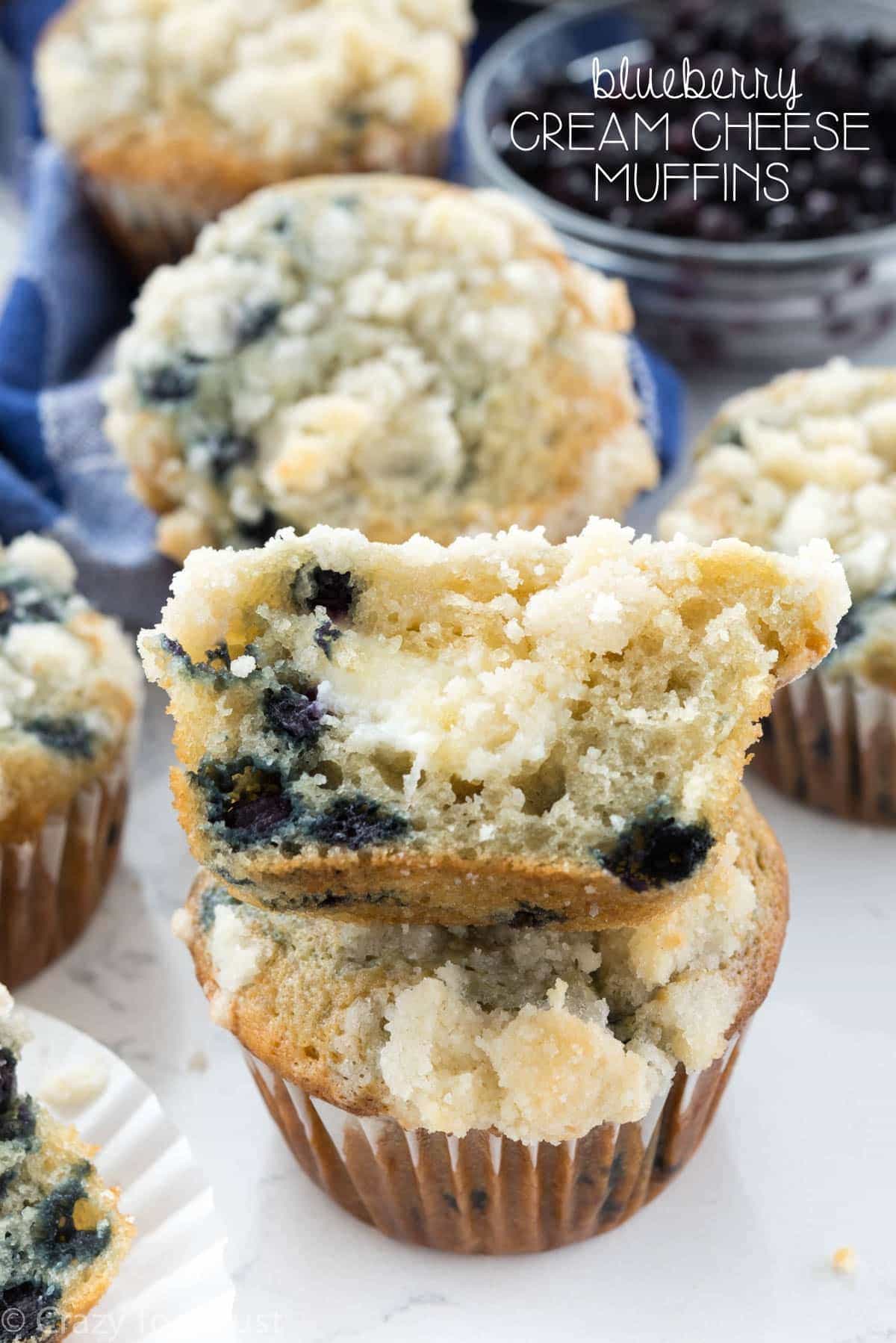 Before we talk about my favorite new blueberry muffins, let 's talk about my favorite new movie. Have you seen Chasing Mavericks? We just watched it last weekend. It's even a great family movie (for kids 10+). It wasn't scary, it had thrills, and most of all, it had a great message: if you work hard enough, you can reach your dreams. It also made me homesick.
Mavericks is a place, or, rather, a thing. It's an area of coastline near Half Moon Bay, California where the crazy surfers go in the winter. There are super high waves that only really good (read: insane) surfers can ride. They have competitions there, normally in January, when the surf is the highest.
For those of us that don't surf, it's also a place called Ross' Cove. I grew up about 30 minutes from Half Moon Bay and Ross' Cove is where every teenage goes to party in high school. Beach bonfires, music, the works. At a few places in the movie they show the beach and the path down the cliff you have to walk if you park illegally (which you have to do if you're, you know, partying on a beach at midnight when you're 16). Watching it brought back floods of memories.
When Mel and I started dating, Half Moon Bay and nearby Montara mountain were our favorite weekend spots. We hiked all over the place, including out to the cove to watch the surfers one January. Just watching the flyovers in the movie made me long to live there again.
So, anyway, I might be biased, but it really was a good movie, if you're looking for a good one. And if you've never seen guys surfing at Mavericks, check it out on youtube. It's INSANE.
I'm not the surfer type (as I found out last summer), but I am totally the muffin-eating type. (Muffin-top type? TMI?)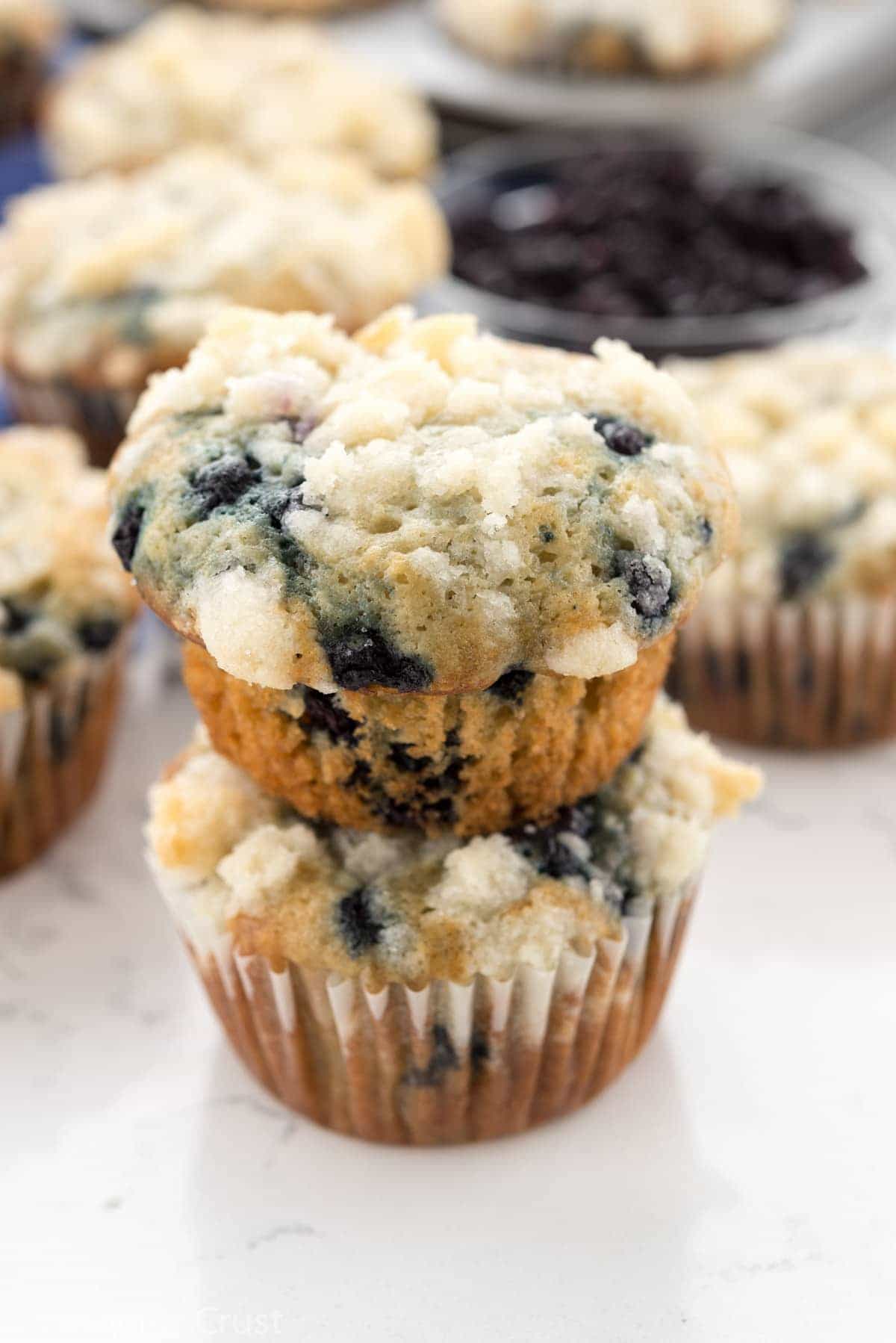 Blueberry Cream Cheese Muffins
You guys, these blueberry cream cheese muffins. They're THE BEST BLUEBERRY MUFFINS EVER. I'm serious. They're fluffy, soft, moist, and they're full of cream cheese (read: cheesecake) filling. AND they have streusel on top.
Pretty much, these muffins are top notch. They're really the only muffin recipe you need. EVER. Except these. And these.
I think I've perfected the blueberry muffin recipe with these. Want to know my secrets? Of course you do.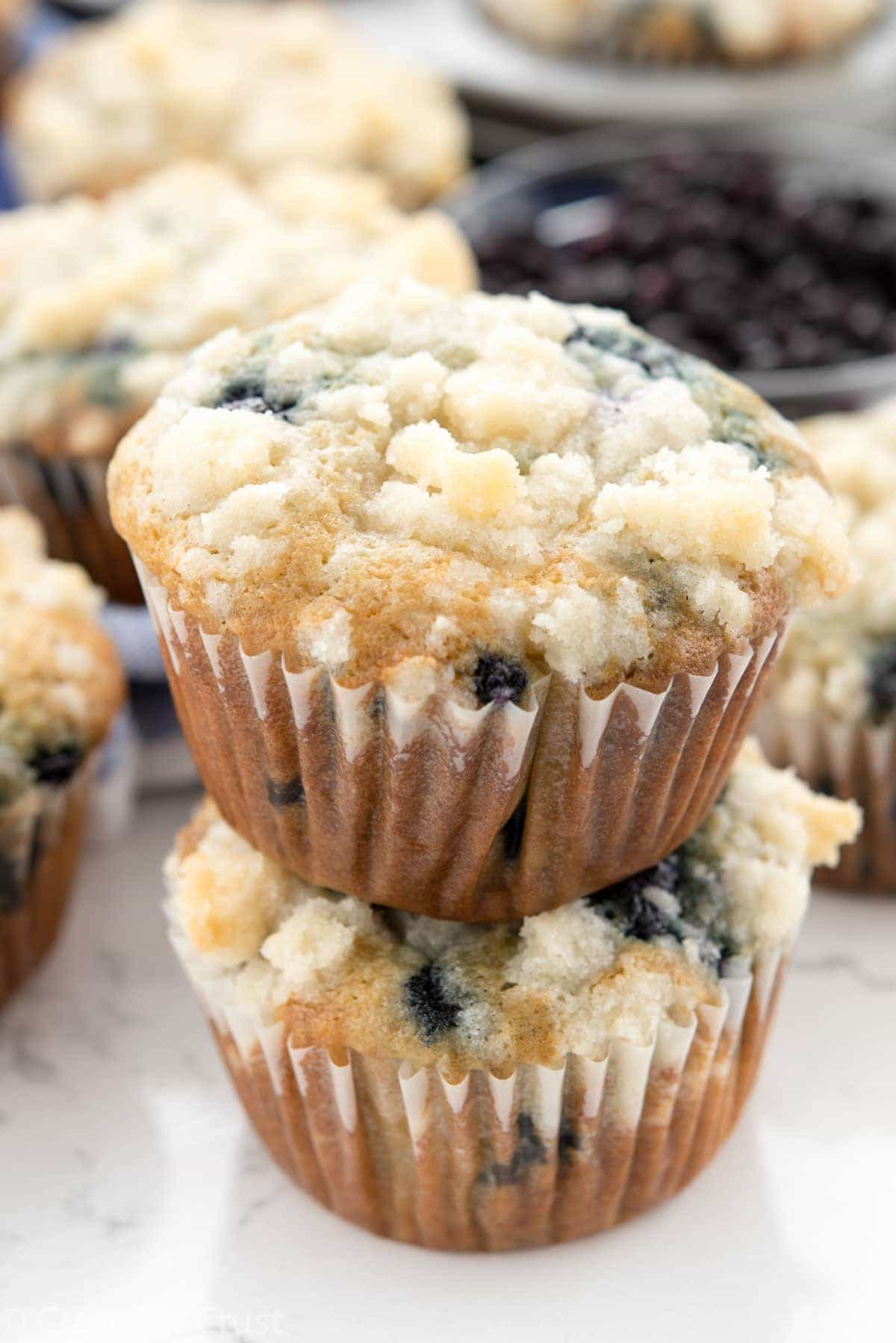 I grew up eating blueberry muffins that my mom made, which I later turned into Fruity Pebble Muffins, but I like these better. (Sorry mom!) Last summer I made Lemon Crumb Muffins, which is a very similar recipe to this one. Those had lemon juice and sour cream to make them all soft and perfect. When I was thinking about how to turn them into the perfect blueberry muffin, I had an epiphany.
My mom's banana bread recipe – to die for – is made with sour milk (basically, vinegar + milk). My favorite pound cake recipes are made with vinegar. Those Lemon Crumb muffins are made with lemon juice. And all of them have baking soda in them instead of baking powder. And all of them produce fluffy, delicious baked goods.
(Remember, red velvet is made with vinegar too!)
The moral of the story? Using baking soda and vinegar (or an acid, like lemon juice) makes the perfect reaction for moist, fluffy muffins with the perfect crumb. #lightbulbmoment
For these blueberry muffins, I left out the lemon juice and added vinegar instead. The result? Perfection.

This blueberry cream cheese muffins recipe makes about 24 muffins. And even though it seems like there are a lot of steps, they're really easy too.
How to Make Blueberry Cream Cheese Muffins
First, make up your batter. You can use a hand mixer or a wooden spoon. Add two tablespoons of batter to each muffin liner, then fill it with a simple cream cheese mixture made of cream cheese and sugar. Then you top them with more batter and an easy streusel. You guys – this is the BEST streusel. Just like at a bakery! It's sweet and crunchy and adds the perfect finish to the muffin.
Once they bake, you have the BEST blueberry muffins with a surprise inside. The best kind of surprise!
Enjoy!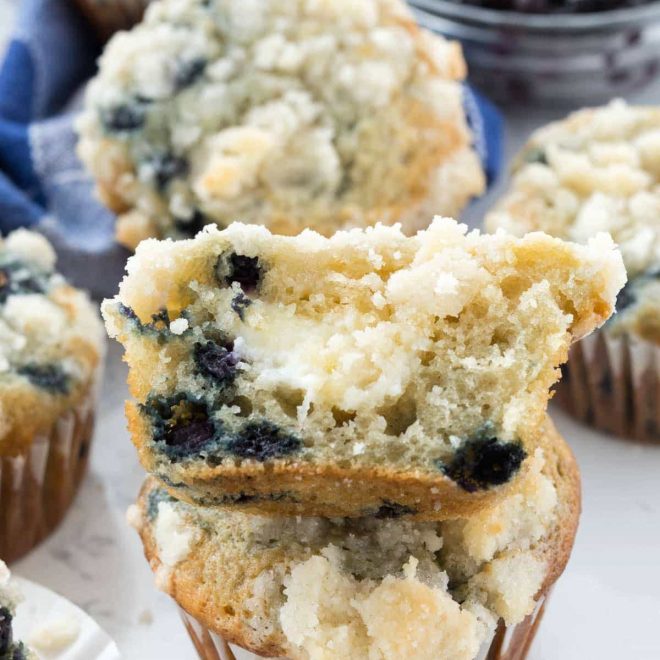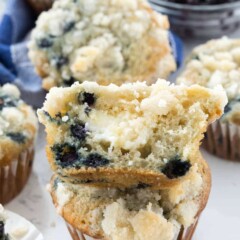 Blueberry Cream Cheese Muffins
Easy Blueberry Cream Cheese Muffins - the perfect recipe for blueberry muffins, filled with cream cheese and topped with streusel! The best breakfast muffins recipe!
Ingredients
Topping:
1/2

cups

all-purpose flour

1/2

cup

granulated sugar

1/8

teaspoon

salt

3

tablespoons

unsalted butter

melted
Muffins:
2

eggs

1

cup

granulated sugar

1/2

cup

vegetable oil

1

tablespoon

vanilla extract

1

teaspoon

white vinegar

1

teaspoon

baking soda

1/2

teaspoon

salt

1

cup

sour cream

2

cups

all purpose flour

1

cup

blueberries

wild or regular sized, fresh or frozen but defrosted and drained
Filling:
4

ounces

cream cheese

room temperature

3

tablespoons

granulated sugar
Instructions
If you're using frozen berries, make sure to let them defrost and drain well before adding them to the muffins.

Preheat oven to 350°F. Line muffin pans with paper baking cups.

Make the topping by stirring together all topping ingredients with a fork in a medium sized bowl. Set aside.

Using a hand mixer, mix eggs with electric mixer about 1-2 minutes until thick and frothy. Mix in sugar and oil, beat until creamy. Mix vanilla, vinegar, baking soda, and salt. Mix in sour cream then stir in flour using a wooden spoon. (Batter may be slightly lumpy.) Stir in blueberries.

Make the cream cheese filling: stir (or use a hand mixer) together cream cheese and sugar until smooth.

Fill muffin cups with about 2 tablespoons of muffin batter. Add about 1-2 teaspoons of cream cheese to the center of each muffin, then top with another 1 tablespoon of batter. Sprinkle the crumble evenly over the top of the muffins.

Bake for 15-22 minutes until a toothpick comes out clean from the center of a muffin. Cool 5 minutes in pan then remove to a rack to cool completely.

Store in an airtight container for up to 3 days or freeze for up to one month.
Recipe Nutrition
Serving:
1
muffin
|
Calories:
201
kcal
|
Carbohydrates:
25
g
|
Protein:
2
g
|
Fat:
10
g
|
Saturated Fat:
4
g
|
Cholesterol:
29
mg
|
Sodium:
1322
mg
|
Fiber:
1
g
|
Sugar:
15
g
Nutritional information not guaranteed to be accurate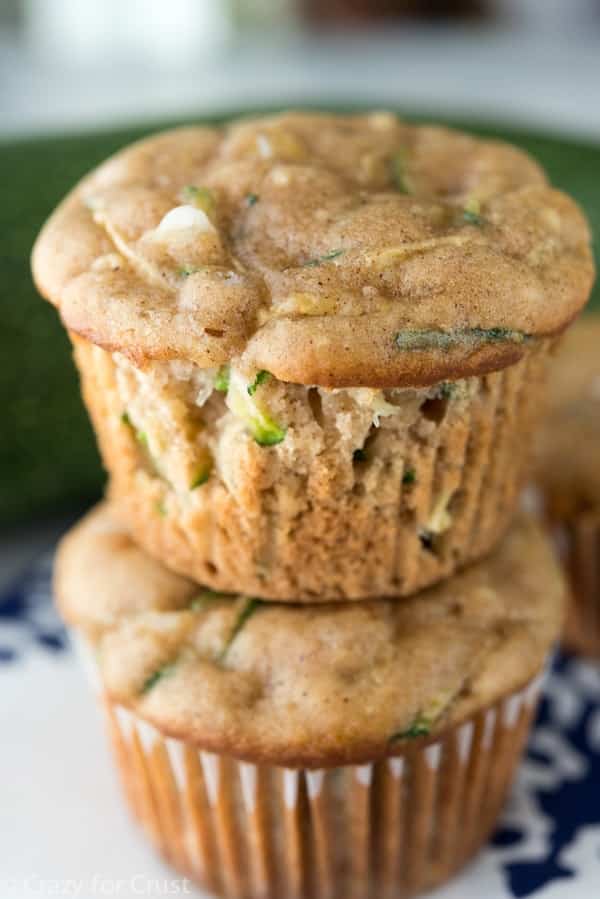 Cinnamon Sugar Blueberry Banana Bread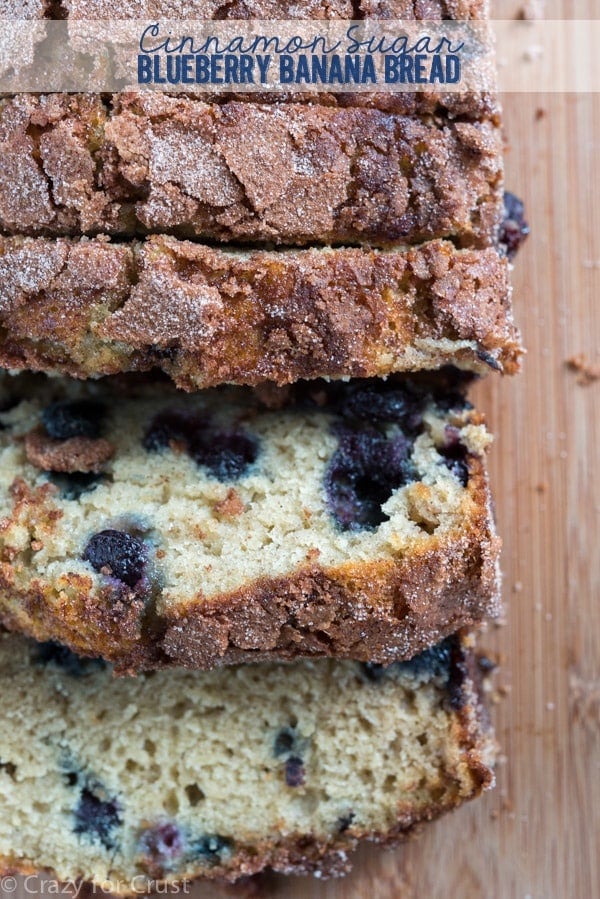 Sweets from friends:
Red Velvet Cream Cheese Muffins by Averie Cooks
Banana Cream Cheese Muffins by Baked Bree
Last Updated on April 30, 2023