This post may contain affiliate links. For more information, read my disclosure policy.
There's nothing I don't love about this pie: Butterfingers, easy homemade ice cream, and an Oreo crust. Doesn't get much better!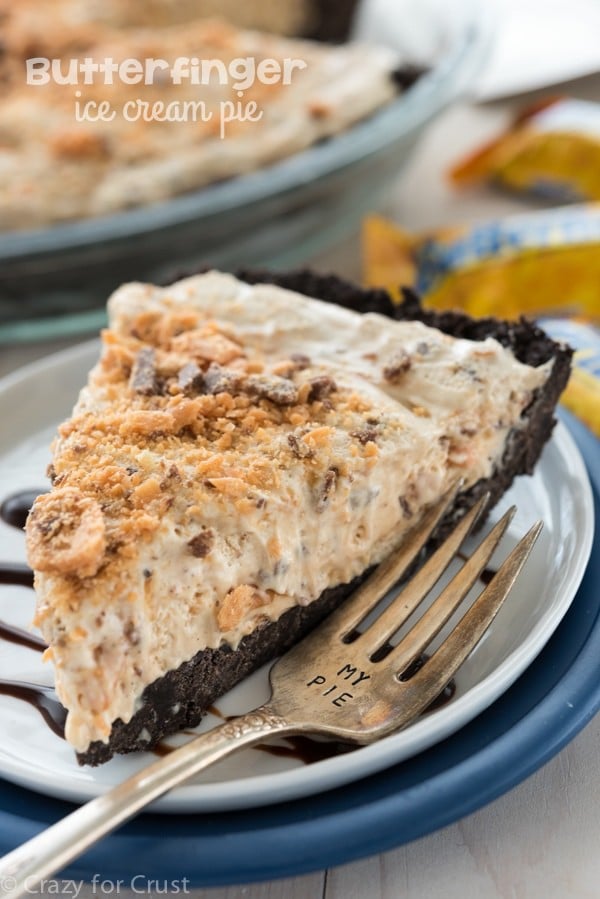 I'm back! Did you miss me? (In all honesty, that's not a fair question. Unless you follow me on Instagram, you probably didn't even know I was gone.)
My family and I spent the last week in Hawaii, on Maui. It was a week full of water, sun, reading, relaxation, good food, and rum. (Lots and lots of rum.) I'll be sharing more about my trip over the next few weeks, and I have so many recipes I want to make. Most of them are cocktails…with rum.
The vacation was exactly what we needed: 7 days together, no work. I think it was Christmas since the three of us have all been together for that long. (That's a teeny exaggeration, but not by much – my husband has traveled all but 3 weeks since January.)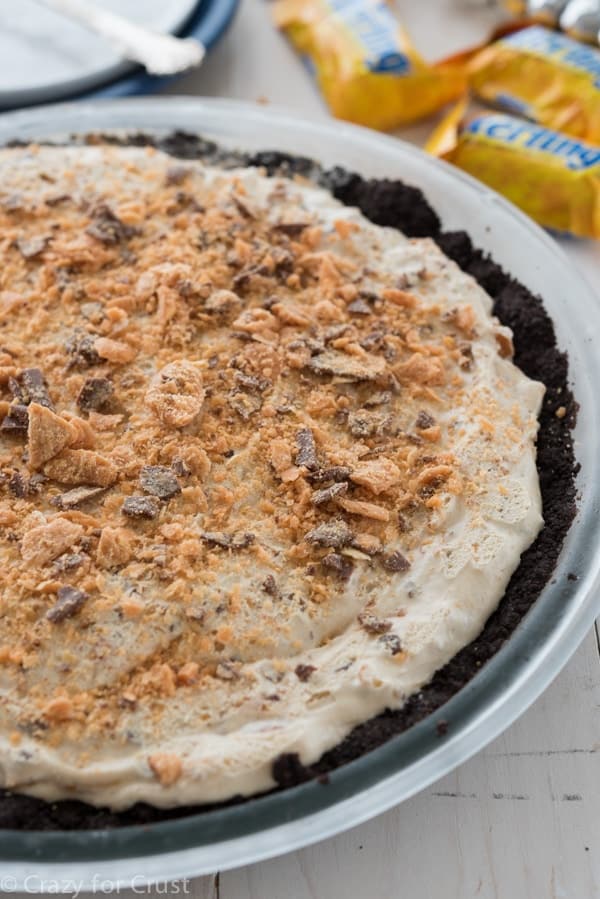 In past years I brought my work with me on vacation. This trip? I hired a virtual assistant, scheduled everything, and left my phone in the hotel room 80% of the time. I think I deserve an award, honestly.
I had already been planning not to work very much on the trip but an experience I had on the first day solidified it for me. Picture it: paradise. A resort pool, palm trees, a good book…and the family on the lounges next to me with computers on their laps and on a conference call all morning long.
At one point the dad said to his teenage son, "Well, when you own your own business you don't get a vacation." (#truth)
And the son replied, "No, dad, I'm really proud of you. You came to the pool!"
His son was proud of him because he brought is Macbook Pro to the pool and spent 3 hours on conference calls during vacation.
I don't want to be that person. If we're being honest, until this trip? I was that person.
That, my friends, is going to change. And that's the best souvenir I could have brought home from Hawaii.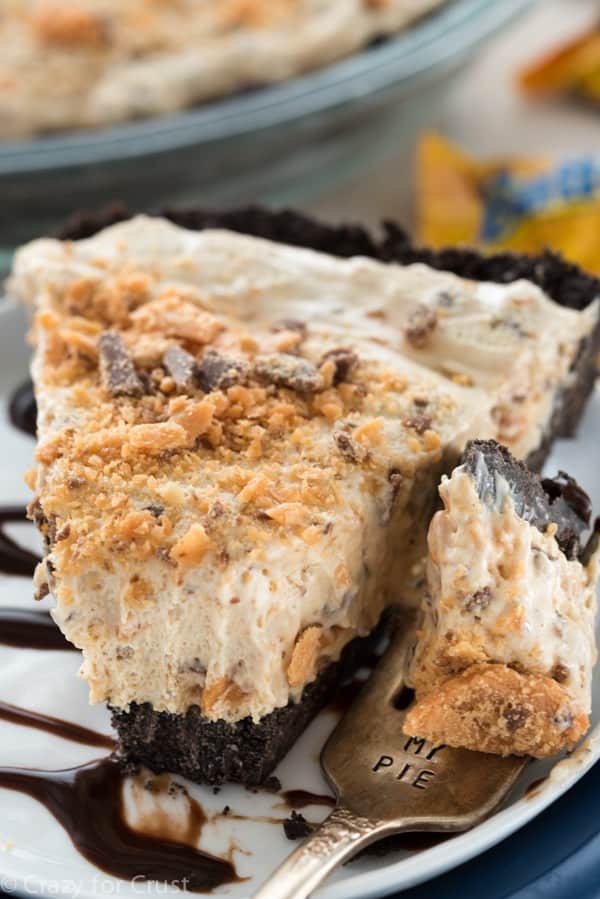 I didn't have this pie in Maui, but I had a lot of it before we left. Between this pie and my week of indulgence, I'm getting ready to start a major eating plan. Sadly, it won't include Butterfinger Ice Cream Pie.
But that doesn't mean you can't eat it. 🙂
Remember when I shared my post about how to make an Oreo crust? I made 3 pie crusts that day. One turned into a cheesecake, the other turned into a strawberry shortcake, and the final Oreo crust? Became this pie. A glorious No-Bake Butterfinger Ice Cream Pie!
A few notes about the recipe:
Feel free to use a store-bought crust if you prefer.
You can use fat-free or regular sweetened condensed milk.
You can use regular, light, fat-free, or sugar-free Cool Whip. You can also use fresh whipped cream if you prefer. Just be careful, if you're using fresh, not to break the cream when you're stirring it all together.
This pie freezes soft. It's not a hard pack ice cream, but more like a combination of soft serve/frozen/cheesecake texture.
Add more Butterfingers if you want. More is always better!

Except when it comes to work. Then? Less is better…especially on vacation!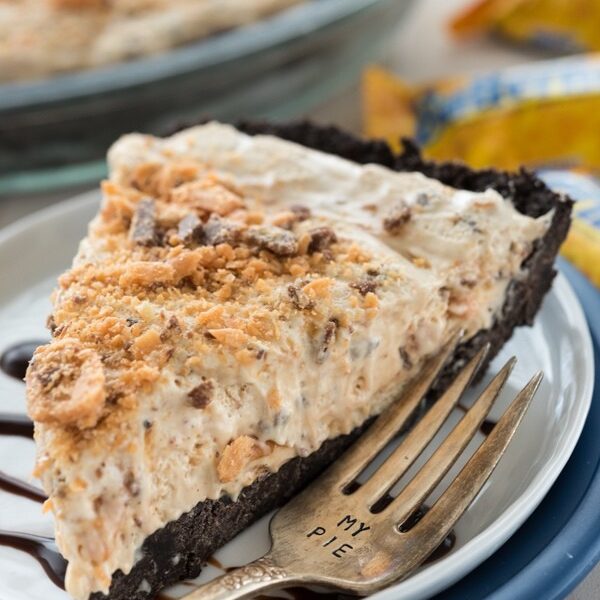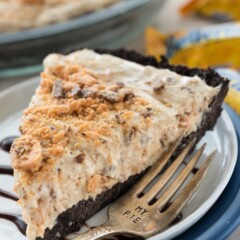 No Bake Butterfinger Ice Cream Pie
Butterfinger Ice Cream Pie - an easy no bake frozen pie filled with peanut butter and Butterfingers, all on an easy Oreo crust!
Ingredients
1

Oreo Crust

or store bought

5

ounces

by volume, just over 1/2 cup sweetened condensed milk

1/4

cup

peanut butter

I use regular peanut butter, like Skippy

1/2

teaspoon

vanilla extract

8

ounces

1 tub Cool Whip

12

mini Butterfinger candy bars

chopped fine, about 2 cups
Instructions
Stir sweetened condensed millk and peanut butter in a large bowl. Stir in vanilla. Fold in whipped topping. Fold in 1 3/4 cup of the crushed candy bars.

Spread filling in prepared crust. Cover with plastic wrap and freeze for at least 4 hours or overnight.

Before serving, sprinkle with remaining crushed Butterfingers. Store covered in the freezer for up to 1 month.
Nutritional information not guaranteed to be accurate
Get all my No Churn Ice Cream Recipes here.
Click here to see more PEANUT BUTTER recipes!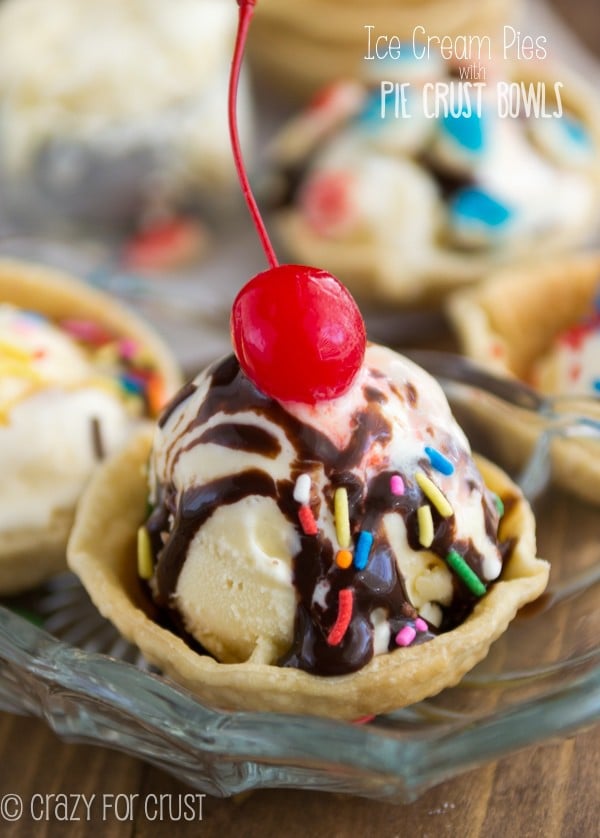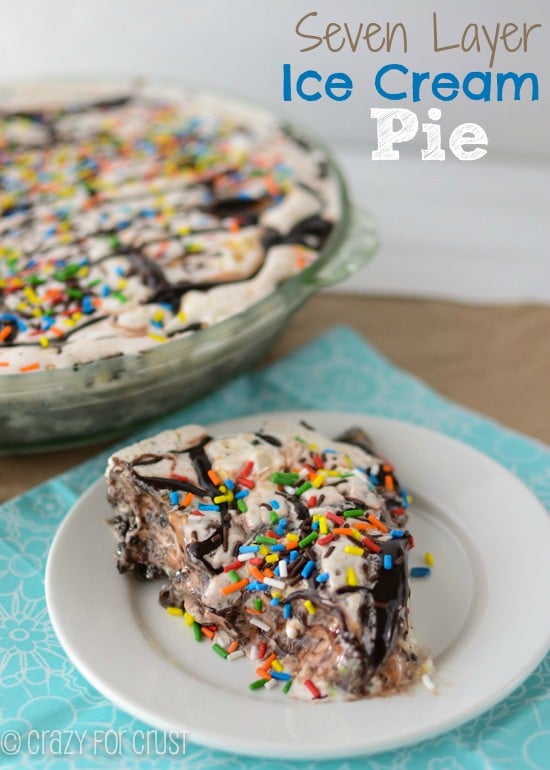 Peanut Butter Chocolate Cream Pie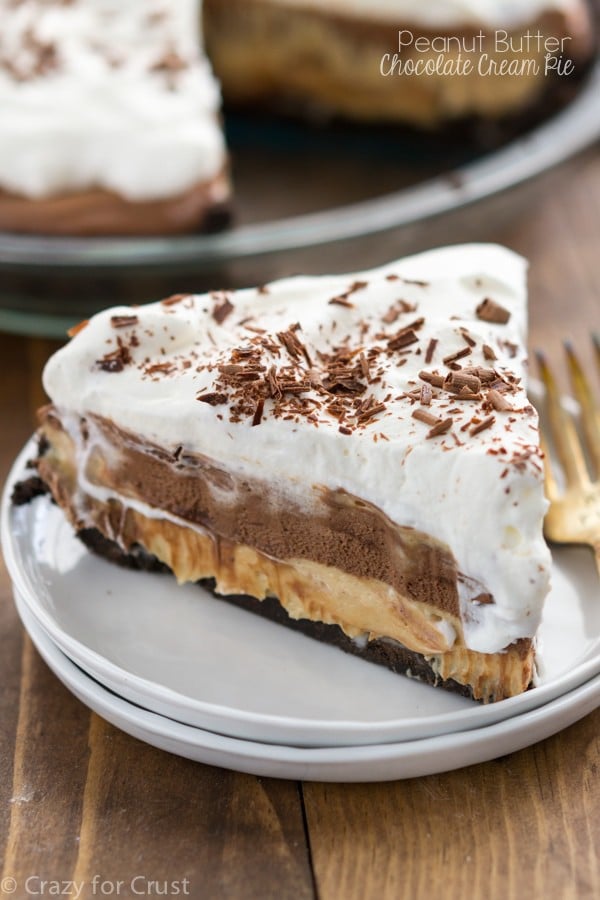 Last Updated on September 20, 2019