This post may contain affiliate links. For more information, read my disclosure policy.
Can you feel the magic? These aren't just plain old chocolate chip cookies. They're magical cookies! These cookies are made with ice cream inside the batter!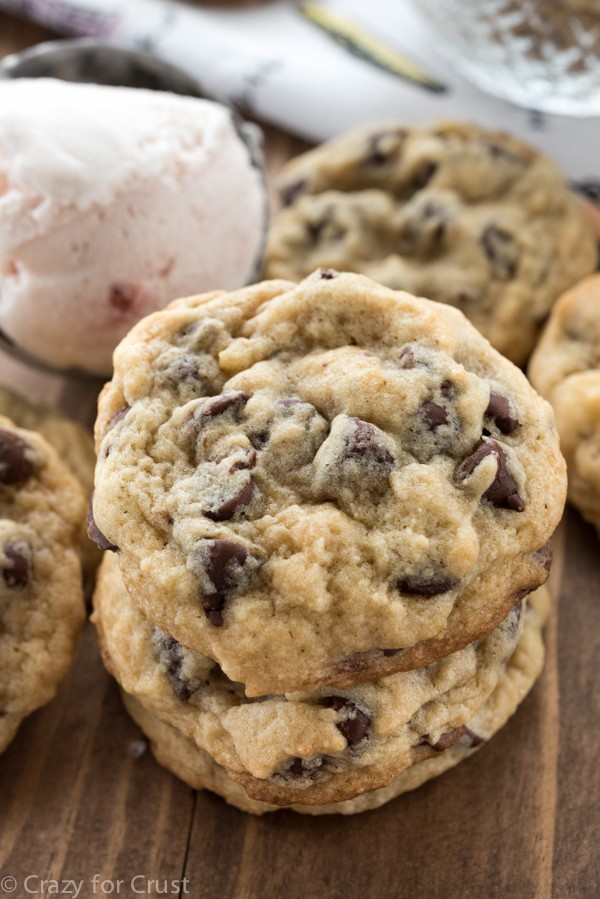 Yes, I totally did that. I put ice cream INSIDE cookies.
How awesome is that?? RIGHT??!!
Now, if we're being totally honest with each other, this is not the first time I've done this. Except the last time I put ice cream in cookies about 3 people read my blog and my photos were less than desirable. Long story short, no one saw them.
So I decided it was time for a revamp because these cookies deserve their day in the limelight. They're that good.
Also, I have eleventy-billion cartons of ice cream in my freezer. Best way to use up ice cream? Make it even more fattening by putting it in chocolate chip cookies!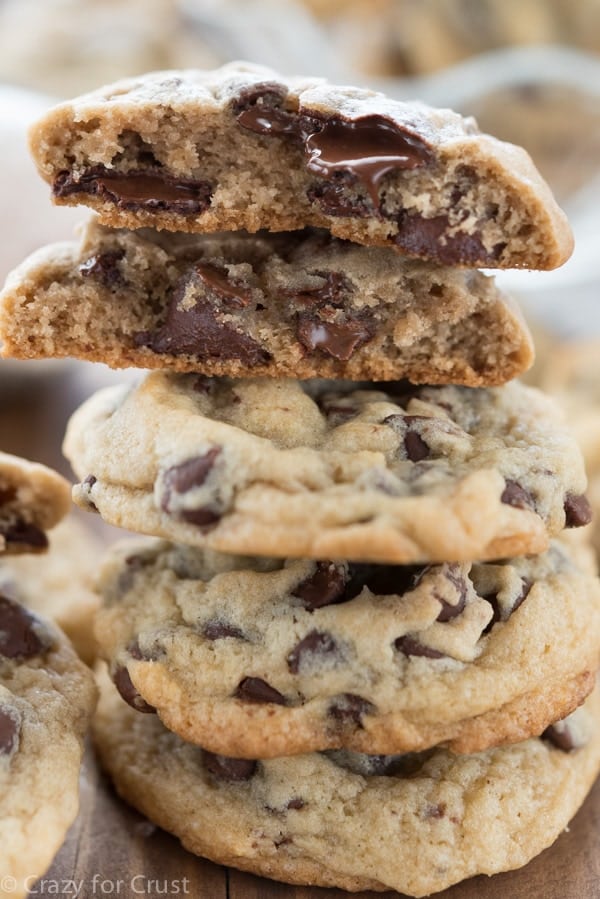 It was about a month ago when I was perusing through my archives and was reminded of my original ice cream cookies. As I often do with recipes I made in my first year of blogging I immediately wondered why I thought I was a good photographer, and then I wondered if the recipe actually worked. I mean…it did back then. But back then I really had no idea how to write recipes. You learn a lot in 4.5 years.
#KeepingItReal
I made these cookies three times in two days, with three different flavors of ice cream. You guys, I was onto something back then. Not only did the recipe work every time but every flavor tasted the same but oh-so different.
These cookies taste like chocolate chip cookies. But then, while you're eating them, you get another flavor. And if you didn't know the cookies had mint chip ice cream or strawberry ice cream inside you'd probably think what the heck is that flavor?
But if you know the ice cream is there? You can totally taste it. And it totally changes the cookie for the better.
If you don't believe me, ask Lisa. She was the lucky recipient of a good portion of these cookies. They were her birthday present and I mailed them to her in a fun little ice cream container. (Get it? Ice cream cookies in an ice cream container? I kill myself.)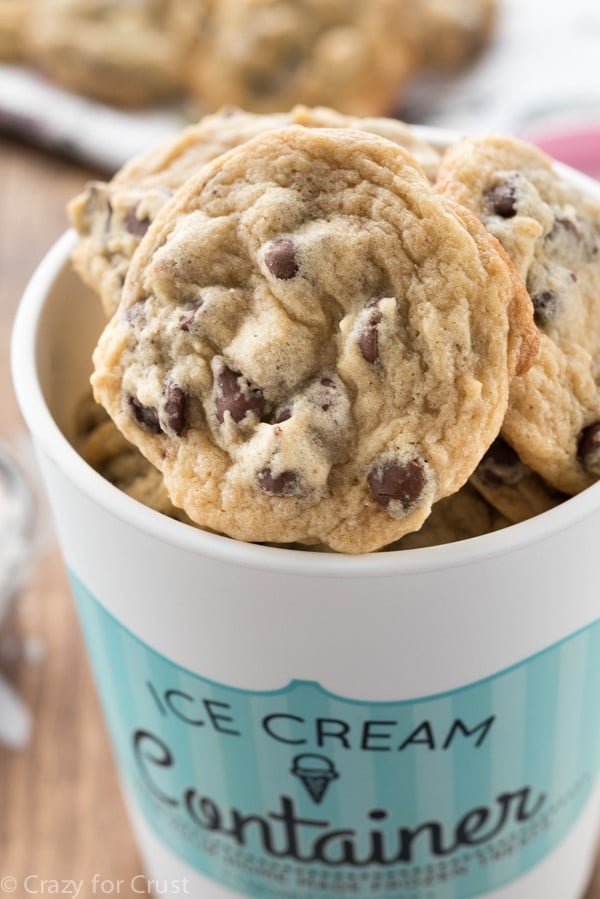 (BTW, Lisa, that's my container. I didn't, like, use yours and then mail it to you. Not that you'd expect any less of me, ha!)
I used my favorite chocolate chip cookie recipe of all time for these cookies. The only difference is that I did not brown the butter. I was just too lazy to do that. But you totally could!
The trick for adding ice cream to cookies is to replace some of the butter and some of the egg with ice cream. My original recipe calls for 1 cup of butter and 2 eggs. This recipe has 1/2 cup butter, 1 egg, and 1/2 cup of ice cream. The science works, trust me.
When measuring the ice cream, I used it cold straight from the freezer. I just packed it into my (dry measure) measuring cup. You can use any flavor ice cream, but I recommend that you use full-fat regular ice cream (not reduced fat ice cream or frozen yogurt). I did not test this with anything but regular ice cream.
Once your dough is mixed together, it's just like a regular cookie dough. Because the dough starts with melted butter you need to chill it before you bake it. My favorite way to do this is to scoop your cookies (I used a 2 tablespoon sized cookie scoop) onto a cookie sheet, no need to space them out. Wrap them with plastic and chill the dough for at least an hour (or longer is fine too). When you're ready to bake, space them out onto cookie sheets.
Chilling the dough lets it rest and lets all the flavors melt together and it also gives you that crunchy exterior and soft interior. I love a gooey soft cookie and these are totally that. They stay soft for days!
And they taste like ice cream. That's pretty much the perfect cookie right there!

Ice cream and cookies. Now that's a combo I'm going to make for years to come. What flavor ice cream would you use?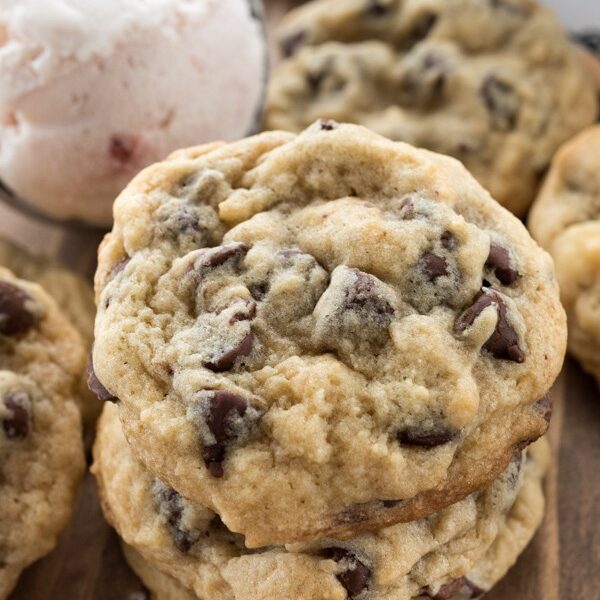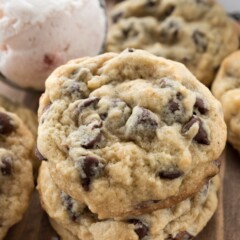 Ice Cream Chocolate Chip Cookies
These Ice Cream Chocolate Chip Cookies have your favorite flavor ice cream IN the cookies! I substituted some of the butter for ice cream and the result is the perfect cookie with a hint of the ice cream flavor!
Ingredients
1/2

cup

unsalted butter

melted

1/3

cup

granulated sugar

1/2

cup

light brown sugar

packed

1/2

cup

ice cream

use your favorite flavor, see note

1

large egg

1

teaspoon

pure vanilla extract

1/2

teaspoon

baking soda

1/4

teaspoon

salt

2

cups

all-purpose flour

2

cups

chocolate chips

or a combination of white and chocolate chips
Instructions
Note: this dough requires chilling!

Melt butter in a microwave safe bowl. Pour into an electric mixer fitted with paddle attachment. While still hot, add both sugars and mix on low until combined. Add ice cream and mix until smooth.

Add egg and vanilla extract, mix for just a few seconds, then add baking soda and salt. Mix until smooth, then mix in flour slowly. Mix dough just until it comes together, then stir in chocolate chips.

Scoop 2 tablespoon balls of dough onto a cookie sheet covered with wax paper. You're going to chill the dough balls so there is no need to space them out. Cover with plastic wrap and chill for at least 1 hour.

Preheat oven to 350°F. Place cookies 2" apart on cookie sheets covered with parchment paper or silpat baking mats. (If you've chilled them longer than 4 hours you might want to press them down slightly with the palm of your hand otherwise they won't flatten totally.) Bake for about 9-11 minutes, until they start to get golden around the edges. Cool at least 5 minutes on cookie sheets before moving to a rack to cool completely.

Cookies can be stored in an airtight container for up to 4 days or frozen for up to 1 month.
Nutritional information not guaranteed to be accurate
Bakery Style Chocolate Chip Cookies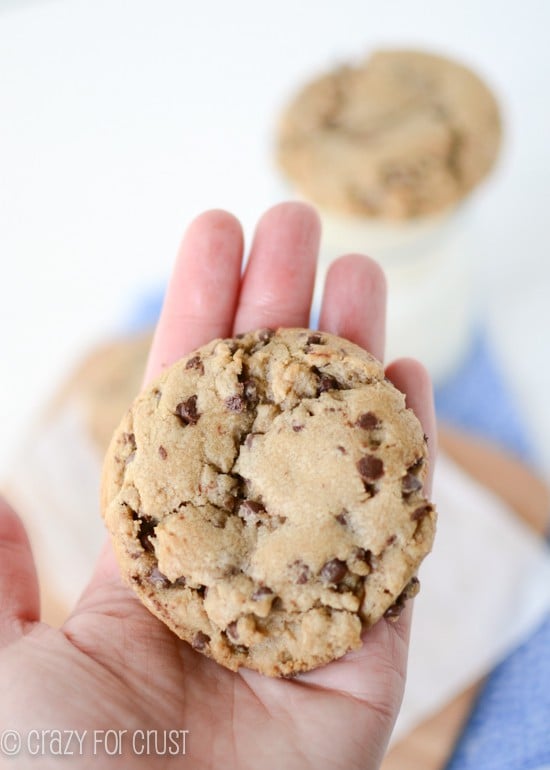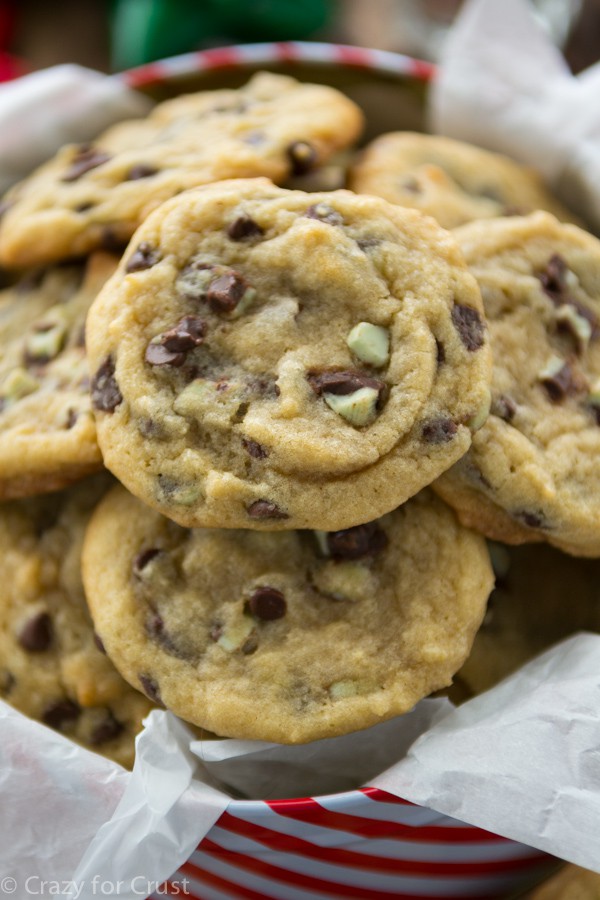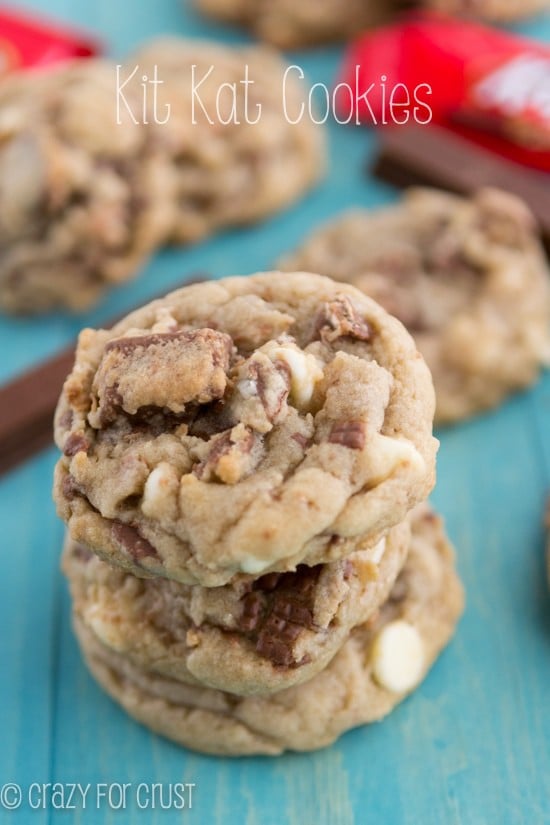 Sweets from friends:
Cake Batter Ice Cream Bread by In Katrina's Kitchen
Vanilla Ice Cream Bread by The Weary Chef
The Ultimate Guide to Chocolate Chip Cookies by Handle the Heat
Last Updated on August 28, 2019