This post may contain affiliate links. For more information, read my disclosure policy.
Bean Stuff – this easy 4 ingredient casserole recipe is a family favorite. It's a great easy weeknight dinner! We've been eating it for generations and everyone loves it!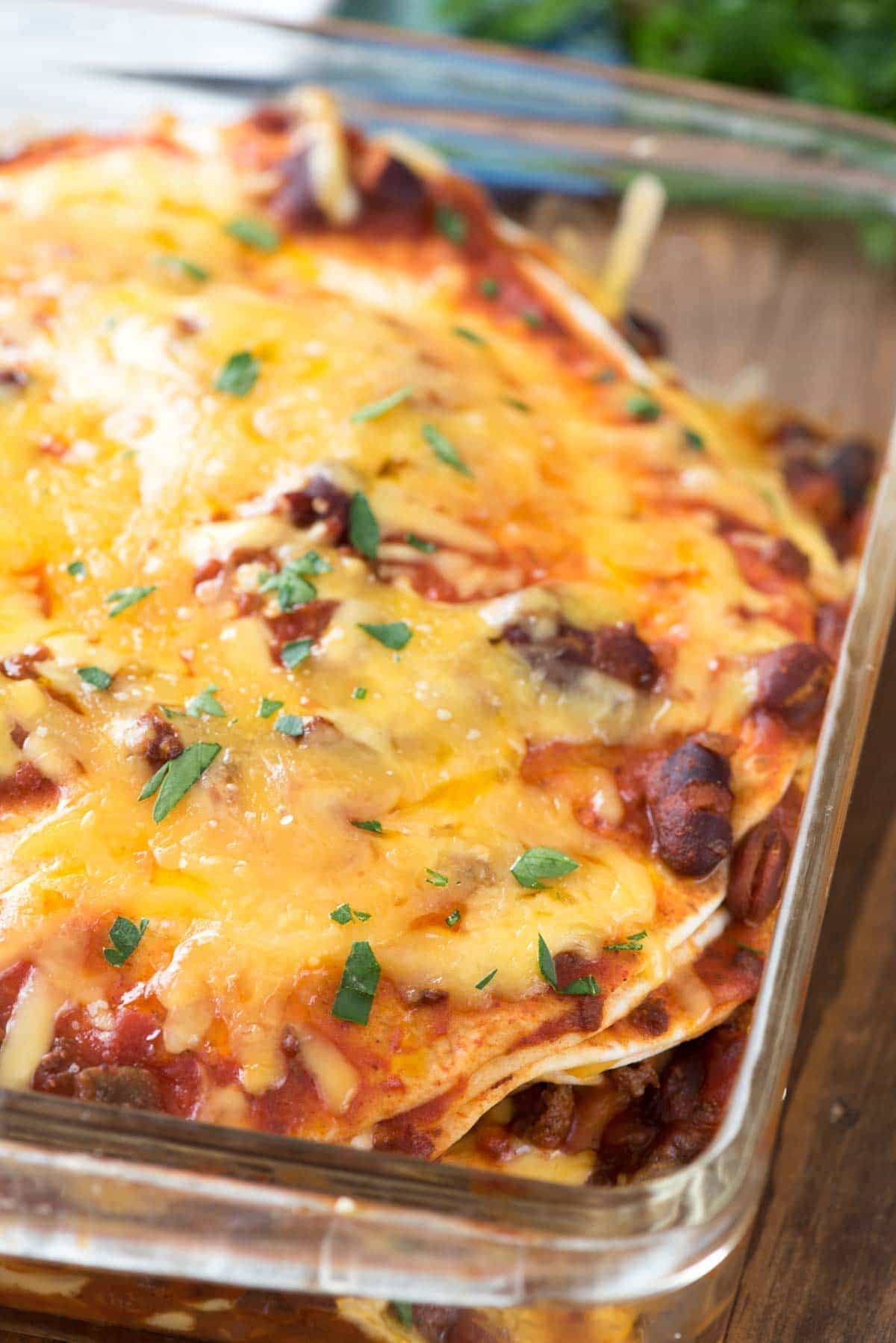 This bean stuff recipe has been in my family longer than I have; I think it started out as my Nana's creation. All I know is that I've been eating it my entire life and it's downright dangerous to have in my house because I can easily eat the entire thing in one day. I'm not even exaggerating!
I was the pickiest kid growing up; I wouldn't eat condiments (still don't), onions, red sauce on pasta…and so many other things. But I always looked forward to Bean Stuff night. I have no idea why I would eat this gooey, cheesy, chili-laden casserole when my mom had to keep my pasta separate. And God forbid Taco Bell forget and put red sauce or onions on my bean burrito.
Speaking of gooey, cheesy, chili-laden foods… Have you ever made cheesy chili dip, cheesy chili dogs, or cheesy chili biscuit bake? TOTALLY worth trying those recipes as well!
At some point in my childhood, my mom decided to tell me what was in this casserole, in the hopes that, because I loved it, it would make me eat everything else. "There's chili inside," she told me. "Yes I know," I said. "But there's also a can of tomato sauce!" she gleefully exclaimed, hoping that because I'd eat the tomato sauce in my favorite casserole dish, I'd also make her life easier on spaghetti night.
It didn't work; I didn't eat sauce on my pasta until I was an adult and even now, I gravitate towards cream sauces or plain. But I kept on loving my beloved Bean Stuff, and now that I knew what was inside, I could help her make it on busy weeknights when she was at work.
Yep, friends, that's right. This meal is picky-kid approved and it can also be made by kids. Bean stuff casserole is pretty much a win-win dinner recipe, if you ask me.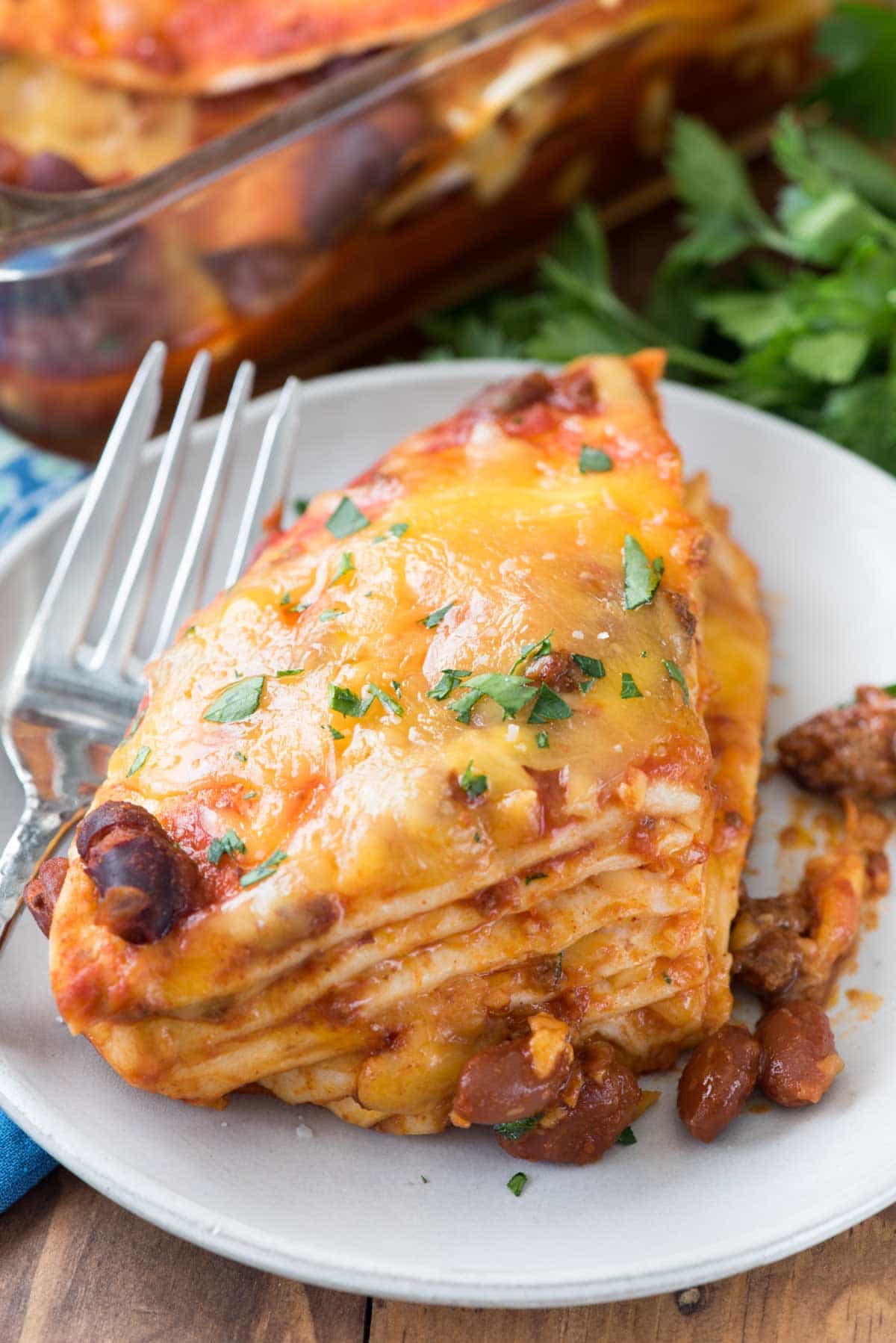 This recipe is queen of all easy dinner recipes. It only has 4 ingredients: chili, tomato sauce, tortillas, and cheese. Basically you layer them all together stack after stack until your pan is full.
When I was young, my mom would assemble the casserole and then immediately cook it, but when I was a teenager we accidentally discovered that if you make it ahead of time and let it soak the amazingness goes up about one bazillion percent. From then on, we'd assemble it the night before or the morning of eating it. She'd get home from work and dinner was already halfway to being made, which is the best feeling.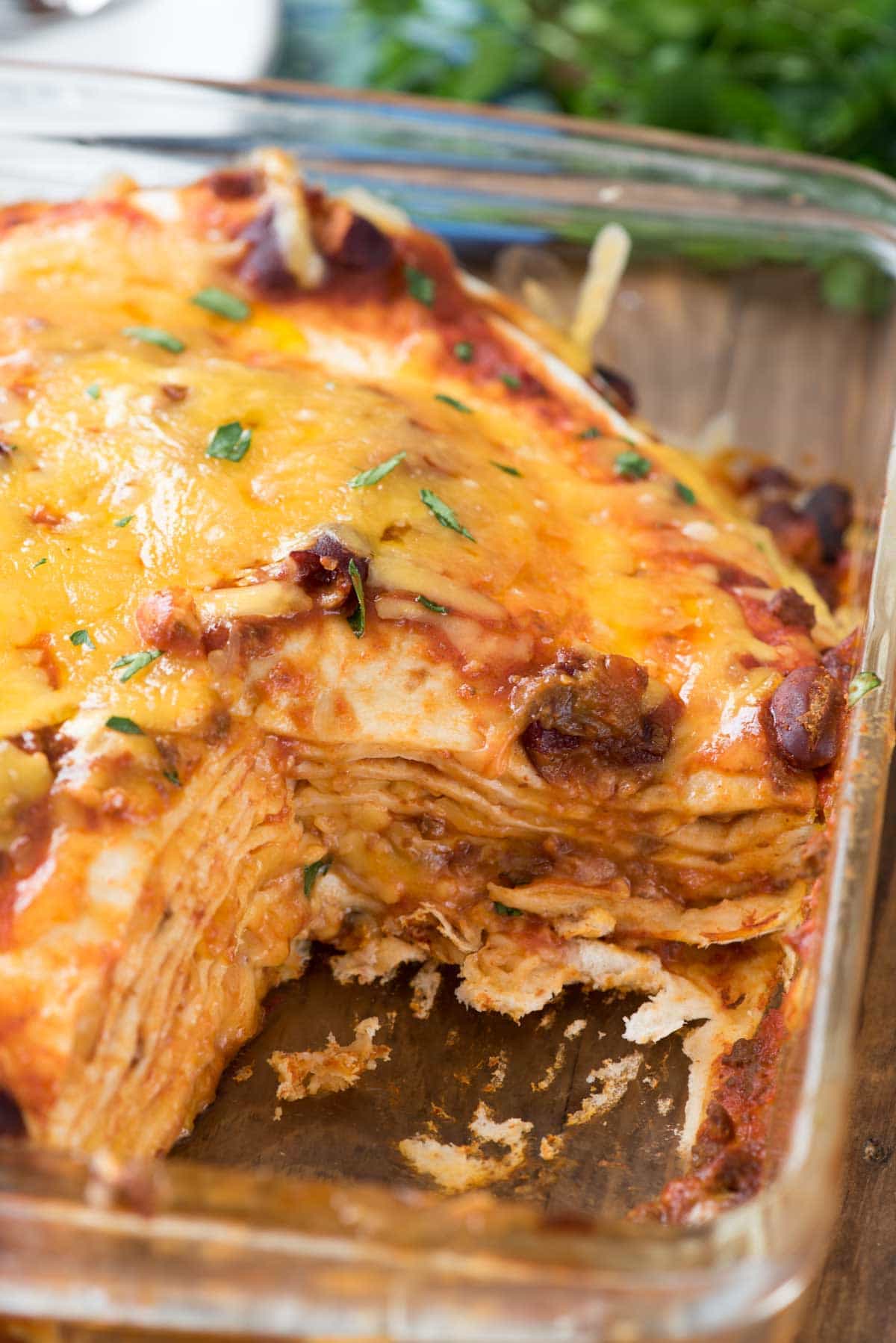 I grew up in the 70s and 80s, when TV trays, canned food, and the microwave was basically all you needed to make a meal great. My entire life, I've made bean stuff by cooking it in the microwave. That means that dinner is already made when I start thinking about what's for dinner, and then all I have to do is heat it up for 15-20 minutes.
Since I've started blogging, I realize that there are people out there who think microwaves are the devil spawn; that you will die if you stand in front of one or any other such beliefs. So in the interest of all the "can I bake this in the oven??" questions, yes you can!
The bean stuff recipe has baking directions for both conventional and microwave oven cooking methods.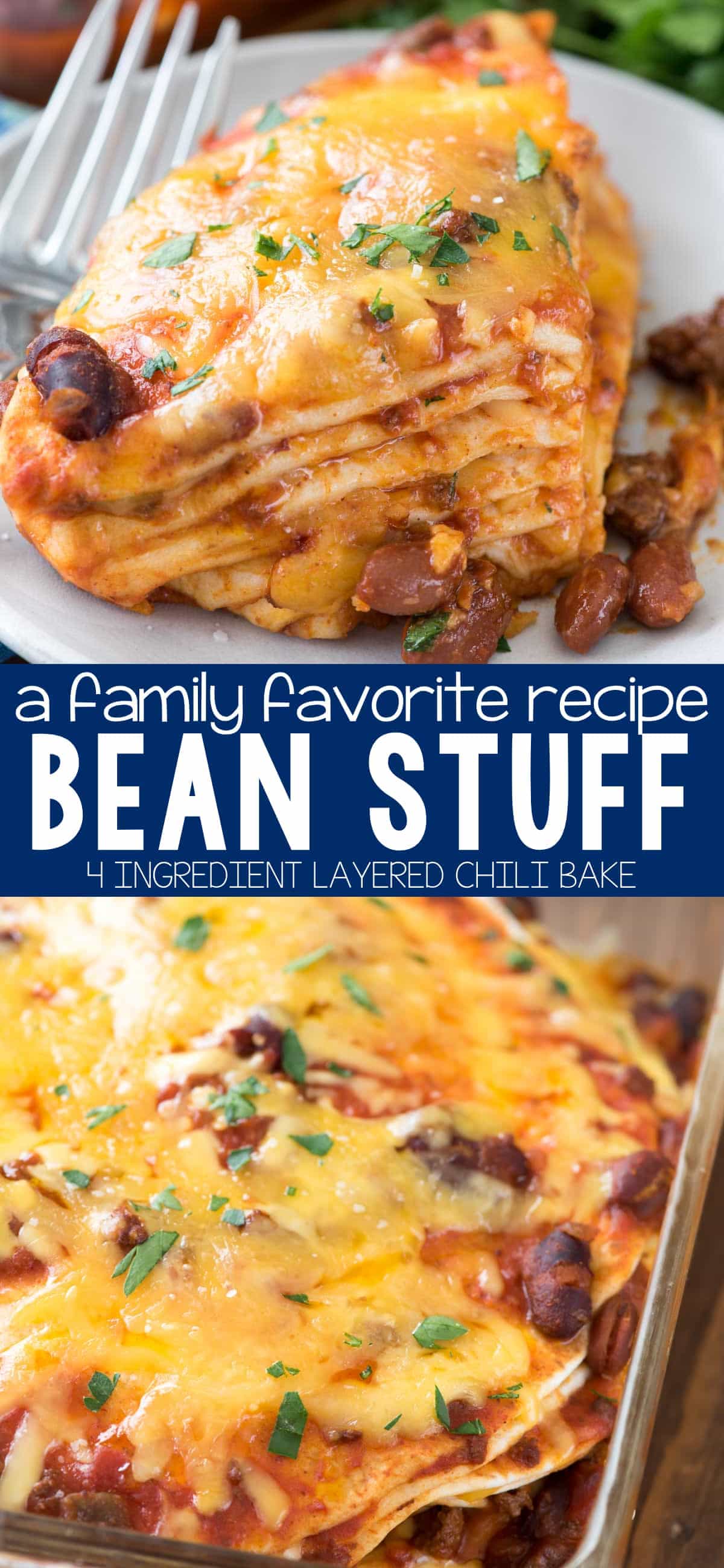 Do me a favor and don't ask about calories. In fact, don't even think about calories. Just make it and eat it. I say it serves 6 because, really, it probably should serve 8…although my family of 3 would finish it off in one setting. But we'd serve it with a side of canned green beans, so it was a healthy, well-balanced meal.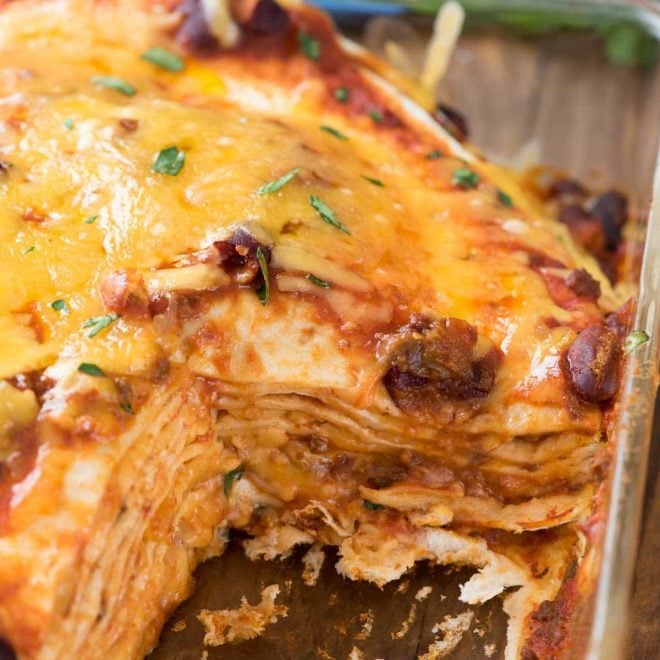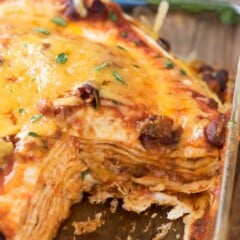 Bean Stuff Casserole
Bean Stuff - this easy 4 ingredient casserole recipe is a family favorite. It's a great easy weeknight dinner! We've been eating it for generations and everyone loves it!
Ingredients
1

can

15 ounces chili with beans

1

can

8 ounces tomato sauce

8-10

flour tortillas

soft taco size

2-3

cups

cheddar cheese

shredded
Instructions
Note: you can bake or microwave this. Make sure that, if you're using the microwave, you make it in a microwave safe pan.

Stir together chili and tomato sauce in a large measuring cup or bowl.

Scoop a bit of the chili mixture in the bottom of a 9x9" pan. Place a tortilla on top, then top with a few more spoons of chili mixture. Sprinkle with cheese. Top with another tortilla, more chili, and more cheese. Continue until you're out of all the ingredients. (I like to sprinkle extra cheese on top.)

Cover and refrigerate at least 3 hours (you can even do it all day or overnight, the longer the better).

When ready to cook, remove from refrigerator and let sit for about 10 minutes (or while oven is preheating, if you're baking it). Place 3 toothpicks in the top so they stick out. Cover with foil (OVEN only) or parchment paper (the toothpicks are so the paper doesn't stick to the cheese on top).

Microwave instructions: heat in 5 minute increments, letting it sit 1-2 minutes between each, until melted and hot, about 15-20 minutes.

Baking instructions: bake at 350°F 30-40 minutes or until cheese is melted and casserole is hot all the way through, removing the foil or parchment after 20 minutes.
Recipe Nutrition
Serving:
1
/6th slice of casserole
|
Calories:
498
kcal
|
Carbohydrates:
51
g
|
Protein:
23
g
|
Fat:
23
g
|
Saturated Fat:
11
g
|
Cholesterol:
56
mg
|
Sodium:
1230
mg
|
Fiber:
5
g
|
Sugar:
3
g
Nutritional information not guaranteed to be accurate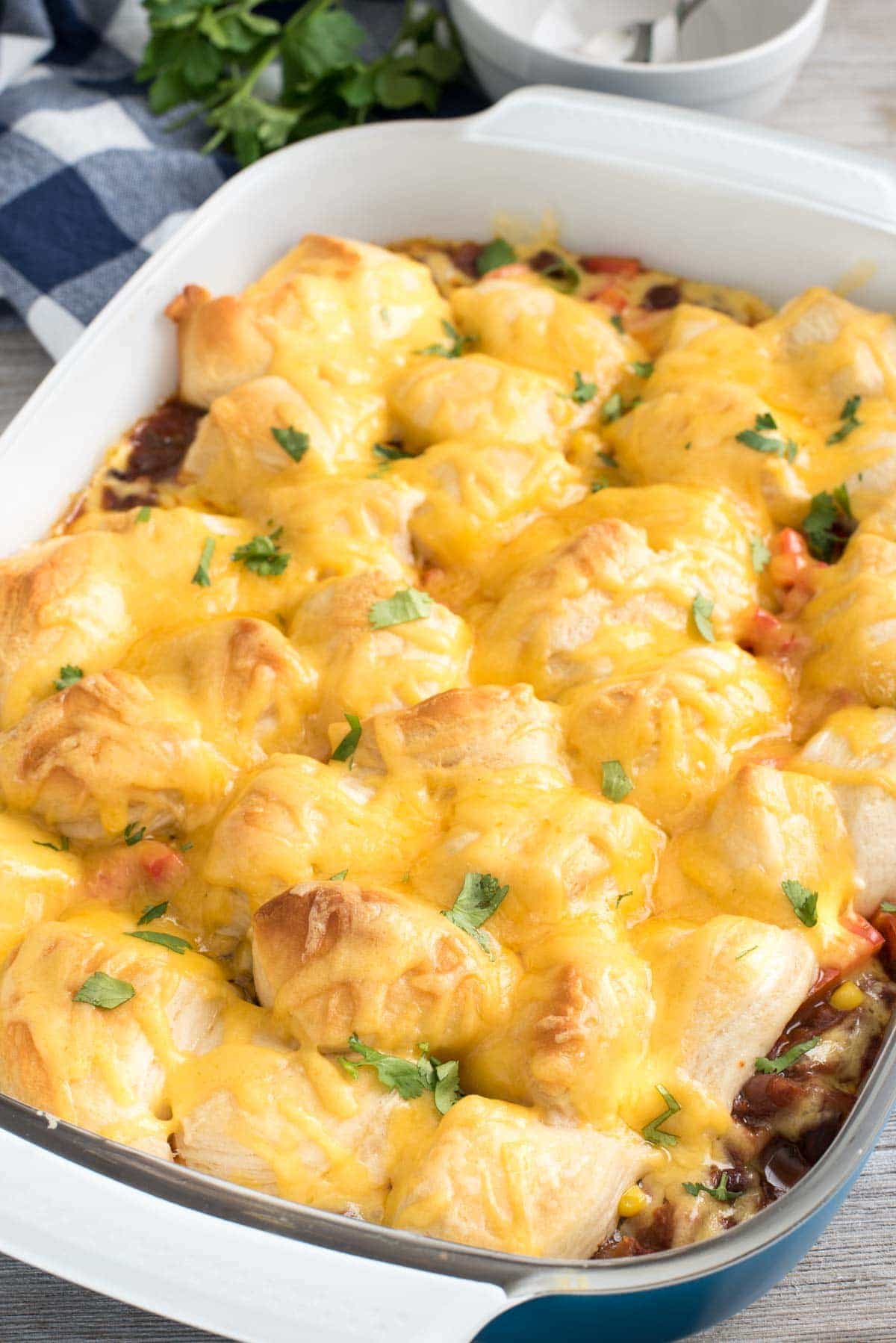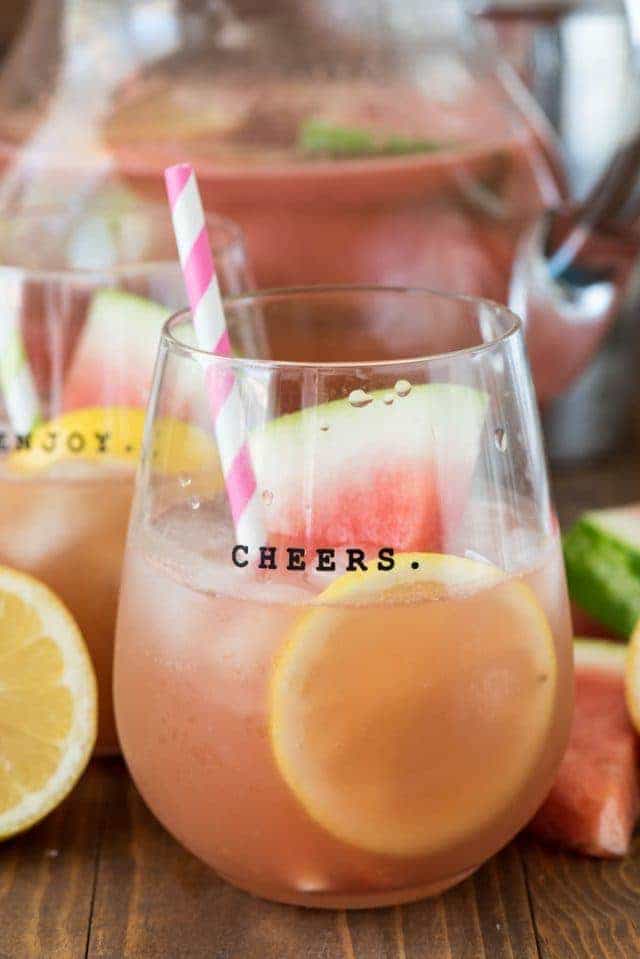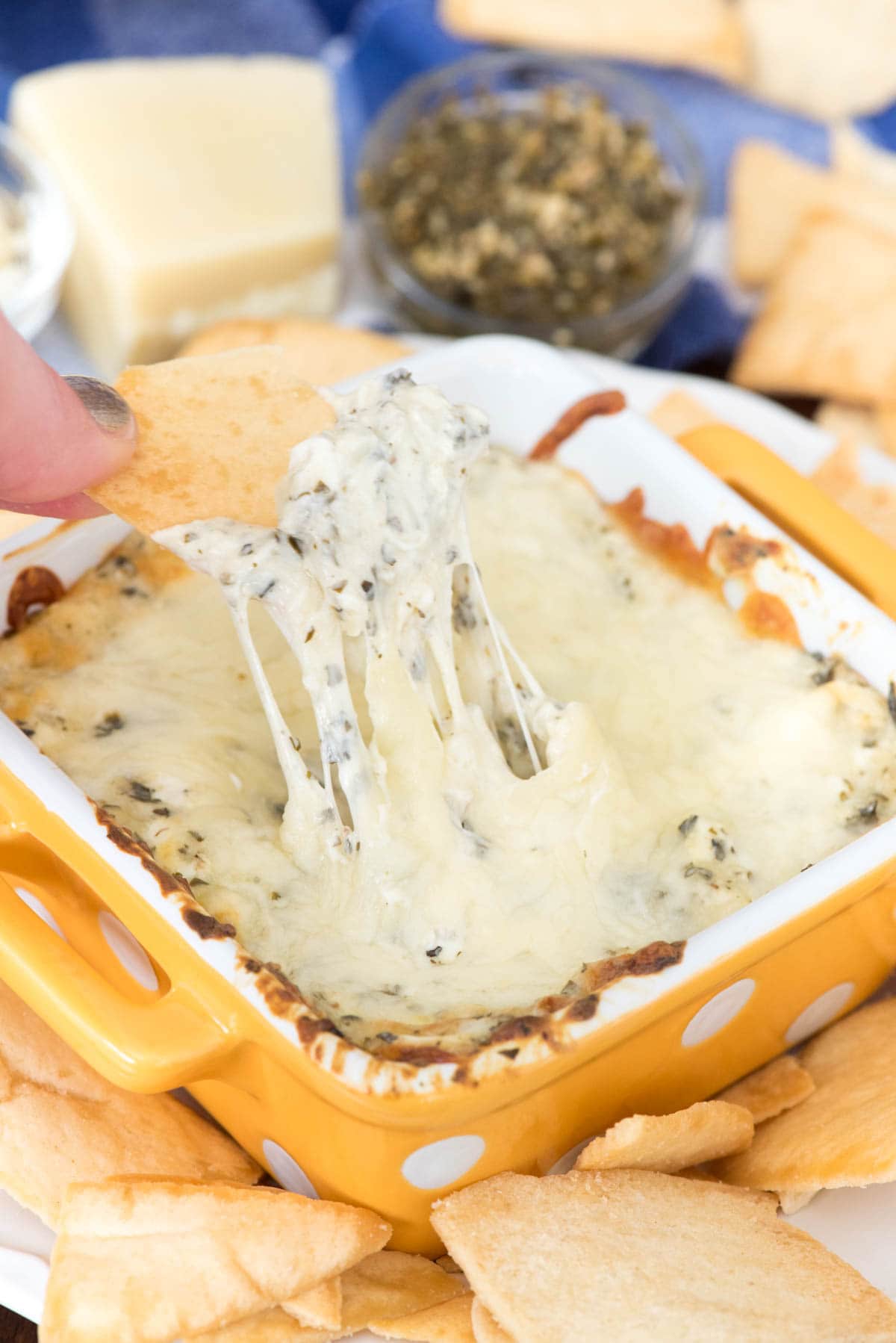 If you love this Cheesy Bean Stuff Casserole, be sure to try this Chicken Tortilla Casserole, Beefy Nacho Casserole, or Green Chile Casserole.
Last Updated on May 5, 2020