This post may contain affiliate links. For more information, read my disclosure policy.
If you want a non-traditional wedding cake for a small ceremony, then you should try making this easy Wedding Cookie Cake! It's got 3 tiers of chocolate chip cookie cakes with vanilla buttercream.
This cake is perfect for any small celebration, like a wedding, vow renewal or party, and I'm also sharing some tips for having a non-traditional service in non-traditional 2020!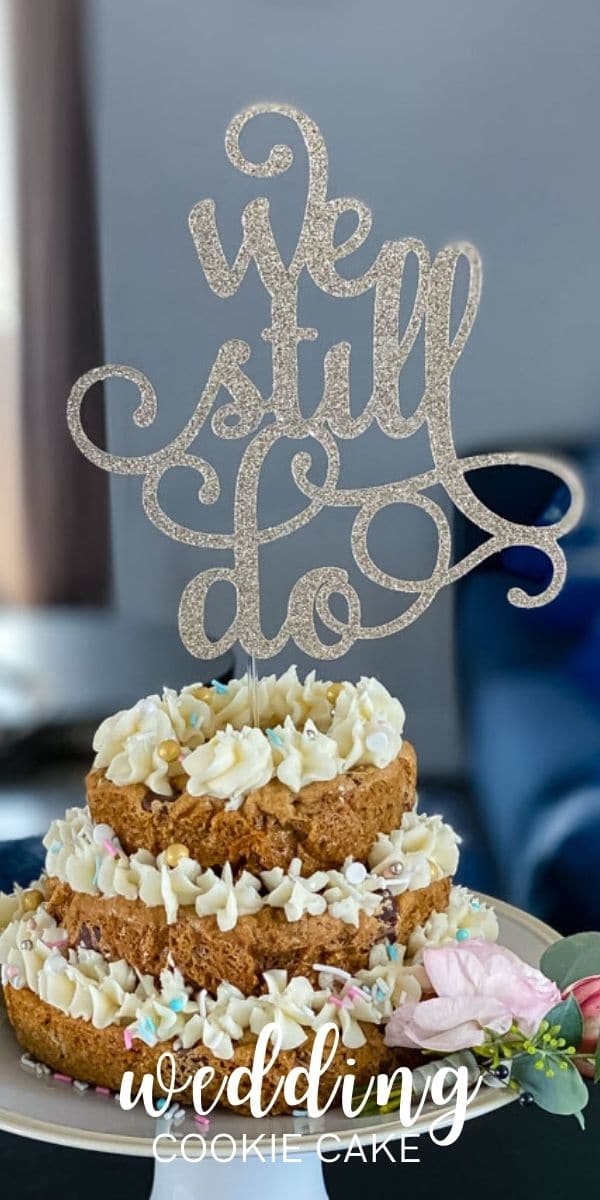 Last weekend my husband and I renewed our vows after 19 years of marriage. We'd been planning this event for awhile – even since before the chaos of the spring of 2020.
Originally we planned on a small service with just a few people but then the world fell apart, so we had to make some changes. We ended up doing the ceremony with just us and our daughter and our officiant on Google Meet, and it was absolutely perfect. I'm actually glad it turned out the way it did.
(You can read about our original love story here.)
The one constant I knew we'd do throughout the entire process was that there wasn't going to be cake because I'm the only one that likes cake! (Our original wedding cake was cheesecake!) I decided on a 3 tier cookie cake because chocolate chip cookies are something we all love – a lot!
Today I'll share with you about some tips and tricks for making this Wedding Cookie Cake, which is perfect for any ceremony or even a party where there are people that don't like traditional cake (my family is proof those people exist).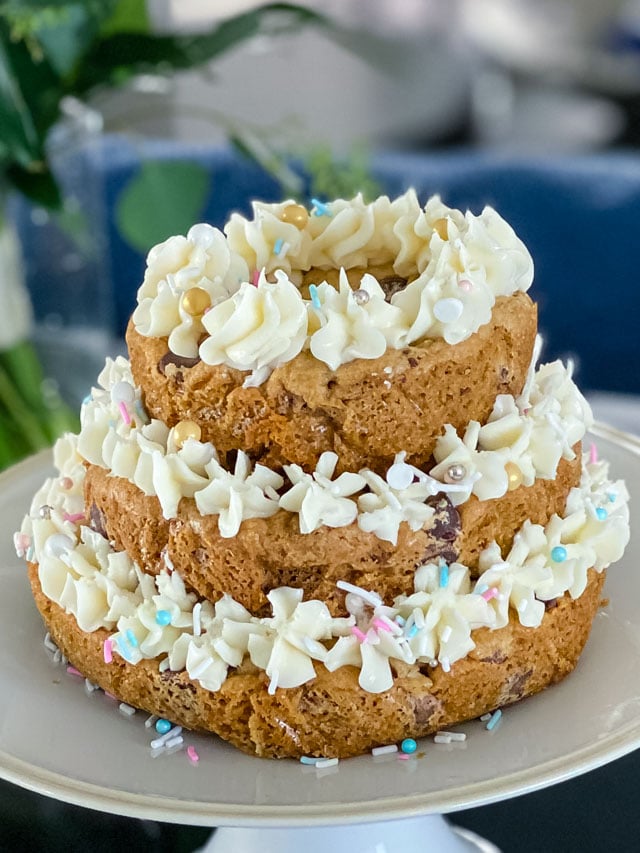 Non-Traditional Wedding for 2020
2020 is certainly a non-traditional year, and weddings are no different. We weren't sure if we should cancel, but we'd been planning for so long that we decided to go ahead with it, with a few changes.
Instead of our officiant being present, he did our service over zoom. We have photos of him on an iPad on a tripod, which are hilarious.
We decided on renting out a suite at our favorite hotel so we could feel away from home, even while distancing. And since it was a party of 3, we didn't need a huge wedding cake.
Classic Wedding Cake Alternative
I got lots of great ideas when looking online for an alternative to your classic tiered wedding cake, but most were still for large gatherings. Cupcake towers, tiered pie stands, even cookies on wedding cake tiers; all were meant for large groups of people.
Once I decided to go the cookie route – because we all love cookies – I thought about a cookie cake. I even thought about doing one with colorful sprinkles, like my sugar cookie cakes.
But, even though it was only 3 of us, I wanted to use a fun cake topper, and I wanted the dessert to look like a tiered cake…so I decided on a 3 tier cookie cake!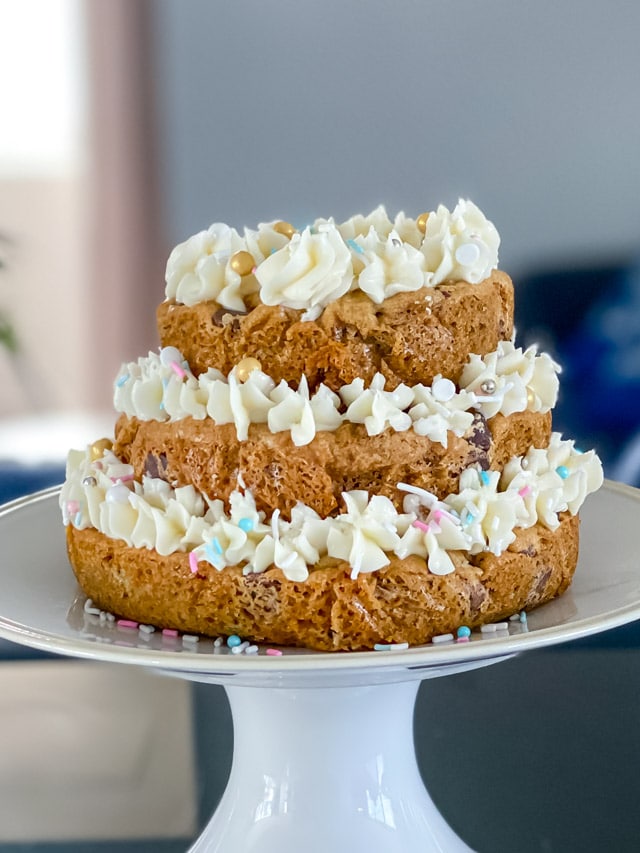 How to make a tiered cookie cake
This is the easiest cake to make, and IMO it's the best tasting. You need:
Pans (3 sizes)
A great cookie recipe
Frosting & sprinkles
Cake Topper
Tiered Cookie Cake Pans
If you're serving 10 or less people, you don't need a huge cake. I used a three different sizes: 6-inch round, 5-inch round, and a 4-inch round.
You can use any three sizes you want, but make sure to get different sizes that are even differences (all 1-inch difference, like I did, or all 2-inch difference, i.e. 8,6,4 etc.) That way the cakes will look right when stacked on top of each other.
Best Cookies for Wedding Cookie Cakes
The best cookie to use is any you like most. You can do all the same flavor, or mix and match.
Rule of thumb: a cookie recipe that uses about 1/2 cup butter will fit in the three pans I used just perfectly.
Here are a few cookie ideas for you:
Best Frosting for Wedding Cakes
Again, use one you like, and one that matches the cookie you're making, but I'm partial to vanilla buttercream. It travels well and holds up and doesn't melt like a whipped cream frosting would.
Decorate the top as you wish, but I'm partial to fancy sprinkles. Even pearl sprinkles would be pretty.
As for a cake topper, you can use any you like. Since we were renewing our vows I opted for a saying "We Still Do" because that's a common one for vow renewals. I got ours on Etsy. Here are a few I love: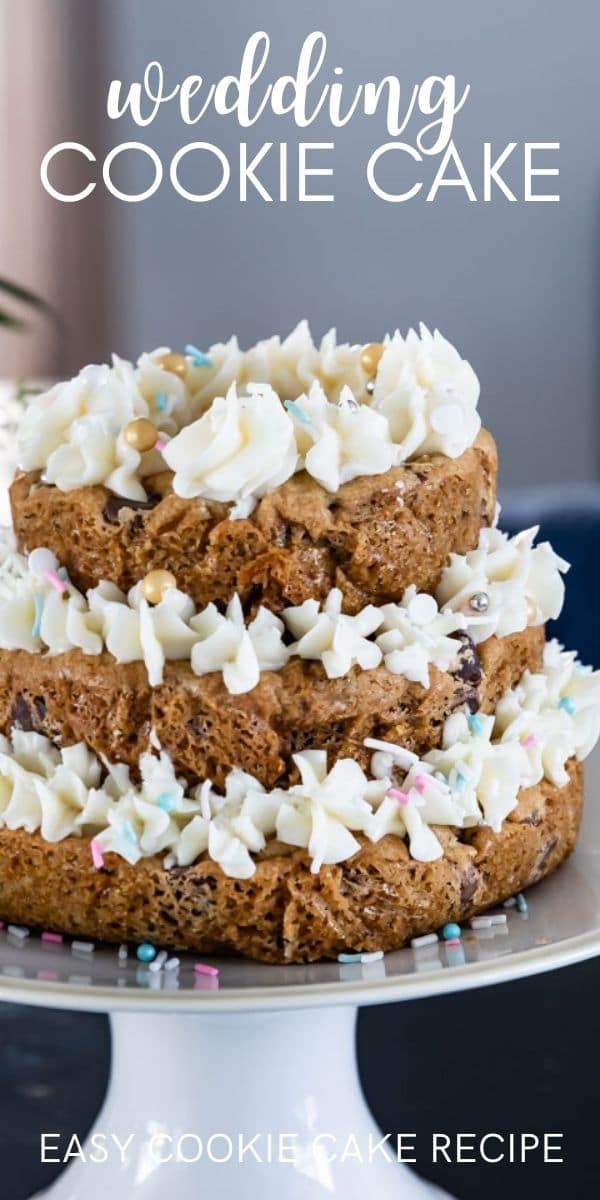 Assembling a tiered cookie cake
Because cookie cakes are pretty stable, you don't have to worry about dowels or anything like that. All you have to do is stack, then decorate as desired.
I used a 1M tip to pipe around the edges, but you could frost the entire cake, or even use different tips and do fun patterns. Assembling a wedding cookie cake could not be easier!
Storing & Freezing
The cookie cakes can be made a day in advance, or even longer if you want to freeze them. To store and/or freeze the individual cookie layers, wrap well in plastic wrap.
After the cake has been made and assembled, it's easy to transport because it's not as fragile as actual cake. Store leftovers loosely covered.
Have you made this recipe?
Tag @crazyforcrust on Instagram or hashtag it #crazyforcrust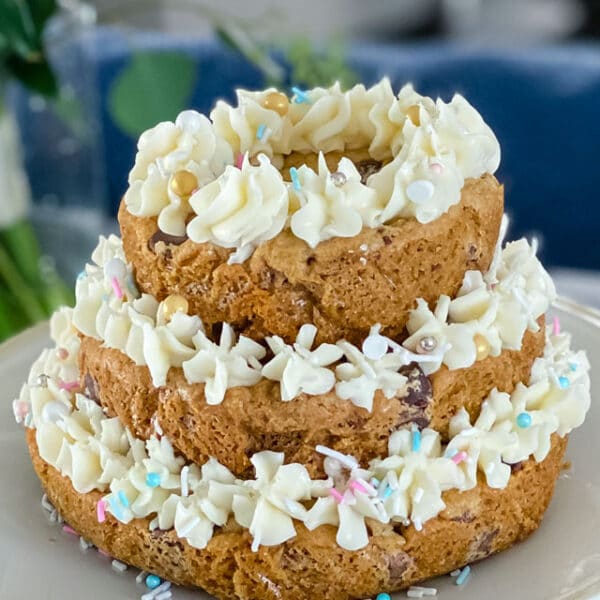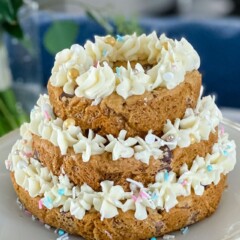 Tiered Wedding Cookie Cake
This easy 3 tiered Cookie Cake is perfect for a wedding, vow renewal or any celebration where you don't want a traditional cake.
Total Time
1

hour
10

minutes
Instructions
Mix your cookie dough according to recipe directions.

Line 3 round cake pans (6-inch, 5-inch, 4-inch) with foil and spray with nonstick cooking spray. Divide the cookie dough into each pan and press flat.

Bake, rotating pans halfway through baking, for 20-30 minutes or until golden on top and cooked through. Cool completely before frosting.

Frost as desired (a 1M tip makes pretty stars or roses). Note: for a full frosting, make a full batch, not 1/2 the recipe.
Recipe Nutrition
Serving:
1
serving
|
Calories:
200
kcal
Nutritional information not guaranteed to be accurate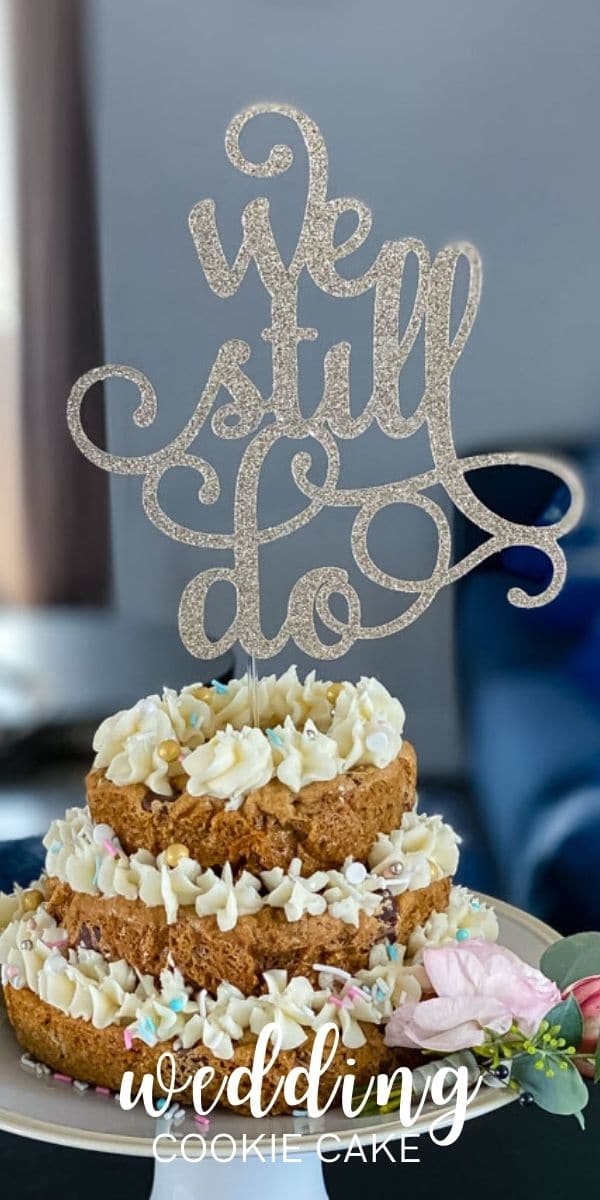 If you want a non-traditional wedding cake, try a wedding cookie cake! This easy cookie cake recipe has 3 tiers of chocolate chip cookie cake with a vanilla buttercream and is perfect for a small celebration, wedding, vow renewal or party.