This post may contain affiliate links. For more information, read my disclosure policy.
A Tiramisu Cake Roll is your favorite Italian dessert turned into a delicious cake roll recipe. It's an easy sponge cake filled with Tiramisu filling and coated with whipped cream!
This post has been sponsored by Eggland's Best Eggs, which give the cake recipe it's sponginess and makes it perfectly moist.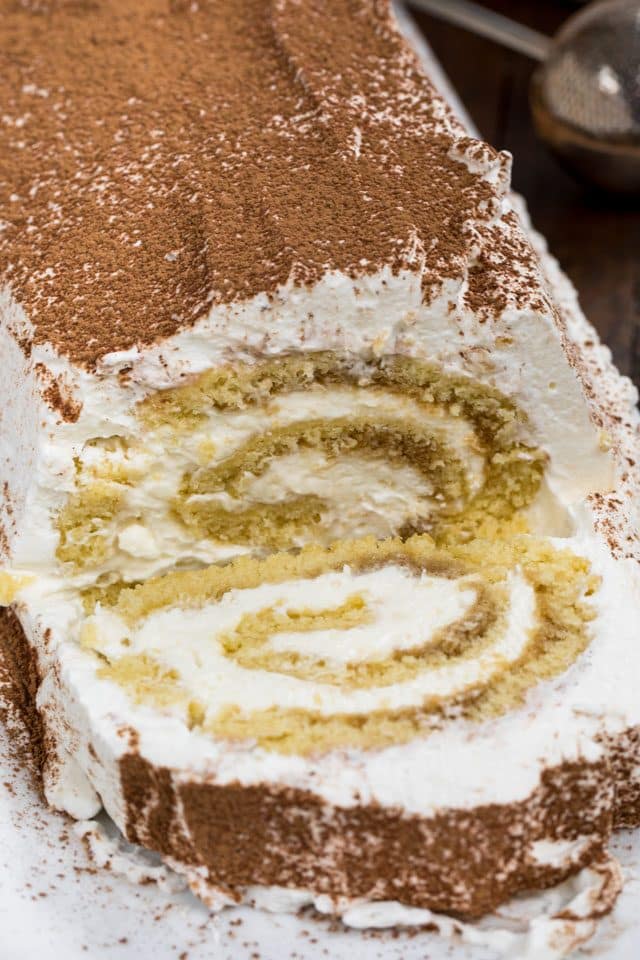 I'm always on the lookout for a show stopping dessert, especially when it's holiday time. Every year my in-laws host Christmas Eve and I always bring cookies as well as one fantastic showpiece. My showpiece is often some sort of cake roll, so this years' recipe doesn't disappoint: it's a TIRAMISU Cake Roll.
That's right: I married one of my favorite Italian desserts with my most popular recipe to make a dessert mashup that's totally holiday-table worthy. Every time I eat tiramisu I think of my favorite restaurant in San Francisco and all the wonderful dinners we've had there. Recreating this family favorite at home makes me feel like I'm in that little café on a date with Mel.
This easy cake roll recipe has all the components of tiramisu: a fluffy cake drenched with coffee and a delicate sweetened cream filling, all topped with a coffee flavored whipped cream and a dusting of cocoa powder.
I'm not going to lie: I went to town on that filling after I finished the photos. Tiramisu filling is something I can never turn down!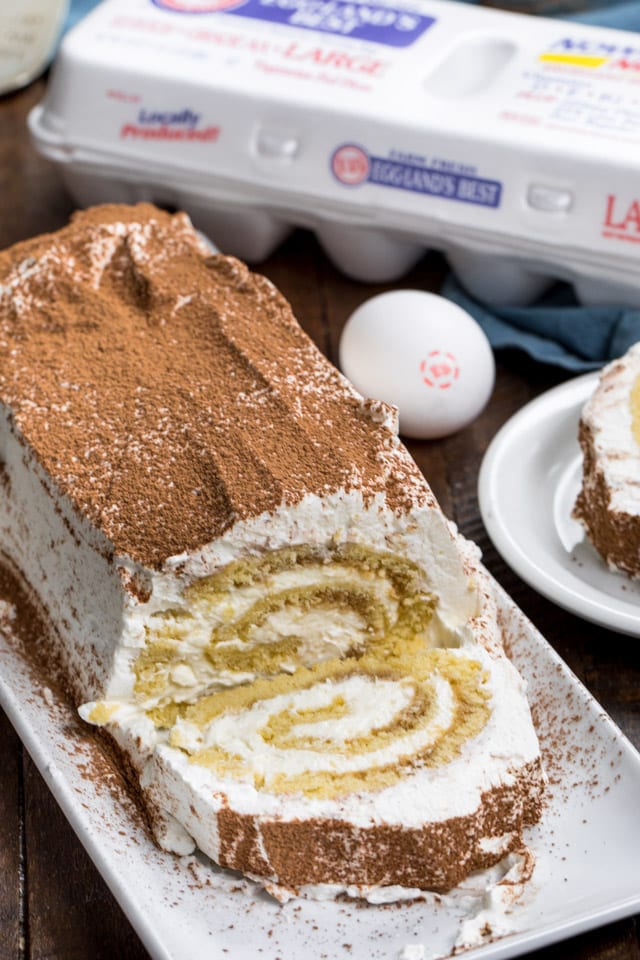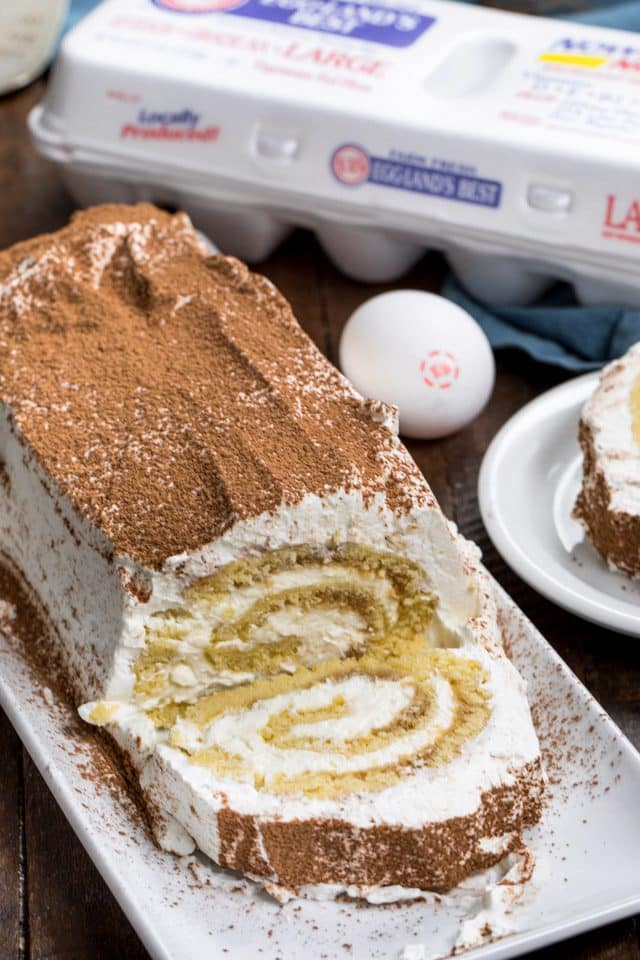 A cake roll has several ingredients but the most important one is the eggs. Three large beaten Eggland's Best eggs are what gives the cake it's fluff and sponginess. In every cake roll recipe I post I go on and on about making sure you beat the eggs because that really is the most important piece about making them.
There are some ingredients where you should use the name brand, and eggs are definitely one of them. When you're shopping for eggs you should always choose the best and for me, that's Eggland's Best.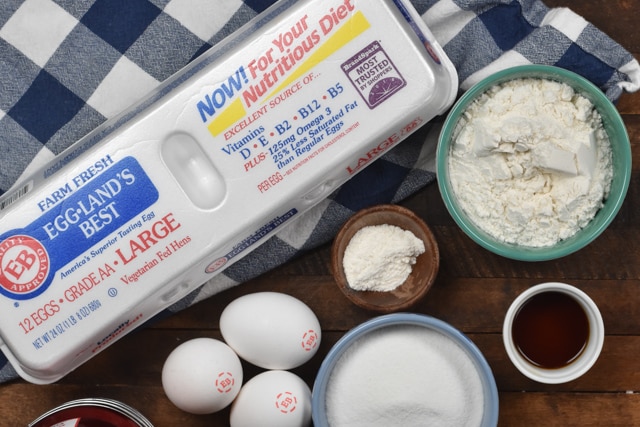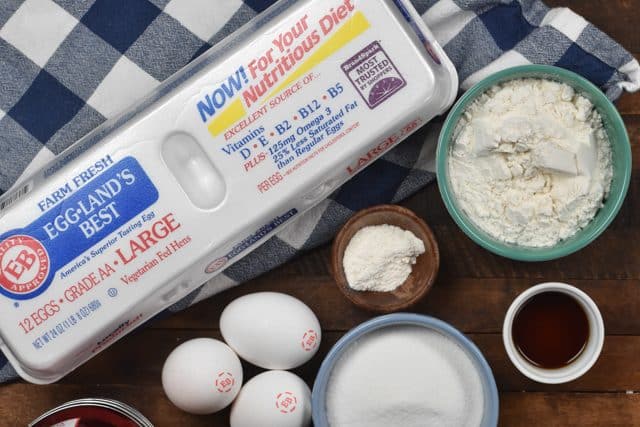 Compared to ordinary eggs, Eggland's Best Eggs have six times more Vitamin D, 25% less saturated fat, and are only 60 calories. They're also from vegetarian fed hens, which is important to me, and with their superior nutrition, Eggland's Best Eggs are the only eggs good enough for my family during the holidays.
Just look for the EB stamp to make sure you're getting the best quality eggs!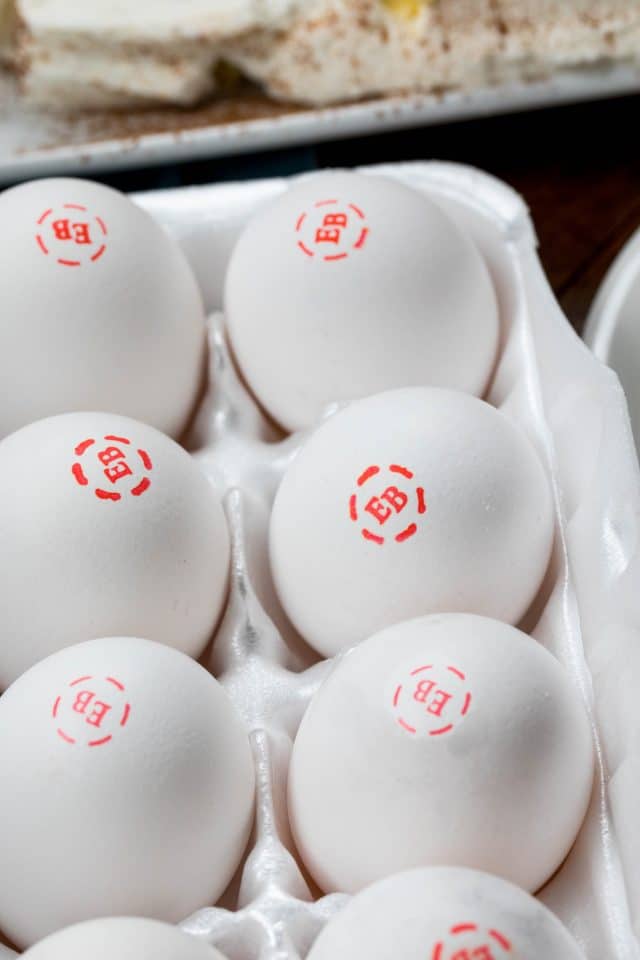 Okay, so now let's talk about how to make this Tiramisu Cake Roll.
Cake rolls look hard but they're actually easy. I just have a few tips and tricks that will make your cake rolls a success.
First is starting with 3 large Eggland's Best Eggs.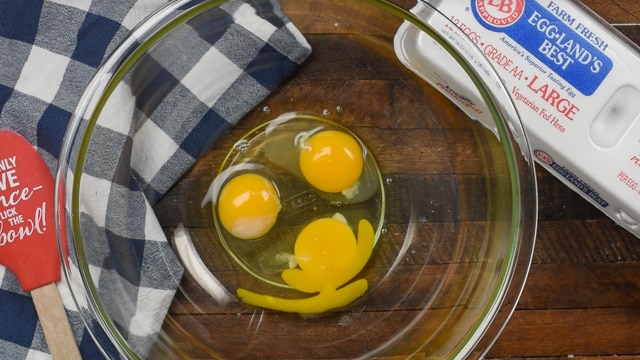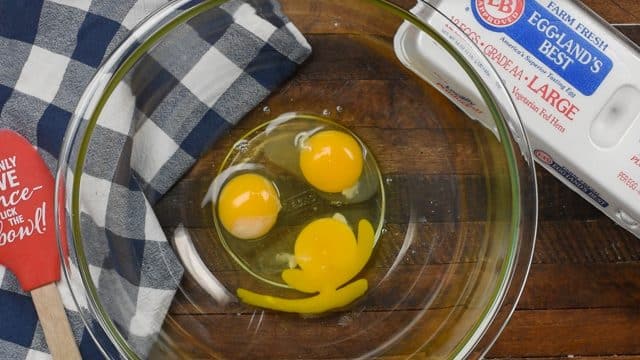 I highly recommend using a hand mixer or stand mixer to make this recipe, but you can do it with a whisk if needed. You want to beat your eggs for 3-5 minutes, or until they're a soft yellow, thick and bubbly.
Do NOT skimp on this step!
To ensure a soft and moist cake roll you, MUST beat the eggs long enough.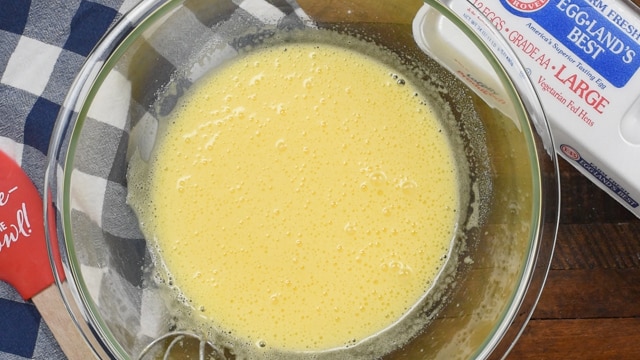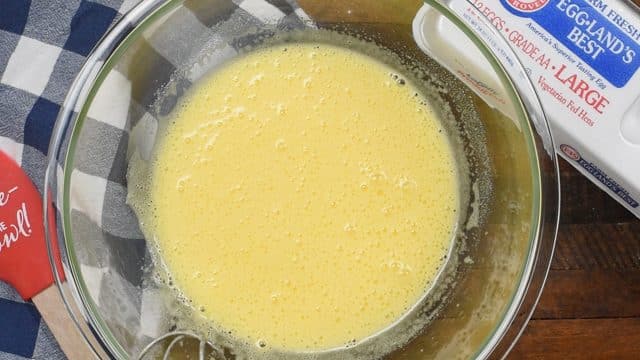 This is what the eggs look like after you've beat them. They've almost doubled in size and are thick and foamy and pale yellow in color. The length of time you're mixing depends on what you're using to mix (a stand mixer will take less time than a hand mixer, etc.)
Once you have the eggs nice and thick, you'll mix in the rest of your ingredients. Pour them into a cake roll pan (also known as a Jelly Roll Pan, or a 10×15-inch rectangular pan with 1-inch sides).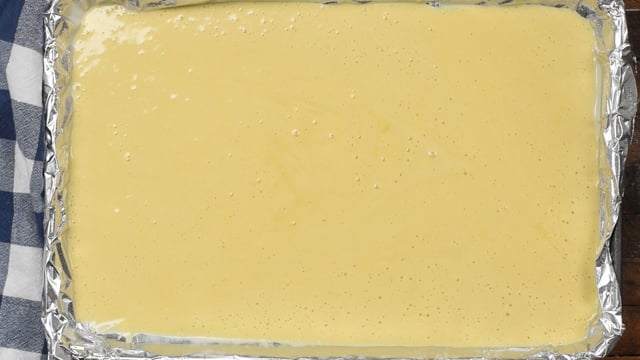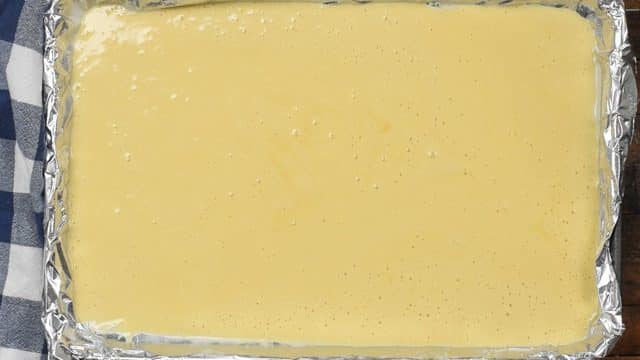 I like to line my pan with foil and spray it with nonstick cooking spray (the kind with flour). Bake until it springs back when you touch it, about 10-15 minutes.
While it's baking, set out a clean kitchen towel and spread it with powdered sugar. (You can also do this with parchment paper sprayed with nonstick cooking spray.)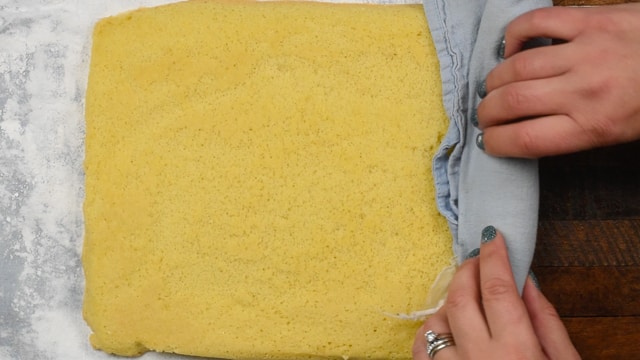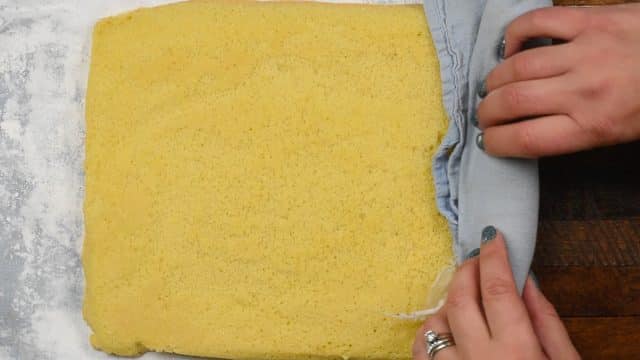 When the pan comes out of the oven, flip it over and remove the pan and foil. It will be HOT, so be careful. Then, do as I always say (sing it with me):
Roll it while it's HOT!
It'll take about 2 hours to cool, then you can fill it.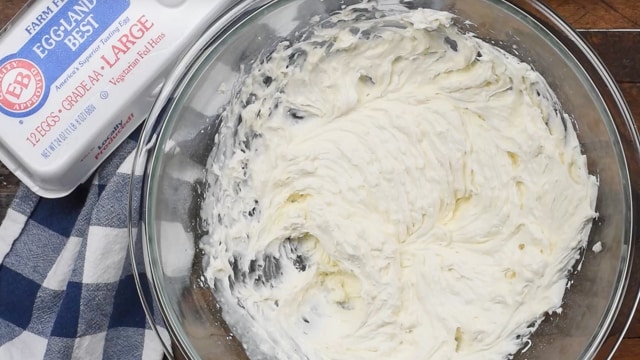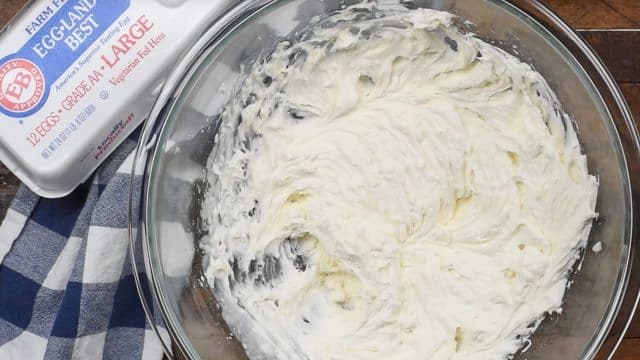 My tiramisu filling is a sweet and fluffy cream cheese based whipped cream filling. Now, I know that traditional tiramisu uses mascarpone, and you can use that if you can find it. My store never has it, so I substitute cream cheese.
Whisk the cream cheese with powdered sugar, vanilla, and heavy whipping cream until smooth and thick.
How do you fill a cake roll?
You carefully unroll the cake. If it cracks, don't worry. It'll come back together  when we frost it, so the cracks will be hidden.
Tiramisu has espresso-soaked lady fingers, so I brushed my cake with cooled coffee, then filled with  the creamy filling. Re-roll the cake and chill it for about 30 minutes.
Can you make cake rolls in advance?
You can make this cake roll ahead of time. You can wrap it in plastic before filling and let it sit overnight on the counter, or fill it and wrap it securely in plastic and store it in the refrigerator for up to a day.
Can you freeze cake rolls?
You can freeze this cake roll, filled or unfilled, for up to one month. Freeze it without the frosting, and make sure it's wrapped well in plastic wrap.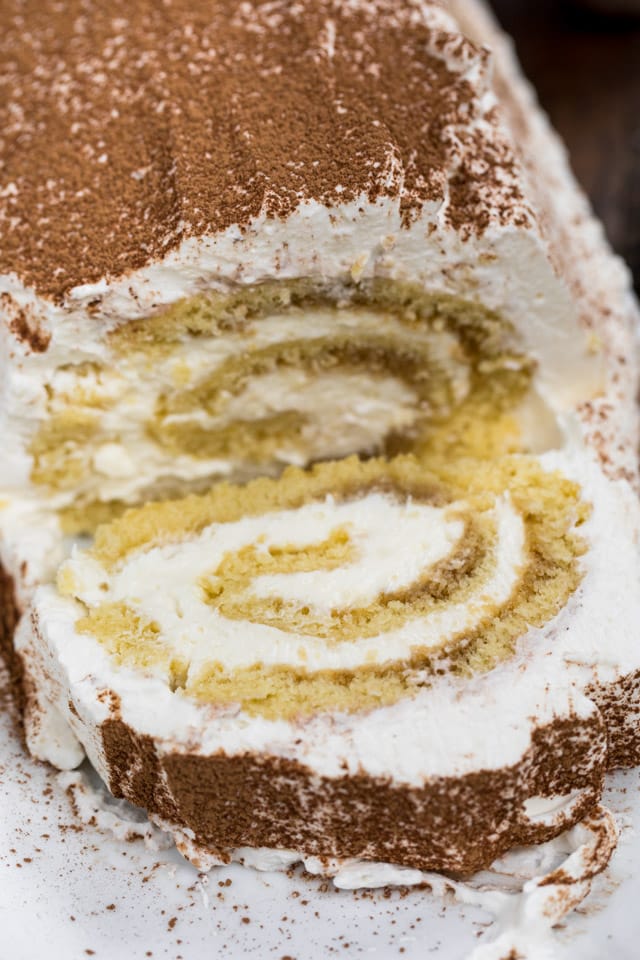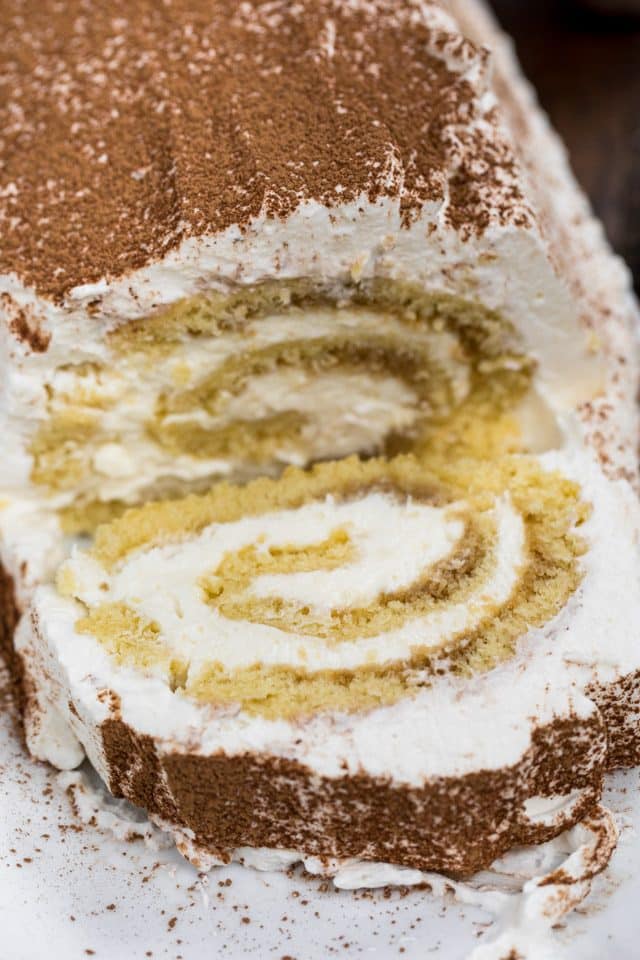 Once you're ready to serve, whip up some whipped cream, which you can add some more cooled coffee too. This gives it even more of an authentic flavor, especially when you dust it with cocoa powder.
Tips for making the perfect Tiramisu Cake Roll:
Use Eggland's Best Eggs to increase the vitamins and reduce the fat and calories in your dessert.
Make sure to beat the eggs for 3-5 minutes – don't skimp on mixing!
Roll it while it's hot.
Room temperature cream cheese will be easiest to mix into the filling.
Chill it to set before frosting the cake.
Frost just before serving, or within a few hours.
Want even more? Subscribe to Crazy for Crust to get new recipes and a newsletter delivered to your inbox. And stay in touch on Facebook, Pinterest, Twitter, and Instagram for all my latest updates.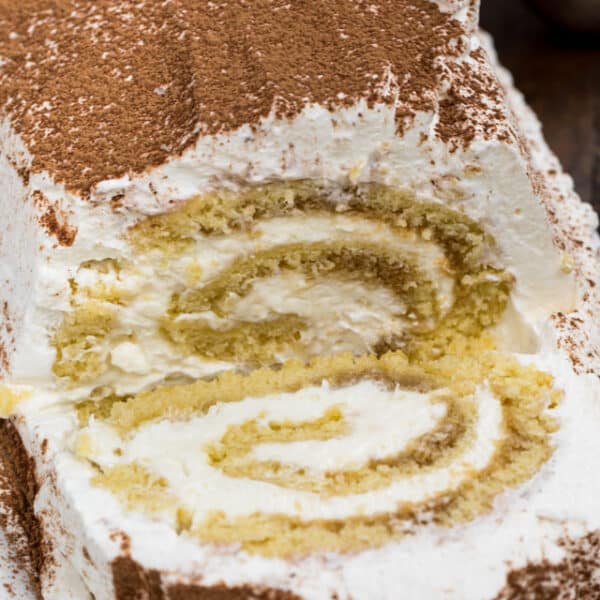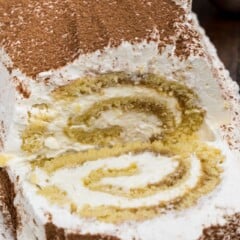 Tiramisu Cake Roll
This easy cake roll recipe is a Tiramisu Cake Roll - a vanilla sponge cake filled with Tiramisu filling!
Ingredients
For the Cake:
3

large

Eggland's Best Eggs

3/4

cup

granulated sugar

1

tablespoon

vegetable oil

1

teaspoon

baking powder

1/4

teaspoon

salt

1

teaspoon

vanilla extract

3/4

cup

all purpose flour

Powdered sugar

to aid in rolling
For the Filling:
4

ounces

cream cheese

softened

2/3

cup

powdered sugar

3/4

cup

heavy whipping cream

1

teaspoon

vanilla extract

2

tablespoons

brewed coffee

cooled
For the Topping:
1

cup

cold heavy whipping cream

1/4

cup

powdered sugar

1

teaspoon

vanilla extract

1

tablespoon

cooled brewed coffee

optional
Instructions
Preheat oven to 350°F. Line a 10x15" or 10.5x15" cake/jelly roll pan with foil and spray with floured nonstick cooking spray.

Place eggs in a large bowl or the bowl of an electric mixer. Beat at medium speed with mixer for 3-5 minutes until foamy and yellow. It is very important not to skip this step!

Add sugar and mix for 1 more minute, until the mixture is thickened slightly. Mix in oil, baking powder, salt, and vanilla, then add flour and mix slowly until just combined. Pour into prepared pan, spreading as needed with a spatula. Bake for 10-15 minutes, or until the top is browned and the cake springs back when touched lightly. (Mine took 12 minutes, but all ovens differ.)

While the cake is baking, lay out a clean kitchen towel onto the counter. Spread with about 1/4 cup powdered sugar.

Remove the hot cake from the oven and carefully, using oven mitts so you don't burn yourself, flip the cake onto the towel. This might make a mess, but that's okay. Carefully remove the pan and foil (they're hot!) and then, using the towel, roll up the cake from the short side. The towel will be rolled into the cake. Let this cool completely before continuing.

Note: you can wrap the cooled cake in plastic wrap and let it sit overnight before finishing.

Make the filling: beat cream cheese and powdered sugar until smooth, then add the vanilla and whipping cream and beat until stiff peaks form.

When the cake is cool, carefully unwrap it from the towel. If it cracks, that's okay.

Brush the cake with the cooled coffee. Evenly spread the filling over the cake and carefully re-roll it, pulling it away from the towel as you go. Wrap in plastic wrap and chill at least 30 minutes.

Make the topping: beat whipped cream with powdered sugar and vanilla until stiff peaks form. For a more authentic tiramisu flavor, add a tablespoon of cooled coffee before beating.

Frost the cake as desired. Dust with cocoa powder before serving.

You can serve immediately or chill until ready to serve. Cover with plastic wrap if storing longer than 2-3 hours.
Recipe Notes
You can freeze the unfrosted cake for up to one month (or chill it in the refrigerator for up to 1 day) as long as it's wrapped well in plastic wrap. Don't frost until ready to serve.
Recipe Nutrition
Serving:
1
slice
|
Calories:
354
kcal
|
Carbohydrates:
35
g
|
Protein:
4
g
|
Fat:
22
g
|
Saturated Fat:
13
g
|
Cholesterol:
125
mg
|
Sodium:
132
mg
|
Potassium:
118
mg
|
Sugar:
26
g
|
Vitamin A:
845
IU
|
Vitamin C:
0.2
mg
|
Calcium:
65
mg
|
Iron:
0.8
mg
Nutritional information not guaranteed to be accurate
**Did you make this recipe? Don't forget to give it a star rating below!**
Slice and Bake Chocolate Peanut Butter Cookies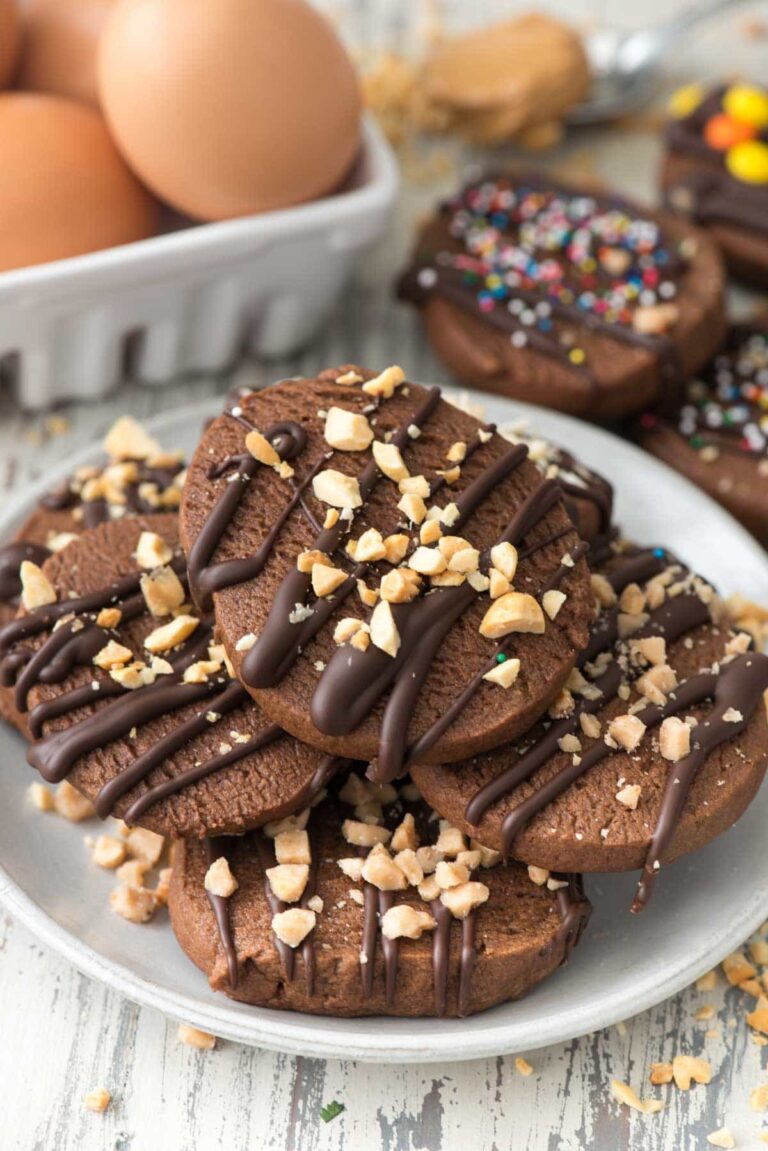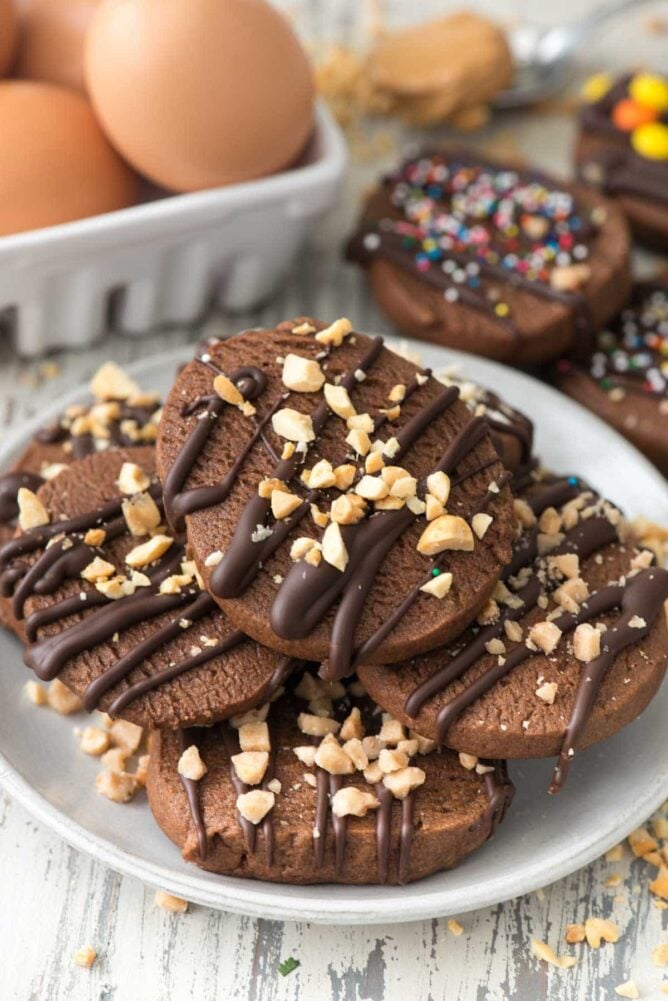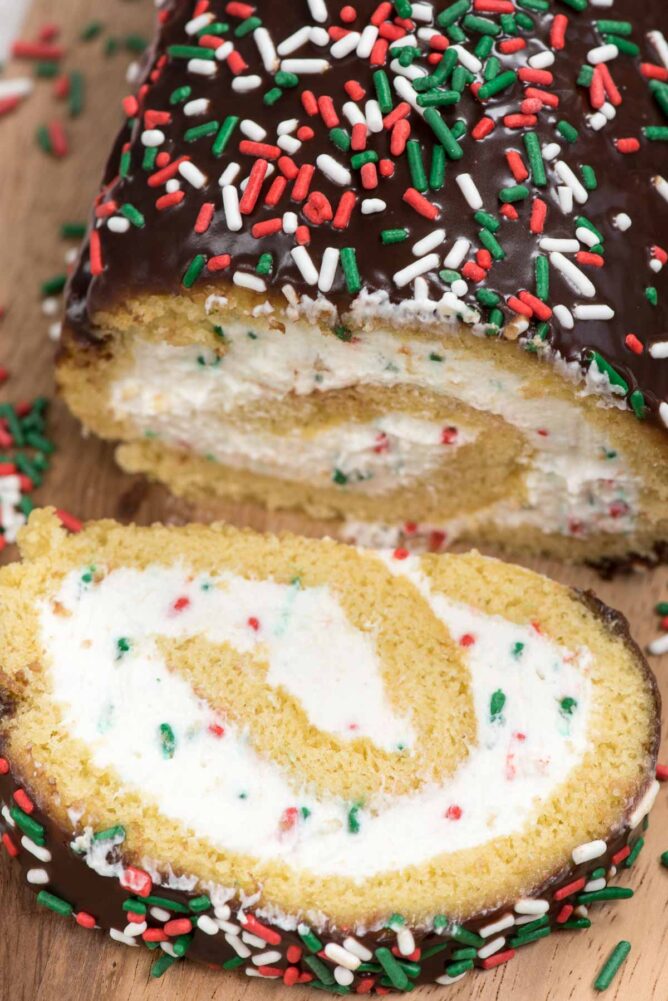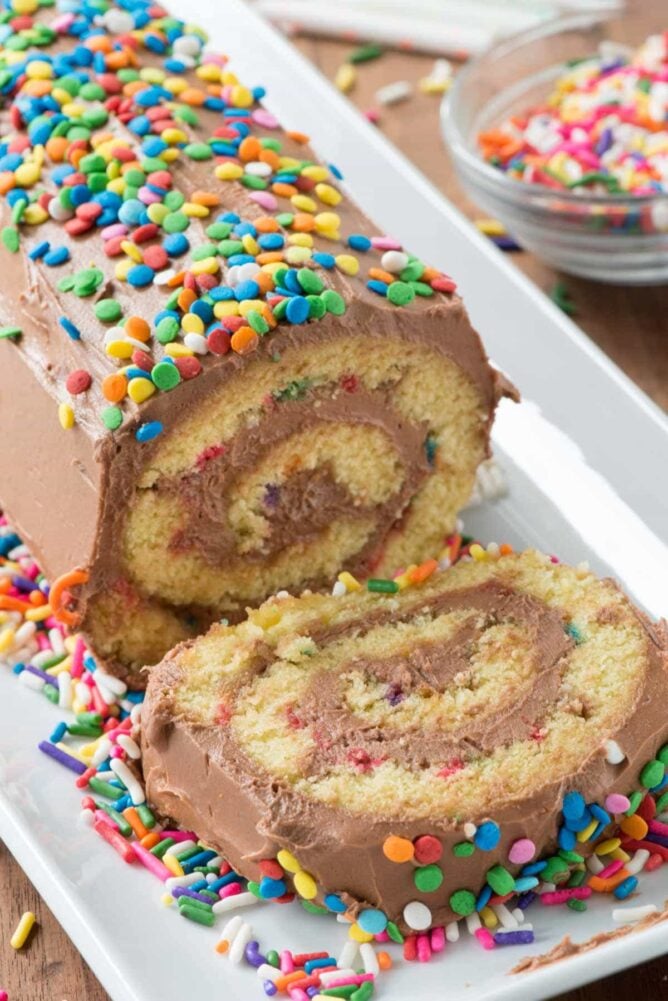 Last Updated on May 13, 2020