This post may contain affiliate links. For more information, read my disclosure policy.
I think I have an obsession with Tiramisu; I can't stop making it! This time I married it with cookies it's my favorite version yet: Tiramisu Cookie Cups!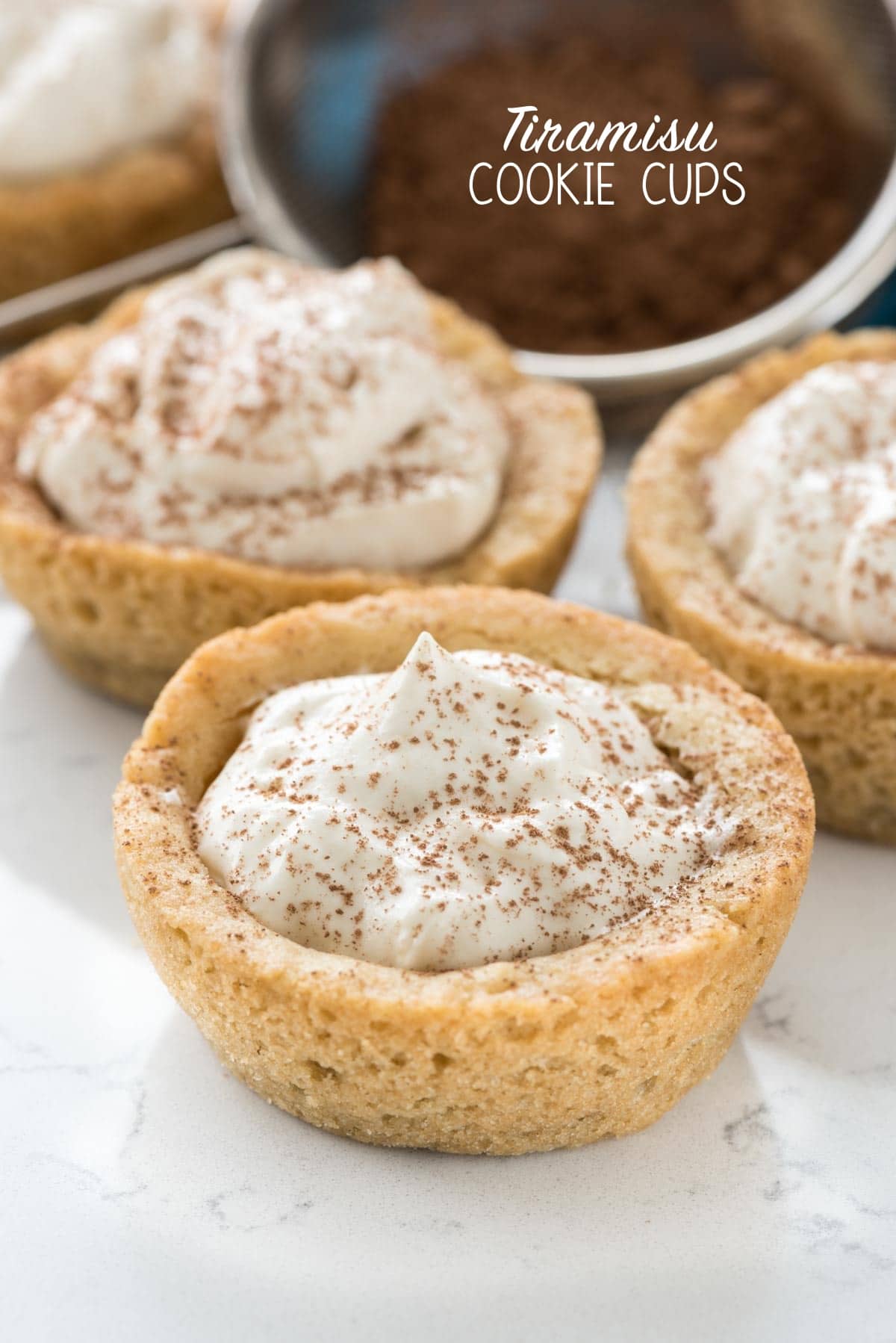 Whelp, it's that time of year again: TV dead time. All the shows are over. Every night Mel and I scroll through our non-existent DVR list and wonder what to watch. Shows like Scandal, Friday Night Lights, and Newsroom have ruined me because nothing we start to binge grips me like those shows did. What are you watching? I need advice, and it can't be bloody (Mel can't deal) or historical fiction (I can't deal).
A few weeks ago we'd almost given up on what to watch when Mel said, "I want to watch the pilot of that show you love so much. You know, the one with the mom?"
"You mean Gilmore Girls? You want to watch Gilmore Girls with me?" I asked, shocked and awed. "Yeah, let's do it," he told me.
Ladies, you know what they say about when you find your husband cleaning the house? Ain't got nothing on when he is so bored of House Hunters that he offers to watch Gilmore Girls with you.
Throughout the entire pilot, which I hadn't watched in years, I came to realize that a lot of my parenting is based on Lorelai and Rory. Turns out that Mel thought the same thing because he kept looking at me and laughing. "Oh, so now I get why you want Jordan to be your BFF!" he chortled.
And it's true. A lot of what I learned about life and motherhood I learned from Lorelai Gilmore, including but not limited to my love of french fries and coffee.
Hence, the Tiramisu addiction…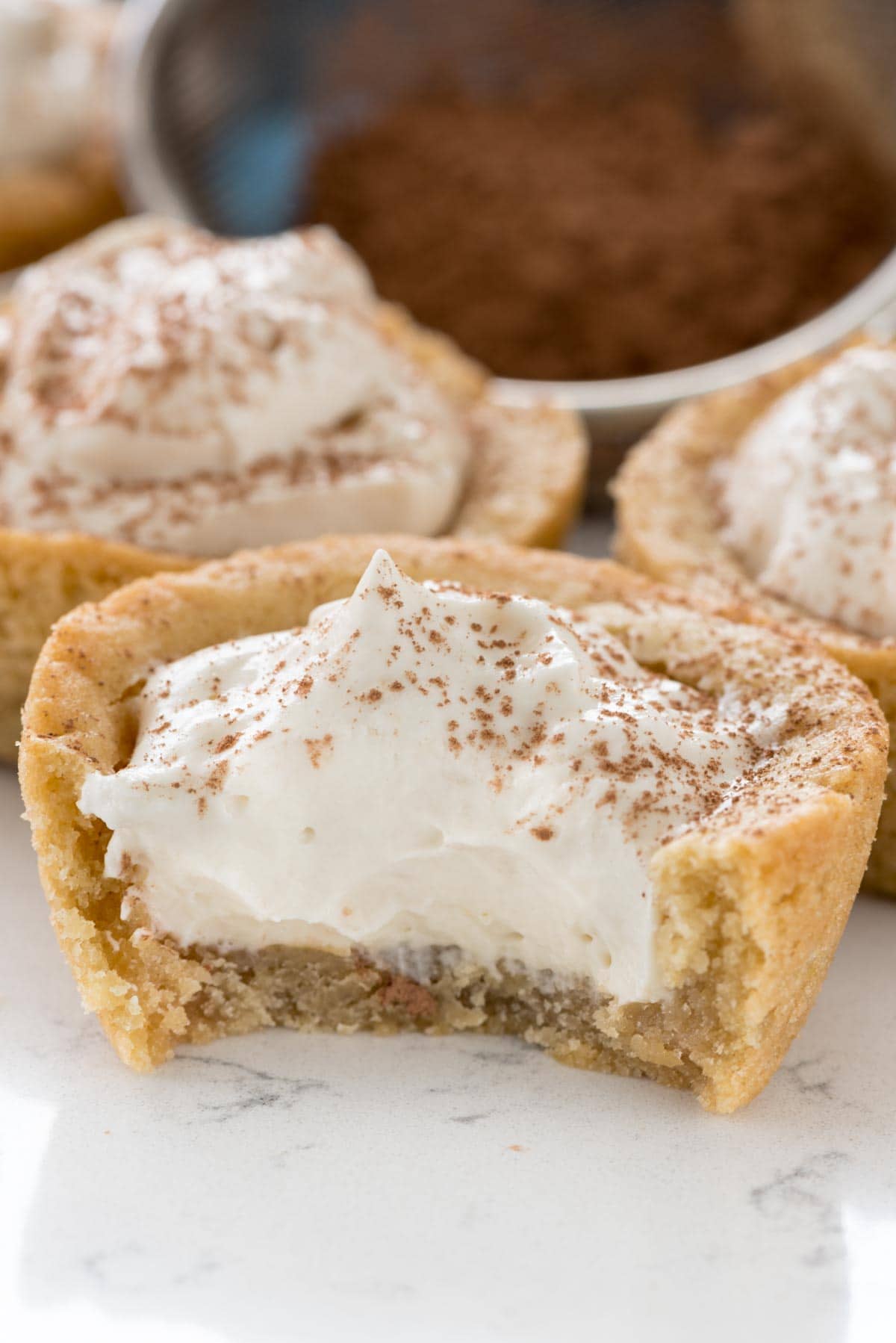 Remember back when I made Tiramisu Mousse? That stuff, man I ate it all in a sitting. Then recently I re-made my Tiramisu Cups and I still wasn't done. I asked myself, what else could I use as a vessel for tiramisu? I'm not a huge fan of lady fingers, which is why I love the easy mousse and the cupcake cups in the first place.
What else could be mixed with tiramisu? What could be molded to hold it? Hmmm…oh yeah. What about my favorite absolutely perfect sugar cookies?? I thought to myself, those will be PERFECT. Mold them into a cupcake pan, fill them with tiramisu cream, and they'll be the perfect bite-sized hand-held cookie version of tiramisu.
Guess what? They turned out better than I expected. Oh, so much better. (I've lost hope that my bathing suit will fit me this year, so why not just go all out?)
These are so easy to make and they're ready in a flash.

My favorite sugar cookie recipe is perfect in these cookie cups. I used a regular size cupcake pan and pressed the dough into each cavity. No need to use liners, but you can if you want an easier clean up.
The cookies puff as you bake them, so they don't have to be pressed into the perfect cup shape. While they're hot, press down on them with a shot glass or something similar sized to form the cup.
The tiramisu is made with easy to find ingredients and fills up the cookie cup easily. Feel free to go heavier or lighter on the coffee, depending on your preference level. And if you want to make these even easier, use a store-bought sugar cookie dough instead of my recipe!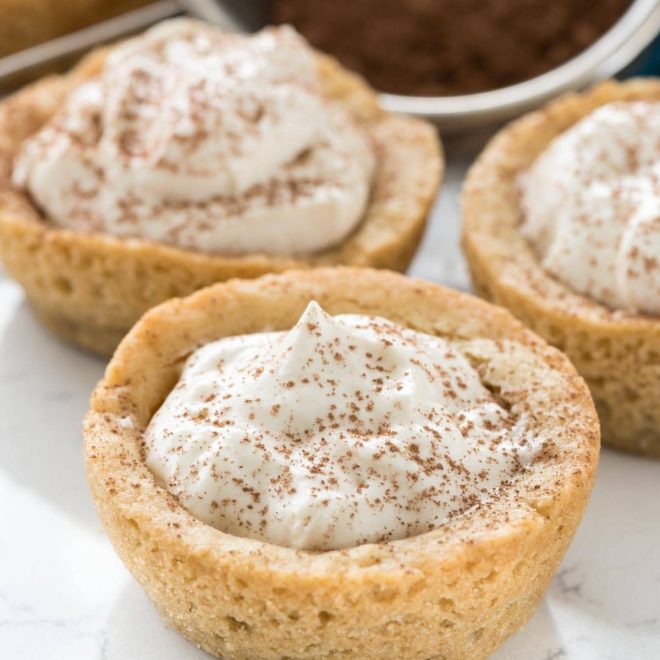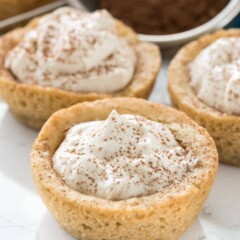 Tiramisu Cookie Cups
Tiramisu Cookie Cups - the perfect way to eat tiramisu! Fill easy sugar cookie cups with my favorite tiramisu mousse recipe for a great dessert.
Ingredients
For the Cookies:
Use the following Perfect Sugar Cookie Recipe

or substitute 1 roll refrigerated sugar cookie dough

3/4

cup

unsalted butter

softened

3/4

cup

granulated sugar

1

egg

1

tablespoon

vanilla extract

1/2

teaspoon

almond extract

optional

1/2

teaspoon

baking soda

1/2

teaspoon

cream of tartar

1/2

teaspoon

salt

2

cups

flour
For the Filling:
4

ounces

cream cheese

softened

2/3

cup

powdered sugar

1/2

teaspoon

vanilla extract

Pinch

of salt

1-2

tablespoons

cold brewed coffee

to taste

8

ounces

Cool Whip

you may substitute about 3 cups freshly whipped cream

Cocoa

for dusting
Instructions
Preheat oven to 350°F. Spray muffin pans with nonstick cooking spray (I like using the kind with flour in it).

Make the cookies: Cream butter and sugar in the bowl of a stand mixer fitted with the paddle attachment. Beat in egg and both extracts. (Almond extract is optional, but adds amazing flavor!) Mix in baking soda, cream of tartar, and salt. Slowly mix in flour.

Place 2 tablespoon balls of dough into each muffin cup. Press the dough flat along the bottom and halfway up the sides of the muffin cup. It doesn't need to be perfect because they'll rise and you'll need to reform them after baking. Bake for 8-10 minutes until they're just turning golden brown (they taste better if you err on the side of under done).

When they're hot from the oven, use the back of a glass (a shot glass or small juice glass is perfect) to press down in the center to re-form the cup shape. Spray the glass first with nonstick cooking spray to ensure it won't stick. Let the cups cool, then remove from the pans (with the help of a butter knife, if needed).

Beat cream cheese until smooth with a hand mixer. Slowly beat in powdered sugar, salt and vanilla until smooth and creamy. Add coffee to taste and stir, then fold in the Cool Whip.

Spoon about 1 1/2 to 2 tablespoons of filling per cooled cookie cup. Dust with cocoa and serve.

Store loosely covered in the refrigerator for up to 3 days. Cups may be frozen for up to one month before filling.
Nutritional information not guaranteed to be accurate
Click HERE for more easy recipes that start with cookie dough or cookie mix!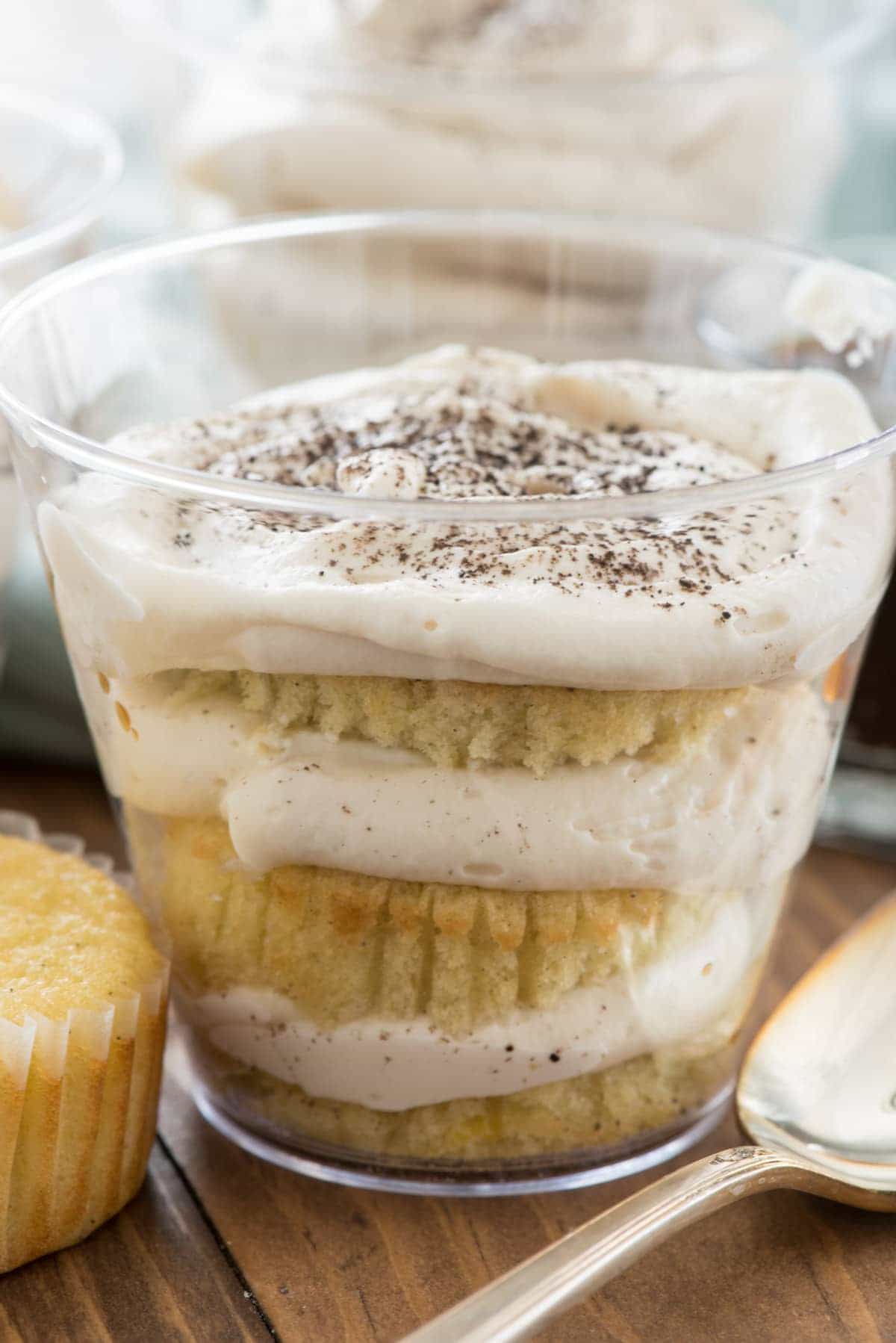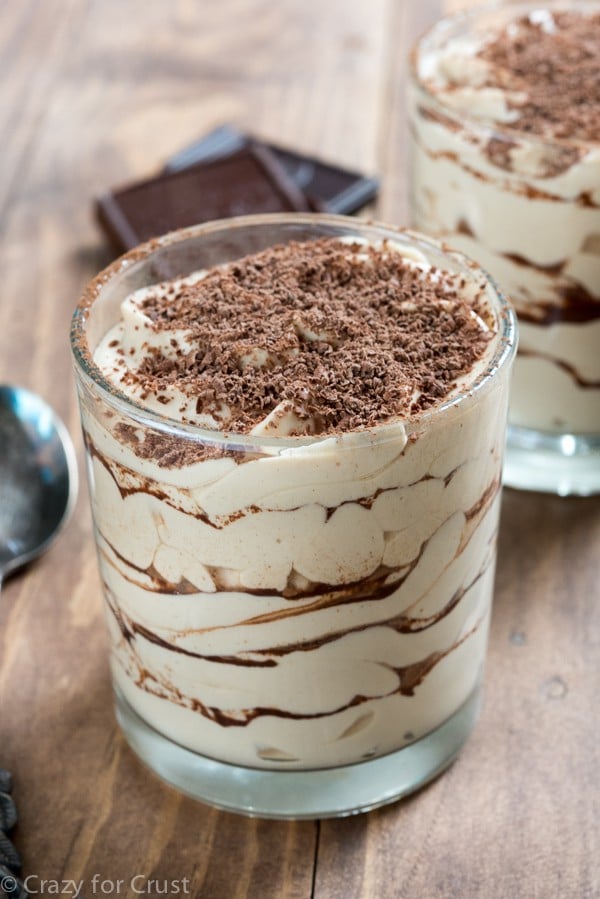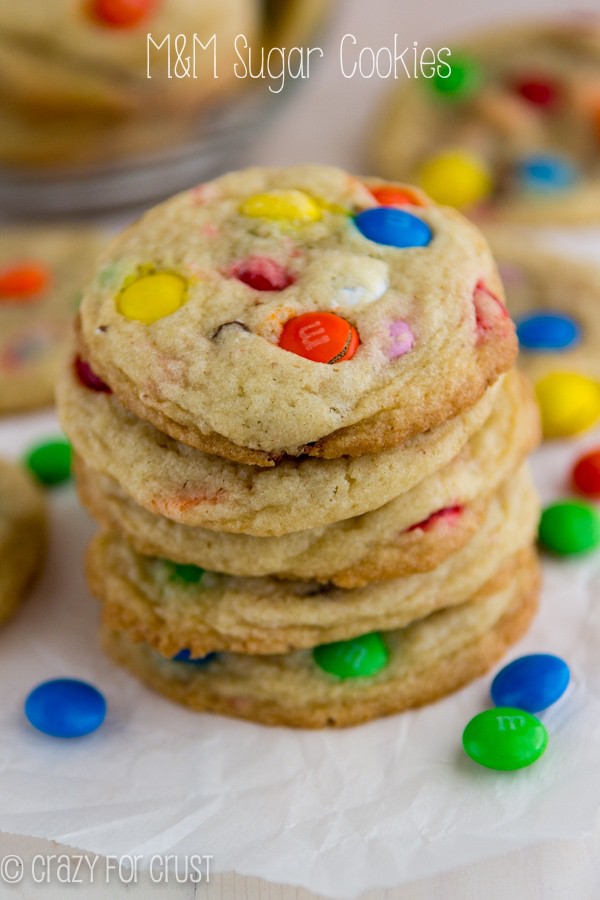 Sweets from friends:
Tiramisu Cupcakes by Life, Love, and Sugar
Peanut Butter Cup Tiramisu by Beyond Frosting
Tiramisu Pudding Shots by Lemons for Lulu
Last Updated on August 28, 2019