This post may contain affiliate links. For more information, read my disclosure policy.
Red Velvet Cake Roll – this easy red velvet cake recipe is rolled up in a roulade – it's the perfect cake for any occasion! Plus it's filled with CREAM CHEESE FROSTING!!!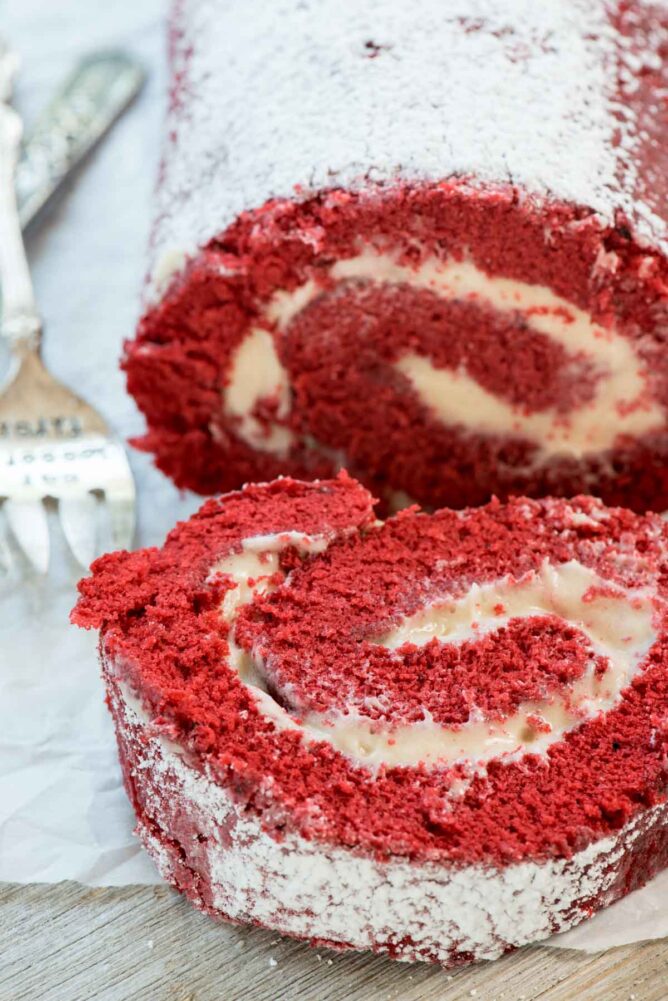 After Jordan finished grade 3 or 4, I didn't expect to make friends with the other "school moms" anymore. I had a unit of gals I'd met in Kindergarten and first grade that did mom's nights and events and fun things together and once she got to 3rd grade I started seeing less and less parents, which made it harder to make new friends. More and more moms headed back to work by grade 3 or 4 and it dwindled from everyone walking up to drop and pick-up kids from the classroom to just me and a few others to none in 6th grade.
So I was pleasantly surprised when Jordan made a new best friend last year and I became friends with the mom. Of course, with any new friend of Jordan's, I would introduce myself, get to know them a bit (guns? drugs? violence?) before letting her head to their house for a playdate but never had it gone much further than that, until this time. Jordan's BFF's mom and I have a lot in common, especially parenting-wise. We have a lot of the same parenting philosophies which gives us lots to talk about since out here in the 'burbs it sometimes ends up seeming like we live in an episode of Big Little Lies.
ANYWAY, I love this family (both the daughter and the mom) which is a good thing because Jordan and her daughter are somewhat inseparable. She even came with us on our Disneyland trip this past June. Mom had her birthday a few weeks ago so of course I had to make a special treat. Daughter told me she likes all treats (another reason we get along, ha!) but also that she loves red velvet. BINGO, I said to myself. You know the one kind of cake roll I haven't made yet? That's right my friends, Red Velvet.
A Red Velvet Cake Roll is easy and delicious and makes the most stunning dessert for any occasion!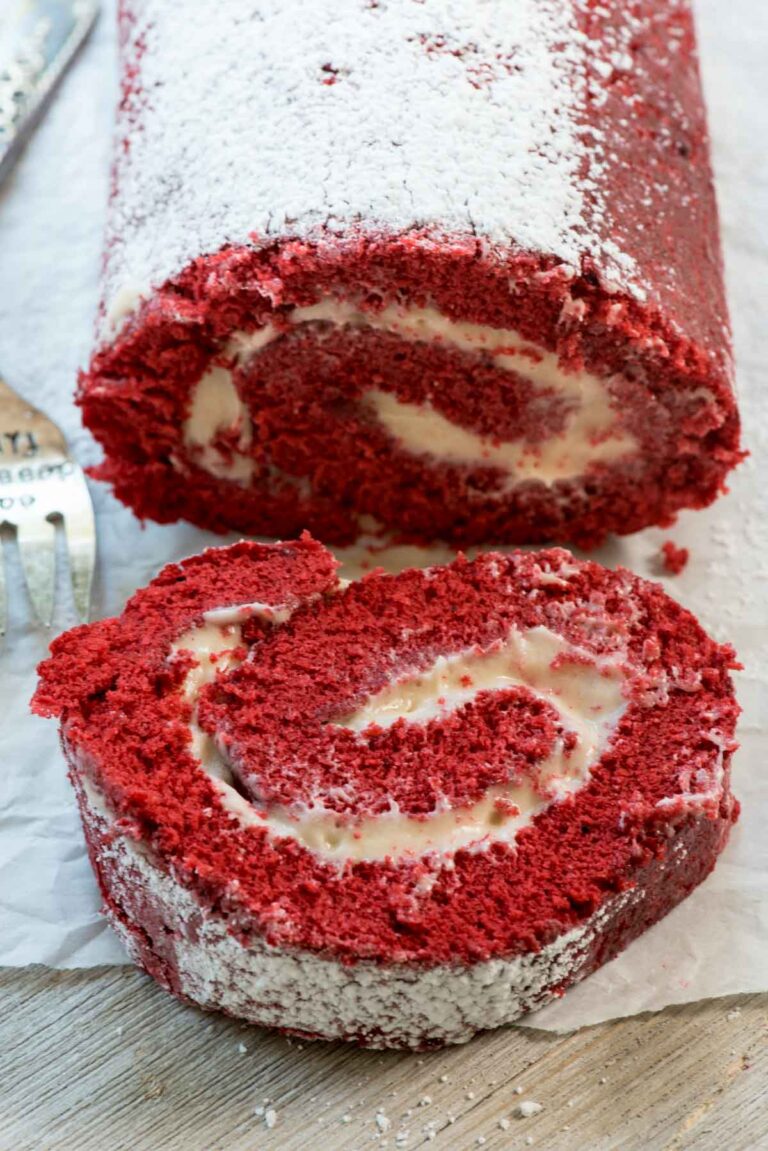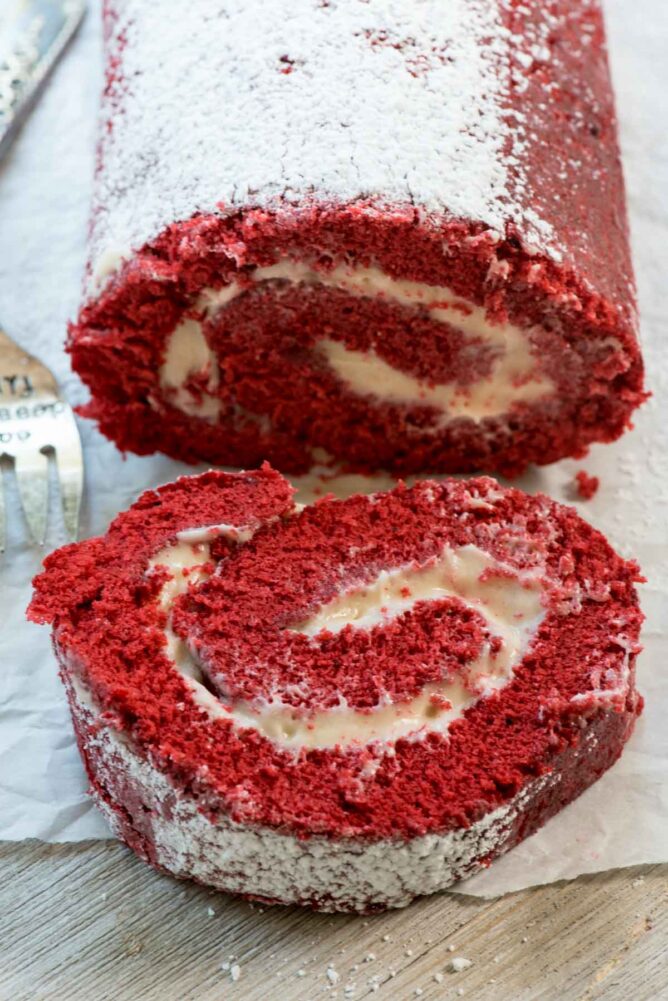 Like I said, I've made TONS of cake rolls. I've made zucchini and carrot, pumpkin and coconut and even lemon and strawberry shortcake (my most popular). But I've never made red velvet before…until now.
This cake roll is fluffy and sweet and vibrantly red and it's sandwiched with cream cheese filling. I mean, really. The only reason anyone eats red velvet cake is for the frosting, am I right? I think I could eat a whole bowl of the filling with a spoon. The soft and not-too-sweet red velvet cake pairs perfectly with the sweet and somewhat savory cream cheese frosting.
Luckily, cake rolls are great for birthdays and parties, but they're also good just because. There's nothing like wowing your guests with an elaborate cake roll they think is magic when really, it's easier than you think. Trust me: you can make a cake roll. I thought I couldn't for years and now I can't stop making them!


Tips for cake roll success:
Make sure and beat the eggs at LEAST 3 minutes as it says in the directions. This creates the fluffy cake you see in the photos.
Use a cake roll pan (also called a jelly roll pan) for best results.
Roll it while it's hot.
You can make the cake portion up to one day ahead, just wrap it (in the towel) in plastic wrap so it doesn't get stale.
If the cake cracks, double the filling and frost the outside – no one will know.
Check out my cake roll photo tutorial, a cake roll video, and my tips for cake roll success.
Enjoy!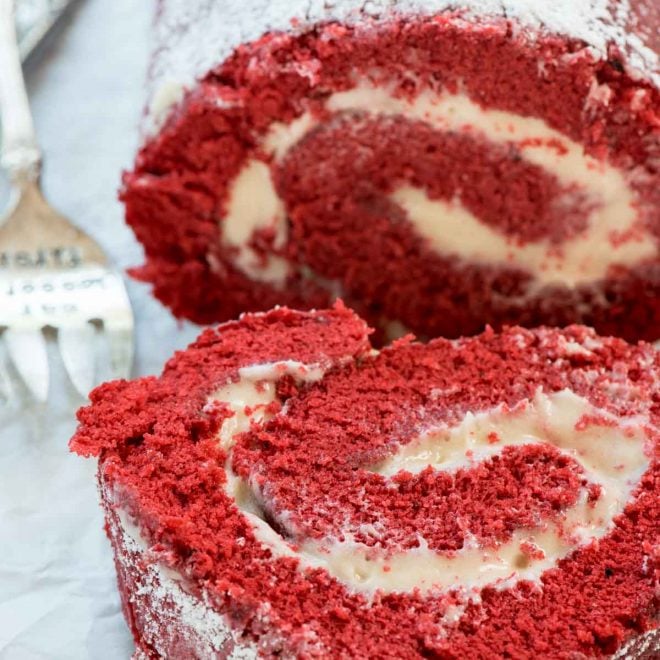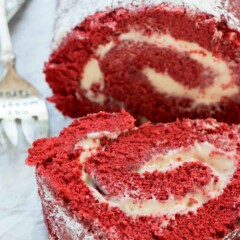 Red Velvet Cake Roll
Red Velvet Cake Roll - this easy red velvet cake recipe is rolled up in a roulade - it's the perfect cake for any occasion! It's a red velvet sponge cake baked in a jelly roll pan and filled with cream cheese frosting. A dusting of powdered sugar on top makes this an easy and elegant dessert.
Ingredients
For the Cake:
3

large eggs

3/4

cup

granulated sugar

1

tablespoon

vegetable oil

1

teaspoon

baking powder

1/4

teaspoon

salt

1

teaspoon

vanilla extract

1

tablespoon

cocoa

3/4

cup

all purpose flour

1

tablespoon

red food coloring

Powdered sugar

to aid in rolling
For the Filling:
4

ounces

cream cheese

room temperature

1/4

cup

unsalted butter

room temperature

2

cups

powdered sugar

1

teaspoon

vanilla
Instructions
Preheat oven to 350°F. Line a 10x15" or 10.5x15" cake/jelly roll pan with foil and spray with floured nonstick cooking spray.

Place eggs in a large bowl or the bowl of an electric mixer. Beat at medium speed with mixer for 3-5 minutes until foamy and yellow. Add sugar and mix for 2 more minutes, until the mixture is thickened slightly. Mix in oil, baking powder, salt, vanilla, and cocoa, then add flour and mix slowly until just combined. Pour into prepared pan, spreading as needed with a spatula. Bake for 10-15 minutes, or until the top is browned and the cake springs back when touched lightly. (Mine took 12 minutes, but all ovens differ.)

While the cake is baking, lay out a clean kitchen towel onto the counter. Spread with about 1/4 cup powdered sugar.

Remove the hot cake from the oven and carefully, using oven mitts so you don't burn yourself, flip the cake onto the towel. This might make a mess, but that's okay. Carefully remove the pan and foil (they're hot!) and then, using the towel, roll up the cake from the short side. The towel will be rolled into the cake. Let this cool completely before continuing.

Note: you can wrap the cooled cake in plastic wrap and let it sit overnight before finishing.

Make the filling: beat cream cheese and butter ntil creamy, then mix in powdered sugar slowly. Add vanilla and beat until smooth.

To fill cake: Carefully unroll the cake. Spread with the frosting. Carefully roll the cake back up as tight as possible, unsticking it from the towel as you go.

Chill for one hour before slicing. Before serving, dust the top with powdered sugar.

If the cake cracks, double the frosting recipe and frost the outside as well - no one will know!
Nutritional information not guaranteed to be accurate
Click here for my complete list of Valentine's Day Recipes!
If you love desserts and cake rolls, be sure to check out TheBestDessertRecipes, Cinnamon Cake Roll by Wine & Glue, or a Cookie Dough Cake Roll by Grandbaby Cakes.
Red Velvet Cheesecake Cupcakes
Strawberry Shortcake Cake Roll
SaveSave
SaveSave
SaveSave
SaveSaveSaveSaveSaveSave
Last Updated on May 12, 2020