This post may contain affiliate links. For more information, read my disclosure policy.
Small Batch Chocolate Chip Skillet Cookie – What's more joyful than a chocolate chip cookie? Not much…except a Chocolate Chip Skillet Cookie that's small batch and made for 2. Happy Thursday to ME!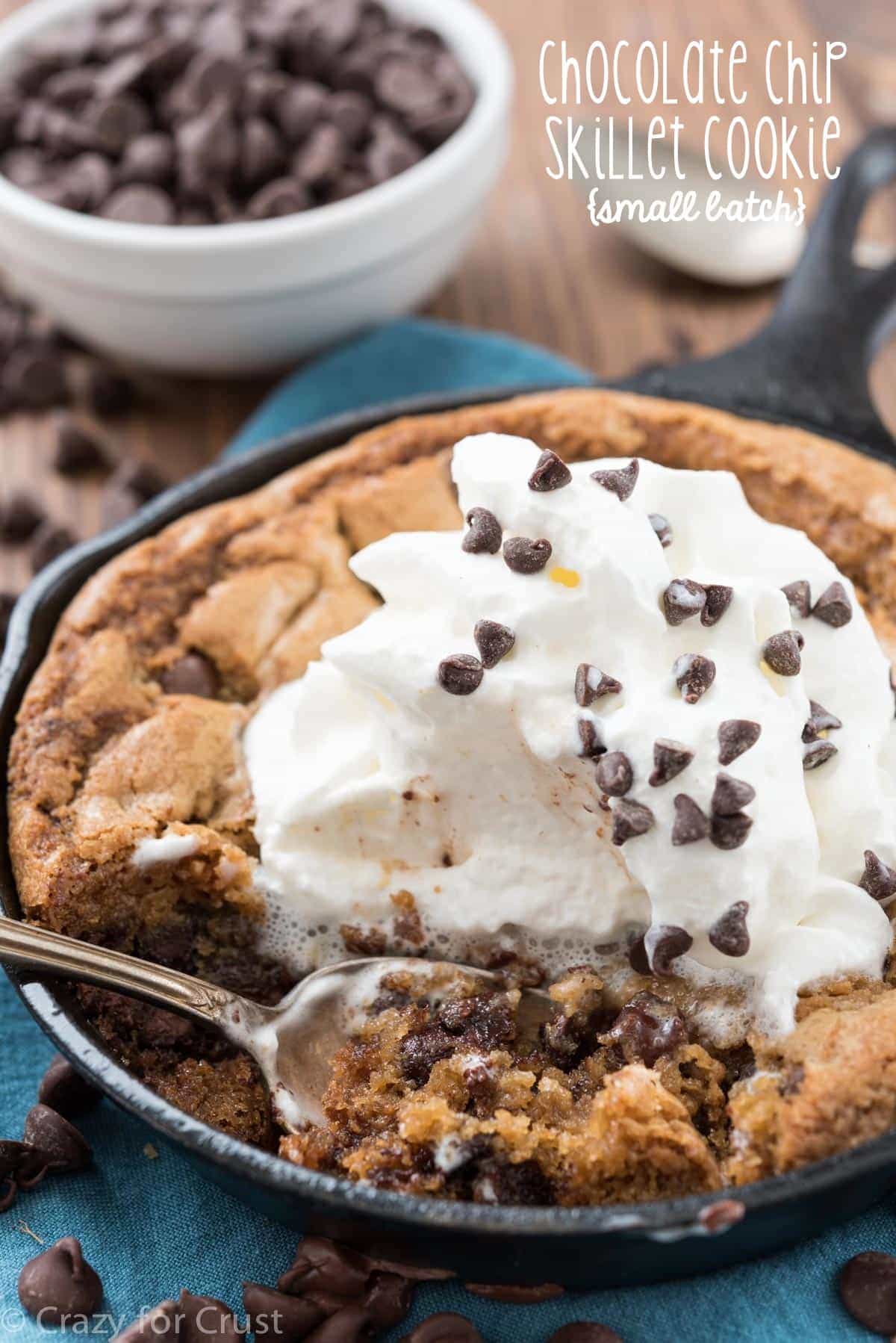 Cast Iron Cookie for 2
Somehow, we're almost halfway through February, which blows my mind. How many of you are still up on your resolutions (if you made any?) If you'll remember correctly, I only made one resolution, and that was to have more fun. I'm not sure exactly if I've accomplished my goal yet, but I'm definitely taking steps to try to be happier, have more fun, and bring more joy to my life.
Over the past weeks I've tried to spend a little less time working, which helps. In the evenings, instead of sitting on my computer working while my family watches the latest home show, I'm trying to make an effort to watch with them. (Or at least read a book, which is way more fun than working.)
I'm also back to trying harder at the gym. I am setting workouts for myself instead of just aimlessly wandering, and it's helping my mental state. Also, it doesn't hurt that I switched to weights first, cardio second so that I could do my cardio with a bestie. Girl talk always makes me happier.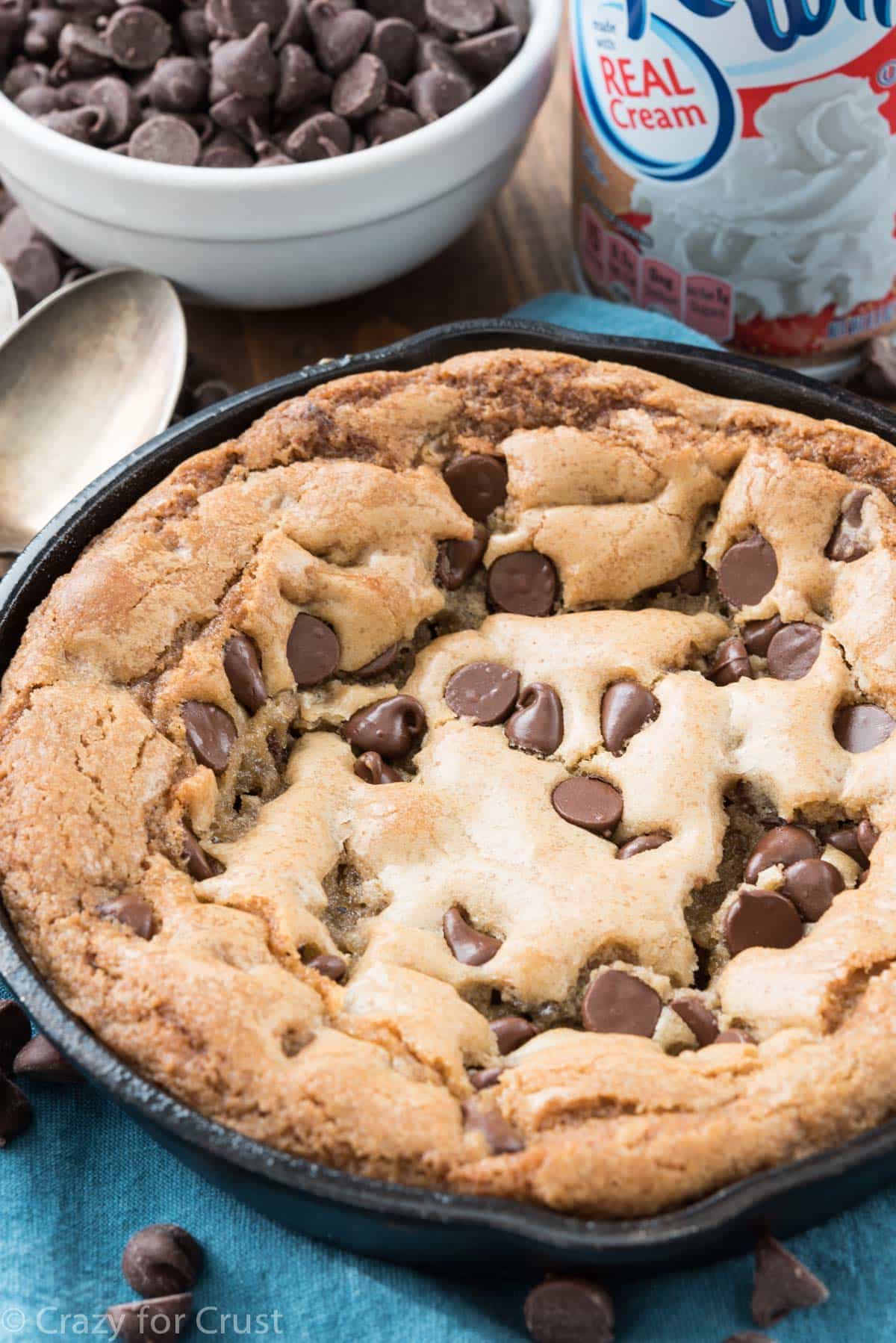 I've found that, when I'm happy, the people around me are happier too. When I have joy in my life, or when I'm around others who are joyful, it spreads. Have you ever noticed that? And when I stop to actually enjoy what I'm experiencing, my life and my mood are just so much better.
I'm working hard to add more joy and fun into my life, and one of the ways I'm doing that is by getting around to those recipes I've always wanted to make…but never have. I know that sounds silly, but it's true. I have a white board in my office full of ideas, some of which have been on there for 2 years. This Chocolate Chip Skillet Cookie is one of those ideas.
I've been wanting to scale down my Bakery Style Chocolate Chip Cookie recipe for ages. I mean, I love that recipe (it really is the BEST) but sometimes I don't need dozens of cookies (or a dozen baseball sized ones). Sometimes I just want enough cookie for TODAY, not today and all of next week. That's where this Small Batch Chocolate Chip Skillet Cookie recipe comes in: it's a single serve small batch skillet chocolate chip cookie for two (or 3-4).
Nothing is much better than a gooey, chocolatey, warm and melty cookie, is there?
Except maybe if you add several mouthfuls of whipped topping to the top.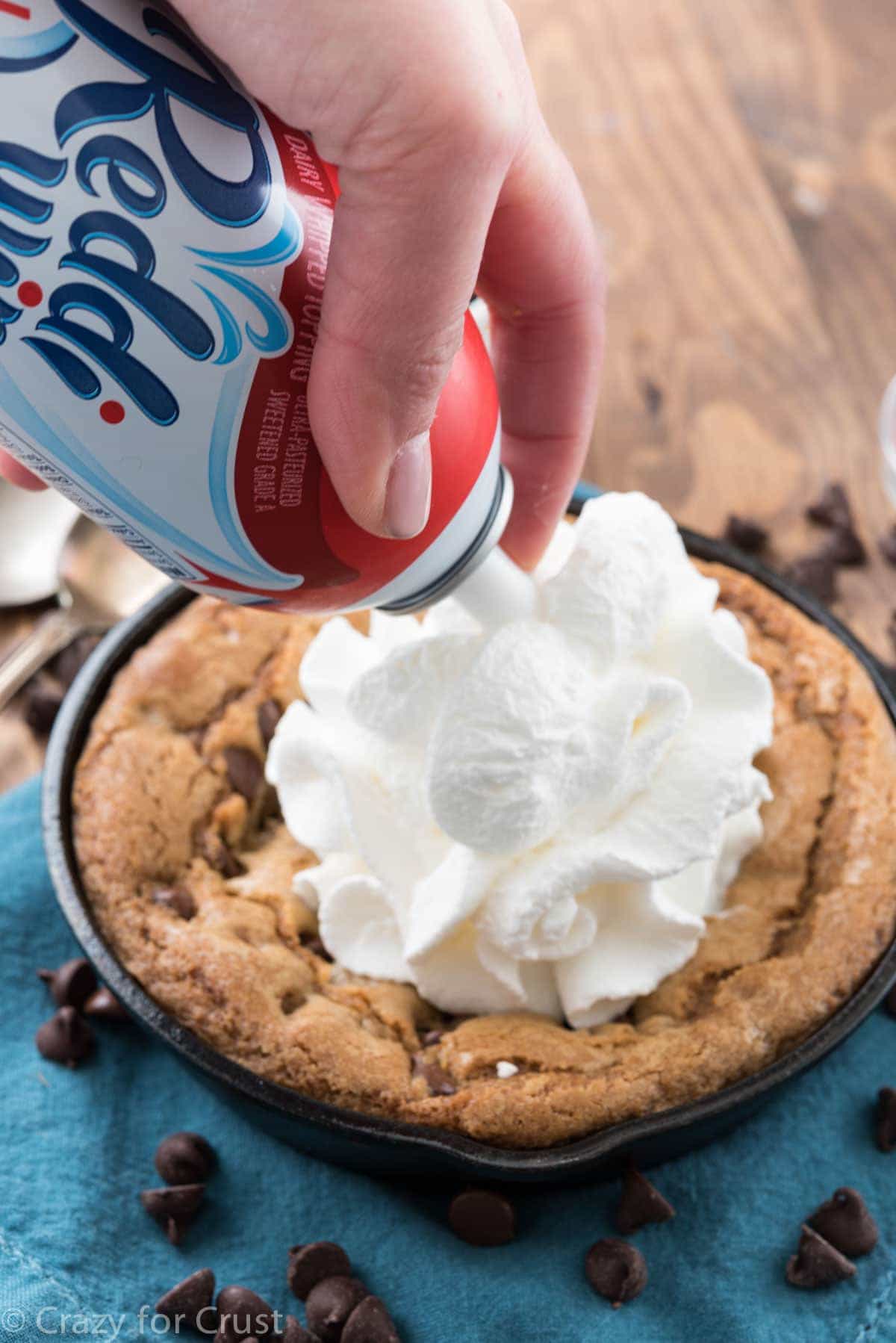 Raise your hand if you love Reddi-wip. Both my hands are in the air, FYI. I grew up on this stuff! It was almost always in our refrigerator and it was for sure always on our pies at the holidays. I can always remember sneaking a whoosh of the good stuff. That's why I'm so excited to partner with Reddi-wip on their #SharetheJoy campaign!
Now that I'm older, I can appreciate that each whoosh only cost me 15 calories a serving. And it's made with real cream, which makes it taste even better.
A warm, gooey chocolate chip cookie + a healthy dose of Reddi-wip = joy, in my book.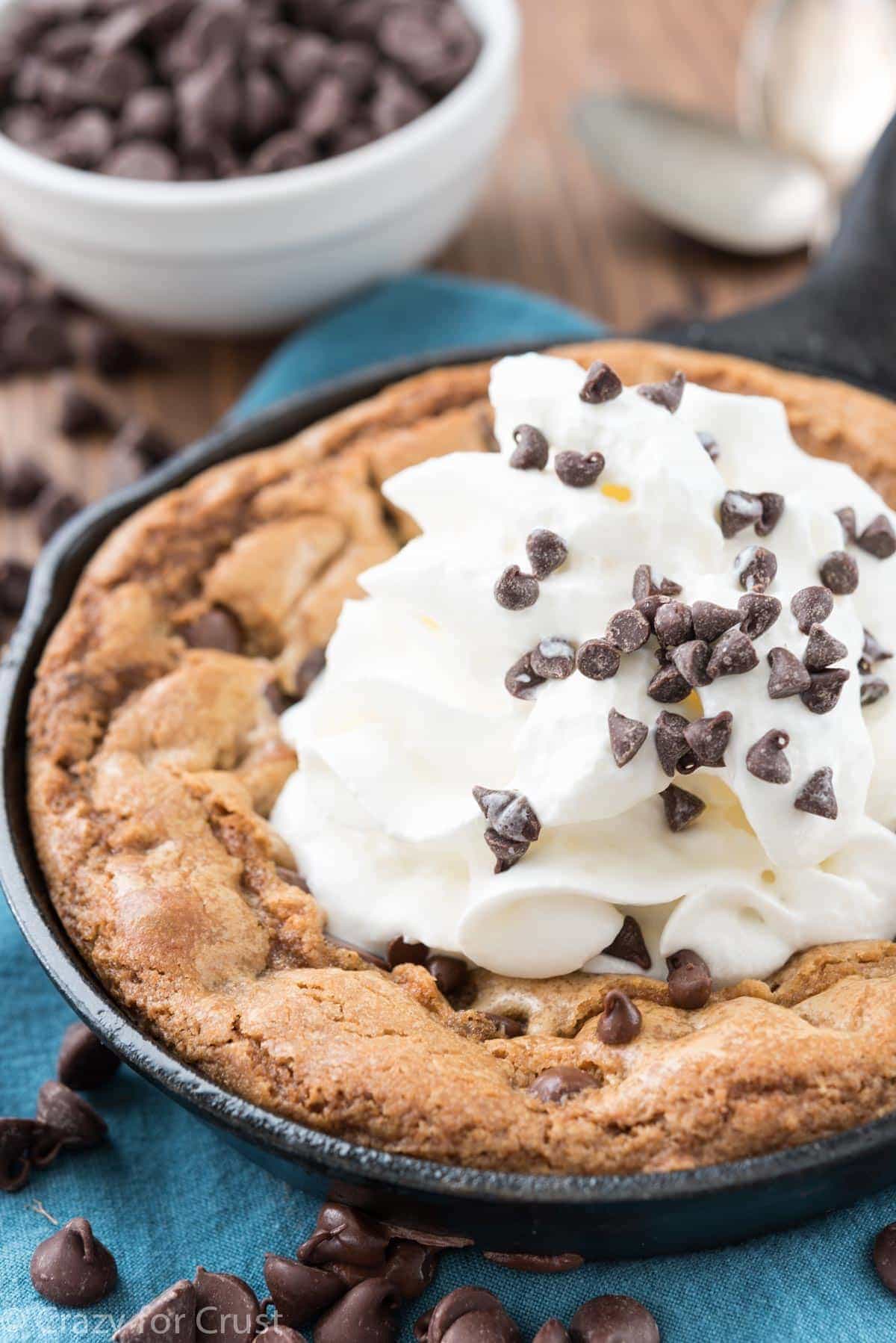 How to Make a Mini Chocolate Chip Skillet Cookie
This recipe comes together in one bowl. You don't need a mixer! It stirs right up with a wooden spoon because it starts with melted butter. ALL cookies should start with melted butter, IMO. And, because the cookie is being made in a pan instead of as single cookies, there is no chill time needed. #AllTheJoy
Because I'm a math geek, I did all the fractional scaling back for you, so you know that this Small Batch Chocolate Chip Skillet Cookie actually works. It might seem weird to measure out 8 teaspoons of sugar, but just go with me, mmkay?
Is a cast iron pan necessary for making a Pizookie?
Now, let's talk about pans.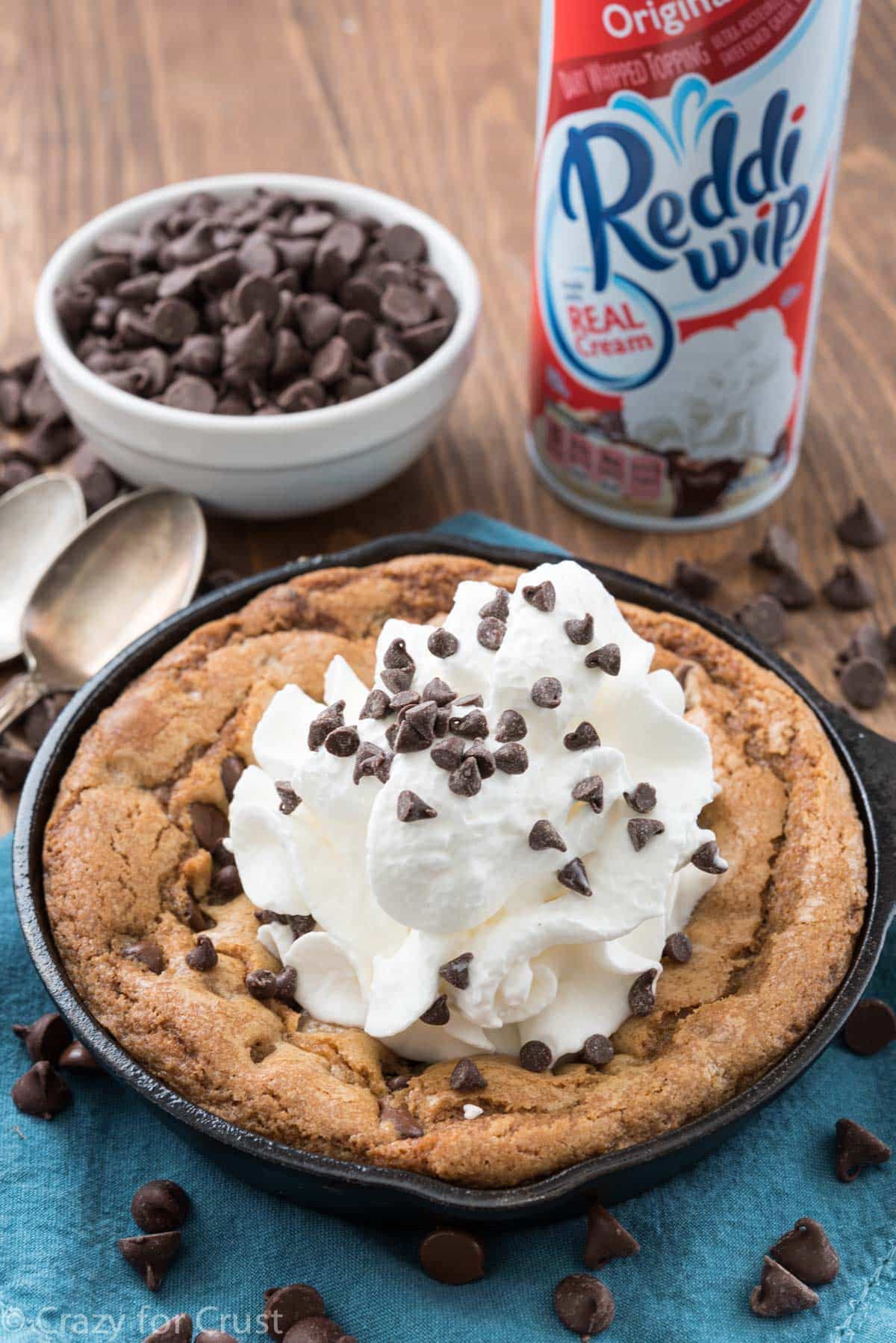 I have two of these mini cast iron skillets and I love them. They're perfect for single serve or small batch desserts. I've never shared any recipes in them because I'm always worried I'll get those comments like, well I don't have a mini skillet, what do I dooooo?
First of all, you could order one for yourself. That's the easiest option. But if you don't want to do that, don't worry. Here are your other baking options for this cookie:
Bake it in a 6″ round cake pan.
Use an 8×4″ (approximate size) loaf pan.
Use a muffin pan with liners (for easy removal and serving) – this will make about 4 cookies.
You can even divide this dough in half, chill it, and bake them as real cookies. Just make sure to chill the dough for at least 3 hours.
If you use something other than the skillet size shown here (or the 6″ cake pan), baking time will be affected, but this small batch cookie will still turn out.
Just don't forget the Reddi-wip!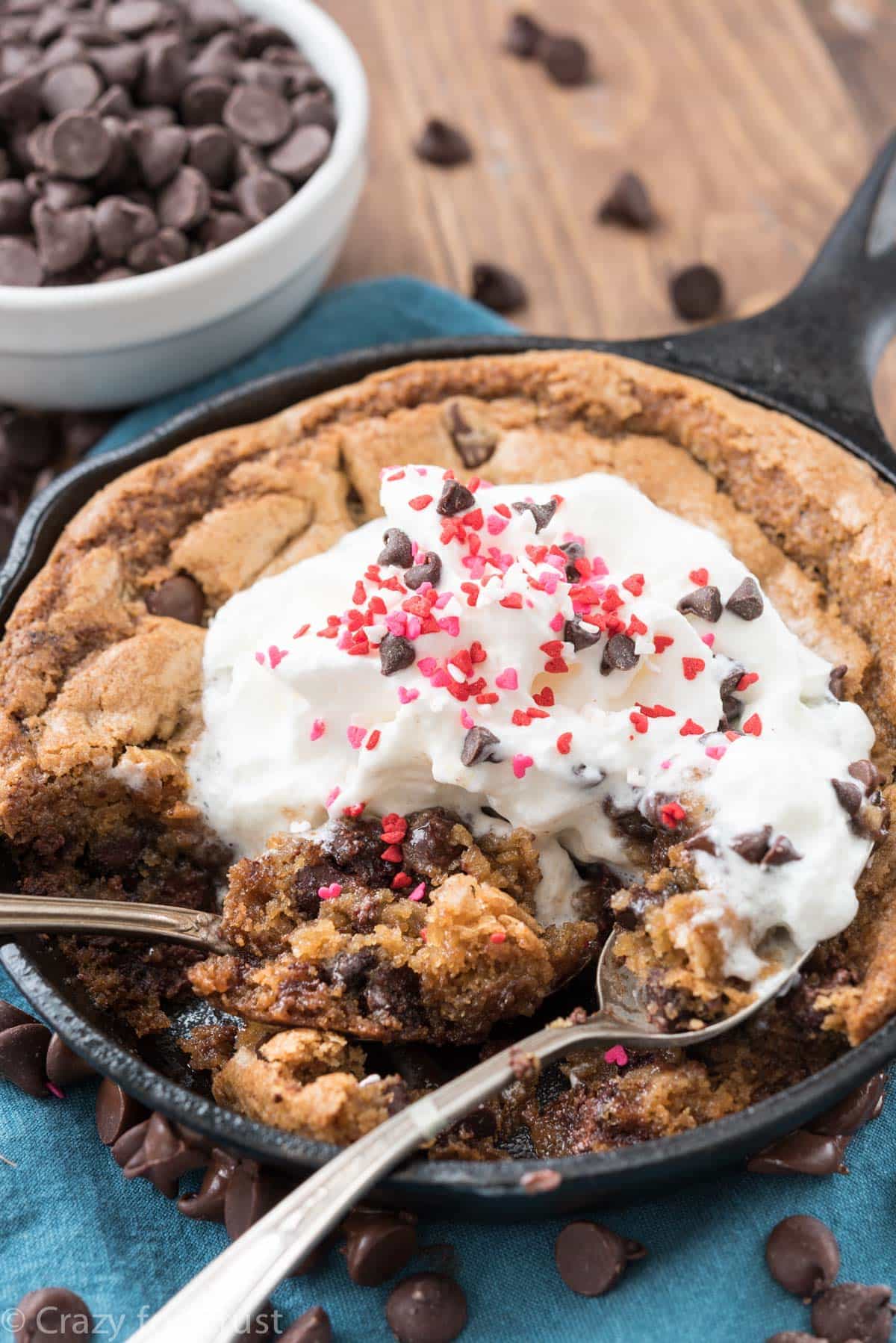 And, I mean, technically, it's a cookie built for 2. So you could add some Valentine sprinkles and serve it to your honey on the big day this weekend. That is, if you want to share…
Enjoy! I hope this Small Batch Chocolate Chip Skillet Cookie brings you a big smile, like it did for me. 🙂
Connect with Reddi-wip: Web / Facebook / Twitter / Instagram / Pinterest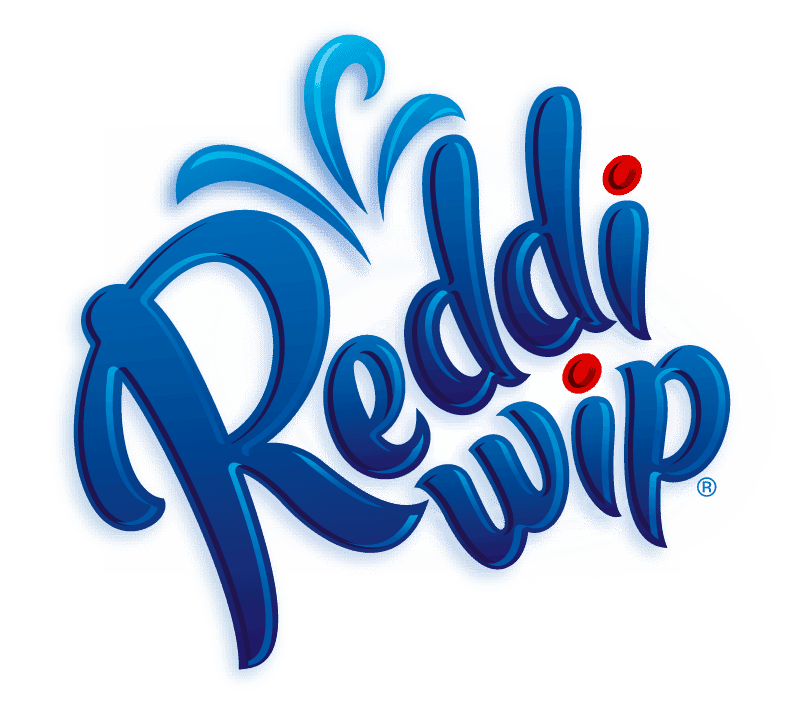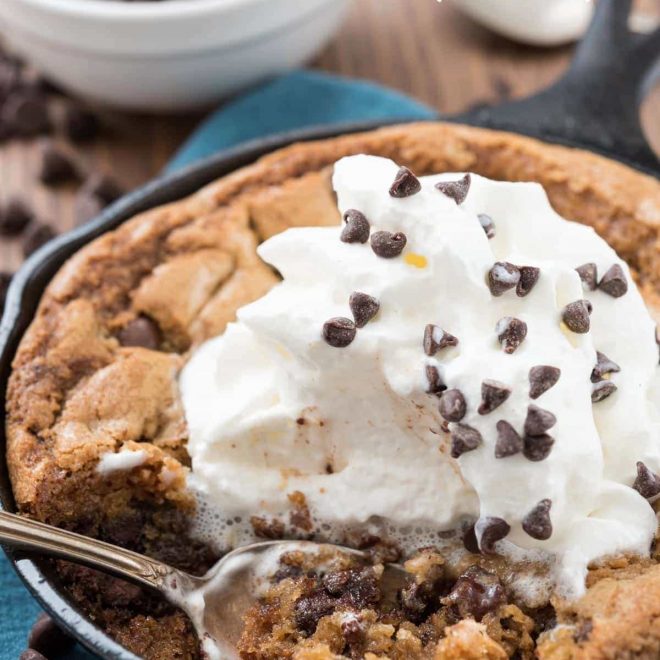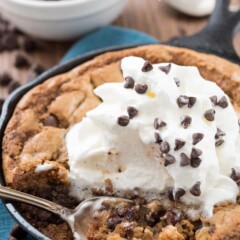 Skillet Chocolate Chip Cookie Recipe for 2
Make this Small Batch Chocolate Chip Skillet Cookie any time you want a chocolate chip cookie for 2! Warm, gooey, and full of chocolate it's an easy, one bowl recipe!
Ingredients
1/4

cup

butter

melted

8

teaspoons

granulated sugar

1/4

cup

brown sugar

packed

1

large egg yolk

1

teaspoon

vanilla extract

1/4

teaspoon

baking soda

1/8

teaspoon

salt

1/2

cup

all purpose flour

1/3

cup

mini chocolate chips

or other chocolate chips or candy

Reddi-Wip

for serving
Instructions
Preheat oven to 350°F. You will need a 6.25" mini cast iron skillet to make this cookie as shown. If you don't have a skillet, you can use a 6" cake pan, and 8x4" loaf pan, or make individual cookies in a muffin pan. If you are using a skillet, cake, or loaf pan, spray it with nonstick cooking spray. If you're using a muffin pan, use liners for easy removal and serving (it will probably make about 4 muffin sized cookies).

Melt butter in a large bowl. Stir in both sugars, then egg yolk, extract, baking soda and salt. Carefully stir in the flour then mix in the chocolate chips.

Optional: add 1/3 cup of ANY kind of chips or candy instead of the mini chips called for, if you wish.

Bake the mini cast iron skillet for about 18-24 minutes, or until the edges are puffed and the center no longer looks translucent. Using another pan will affect baking time.

Serve warm, with lots of Reddi-Wip and sprinkles.
Recipe Nutrition
Serving:
1
/2 Cookie
|
Calories:
529
kcal
|
Carbohydrates:
68
g
|
Protein:
5
g
|
Fat:
26
g
|
Saturated Fat:
16
g
|
Cholesterol:
155
mg
|
Sodium:
2815
mg
|
Fiber:
1
g
|
Sugar:
45
g
Nutritional information not guaranteed to be accurate
Bakery Style XL Chocolate Chip Cookie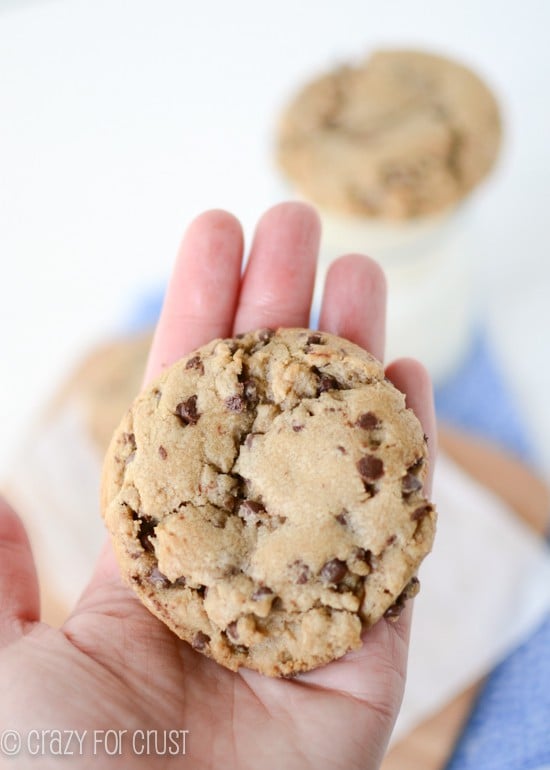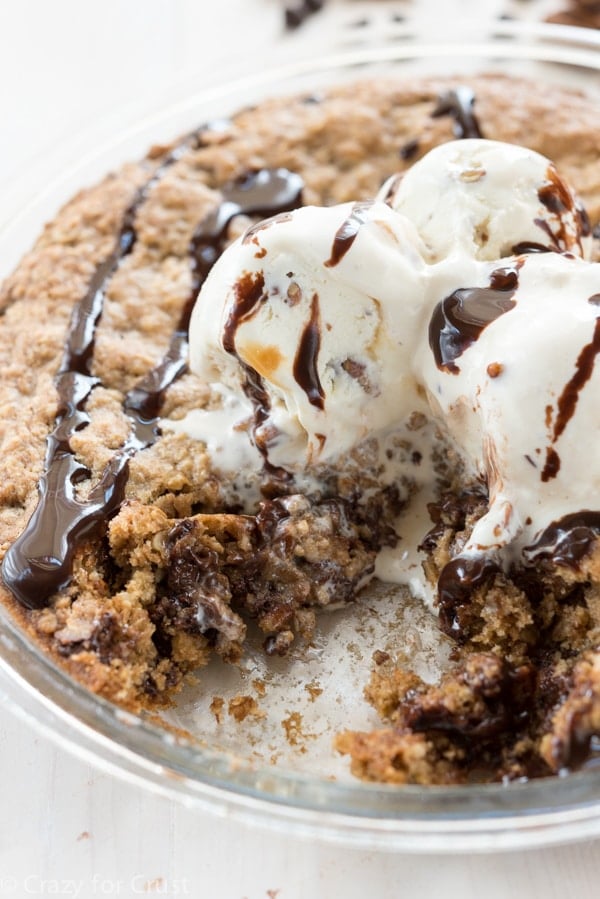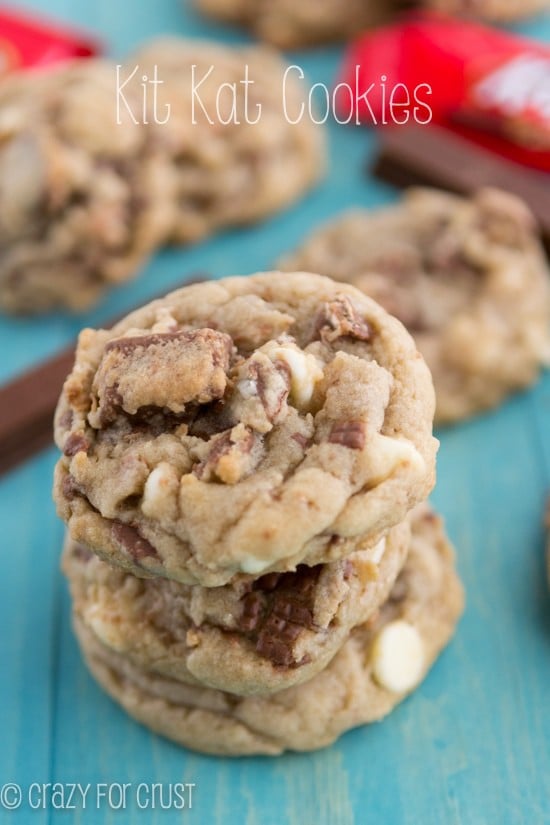 This is sponsored content written by me on behalf of Reddi-wip. The opinions are all mine.
Last Updated on July 6, 2021