This post may contain affiliate links. For more information, read my disclosure policy.
Small Batch Skillet Brownie – this easy one bowl brownie recipe makes the perfect dessert for two. It's so rich and chocolaty and is the best brownie recipe to share on Valentine's Day!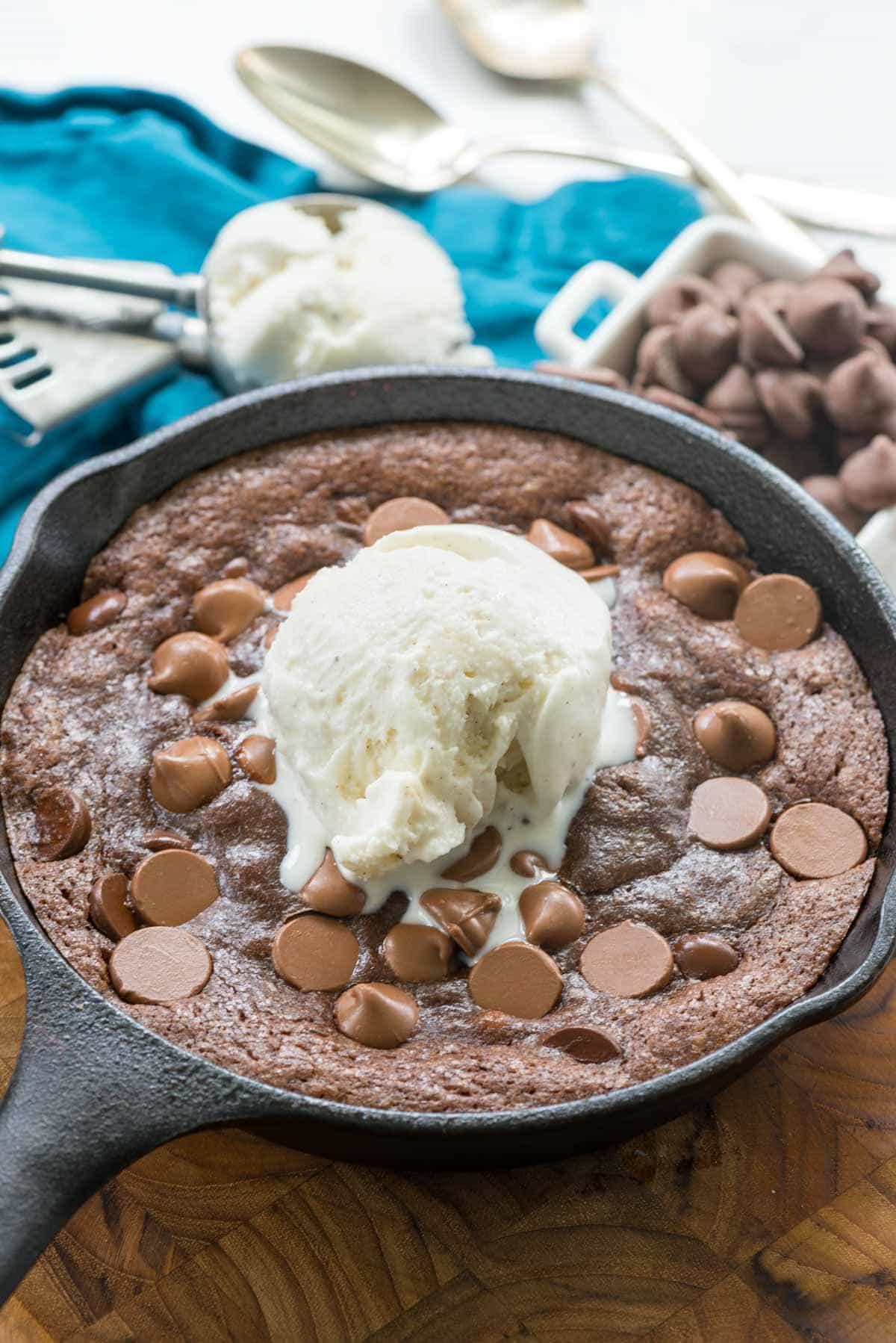 It's almost Valentine's Day! Somehow it's snuck up on me this year and I feel totally unprepared. I don't think we're going to do much, but I know there will be heart shaped pancakes. Jordan has dance that night so maybe Mel and I will be able to sneak in an hour-long date…but who knows. Such is the life as a parent, right?
There is pretty much only one thing I'm sure of when it comes to Valentine's Day: Mel won't eat a lick of dessert. I may get a box of chocolates…and I'll eat them all myself. If I go to the trouble of making brownies or a pie it will just all end up on my hips…because I'll be the only one eating it. That's why I love making desserts for two…because really they're for one, because I can get away with eating the whole thing myself because it's a small batch.
Small Batch Skillet Brownie for Two
I think this ooey gooey small batch skillet brownie is the BEST dessert for two I've made – ever.
It's SUPER chocolatey, which makes it perfect for Valentine's Day! And who knows…maybe I can talk Mel into grabbing that other spoon for just a bite…or two.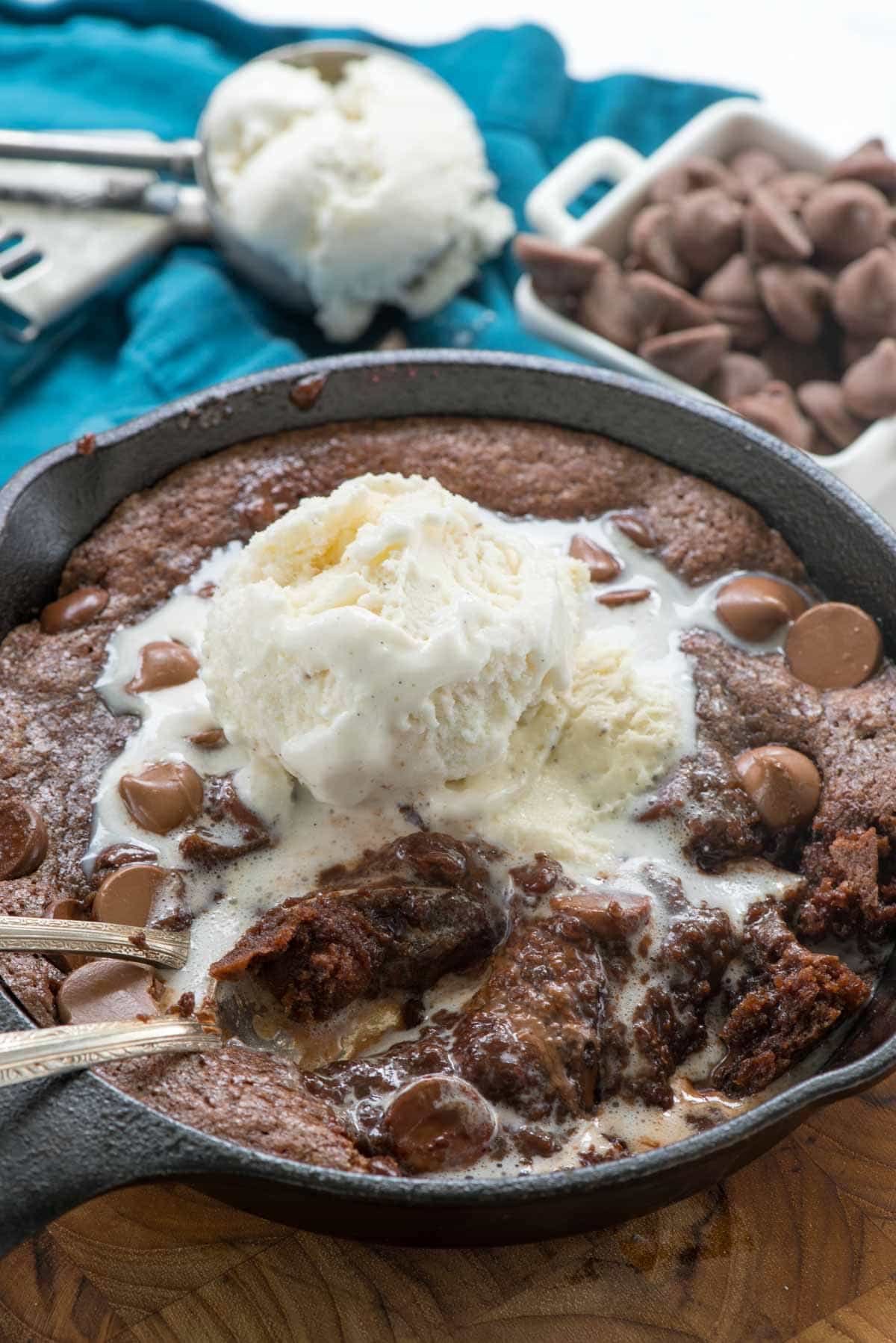 It's not hard to take your favorite brownie or cookie recipe and turn them into a small batch dessert….if you're good at math, that is. Did you know that I was a math major in college? And that I taught Algebra and Geometry to high school students for about 5 years? I don't miss teaching (not one little bitty bit) but I do miss doing math. Proofs were my favorite, but give me a good old quadratic formula to solve and I'll still dig right in.
The hardest part about dividing recipes into smaller portions is dealing with the eggs. It's hard to divide an egg in half, so I especially like it when a recipe works out well enough that the small batch just uses a whole egg, like this one. The rest of it is just turning cups into tablespoons (1 cup = 16 tablespoons) and cups into ounces (1 cup = 8 ounces) and then doing some fractions and conversions, which I've gotten pretty good at over my blogging career.
This skillet brownie recipe turns out PERFECTLY and is the best dessert for two (or one…or even three), especially when you add ice cream on top.

Small Batch Skillet Brownie Recipe Notes
You can make this in a small skillet (mine is 6″), as shown. But if you don't have a small skillet, you can also bake it in a small 5-6″ round cake pan, 2 mini loaf pans, or even about 4 muffin cups. Just be aware the baking time will be affected if you use the loaf pans or muffin cups.
I under-baked this by a few minutes because it tastes better that way. I like my brownies super gooey! But just add a few more minutes for more done brownies.
Feel free to slice and serve, but this is just as good (and more romantic) straight from the pan with two spoons.
Watch this video and you'll see just how easy the small batch skillet brownie recipe is to make!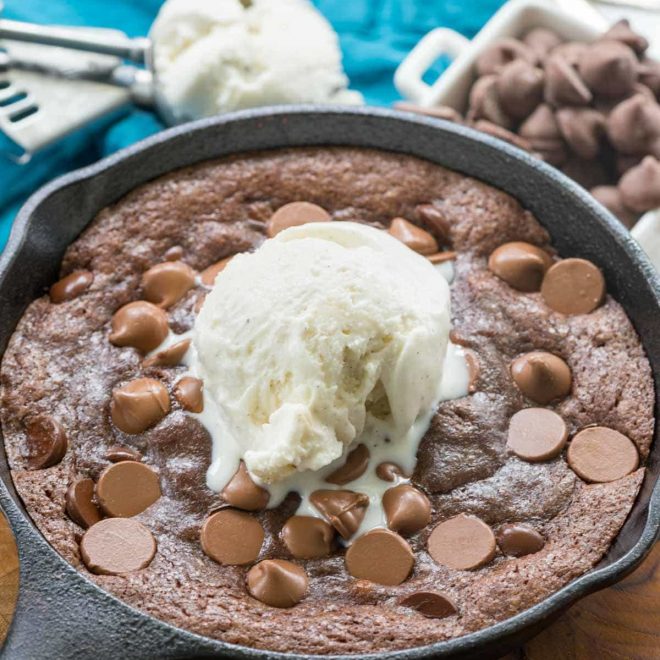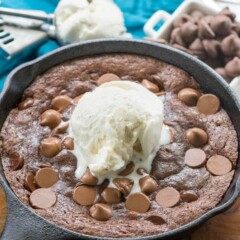 Small Batch Skillet Brownie for two
Small Batch Skillet Brownie - this easy one bowl brownie recipe is the perfect dessert for two. It's so rich and chocolatey and is the best brownie recipe!
Ingredients
5

tablespoons

all purpose flour

6 1/2

tablespoons

granulated sugar

2 1/2

tablespoons

unsweetened cocoa powder

1/8

teaspoon

salt

3

tablespoons

vegetable oil

1

large egg

1/3

cup

chocolate chips

plus more to sprinkle on top
Instructions
Preheat oven to 350°F. Spray a 6" cast iron skillet with nonstick cooking spray. You can also use a 5-6" round cake pan or similar volume mini loaf pan.

Stir together flour, sugar, cocoa powder, and salt in a medium size bowl. Add egg and oil and stir until thick and moist. Stir in chocolate chips. Spread in prepared pan, sprinkle with more chocolate chips if desired.

Bake for 17-22 minutes depending on desired doneness. For gooier underdone brownies cook them about 17 minutes. For more done, bake 20-22 minutes. A toothpick will come out with just a few crumbs 1" from the side for more done brownies.

Serve with ice cream or whipped cream and two spoons or let cool and slice.
Recipe Nutrition
Serving:
1
/2 recipe
|
Calories:
644
kcal
|
Carbohydrates:
82
g
|
Protein:
6
g
|
Fat:
35
g
|
Saturated Fat:
11
g
|
Cholesterol:
93
mg
|
Sodium:
2518
mg
|
Fiber:
6
g
|
Sugar:
62
g
Nutritional information not guaranteed to be accurate
Click here for my complete list of Valentine's Day Recipes!
My friends make great small batch recipes, too. Check 'em out!
Small Batch Cherry Preserves, from Inside BruCrew Life.
Small Batch Royal Icing, from In Katrina's Kitchen.
3-Minute Small Batch Cranberry Pistachio Fudge, from Mom on Timeout.
Chocolate Chip Skillet Cookie for two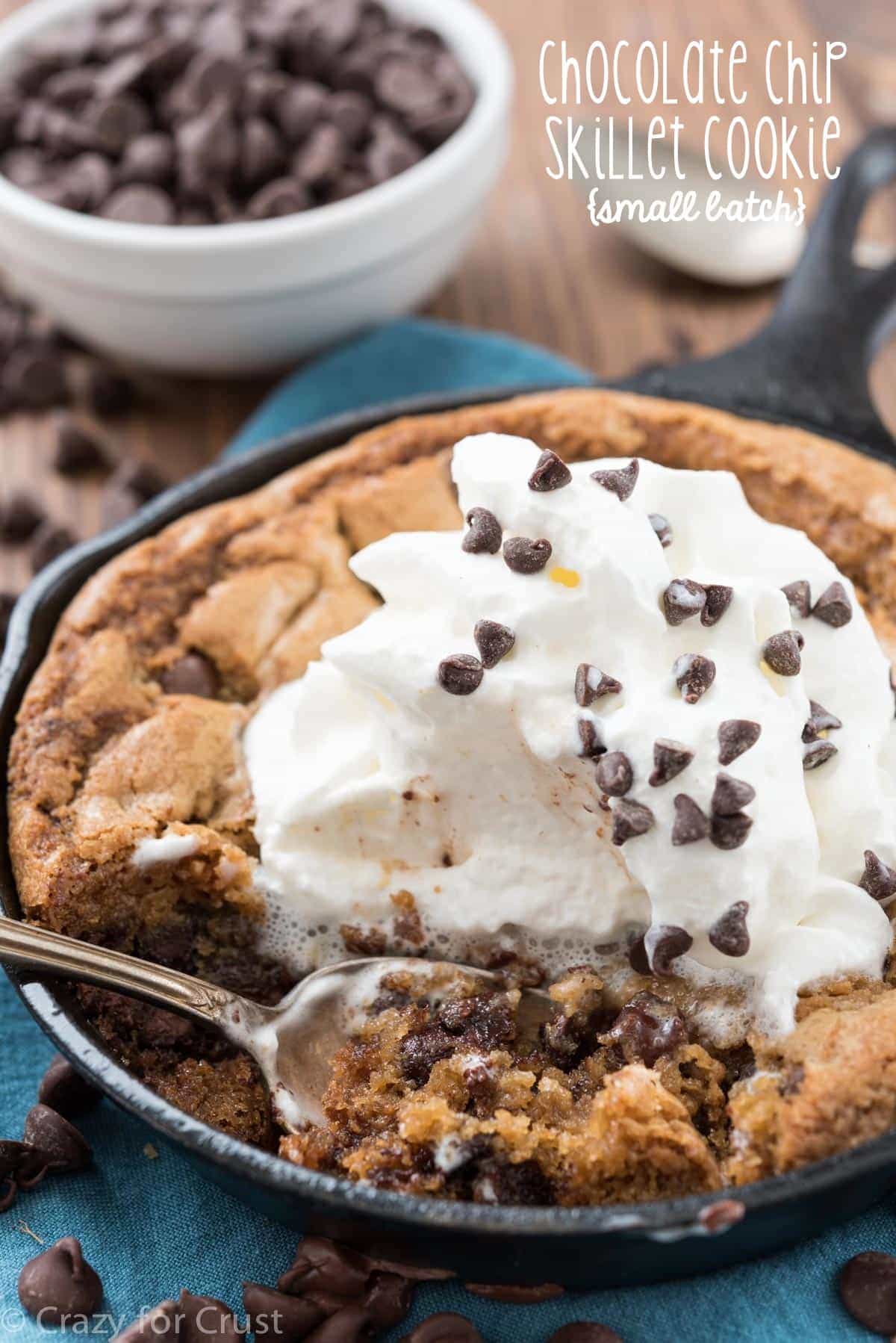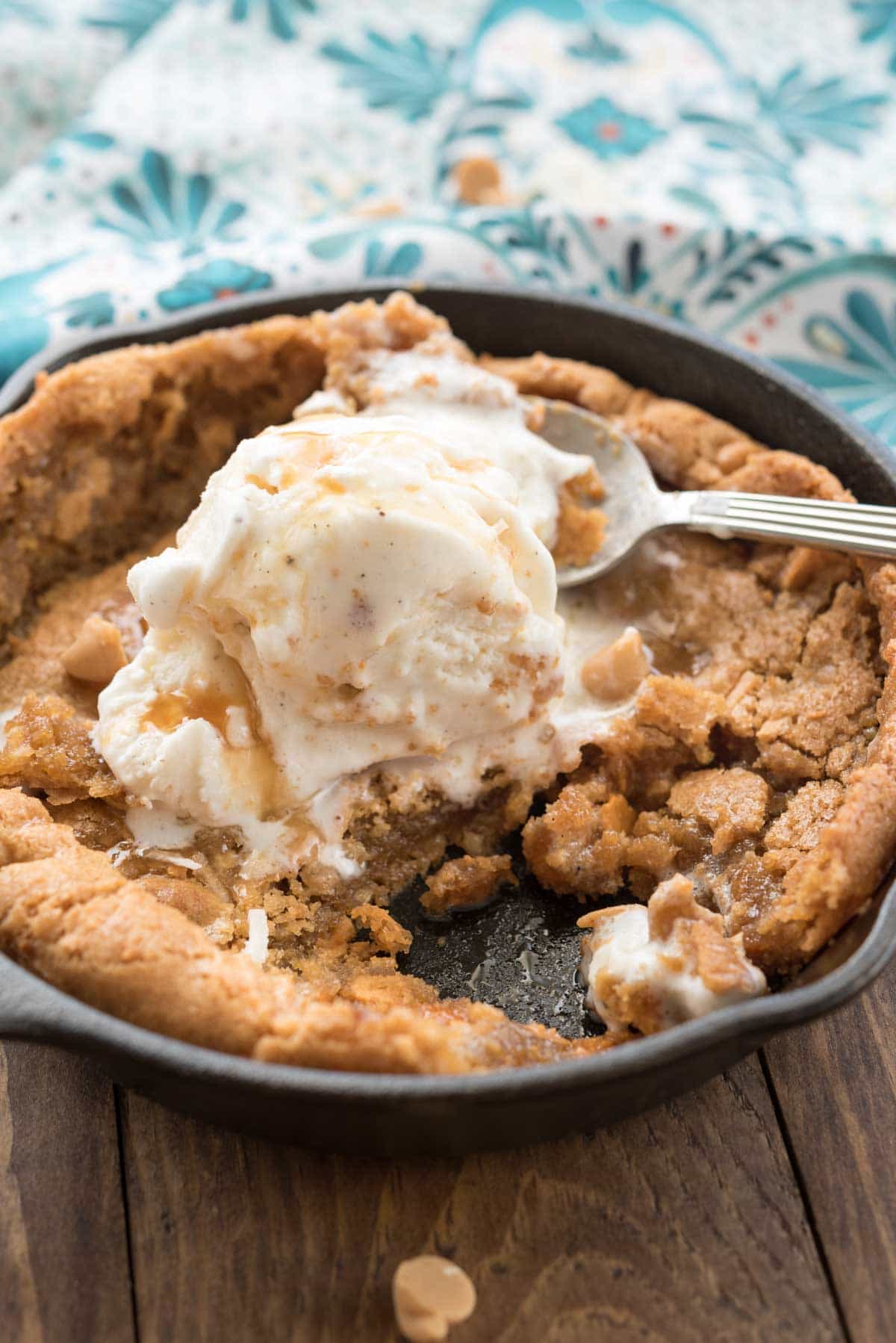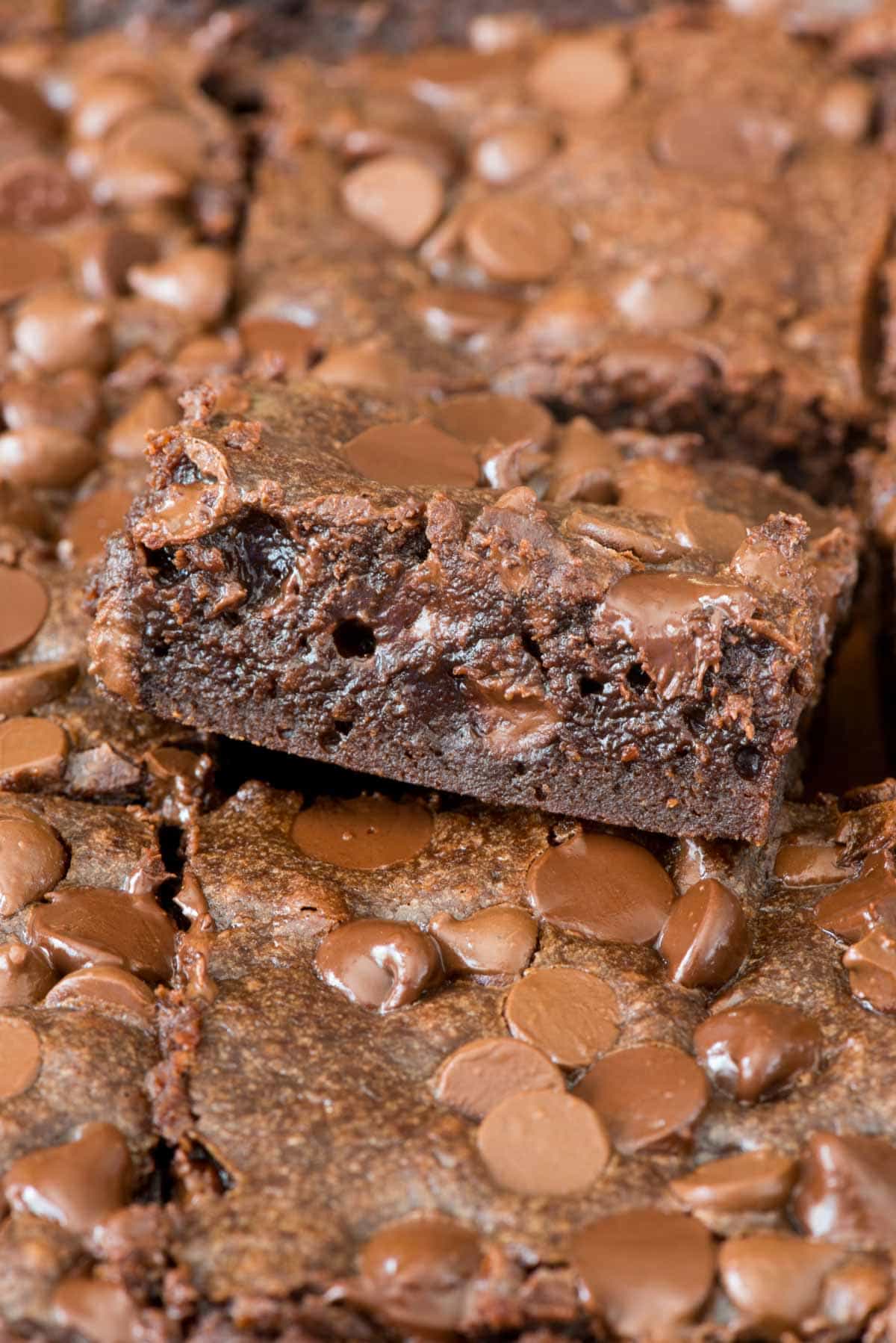 Last Updated on January 1, 2022