This post may contain affiliate links. For more information, read my disclosure policy.
Sausage macaroni and cheese is the perfect mac & cheese, because this EASY macaroni and cheese recipe is full of Italian sausage! It's a fantastic comfort food meal.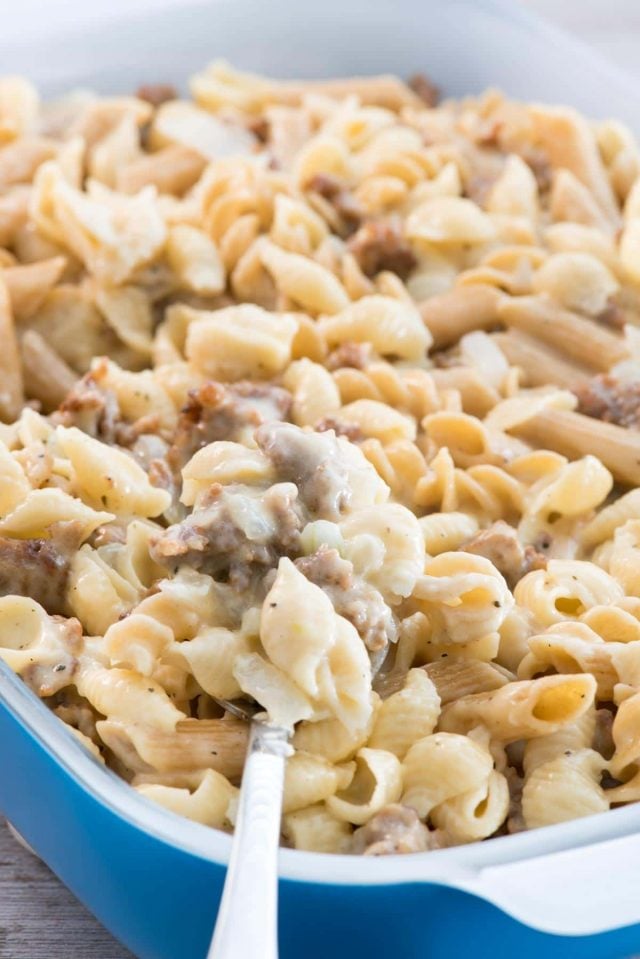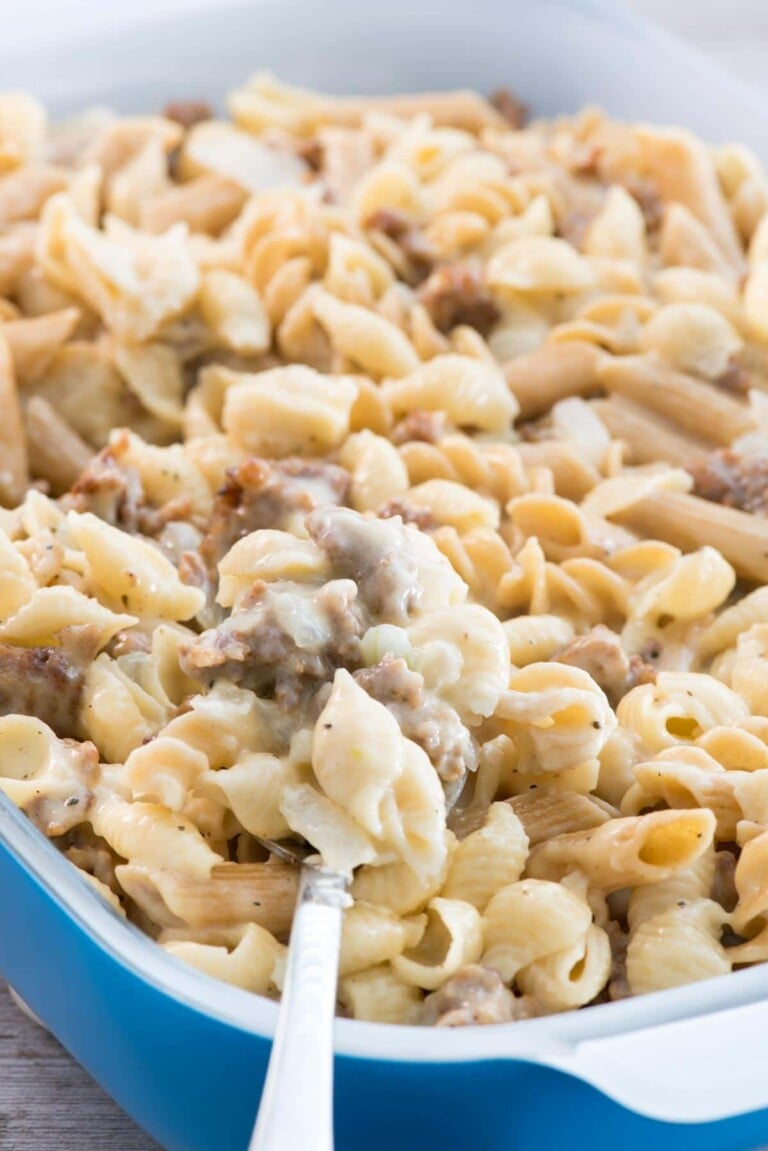 Is it shocking to you guys that I actually can cook, too? I always assume that people think I eat cake and pie three meals a day.
(I'd be lying if I said that never happened…)
But no, I actually cook dinner too, most nights. I'd say at least 5 nights a week I cook dinner and I try to keep it healthy (protein + veg) but sometimes you just need COMFORT FOOD. Am I right? Some weeks are just so long and exhausting that come the weekend, I want to make up a big batch of hot comfort food to make me forget the stress (wine helps too). When days like that happen, I turn to pasta. I rarely make pasta anymore (Mel likes to avoid carbs and Jordan doesn't like pasta…??!!) but sometimes I make this Sausage Macaroni and Cheese, which is something Mel will ALWAYS eat and Jordan grudgingly admits is good.
That's a win in my book. Plus I can be all "bwahahahaha I made you eat carbs!" to Mel. (Insert evil look here.)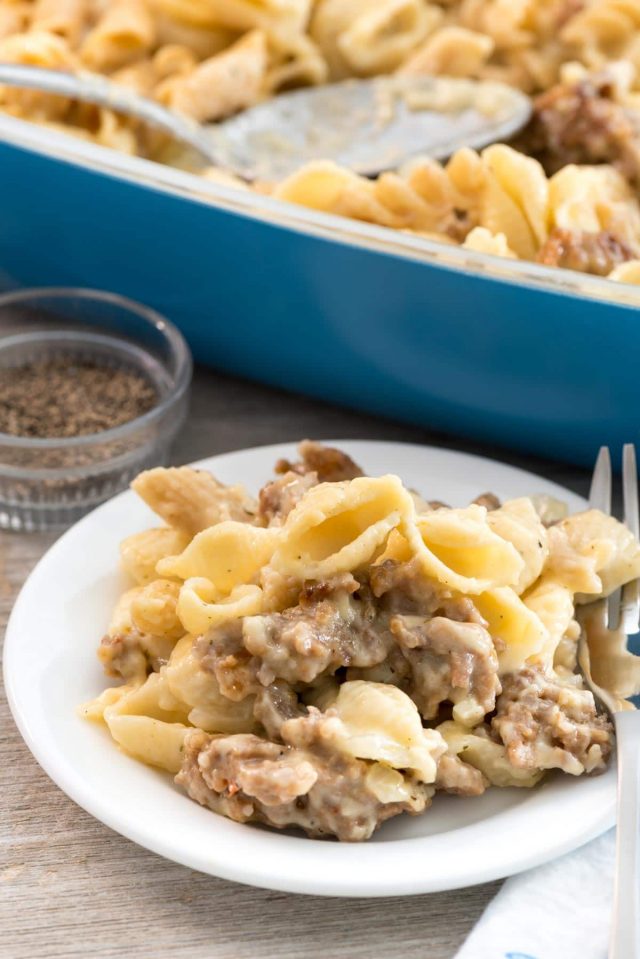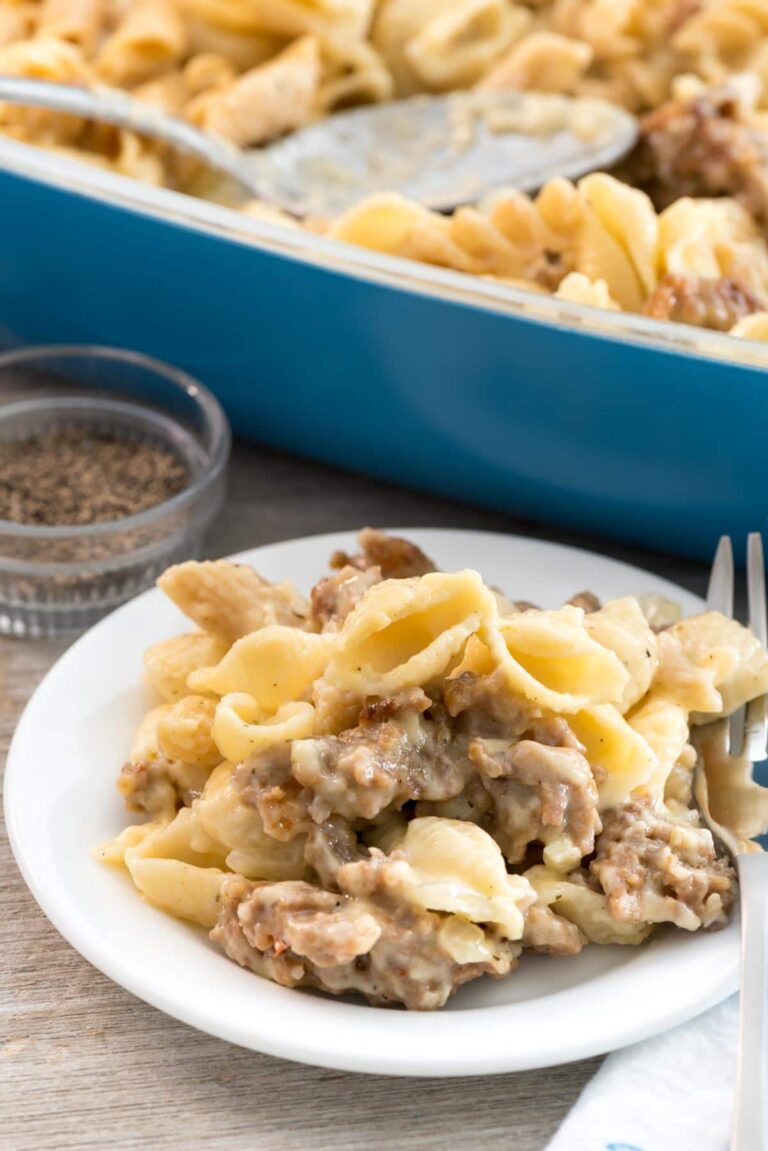 I created this sausage macaroni and cheese recipe about 15 years ago, back when carbs weren't evil. We ate pasta several times a week and homemade macaroni & cheese was a staple. One time, I added cooked sausage to the pan and we instantly fell in love. Now, whenever I make a meal for a pregnant friend or sick mom or a party or dinner pot-luck, this sausage mac 'n cheese is my go-to recipe. In fact, whenever Mel mentions my dinners to people, he talks about four things: my easy chicken parmesan, my cornbread stuffing, my crab cakes (thank you Emeril), and THIS cheesy macaroni and cheese recipe.
I think he loves it so much because it's not just boring plain old macaroni & cheese. Nope, this one is kicked up a notch because it's full of Italian Sausage. Sometimes I'll even brown the sausage in the same pot that the cheese sauce is made in so the flavor is infused throughout the dish. Mel is always begging me to add TWO packages of sausage to the recipe instead of one, because it's his favorite part.
What I love about the sausage macaroni and cheese recipe (beyond how good and creamy and cheesy it is) is that it's super versatile.
You can serve it straight from the saucepan for dinner, or you can bake it in a pan. This makes it great for weeknight dinners, but also for Sunday dinner with all the family, or to give as a casserole when you're dropping dinner for a friend. You can even stir cooked veggies like broccoli or Brussels sprouts into it for a complete meal!


Some notes about the sausage macaroni and cheese recipe:
You can use any kind of pasta you like. You'll notice I have about 3 different kinds in the photos and that's because it was "clean out the half empty pasta boxes day" when I made this. (Does that happen to anyone else?) My favorite pasta to use are mini shells, but macaroni or penne work just fine too.
You can use any kind of sausage you like. I love sweet Italian sausage, but if you like spicy, go with the hot, or even a bratwurst.
This is also a great recipe to use up leftover cheese. I used to make it with just cheddar, but then I use Monterey Jack and gouda in combination because I had it leftover and the combination of cheeses is amazing. My top favorites are: cheddar (orange or white, medium or sharp), Monterey Jack, Mozzarella, Gouda, and/or Swiss. Use what you like and what you have, no special trips to the store needed.
I've made this with nonfat and with whole milk, so any kind you use will be just fine.
The next time you're looking for comfort food, reach for this Macaroni and Cheese recipe…with sausage!!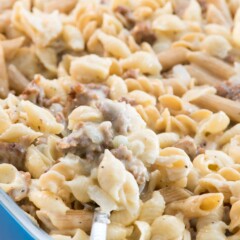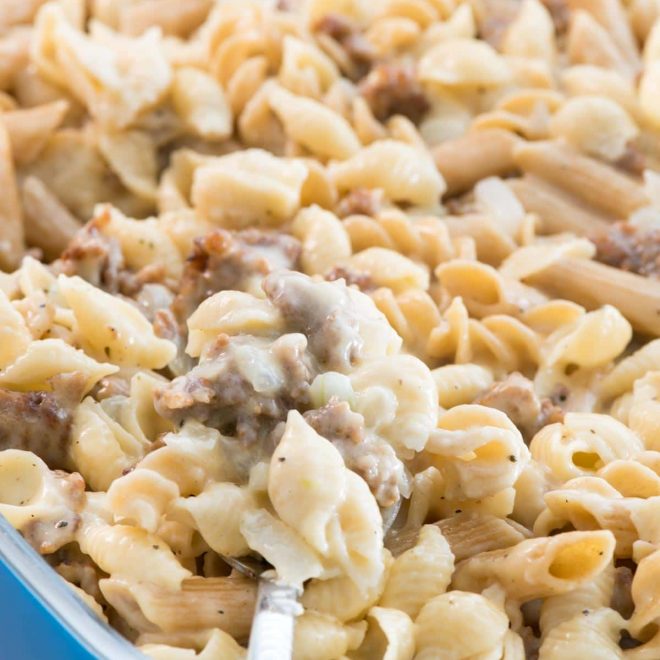 Sausage Macaroni and Cheese
Sausage Mac & Cheese - this EASY macaroni and cheese recipe is full of Italian sausage! It's the perfect comfort food. I've been making this FOR YEARS and everyone always loves it.
Ingredients
14-15

ounces

dry pasta

elbows, penne, shells, rotini, or a combination

1

pound

bulk Italian sausage

mild, sweet, or hot, or even turkey sausage

1/2

medium onion

diced (about 1 cup)

2

cloves

garlic

minced

4

tablespoons

butter

4

tablespoons

all purpose flour

3

cups

milk

regular, lowfat, or nonfat

1/2

teaspoon

dry Italian seasoning

4

cups

shredded cheese

cheddar, american, mozzarella, monterey jack, or a combination

Salt and Pepper to taste
Instructions
Optional: preheat oven to 350°F.

Cook pasta according to package directions. Drain and return to pan.

While the pasta is cooking, cook the sausage over medium heat in a large frying pan. Use a wooden spoon to break up the sausage into small bits. This takes about 5-10 minutes. Drain the fat and set the sausage aside.

Using a 3 quart saucepan (or you can use the pan you cooked the sausage in, if it's deep enough), melt the butter over medium heat. Add the onion and cook until soft, about 2-3 minutes. Add the garlic and cook 1 more minute. Stir in the flour completely and cook for 1 minute, then add the milk. Stir to combine the mixture, then add the italian seasoning.

Cook over medium heat, stirring almost constantly, until the mixture thickens, about 10 minutes or so. It should be the consistency of a creamy soup. Stir in the cheese until melted. Add salt and pepper to taste.

Stir the sausage into the cooked pasta, then stir in the cheese sauce. At this point you can eat it from the pan, or bake it to form a crunchier top (or to keep it warm for company).

If baking, place in a 9x13" pan and bake about 15 minutes. You can also just put the oven on low and keep it warm that way.

Store in an airtight container for up to 3 days. This can be made one day ahead and reheated in the oven as well.
Recipe Nutrition
Serving:
1
/8 of Macaroni and Cheese
|
Calories:
755
kcal
|
Carbohydrates:
55
g
|
Protein:
35
g
|
Fat:
44
g
|
Saturated Fat:
23
g
|
Cholesterol:
131
mg
|
Sodium:
894
mg
|
Fiber:
3
g
|
Sugar:
11
g
Nutritional information not guaranteed to be accurate
My blogging friends have some fantastic looking cheesy pasta recipes, too:
Meatball pepperoni pizza pasta
Cheesy baked pasta with prosciutto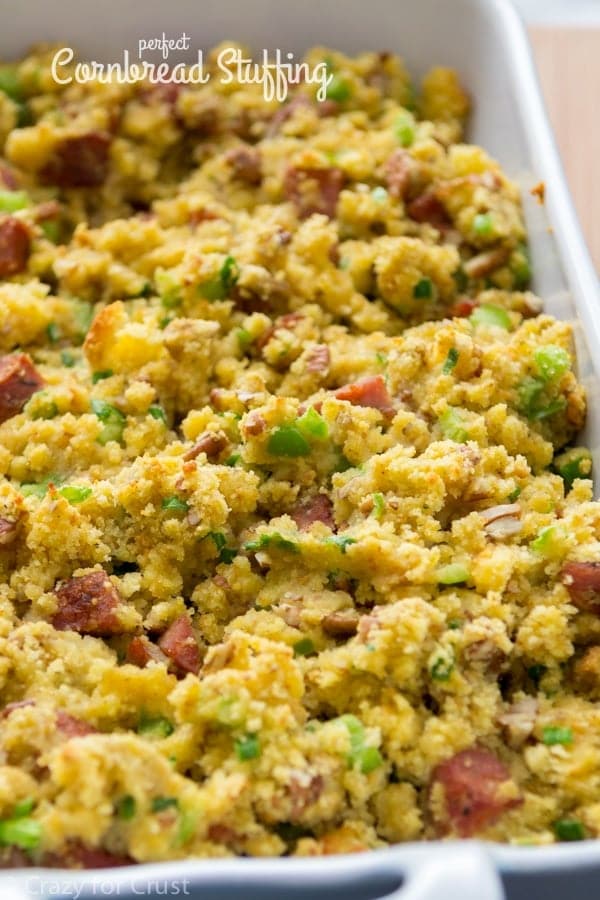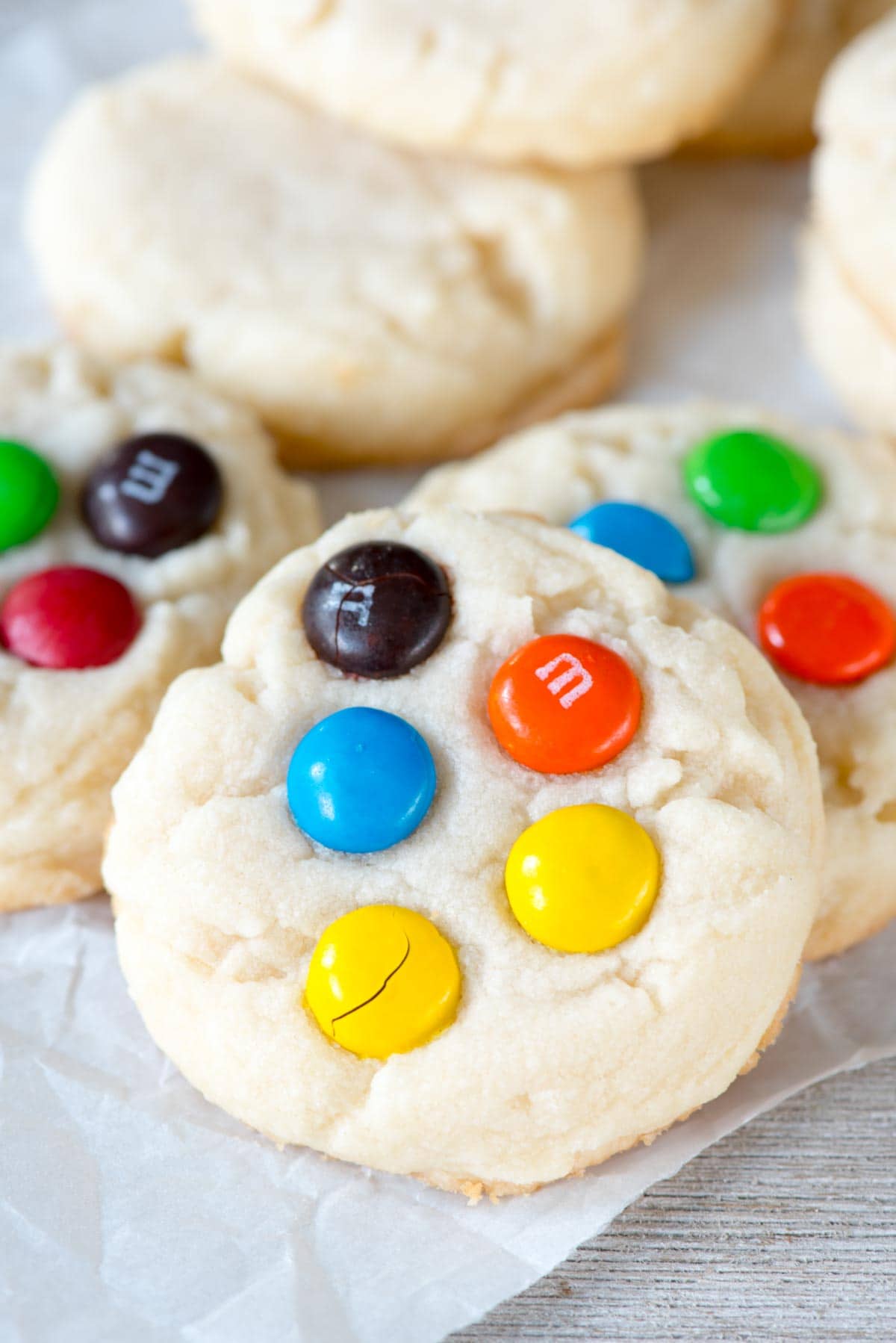 Last Updated on February 19, 2019