This post may contain affiliate links. For more information, read my disclosure policy.
Easy Oven Baked Chicken Tenders are the perfect easy dinner recipe. These are baked in the oven so they're healthier than fried, but they're crunchy and full of flavor.
I pinky swear: these are PICKY EATER APPROVED. When I can get my daughter to enjoy chicken, you know it's a good recipe.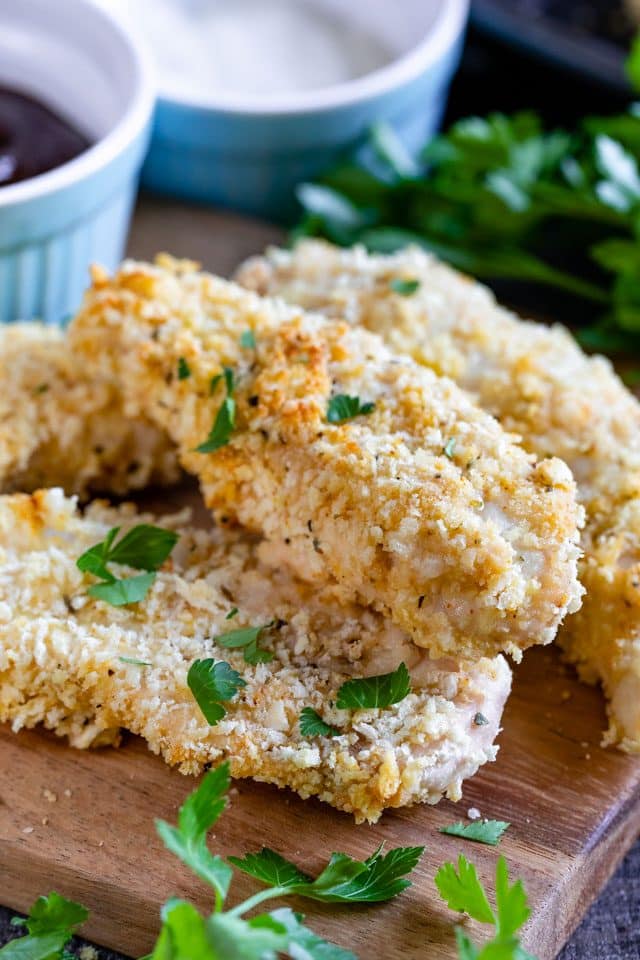 Chicken Tenders Recipe
If there is one thing I can count on Jordan to eat that's not pizza or grilled cheese, it's chicken tenders. We call them "chickens" in my house, as in: Jordan do you want chickens or a sandwich for lunch? Most Friday nights I don't feel like cooking so Mel runs to our neighborhood specialty grocery where they sell prepared foods. One of our favorites are the chicken tenders (AKA "chickens") but they're fried so not super healthy. I decided I wanted to make an at-home version of our favorite chicken tenders, and I wanted them to be oven baked but crispy, like those fried ones we love.
The BEST Crunchy Baked Chicken Tenders
This easy chicken tender recipe is made in the oven but they come out crunchy because of the breading. Every layer of the coating is seasoned so they're super flavorful and they're the perfect oven-baked alternative to fried chicken tenders or chicken strips.
Easy Oven Baked Chicken Tenders are the perfect weeknight meal, done in under an hour. All the kids will love these too, even the picky eaters!
Table of Contents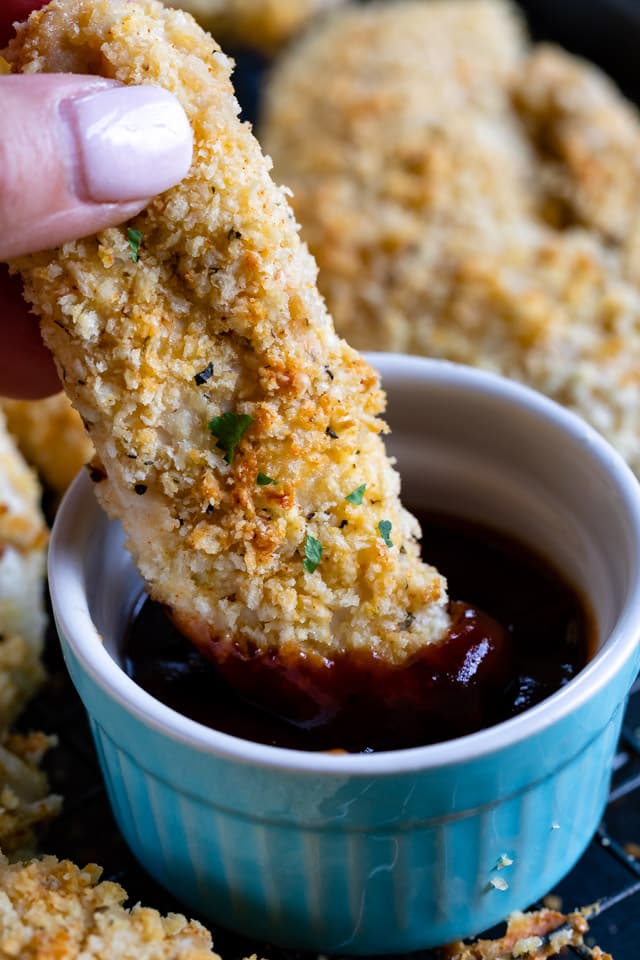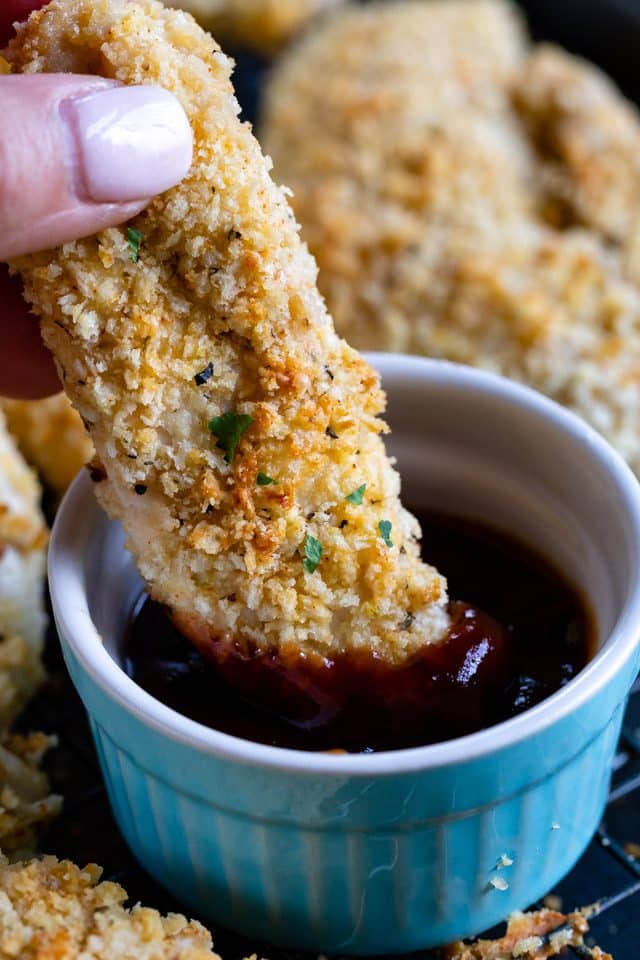 What kind of chicken is best?
For my chicken tender recipe I use chicken breast tenders. I like to buy them as tenders, but you can certainly just buy boneless skinless chicken breasts and slice them yourself. I find that the chicken tenders I buy taste better and have a better texture than slicing myself (plus I hate handling raw chicken).
If you want, you can remove the tendon, but I rarely do unless it's really obvious.
These are truly crispy, like a fried chicken tender, but they're oven-baked so they're much healthier than the alternative. And you won't miss that oily coating, I promise!
Secret for CRISPY Chicken Tenders
The secret to making oven baked chicken tenders juicy and crispy is the coating.
This recipe has a three-step process for coating your chicken breast tenders:
Flour
Eggwash
Panko (or breadcrumbs)
I love using Panko breadcrumbs in this recipe. Panko is a Japanese-style breadcrumb that's a bit lighter and fluffier than a traditional breadcrumb. Coating chicken tenders with panko ensures a crispy crunchy coating, but you can use regular breadcrumbs if you prefer.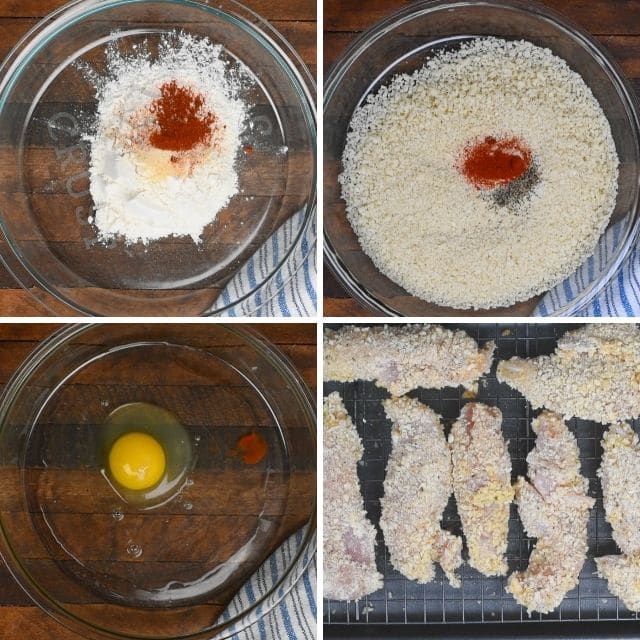 Ingredients for Baked Chicken Tenders
The secret to flavorful chicken – no matter how you make it – is making sure to season every layer.
Seasoning every layer of your food is the key to success; that is, season as you cook, not just at the end.
I season all 3 of the coatings for extra flavorful chicken tenders.
Chicken Tenders – you can remove the tendon if you prefer
Flour + Spices: I add salt, pepper, garlic powder, onion powder, smoked paprika and Italian seasoning to my flour.
Panko + Spices: Add parmesan, salt, pepper, onion powder, garlic powder, and Italian seasoning and smoked paprika to the panko
Egg + Hot Sauce: I add a dash of hot sauce to my egg wash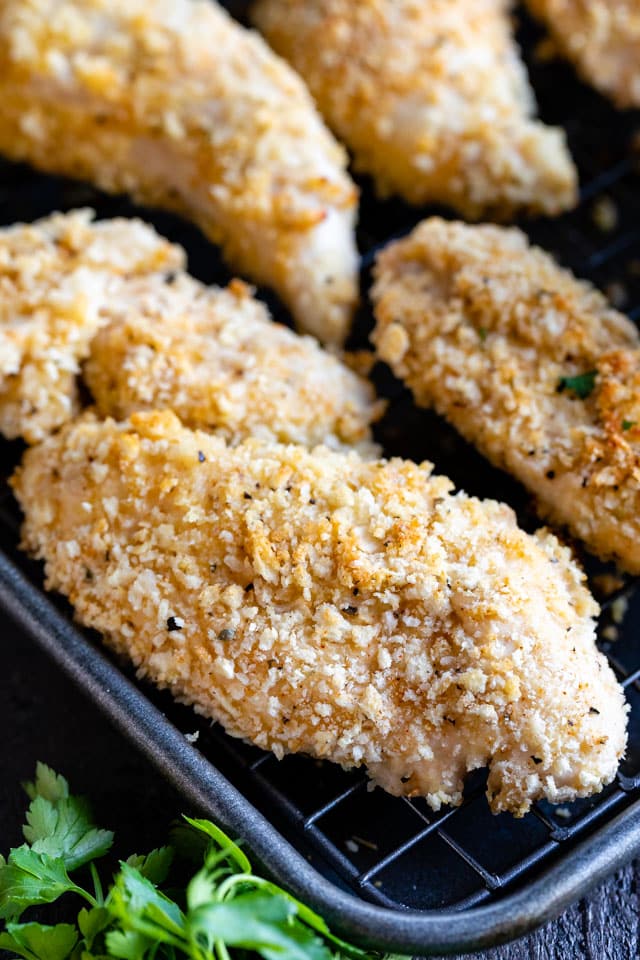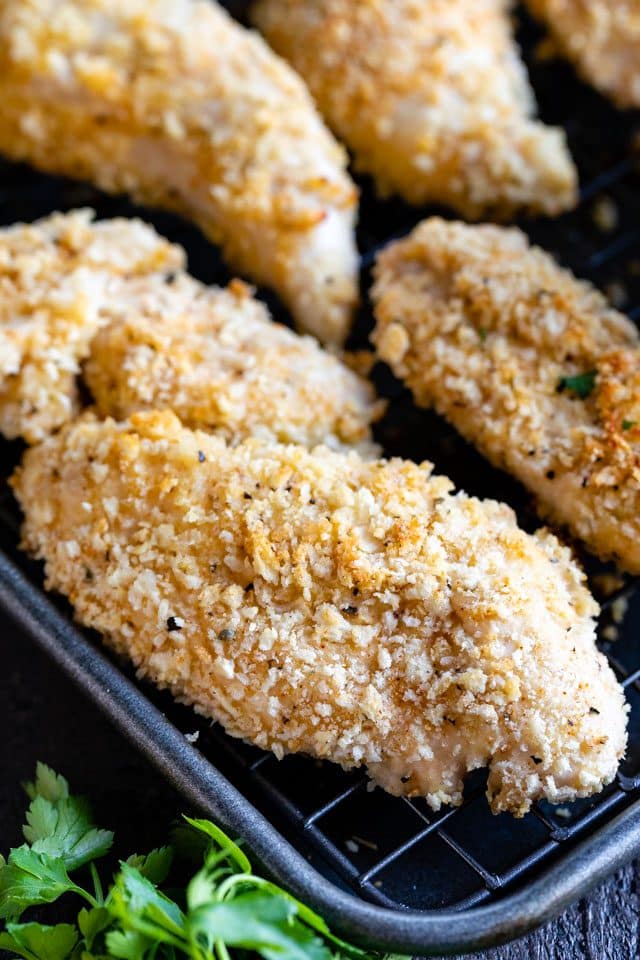 How to keep the tenders crispy during baking
Keeping chicken tenders crispy during baking is done by using a rack.
That's right: the key to baking chicken tenders and keeping them crispy so they taste fried (but aren't) is using a rack on your baking sheet. I highly suggest getting a rack for your roasting pan (or a jelly roll pan set that comes with a rack). Baking chicken tenders straight on the cookie sheet will either keep them soggy on one side or ensure that the coating peels off when you flip them.
Baking on a rack allows the heat to circulate and create a crunchy coating on all sides.
My other browning secret for chicken tenders: spray the tenders with nonstick cooking spray when you put them in the oven and then again when you flip them.
How long to bake chicken tenders
Oven baked chicken tenders are done in about 40 minutes, give or take depending on the thickness. Flip them halfway through baking, then serve with your BBQ sauce or ranch for dipping. The kids love these and everyone will love how much better they are than those fried chicken tenders we are used to heating and serving.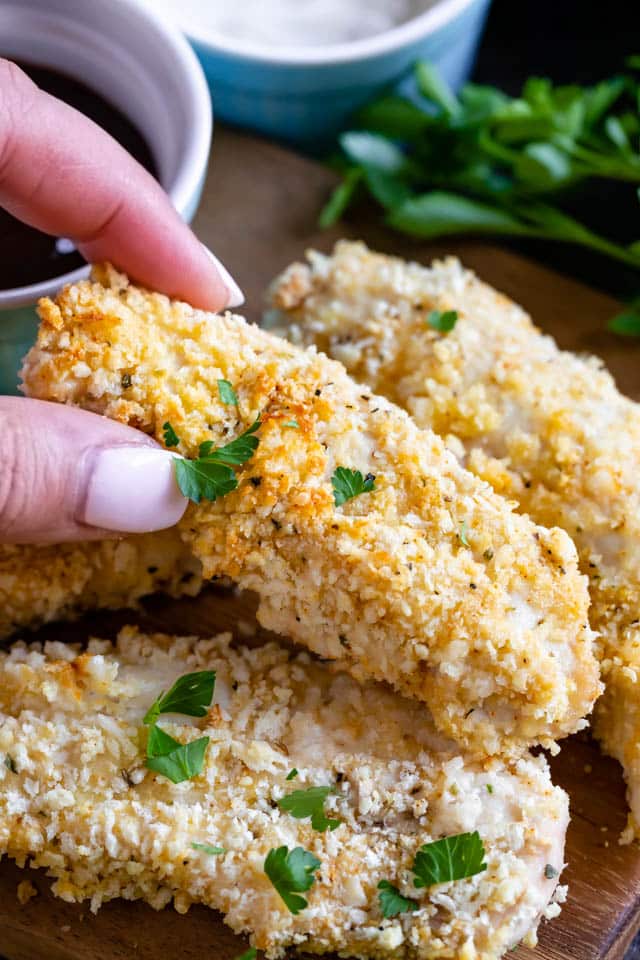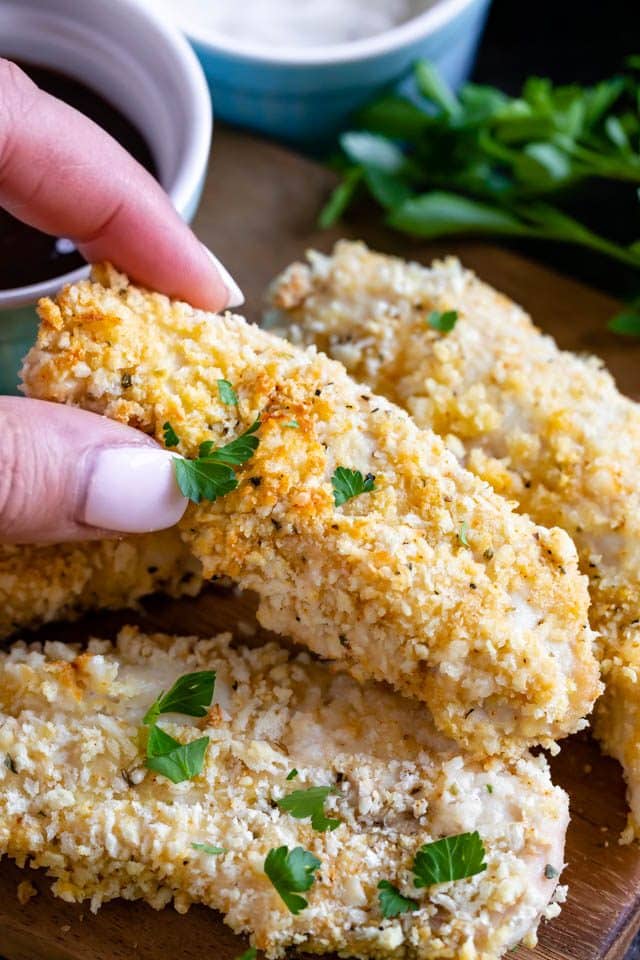 Chicken Tenders Tips & FAQ
Where can you find Panko?
The sell Panko near the breadcrumbs. If you can't find it you can substitute breadcrumbs.
What temperature should chicken tenders be cooked at?
I bake these at a high heat – 400° – so they cook quickly and get a nice crunchy coating.
How do you avoid dry tasteless chicken?
Make sure not to overcook and make sure to season all the layers.
How can you tell when your chicken is done?
I use an instant read thermometer to ensure juicy cooked (not dry or pink) chicken. Cook the chicken to 165°F.
My chicken isn't brown or my chicken is soggy.
Make sure to spray it with nonstick spray before going in the oven to help it get golden. And cook it on a rack to keep the bottom from getting soggy.
Can I make chicken tenders in an air fryer?
Yes you can! Same recipe, same method, cook at 400°F but they will take about 10-20 minutes, depending on size and thickness.
Other favorite chicken recipes: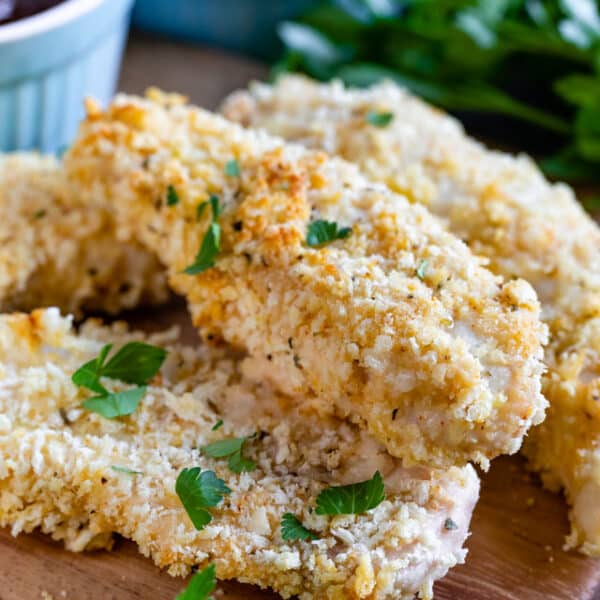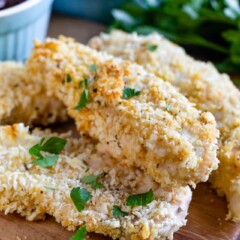 Oven Baked Chicken Tenders Recipe
Chicken Tenders are so good baked in the oven; they're still crunchy and they're the perfect easy meal.
Ingredients
1 – 1 1/2

pounds

chicken breast tenders

1/2

cup

all purpose flour

3/4

teaspoon

salt

3/4

teaspoon

pepper

3/4

teaspoon

onion powder

3/4

teaspoon

garlic powder

1/2

teaspoon

smoked paprika

3/4

teaspoon

Italian Seasoning

1

large egg

1

tablespoon

water

Dash of hot sauce

1

cup

panko breadcrumbs

1/4

cup

grated parmesan cheese
Instructions
Preheat oven to 400°F. Place a rack on a rimmed baking sheet.

Place flour in a shallow dish. Add 1/4 teaspoon EACH salt, pepper, garlic powder, onion powder, smoked paprika and Italian seasoning to the flour and stir.

Place egg, water, and dash of hot sauce in a second shallow dish. Whisk to combine.

Place panko, parmesan, 1/2 teaspoon EACH salt, pepper, onion powder, garlic powder, and Italian seasoning and 1/4 teaspoon smoked paprika in a third shallow dish and stir to combine.

Dip each chicken tender in the flour, then in the egg, then in the panko to completely coat. Place on prepared pan.

Spray the tops with nonstick cooking spray. Bake 20 minutes, then flip the tenders and spray again. Continue baking until they're cooked through to 165°F (about 15-20 minutes more).

Serve hot with ranch or bbq sauce or mustard for dipping.
Recipe Nutrition
Serving:
1
serving
|
Calories:
164
kcal
|
Carbohydrates:
24
g
|
Protein:
7
g
|
Fat:
3
g
|
Saturated Fat:
1
g
|
Cholesterol:
46
mg
|
Sodium:
658
mg
|
Potassium:
61
mg
|
Fiber:
1
g
|
Sugar:
1
g
|
Vitamin A:
235
IU
|
Calcium:
109
mg
|
Iron:
1.9
mg
Nutritional information not guaranteed to be accurate
**Did you make this recipe? Don't forget to give it a star rating below!**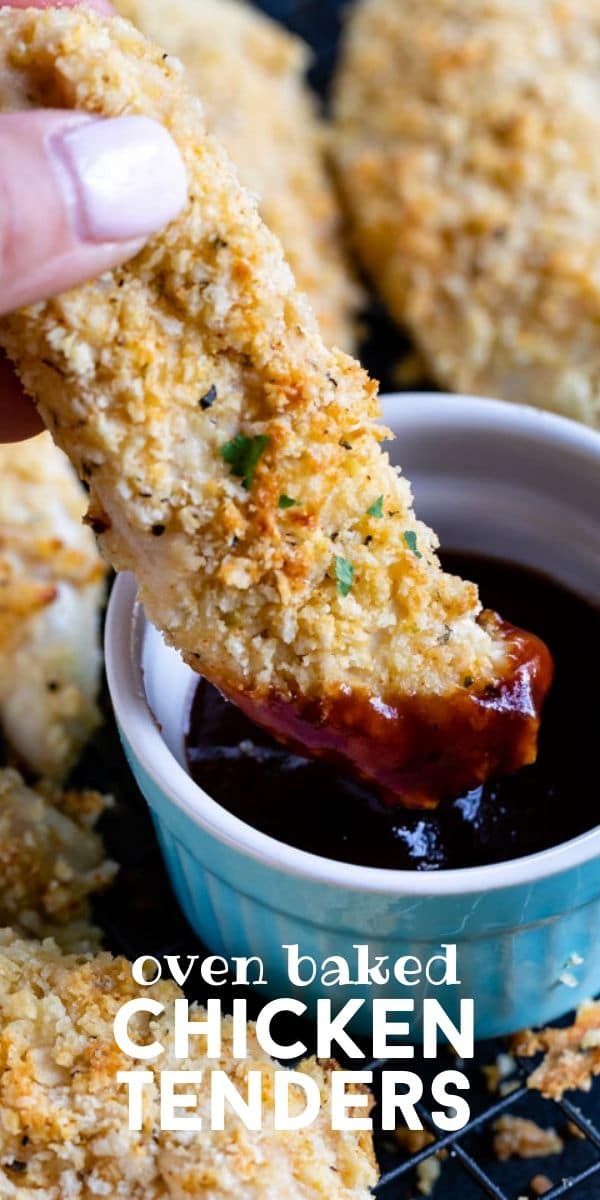 Oven Baked Chicken Tenders are crispy and healthy, better than fried. These breaded tenders are picky eater approved and can be baked in the oven or cooked in the air fryer.
Last Updated on April 20, 2021