This post may contain affiliate links. For more information, read my disclosure policy.
Air Fryer Broccoli is an easy and healthy side dish recipe that pairs with tons of main dishes! The broccoli is seasoned with pantry spices and has the best crisp-tender texture after it's cooked. Plus, you only need to use a small amount of oil!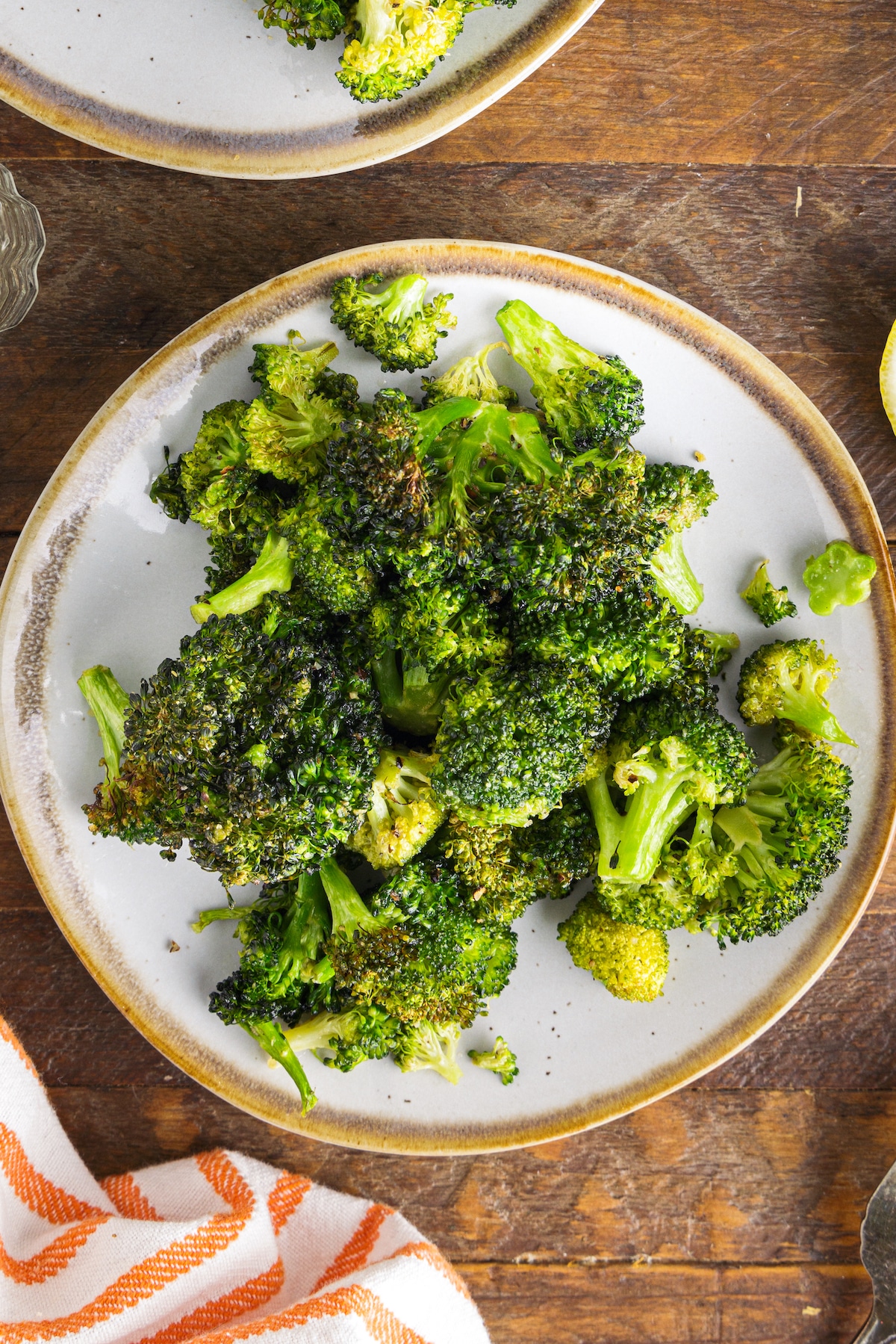 Air Fryer Broccoli Recipe: The BEST Way!
Broccoli is always a great side dish but cooking it can be a challenge! Cooking broccoli in your air fryer takes away all the guesswork, so you get perfectly cooked broccoli florets every time. I love roasted vegetables, but sometimes I don't want to turn on the oven, or I'm using the oven for something else – so, hello, air fryer!
I could go on and on about how much I love my air fryer, but I'll just share this – you can cook so many things in it with a fraction of the oil. I love that with veggie side dishes because I like to keep them as light and healthy as possible. Broccoli is just one of many things I love to air fry. It's so simple!
Why you'll love this recipe
I think air fryer broccoli tastes even better than oven-roasted broccoli. You can use a lot less oil and the broccoli cooks evenly.
Sometimes when I roast it in the oven, it comes out too soft, or some florets are still too crisp. I don't have that problem with the air fryer.
Don't even get me started with boiled broccoli – that's the saddest ever! If this is the only way you've cooked it well, friend, you need to get an air fryer if you haven't already!
This Is such an easy side dish – it's ready in less than 15 minutes! It goes with so many main dishes you'll make it on repeat.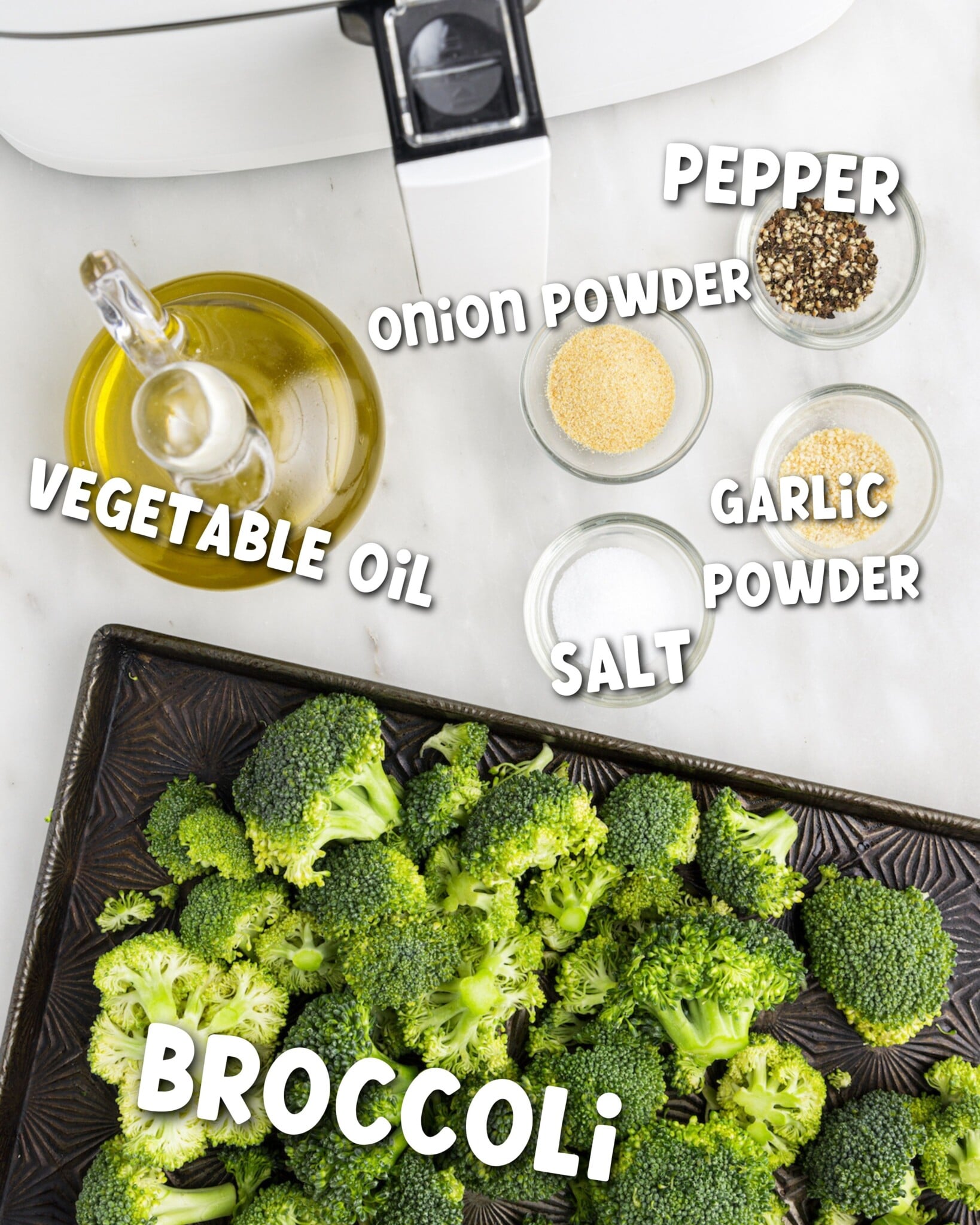 Ingredients for Broccoli in Air Fryer
Broccoli: Buy it fresh – not frozen. You can buy a head and chop it yourself or buy florets.
Vegetable Oil or Olive Oil: You only need ½ teaspoon!
Spices: Garlic powder, Black pepper, Onion powder, and Salt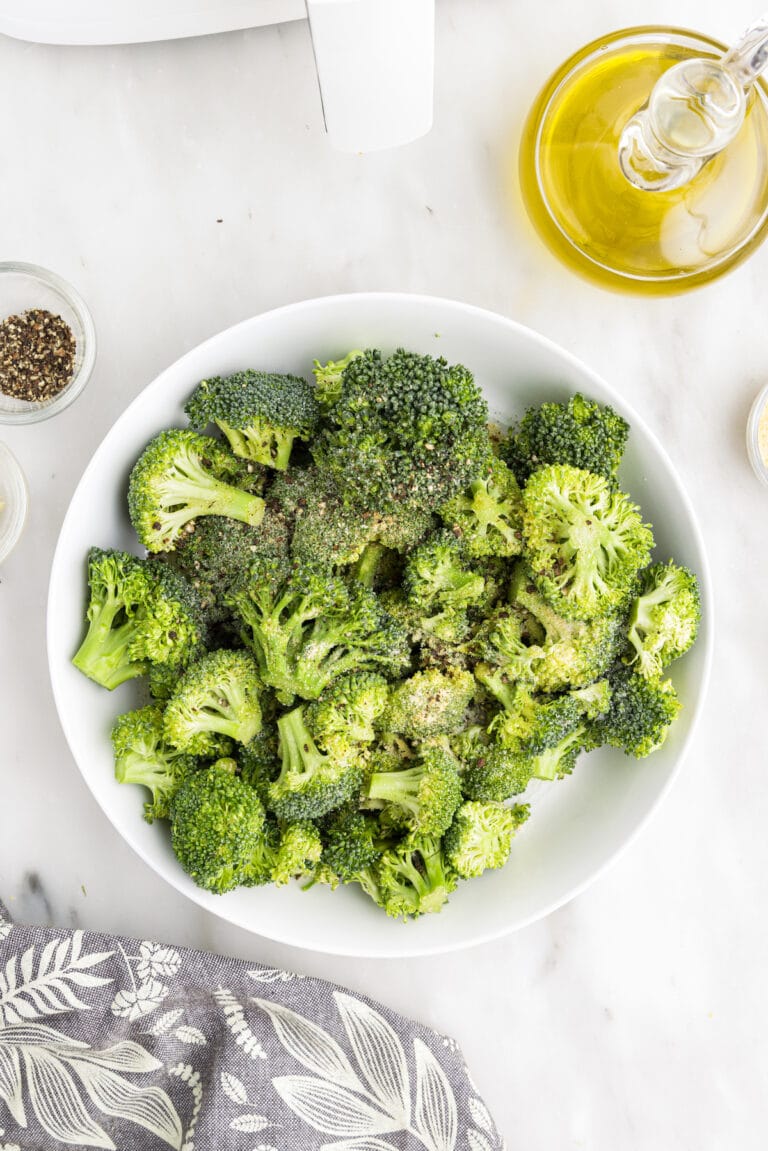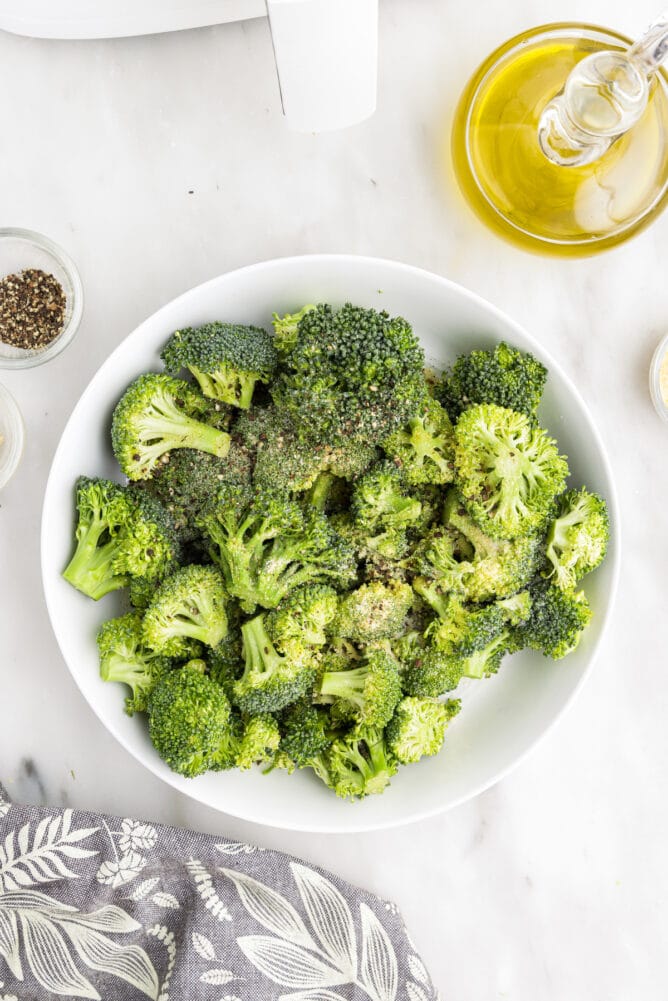 How to Cook Broccoli in Air Fryer
Place the florets in a bowl and toss them with the oil and seasonings.
Put the seasoned florets in the air fryer basket.
Cook them at 400°F for three minutes. Shake the basket and then cook for another three minutes or until the broccoli is tender and crisp around the edges.
Tip From Dorothy
Expert Tips
Oil: Use a high-smoke point neutral oil for this recipe. Vegetable oil or canola oil work great. Olive oil is okay, but it gets bitter when cooked at higher temperatures.
Seasonings: So many options with this, so feel free to use what you have on hand in your pantry. Dried herbs, chili powder, taco seasoning, or other seasoning blends are an easy way to change the flavor.
Garlic: If you want to use fresh minced garlic instead of garlic powder, wait to add it to the air fryer until the last three minutes of cooking time.
Broccoli: Cut the florets into equal-sized pieces, so they cook evenly.
Garnishes: Once it's cooked, add some garnishes! A squeeze of fresh lemon juice, a little grated Parmesan cheese, or a sprinkle of sea salt are easy ways to dress up cooked broccoli.
FAQ:
Can you cook frozen broccoli in the air fryer?
You can cook frozen broccoli in your air fryer, but it won't be as crispy. Frozen broccoli has extra moisture that will be released when it cooks; it will be softer. It will also take twice as long to cook.
How to reheat broccoli?
You can reheat it in your air fryer for a few minutes or in the microwave.
Is air fryer broccoli like roasted broccoli?
I think it tastes just like roasted broccoli, but it cooks so much faster, and you need way less oil. Plus, no need to turn on the oven!
This broccoli air fryer recipe is seriously so easy and so delicious! Even so-called "broccoli haters" will give it a chance – it's that good! Give it a try, and I know it'll be a new favorite side dish at your house like it is at mine. Enjoy!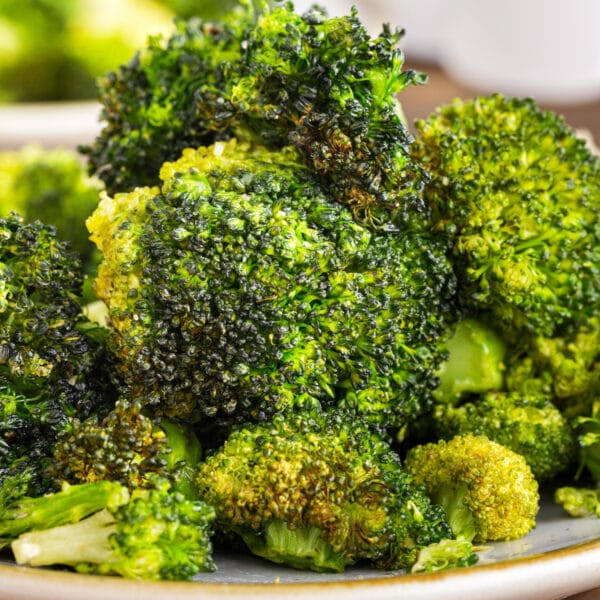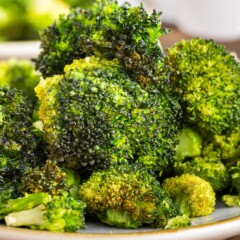 Air Fryer Broccoli Recipe
Air Fryer Broccoli is so easy to make and uses very little oil! We love using our air fryer for vegetables because they come out perfect every time!
Ingredients
2

cups

broccoli florets

½

teaspoon

vegetable oil

¼

teaspoon garlic powder

¼

teaspoon pepper

¼

teaspoon onion powder

¼

teaspoon salt

(plus more to taste)
Instructions
Wash and trim broccoli.

Toss with oil, then toss with garlic powder, pepper, onion powder, and salt.

Place broccoli into the air fryer.

Cook at 400°F for 6 minutes. Shake the container after 3 minutes to make sure it's cooking evenly. All machines cook differently so yours may cook faster.

Remove from the air fryer. Toss and serve, adding additional salt and pepper to taste.
Recipe Notes
Optional: when the broccoli is done, sprinkle with freshly grated parmesan or drizzle with lemon juice.
Trim broccoli to equal sizes to have them cook evenly.
Broccoli tastes great when it is cooked until bright green or even a little browned
on the edges.
Use an oil that can be cooked at high heat.
Use your favorite seasonings. Try chili powder, cumin, curry powder, parsley or anything you like. If you use fresh garlic, don't add it until the last 2-3 minutes of cooking.
Recipe Nutrition
Serving:
1
serving
|
Calories:
23
kcal
|
Carbohydrates:
4
g
|
Protein:
1
g
|
Fat:
1
g
|
Saturated Fat:
1
g
|
Polyunsaturated Fat:
1
g
|
Monounsaturated Fat:
1
g
|
Trans Fat:
1
g
|
Sodium:
15
mg
|
Potassium:
153
mg
|
Fiber:
1
g
|
Sugar:
1
g
|
Vitamin A:
285
IU
|
Vitamin C:
41
mg
|
Calcium:
24
mg
|
Iron:
1
mg
Nutritional information not guaranteed to be accurate
More Air Fryer Recipes You'll Love
Air Fryer Broccoli is so easy to make and uses very little oil! We love using our air fryer for vegetables because they come out perfect every time!
Last Updated on March 12, 2023