This post may contain affiliate links. For more information, read my disclosure policy.
Whipped cream is probably the easiest thing to make. With these step by step photos and the perfect recipe, you'll NEVER have to buy canned again. I'm teaching you my PERFECT Whipped Cream Recipe so you'll always want to make homemade.
Plus, did you know how easy it is to make flavored whipped cream? I made 4 new flavors from the base recipe and they're perfect for any recipe.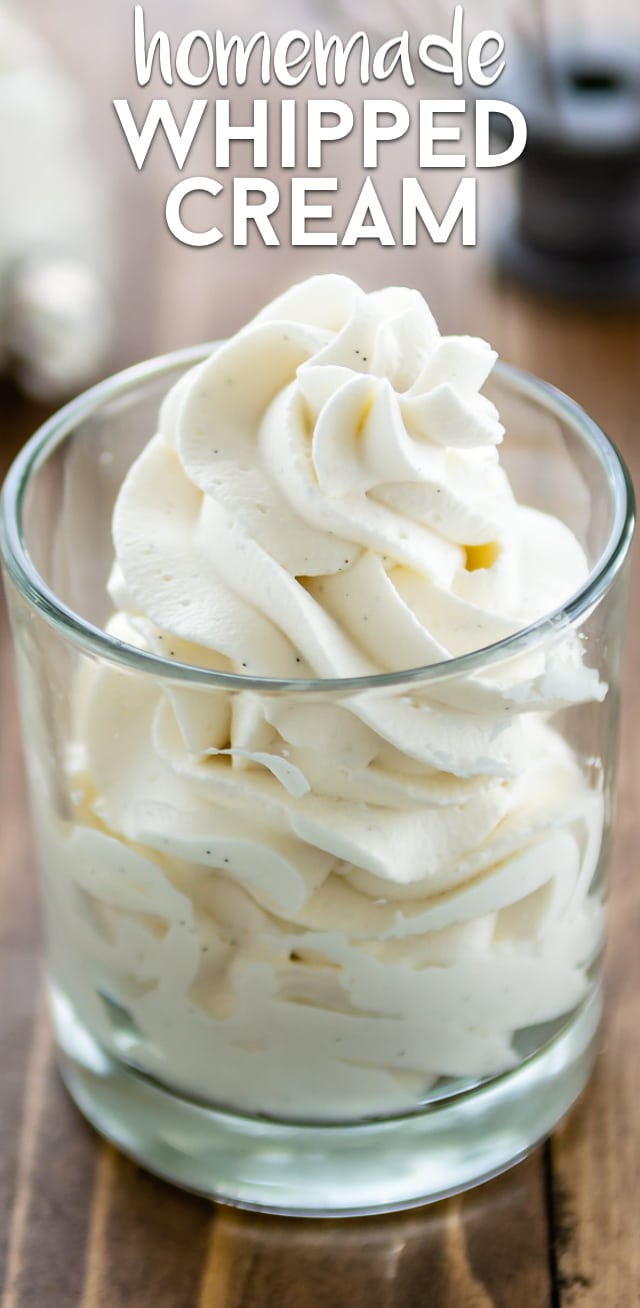 Making whipped cream is really dangerous, for me anyways. More of it tends to end up in my tummy than on the cake, pie, or cheesecake it's destined for. I mean, a piping bag is just code for "pipe into mouth" right?
This recipe is so simple! I've made it approximately a hundred times for this blog: on cheesecake, on pie, and on cake and so many more. I also fold it into my no bake cheesecake and it's the best!
BUT! One recipe for whipped cream isn't good enough…so I made 4 more flavors. AND I'm going to teach you how to make stabilized whipped cream too!
Let's start with the anatomy of whipped cream.
VIDEO: How to make Homemade Whipped Cream
3 ingredients in basic whipped cream
Heavy whipping cream: make sure it's COLD and it's HEAVY, not just plain whipping cream
Sugar: you can use granulated or powdered, but I like powdered best because it dissolves quicker.
Vanilla extract: be sure to use PURE vanilla extract and if you can find paste, it tastes so good and adds flecks of vanilla bean to the whipped cream.
The most important thing about making my whipped cream recipe is to always start with COLD tools: a cold bowl and a cold whisk or beaters. Chill them for 30 minutes before starting. This helps the whipped cream set up faster.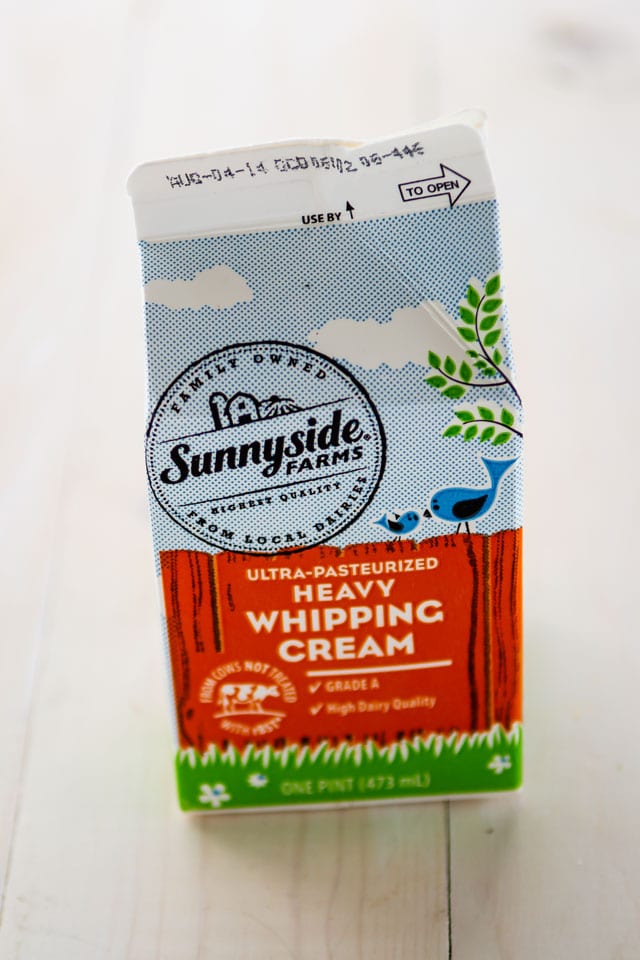 Make whipped cream with heavy whipping cream
Let's start by talking about heavy whipping cream. That's different from whipping cream. (I know, confusing, right?)
Heavy whipping cream is not the same as whipping cream. Heavy cream and heavy whipping cream are basically the same thing, but to be sure, check the fat content on the label before buying.
Heavy whipping cream has more milk fat (at least 36%) which whips better and holds its shape better than plain old whipping cream. In a pinch you can use whipping cream, but that whipped cream will be better suited for topping ice cream or a dollop on a pie.
Heavy whipping cream has more fat which creates a stronger whipped cream for piping.

PRO TIP
Heavy whipping cream stands up better for trifles and garnishes you want to have be more stable (like the piping on a cheesecake).
Which sugar to use
The sugar component is easy. You can use granulated or powdered, but I prefer powdered sugar because it dissolves faster.
(And I like how it gets all over all of my counters, me, and my floor whenever I use it. #not)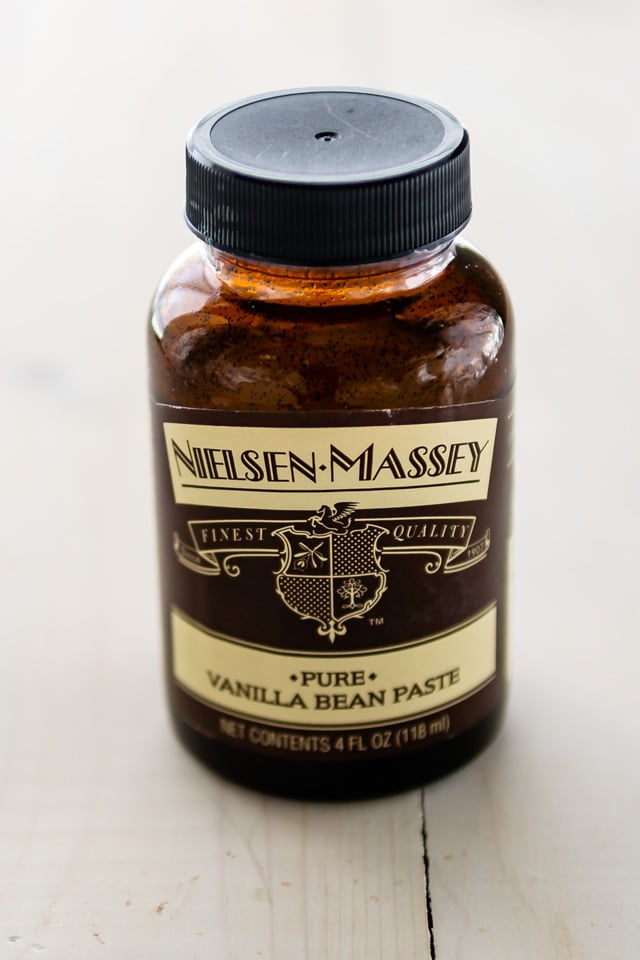 Vanilla Extract
Let's talk about vanilla for a minute.
You'll find a few different kinds of vanilla out there:
Imitation vanilla extract
Pure vanilla extract
Vanilla Bean Paste
Vanilla Beans
Cross imitation off your list. Don't even buy it, ever.
Pure vanilla extract is the regular one you find at the grocery store. It's expensive but it's the most all-purpose one you'll use in all your baking.
Sometimes, I like to use vanilla bean paste instead of extract because it packs more of a vanilla punch. Plus it gives your whipped cream all those little black vanilla bean specks. And it's a more affordable option than real vanilla beans.
Vanilla bean paste is more expensive than extract, but sometimes you can find it at discount stores like Ross or Marshall's so do some digging next time you shop!
How to make whipped cream from scratch
Tools: When making whipped cream you can do it by hand with a whisk, using a hand mixer or a stand mixer.
Time: The different methods will take different amounts of time. By hand will take the longest, and the mixers will shorten the process.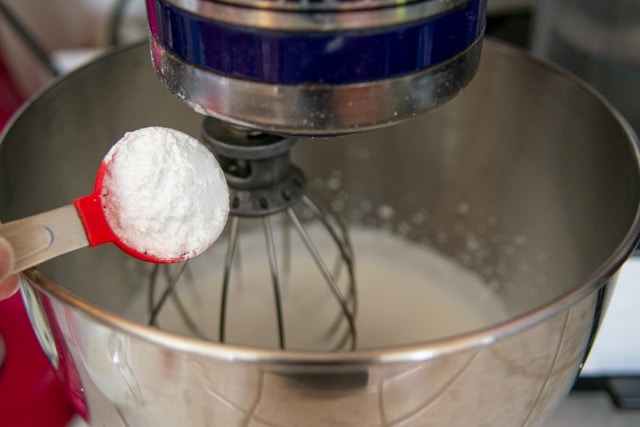 First, add your heavy whipping cream to the mixer and slowly add your powdered sugar and vanilla while it's mixing.
You'll want to mix at a medium-high speed until stiff peaks form.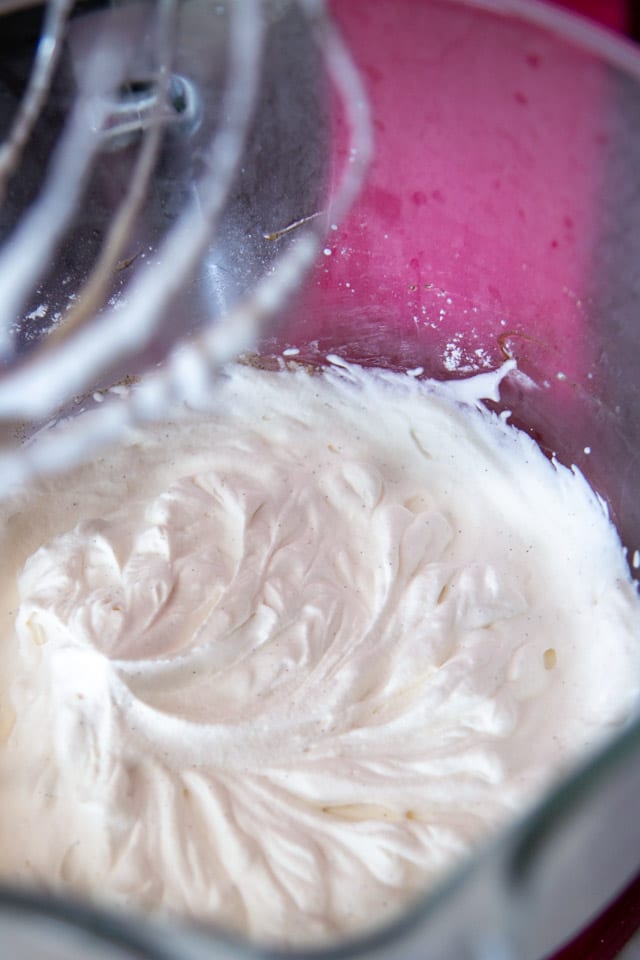 That right there is the perfect consistency for your whipped cream. You can whip it a little less for a softer peak, best for topping ice cream or pavlova. But if you're going to pipe your whipped cream at all, you want to make sure it can do this: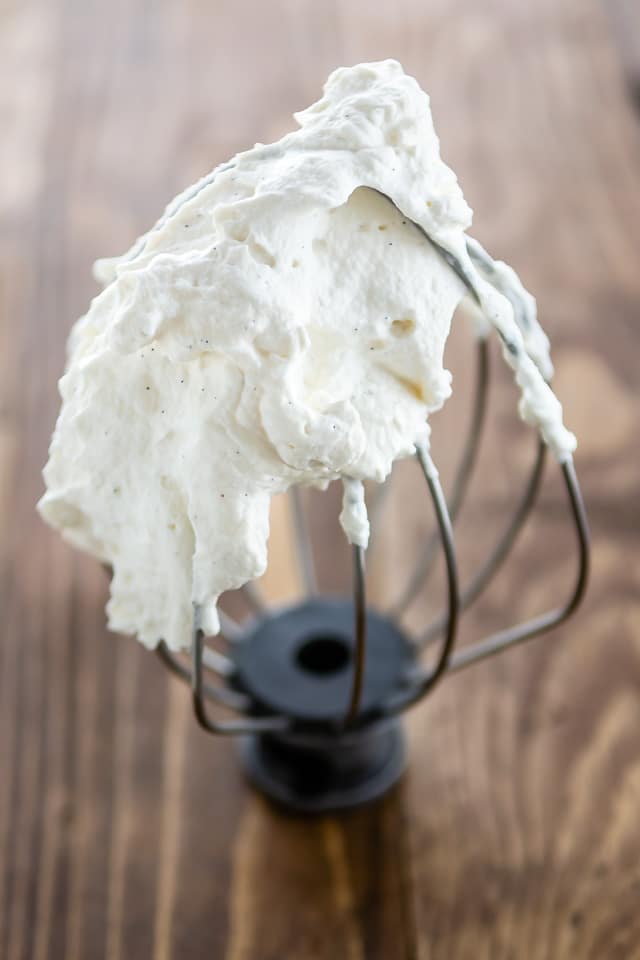 It should stand up on it's own.
Don't walk away from whipped cream while it's mixing, especially when using a strong stand mixer. A minute too long and your whipped cream will start to turn into butter and look like this: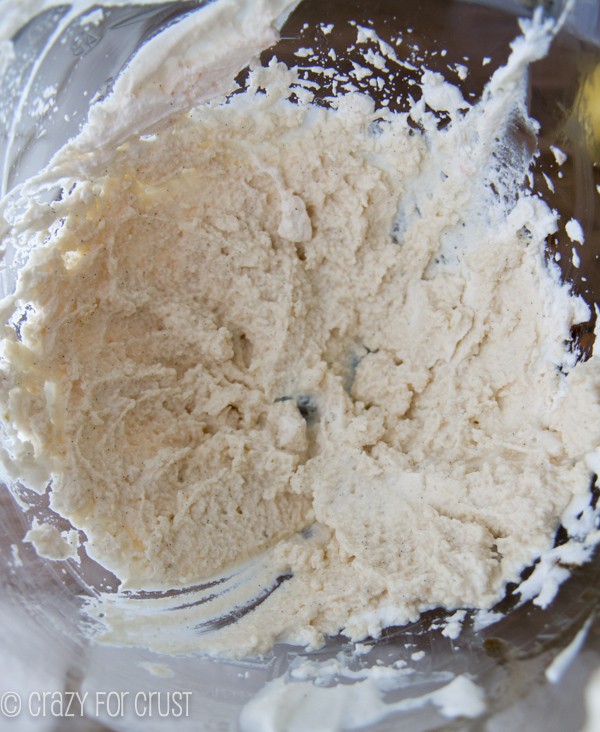 See how it's grainy and almost separated? That means it's over whipped.
Anyway, now you have your freshly whipped cream and it's time to decorate whatever you're garnishing. I get asked all the time how I make my swirls for cupcakes and pies.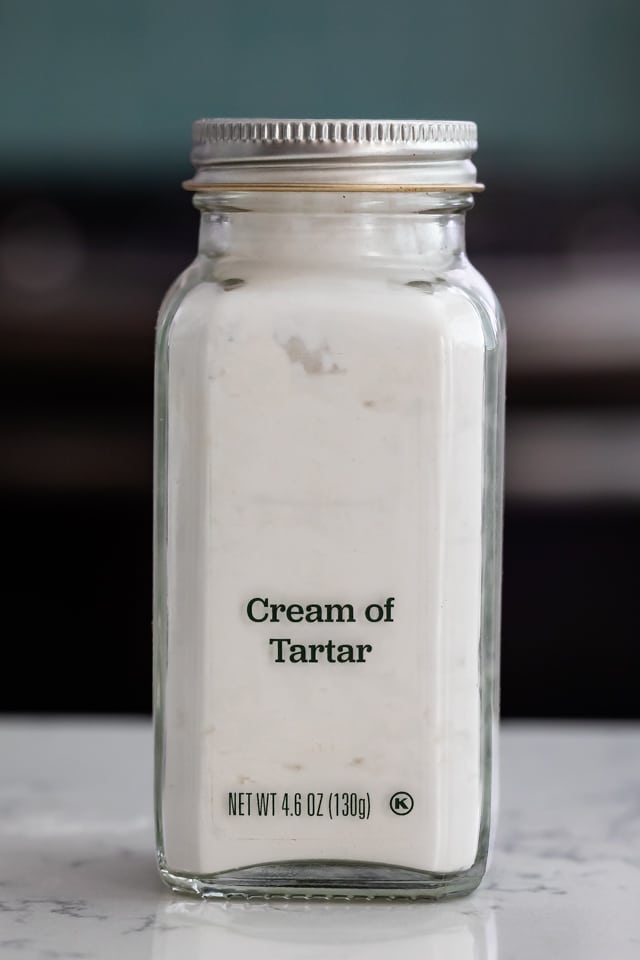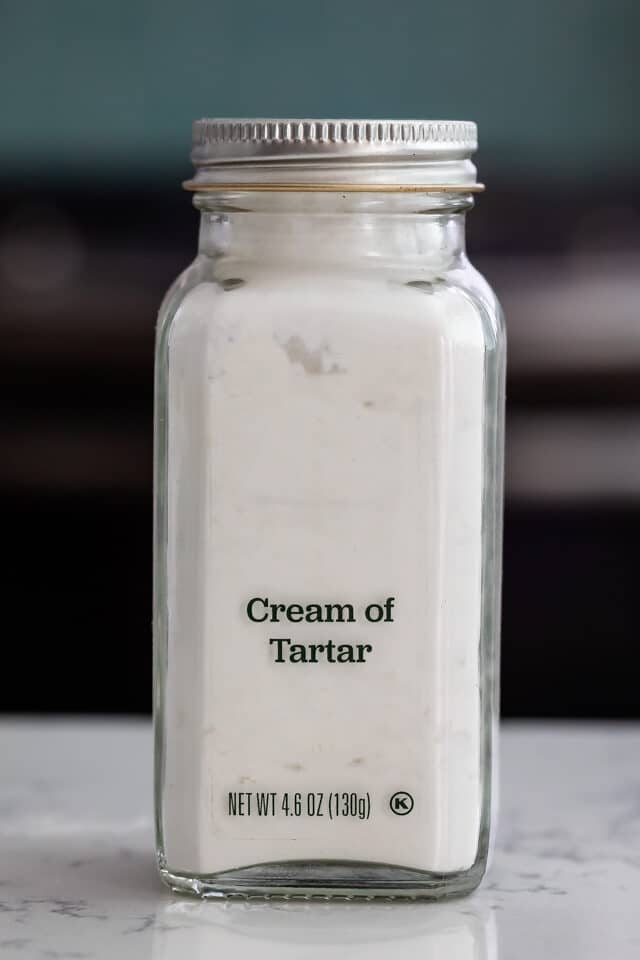 Making Stabilized Whipped Cream
They sell whipped cream stabilizer but you can stabilize your whipped cream by using something you already have in your pantry:
To make stabilized whipped cream with cornstarch, you just add 1 teaspoon of cornstarch per 1 cup of heavy whipping cream.
To make stabilized whipped cream with cream of tartar, which is what I do most often, you just need 1/4 teaspoon cream of tartar to 1 cup of heavy whipping cream.
You can also stabilize your whipped cream with gelatin by dissolving 1 teaspoon of unflavored gelatin in 1 tablespoon cold water and mixing it into your whipping cream.
If you want to add a bit of flavor, or if you're out of vanilla extract, use 1 tablespoon of pudding mix to stabilize your whipped cream. Pudding Mix has cornstarch in it – and flavoring. Use any flavor!
My go-to is the cream of tartar method. You don't taste it (or the cornstarch) at all and it stays stable!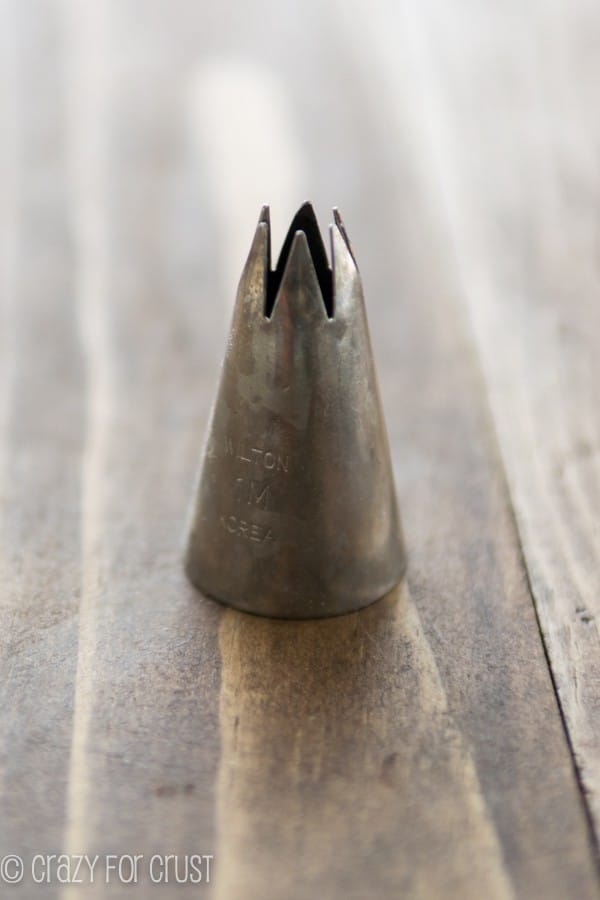 Decorating with whipped cream
Just like when I frost cupcakes, I always use the Wilton 1M tip for whipped cream. I have about 100 Wilton tips and I only use this one. I have 3 or 4 of them.
(Because I tend to forget they are in the sink and they get ground up by the garbage disposal. See that bent tong? That's what happened to this one, but I re-bent it.)
I use a pastry bag or a ziploc bag with the tip cut off and the 1M decorating tip. Piping whipped cream this way is so easy.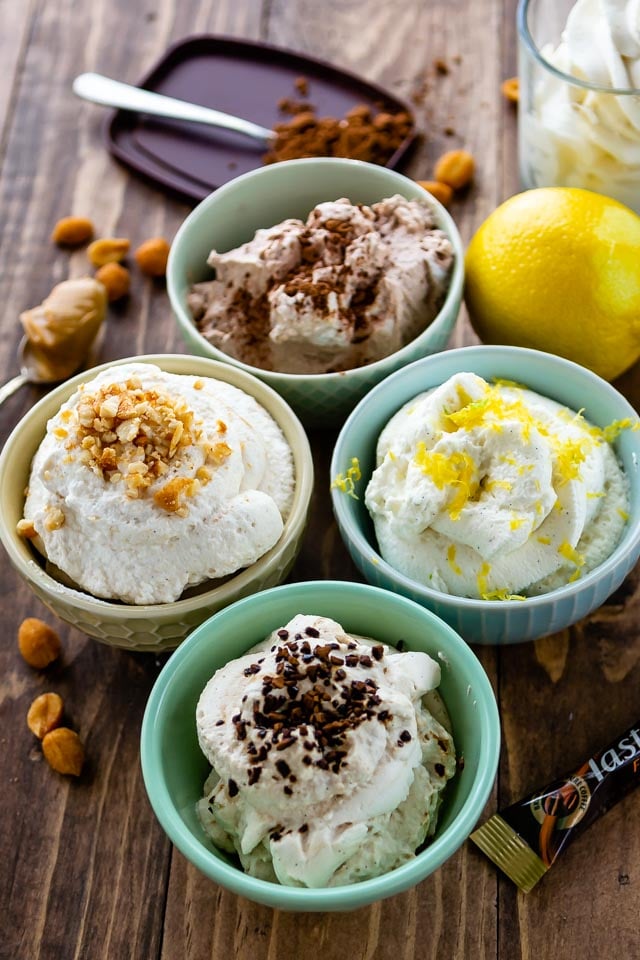 Variations: Whipped Cream Flavors
Okay, onto the flavor variations! It's so easy to make new flavor whipped cream from the base recipe. You can easily change up the flavors by just adding a mix-in or different extract.
Peanut Butter Whipped Cream is easy with just a little peanut butter added to the cream. Make it Reese's Whipped Cream by adding chopped peanut butter cups.
Lemon Whipped Cream is made by adding lemon zest and extract or lemon curd. This can also be done with lime.
Coffee Whipped Cream is made by just adding some cold brewed coffee.
You can make chocolate whipped cream by adding cocoa powder!
BONUS: make mocha whipped cream by mixing coffee and chocolate!
The possibilities are endless when it comes to flavors. Use different extracts for infinite options. I want to try strawberry whipped cream.
Put the coffee whipped cream on top of chocolate cupcakes. The peanut butter or chocolate would be perfect on top of Twix Pie. Lemon would go fabulous on top of lemon pound cake.
FAQ
What is whipped cream made of?
Whipped cream is simple, just heavy whipping cream beat until nice and airy and fluffy. You can make it plain or use this recipe with sugar and vanilla.
How do I make whipped cream for cake?
I suggest checking out the stabilized section above for tips on stable whipped cream, or make my whipped cream frosting. Whipped cream as made can weep and isn't stable enough for cake.
What's the difference between whipping cream and heavy whipping cream?
Fat content! Heavy whipping cream has a higher fat content, making it whip up a bit stiffer.
How long will whipped cream last?
Whipped cream, without some sort of stabilization, will only last a few hours. Chill it for it to last longer but within a day it usually gets weepy or falls. If you want it to last longer, check out the stable whipped cream section above.
How do I know whipped cream is done?
You want to get it stiff enough that it can hold it's shape. I like to beat it until it holds it's shape then gently fold it to scrape the sides of the bowl, then mix a bit more, as the center will get stiffer than the edges. If it's at all loose looking it's not done yet.
Can I make whipped cream without a mixer?
Yes – use a whisk! It will take a LONG time to whisk it to stiff peaks, so it'll be your arm workout for the day!
How do you make whipped cream in a jar?
My daughter did this in preschool: you add the ingredients to a jar and then shake it until whipped cream forms! But be careful – go to long and you'll get butter.
Have you made this recipe?
Tag @crazyforcrust on Instagram or hashtag it #crazyforcrust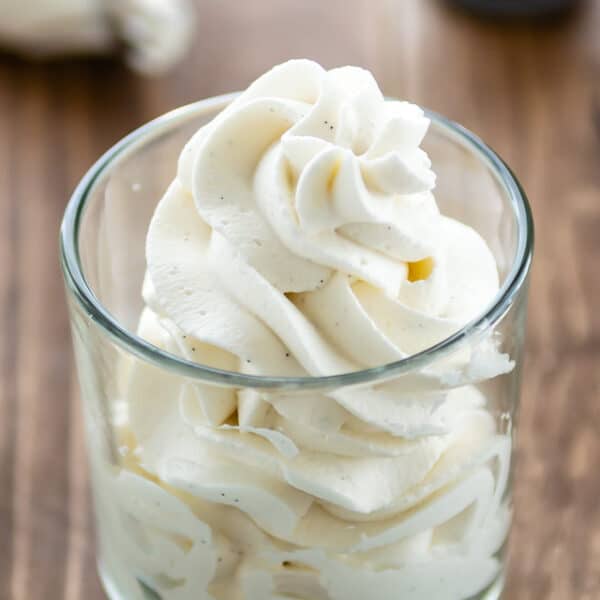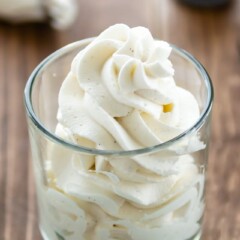 Perfect Whipped Cream Recipe
Fresh whipped cream is so easy to make and it's so easy to adapt for your recipe. Add simple flavorings to your whipped cream for endless variations!
Ingredients
1

cup

heavy whipping cream

cold

1

teaspoon

vanilla bean paste

or 2 teaspoons vanilla extract

2

tablespoons

powdered sugar
Instructions
It is important to start with cold bowls and whisks. This recipe can be made with a stand mixer using the whisk attachment or a hand mixer using regular beaters. Place your bowl and whisk/beaters in the refrigerator for at least 10 minutes before making whipped cream.

Place cold heavy whipping cream in the cold bowl. Attach your whisk attachment (or beaters) and beat on high speed (6 or 8 with a stand mixer) until the mixture thickens. Slowly add the powdered sugar and vanilla.

Continue mixing on high until stiff peaks form. You may want to stop part way through and wipe down the sides of the bowl with a spatula. If you're using a stand mixer it will take just a few minutes to get to stiff peaks. The whipped cream should be able to stay in its position when you turn the whisk attachment upside down.

Store in a sealed container for up to one day. This is best used the same day it's made.
For Chocolate Whipped Cream:
Add 1 tablespoon of unsweetened cocoa powder with the powdered sugar and vanilla.
For Lemon or Lime Whipped Cream:
Fold in 3 tablespoons of room temperature lemon or lime curd after the whipped cream is made.

OR, add 1/4 teaspoon lemon extract and 1 tablespoon lemon zest to the whipped cream while mixing.
For Coffee Whipped Cream:
Fold in 1 tablespoon of cold brewed coffee after the whipped cream is made. Tip: make mocha whipped cream by combining chocolate and coffee!
For Peanut Butter Whipped Cream:
Add 1 tablespoon of creamy peanut butter with the powdered sugar and vanilla.
Recipe Nutrition
Serving:
1
serving
|
Calories:
56
kcal
|
Carbohydrates:
2
g
|
Protein:
1
g
|
Fat:
6
g
|
Saturated Fat:
3
g
|
Cholesterol:
20
mg
|
Sodium:
6
mg
|
Potassium:
11
mg
|
Sugar:
1
g
|
Vitamin A:
219
IU
|
Vitamin C:
1
mg
|
Calcium:
10
mg
Nutritional information not guaranteed to be accurate
Favorite ways to use whipped cream
Click here to see the complete list of Lemon Recipes!
Click here to see more PEANUT BUTTER recipes!
Last Updated on April 1, 2022