Whipped cream is probably the easiest thing to make. With these step by step photos and the perfect recipe, you'll never have to buy canned again.
Plus, did you know how easy it is to make flavored whipped cream? I made 4 other flavors from the base recipe. You need these in your life, trust me.
Wanna know why? One of them is peanut butter whipped cream.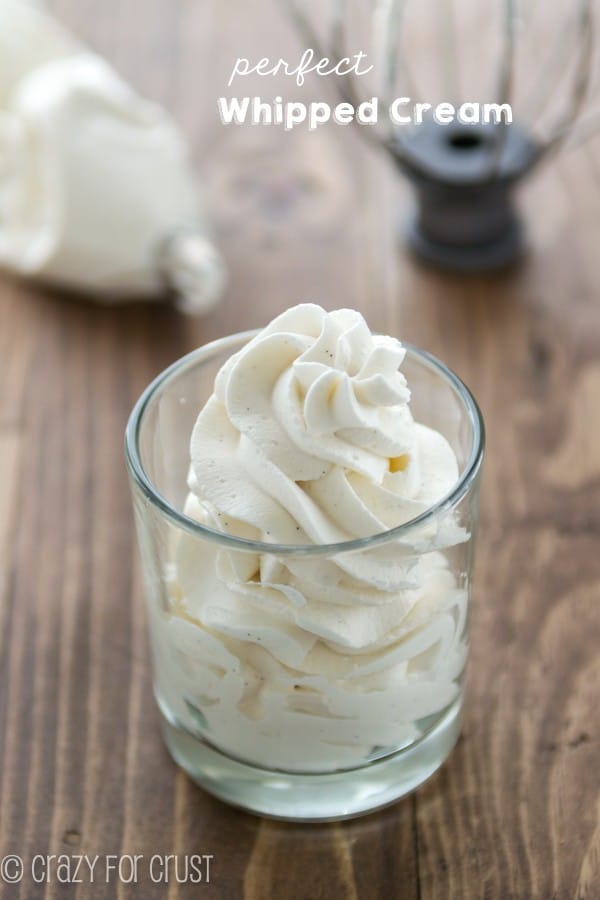 Making whipped cream is really dangerous, for me anyways. More of it tends to end up in my tummy than on the cake, pie, or cheesecake it's destined for. I mean, a piping bag is just code for "pipe into mouth" right?
This recipe is so simple, I almost didn't share it with you. I've made it approximately a hundred times for this blog: on cheesecake, on pie, and on cake. Last week I was making some for garnish on a cheesecake (coming soon!) and I decided it was time to devote a whole post to whipped cream.
Then I decided that wasn't good enough.
So I made 4 more flavors. Aren't you excited to see what kinds I made? Well, you have to wait. Or, just scroll down past my instructions. Sorry, this is a photo-heavy post.
Let's start with the anatomy of whipped cream.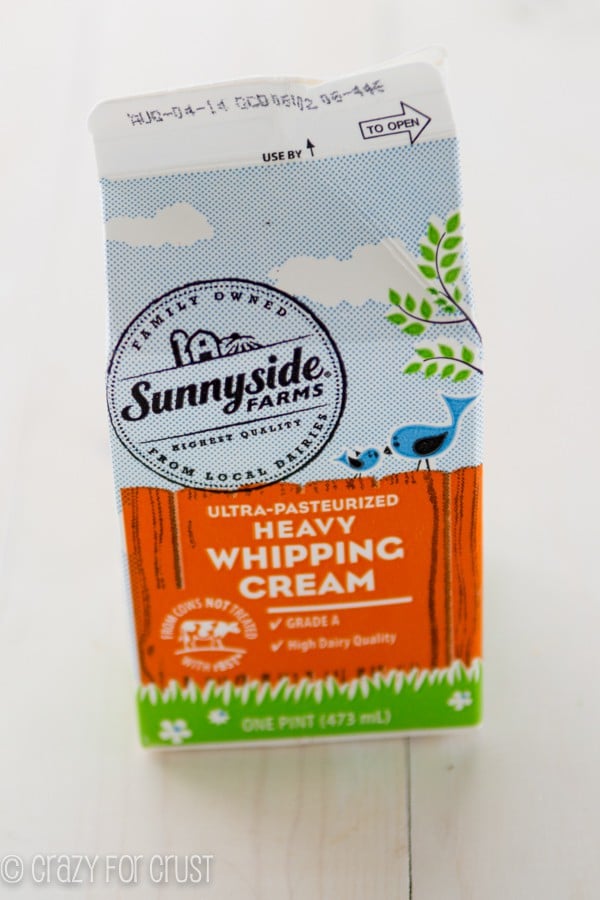 There are only three ingredients in basic whipped cream: heavy whipping cream, sugar, and vanilla.
Let's start by talking about heavy whipping cream. That's different from whipping cream. (I know, confusing, right?) Heavy whipping cream has more milk fat which whips better and holds its shape better than plain old whipping cream. In a pinch you can use whipping cream, but that whipped cream will be better suited for topping ice cream or a dollop on a pie. Heavy whipping cream stands up better for trifles and garnishes you want to have be more stable (like the piping on a cheesecake).
When you're shopping, just go heavy. More fat is better!
The sugar component is easy. You can use granulated or powdered. I prefer powdered because it dissolves faster. And I like how it gets all over all of my counters, me, and my floor whenever I use it.
#not
Let's talk about vanilla for a minute.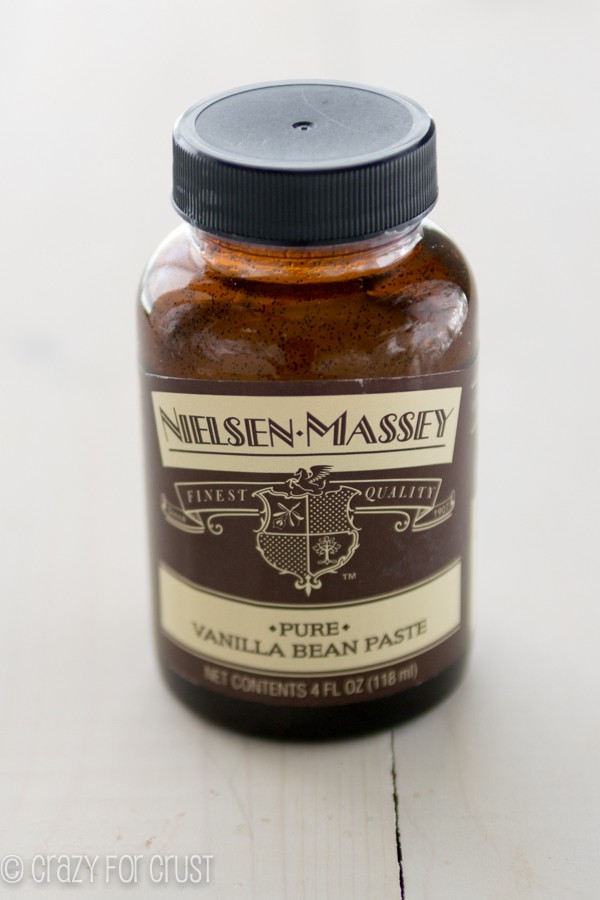 I like to use vanilla bean paste instead of extract because it packs more of a vanilla punch. Plus it gives your whipped cream all those little black vanilla bean specks. And it's a more affordable option than real vanilla beans.
But if you like to mortgage your house to buy vanilla beans, go ahead. 😉
Vanilla bean paste is more expensive than extract, but sometimes you can find it at discount stores like Ross or Marshall's so do some digging next time you shop!
When making whipped cream you can use a stand mixer, a hand mixer, or, if you're feeling strong, a whisk. Whatever you use, make sure the beaters and the bowl you use are cold before you start. It helps the cream whip faster.
After a few minutes (time depends on what machine you're using to whip the cream) you'll get stiff peaks: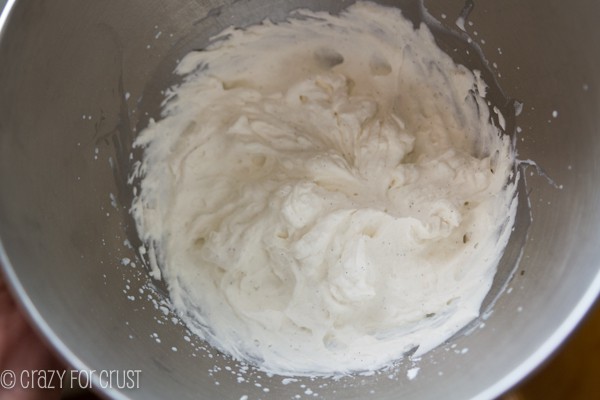 That right there is the perfect consistency for your whipped cream. You can whip it a little less for a softer peak, best for topping ice cream or pavlova. But if you're going to pipe your whipped cream at all, you want to make sure it can do this: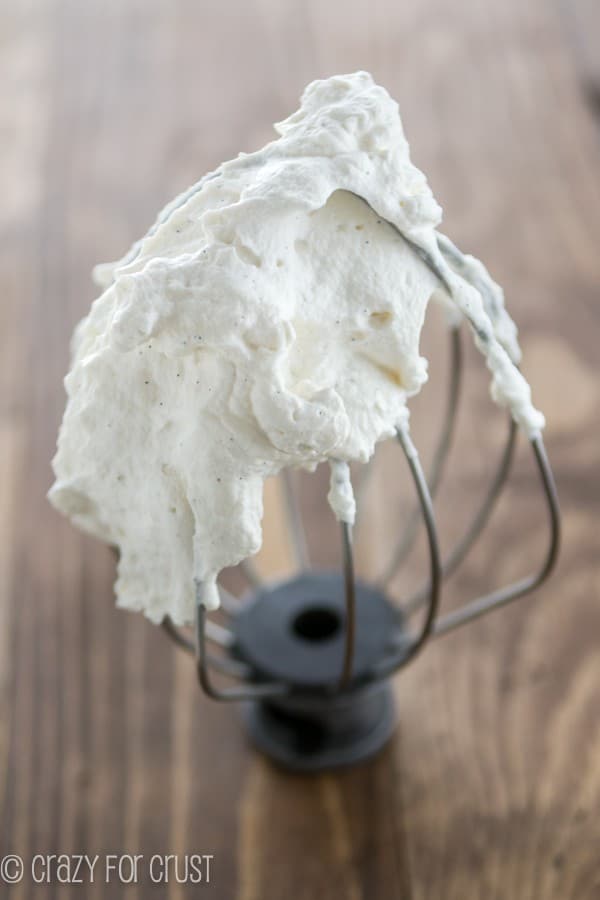 It should stand up on it's own.
Now, beware. Be sure to watch your cream as it's whipping. If you go to far this happens: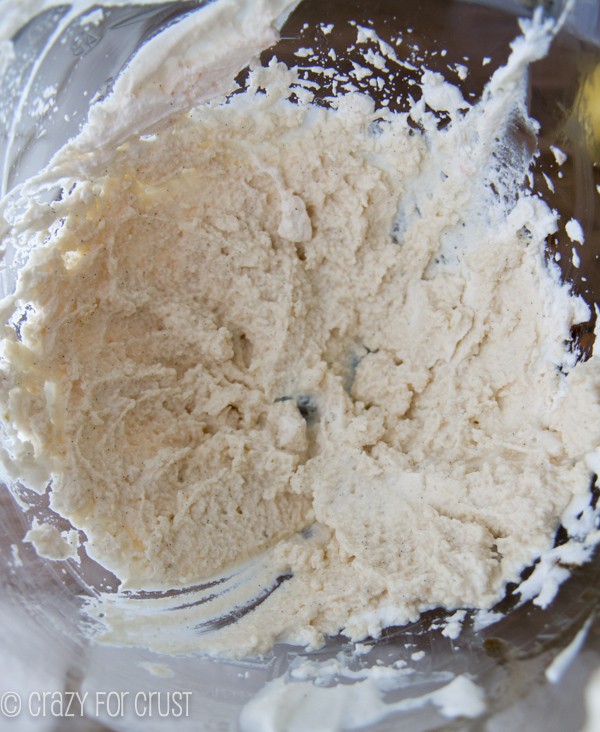 See how it's grainy and almost separated? That means it's over whipped. You know what happens to whipped cream when you whip it too long? It becomes butter.
Did you know I made maple butter this way about 3 years ago? That was the best butter ever!
Anyway, now you have your freshly whipped cream and it's time to decorate whatever you're garnishing. I get asked all the time how I make my swirls for cupcakes and pies.
It's all in the tip.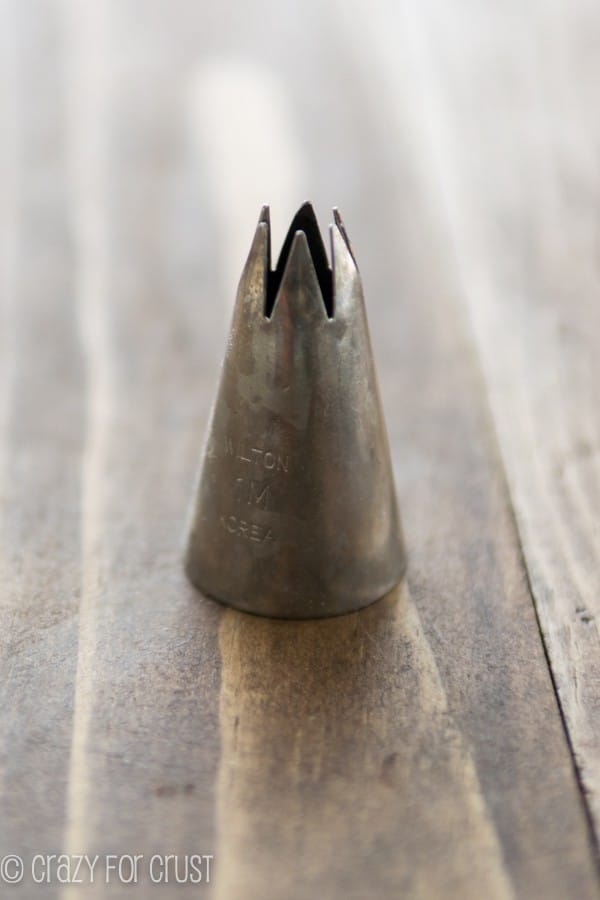 The Wilton 1M tip, that is. I have about 100 Wilton tips and I only use this one. I have 3 or 4. Why? Because I tend to forget they are in the sink and they get ground up by the garbage disposal. See that bent tong? That's what happened to this one, but I re-bent it.
About 1 hour after this photo was taken, this tip went to the cake tip graveyard. There was no saving it this time it got run through the disposal. *weeping*
Moral: don't just put your cake decorating tips in the sink. Or, if they're in the bottom of a bowl soaking, remember that they are there.
Anyway, I use a pastry bag or a ziploc bag with the tip cut off and the 1M decorating tip. That's how I make my swirls.

Okay, onto the flavor variations! It's so easy to make new flavor whipped cream from the base recipe. By changing the extract or adding some cocoa or other flavors, you get whipped cream that tastes like…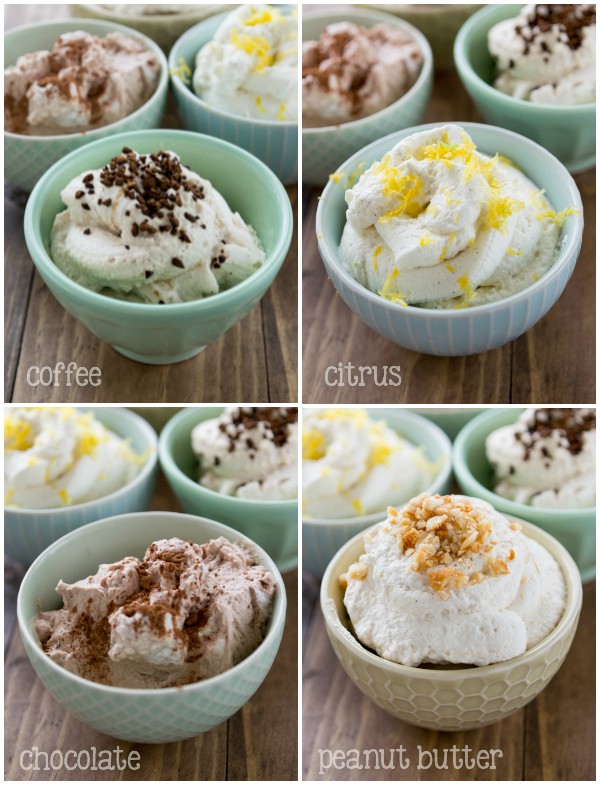 Coffee whipped cream. Chocolate whipped cream. Peanut Butter whipped cream. LEMON whipped cream (or any citrus flavor).
The recipe below includes the ingredients for how to make each of these. And the possibilities are endless! Mint, Nutella, coconut, you name it, you can make it.
Put the coffee whipped cream on top of chocolate cupcakes. The peanut butter or chocolate would be perfect on top of Twix Pie. Lemon would go fabulous on top of lemon pound cake.
See? Endless possibilities with homemade whipped cream!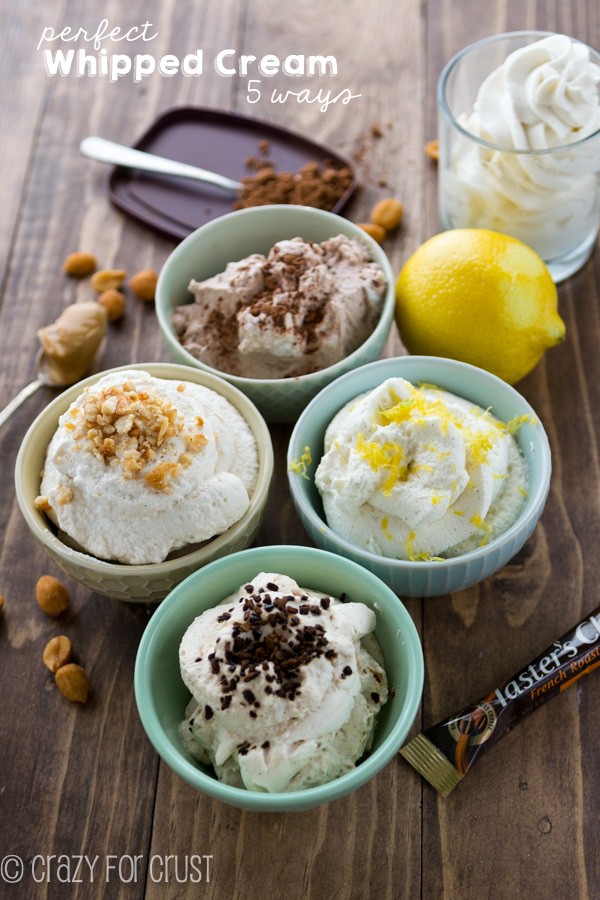 It's so easy you'll never buy the can again. What flavor will be your favorite?
Whipped Cream 5 ways
Fresh whipped cream is so easy to make and it's so easy to adapt for your recipe. Add simple flavorings to your whipped cream for endless variations!
Ingredients
1

cup

heavy whipping cream

cold

1

teaspoon

vanilla bean paste or 2 teaspoons vanilla extract

2

tablespoons

powdered sugar
Instructions
It is important to start with cold bowls and whisks. This recipe can be made with a stand mixer using the whisk attachment or a hand mixer using regular beaters. Place your bowl and whisk/beaters in the refrigerator for at least 10 minutes before making whipped cream.

Place cold heavy whipping cream in the cold bowl. Attach your whisk attachment (or beaters) and beat on high speed (6 or 8 with a stand mixer) until the mixture thickens. Slowly add the powdered sugar and vanilla.

Continue mixing on high until stiff peaks form. You may want to stop part way through and wipe down the sides of the bowl with a spatula. If you're using a stand mixer it will take just a few minutes to get to stiff peaks. The whipped cream should be able to stay in its position when you turn the whisk attachment upside down.

Store in a sealed container for up to one day. This is best used the same day it's made.
For Chocolate Whipped Cream:
Add 1 tablespoon of unsweetened cocoa powder with the powdered sugar and vanilla.
For Lemon or Lime Whipped Cream:
Fold in 3 tablespoons of room temperature lemon or lime curd after the whipped cream is made.
For Coffee Whipped Cream:
Fold in 1 tablespoon of cold brewed coffee after the whipped cream is made. Tip: make mocha whipped cream by combining chocolate and coffee!
For Peanut Butter Whipped Cream:
Add 1 tablespoon of creamy peanut butter with the powdered sugar and vanilla.
Click here to see the complete list of Lemon Recipes!
Click here to see more PEANUT BUTTER recipes!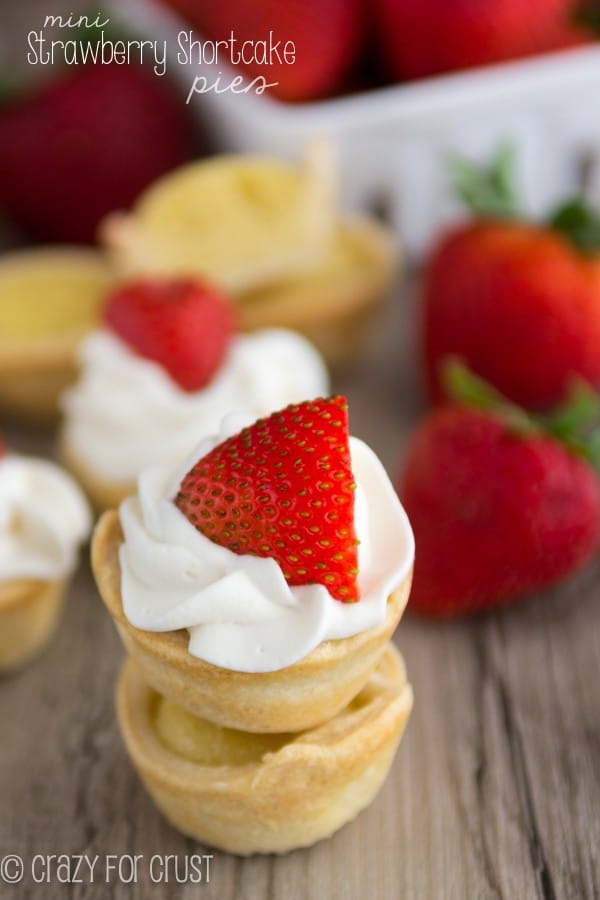 Peanut Butter Cookie Dough Cheesecake Pie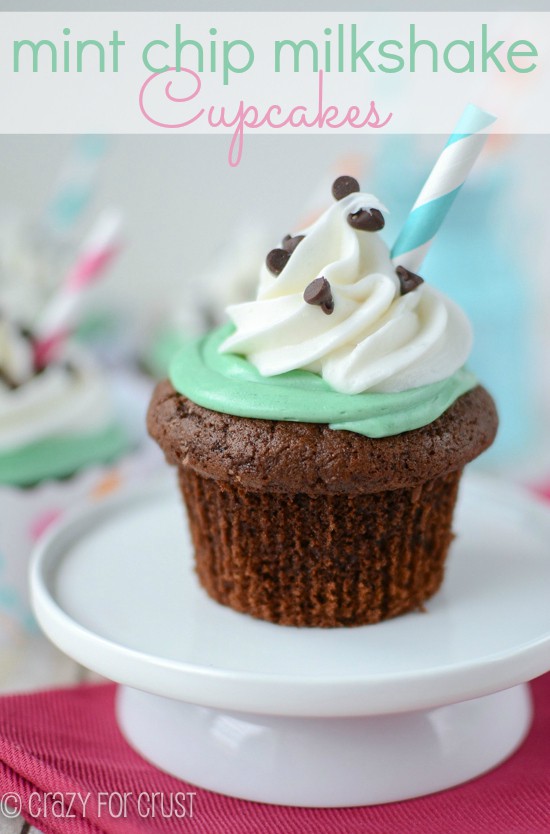 Sweets from friends:
The Perfect Chocolate Cake by i am baker
The Best Cutout Sugar Cookies by In Katrina's Kitchen
Vanilla Bean Buttercream by Something Swanky
All text and images © DOROTHY KERN for Crazy for Crust. Please do not use my images without prior permission. If you want to republish this recipe, please re-write the recipe in your own words, or link back to this post for the recipe. Disclaimer: Nutrition information shown is not guaranteed to be accurate.
This post may contain affiliate links. For more information, read my disclosure policy.
Published on: July 23, 2014