This post may contain affiliate links. For more information, read my disclosure policy.
This Pecan Shortbread Cookies recipe is easy to make, freezer-friendly, and great for gifts! The cookies are made with toasted pecans for the best nutty flavor and texture. Everyone will love these tender, buttery shortbread cookies – they're irresistible.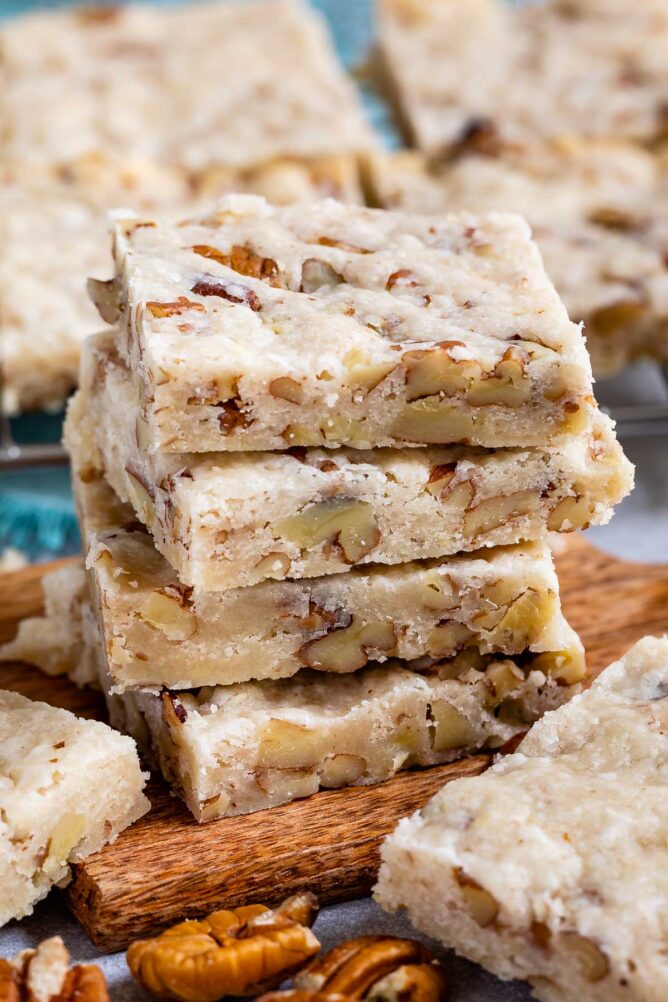 BEST Pecan Shortbread Cookie Bars
Shortbread cookies are a classic, especially during the holiday season. The best part is that they're not hard to make, and there are so many variations! The base cookie is soft and buttery – almost like a blank canvas that you can change with different mix-ins.
One of my favorites is pecan shortbread bars. Toasted pecans are mixed into the dough, and they add the most wonderful flavor and texture. They're better than Walker's shortbread recipe – I can promise you that! Each bite practically melts in your mouth!
Shortbread can be shaped in all different ways – sometimes, you see them as round slices or cut into various shapes with cookie cutters. I think the easiest way to make them is in a baking dish, so they're easy to slice into bars.
I've already mentioned the flavor but repeating it – if you love melt-in-your-mouth buttery cookies, you have to try these. When I've made them for friends and family, they've told me it's the best shortbread cookie recipe in the world! I've made them so many times, and they always get rave reviews.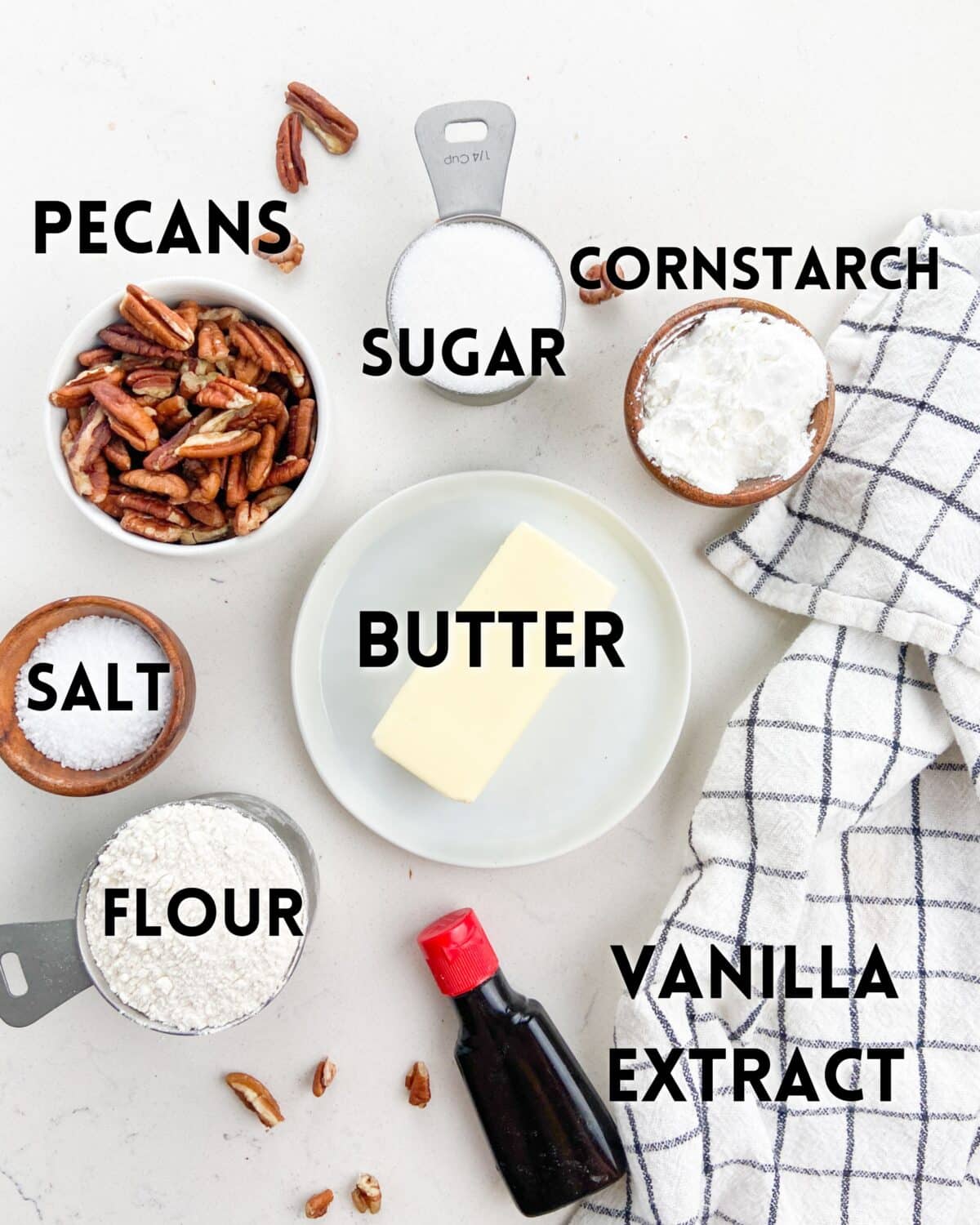 Ingredients in Pecan Shortbread
You might be surprised to see a short ingredient list. That's the magic in these pecan shortbread bars – they're incredibly simple, but they don't taste simple. I bet if you check, you already have most of the ingredients on hand.
Chopped Pecans: The main flavor secret is toasting the nuts. When you toast nuts, the natural oils are released, and they take on a nuttier flavor. Those oils get into the cookie dough, flavoring it even more. Untoasted nuts just don't do that. So, yes, it adds a step, but it's worth it. Learn how to toast nuts easily.
Butter: Start with softened unsalted butter for easy mixing.
Sugar: This recipe uses granulated sugar. I know some shortbread recipes call for powdered sugar but we're using cornstarch as well, so that would be too much.
Vanilla Extract: For flavor
Salt: Needed for flavor since we're using unsalted butter. If using salted butter reduce salt to 1/4 teaspoon.
Cornstarch: This is a cornstarch shortbread recipe. Not all recipes call for this, but I like it because cornstarch gives the cookies a nice, soft texture.
All-purpose Flour: Typical in shortbread.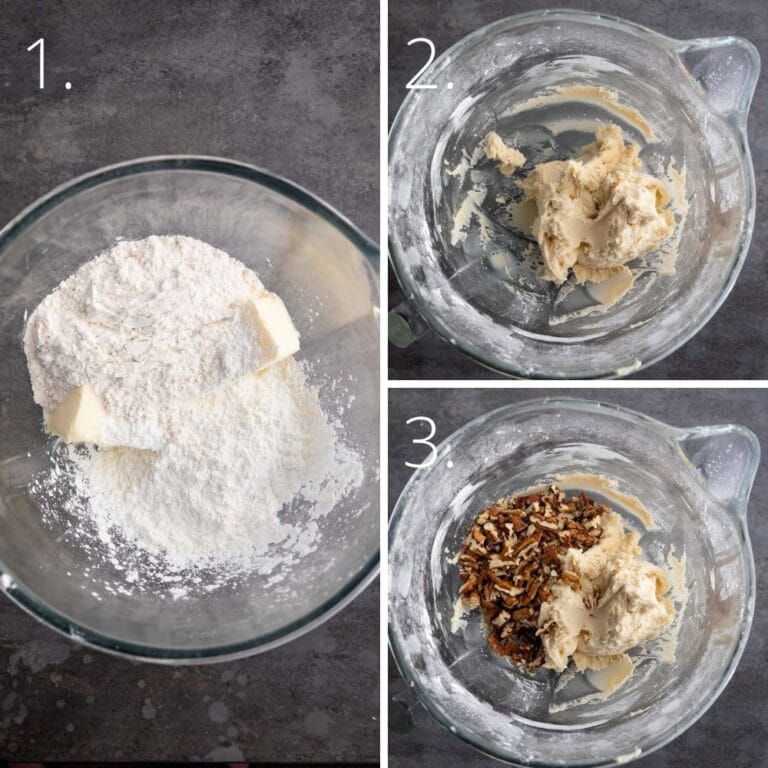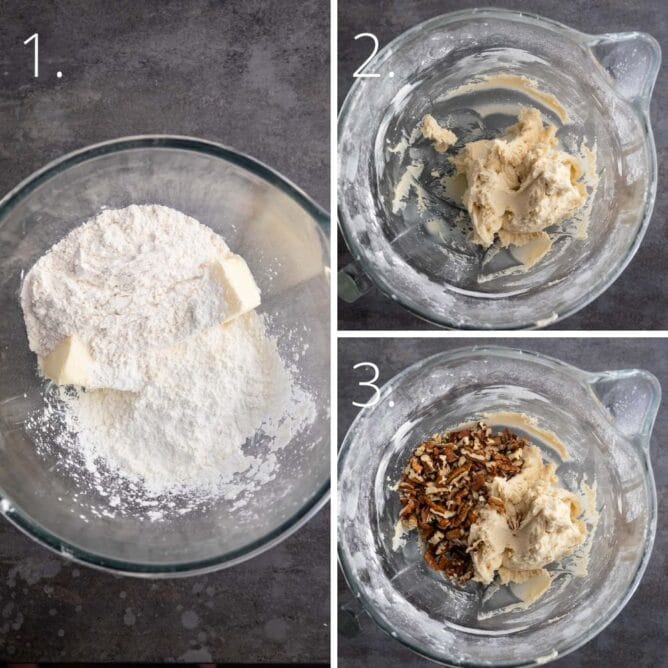 How to Make Butter Pecan Shortbread Cookies
The first thing to do is toast the pecans. Place them in a small skillet and warm them over medium-low heat. Stir them often and, once they are fragrant and toasted, take them off the heat. It's crucial to keep an eye on them – don't leave them alone because they can burn quickly. It will take less than five minutes to toast them. Set the toasted nuts aside to cool while you make the cookie dough.
Cream the butter and sugar in a large bowl. You can do this with a hand mixer or with a stand mixer fitted with the paddle attachment.
Add the vanilla, salt, and cornstarch and mix to combine. Slowly add the flour while mixing and then stir in the toasted pecans.
Press the dough into a 9×13″ baking pan lined with foil coated with cooking spray. Use your hands to press the dough into an even layer, but do so lightly, so you don't compact the dough.
Bake the bars for 25 to 30 minutes at 350°F. I like soft pecan shortbread bars, but if you prefer yours crunchy, bake them for up to 35 minutes.
Cool them completely before slicing and storing them.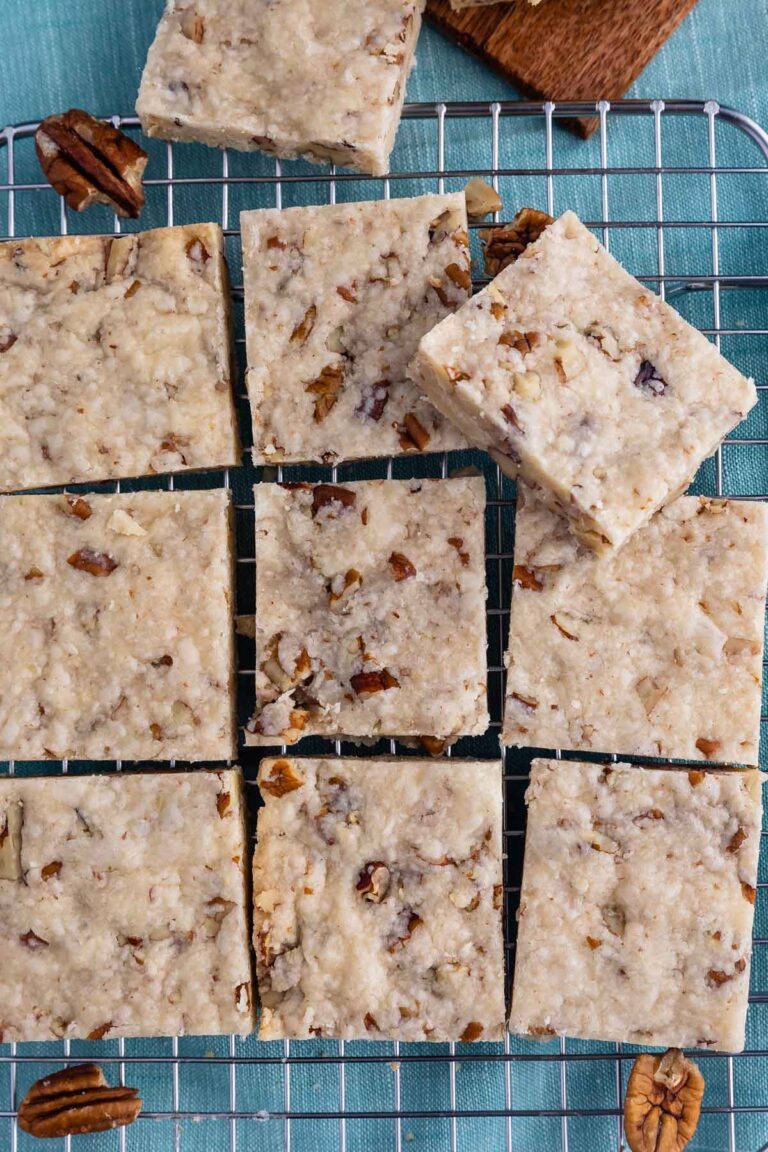 Crunchy vs Soft Shortbread
I love a soft shortbread cookie recipe, but if you prefer a crunchy pecan shortbread cookie recipe, all you have to do is bake them a little longer. I've included the baking times for both in the recipe card.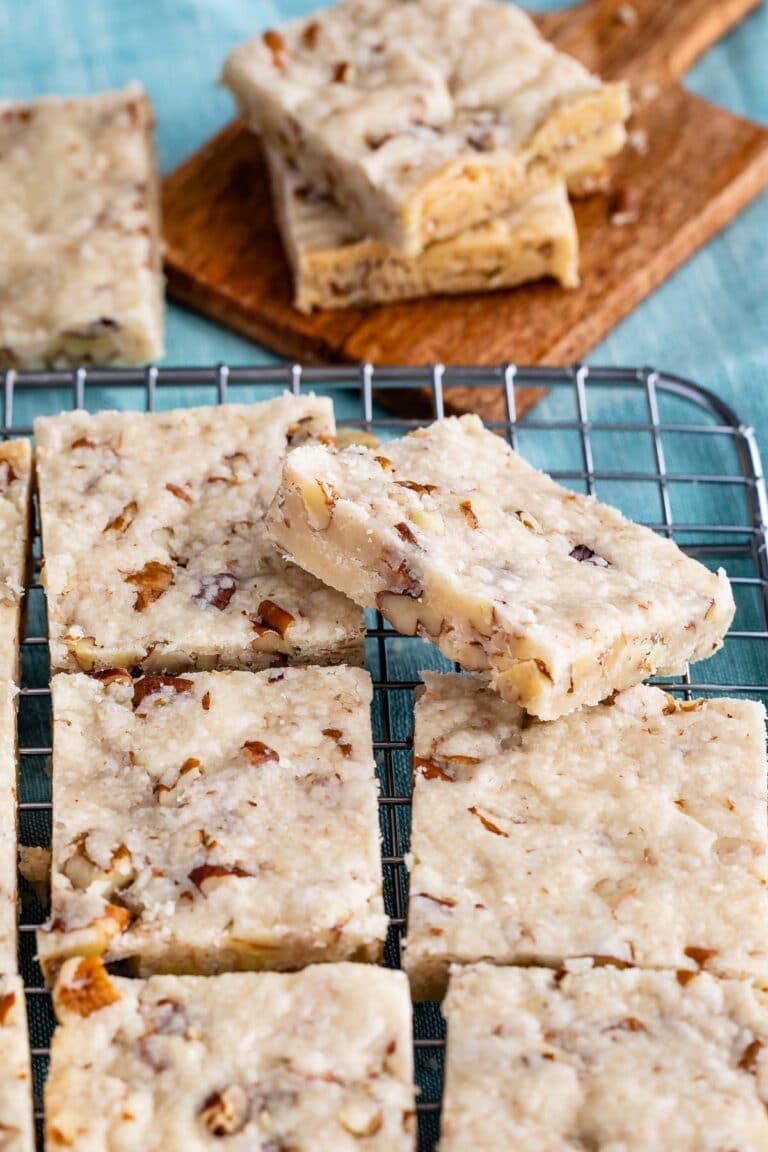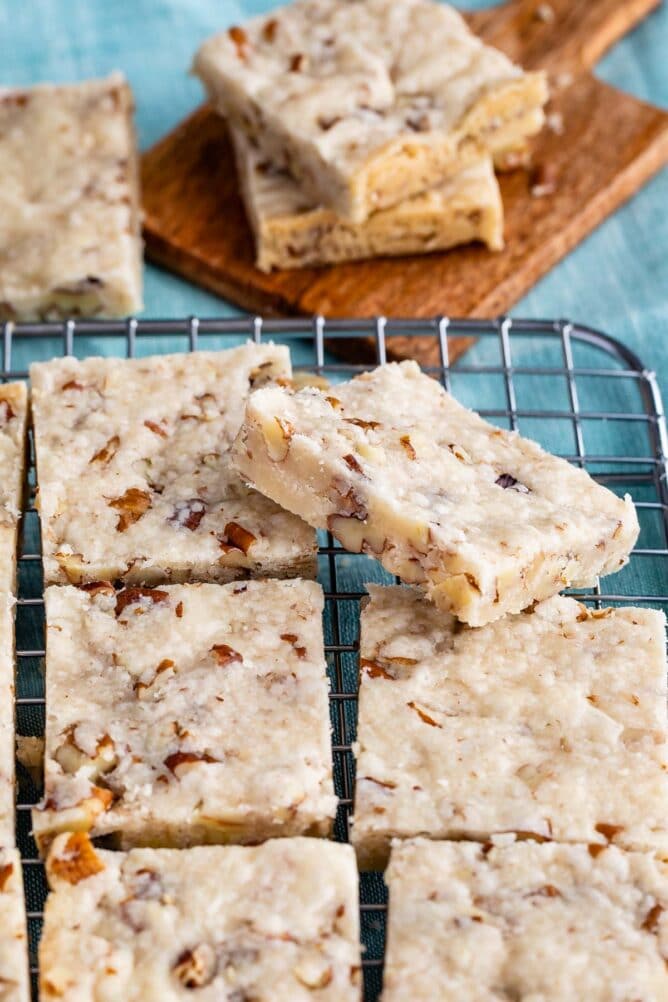 FAQ
Do I have to use pecans?
No, any nut will work. Walnuts, almonds, even chopped peanuts will work if you want to change them up. But no matter which kind you use, definitely toast them first for the best flavor.
How do you store shortbread?
Pecan shortbread cookies keep great at room temperature. Shortbread will keep for up to four days at room temperature. Wait for the cookies to completely cool, and then store them in an airtight container. If you are gifting them, I always think it's good to separate the layers with wax paper or parchment.
Can you Freeze Shortbread cookies?
Yes, homemade shortbread freezes great! Once the bars are thoroughly cooled, layer them with paper towels in an airtight container. The towels will keep the layers from freezing together and absorb excess moisture when you thaw the cookies. Properly stored, they will keep for up to three months in the freezer!
Do you need a shortbread pan?
No, a regular 9×13″ baking pan works great.
Why is my shortbread dough too crumbly?
If your dough is crumbly, it is most often one of three things:
1. Too much flour was added – for the best results, use the spoon and level method to measure your flour. Or, even better, use a kitchen scale to weigh it. I've included both weighted and cups measurements in the recipe.
2. Not enough butter was added – butter is what pulls the dough together in this recipe, so double-check you have the right amount.
3. Not mixed long enough – when you add the flour, add it slowly, so it easily absorbs into the wet ingredients. Keep mixing until the dough comes together. It should hold together when you lightly squeeze some in your hand. If it's crumbly, mix a little longer.
More Shortbread Recipes You'll Enjoy
Have you made this recipe?
Tag @crazyforcrust on Instagram or hashtag it #crazyforcrust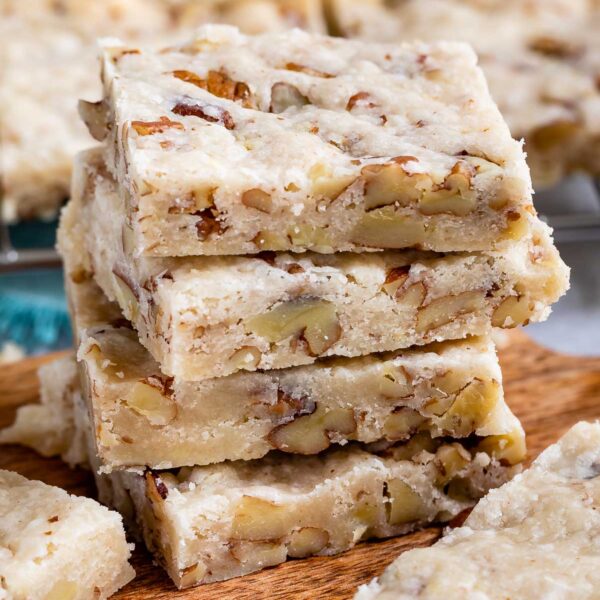 Pecan Shortbread Bars Recipe
Easy Pecan Shortbread Cookie Bars are made with toasted pecans – they're soft and rich and the PERFECT shortbread cookie recipe!
Ingredients
1 ½

cups

(245g) chopped pecans

1

cup

(227g) unsalted butter, softened

⅔

cup

(134g) granulated sugar

1

teaspoon

vanilla extract

½

teaspoon

salt

1

tablespoon

(8 g) cornstarch

2

cups

(248g) all-purpose flour
Instructions
Preheat oven to 350°F. Line a 9×13-inch pan with foil and spray with nonstick cooking spray.

Place pecans in a small frying pan and heat over medium low heat, stirring often, until toasted, about 3-5 minutes. Don't walk away or they'll burn – as soon as you smell them they're done. Remove from pan to a plate to cool completely.

Cream butter and sugar in a large bowl with an electric mixer. Mix in vanilla, salt, then cornstarch. Slowly mix in flour until combined, then stir in toasted pecans.

Press dough into a thin layer in prepared pan. Bake for 25-30 minutes for soft-baked or up to 35 minutes for crunchy.

Cool completely before slicing into bars. Store in an airtight container for up to 4 days or freeze for up to 3 months.
Recipe Notes
Use any kind of nut you like in these bars!
Recipe Nutrition
Serving:
1
serving
|
Calories:
176
kcal
|
Carbohydrates:
15
g
|
Protein:
2
g
|
Fat:
13
g
|
Saturated Fat:
5
g
|
Polyunsaturated Fat:
2
g
|
Monounsaturated Fat:
5
g
|
Trans Fat:
1
g
|
Cholesterol:
20
mg
|
Sodium:
116
mg
|
Potassium:
42
mg
|
Fiber:
1
g
|
Sugar:
6
g
|
Vitamin A:
240
IU
|
Vitamin C:
1
mg
|
Calcium:
9
mg
|
Iron:
1
mg
Nutritional information not guaranteed to be accurate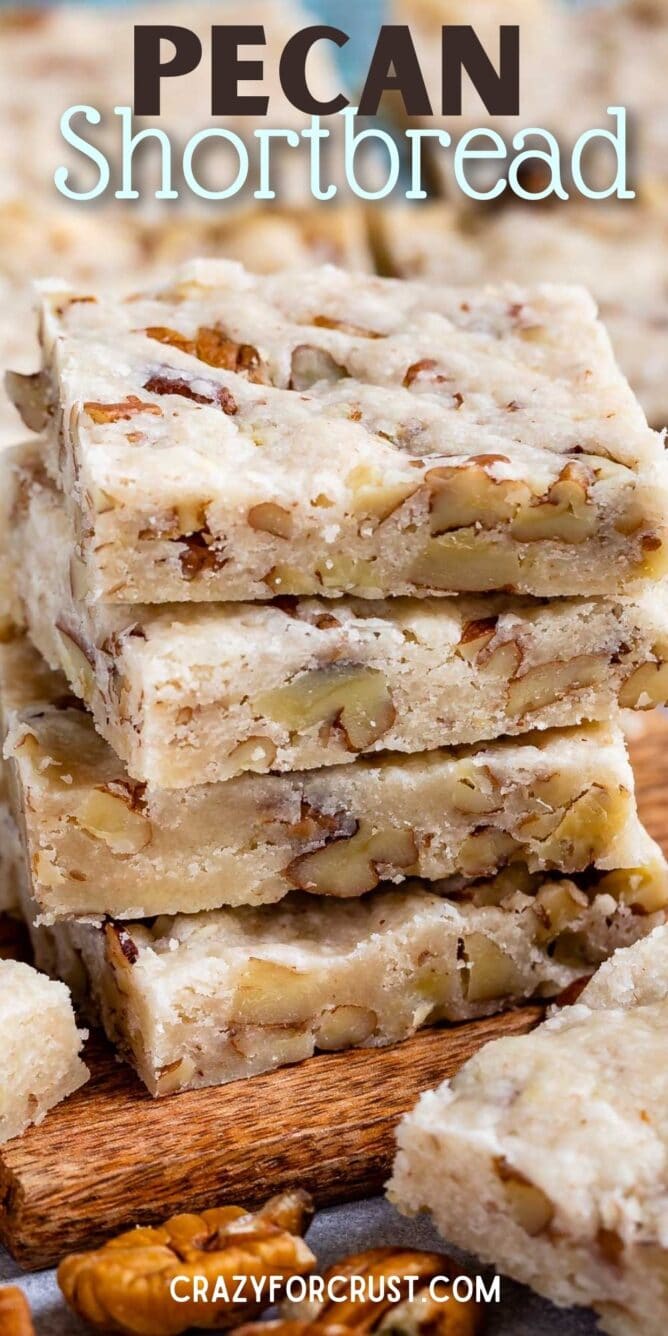 Easy Pecan Shortbread Cookie Bars are made with toasted pecans – they're soft and rich and the PERFECT shortbread cookies recipe!
Last Updated on September 8, 2022